About:
Minkiani Pass trek is  a short adventurous excursion leading past many lakes. This pass ahead of Dharamshala is on the Dhauladhar range and offers views of Dhauladhar and other ranges like Pirpanjal, Great Himalayan and Zanskar ranges to its northerly direction. The pass is at around 4000 m/13120 ft and the adjacent Minkiani top ~ 4250 m/13940 ft. The trail passes through Kareri lake, a very popular tourist destination around Dharamshala.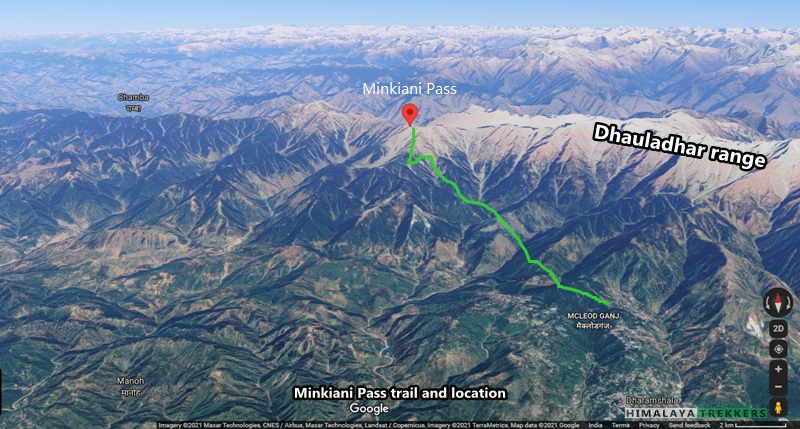 FACT SHEET:
Duration: Delhi to Delhi in 8 days.  around 5 days of trekking.
 Prerequisite: Prior high altitude trekking experiences are nice to have. Good physical fitness is required.
 Location: Himachal Pradesh, Kangra and Chamba districts.
 Grade: Moderate
Geo Coordinate: Minkiani Pass 32.1165085 N, 76.2702419 E;
Physicality: 6/10
 Trail Length: Approximately ~ 50 Km
 Highest Point: Minkiani Pass ~ 4000 m/131200 ft, Minkiani Top ~ 4250 m.
 Access: Reach New Delhi or Chandigarh and then take a bus to Dharamshala. It is ~ 475 Km from Delhi and ~ 250 Km from Chandigarh respectively.
 Seasons: June to mid October.
Further Option: Can be combined with Indrahar Pass, a.k.a. Laka Pass for a round trip of 12 days.
Nearest Rail station: Delhi/Chandigarh or Pathankot.
 Airport: Delhi or Chandigarh. Also there is an airport at Gaggal, Dharamshala.
Suggested Itinerary for Dharamshala – Kareri Lake – Minkiani Pass Trek:
This trek can be shortened if you don't cross the pass but return back following the same trail to Mcleodganj. Also if you want a rounbdtrip then you can cross Minkiani Pass and return via Indrahar Pass to Dharamshala.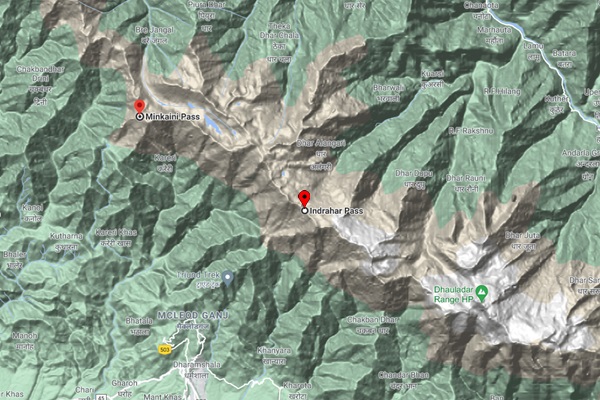 Day 1: Arrive Delhi and overnight travel to Dharamshala, ~475 Km, 10 to 12 hours in semi-sleeper Volvo. There is a direct flight connection to Dharamshala as well. Check the flight status, weather forecast etc while planning.
Day 2: Stay at Mcleod Gunj ~ 2000 m/6560 ft which is the suburb of Dharamshala town. Work out for any logistics which you may need for this trek. There are many local tour operators who can help you with this. Sight seeing walks around Mcleod Gunj for the day etc.
Day 3: Mcleod Ganj to  Kareri village (1870m), 13 Km. The trail descends steeply to a stream then climbs to Kareri Forest rest house.
Day 4: Kareri village to Kareri lake (2950 m/9675 ft), 14 Km. A gradual but continuous climb. The lake, situated at the base of the pass, is a picturesque spot set amidst green meadows.
Day 5: Kareri lake – Minkiani pass (4000 m/13120 ft) – Minkiani Got (3300m), 7 Km. The 3 Km climb to the pass is quite steep. Minkiani camping ground is another 4 Km. From there one can visit the Lam Dal (lake) some 3 Km distant.
Day 6: Minkiani Got – Drakund (1860m), 15 Km. The path descends continuously along the Donali Nala to Drakund Forest rest-house.
Day 7: Drakund – Donali (1200m) 10km. An easy descent alongside the Donali stream. Donali is situated on the Brahmaur-Chamba road. From there one can go by bus/reserved vehicle, either to Chamba or Bharmour.
Day 8: Chamba to Delhi, ~ 580 Km or Pathankot, Chandigarh etc.
Check here for our curated Himachal Pradesh treks which we arrange at present.
We would be more than happy to help you with any travel or tour related enquiries. We are available over email, phone and WhatsApp. Mon to Sat: 10 am to 8 pm.