Prelude: We geared up for a winter trek knowing that we will get much more snow than we would like to. Slogging into knee deep snow was inevitable as we got information beforehand. So we prepared for a challenging White Christmas.
There are quite a few trekking trails in Garhwal to explore and no wonder that Brahmatal trek is probably in your bucket list. The splendid walk to the sacred lake of Lord Brahma fame serves primarily as a classic winter trek. Entire trail commands some of the finest views of the snow capped peaks of the outer wall of Nanda Devi Sanctuary.
Lying almost within a tree line this short trail seems to be a beginner's delight. According to a local legend lord Brahma once meditated on the shores of this lake and hence its name. Lohajung (7500 ft) serves as the base for this trek, a cluster of shops and guest houses, usually like a Bazar in hilly areas.
Our plan was to trek and celebrate a possible "White Christmas" on the mountains. During mid of December we came to know about a heavy snowfall in the area from our trek guide. In fact it was so intense that it snowed as low as 4000 ft height. Even though Brahmatal seemed quite difficult to reach, our guide assured his best. Also he said he will adjust the itinerary so that we can spend maximum time on the mountains. So we started from Kolkata, aware of the fact that Lohajung has more than a foot of snow at present. Yes, more than a week after the snowfall!
Do check Brahmatal trek details page for standard itinerary and related tour package by HT.
So, expecting a rough time ahead, we  boarded Lalkuan Express from Kolkata. Despite some fog it reached Lalkuan the next day in around 24 hours. 4 of us, Soumik, Abhirup, Saptarshi and myself Sourav. We quickly checked into a budget lodge beside the railway station to keep things simple. The winter of late December had pulled a curtain of fog over entire northern India, and so as Lal Kuan. We pre booked our seats in a shared vehicle through a local transporter which was supposed to take us till Deval the next day. From Deval we should get another shared vehicle or else to reserve a car to Lohajung, around 25 Km. There is not much to do at Lalkuan. In the afternoon we took a short walk. The room had a tv and we enjoyed ATK winning the ISL that evening.
Day 1: Lalkuan to Lohajung via Deval
We woke up early at around 5:30 and by 7:00 we checked out from the lodge. Shared car had arrived and we hurriedly finished our breakfast of puri and subzi to start our jounrey. However reports ofheavy snowfall were already flowing in and we came to know that the road to Lohajung was cleared for traffic only last evening. Several electric poles were brought down by the snow and our trek base was without power.
In half an hour we passed Kathgodam to find the gloomy mist is no more. Above us was the deep blue sky of December with never ending ridge lines ahead. Our journey was now to continue through Kumaon Himalaya up to Gwaldam along some of the finest hill stations of Almora and Kausani. On both sides of the road forests of Pine trees stretched for miles, with their needle shaped dry leaves adding a shade of brown on the forest floor. We made a couple of halts for tea and lunch. At Gwalam we experienced heavy snow on the road. The road was cleared but heaps of snow was lying on both sides. There was knee deep snow around every house.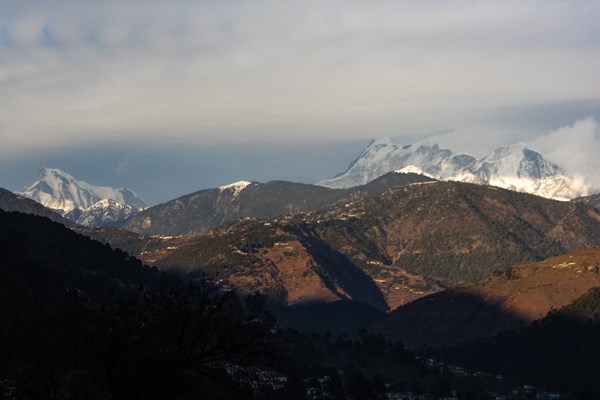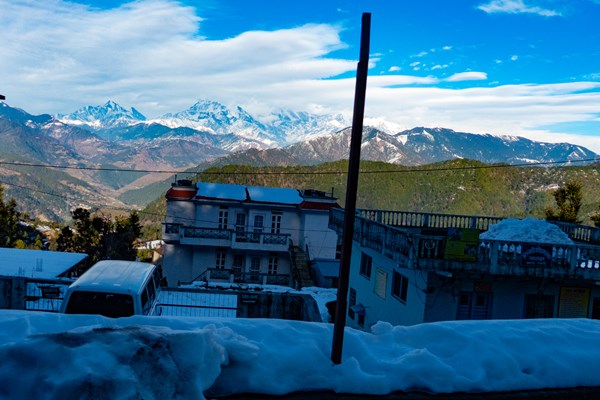 From here we entered Garhwal Administrative Division. From Tharali our journey continued along Pindar, one of Alakananda's loveliest tributaries. We reached Deval, around 5 pm and changed to another jeep for Lohajung. It was dark in the winters when we arrived at Lohajung around 7:00 in the evening. The last stretch from Deval to Lohajung is a continuous upward climb and has considerable height gain.
At Lohajung our guide Mr. Dev Singh Ji greeted us and we checked into the lodge. Soon Dev Ji called a meeting to discuss the plans for the next five days. This year Garhwal experienced its heaviest snow in the last 40 years. The trails through the forests over the ridges were knee deep snow and there was even more snow at Bramha Tal. Under such conditions we had to break from our scheduled itinerary.
Our initial plan was a 5 days round trek to Brahma Tal from Lohajung, while doing a round trip to return to Lohajung via Wan village. It was decided that the team will head for Azan top the next day and return to Lohajung by afternoon. This is a top of the ridge on which Lohajung lies as if a pass. This will help the members to have a first hand experience of walking through knee deep fresh snow. We will then head for Bramha Tal the next day and proceed as far as we can. If we return to Lohajung in a couple of days then we can also trek to Didna village and enjoy the local home stay. So the plan was pretty good, making the best out of the given conditions.
Day 2: Lohajung to Azan top and back
At 8:00 in the morning we were ready. There was no need to carry our rucksacks today. So we went to Balbir Singh Patwal's restaurant for breakfast. After Breakfast we put on gaiter with our guide's assistance as we all were new to this equipment. None of us had the experience of going through such heavy snow and as such the team was excited. Azan top is around 750 feet above Lohajung –a hilltop overlooking the village. We traced back the motorable road and started to climb over a gentle path to our left. We passed through several village huts but as we climbed higher the snow on the trail deepened.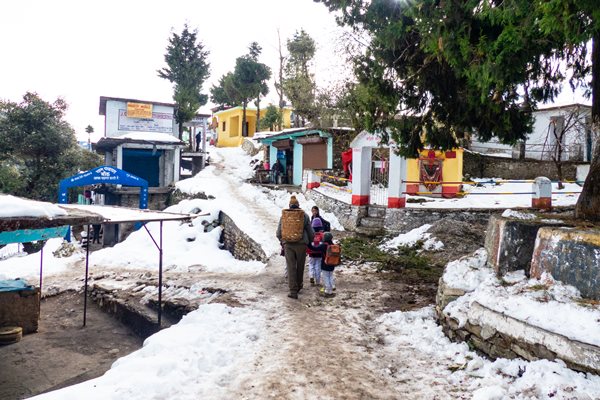 We were getting a good grip with our feet going down in the soft snow. After around 30 mins we crossed the telephone tower (visible from Lohajung) and started to move further. From here the trail is rather steep. By now we had left the village huts behind and scattered over the ridge were Birch trees bushes of Rhododendron with their base under heavy snow. Occasionally we stopped to take snaps.   We crossed a couple of snow fields to reach the top.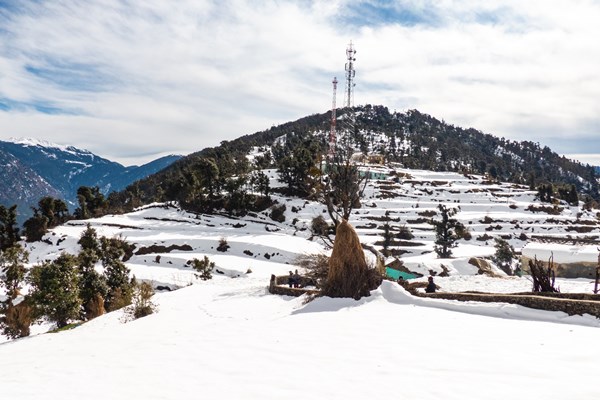 The hill top is marked by a temple dedicated to lord Shiva. Our trekbase could be seen down below the ridge. The terraced fields of Didna Villagewere clearly visible on the opposite side of the ridge. The ridge top was a large area and behind the temple it extended for about another 400 feet before descending to the opposite side. On a clear day the views of Nanda Ghunti,Trishul and Mrigthuni are breathtaking from here. We took several snaps and spent almost an hour at the top.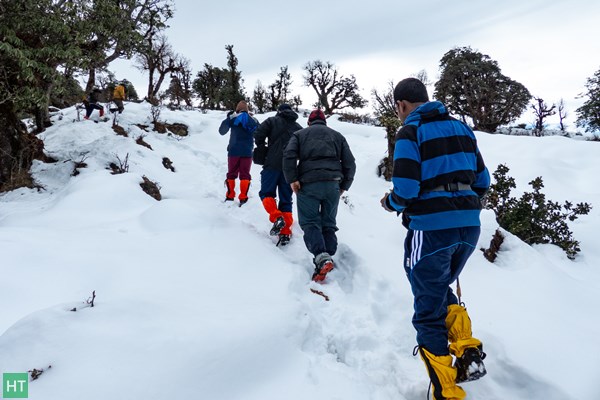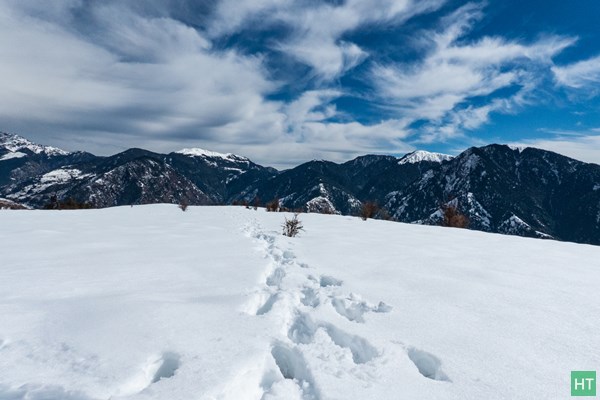 Dev advised us to take a shortcut on our way down and it was a real fun to run down the steep snow covered slope. We reached Lohajung around 2:00 in the afternoon and had lunch. We strolled in the small bazaar area and witnessed a magnificent sunset in the evening.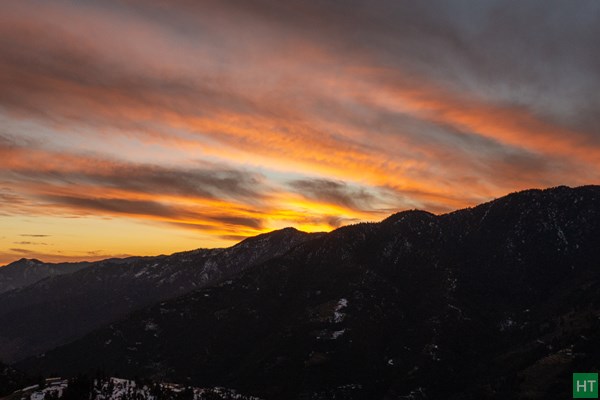 Day 3: Lohajung to Bramhatal Base
We woke up early and soon began to get ready.  Already packed our rucksacks the previous night making sure to carry only the items we really needed and left back any additional luggage in our base. We finished our breakfast of roti and sabzi followed by a cup of tea and hit the trail.
For the first couple of kilometers the trail was free of snow and Dev advised us not to fasten out gaiters. The trail gradually began to climb on the ridge above the village and we went past a few village huts.  There is a pipe line along the trail feeding water to Lohajung. We turned back after a couple of hours and could see snow covered Azan top shining in the morning sun.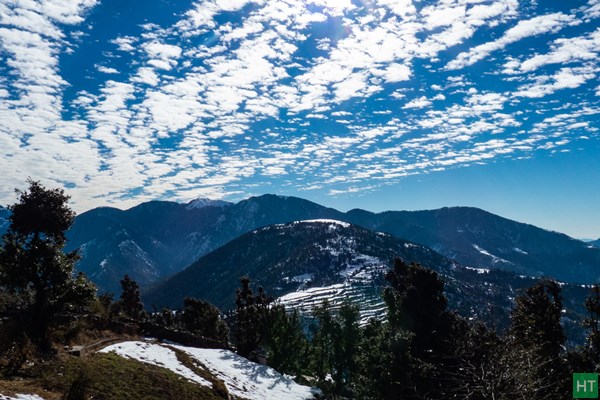 Towards our right and on the lower slopes lay the picturesque village of Mundoli. The slope of the hill leading to Azan Top ended in a few huts leading to Lohajung. Looking towards south the endless ridgelines could be seen gradually rising above another and fading away in the midday haze near the horizon. We took a break here to recharge ourselves. The ridge in front of us was heavily forested and Dev pointed to a depression between two spurs on the ridge top which was to serve as the final destination for the day.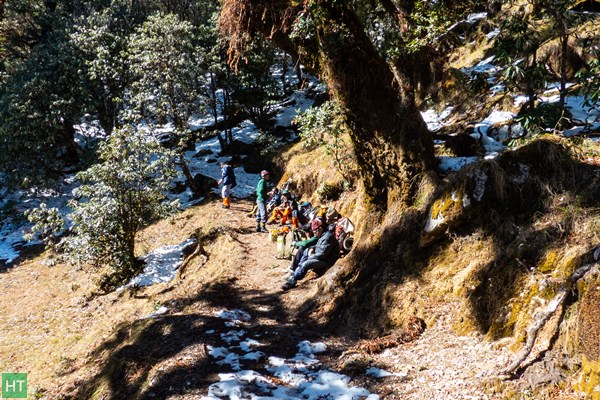 Now we entered the forests of Oak and Deodar and with the sunlight shielded by the foliage the snow on the trail began to increase. Occasionally we crossed a short stream of running water taking care not to wet our shoes. After another hour's trek Dev advised us to fasten our gaiters. From here we moved to our right and began to climb up the snow covered trail. We trekked for another 45 minutes or so to our front and slightly below the ridge we noticed what appeared to be dense fog accumulated.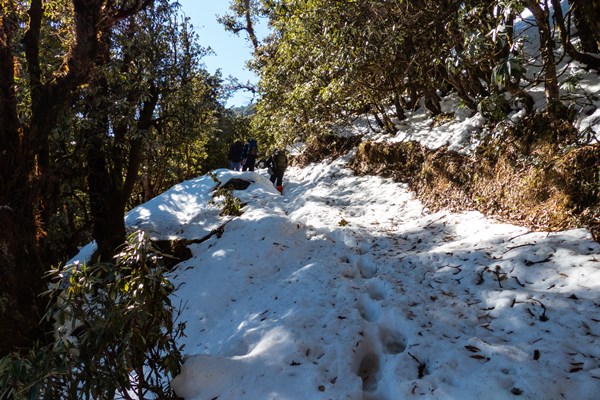 This part of the trail was covered under thick canopy of the forest and after approaching another fifty yards and on a closer examination we found the ridge covered under a very thick blanket of snow. It seemed this place never received sunlight and on approaching we could feel the difference in temperature. Even at midday it seemed to be evening here and the snow was soft and powdery. We paused and the entire team took snaps and then moved further on.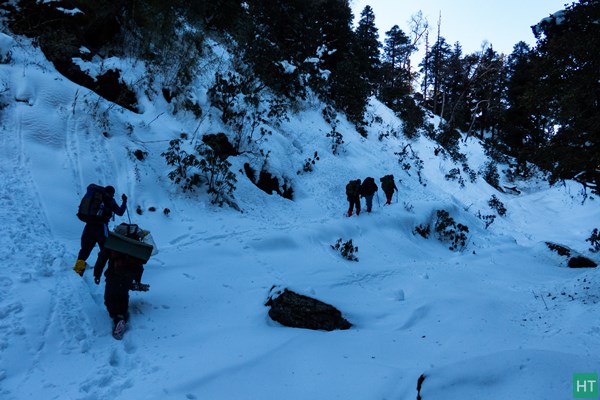 The trail took a turn to the right and started to move up traversing the ridge. This dark and desolate place continued for almost eight hundred meters and finally we could see sunlight much to our relief. We finished the climb to the ridge top and in front of us flooded in the afternoon sun was the small lake of Khopdaliya.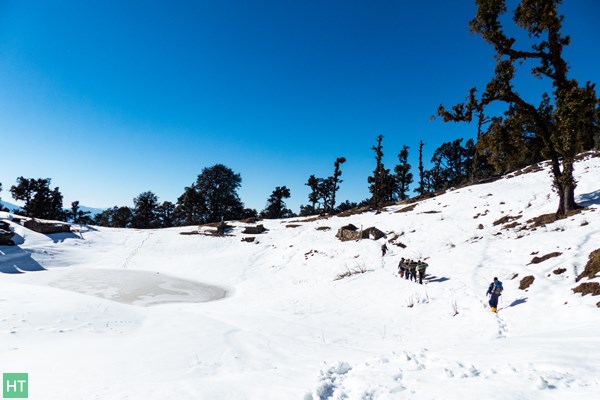 One after another all members in our party arrived and assembled under a tree which was the only place devoid of snow. We took off our rucksacks and sat down comfortably giving ourselves much needed rest and took some refreshments. The ridge top was lined with rows of Pine and Deodar with a depression in the center forming the small lake. We had planned to camp here for the night but it being only past midday we decided to move further and camp near the bugyals from where the peaks would be visible.
The path from here began to rise gently and after another 10 minutes a large lake opened onto our right. Hidden mostly from sight by birch and rhododendron trees was the beautiful lake of Bekhal Taal frozen completely in the winter of late December. Approaching the lake from this side was difficult and needed goingdown a very steep incline over snow. The temple dedicated to Bekhal Nag Devta was visible on the opposite side and we decided to visit the temple and lake on our return.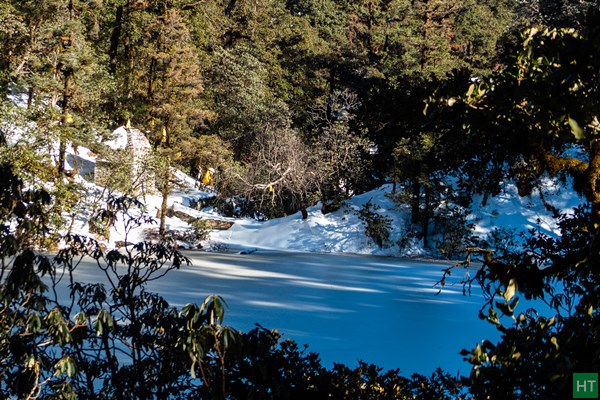 We started to move up towards the ridge top and what appeared to be a gentle climb became very steep towards the end. The arduous climb ended atthe edge of the bugyal some 750 feet above Bekhal Taal. There was a very thick cover of snow on the ridge top and above us lay rolling snow fields stretching for miles. However all the hardships paid off on looking to our right. The magnificent massif of Trishul and Mrigthuni were standing tall, their slopes shining brilliantly in the afternoon sun.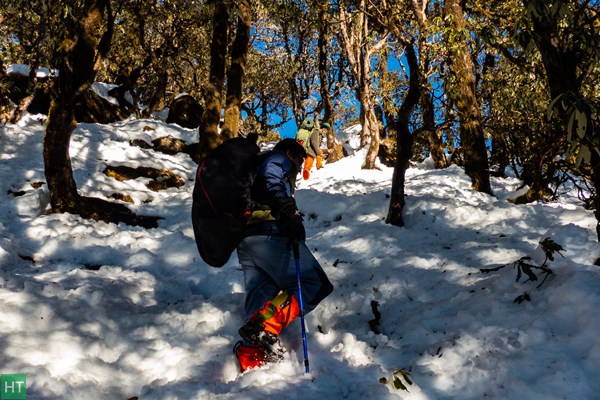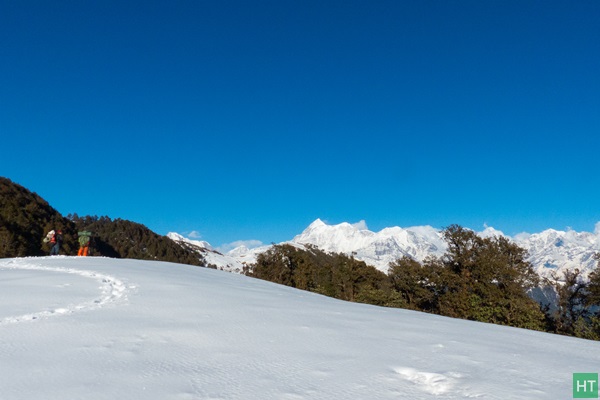 We crossed the first snow field and descended over a spur when our guide informed us that we will have to abandon our plans of camping here as there was no dry wood available for lighting a much needed fire. The only option was to keep moving ahead and look for a place to camp near the woods.  Exhausted, we helped ourselves to a rock and frantically searched the pockets of the rucksack for any dry food that may be available. Refreshed, we again set off for the final leg of our journey. We continued over the bugyals for a little more than an hour and it was now time for the sun to set.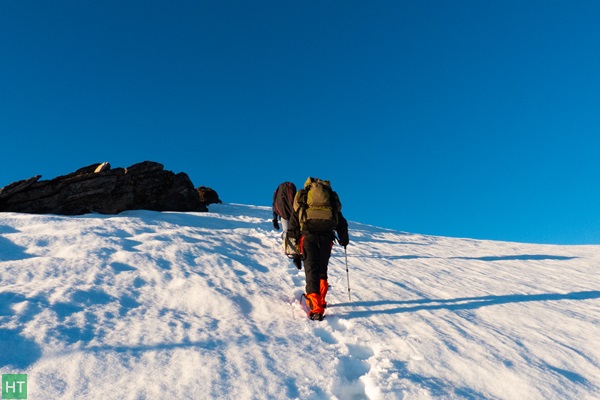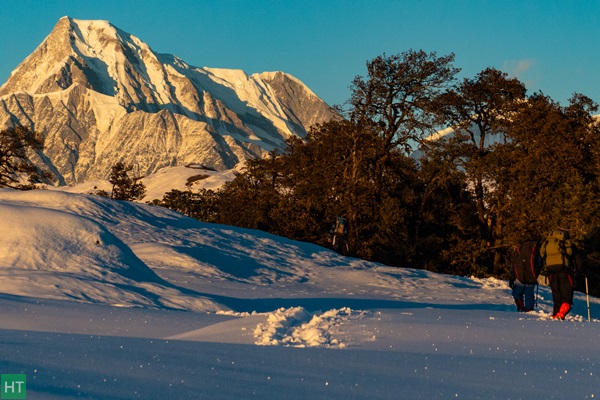 We increased our pace on the snow and after a while took a turn to the right and started descending down the slope to our camp. This last stretch over the steep snow covered slope was made with extreme difficulty,carefully negotiating the rhododendron bushes under very low light. It was darkand extremely cold when we reached camp.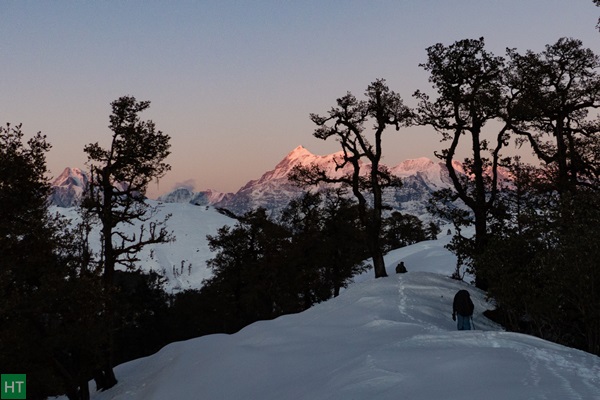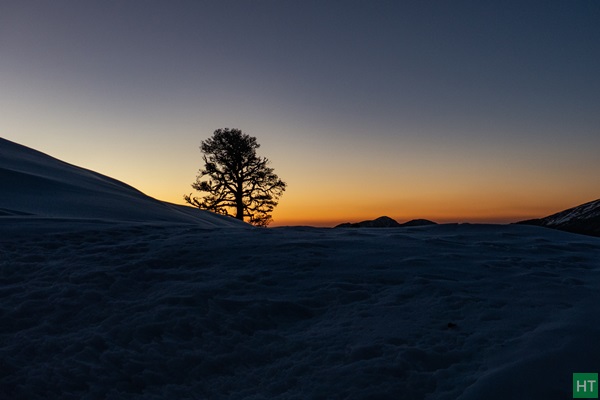 Our tents were already pitched on snowand I took off my rucksack and hurried towards the lifeline – fire set up by our support staff. The next few hours were spent sipping hot coffee andenjoying the warmth and drying our shoes and socks which were dripping wet. We were served with hot Khichdi, scrambled eggs and pickles for dinner and finally crashed in the comfort of sleeping bags. End to a very tiring and indeed an eventful day.
Day 4: To Bramha Taal and back to Lohajung
We woke up to a bright and sunny morning and began to get ready. Our plan was to climb up to the bugyal top further ahead from where the peaks were visible and then trek back to Lohajung by evening. Soon hot maggie was served and we packed our rucksacks. The support staff was to pack camp and meet with us on the top.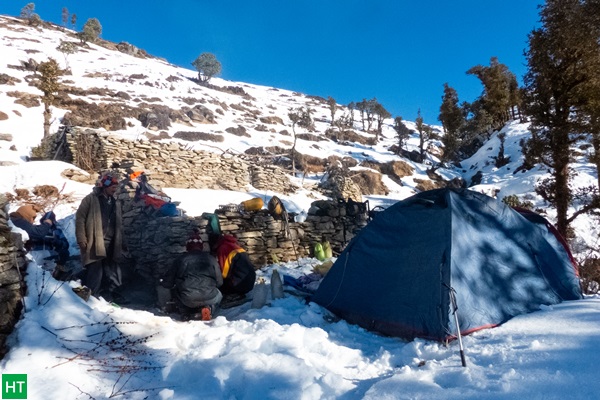 Accompanied by our guide we hit the trail. We skipped to visit the lake, i.e. Brahmatal which is hidden on the opposite side of the ridge. The lake is fully frozen and there is no mountain views from the lake site, as the ridge stands as a natural barrier to the snowy peak views. After climbing to the top of the ridge we turned left and began to climb over the snow covered bugyal slopes.
Our aim is to reach Jhandi Dhar or Jhandi Top, a vantage point from where we could get a breathtaking view of the snow mountains. The vast undulating surface stretched for about 2 kms. The sky was clear and a vast panorama of peaks began to unfold in front of us. The trident of lord Shiva and the veil of his consort were shining brilliantly in the morning sun. The last hundred feet or so was over almost flat ground under knee deep snow cover and we assembled one after another.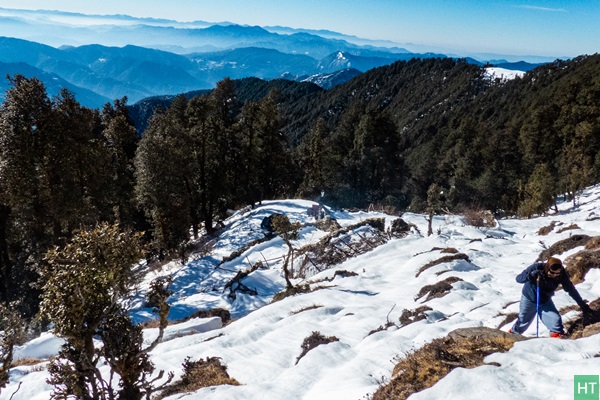 In front of us and from left to right were the peaks of Nanda Ghunti (6309 m/20,699 ft), Bethartoli Himal (6352m/20841ft), Trishul (7120m/23709ft), and Mrigthuni (6855m/22827 ft). On top of the ridge in front of us lay the twin bugyals of Ali and Bedini now under heavy snow with the famed Roopkund area above them. The sky was so clear that we could also see Ronti Saddle and Ronti Peak in the distance. We stayed on the top for around 40 minutes and took several snaps and finally it was time to retrace our steps back to Lohajung on the now familiar route.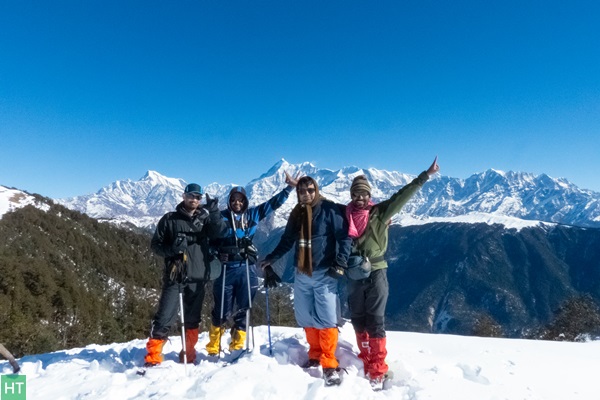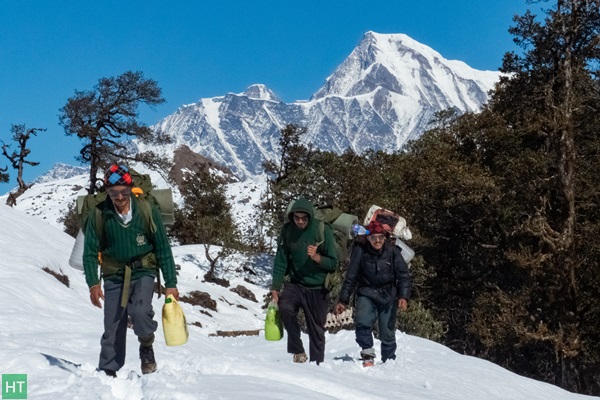 Descending was much easier, not tiring and within an hour we hit the tree line. It was then a downward march to the temple of Bekhal Nag through the forests of oak and rhododendron. We slipped occasionally over the roots and fallen trunks hidden under the snow. After another 40 minutes the lake came into view and we turned left and began to traverse the slope to the temple. The frozen lake that was hidden from view on our way up now came into full view from here. Our support staff had already arrived and we had an early lunch.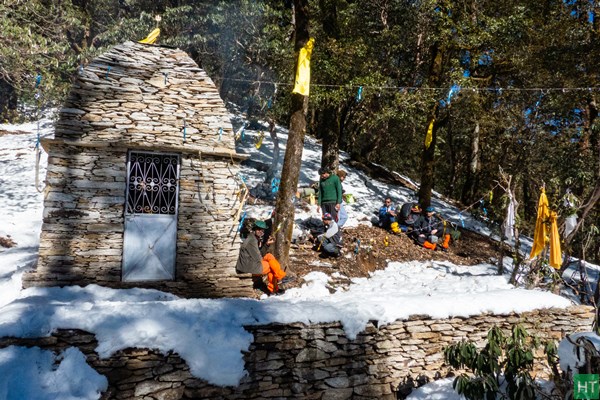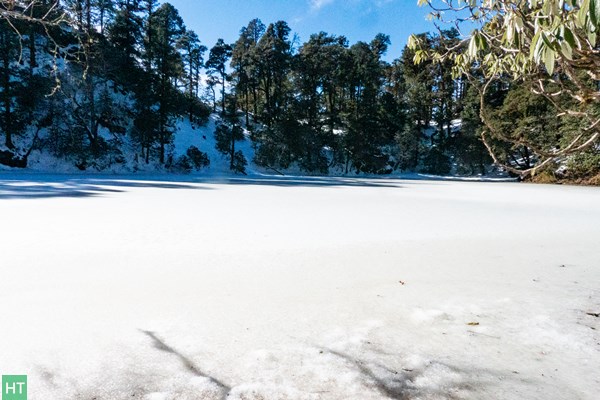 After a break of an hour we again started for the final leg of our journey. From here we turned left and descended to the bed of a ravine and began to climb the slope on the opposite side. Our plan was to traverse this slope and reach Khopdaliya on the other side of the ridge. This ridge received very little sun and was under very heavy snow cover. There were rhododendron trees scattered over the ridge and we took the help of its branches pulling ourselves from the knee deep snow as we proceeded along. About a couple of km before Lohajung there are bifurcations on the trail with the lower path leading to Mundoli village. One should take care to be on the trail that goes above the ridge.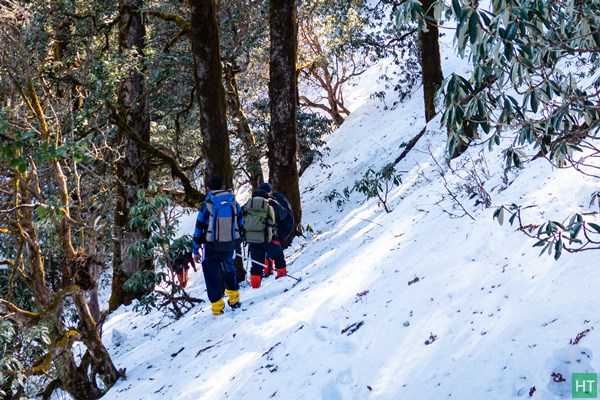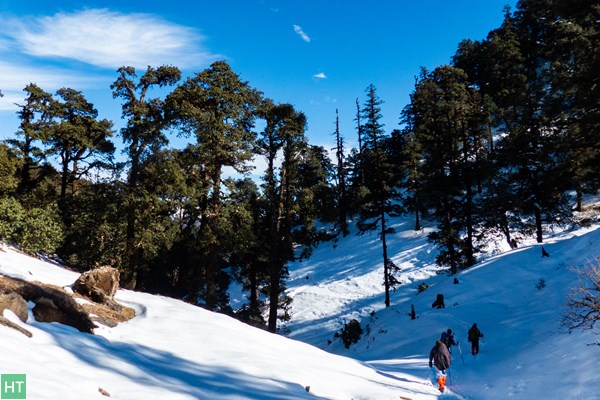 The sun was about to set when we came across a vantage point some 500 ft above Lohajung. Here Nanda Ghunti stood giant at the backdrop of Didna village, which we plan to visit tomorrow. We witnessed a grand sunset on Nanda Ghunti. Finally we reached Lohajung around 6 o'clock in the evening.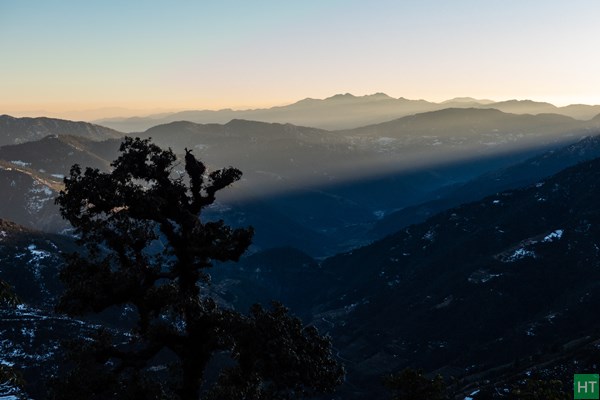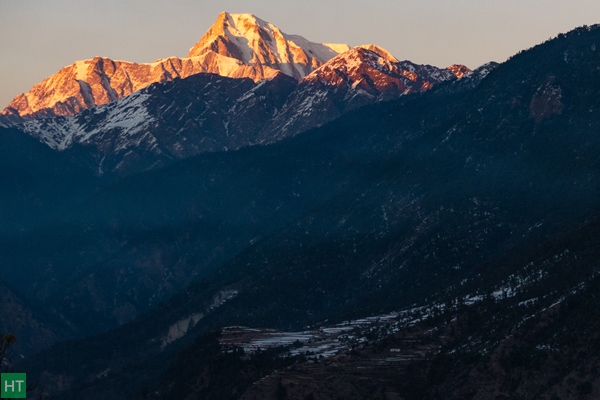 Day 5: Lohajung to Didna village
Our destination for today is the picturesque village of Didna on the ridge opposite to Lohajung. From our lodge in Lohajung we have gazed at its snow covered terraced fields and the magnificent massif Nandaghunti that rose behind this village. The twin villages of Didna and Kulling are on opposite sides of each other on two ridges with the Neel Ganga River cutting a deep gorge in between. Today's trek consisted of a splendid walk between these two villages and a chance to experience the simple life and enjoy the hospitality of peace loving villagers.
We started our journey late at about 9:30 after breakfast. For the first 6 Km the journey is along the motorable road that leads to Wan. We took a lift in a passing vehicle that shortened our journey. To our right the deep gorge of Neel Ganga opened up, its slopes lined with thick forests with endless ridge lines descending to the valley below. We reached Kulling Village and left the motorable road and followed the village track towards the bed of Neel Ganga. This track initially passes through the village huts and further down goes past terraced fields. Kulling serves as the winter home for the residents of Didna and is now full to its capacity. Almost every village home had stacks of hay piled up as fodder for cattle.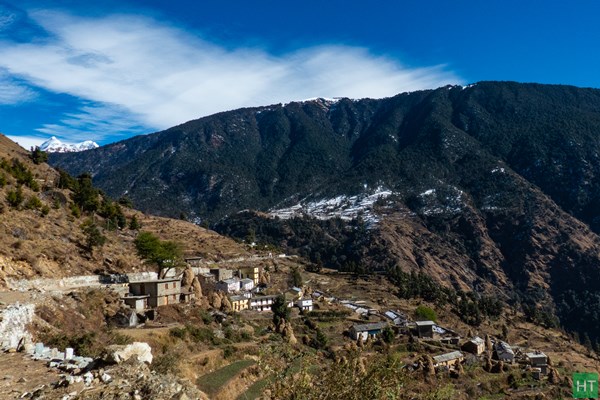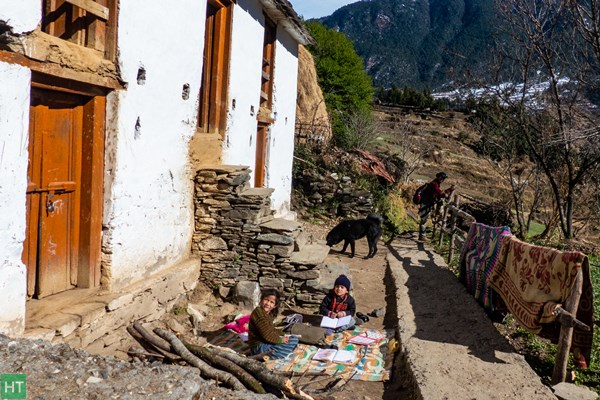 We passed the terraced fields of freshly sown wheat and descended to the bed of Neel Ganga River. Near the river there was a small wheat grinding unit powered by the flow of water running down a side stream. Its called Pan Chakki in local/Hindi language. The descent was almost eight hundred feet and took us almost an hour. Here we took a break and some refreshments to prepare ourselves for the moderately steep climb to Didna. The trail after crossing the river over an iron bridge begins to climb up the ridge in a series of short and steep turns. The steep uphill trek continued for another two hours involving a height gain of twelve hundred feet. We reached Didna village at around 2:00 in the afternoon.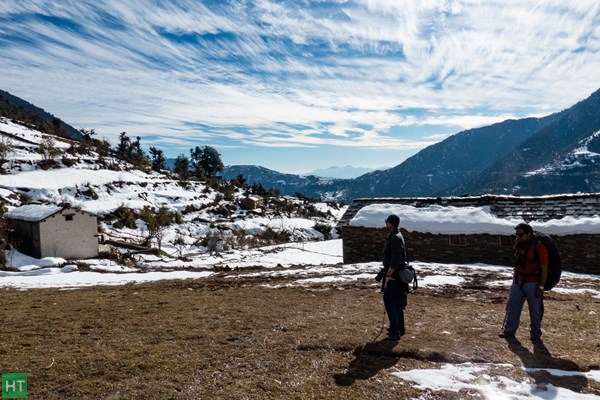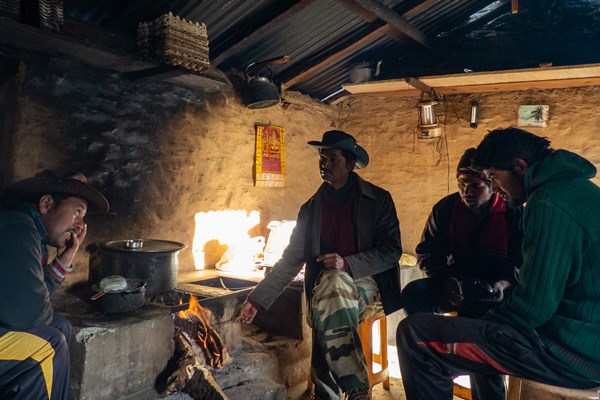 Didna is a well spread out village on the ridge that leads to the famous Ali bugyal. The villagers are essentially a farming community andgrow wheat, barley and potatoes. After lunch we set out to have a walk in thislovely village passing through the village huts and fields of freshly sownwheat. We witnessed a grand sunset with the sky turning golden yellow, magenta and finally fiery red. We reached our Homestay by 6 and darkness of the night approached the quaint landscape.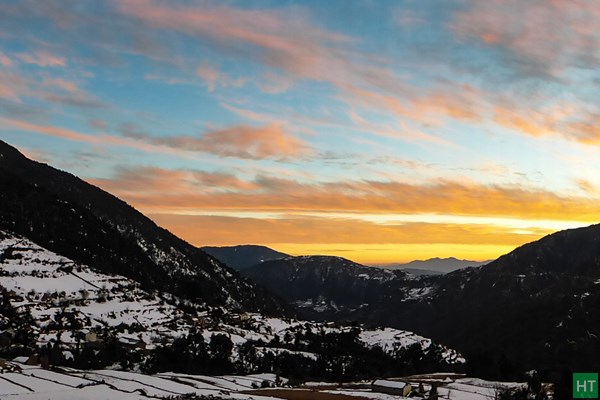 We got hot soup while the support team soon started piling heaps of dry wood on the open courtyard. It was 25th Dec and preparations were on for the Christmas party. Soon the entire team clustered around the fire, its warmth giving us much needed relief from the extreme cold. Our party continued till late night and finally we had our dinner and crashed into the comfort of bed.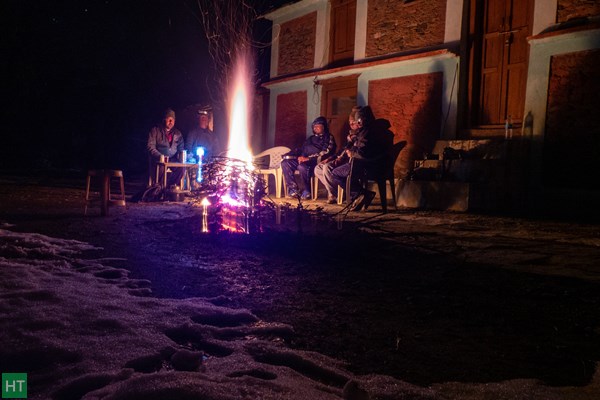 Day 6: Didna to Lohajung
It was almost 8'o o'clock in the morning when we woke up. We knew that the viullage starts getting direct sunlight a bit late. For this reason usually it is very cold during winter mornings. The two thousand five hundred feet high ridge overlooking Didna village blocks the sun as well as the peaks of the sanctuary. However nature was already up and the birds of the Himalaya were singing and dancing in the foliage around us. I took my camera and went out to have a stroll around our home stay.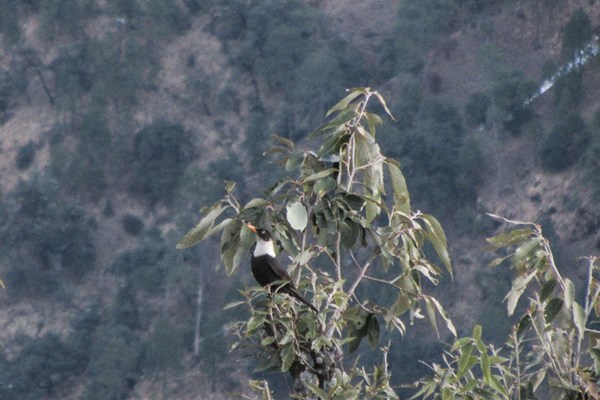 The village's homes are mainly built with stone,their walls plastered with mud. Thin slabs of slate are used for the roof work. There was a wealth of bird life around – White collared blackbird, Himalayan bulbul, Streaked laughing thrush, Babblers and Magpies to name a few. We had an early lunch and by 1o o'clock we were ready, our rucksacks packed and started on the descending trail to the bed of Neel Ganga and finally to the road head at Kulling. We took a pre reserved car to reach Lohajung before by early evening.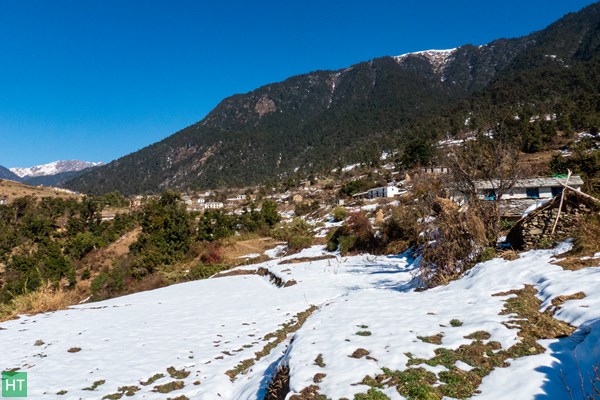 Day 7: Lohajung to Haridwar
Our happy days of roaming in the mountain wilderness were now coming to an end. We packed our rucksacks, bid farewell to our guide and other staff with whom we stayed like a family. So we boarded a jeep and began the long descent to Haridwar. Soon I will be back to the busy city life but the memories gained in these few days will remain etched in my mind forever.
All photos are shared by Sourav and Saptarshi.
We would be more than happy to help you with any travel or tour related enquiries. We are available over email, phone and WhatsApp. Mon to Sat: 10 am to 8 pm.