4100 m/13450 ft
Highest Point
Dodital & Darwa Top Trek:
Upcoming group fixed departure to Dodital trek starting on 20th Dec from Dehradun.
Private/customised treks for your own group/family is open from 15th October.
COVID update and guidelines:
1) As per the COVID protocols laid by Uttarakhand state, the requirement of a COVID-19 -ive test is no longer needed for a tourist. As of date an interstate tourist entering Uttarakhand needs to fill in the details following the below COVID REGISTRATION – (COVID-19) link and it is MANDATORY:
http://smartcitydehradun.uk.gov.in/pravasi-registration
Also check the rules/requirements of your origin state while you re-enter after travelling.
2) Please update/enquire with us about any kind of COVID symptoms or concerns before you travel. Let us know whether you have already exposed or maybe to the virus. Safety primarily depends on the person travelling amid COVID and distancing is not really feasible on a trek in various conditions. Travelling by flight, train or car will have risks associated to it and try to reduce "connections" to a minimum. Once you are in a trek base, we think you are fairly safe. Please check the "How we can we make a trek safe during COVID?" section in the following link:
https://himalayatrekker.com/trek-updates/unlocking-india-when-and-how-trekking-may-reopen/
3) Guidelines for COVID related social distancing and general hygiene norms are to be followed in the lodge/homestay/hotel, especially in the common areas. Carrying masks and sanitiser are a must for all trekkers. Both your tour operator and you need to follow certain COVID SoP/advisories as prescribed by Uttarakhand state and MoHFW, GOI. Download Aragya Setu App in your mobile.
4) With travel opening up, govt. advisories and state/UT guidelines are constantly evolving. Also there are COVID rules for airlines/train/public/private transport. Do check the updates from the respective websites.
For any queries or clarification do consult with us.
About Dodital trek
Dodital trek is sweet trail to delight you year-round. Be it summer, winter or even monsoon, this trek is easy to access. Dodital at an altitude ~ 3100 m/10170 ft (Geo Coordinate (30.8913359 N,78.5176831 E), is a medium to large freshwater lake in Uttarkashi district, Uttarakhand. The emerald green lake is nestled inside thick Oak, pine, cedar and rhododendron forest. It has formed due to accumulation of  natural streams coming down from the surrounding mountains. An outward stream from this lake keeps the balance of the water level and referred to as Assi Ganga.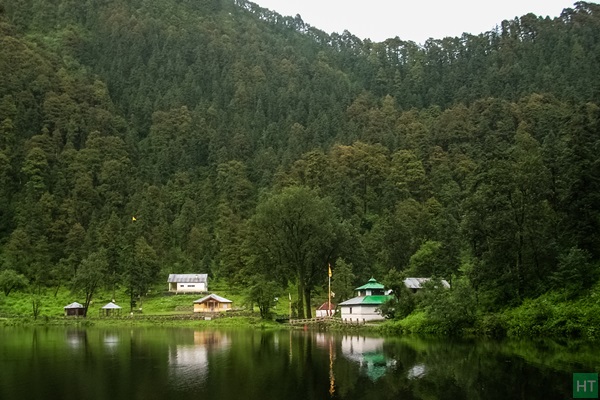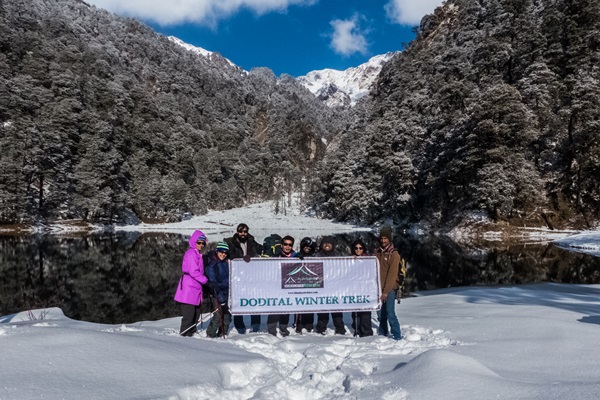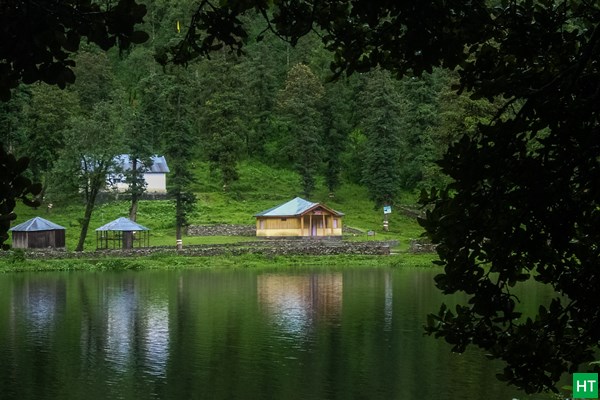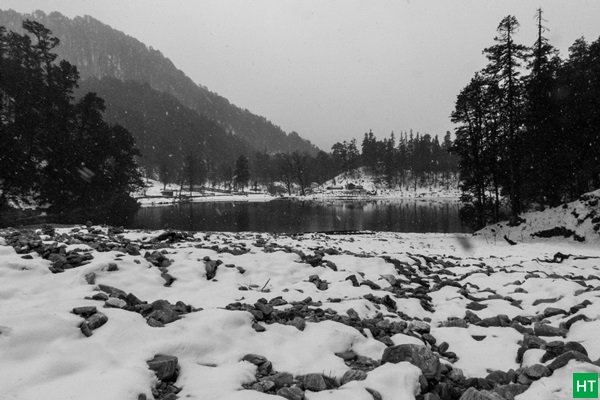 According to the mythology, this is the birthplace of Lord Ganesha. The name originated from Dhundi-Tal meaning lake of Ganesh. You will locate a neat small temple beside lake on your left, once you reach. Dodital lake is also one of the habitats of introduced Brown Trout species widespread in Indian Himalayas. In summer or fall, it provides a near perfect set up for rest and recreational activities like angling, boating and bird-watching. In winter, it becomes a fairyland, with snow covered conifer forests and snow-capped ridges on the horizon. Camping beside this idyllic and quite setup is surely a delight.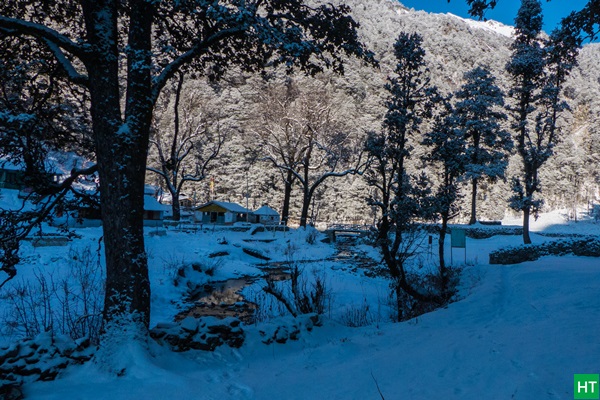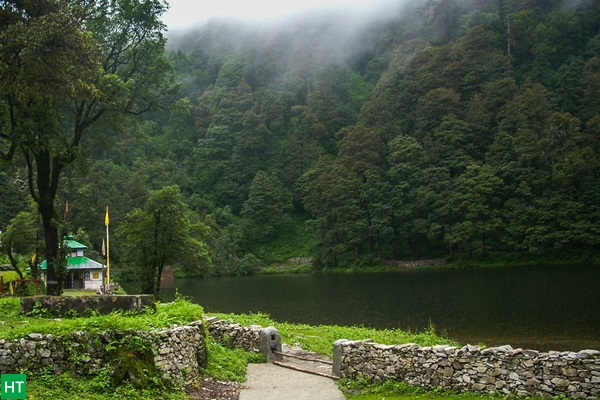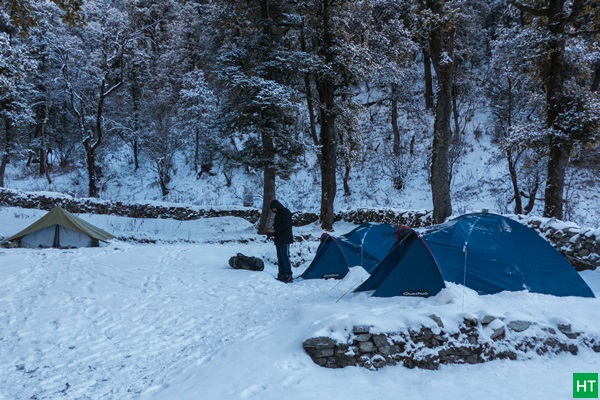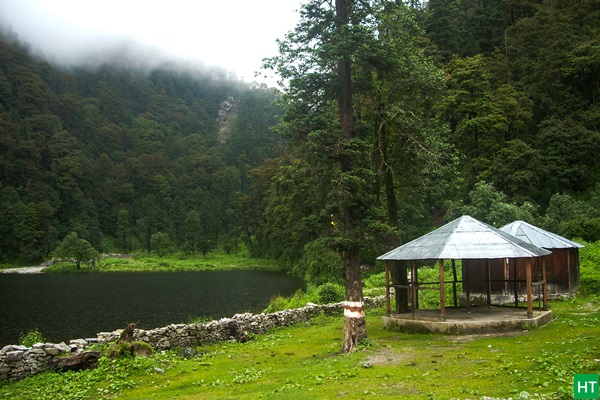 The easy walk along the trail to Dodital, through dense forest, grasslands on the mountain slope, by the river gorges and remote hamlets, reaches the climax at the Darwa Top. From this top you can see both the Gangotri and Yamunotri side with peaks unfolding on both valleys. On our way we will cross villages of Dhandakla, Agoda, Bhebra and the summer-monsoon settlement (locally called Chhani) at Manjhi. This wide valley is formed by Assi Ganga/Dodital Ganga River and you can locate villages and settlements on the other side as well.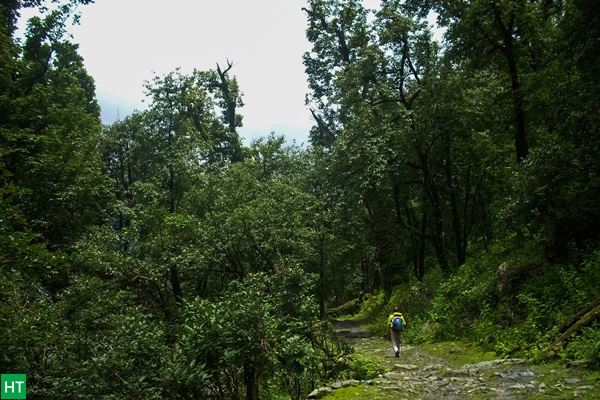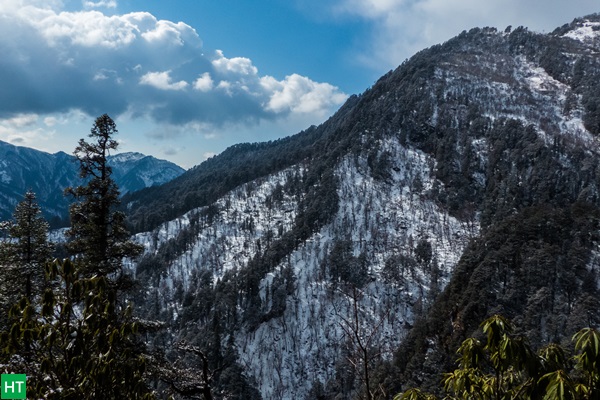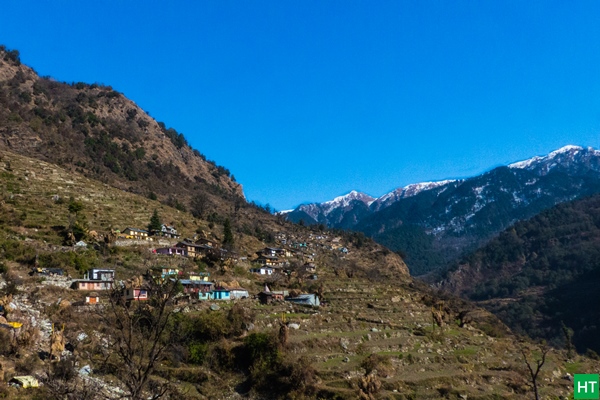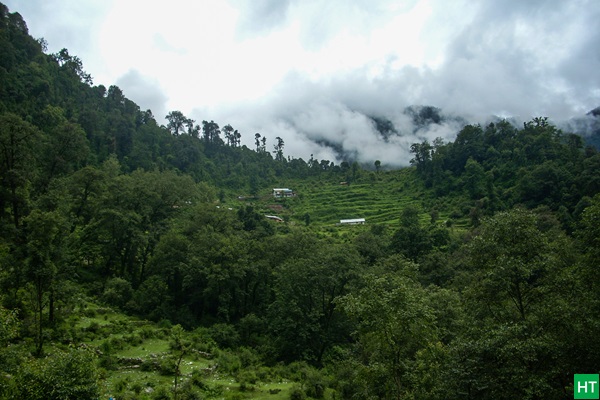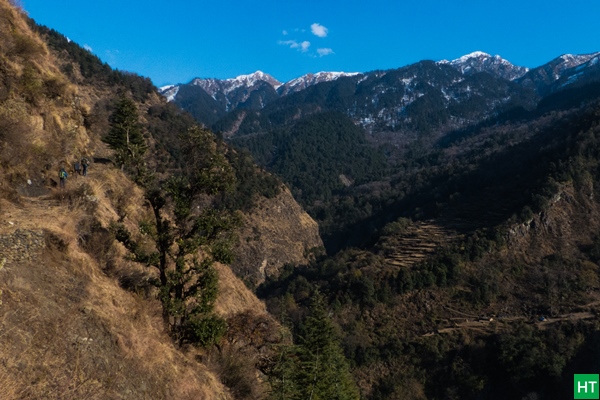 For the beginners, the trek is an ideal one, in these 6 days, you can get the essence of a proper Himalayan trek. Walking amidst dense forest, trading narrow trail by deep river gorge, crossing streams, camping in wilderness, negotiating steep climb and finally trading knee-deep snow in winter all of these experiences staying within 10000 ft is rare. Though the trail is steep at places, but the altitude being not so high, with ample amount of oxygen in the air, anyone can savour the beauty of this trek.
Brief Itinerary:
Day 1: Dehradun to Agoda drive – 170 Km – 7/8 hours. Lodge
Day 2:  Trek to Manjhi –  8 Km – 4/5 hours. Camp
Day 3: Trek to Dodital – 7 Km –3/4 hours.  Explore the lake and temple in the afternoon. Camp
Day 4: Climb to Darwa top and back to Dodital – 10 Km – 7/8 hours. Camp
Day 5: Trek back to Agoda – 15 Km – 6/7 hours. Lodge
Day 6: Drive from Agoda to Dehradun – 7/8 hours
Note: You need to reach Dehradun on Day 1 morning (by 9 am)  Return to Dehradun on Day 6 evening (by 7 pm). Arrange your tickets for inward journey and back to home from Dehradun accordingly.
 TREK FEE: ₹ 9950 (Uttarkashi to Uttarkashi) + 5% GST
Above TREK FEE is applicable for a minimum of 6 members and you can choose any date for your trip.
TREK FEE includes tented or  homestay/lodge accommodation at Uttarkashi, Agoda, Bhebra and Dodital.
All meals during the trek.
Entry fee and permits, trekking guide, support staff during the trek.
Personal travel insurance for 7 days.
Transportation to Uttarkashi and return are not included and  is ₹ 5000 for a Tata Sumo one way.
For detailed inclusions and exclusions check the COST INCLUSIONS tab.
Dodital location on map:
Check below the exact location of Dodital on map and satellite images:

Access to Dodital trek base (Uttarkashi):
Based upon your request we will arrange a pick up and drop from Dehradun to Uttarkashi and back. This will be shared equally by the team members on actual basis. You pay directly to the driver/transporter. The fare is ₹5000 for a Tata Sumo/Mahindra Maxx one way. This can accommodate 6 to 8 people. A Tempo Traveller charges ₹ 8000 (12-14 seat) one way. This is NOT included in TREK FEE.
To reach the trek base Uttarkashi independently/public transportation check the details in GETTING THERE TAB.
Duration: 4 days of trekking; Walking from Sangam Chantti to Dodital and back. 6 days from Dehradun to Dehradun.
Prerequisite: No prior trekking experience is required. Good physical fitness is always desired in any trek.
Grade: Easy
Physicality: 5/10
Trail Length: 50 Km
Highest Point: Dodital ~ 3100m/10170ft; Darwa top ~ 4100m/13450ft
Seasons: Year round trek. December to February (Winter/Snow) and March/April (Spring/snow)
Further Option: From Darwa top one can reach Yamunotri valley or can be combined with Dayara Bugyal trek.
Access: Trek starting point (trek base) is Uttarkashi, 150 Km from Dehradun.
Rail station: Dehradun (Station Code: DDN)
Airport: Delhi, Jolly Grant in Dehradun (Airport Code: DED)
Map:
Upcoming scheduled dates for Dodital trek:
You can check the scheduled Fixed Departure dates in the calendar available inside Booking Form or inside REGISTER NOW form. Tour starting Dates are highlighted as per our itinerary (Day 1 of  6 days itinerary).
At present BOOK NOW functionality is disabled. You can get all the information in your email by submitting the REGISTER NOW form.
If you are a group of people and available dates are not matching then you may select Custom date mode (by clicking the Select your custom date) and fill in the displayed form.
You can also check all the available dates at a glance in our TREK CALENDAR.
Trekkers need to reach Dehradun on Day 1 morning (latest by 8 am) or the previous night. Return to Dehradun on Day 6 evening (around 7 pm). Arrange your tickets for inward journey and return accordingly.
| | |
| --- | --- |
| REPORTING LOCATION | Dehradun railways station |
| REPORTING TIME | 8:00 AM for a prompt departure to Uttarkashi (Day 1) |
| RETURN LOCATION | Dehradun |
| RETURN TIME | Approximately 7:00 PM (Day 6) |
How to reach Uttarkashi (The trek base):
Nearest Rail station: Dehradun (Station Code: DDN)
Nearest Airport: Delhi, Jolly Grant in Dehradun (Airport Code: DED)
We will arrange a pick up and drop from Dehradun to Uttarkashi and back. This will be shared equally by the team members on actual basis. You pay directly to the driver/transporter. The fare is Rs 3500 for a Tata Sumo/Mahindra Maxx one way. This can accommodate 6 to 8 people. A Tempo Traveller charges Rs 6000 (12-14 seat) one way. This is NOT included in the TREK FEE and to be payable directly to the driver/owner.
If you wish to reach our Trek Base Uttarkashi on your own by public transportation:
From the Govt. Roadways bus stand at Dehradun (beside railways station, also called Mussoorie stand) you will get a direct bus to Uttarkashi at 8 am.
You will get direct buses to Uttarkashi in the morning from Haridwar and Rishikesh as well.
Similarly from Uttarkashi you can get a bus to Dehradun/Rishikesh in the morning.
How to reach Dehradun:
For the treks at Uttarkashi district in Garhwal , one has to reach the capital city of Uttarakhand, Dehradun, specially the trek starting from Sankri, Yamunotri etc. Haridwar, Rishikesh and Dehradun are 3 nearby cities in the area and one can move from one to another by public vehicles like bus or shared Jeeps.
For more options to reach Haridwar you can check here.
Haridwar to Dehradun: 55 Km and may take one and half to 2 hours.
Dehradun to Rishikesh: 45 Km and may take around one and a half hour.
You can fly or by train reach New Delhi as per your convenience from any part within India.
There are direct trains from Kolkata to Dehradun.
KUMBHA EXPRESS – Train No. – 12369 ( Very good option to reach Haridwar by 5 pm; You can take a bus from the terminus just opposite to the railway station referred as Roadways bus stand/ISBT and reach Dehradun in one and half hour. Spend the night in Dehradun and start your onward journey by car next morning.)
UPASANA EXPRESS – Train No. – 12327 ( Very good option to reach Dehradun directly by 5 pm; Spend the night in Haridwar and start your onward journey by car next morning)
DOON EXPRESS – Train No. – 13009 (Don't book this train when you plan a long onward journey immediately in the morning)]
Avoid booking wait listed (WL) tickets in AC classes (1A/2A/3A) or Chair Car (CC). Book Sleeper class (SL)/Second Sitting class (2S) tickets which have normally more seats/berths and hence much better chance to get confirmed.
Dehradun is easily reached from New Delhi by train or bus (~ 6/7 hours) and is around 260 Km
By train:
Following trains are good to reach Haridwar and run daily.
DDN JANSHTBDI – Train No. 12055 (Arrives HW in the evening @ 9:10 pm, good choice when you stay the night in Dehradun and have a long drive ahead next day)
NANDA DEVI EXP – Train No. 12205 (arrives HW early morning @ 5:40am)
Always avoid booking waitlisted (WL) tickets in AC classes (1A/2A/3A) or Chair Car (CC). Book Sleeper class (SL)/Second Sitting class (2S) tickets which have normally more seats/berth and hence much better chance to get confirmed.
By bus:
Govt. Road Transport (Roadways of Uttarakhand, Uttar Pradesh, Delhi, Haryana, Punjab etc.) buses are frequently available in day time and night from Kashmiri Gate ISBT (http://www.delhi.gov.in/wps/wcm/connect/doit_transport/Transport/Home/ISBT/Fare+Chart). Tickets are available on board for these regular type buses. From Delhi Airport or Station you can reach ISBT Kashmiri Gate via Delhi Metro service (http://www.delhimetrorail.com/metro-fares.aspx). It is only 4 Km from NDLS and can be reached easily by booking an auto rickshaw.
For privately operated bus, you can book online from different portals. Select a boarding point suitably. Overnight Volvo/A.C/Push back buses are available. Normally these buses take up to 7 hours to reach Dehradun ISBT. You can book an auto rickshaw for Railway Station (5 Km away)/Hotel Drona (GMVN) or take a shared auto (Route No. 5) from ISBT.
[There are two major bus terminus in Dehradun. The buses from Delhi/Haridwar goes to the ISBT (Inter State Bus Terminus) and the other one is the Parvatiya Depot (Hill Depot, from where you can get the buses going up the hills like Uttarkashi, Barkot, Purola etc) located just beside the Railway station.
Nearest Airport Jolly Grant is 25 Km away from Dehradun. book a private taxi to reach Dehradun city. This airport is accessed from Dehradun, Haridwar and Rishikesh easily. The flights are mostly via Delhi.
For night stay in Dehradun:
Trekkers reaching on the previous day before the journey to the actual trek base need to stay the night in Dehradun. There are several options in Dehradun for spending a night while staying in Premium, Standard or Budget accommodation. Options vary from Privately operated Hotels/Lodges, to state run Tourist Rest Houses.
State run GMVN (Garhwal Mandal Vikas Nigam) operates Hotel Drona complex is 10 minutes walking from the railway Station. You can book an auto rickshaw. From ISBT it is around 5 Km. You can book an auto rickshaw to Hotel Drona (GMVN) or take a shared auto (Route No. 5) from ISBT (Inter State Bus Terminus). This is a reliable and a decent choice for Standard accommodation. The have restaurant and room service.
Check the following for online booking of the above: http://www.gmvnl.com/newgmvn/tour/booktrh.asp
You can call or visit GMVN nearest office or even send an email for more information.The information is available at:
http://www.gmvnl.com/newgmvn/online_reservation/#
Return from Dehradun:
Normally you reach Dehradun from any trek base  by 6/7 pm in the evening. You can take any train after 9 pm or regular bus service as mentioned above to reach Delhi or directly to your homeward journey in the same night.
  TREK FEE: ₹ 9,950 (Agoda to Agoda) + 5% GST  
Inclusions:
2 nights accommodation at Agoda (Day 1 and 5) in a simple lodge on a sharing basis and dinner.
All meals (starting from Day 1 dinner and ending on Day 5 dinner) during the trek. Regular Indian style nutritious vegetarian food during the trek (including occasional eggs), breakfast packed/hot lunch (depending upon the time you reach a campsite), snacks, dinner along with coffee/tea/soup.
 Experienced Trekking Guide, who will be a local to this particular area and has profound knowledge of the trekking trails around.
 Specialised Cook, Support staff, Porters/Packed Animals for carrying the central logistics of the trek.
 All permit fee, camping charges, forest levy required for the trek.
Stay in tents/lodge on sharing basis as required in the trek.
Kitchen tent, dinning tent and toilet tent as required during the trek.
 Sleeping Mattress and Sleeping Bag (Bring your own sleeping if you have a high altitude specific personal Sleeping Bag. This is always better for hygienic reasons.)
 Basic Medical & First Aid kit.
Accidental Insurance Policy covering high altitude trekking tours (For Indian nationals it is included in the TREK FEE, up to 60 years of age). It covers your tour for a duration of 7 days.
Exclusions:
Transportation from Dehradun to Agoda and return. ₹ 6000 for a Tata Sumo, one way.
We assume that you will carry your personal Rucksack/Backpack with all your personal belongings. If you want to offload your rucksack and carried by horse then you need to pay
additional ₹ 1200 for the entire duration of the trek. The Rucksack should be within 10 Kg.
 Any tip/gratuity to the HT supports staff.
Anything is is NOT mentioned in the "Inclusions" or personal in nature.
Booking:
We assume that you have read and understood our "Terms & Conditions" before Booking a trek/tour.
To reserve your place in a scheduled Fixed Departure trek or a Customised/Private trek pay 25% of the Trek/Tour Fee as the initial "Booking Deposit". You can pay by Net banking/Draft/Cheque/Credit/Debit/AMEX cards. This will ensure your participation in the desired trek and we will reserve your place in the scheduled date. You need to pay the remaining amount at least 15 days before Trek Starting Date.
If you book a Trek/Tour before 14 days or less from Trek/Tour Starting Date, you need to pay the full Trek/Tour Fee.
 Cancellations:
"Booking Amount" i.e. 25% of the Trek/Tour Fee is Non-Refundable at any stage.
If in case you are not able to make it due to unavoidable reason(s), we provide you a very flexible choice of Shifting to another trek within next one year. One year is counted from the starting date of the trek/tour you booked initially with us.
In case you postpone your trip you need to inform minimum of 15 days before the trek/tour starting date. (Though we suggest to inform us earlier if known)
In case you postpone a trek/tour before 15 days of the scheduled Trek/Tour Starting date or prior, you may shift to another group of the same trek/tour scheduled in the same season or within next one year. You may shift to another suitable route also. For changing any, you need our approval first. Your request must be in written communication through your registered email with us.
If you cancel/postpone a trek/tour from 14 days to 8 days before tour starting date, your Booking Amount is Non-Refundable. We will not take any request of shifting dates. We will charge 50% of the amount as Cancellation Charges and process refund of remaining 50%. You may also shift to another group within next year but 25% Booking Amount will be deemed as Cancellation Charge and the rest amount will be transferred to the shifted group.
If you cancel a trek/tour 7 days (i.e. a week) before Trek/Tour Starting Date or later, there will be NO REFUND.
In case of any unforeseen incident including but not limited to natural calamities like flood, earthquake, landslide, forest fire or any political unrest, if we are compelled to cancel the trek/trip, you will be entitled to redeem the full amount for the same/similar kind of trek/trip within next one year.
If you need more clarifications write in to [email protected]