2140 m/7020 ft
Highest Point
Sikkim monastery circuit trek in homestays:
The "Sikkim monastery homestay trek" is intended for travellers who wish to visit Sikkim and experience local culture and tradition while staying in simple homestay accommodation and eating as locals do.
The itinerary is designed so that you can get an idea of rural Sikkim and its existence. Most of these Nepalese and Tibetan ethnic people once settled in Sikkim, following Buddhism. It has profound influences on the local culture and traditions.
The circuit we follow is within west Sikkim. The tour selectively caters to places and monasteries that are not popular with tourists but are traditionally important to local people. This one-of-a-kind Sikkim homestay trek will undoubtedly satisfy travellers who want to witness and experience vibrant Sikkimese tradition in a simple and down-to-earth way.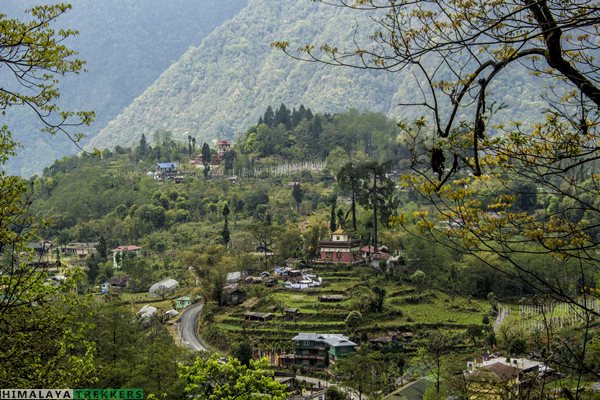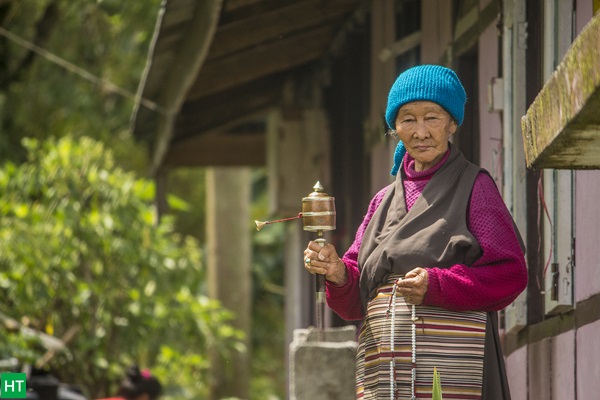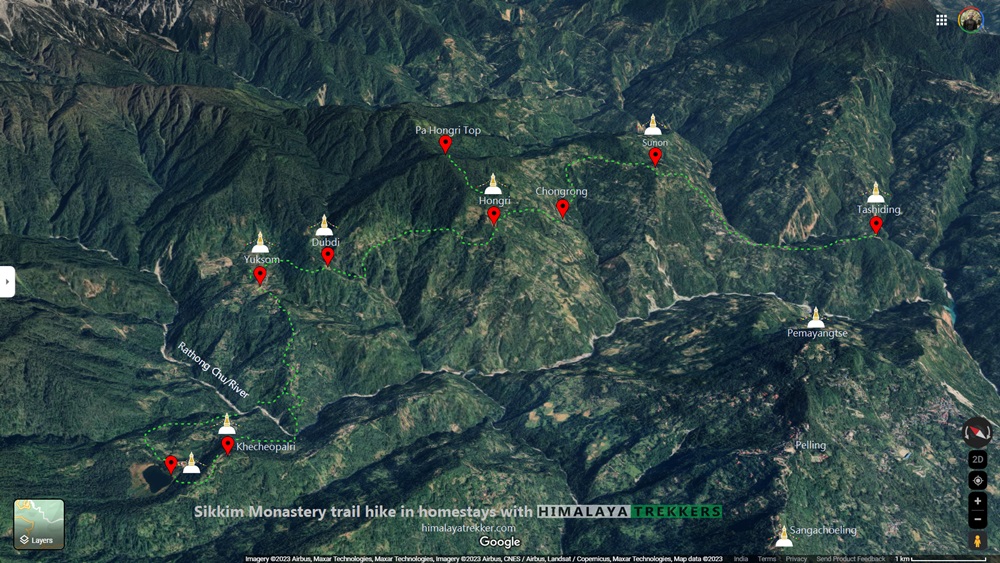 Our Sikkim monastery trail homestay trek circuit starts from Khecheopalri village. A picturesque village that is located on a small hilltop beside the sacred lake from which the village gets its name.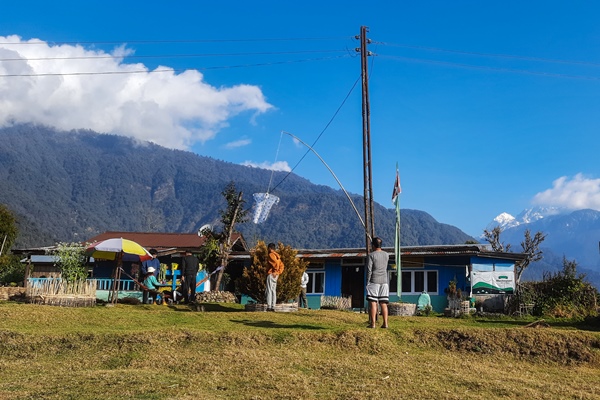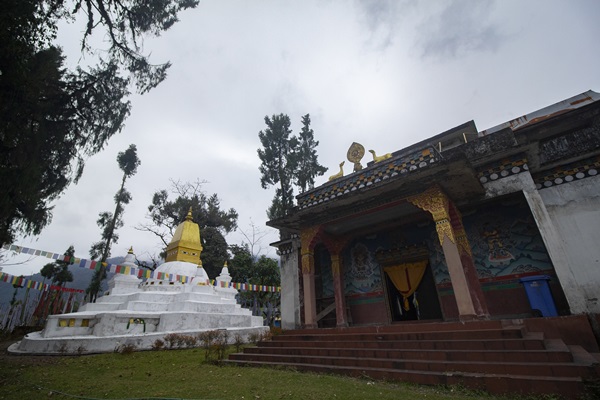 The boot-shaped lake derives its name from Kha-Chot-Palri (meaning the heaven of Padmasambhava/Guru Rinpoche). According to folklore, it is the thorax of the human body, with the other three being Yuksom (the third eye), Tashidinf (head), and Pemayangtse (heart).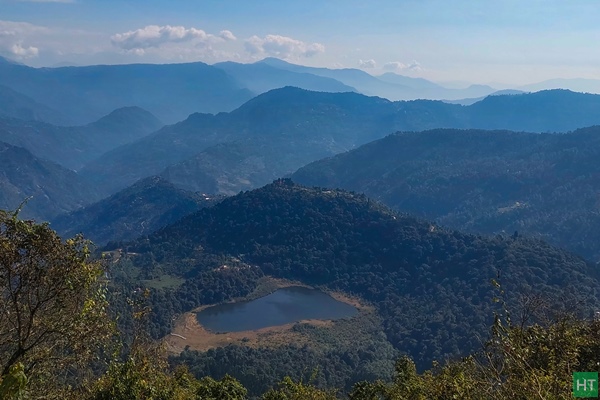 From Khecheopalri, we start our walk  and head to Yuksom, a quaint small town. Historically, this was the first capital of Sikkim, established almost 400 years ago. This is also the start and end point of the most popular trek in Sikkim, i.e. Goecha La Trek. This place has also has a lake, a coronation throne site and monastery to check.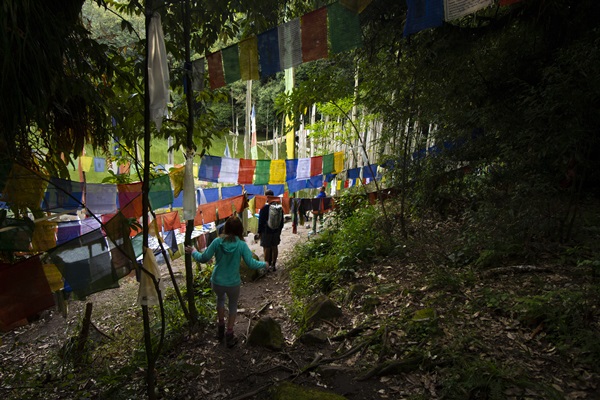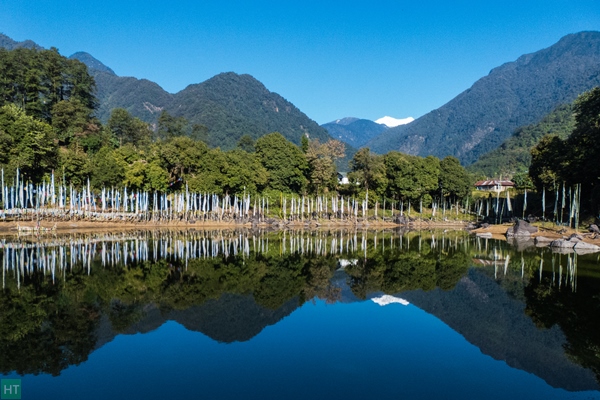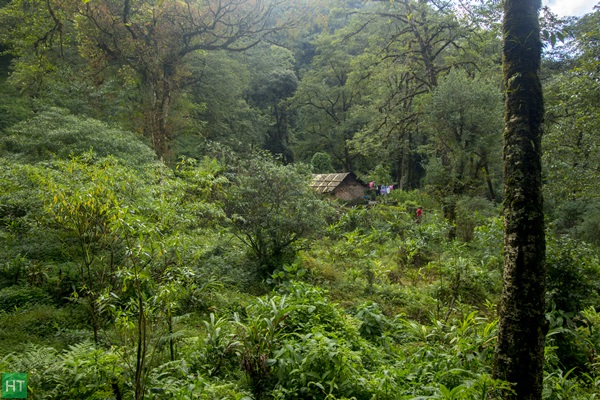 On our walk amidst the forest, we will visit Dubdi monastery, the oldest monastery in Sikkim, and at the end, Tashiding, supposedly the holiest of all. Also, we will look at Yuksom, Hongri, and Sunon monasteries, certainly not the "big ones," (e.g. Pemayangtse or Rumtek) but indeed serene and mostly untouched.
This walk from one homestay to another is through low-altitude evergreen forest, valleys, and villages. Hikes are of a half-day nature on an easy, well-defined trail, yet they are pretty charming. At the end of each day's hike, you will settle into a homestay until you move out the next morning.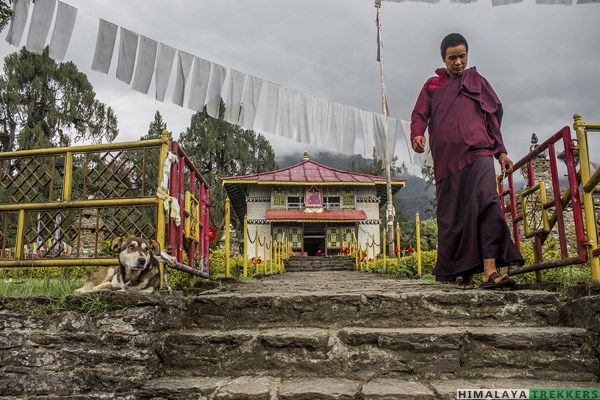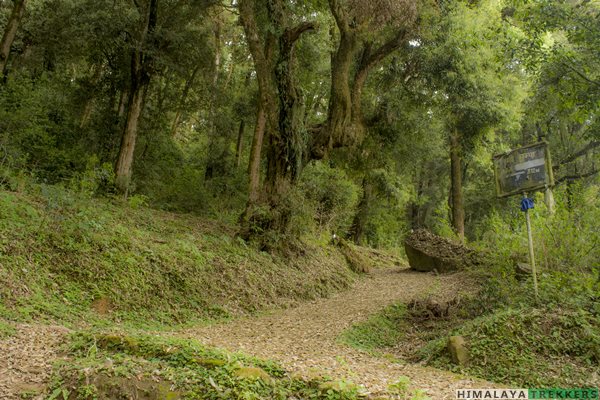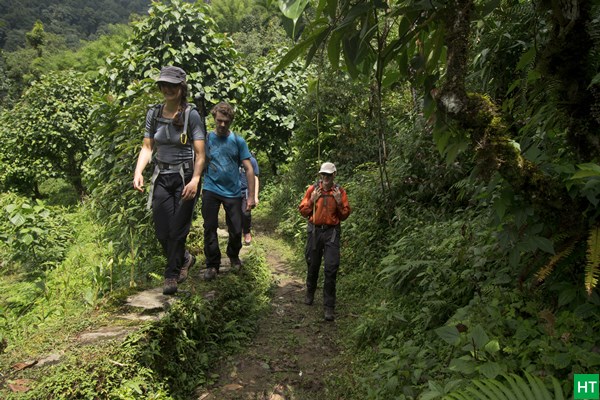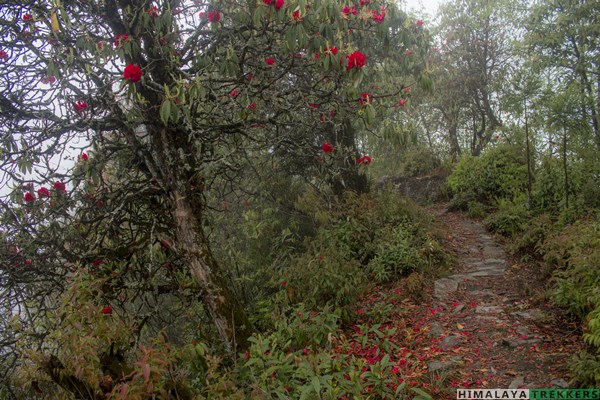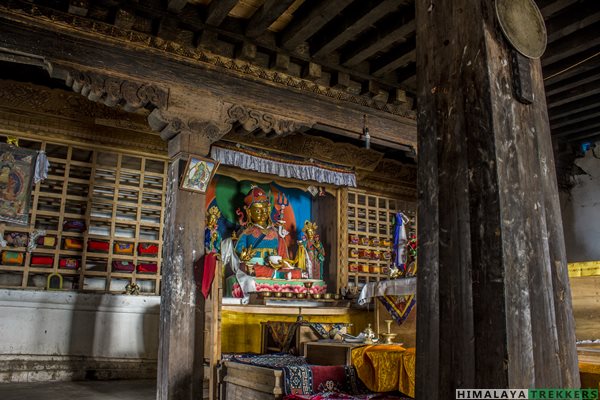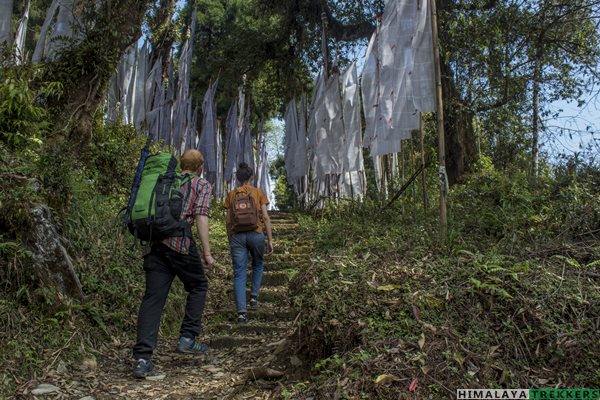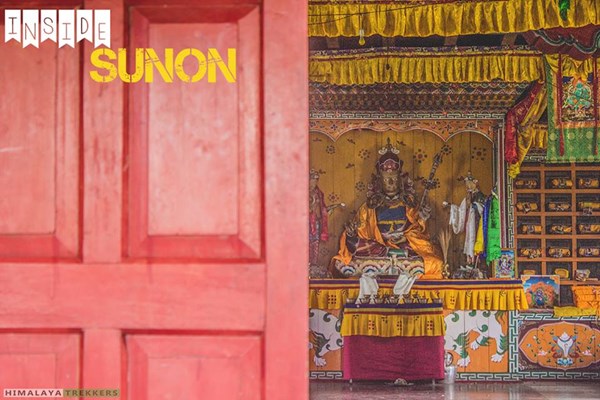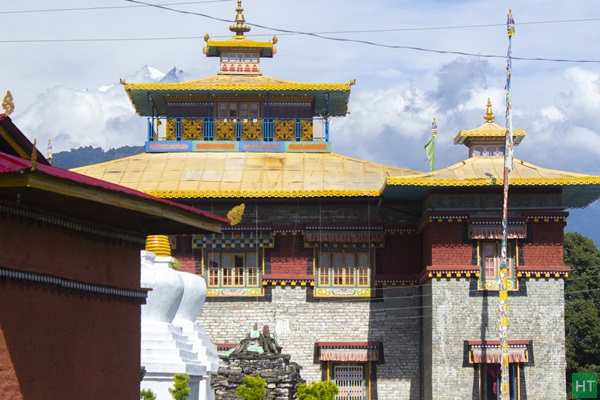 Suggested Itinerary:

 
Day 1: Reach NJP/Bagdogra (latest by 10 am) and drive to Khecheopalri village via Jorethang and Pelling – 150 Km – 7 to 8 hours. Homestay accommodation. Foreigners may also arrive Yuksom from Darjeeling via the shorter Nayabazar Jorethang route now (as you can get your ILP/RAP at Ramam Checkpost, West Bengal – Sikkim border).
Day 2: Hike to Yuksom, approx 4 to 5 hours. In the afternoon visit Kathok Lake, Coronation site and the local monastery at Yuksom. Homestay.
Day 3: Today we continue to Dubdi monastery (oldest in Sikkim) then to Tsong vilalge to Hongri  –  5 Km – 4 hours. Accommodation in basic homestay.
Day 4: Trek to Chongrong vilalge – Sunon monastery and finally to Tashiding monastery (holiest in Sikkim) – 6 hours. Homestay.
Day 5 : Drive back to NJP or Bagdogra  – 130 Km – 7 to 8  hours – Or continue your tour inside Sikkim-Darjeeling.
Note:
You need to reach NJP/Bagdogra latest by 10 am on Day 1, if travelling directly to Yuksom. Similarly you will return to NJP/Bagdogra by 5 pm on Day 5. Arrange your tickets accordingly.
This itinerary is for those people who wish to leisurely walk half a day from one village to another and visit the monasteries on the trail. This is a no luxury, simple and authentic way to spend your holidays in traditional villages of Sikkim.
You may extend the tour, take additional side hikes to Tara Cave or Pa Hongri top or stay at Sunon and so on.
 TREK FEE: ₹ 21,500 (Khecheopalri to Tashiding) + 5% GST 
Important notes on tour:
Above TREK FEE is applicable for a minimum of 2 members and you can choose any date for your trip. If you are 4 people together, TREK FEE will be ₹ 18,500 + 5% GST per person. It is also possible to complete this trail solo with a guide. However, TREK FEE will be ₹ 26,000 + 5% GST for you in case you like to hike alone.
We can tweak the itinerary as you prefer, by adding more coverage around or we can shorten the days if you prefer to move in a faster pace.
TREK FEE includes homestay accommodation at Khecheopalri, Yuksom, Hongri, and Tashiding with all meals (B,L,D) .
Home-stay's are basic and simple in nature, clean beds and toilets, no heating system inside rooms. Rooms are on twin sharing basis, attached bathroom, no geyser facility at Hongri and Chongrang.
An English speaking guide will accompany you, who will be a local and has understanding of the surrounding, both geographically and culturally/socially.
Organic food and local delicacies will be served. Normally home grown or locally produced vegetables are used.
Transportation or personal porters are not included.
For detailed inclusions and exclusions check the COST INCLUSIONS tab.
 Seasons for Sikkim monastery trail trek: 
You can walk on this trail throughout the year. It is better to avoid this circuit from the month of June to September during monsoon. However there is no restrictions as such for the permits.
Mid February to mid April is Rhododendron blooming season on this trail around ~ 2000 m. November to January remains dry along with clear skies.
 Why Sikkim monastery circuit Homestay trek?
If you are keen on local culture and tradition this is perhaps one of the most authentic ways to pay a visit to Sikkim. We deliberately omitted popular places like Gangtok Namchi, Ravangla or Pelling in the itinerary. This is particularly suitable for you who will be travelling Sikkim for a longer duration and adding this unique trail in your Sikkim visit or who like to get a feel of core Sikkim.
Apart from witnessing traditional villages and culture you will get ample chance to document, as you wish, be it through your lenses, in writing, sketches and so on.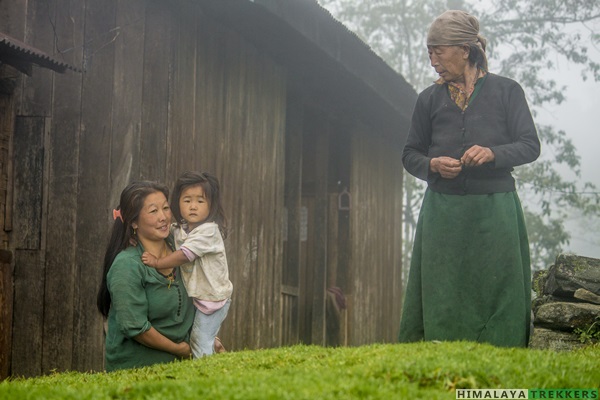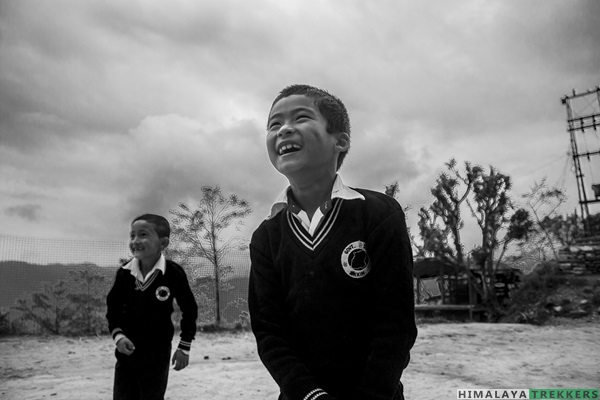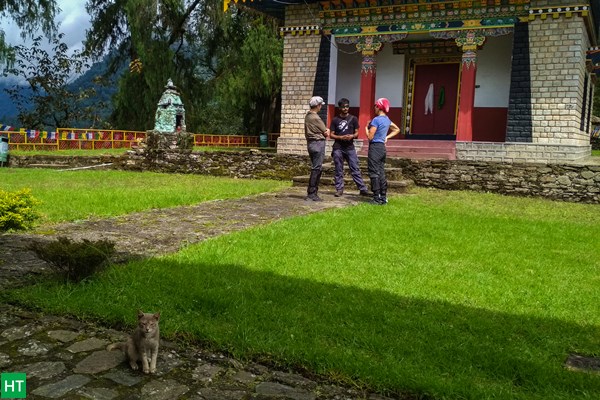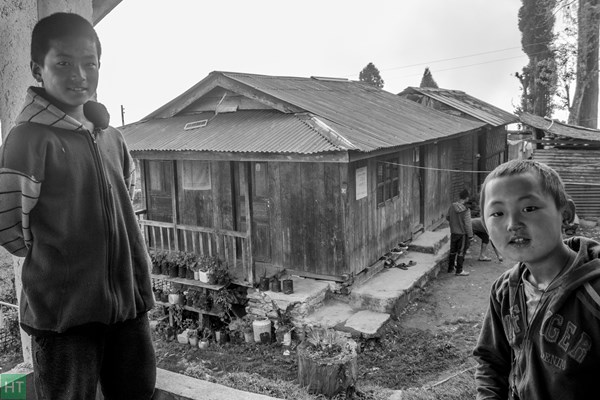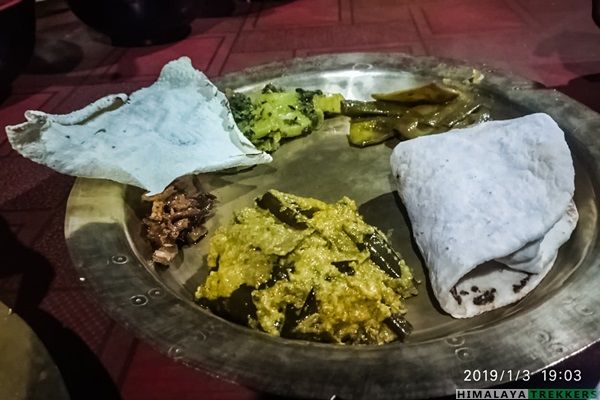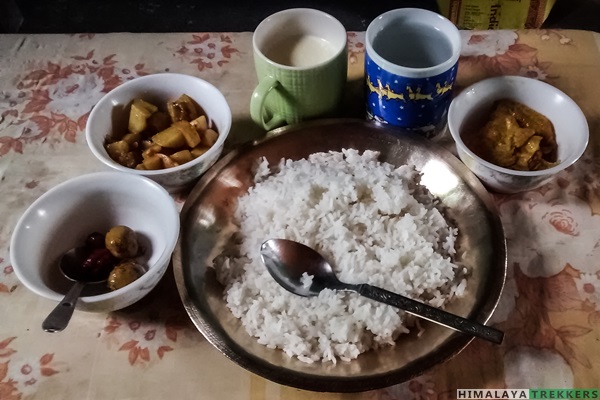 Buddhism in Sikkim: Roots & Route 
Buddhism is a subtle and perceptive philosophy that teaches a way of life that is based on human qualities of kindness, generosity and morality. Over the centuries many schools of Buddhist thought began with great teachers and monks and among them the three most important schools are – Theravada, Mahayana and Vajrayana.
In Sikkim, where Buddhism only arrived in the seventeenth century, from Tibet, all the monasteries belong to Vajrayana School, or the Thunderbolt Vehicle. At times called the Diamond vehicle, Vajrayana Buddhism is also practised in Ladakh and Bhutan. Vajrayana Buddhism initially absorbed the cult of ancestral gods and local deities which eventually became central to the performance of rituals that are currently held by both village lamas and shamans.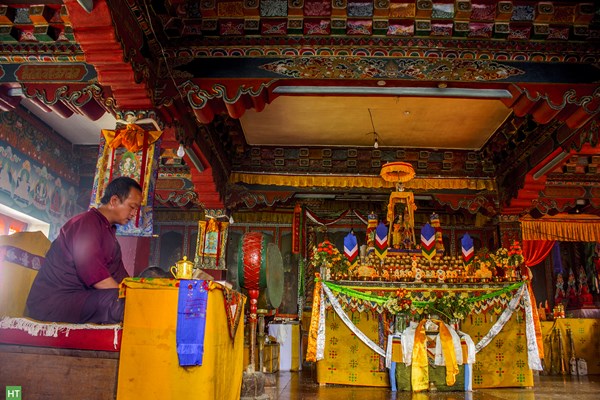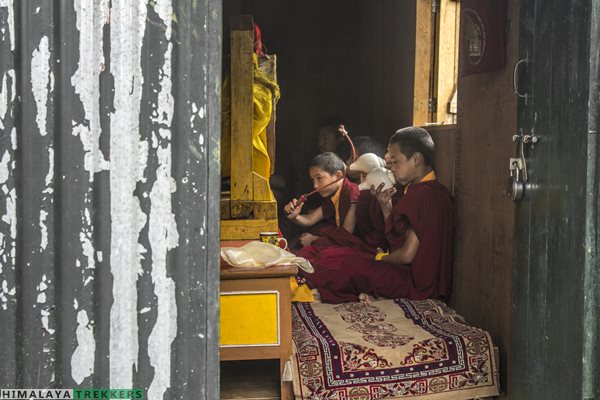 Buddhism was introduced in Sikkim by Lhatsun Chenpo, who was a resident of Kongbo in the lower valley of the Tsangpo. His name means "the great revered god" with reference to his alleged power of flight. The oldest monastery founded by Lhatsun Chenpo is Dubdi at Yuksom, which was constructed soon after the consecration of Phuntsog Namgyal. Soon afterwards, another shrine seemed to have been erected at Tashiding. Waddell, in his book "Lamaism in Sikkim" (Oriental Publishers, Delhi, 1973, p. 18), has recorded the miraculous appearance of Lhatsun Chenpo in Sikkim and his meeting with two other lamas. These three lamas held a council and sent two messengers to the east in search of Phuntshog, as prophesied by Guru Rimpoche, or Guru Padmasambhava, as he was known in India. Subsequent to Lhatsun Chanpo's death at the latter end of the seventeenth century, Buddhism steadily progressed in Sikkim.
 Reaching NJP Bagdogra and to tour starting point Yuksom, West Sikkim: 
We may arrange a pickup  from NJP/Bagdogra/Siliguri to Yuksom and drop to NJP/Bagdogra. A private pick up vehicle like Tata Sumo/Mahindra Maxx Jeep (accommodates 5/6 persons) charges ₹ 7000 for pick up from NJP/Bagdogra to Yuksom or from Tashiding to NJP/Bagdogra, one way. One such car can accommodate up to 5-6 people. This cost is NOT included in the TREK FEE and you pay directly to the driver.
To reach the trek base Yuksom the access is from NJP/Siliguri/Bagdogra. For details on how to reach nearest railways station/airport and move to trek base independently/public transportation check the details in GETTING THERE TAB.
 Permit requirements to enter Sikkim and trek (Indians & Foreigners): 
For Indian Nationals: No special permit is required for this tour. Carry an original Photo ID card with address proof on it (Aadhar/Driving Licence/Voter ID/Passport but NOT Pan card) & 2 photocopies of the same.
For Foreign Nationals and OCIs:
All foreigners (with relaxation to Bhutanese citizens) will require Inner Line Permit (ILP) which is also called as Restricted Area Permit (RAP) to enter the boundary of Sikkim. This is issued free of cost at Sikkim check posts while you enter Sikkim by road.
This takes 15/20 minutes with the strength of your passport and valid Indian visa and 2 copies of your recent passport size photos. An Overseas Citizens of India (OCI) has to go through the same process as of a foreign national. Foreigners don't require any special permit, e.g. PAP/Protected Area Permit for this trail.
ILP/RAP can be obtained on spot at Melli (from NJP/Bagdogra), Rangpo (if travelling from Gangtok side) and Ramam Check post (if you are travelling from Darjeeling) and at Bagdogra airport.
Nationals Pakistan, Myanmar, Nigeria and China can only apply for ILP or RAP through Ministry of Home Affairs, Government of India, New Delhi.
Duration: 3 days of hiking; NJP/Bagdogra to NJP  round trip in 5 days.
Prerequisite: Ideal for beginners/first Himalayan hike.
Grade: Easy for beginners.
Physicality: 4/10
Trail Length: ~ 20 Km
Highest Point: Hongri monastery ~ 2140 m/7020 ft
Seasons: March to May (Spring/Summer) for Rhododendron bloom. Oct to Feb for clear mountain views (Fall/Winter).
Further Option: You can halt one more day at Hongri and climb the Pa Hongri (ruins on mountain top). You may add Pelling and around sightseeing for a couple of days.
Access: Trek starting point is Hilley and end point is Uttarey.
Rail station: New Jalpaiguri (STN Code: NJP)
Airport: Bagdogra (Code: IXB)
 Map:
At present direct booking from website is disabled. You can get all the information in your email by submitting the Enquiry Form available on the page.
You can book for any date, if a homestay accommodation is available.
You need to reach NJP/Bagdogra on Day 1 morning (latest by 9 am) or the previous night. Return to NJP on Day 5 evening by 5 pm. Arrange your tickets for inward journey and return accordingly.
| | |
| --- | --- |
| DEPARTURE LOCATION | New Jalpaiguri railway station (NJP)/Bagdogra airport |
| REPORTING TIME | 9:00 AM for a prompt departure to Khecheopalri (Day 1) |
| RETURN LOCATION | NJP/Siliguri/Bagdogra |
| RETURN TIME | Approximately 5:00 PM (Day 5) |
How to reach Yuksom (The trek base):
Nearest Rail station: New Jailpaiguri (Station Code: NJP)
Nearest Airport: Bagdogra (Airport Code: IXB)
We may arrange a pickup  from NJP/Bagdogra/Siliguri to tour starting point Yuksom and drop from Tashiding to NJP/Bagdogra/Gangtok/Darjeeling. A Tata Sumo/Mahindra Maxx Jeep (accommodates 5/6 persons) charges ₹ 6000 for pick up from NJP to Yuksom and ₹ 5500 for a drop from Tashiding to NJP/Bagdogra. One such car can accommodate up to 8 people. This is NOT included in the TREK FEE and to be payable directly to the driver/owner.
If you wish to reach our Trek Base Yuksom on your own by public transportation:
You have to reach S.N.T. (Sikkim Nationalised Transport) terminus Jeep stand in Siliguri Junction area. Then take a shared jeep for Jorethang in south Sikkim, takes around 4 hours. From there one may get a shared jeep service for Yuksom, but a seat is not guaranteed. The earlier you reach Jorethang the chances are higher to get this service. From Jorethang it is another 3 hours journey to Yuksom. Often It is difficult to reach Yuksom from NJP/Siliguri in one day.
How to reach NJP:
For the treks in Sikkim and Darjeeling , one has to reach the city of Siliguri (considered the corridor to the North-East) in West Bengal.
The nearest Railway Station is New Jalpaiguri (NJP), 5 Km from Siliguri and the airport Bagdogra is 10 Km.
You can fly or by train reach Siliguri from Kolkata ( good for the trekkers coming from South/central or Western India) or Delhi as per your convenience from any part within India.
Direct flights are available from New Delhi and Kolkata. All the flights to Bagdogra reaches late in the morning or early afternoon. It becomes difficult to reach the trek base like Yuksom/Hilley/Uttarey on the same day unless a car is booked (takes around 8 hours to reach). One can stay the night in Siliguri and start the travel to the trek base next morning. It is better to reach Siliguri by flight/train to Kolkata and then take an overnight train to NJP unless you are coming from northern India. 
 From Kolkata to Siliguri: 
1) By train:
There are several overnight trains running between Kolkata (Howrah or Sealdah) to NJP. Day trains are also available.
From airport (Dumdum, CCU) , Sealdah railway station is 15 Km and may take 1 to 2 hours depending upon the time you travel. Howrah is 17 Km and may take up to 2 hours during the heavy traffic in the rush hours. Howrah and Sealdah are only 5 Km apart, though it may take an hour to travel. Pre Paid taxi booths are available.
DARJEELING MAIL – Train No. – 12343 (Good option to reach NJP in the morning. Starts around 10 pm in the night and reaches NJP 8 am in the morning.)
PADATIK EXPRESS – Train No. – 12377 (Good option to reach NJP in the morning. Starts around 11 pm in the night and reaches NJP 9 am in the morning.)
KANCHANKANYA EXPRESS – Train No. – 13149 (Starts at 8:30 pm in the evening and reaches NJP 7:30 am in the morning)
SHATABDI EXPRESS – Train No. – 12041 (Day train, starts 2:15 pm in the afternoon and reaches NP at 10:20 pm in the night. There are hotels/lodges outside the railway station at a walking distance of 5 minutes. Otherwise book an auto rickshaw/taxi to Siliguri, which takes around 15 minutes. There are several hotels around Siliguri Junction/Tenzing Norgay Bus Terminus/S.N.T (Sikkim Nationalised Transport stand).
There are other trains also of which some run daily and some on particular days of week.
Avoid booking wait listed (WL) tickets in AC classes (1A/2A/3A) or Chair Car (CC). Book Sleeper class (SL)/Second Sitting class (2S) tickets which have normally more seats/berths and hence much better chance to get confirmed.
2) By flight:
From Kolkata(CCU)  take a flight to Bagdogra (IXB). From airport book a taxi to reach Siliguri which is 10 Km away.
 From Delhi to Siliguri: 
1) By Train:
Following trains are good to reach NJP and run daily.
DIBRUGARH RAJDHANI – Train No. 12424 (arrives NJP late in the morning @ 10:45 am)
NORTH EAST EXP – Train No. 12506 (arrives NJP @ 8:20 am in the morning)
BRAHMAPUTRA MAIL – Train No. 12424 (arrives NJP at 5 am in the morning. But this train runs late frequently.
Always avoid booking wait listed (WL) tickets in AC classes (1A/2A/3A) or Chair Car (CC). Book Sleeper class (SL)/Second Sitting class (2S) tickets which have normally more seats/berth and hence much better chance to get confirmed.
2) By flight:
From Delhi (DEL) take a flight to Bagdogra (IXB). From airport book a taxi to reach Siliguri which is 10 Km away.
 For night accommodation in NJP/Bagdogra/ Siliguri: 
Trekkers reaching on the previous day (Day 0) before the journey to the actual trek base need to stay the night in Siliguri/NJP. There are several options in Siliguri for spending a night while staying in Standard or Budget accommodation. It is better to reach to the centre of Siliguri called Siliguri Junction (adjacent to Tenzing Norgay Bus Terminus and Sikkim nationalised Transport/S.N.T stand). It takes 30 minutes from Bagdogra or 15 minutes from NJP.  Also you will get hotels 5 minutes walking from NJP station.
Return from NJP/Bagdogra:
Normally you reach NJP/Bagdogra from any trek base  by 5/6 pm in the evening. You can take any train after 7 pm to Kolkata safely, which reach early in the morning. Accordingly arrange your homeward journey from Kolkata onward.
Drive from NJP-Bagdogra-Siliguri to Siliguri/Bagdogra to Khecheopalri via Jorethang – 150 Km – 8 hours
Hike to Yuksom - 8 Km - 4 to 5 hoours
Yuksom is a typical small and laid-back Sikkimese town with one strip of Bazaar area in the centre. The village is spread out on the valley with Kabru peak setting the backdrop. The first king of Sikkim, His Holiness Funchook Namgyal was crowned here by His Holiness Gyalwa Latchen Chembo, the same man who brought Buddhism to Sikkim in 1641. There are quite a few hotels and lodges ranging from premium to budget type. Also there are few restaurants offering veg and non veg food in the Bazaar area. All the major mobile networks wok here and has a small internet cafe. Night stay in homestay accommodation.
Hike to Hongri – 4/5 hours
Hike to Tashiding - 5 to 6 hours.
Drive back to NJP or Bagdogra – 130 Km – 7/8 hours
P.S.: Distances and altitudes are approximate and may not be exact.
  TREK FEE: ₹ 21,500 per person (Khecheopalri to Tashiding) + 5% GST  
The above TREK FEE is per person based on a group of MINIMUM 2 persons. TREK FEE will be reduced when the group members increase, e.g, ₹ 18,000 per person + 5% GST for a group of 4 persons together.
Inclusions:
4 night's accommodation at Khecheopalri, Yuksom, Hongri and Tashiding homestay on twin sharing basis. Simple and basic in nature, clean beds and toilet, running hot water/geyser is NOT available at Hongri and Chongrang homestay.
 All meals (Day 1  dinner to Day 5 breakfast) during the  tour, apart from the ones during transit. All meals cater to local food habit, dishes and delicacies. Vegetables are mostly local and organic), breakfast, hot lunch and dinner (optional non veg on availability) along with tea/local drink.
Any permit required for the tour.
A simple English speaking hiking guide for the trail. Your guide will be a local to this particular area and has good knowledge of local custom, tradition and culture.
Permit, food and any expenses for the guide.
Basic medicines & First Aid kit.
Personal travel insurance for 7 days (For Indian nationals it is included in the TREK FEE, up to 60 years of age). It covers your trek as well as your return journey to NJP/Bagdogra.
Exclusions:
Transportation from NJP/Bagdogra to Okhrey and return from Hilley to NJP/Bagdogra. A Tata Sumo/Mahindra Maxx Jeep (accommodates 5/6 persons) charges ₹ 7000 for pick up from NJP/Bagdogra to Yuksom or return from Tashiding, one way. We can arrange on request, you pay directly to the driver.
Any entry ticket for a monument/monastery/sightseeing point and any camera charges there within.
We assume that you will carry your personal Rucksack/Backpack with all your personal belongings. If you want to offload your Rucksack/Duffel Bag (No suitcase or Trolley bag) and carried by a Porter then you need to pay additional ₹ 1200/per day.  One porter will carry up to 20 Kg of luggage. Also you can leave some luggage at Yuksom and collect from Tashiding while returning (no valuable item or important document).
Any tip/gratuity to the HT support staff/guide.
Anything which NOT mentioned in the "Inclusions" or personal in nature.
Booking:
We assume that you have read and understood our "Terms & Conditions" (https://himalayatrekker.com/terms-and-conditions) before Booking a trek/tour.
To reserve your place in a scheduled Fixed Departure trek or a Customised/Private trek pay 25% of the TREK/TOUR FEE as the initial "Booking Deposit". You can pay by Net banking/Draft/Cheque/Credit/Debit/AMEX cards. This will ensure your participation in the desired trek and we will reserve your place in the scheduled date. You need to pay the remaining amount at least 15 days before Trek Starting Date.
If you book a Trek/Tour before 14 days or less from Trek/Tour Starting Date, you need to pay the full TREK/TOUR FEE.
 Cancellations:
"Booking Amount" i.e.25% of the TREK/TOUR FEE is Non-Refundable at any stage.
If in case you are not able to make it due to unavoidable reason(s), we provide you avery flexible choice of Shifting to another trek within next one year. One year is counted from the starting date of the trek/tour you booked initially with us.
In case you postpone your trip you need to informminimum of 15 days before the trek/tour starting date. (Though we suggest to inform us earlier if known)
In case you postpone a trek/tour before 15 days of the scheduled Trek/Tour Starting date or prior, you may shift to another group of the same trek/tour scheduled in the same season or within next one year. You may shift to another suitable route also. For changing any, you need our approval first. Your request must be in written communication through your registered email with us.
If you cancel/postpone a trek/tour from14 days to 8 days before tour starting date, your Booking Amount is Non-Refundable. We will not take any request of shifting dates. We will charge 50% of the amount as Cancellation Charges and process refund of remaining 50%. You may also shift to another group within next year but 25% Booking Amount will be deemed as Cancellation Charge and the rest amount will be transferred to the shifted group.
If you cancel a trek/tour 7 days (i.e. a week) before Trek/Tour Starting Date or later, there will be NO REFUND.
In case of any unforeseen incident including but not limited to natural calamities like flood, earthquake, landslide, forest fire or any political unrest, if we are compelled to cancel the trek/trip, you will be entitled to redeem the full amount for the same/similar kind of trek/trip within next one year.
If you need more clarifications write in to [email protected]