Trekking in Uttarakhand:
Here we will briefly outline the options of trekking in Uttarakhand, a mountainous state in northern India.  This state is home to significant amount of mid to high altitude treks spanning from 3000 m (10000 ft) to 6000 m (20000 ft) altitude catering taste for every hiker. It is indeed the heart of Indian High Himalayas and a must visit for travellers who like to explore the Indian Himalayas.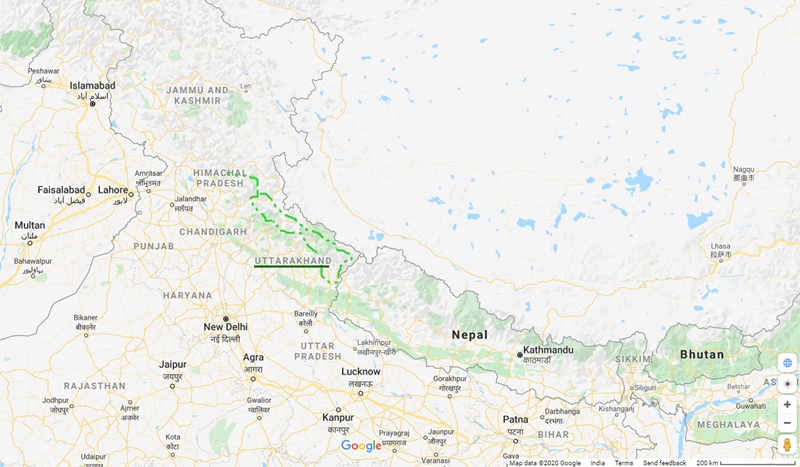 Uttarakhand state is divided into two administrative divisions:
Garhwal
Kumaon
Trekking routes are located northerly side of the state, spreading on both east and west. In Garhwal trails are mostly inside Uttarkashi, Rudraprayag and Chamoli districts. Within Kumaon division, Bageshwar and Pithoragarh districts cater the chunk of the trekking routes.
Additionally there are trek routes which originate from Uttarakhand and complete in the neighbouring state of Himachal Pradesh located to its north-west or vice versa.
Reaching there in Uttarakhand:
Uttarakhand is close to Delhi and you can reach easily to the foothills of this state. However you need to travel long, normally a full day journey to reach the various trek bases. Similarly you will need another day to return to nearest railway station or airport.
Based on the trekking route you decide, you need to travel to either of the transportation hubs of Garhwal (western part ) or the Kumaon (eastern part) in Uttarakhand.
New Delhi is not far from here (< 300 Km) and often proves convenient to arrive first. You will get multiple trains and busses to travel overnight, daytime or in the morning from Delhi to nearest Uttarakhand entry points.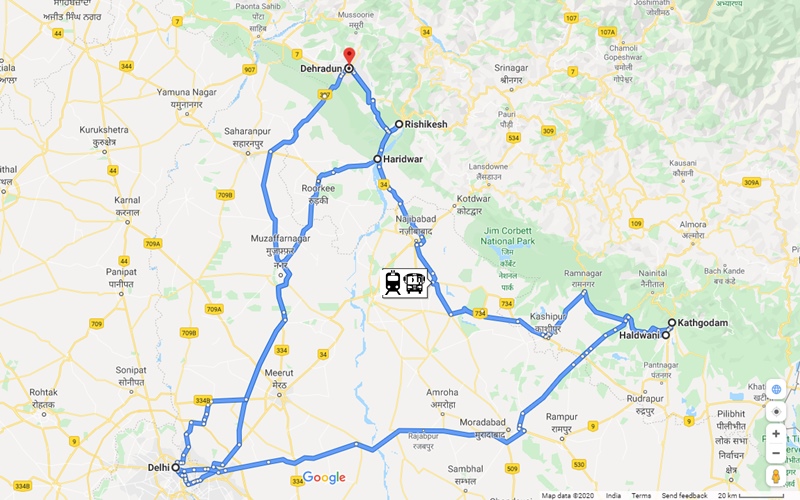 Towards Garhwal:
Nearest Rail station: Dehradun (Station Code: DDN) or Haridwar (Station Code: HW).
Nearest Airport: Jolly Grant, Dehradun (Code: DED)
By Bus: ISBT, Kashmiri Gate, busses to Haridwar, Rishikesh and Dehradun.
New Delhi has two Inter State Bus Terminus (ISBT) at Kashmiri Gate and Anand Vihar (towards Noida border). You will get Delhi metro railway connection to these hubs, from airport or railways stations inside Delhi.
From ISBT Kashmiri Gate you will get frequent ordinary and deluxe bus services to Haridwar and Dehradun run during day and overnight. It may take 5/6 hours to Haridwar and 7/8 hours to Dehradun. We recommend to take state govt. operated UTC busses (ordinary and Volvo) which you can book online or on board, depending upon availability.
You will get more information on travelling and where to stay for a night by reading getting to Haridwar or on how to reach Dehradun page.
Towards Kumaon:
Nearest Rail station: Kathgodam (Station Code: KGM), or Haldwani or Lalkuan (20 Km before KGM).
Nearest Airport: Pantnagar (Code: PGH), rare flights and inconvenient. Skip.
By Bus: ISBT Anand Vihar. Busses to Haldwani and Kathgodam.
You will get state govt. operated UTC as well as private busses frequently going to Haldwani town (5 Km before Kathgodam) or some further till Kathgodam, the gateway to Kumaon. Busses operate both during day and overnight and may take 6 to 8 hours.
Check more information on travelling and where to stay for a night on our getting to Kathgodam page.
Travelling to Trek bases in Uttarakhand:
For Garhwal treks once you have reached Haridwar/Rishikesh/Dehradun, usually you need to travel  a day to the nearest trekking base or starting point. On an average distances range between 200 to 300 Km on mountainous motor road  to get inside core Himalayas. One way drive may take 8 to 12 hours upon distance and road conditions. Often you will require 2 full days to reach a trek base and return with overnight connections to New Delhi.
Major trekking base of Garhwal are:
Sankri
Uttarkashi
Joshimath
Lohajung (also accessed from Kathgodam side)
Similarly for treks in Kumaon, additional you would require a day to reach respective trek base and another while returning. Plan for these 2 days in your itinerary.
Major trekking base of Kumaon are:
Munsyari
Bageshwar
Dharchula
Major trekking routes in Uttarakhand are following alphabetically: