3750 m/12300 ft
Highest Point
Pindari Glacier Trek via Dhakuri Pass
Pindari Glacier Trek or Pindar Valley Trek was perhaps one of the most popular treks in India back in the 80's and 90's. Apart from its picturesque trail, one of the main reasons for its popularity was the simplicity of "Tea House" style. People from different corners of the world came to explore this superb and classy trail. Although camping is the only way to complete this trek at present, that's nothing short of a lifetime experience.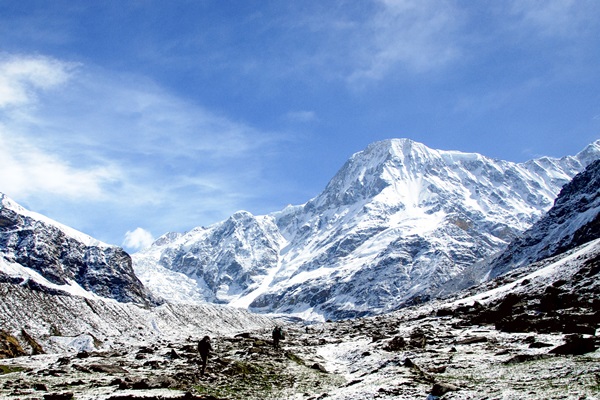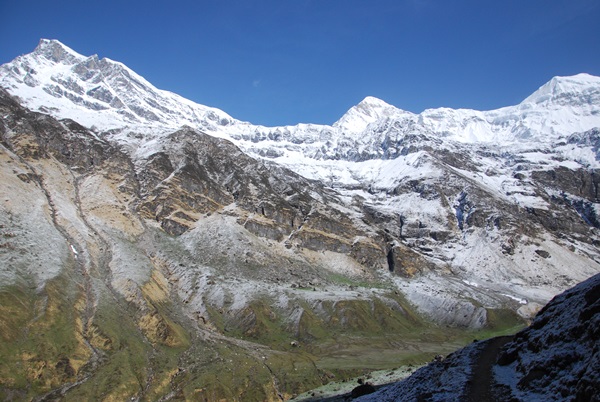 At the highest point, you see a remarkable view of the Pindari Glacier icefall and the surrounding mountain peaks (there are many of them forming the outer rim of Nandadevi Sanctuary, including Mrighthuni, Panwali Dwar, Nandakot, and Chhanguch). On top of that, we take the classic longer trail via Dhakuri Pass (also called Dhakuri Top), which opens a new vista of panoramas from the pass and subsequent points. From Dhakuri, we can witness the beautiful Sunderdhunga valley at its fullest, with a series of peaks on its head (some are Bhanoti, Tharkot, Devtoli and Devistan) combined with the adjacent Pindari valley.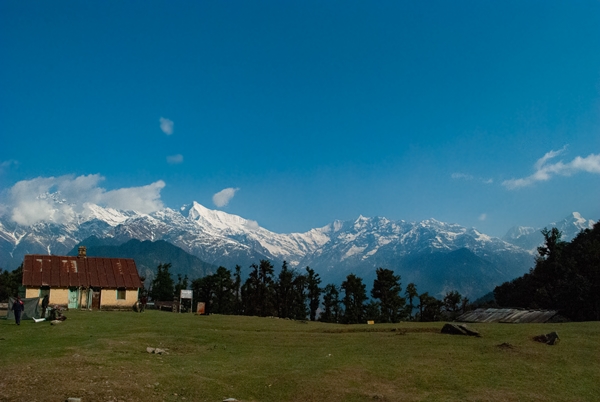 Pindari glacier trek itinerary: 
Day 1: Drive from Kathgodam to Loharkhet via Almora, Bageshwar and Song. 9/10 hours drive, ~ 180 Km. Tent. (~ 2000 m/6560 ft)
Day 2: Trek from Loharkhet to Dhakuri campsite via Dhakuri Pass/Khal (~ 2900 m/9500 ft) – gradual uphill till pass and then a descent to the camping ground. ~ 10 Km, 6/7 hours. Tent. ~ 2700 m/8850 ft.
Day 3: Witness the beautiful sunrise and start comfortably after breakfast. Trek down to Kharkiya, 3 Km and then trek to Khati village 4 Km and camp. Total walk, 7 Km, 4 hours. ~ 2200 m/7220 ft.
Day 4: Trek to Dwali, 12 Km, 6/7 hours. Camp ~ 2700 m/8850 ft.
Day 5: Trek to Phurkiya, 5 Km, 3/4 hours. Camp. ~ 3200 m/ 10500 ft.
Day 6: Visit Pindari Zero point (~ 3750 m/12300 ft) and return to Phurkiya ~ 15 Km, 9/10 hours. Camp
Day 7: Trek back to Khati via Dwali, 17 Km, 6/7 hours. Camp
Day 8: Trek to Kharkiya road head, approx 1 hour and drive to Kathgodam in 9/10 hours time.
Important notes:
You need to reach Kathgodam on Day 1 morning (latest by 8 am) or the previous night. Return to Kathgodam on Day 8 evening (by 7 pm). Arrange your tickets for inward journey and return from Kathgodam accordingly. We may arrange transport to reach Loharkhet and return but are NOT included in the TREK FEE.
A shorter itinerary excluding Dhakuri pass takes 6 days from Kathgodam to Kathgodam. You can directly reach Kharkiya by car and walk to Khati the same day. In 4 days you will trek to Pindari glacier Zero point and back to Khati. On Day 6 walk to Kharkiya and take a car to Kathgodam. Although we strongly suggest you cross Dhakuri Pass for fascinating views of Pindari and Sunderdhunga valleys together.
The route from Dwali to Kafni glacier is still not operational. The route was completely washed off during 2013 cloudbursts and yet to be reconstructed.
About the trail:
Loharkhet to Khati village via Dhakuri Khal:
On the first day of the itinerary, we drive from Kathgodam or the adjacent city of Haldwani to our base camp at Loharkhet. We drive through Kumaon, starting from the lower hills starting at Kathgodam, and then through Almora and Bageshwar town to the village of Loharkhet at ~ 2000 m/6560 ft. We set our tent beside the Forest Guard office.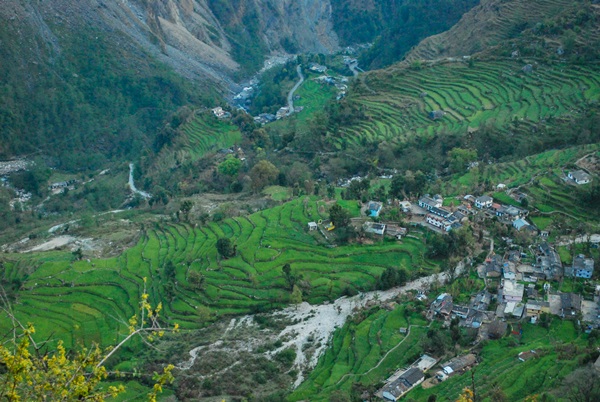 Our trek base, Loharkhet, is in the Bageshwar district of Kumaon division. It is on top of a ridge going straight up from Song Village, which is in Saryu Valley. Starting from Loharkhet, the Pindari glacier trail is broad and crosses the gentle Dhakuri Khal. Once we enter the Pindari River Basin, the trail gradually rises towards the Pindari Glacier.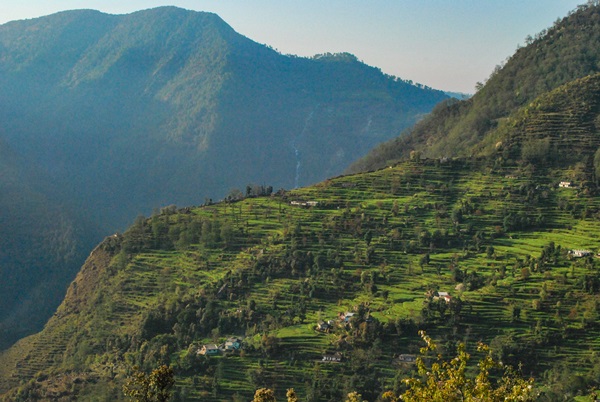 As we start trekking from Loharkhet, we follow the broad trail, climbing steadily up towards the Dhakuri Khal (2902m/9520ft). It is a moderate steep ascent of almost 900m (2953ft) in 9 Km, and there is no water available en route. Situated on a forested ridge, Dhakuri is a broad pass that provides a wonderful view of some of the peaks on the southern wall of the Nanda Devi Sanctuary.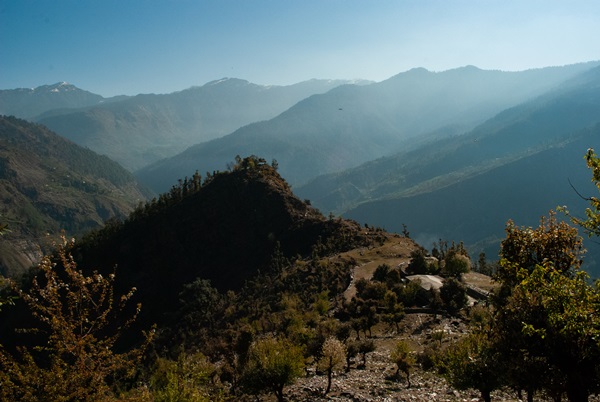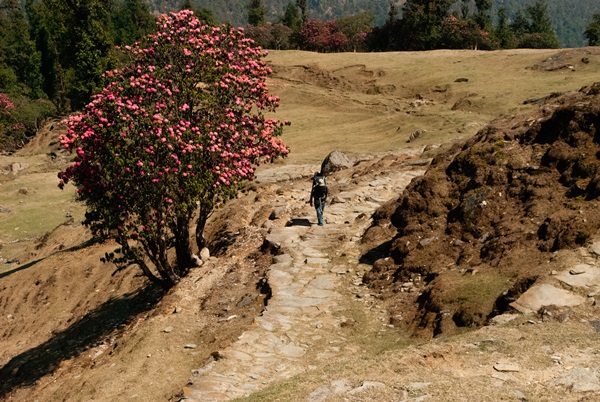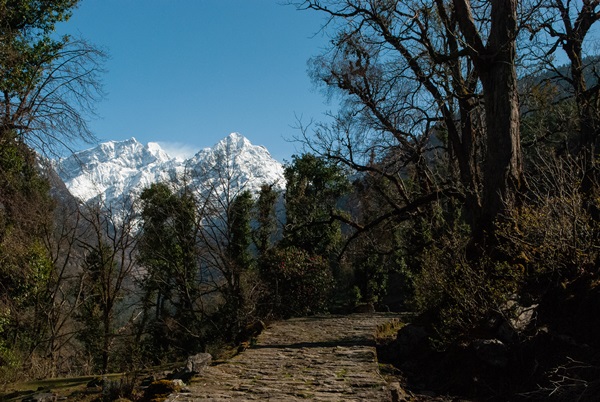 As we descend from the pass, we will find the Dhakuri rest house, 2 Km lower down at ~ 2700m/8860ft, about an hour away. A lovely forest with summer strawberries surrounds the rest houses and adjacent camping ground. Moreover, the view of the Sunderdhunga valley and the peaks on its head is breathtaking.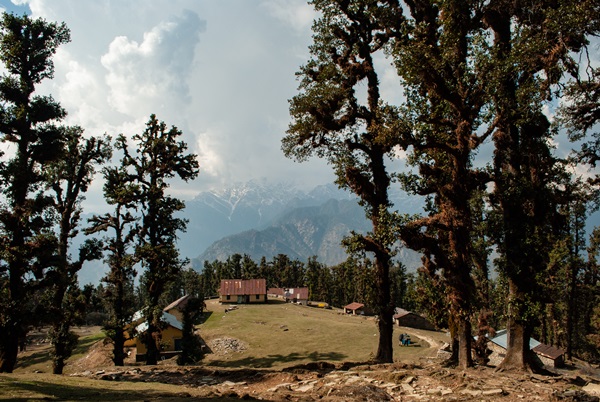 On the following day, the trail continues its winding path downward through the forest. Once it reaches the valley's lowest point, the trail turns towards the east, leading to Khati, the largest village in the region, situated at an altitude of ~ 2050 m/6725 ft.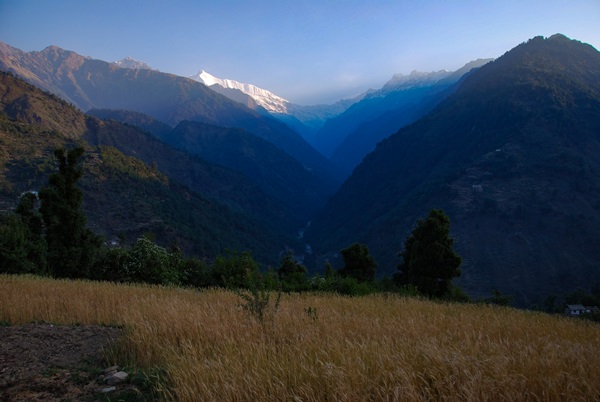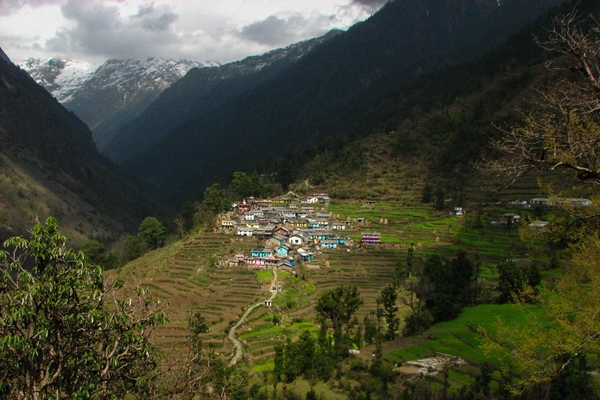 The inhabitants of these villages have regular communication with each other, and there are several smaller crossings towards the ridge in the east, such as Dhakuri Khal. For instance, Khati Khal (3000 m/9840 ft), which locals use to reach Juni in Saryu Valley. These crossings are alluring and can be easily undertaken with a guide, allowing trekkers to connect with longer treks, such as Saryu to Ram Ganga Valley.
Khati village to Pindar valley head and return to Khati
The Pindari Valley's head is located about two days' trek away from Khati, which means a round trip takes four days. We start our journey from Khati and trek gradually towards Dwali, located approximately 12 Km away along the valley at an altitude of ~2910m/9550ft. This place is a confluence where a side stream from Kafni Glacier meets Pindar. Beautiful camping ground adjacent to desolated KMVN. and PWD huts.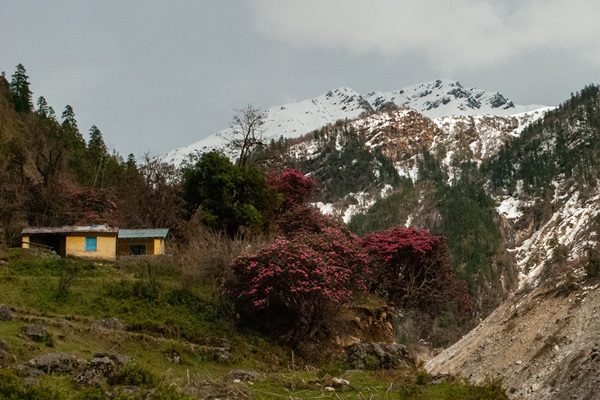 The second stretch is a relatively shorter walk to Phurkiya (3200 m/10510 ft) in the valley 5 Km further ahead. The camping ground is on the true left of Pindar, again accompanied by a desolated Forest Rest House (FRH)/PWD hut. The next day, early in the morning, we start to get a view of the Pindari icefall, which is about 500 m wide and about 4km long. We continue to Zero Point (3750 m/12300 ft), a place marked on the lateral moraine ridge that gives a wonderful view of the icefall. After spending an hour or so there, we return to the Phurkiya campsite. From here on, we trace our way back to Khati village for a night halt.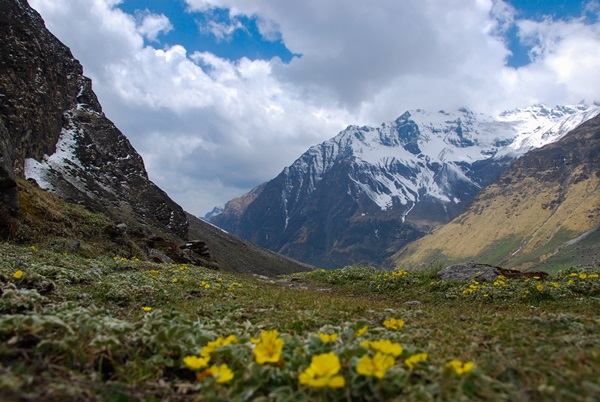 Altitude and distance profile graph for Pindari trek:
Here you will get a pictorial representation of the trail for your understanding (1 m  = 3.28 ft).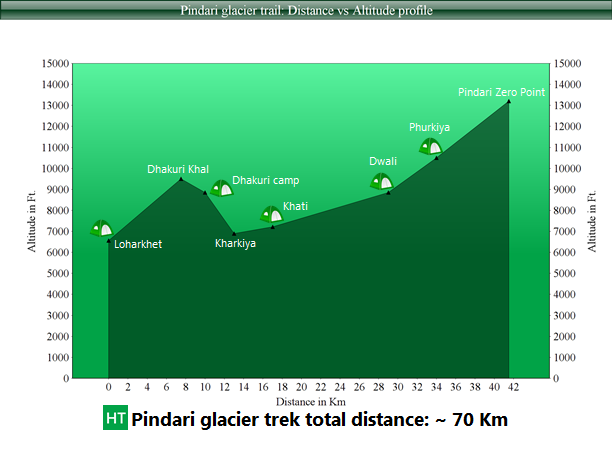 Best time for Pindari trek?
Pindar valley trek is done best in two distinct seasons.
Spring/Summer (April to June): Rhododendron and deposited snow at the head of the valley
Post Monsoon/autum (Oct and Nov): Clear skies, fall colours, colder temp.
What type of clothing should I bring for this trek?
It is important to carry proper clothing in this trek. Three layers of clothing is recommended in the campsite in early morning or evening, while you are outside tent.
Base layer (moisture wicking layer): A quick-dry base layer (Dry-fit t-shirt, half or full sleeves).
Mid layer (warm clothing): Usually a warm jacket (Synthetic/Hollow fibre/Fleece or a Down jacket, you may use combination of layers as well) ) – which constructs your  middle layer.
Outer layer (weatherproofing): A windproof cum waterproof with hood/poncho/raincoat.
Check comprehensive List of things to carry in a himalayan trek or download the PDF. Also read how to choose right trekking gear before purchasing any gear.
Access to trek base (Loharkhet):
Based upon your need, we may arrange a pick up from Kathgodam to Loharkhet and a drop from Kharkiya to Kathgodam.
The fare in a Tata Sumo/similar Jeep is as per following:
Kathgodam/Haldwani to Loharkhet: ₹ 7,000
Kharkiya to Kathgodam/Haldwani: ₹ 8,000
You pay directly to the driver/transporter sharing qually among with the other trekkers. This cost is NOT included in the TREK FEE listed on the website.
All photos by Meenakshi Sarkar and Bijoy Chakraborty.
Why treks with HT?
| | |
| --- | --- |
| Expertise: | 10 years on ground experience |
| Support staff: | Qualified local & office staff |
| Group size: | Small groups up to 15 |
| Insurance: | Travel insured trek and tour itinerary |
| Easy Bookings: | 25% Booking Deposit |
Tour Highlights:
 Duration: 8 days from Kathgodam to Kathgodam. 6 days of trekking; Walking from Loharkhet over Dhakuri Pass and to Pindari valley and return to Khati/Kharkiya.
 Prerequisite: Prior trekking is desired. Active and fit beginners can try as well.
 Grade: Moderate
Physicality: 6.5/10
 Trail Length: 70 Km
 Highest Point: Pindari glacier Zero point ~ 3750 m/12300 ft.
 Seasons: April to June(Spring/Summur),  Sep to November (Post Monsoon/Autumn),
Further Option: Can be combined with Suderdhunga valley.
 Access: Trek starting point (trek base) is Loharkhet, 180 Km from Kathgodam.
 Rail station: Kathgodam (Station Code: KGM). Overnight Ranikhet express (15013) from Delhi.
 Airport: Delhi
 Map:
How to reach Loharkhet (The trek base):
 Nearest Rail station: Kathgodam (Station Code: DDN)
 Nearest Airport: Delhi
Based upon your request we will arrange a pick up and drop from Kathgodam to Loharkhet Sankri and back. This will be shared equally by the team members on actual basis. You pay directly to the driver/transporter. The fare is Rs 5500 for a Tata Sumo/Mahindra Maxx one way. This can accommodate 6 to 8 people. A Tempo Traveller charges Rs 9000 (12-14 seat) one way. This is NOT included in TREK FEE and to be paid directly to the driver/owner.
If you wish to reach our Trek Base Sankri on your own by public transportation:
There are 2/3 privately operated buses from Dehradun (near DDN railway station on Gandhi road) To Sankri. The 200 Km journey will take around 10/12 hours. The busses start at  5:30/6/7 am.
While returning from Sankri take the morning bus to Dehradun/Vikasnagar and reach by 7 pm.
How to reach Dehradun:
For the treks at Uttarkashi district in Garhwal , one has to reach the capital city of Uttarakhand, Dehradun, specially the trek starting from Sankri, Yamunotri etc. Haridwar, Rishikesh and Dehradun are 3 nearby cities in the area and one can move from one to another by public vehicles like bus or shared Jeeps.
For more options to reach Haridwar you can check here.
Haridwar to Dehradun: 55 Km and may take one and half to 2 hours.
Dehradun to Rishikesh: 45 Km and may take around one and a half hour.
You can fly or by train reach New Delhi as per your convenience from any part within India.
There are direct trains from Kolkata to Dehradun.
KUMBHA EXPRESS – Train No. – 12369 ( Very good option to reach Haridwar by 5 pm; You can take a bus from the terminus just opposite to the railway station referred as Roadways bus stand/ISBT and reach Dehradun in one and half hour. Spend the night in Dehradun and start your onward journey by car next morning.)
UPASANA EXPRESS – Train No. – 12327 ( Very good option to reach Dehradun directly by 5 pm; Spend the night in Haridwar and start your onward journey by car next morning)
DOON EXPRESS – Train No. – 13009 (Don't book this train when you plan a long onward journey immediately in the morning)]
Avoid booking wait listed (WL) tickets in AC classes (1A/2A/3A) or Chair Car (CC). Book Sleeper class (SL)/Second Sitting class (2S) tickets which have normally more seats/berths and hence much better chance to get confirmed.
You can reach Dehradun easily  from New Delhi by train or bus (~ 6/7 hours) and is around 260 Km.
Upcoming scheduled dates for Pindari Glacier trek:

 
You can check the scheduled Fixed Departure dates in the calendar available inside Booking Form or inside REGISTER NOW form, if there is any. Submit the enquiry form to get all the details in email.
At present BOOKING functionality is disabled. You can get all the information in your email by submitting the Enquiry form form.
If you are a group of people and available dates are not matching then you may select Custom date mode (by clicking the Select your custom date) and fill in the displayed form.
You can also check all the available dates at a glance in our

TREK CALENDAR

.
Trekkers need to reach KAthgodam on Day 1 morning (latest by 7 am) or the previous night. Return to Kathgodam on Day 8 evening (around 7 pm). Arrange your tickets for inward journey and return accordingly.
| | |
| --- | --- |
| DEPARTURE LOCATION | Kathgodam railway station |
| REPORTING TIME | 7:00 AM for a prompt departure to Loharkhet (Day 1) |
| RETURN LOCATION | Kathgodam railway station |
| RETURN TIME | Approximately 7:00 PM (Day 8) |
  TREK FEE: ₹ 14500 (Loharkhet to Kharkiya) + 5% GST  
The above TREK FEE is applicable for a group of 6 to 8  persons.
Inclusions:
All accommodation in tents as per itinerary on a twin sharing basis.
 All meals during the trek. Regular Indian style nutritious vegetarian food during the trek (including occasional eggs), breakfast packed/hot lunch (depending upon the time you reach a campsite), snacks, dinner along with coffee/tea/soup.
Excellent Trekking Guide, who will be a local to this particular area and has profound knowledge of the trekking trails around.
 Specialised Cook, Support staff, Porters/Packed Animals for carrying the central logistics of the trek.
Camping equipment/gears like Sleeping bag, Carry mattress, Gaiters, Micro spikes/Crampon. (If you have a high altitude specific personal Sleeping Bag use it for better hygiene). You need to bring personal rucksack, trekking shoes and suitable clothing for the trek.
Kitchen tent, dinning tent and toilet tent as required during the trek.
All permit fee, camping charges, forest levy required for the trek.
Basic medicines & First Aid kit. Always bring your personal medicines kit.
Travel cum Medical Insurance Policy covering high altitude trekking tours (For Indian nationals it is included in the TREK FEE, up to 60 years of age).
Exclusions:
Transportation from Kathgodam to Loharkhet and return. ₹ 7,000 for Tata Sumo drop to Loharkhet. ₹ 8,000 from Kharikiya to Kathgodam return. Either you can reach independently or we may arrange the same. You pay directly to the driver.
We assume that you will carry your personal Rucksack/Backpack with all your personal belongings. If you want to offload your Rucksack and be carried by our Pack Animal/Porter then you need to pay additional ₹ 2000 for the entire duration of the trek. The Rucksack should not weigh more than 10 Kg. Always carry your personal daypack in case of you opted for rucksack offloading.
 Any tip/gratuity to the HT supports staff.
Anything which is NOT mentioned in the "Inclusions" or personal in nature.
Booking:
We assume that you have read and understood our "Terms & Conditions" (https://himalayatrekker.com/terms-and-conditions) before Booking a trek/tour.
To reserve your place in a scheduled Fixed Departure trek or a Customised/Private trek pay 25% of the TREK/TOUR FEE as the initial "Booking Deposit". You can pay by Net banking/Draft/Cheque/Credit/Debit/AMEX cards. This will ensure your participation in the desired trek and we will reserve your place in the scheduled date. You need to pay the remaining amount at least 15 days before Trek Starting Date.
If you book a Trek/Tour before 14 days or less from Trek/Tour Starting Date, you need to pay the full TREK/TOUR FEE.
 Cancellations:
"Booking Amount" i.e.25% of the TREK/TOUR FEE is Non-Refundable at any stage.
If in case you are not able to make it due to unavoidable reason(s), we provide you a very flexible choice of Shifting to another trek within next one year. One year is counted from the starting date of the trek/tour you booked initially with us.
In case you postpone your trip you need to informminimum of 15 days before the trek/tour starting date. (Though we suggest to inform us earlier if known)
In case you postpone a trek/tour before 15 days of the scheduled Trek/Tour Starting date or prior, you may shift to another group of the same trek/tour scheduled in the same season or within next one year. You may shift to another suitable route also. For changing any, you need our approval first. Your request must be in written communication through your registered email with us.
If you cancel/postpone a trek/tour from 14 days to 8 days before tour starting date, your Booking Amount is Non-Refundable. We will not take any request of shifting dates. We will charge 50% of the amount as Cancellation Charges and process refund of remaining 50%. You may also shift to another group within next year but 25% Booking Amount will be deemed as Cancellation Charge and the rest amount will be transferred to the shifted group.
If you cancel a trek/tour 7 days (i.e. a week) before Trek/Tour Starting Date or later, there will be NO REFUND.
In case of any unforeseen incident including but not limited to natural calamities like flood, earthquake, landslide, forest fire or any political unrest, if we are compelled to cancel the trek/trip, you will be entitled to redeem the full amount for the same/similar kind of trek/trip within next one year.
If you need more clarifications write in to [email protected]