4600 m/15100 ft
Highest Point
Sahastra Tal Trek:
Sahastra Tal trek is a lesser known, although a pristine and fascinating journey amidst high Himalayas. Famous travel writer and mountain lover  Bill Aitken described this area as "Lake district of Garhwal". Rightly so, due to multiple lakes in this area. This trail runs northerly between Bhagirathi valley in the west and Bhilangana valley in the east. Sahastra Tal lake (also referred to as Shastru Tal or Sahasra Tal) a medium size alpine lake situated at an excess to 15,000 ft/4600 m. According to legend a king performed a ritual on the shores of this lake by offering a thousand (Sahastra) Brahma Kamal flowers to Lord Vishnu.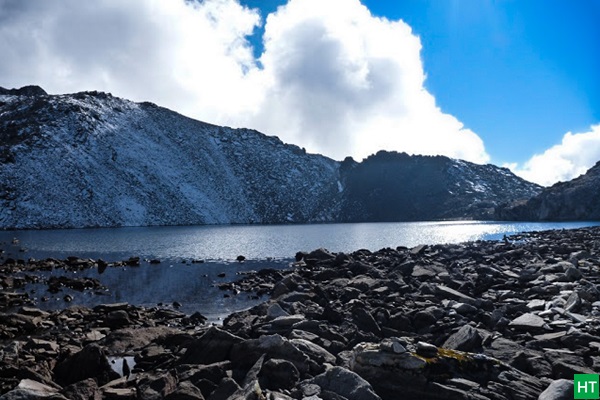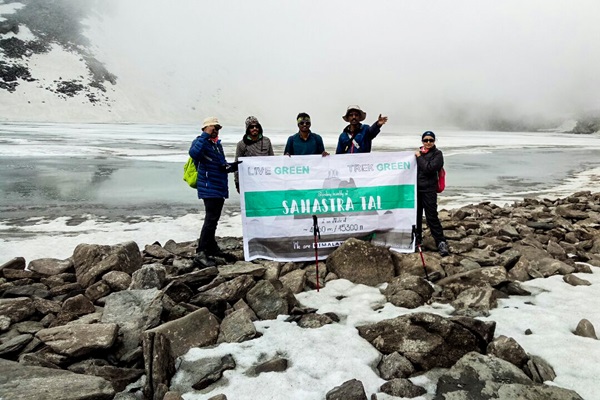 Wilderness and vastness of Himalayas will surely delight you while hiking on this trail. Primarily its a fantastic walk on the rolling meadows and ridges for quite a length. Kush Kalyan and Kyarki, two vast and beautiful alpine meadows, called Bugyal in Garhwali dialect. Far flung rich shades of green is an eye soothing experience in summer. In contrast yellow and brown dominates in autumn.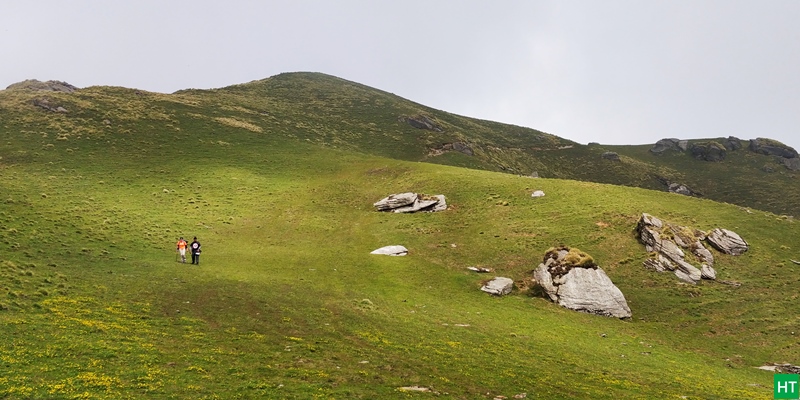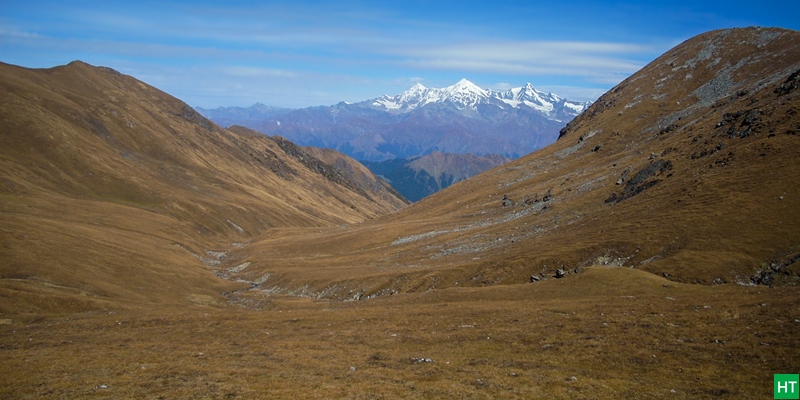 From Kush Kalyan a ridge continues towards north. This ridge walk is scenic and offers outstanding panoramic views on both side. Some small and medium sized lakes are located on both side of the ridge as we go ahead of Kyarki. This ridge walk if Sahastra Tal is situated at the head of this ridge.This rarely visited trail is a wonderful opportunity to shepherds for grazing their cattle. You may also meet semi nomadic Van Gujjars around Kush Kalyan area.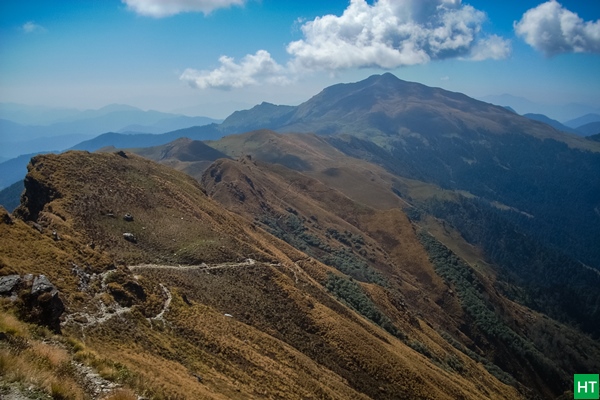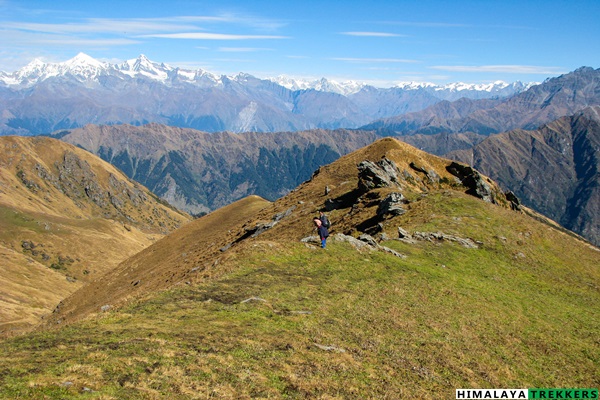 The walk starts from Bhagirathi valley following a switchback climb to Sila village, the last on the route. From here another climb takes us to an opening inside forest, called Gairi. This is temporary  summer-monsoon settlement, Chhaini in local dialect.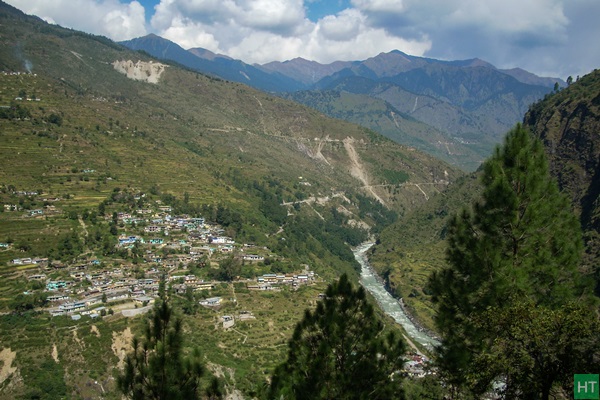 High Himalayan ranges and peaks including Bandarpunch, Black Peak/Kalanag, Jaonli, Srikanth, Draupadi Ka Danda along with Gangotri range. Another major highlight is the high altitude lakes of varying size and depth. The panorama of Western Garhwal range awaits at Kyarki Khal. Sunset views are particularly mesmerising.. During monsoon the route blooms with thousands of Brahma Kamal and Fen Kamal.
To sum up, Sahastra Tal is indeed a rewarding and offbeat trek for experienced hikers.
Brief Itinerary for Sahastra Tal trek:
Day 1: Drive from Dehradun to Bhatwari – 175 Km – 8/9 hours. Lodge accommodation.
Day 2: Trek to Gairi – 8 Km – 4/5 hours. Camp.
Day 3: Trek to Kush Kalyan – 10 Km – 6/7 hours. Camp.
Day 4: Trek to Kyarki – 12 Km – 6/7 hours. Camp.
Day 5: Trek to Lamb Tal – 6 Km – 3/4 hours. Camp
Day 6: Trek to Sahastra Tal and back – 12 Km – 7/8 hours. Camp.
Day 7: Trek to Kush Kalyan via Kyari Bugyal – 18 Km – 7/8. hours.
Day 8: Trek to Sila village – 18 Km – drive to Bhatwari – 1 hour. Lodge accommodation.
Day 9: Drive from Bhatwari to Dehradun – 175 Km – 8/9 hours.
Note:
You need to reach Dehradun on your own latest by 9 am , Day 1. Similarly you will return to Dehradun again by 6 pm, Day 9. Arrange your tickets to and fro Dehradun accordingly.
Trek base Bhatwari has one SBI ATM. Though we advice that you withdraw any cash well in advance, probably from Dehradun or in Uttarkashi.
All major mobile networks work at Bhatwari. After that you will not get a mobile signal. Inform your family/friends accordingly.
From Kush Kalyan there are routes via Belak or Pinswar village and finally to Buda Kedar and Ghansali. However logistics movement becomes challenging and hence costlier too.
Access to trek base (Bhatwari, 30 Km ahead of Uttarkashi town):
We will arrange a pickup and drop from Dehradun to Bhatwari and return. This will be shared by the team members on actual basis. A Tata Sumo/Mahindra Bolero charges ₹ 5000, one way . You pay directly to the driver.
Otherwise, if yo like to reach Bhatwari on public vehicle/independently then below is the option:
1) You will get morning bus to Uttarkashi both from Dehradun and Haridwar. These will leave latest by 7 am. It will take around 7/8 hours to reach Uttarkashi. From here you will get a shared Jeep to Bhatwari which is 30 Km up, on the Gangotri road.
2) Take a shared Jeep to Uttarkashi from Rishmina Pul (bridge), Dehradun. You will get vehicles in the morning.
3) While returning from Ghansali there are direct busses for Rishikesh/Haridwar in the morning.
Download the list of things to carry in Sahastra Tal trek.
 Duration: 7 days of trekking; Dehradun to Dehradun in 9 days.
 Prerequisite: Prior high altitude trekking experience along with good physical fitness.
 Grade: Moderate and Strenuous
 Physicality: 7.5/10
 Trail Length: 75 Km
 Highest Point: Sahastra Tal ~ 5000 m/16400 ft
 Seasons: June (summer) and September/October (Post monsoon/fall)
 Further Option: Exploration of Khatling glacier and Bhilangana River valley (Difficult)
 Access: Trek starting point (trek base) is Bhatwari, 220 Km from Haridwar.
 Rail station: Dehradun (Station Code: DDN)
 Airport: Delhi, Jolly Grant in Dehradun (Airport Code: DED)
 Map:
Upcoming scheduled dates for Sahastra Tal trek:

 
You can check the scheduled Fixed Departure dates in the calendar available inside Booking Form or inside REGISTER NOW form. Tour starting Dates are highlighted as per our itinerary (Day 1 of  9 days itinerary).
At present BOOK NOW functionality is disabled. You can get all the information in your email by submitting the REGISTER NOW form.
If you are a group of people and available dates are not matching then you may select Custom date mode (by clicking the Select your custom date) and fill in the displayed form.
You can also check all the available dates at a glance in our

TREK CALENDAR

.
Trekkers need to reach Haridwar on Day 1 morning (latest by 8 am) or the previous night. Return to Haridwar on Day 9 afternoon/early evening (around 5 pm). Arrange your tickets for inward journey and return accordingly
| | |
| --- | --- |
| DEPARTURE LOCATION | Haridwar railway station |
| REPORTING TIME | 8:00 AM for a prompt departure to Bhatwari (Day 1) |
| RETURN LOCATION | Haridwar |
| RETURN TIME | Approximately 5:00 PM (Day 9) |
Access to Bhatwari (The trek base):  We will arrange a pickup and drop from Haridwar to Bhatwari and back from Ghansali to Haridwar. This will be shared by the team members on actual basis. A Ta ta Sumo/Mahindra Maxx takes Rs 5000 for Bhatwari pick up and Rs 3000 from Ghansali to Haridwar drop.
Otherwise if a trekker wants to reach Bhatwari by public vehicle then there are two options:
1) Reach Haridwar in the previous night and board the bus for Uttarkashi as early as you can in the morning. There are both State and Private operated bus for Uttarkashi. It will take around 8/9 hours to reach there. From here reserve a car for Bhatwari, which is another 30 Km on the Gangotri highway. If you reach Uttarkashi by noon , you may be able to get the bus which operates between Uttarkashi and Gangotri.
2) From Ghansali there are buses for Rishikesh/Haridwar.
For


There are direct trains from Kolkata to Haridwar.
KUMBHA EXPRESS – Train No. – 12369 ( Very good option to reach Haridwar by 5 pm; Spend the night in Haridwar and start your onward journey by car next morning)
UPASANA EXPRESS – Train No. – 12327 ( Very good option to reach Haridwar by 5 pm; Spend the night in Haridwar and start your onward journey by car next morning)
DOON EXPRESS – Train No. – 13009 (Don't book this train when you plan a long onward journey immediately in the morning)]
Avoid booking wait listed (WL) tickets in AC classes (1A/2A/3A) or Chair Car (CC). Book Sleeper class (SL)/Second Sitting class (2S) tickets which have normally more seats/berth and hence much better chance to get confirmed.
Following trains are good to reach Haridwar and run daily.
DDN JANSHTBDI – Train No. 12055 (Arrives HW in the evening @ 7:30 pm, good choice when you stay the night in Haridwar and have a long drive ahead next day)
NANDA DEVI EXP – Train No. 12205 (arrives HW early morning @ 4am)
UTKAL EXPRESS – Train No. 18477 (arrives HW in the night @ 9pm)
MUSSOORIE EXP – Train No. 14041 (arrives HW in the morning @ 5:45am)
Always avoid booking waitlisted (WL) tickets in AC classes (1A/2A/3A) or Chair Car (CC). Book Sleeper class (SL)/Second Sitting class (2S) tickets which have normally more seats/berth and hence much better chance to get confirmed.
Govt. Road Transport (Roadways of Uttarakhand, Uttar Pradesh, Delhi, Haryana, Punjab etc.) buses are frequently available in day time and night from Kashmiri Gate ISBT (http://www.delhi.gov.in/wps/wcm/connect/doit_transport/Transport/Home/ISBT/Fare+Chart). Tickets are available on board for these regular type buses. From Delhi Airport or Station you can reach ISBT Kashmiri Gate via Delhi Metro service (http://www.delhimetrorail.com/metro-fares.aspx). It is only 4 Km from NDLS and can be reached easily by booking an auto rickshaw.
For privately operated bus, you can book online from different portals (http://www.redbus.in). Select a boarding point suitably. Overnight Volvo/A.C/Push back bus service.
For night stay in Haridwar:
Trekkers reaching on the previous day before the journey to the actual trek base need to stay the night in Haridwar. There are several options in Haridwar for spending a night while staying in Premium, Standard or Budget accommodation. Options vary from Privately operated Hotels/Lodges, to State run Tourist rest House and Dharamshalas.
State run GMVN (Garhwal Mandal Vikas Nigam) operates Hotel Rahi just beside the Bus Stand and opposite to the Haridwar Railway Station. This is a reliable and a decent choice for Standard accommodation.
Check the following for online booking of the above: http://www.gmvnl.com/newgmvn/tour/booktrh.asp
You can call or visit GMVN nearest office or even send an email for more information.The information is available at:
http://www.gmvnl.com/newgmvn/online_reservation/#
Normally you reach Haridwar from any trek base  by 7/8 pm in the evening. You can take any train after 9 pm or regular bus service as mentioned above to reach Delhi or directly to your homeward journey in the same night.
Drive from Haridwar to Bhatwari – 220 km – 10 hours
Today morning we start our trip from Haridwar.  Pickup in the morning from Haridwar and reach Bhatwari (~ 1525 m, 5000 ft) via car. Distance around 220 Km and may take 10 hours. The route goes through Rishikesh, Chamba, Dharasu and then to the Uttarkashi town. From here another hour's journey to Bhatwari, local Tehsil headquarter. Most of the journey is along the Bhagirathi River. Night stay in lodge.
Trek to Gairi – 8 Km – 4/5 hours
Our trek starts from today. At first we descend from Bhatwari to Malla along the Uttarkashi-Gangotri road for about 45 minutes. Malla is a small village and spread on the both sides of Bhagirathi. We get down to the Bhagirathi river and cross the bridge.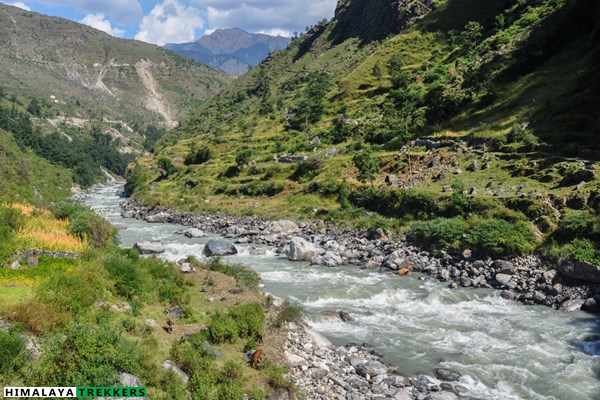 From here a moderately broad track climbs steadily to reach the last village named Silla (~ 2000 m/6550 ft) in 3 hours. After crossing the village we continue to climb. The trail goes through the evergreen montane forest and in another 2 hours we reach a clearing inside the jungle, our camping ground called Gairi/Silla Chhanni (~ 2300 m/7550 ft). Total distance is 10 Km and can take 4/5 hours. This is the only place with water after Silla and used as cattle shelter by the villagers in summer and monsoon. We camp  here for the night.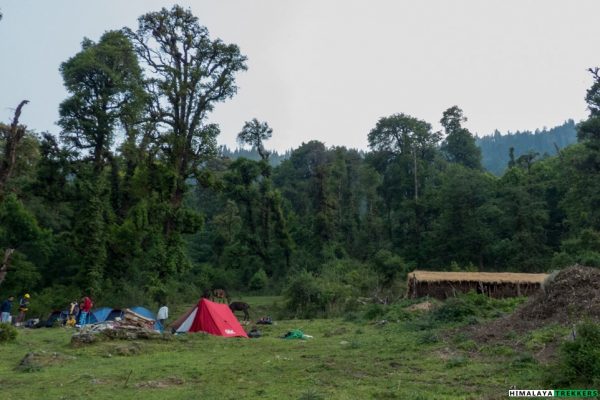 Trek to Kush Kalyan – 10 Km – 6/7 hours
Today morning our walk starts inside the jungle while climbing gradually. We continue to climb on the broad trail for an hour to reach another opening with a covered resting point. From here we get a beautiful view of the peaks towards north.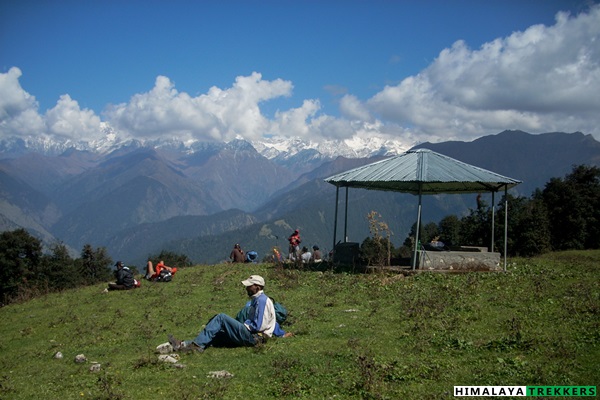 After this point the trail enters into the dense forest of Oak and Fur. The climb is moderately steep from here and the track winds up on the slope. Continue climbing for another 3 hours or so to reach the base of the pass named Chuli La (~ 3500m, 11500ft). The entry to the pass is wide and tree line ends before it. There is a small peak adjacent to the pass. Crossing the pass the track zigzags slowly down to the meadows and continues steadily.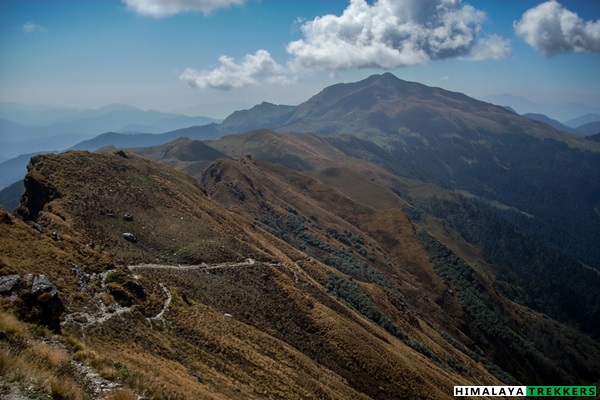 On the way we see small shepherd settlements down on the left side of the track. There is no water source for a long stretch till we reach Kush Kalyan plateau (~ 3200 m/10500 ft). This is a splendid lush green camping ground with magnificent view of the Himalaya. The Kush Kalyan top is just beside the camping ground around ~400 m/1300 ft above with a pointed pinnacle. Distance is 12 Km and may take 6/7 hours.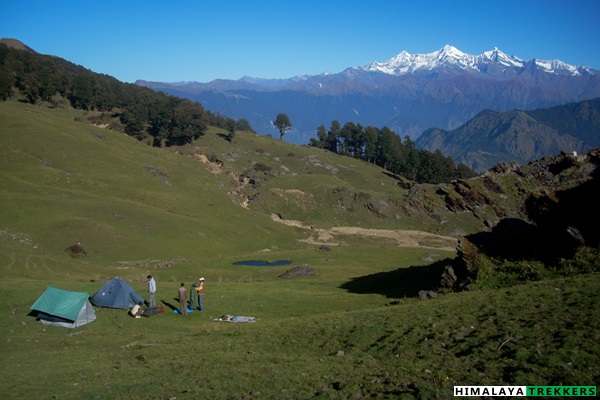 This plateau has few trees and bushes scattered around and marks the end of treeline. We camp here for the day.
Trek to Kyarki Bugyal – 12 Km – 5/6 hours.
Today we take a left and gradually walk on the trail which goes through the top of a grass slope. Tree-line recedes and as we continue on the meadow of Kush Kalyan. We descend to a saddle and then gradually climb along a ridge to reach Bhowani Bugyal. From here the climb is steep for about 2 hours till we reach Kyarki Khal (~ 4000 m,/13100 ft). The view of the surrounding is stunning from this high point.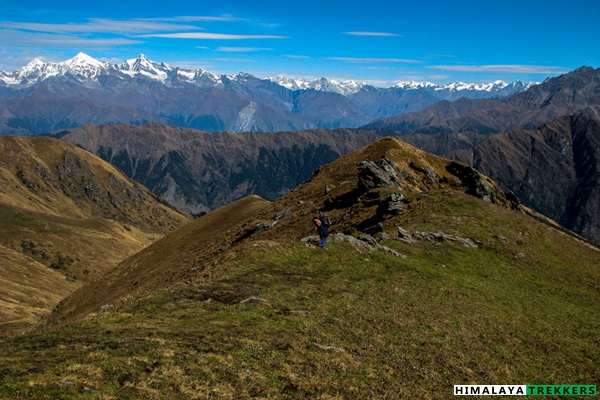 After crossing the pass we gradually descend ~ 300 m/1000 ft to reach the camping ground of Kyarki Bugyal (~ 3700 m/ 12100 ft). There is a small stream flowing by the campsite. Distance is 12 Km and can take 6/7 hours. We pitch tents for the night.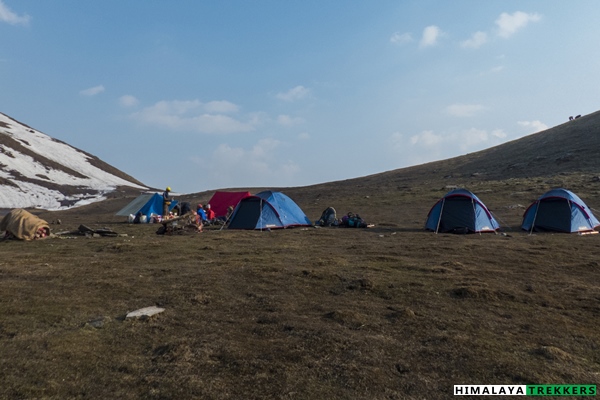 Trek to Lamb Tal – 6 Km – 3/4 hours.
A relatively small day of trek starts with a steep climb on the grassy slope just above the Kyarki campsite. The trail climbs further onto a ridge from Kyarki plateau. The views are mesmerising as Bandarpunch range Jaonli and Srikanth peaks form the backdrop to the north. In summer during June expect snow starting from this area and ahead. In monsoon this slope is full of wildflowers. We continue to traverse the ridge and encircle it to get into another ridge.From here we climb zigzag on the trail and later the track widens and almost on a level ground for a while. This track is known as "Chhe Phuti Path (The six foot wide path) and was constructed during the British rule. After walking another half an hour we can see small to medium size lakes formed down on the left of the track. First we see Kokuli Tal and then reach the camping ground of Lamb Tal (~4300 m/ 14100 ft). Distance is 6 Km and can take up to 4 hours.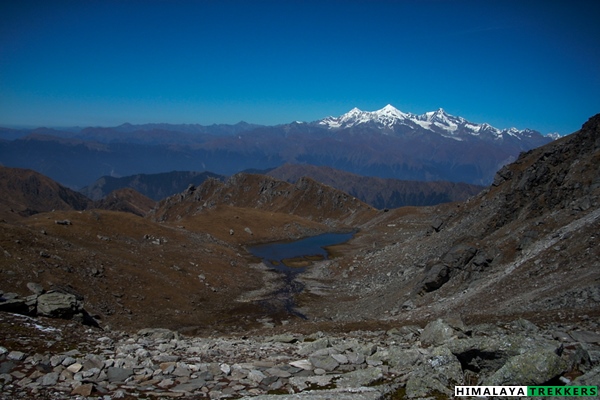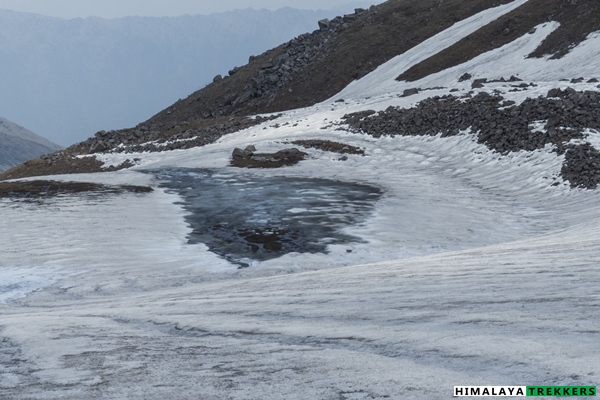 During monsoon Brahma Kamal and Fen Kamal flowers grow in abundance. There is also a small peak above Lamb Tal. One can scramble up to the top to get a magnificent view of Sahastra Tal and peak. Camp overnight.
Trek to Sahastra Tal and back – 12 Km – 7/8 hrs.
Today is a relatively challenging day that we climb up to Sahastra Tal (~ 5000 m/16400 ft) and back to the same camp. We start with a zigzag climb to the ridge on the broad track. The climb is gentle at the beginning and then moderate on rocky terrain. In summer the terrain is covered with snow and be prepared to trudge long. The ridge is called Kokuli Dhar and view are fantastic from top.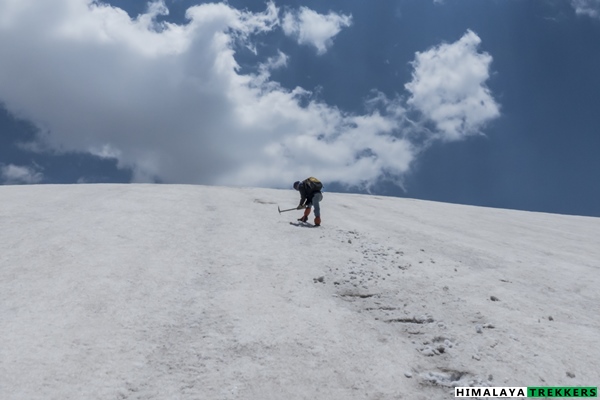 It is about an hour's climb to the top of the ridge. We can see the Sahastra peak straight ahead. Often this point gets covered with clouds and it is difficult then to find anything ahead!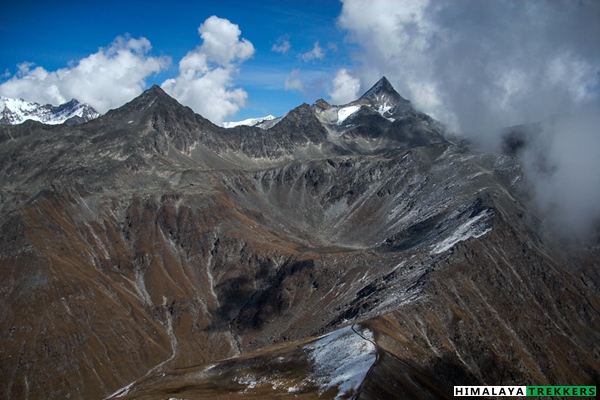 From here we gradually go down and walk on almost level ground to reach the next lake called Dodhi Tal. This is a medium size circular shaped lake with a perimeter about a kilometre. From here we slowly start climbing (as the air is pretty thin) the rocky gravel trail behind the lake for an hour to reach our final destination, Sahastra Tal (~ 5000 m/16400 ft). This is a fairly large lake considering the altitude and the water is crystal clear.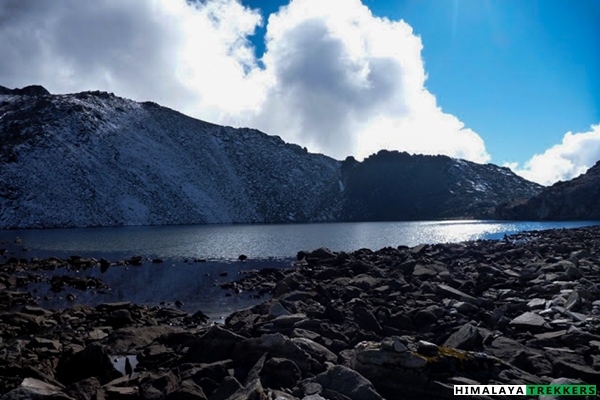 We get a birds eye view of the valleys all around. The conical shaped Sahastra peak rises ~300 m/1000 ft above the lake to the north. After spending half an hour here we descend to Dodhi Tal and then tracing our track back to the campsite.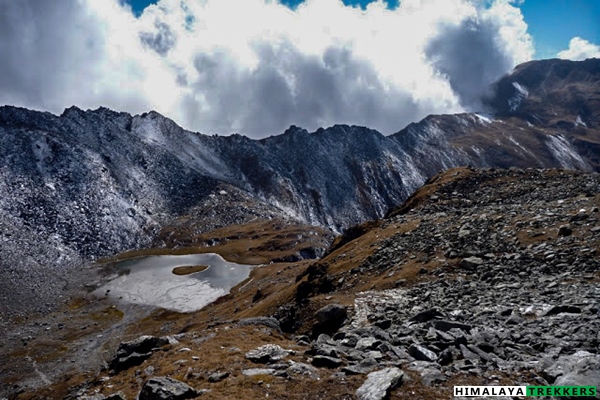 Total distance is 12 Km (one side is 6 Km) and may take 7/8 hours. Tent overnight.
Trek to Kush Kalyan via Kyari Bugyal – 18 Km – 7/8 hours
Today we retrace the path through Kyarki Bugyal to Kyarki Khal and finally to Kush Kalyan plateau. Distance is 18 Km and may take 7/8 hours.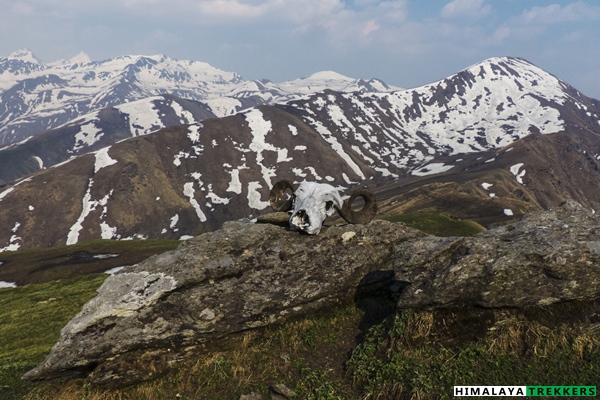 Trek to Sila village – 18 Km – 6/7 hrs - Drive to Bhatwari – 1 hr
Today we will return to Sila village via Chuli La and Gairi. Its an all descent or level ground walk and may take 6/7 hours. Motor read has arrived till Sila now and we take a car and drive back to Bhatwari. Over night accommodation in Lodge/homestay.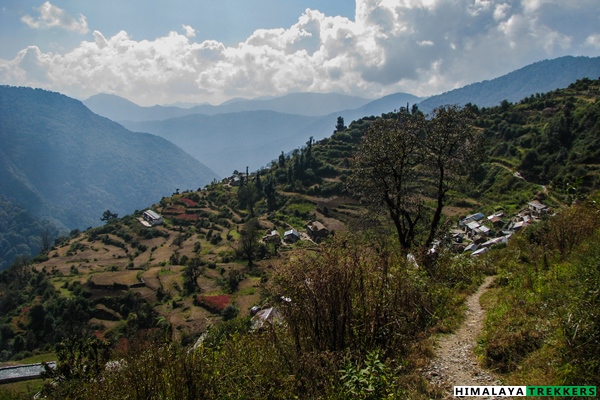 Further down we reach a point till where the car comes. Distance is 10 Km and may take 5/6 hours. There is a shop and tea stall. From this point we take the car and reach Ghansali via Budhakedar. Car takes 3 hours to reach Ghansali which is a congested typical Himalayan low altitude town. There are several hotels and restaurants ranging from budget to standard. Night stay in lodge.
Drive to Dehradun – 170 Km – 7/8 hours
P.S.: Distances and altitudes are approximate and may not be exact.
  TREK FEE: ₹ 18,500 (Bhatwari to Bhatwari) + 5% GST  
Inclusions:
2 night's accommodation at Bhatwari (Day 1 and Day 8) in lodge on sharing basis and dinner.
 All meals during the trek. Regular Indian style nutritious vegetarian food during the trek (including occasional eggs), breakfast packed/hot lunch (depending upon the time you reach a campsite), snacks, dinner along with coffee/tea/soup.
Excellent trekking guide, who will be a local to this particular area and has profound knowledge of the trekking trails around.
 Specialised Cook, Support staff, Porters/Packed Animals for carrying the central logistics of the trek.
 Stay in tents (3 persons dome or ridge shaped tents) on sharing basis during the trek.
Camping equipment like Sleeping bag, Carry mattress, Gaiters, Micro spikes/Crampon. (Bring your own sleeping if you have a high altitude specific personal Sleeping Bag. This is always better for hygienic reasons.)
Kitchen tent, dinning tent and toilet tent as required during the trek.
All permit fee, camping charges, forest levy required for the trek.
 Basic Medical & First Aid kit.
Travel and Medical insurance for 10 days (up to 60 years of age for the Indian nationals).
Exclusions:
Transportation from Dehradun to Bhatwari and return. ₹ 6000 for a Tata Sumo and ₹ 9000 for a Tempo Traveller one way. We may arrange if required, and you pay directly to the driver.
We assume that you will carry your personal Rucksack/Backpack with all your personal belongings. If you want to offload your Rucksack and be carried by our Pack Animal/Porter then you need to pay additional ₹ 2000 for the entire duration of the trek. The Rucksack should not weigh more than 10 Kg.
 Any tip/gratuity to the HT supports staff.
Anything which is NOT mentioned in the "Inclusions" or personal in nature.
Booking:
We assume that you have read and understood our "Terms & Conditions" (https://himalayatrekker.com/terms-and-conditions) before Booking a trek/tour.
To reserve your place in a scheduled Fixed Departure trek or a Customised/Private trek pay 25% of the TREK/TOUR FEE as the initial "Booking Deposit". You can pay by Net banking/Draft/Cheque/Credit/Debit/AMEX cards. This will ensure your participation in the desired trek and we will reserve your place in the scheduled date. You need to pay the remaining amount at least 15 days before Trek Starting Date.
If you book a Trek/Tour before 14 days or less from Trek/Tour Starting Date, you need to pay the full TREK/TOUR FEE.
 Cancellations:
"Booking Amount" i.e.25% of the TREK/TOUR FEE is Non-Refundable at any stage.
If in case you are not able to make it due to unavoidable reason(s), we provide you avery flexible choice of Shifting to another trek within next one year. One year is counted from the starting date of the trek/tour you booked initially with us.
In case you postpone your trip you need to informminimum of 15 days before the trek/tour starting date. (Though we suggest to inform us earlier if known)
In case you postpone a trek/tour before 15 days of the scheduled Trek/Tour Starting date or prior, you may shift to another group of the same trek/tour scheduled in the same season or within next one year. You may shift to another suitable route also. For changing any, you need our approval first. Your request must be in written communication through your registered email with us.
If you cancel/postpone a trek/tour from 14 days to 8 days before tour starting date, your Booking Amount is Non-Refundable. We will not take any request of shifting dates. We will charge 50% of the amount as Cancellation Charges and process refund of remaining 50%. You may also shift to another group within next year but 25% Booking Amount will be deemed as Cancellation Charge and the rest amount will be transferred to the shifted group.
If you cancel a trek/tour 7 days (i.e. a week) before Trek/Tour Starting Date or later, there will be NO REFUND.
In case of any unforeseen incident including but not limited to natural calamities like flood, earthquake, landslide, forest fire or any political unrest, if we are compelled to cancel the trek/trip, you will be entitled to redeem the full amount for the same/similar kind of trek/trip within next one year.
If you need more clarifications write in to [email protected]