4800 m/15750 ft
Highest Point
Kaliheni Pass Trek:
Group departure starting on 1st July 2023 @ Manali.
Kaliheni pass (also pronounced as Kalihani Pass) trek is one the offbeat trails in the Himalayas producing contrasting beauty of green and arid regions. The pass at ~4800 m/15750 ft,  traditionally known as the Senghor Jot, is the highest pass in the shepherd route from Kullu valley to the remotest Bara Bhangal area of Kangra valley in Himachal Pradesh. Kali-Heni which means black snow, is rightly named as you can observe ancient glaciers with old ice formations both to the approach and at the pass. The pass itself is glacial. The route to Kaliheni and back to Sangchur village takes 7 days and 70 Km of trekking through Alpine forest inside Manali Sanctuary, splendid rolling Meadows and glacier moraine zones. The hidden lush pastures are traditionally known to the "Gaddi"s (local name for the Shepherds) and while crossing the pass grazing opportunity extended between Kullu and Kangra valleys. On the first and last day of the trek, bird's eye view of spread out Kullu valley is spectacular to watch. Lama Dugh area is known for its wild flowers during summer and monsoon. From Khanpari Pass/base of Khanpari Tibba, the view of Pir Panjal range (Deo Tibba, Indrasan, Indra Tilak, Ali Ratan Tibba etc) is a trekkers delight. To the north-west Dhauladhar Range (Hanuman Tibba,  Friendship peak, Ladakhi, Manali peak etc. ) is close by. Very few trails in Himachal produce similar kind of vast expanse of the sprawling meadows. In jest, this interior high altitude mountain pass between Kullu and Kangra is a unique Himalayan trail of its own kind with unexplored wilderness.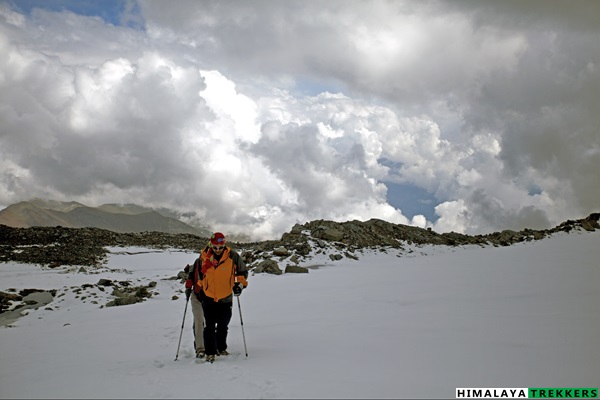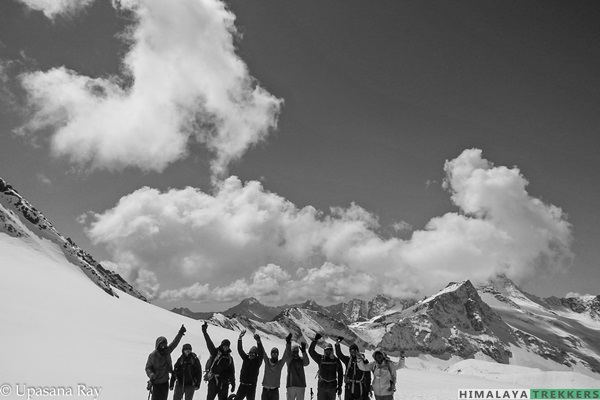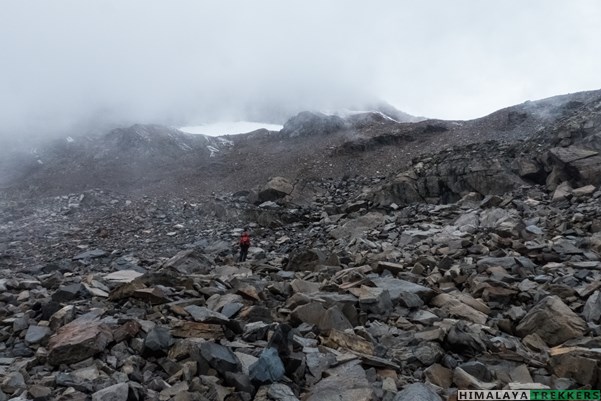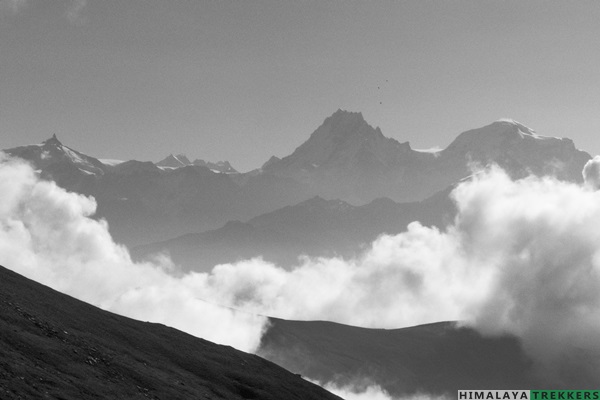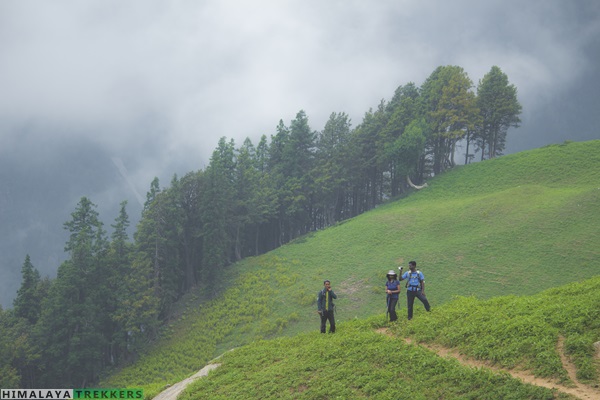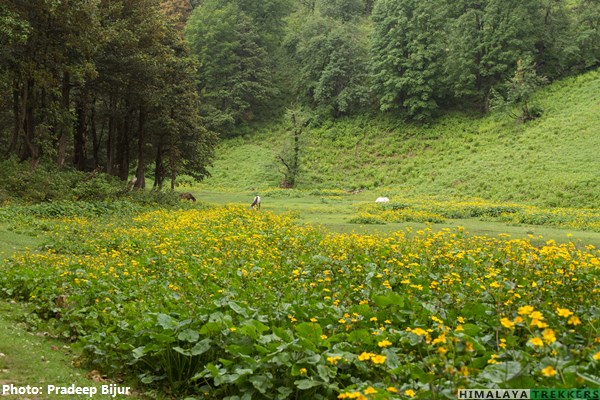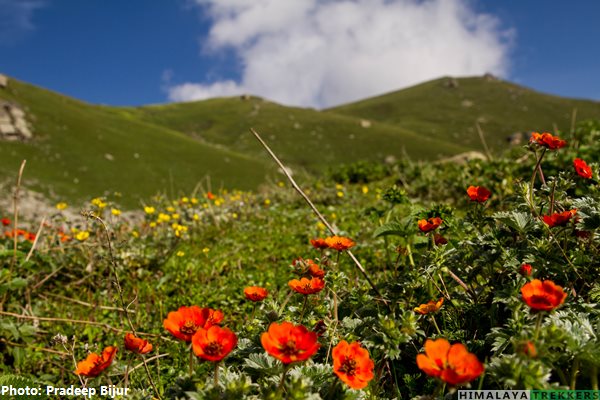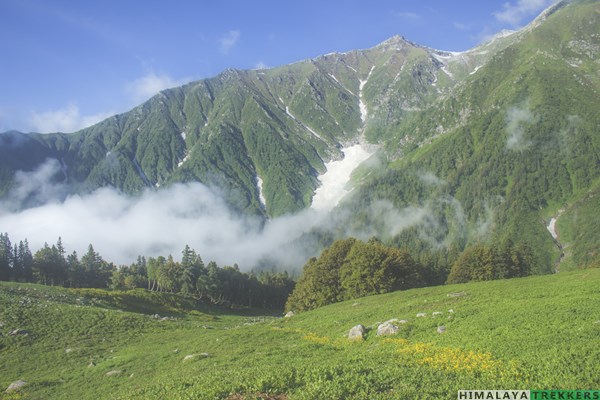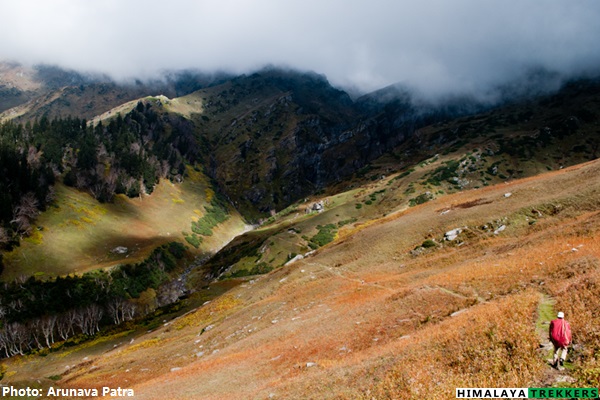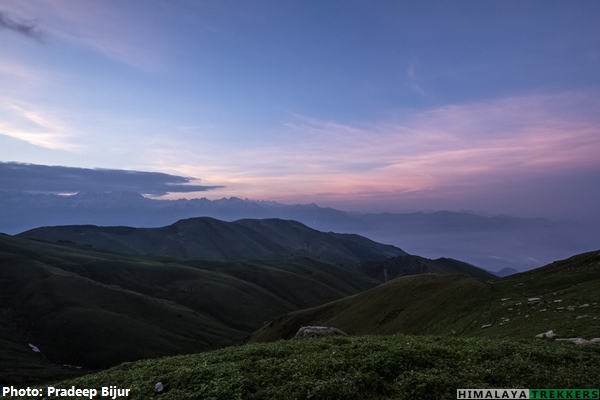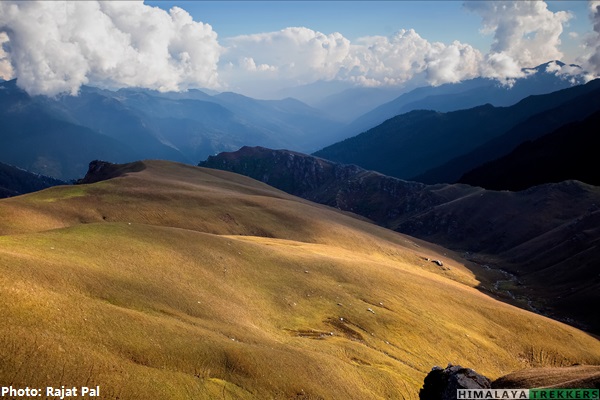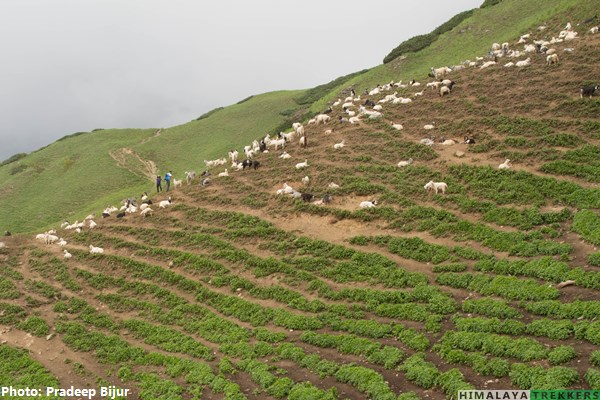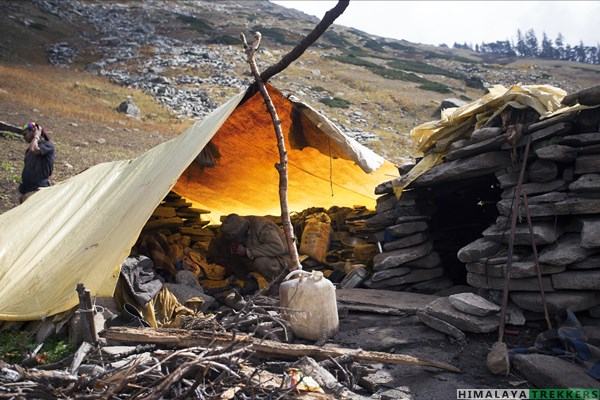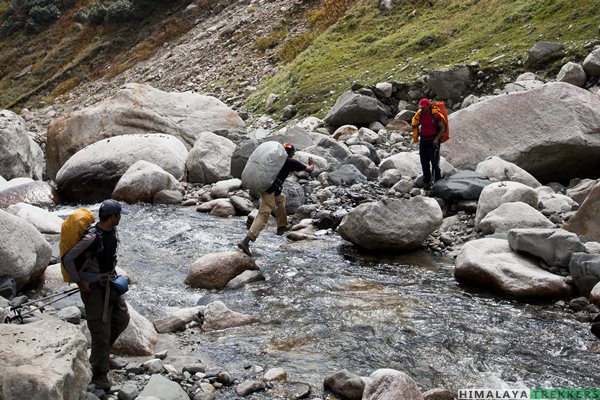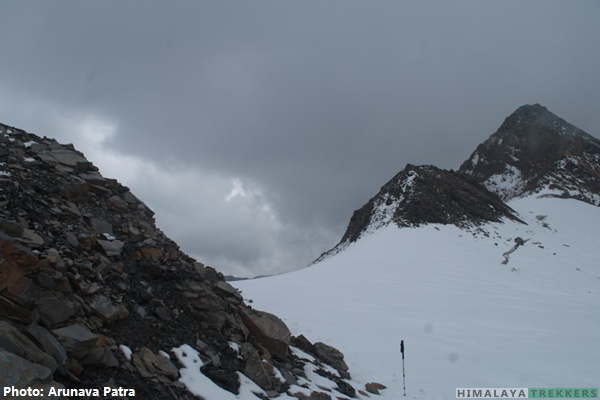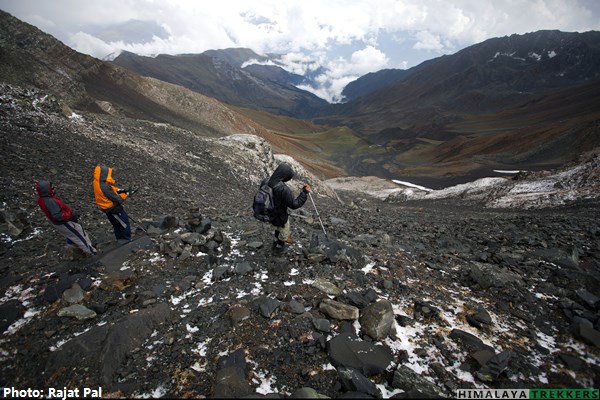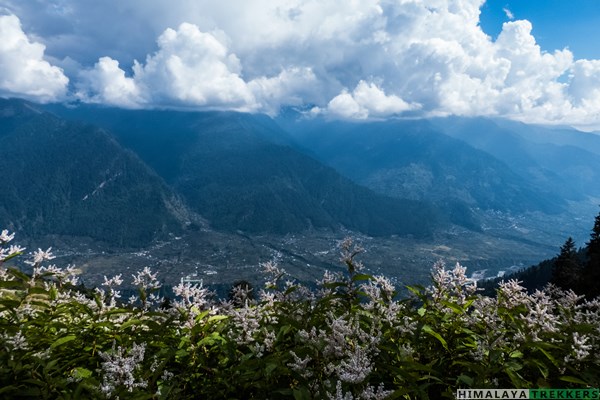 Brief  Itinerary:
Day 1: Reach Manali by Noon – Lodge/Guest house stay at Vashisht, Manali.
Day 2: Trek to Lamadugh – 10 Km – 6/7 hours
Day 3: Lamadugh to Riyali Thatch – 11 Km – 6/7 hours
Day 4: Riyali Thatch to Keliheni base  – 9 Km – 5/6 hours
Day 5: Kaliheni base to Keliheni Pass and back – 12 Km – 7/8 hours
Day 6: Kaliheni base to Dor Nullah via Riyali Thatch – 15 Km – 6/7 hours
Day 7: Dor Nullah to Mailee  – 8 Km – 4/5 hours
Day 8: Trek to Sangchur – 6 Km – 3 hours – Drive to Manali – 30 Km – 2 hours (by 4 pm)
** Trekkers need to reach Manali on Day 1 , by noon . Similarly book your return tickets from Manali on Day 8 evening, 5 pm or later.
Why Kaliheni pass trek? What is special about the trail?
We hope the following features are good enough to entice and indulge yourself in this all encompassing high altitude trek.
There is hardly any "Moderate" grade trail which offers snow and ice throughout the year, unless you plan "Difficult" grade treks over 5000 m. This pass has is covered by glacier and you will find snow and ice even in post monsoon, September & October unlike other popular trails like Roopkund, Rupin, Hampta Pass, Goecha La and others.
The trek is thrilling, you need to negotiate boulders, moraine zone, snow and ice before reaching the pass. Also you will get yourself engaged with river crossing.
Snow clad peak views are fantastic and ample. You will see both Pir Panjal and Dhauladhar ranges, including the peaks of surrounding Rohtang, Bhrigu and Hampta area from different points of the trail. Also from pass you can witness the snowy mountains on the other side, i.e. Kangra ranges.
The trail offers eye soothing green vista, initially you will trek inside Manali Sanctuary and then one of the best rolling alpine meadows of the Himalayas called Riyali Thatch.
As of now there is hardly any trekker on this trail and thus it is intact and pristine.
Clothing and temperatures for Kaliheni pass trek:
It is important to carry proper clothing in any high altitude trek and so for this trail.
Summer & Monsoon (Jun to Aug):  Daytime temperature will be warm in low altitude (till ~ 3500 m/ 11500 ft) and nights are cool. Night/early morning temperatures at Lamadugh, Riyali and Kaliheni base base will be around 15°C, 10°C and 5°C.
Post Monsoon/Autumn (Sep – Oct): This season is colder than summer.  Temperatures will be cool in low altitude and become colder as you gain height. Night/early morning temperatures at Lamadugh, Riyali and Kaliheni base base will be around 10-12°C, 10-5°C and 5 to 0°C. In later half of October temperature may plummet to subzero, up to  – 5°C at Kaliheni base.
Three layers of clothing is mandatory in the campsite while outside tent.
a) A thermal base layer (warm woolly-cot material) – Not required in summer
b) A heavy jacket (Fleece or Synthetic jacket ) as middle layer.
c) A windproof cum waterproof with hood as the outer layer.
Reaching Vashisht, Manali (Kaliheni pass trek base):
Our trek base is Vashisht, 3 Km uphill from Manali. Either you can take an auto rickshaw or walk around an hour to reach Vashisht, where the famous temple in the same name is situated.
Manali is well connected by road from Delhi and Chandigarh. There are a handful of buses, ranging from regular, luxury and Volvo operated by both Govt. and private agencies from New Delhi and Chandigarh to Manali.
1) From Delhi (Kashmiri Gate ISBT) the Volvo and regular buses start in the afternoon till late in the evening. It takes up to 13/14 hours to cover the distance of 560 Km. HP Government transport operated HRTC (http://hrtchp.com) and Tourism Department HPTDC operated busses are reliable and runs on time. There are privately operated bus services also having different pick up points in Delhi. The last Volvo busses for Manali start around 10:30 pm from Kashmiri Gate ISBT (Govt.) or Majnu Ka Tila (private).
2) From Chandigarh (ISBT Sector 43) there are regular bus services for Manali, starting early morning till 6 am. It may take around 10/12 hrs depending upon the road conditions. Distance around 320 Km.
3) While returning one can take overnight bus from Manali which again reaches Delhi in 13/14 hours. Normally the last Volvo service (both Govt. and Private) is around 6:30 pm. The last regular bus by  Himachal Road Transport Corporation (HRTC) starts from Manali at 9:30 p.m.
Download the list of things to carry in Kaliheni Pass trek
Why treks with HT?
| | |
| --- | --- |
| Expertise: | 10 years on ground experience |
| Support staff: | Qualified local & office staff |
| Group size: | Small groups up to 15 |
| Insurance: | Travel insured trek and tour itinerary |
| Easy Bookings: | 25% Booking Deposit |
Duration: 7 days of trekking; Manali to Manali in 8 days.
Prerequisite: Trekkers must be physically in good condition to endure this trail. Prior high altitude trekking experience is highly recommended.
Grade: Moderate and strenuous. Steep descent
Physicality: 7/10
Trail Length: 70 Km
Highest Point: Kaliheni Pass ~ 4800 m/15750 ft.
Seasons: June beginning to October end
Further Option: Continue to Bara Bhangal trail and reach Dharamshala, 12 days, Difficult grade trek.
Access: Trek starting point and end point is Manali.
Rail station: Chandigarh (STN Code: CDG) or Delhi. Busses to Manali.
Airport: Delhi, Chandigarh, Kullu airport at Bhuntar (Code: KUU)
Map:
Upcoming scheduled dates for Kaliheni Pass trek:

 
You can check the scheduled Fixed Departure dates in the calendar available inside Booking Form or inside REGISTER NOW form. Tour starting Dates are highlighted as per our itinerary (Day 1 of  8 days itinerary).
At present BOOK NOW functionality is disabled. You can get all the information in your email by submitting the REGISTER NOW form.
If you are a group of people and available dates are not matching then you may select Custom date mode (by clicking the Select your custom date) and fill in the displayed form.
You can also check all the available dates at a glance in our

TREK CALENDAR

.
Trekkers need to reach Manali on Day 1 by noon. Return to Manali on Day 8 afternoon (by 4 pm). Arrange your tickets for inward journey and return accordingly.
| | |
| --- | --- |
| TREK BASE | Manalo |
| REPORTING TIME | Vashisht, Manali (Day 1 by noon) |
| RETURN LOCATION | Manali |
| RETURN TIME | Approximately 4 PM (Day 8) |
Access to Manali (The trek base): You need to reach the trek base Manali of your own.
Ample choice of bus, ranging from regular, luxury and Volvo operated by both Govt. and private agencies from New Delhi and Chandigarh to Manali.
1)From Delhi (Kashmiri Gate ISBT) the buses normally start in the afternoon and reaches Manali next day by noon. Depending upon the service it may take 14 to 16 hrs. Distance is around 550 Km.
2)From Chandigarh ISBT there are regular bus services for Manali, starting in the early morning. It may take 8 to 10 hrs depending upon the bus service. Distance around 320 Km.
3) While returning Volvo service from Manali to Delhi starts at 4:30/5 pm in the afternoon. The last bus operated by HRTC starts at 9:30 pm for Delhi. Regular buses operate throughout the day time starting in the morning.
You can fly or by train reach New Delhi as per your convenience from any part within India.
Avoid booking wait listed (WL) train tickets in AC classes (1A/2A/3A) or Chair Car (CC). Book Sleeper class (SL)/Second Sitting class (2S) tickets which have normally more seats/berth and hence much better chance to get confirmed.
The buses from Delhi to Manali start in the afternoon and evening and reaches Manali in 14/16 hours depending on the bus operator. You reach Manali in the morning between 7 to 9 am.
1) Govt run HRTC (Himachal Road Transport Corporation) and HPTDC (Himachal Pradesh Tourism Development Corporation) buses operate on daily basis.
HRTC buses start from Kashmiri Gate ISBT. From Delhi Airport or Station you can reach ISBT Kashmiri Gate via Delhi Metro service (http://www.delhimetrorail.com/metro-fares.aspx). It is only 4 Km from NDLS Railway Station and can be reached easily by booking an Auto Rickshaw.
To check availability and book online (Login required):
http://www.hrtc.gov.in/hrtctickets
HPTDC buses start from Himachal Bhaban, Janpath (Close to Cannaught Place, CP). To check availability and book online (Login required):
http://hp.gov.in/hptdc/Availability.aspx
2) Several private operators run Volvo/A.C bus services from Delhi to Manali. They have different pickup points spread over Delhi. Choose a boarding point according to your convenience. Check for good reviews and ratings before selecting an operator.
http://www.redbus.in/
You can fly or by train reach Chandigarh directly from some cities within India.
Avoid booking wait listed (WL) train tickets in AC classes (1A/2A/3A) or Chair Car (CC). Book Sleeper class (SL)/Second Sitting class (2S) tickets which have normally more seats/berth and hence much better chance to get confirmed.
Chandigrah to Manali buses start from ISBT Sector 43 (verify before the journey). You can check while taking an Auto Rickshaw/Taxi from Chandigarh Railway Station or Airport. Ordinary buses are available from early morning at 4 am ( HRTC, Haryana Roadways, Punjab Transport etc) and tickets are onboard. For online availability and booking refer the earlier links.
There are two bus terminus in Manali, one for the state operated buses on the Manali mall and the other one for private buses (5 mins walking). It takes around 15 hours and 10 hours to reach Delhi and Chandigarh respectively.
Regular/Ordinary buses are available from morning to evening. Last being at 9:30 pm in the night. Takes around 15 hours to reach Kashmiri Gate ISBT. For booking check: http://www.hrtc.gov.in/hrtctickets
Volvo bus services are available in the afternoon/early evening between 3 pm to 7 pm. For booking check the above links.
For night stay in Manali:
We at Himalaya Trekkers (HT) provide the accommodation In Manali ( At Vashisht, 3 Km uphill) for our Fixed Departure treks. Do check the inclusions in the PDF brochure provided for a chosen trek. However if any trekker is interested to spend more time in Manali, he/she can inquire State operated HPDC hotels. They provide a wide range of choices of Premium, Deluxe and Budget options in Manali. To check see: http://www.hptdc.nic.in/cir0203.htm#hhami
Arrive Manali by noon; Reach Vashisht - 3 Km
Reach Manali by noon overnight from Delhi. Our guest house accommodation is at Vashisht (~  2050 m/6725 ft) , 3.5 Km further up from Manali town (~Rs 150 by Auto Rickshaw). Vashisht has a temple and is famous for its hot spring inside the temple. In the afternoon take a walk towards Jogini falls for couple  of hours. The trail is well defined. Accommodation in lodge/guest house. You will get variety of cuisine here including Indian, Chinese, Continental, Israeli, Thai, Korean, German bakery to mention.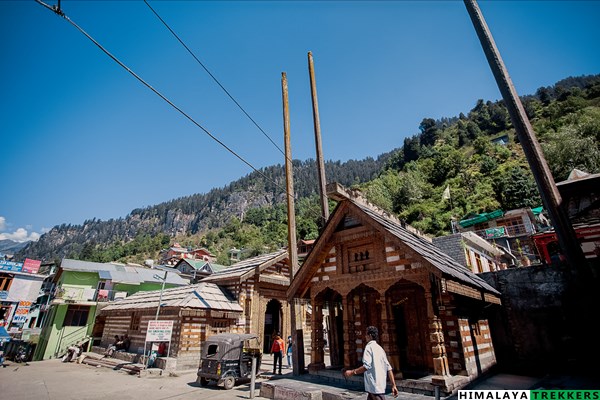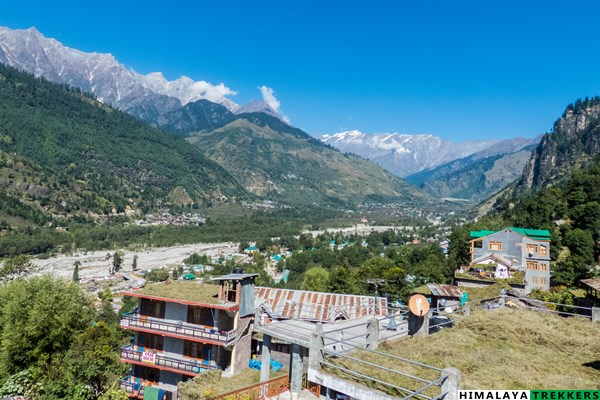 Trek to Lamadugh – 10 Km – 6/7 hours
Today morning our trek starts. We take a short car ride from Vashisht to reach the opposite side of Beas river cutting Manali town. The trek starts from the upper reaches of  Manali (7000 ft) behind the Hadimda Temple. The PWD road transforms into a narrow foot-route which vanishes into the jungle. There is a DPS school and a water supply 'nal' where one can refresh oneself before taking on the 10 km long steep walk which lays forward. Initially the trail moves along Manali Sanctuary within the dense and beautiful forest with overwhelming large trees like the Deodars, Walnut, Maples with steep up rise having only a few intermediate reliefs. The condition of the path may vary based on weather and in rainy season it can be treacherously muddy. About three hours of uphill march one reaches a distinct clearing, more like a field with a few stones scattered around. Take lunch break in this serene place surrounded by forest all around and having glimpses of the faraway Kullu valley we left beneath. The next stretch of the trek starts with considerable steepness for the next 2/2 and half hours. Slowly as one gains altitude, the big trees gives way to man-height shrubs with occasional clearings from where one suddenly have head spinning view of the beas valley which have been left far below. At the last couple of kilometres stretch, the slope eases out and walk continues through dense forest with mosses and lichens all around. Here we encountered a strange challenge, indeed never thought about before. The trail meets an approx 2 ft diameter supply water pipe and for some distance (around 400 – 500 m) the trail goes along the pipe. Be careful while walking and avoid stepping on it. At last after crossing couple of humps, one emerges into a large bowl shaped clearing with a abandoned remnant of a trekkers hut in the middle. Herein the place, Lama Dugh(~ 3050 m/10000 ft), to camp for the night. Total distance is 10 Km and may take 6/7 hours.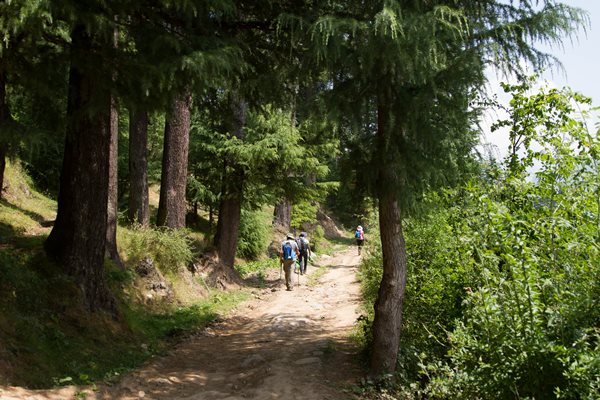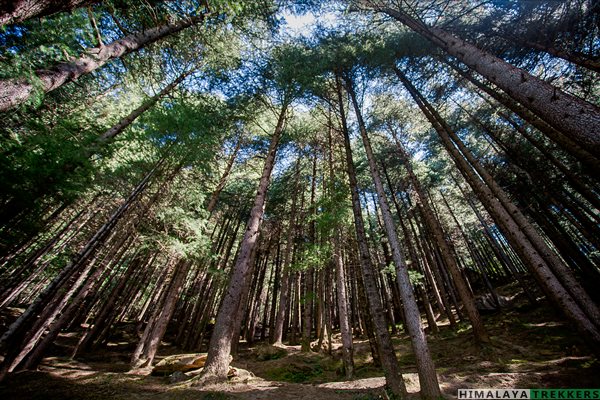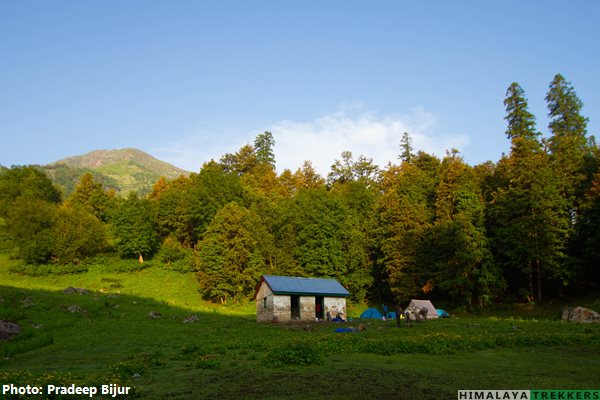 Lamadugh to Riyali Thatch – 11 Km – 6/7 hours
The trek starts early next day and gradually ascends on the stony trail with the receding tree zone around. Stunning view appears soon after the walk starts where the distant snowy Chandra Bhaga (CB) ranges sprung up in the north-east. As one gradually approaches the Khanpari pass (12000 ft), view of the prominent massifs of the CB range, Indrasan, the spiky Aliratani Tibba, Indra Tilak, Deo Tibba are all seen towards the right. Close to the trees are all gone with extensive high altitude meadow region all around and the steepness becomes harder. Looking back one can see amazing view of the zigzagging road to Rohtang Pass exposed like canal duct! The spur on this ridge leading the peak called Khanpari Tibba rising ~300m/1000 fit above. The view of the Dhauladhar range, Hanuman Tibba being the highest peak, and the Manalsu Nala and its surrounding glaciers to the left creates an amphitheatre bowl. The pass itself at the end of Tree Line and denotes the starting of Alpine meadows, (called "Thatch" locally as compared to "Bugyal" in Garhwal & Kumaon). Looking ahead from pass the meadows of Riyali encompass the vista. A gentle walk and followed by a steep descend of one and a half hours and later by a kilometre of relatively gentle trail – the last one gives some relief to the weary walker! No trace habitation in the route except for couple of stone guarded shepherds hut. One reaches end of the Riyali Thach (~ 3400 m/11200 ft) in the afternoon to camp for the night. Total distance is 11 Km and can take 6/7 hours. The beauty and the variety of the day's trail will leave one ruminating in the night.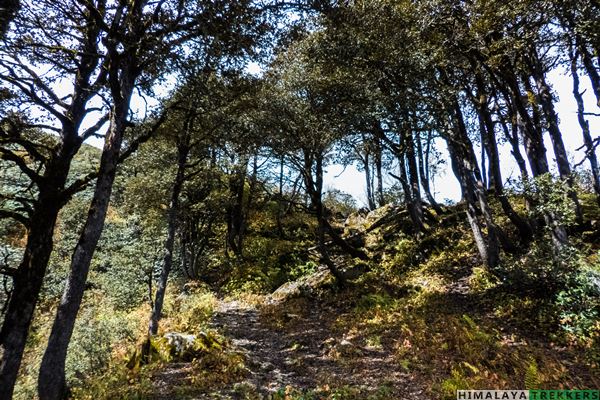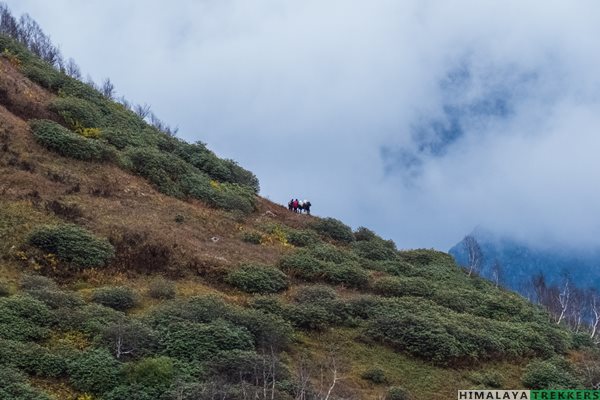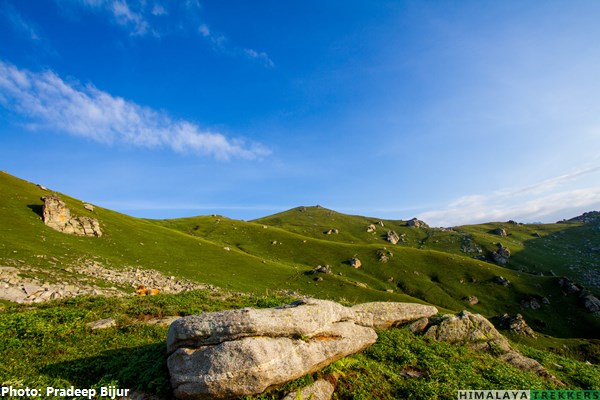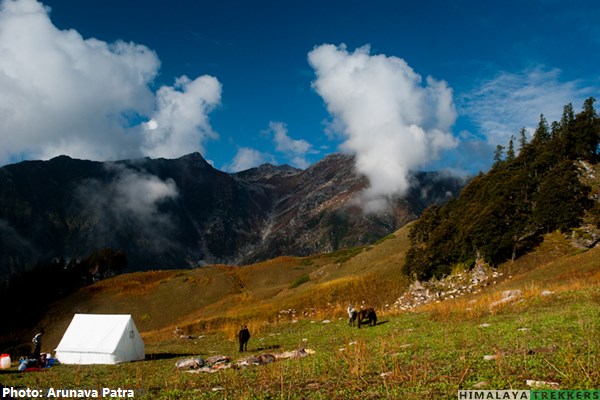 Riyali Thatch to Keliheni base – 9 Km – 5/6 hours
The trek starts off early next day and immediately leaves the Riyali area and descends into a zone of trees. Soon after a km of up and down walk, openness of the Bugiyal  comes once again and the glimpse of the  Kaliheni Pass (Sanghor Jot, as it was known traditionally) can be seen far away and up above in the front. Rocky ranges accompany in the left with old greyish glacial fans prominently visible. The path descends slightly again and soon comes to the first river crossing. The river is fast flowing here and balancing on the stone is optional only if one reaches here early (when the water is still less). Otherwise best is to take off shoes, take support and wad through the icy water. Crossing this and just taking the right is the next crossing, the stream here is flanked by amazing old glacial edges jutting out with black ice visible underneath. Immediately after the crossings, an arduous climb follows on grassy mountain slab and with a ridge walk, which takes the trekker to the other side of the mountain. Once the ridge is finished we can see the base camp area a Kilometre ahead. Foggy undercover may prevail here in the afternoon. In a semicircular arc we cover the remaining flattened trail to reach the base camp (~ 3950m/13000 ft). Total distance is 10 Km and may take 5/6 hours. Reaching the Base in the afternoon feels cold as the place is generally windy and exposed to the pass in the front. The intimidating trail towards the pass and the approach over the glacial destruction- moraine zone is all visible in the front and reminds one about the next day's effort. We camp for the night. A good rest and sleep is required to undertake the next day's attempt.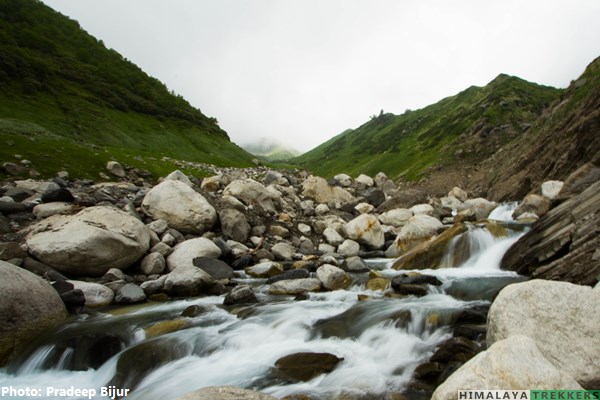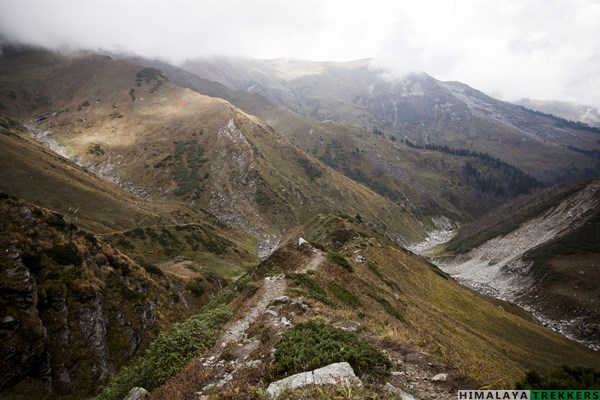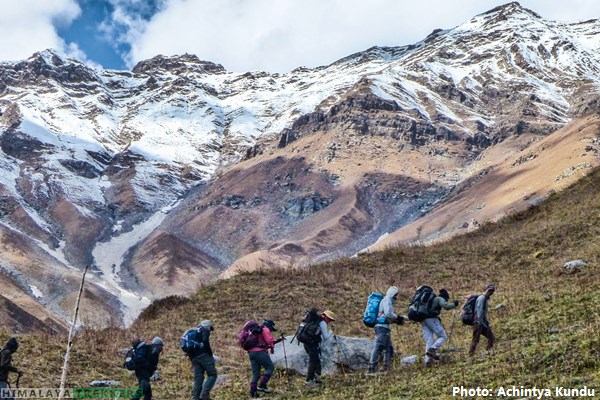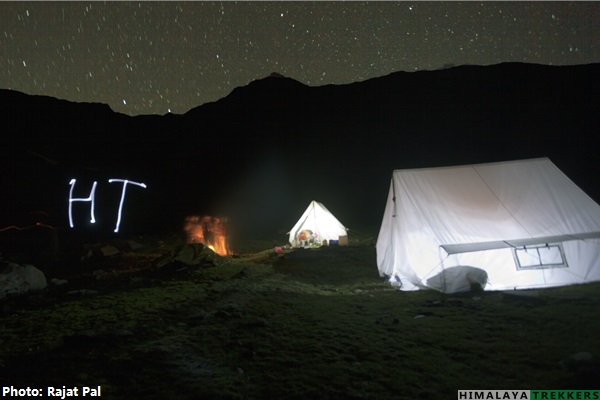 Kaliheni base to Keliheni Pass and back – 12 Km – 7/8 hours
The trek should start early morning to to reach Kaliheni Pass and back to base feasibly. The walk starts over the immense rocky destruction zone, trampling over the big and medium sized rocks and stones strewn all over. One clearly has to concentrate on the feet as the stones compel the ankle twist and turn to every possible angle! However the toiling is immediately rewarded with the stunning view of the range containing the Sanghor Jot standing like an immense wall and guarding the route to Bara Bhangal. Movement is really slow here and steepness is considerable. The atmosphere also gets rarefied fast as one gains height. Finally, reaching on the top of the ridge, the other side comes into view with breathtaking ice fields. The breadth also goes off as one soon realizes (as also from the guide's prompting) that this is not the pass, one has to go even further, climb up in the front and then right to reach the pass.  The area is completely ice and rock here and astonishingly smooth plate – like stones dominated the rocky bridges between the ice fields. Kaliheni Pass (~4800m/15750ft) itself on the glacier, with a distinctly beautiful opening of about 50m between two steep rocky ridges. The pass has a crevasse in the middle. The view on the other side is arctic; breathtaking ice fields gently roll down the three glacial lakes down below. Far away in the front – right, sharp snow clad peaks juts out of the white desert like a perfect picture. One can spend some time on the pass but should get off early and starts the descend downwards and the weather here is treacherous and could become foggy, leading to snowing in the alter half of the day. Retracing the ice and rock zones and steep downward descent one comes back to the moraine zone. Crossing it over is never simpler (rather difficult) in descent rather than ascent. Exhausted after the day's hard toil, one reaches the camp shelter with a day's trek worth remember for life. Total distance is 12 Km and may take up to 8 hours.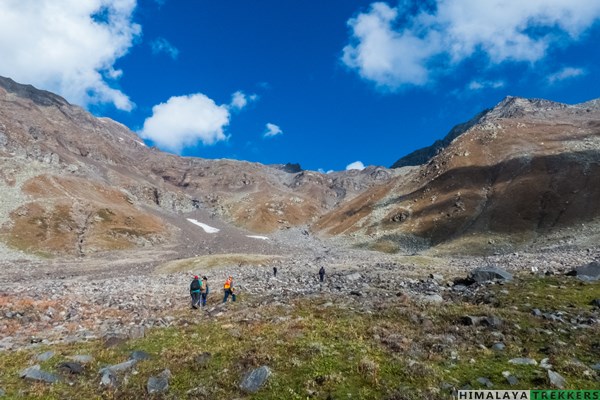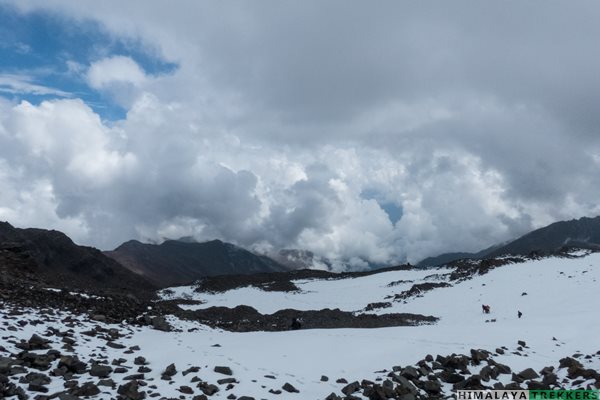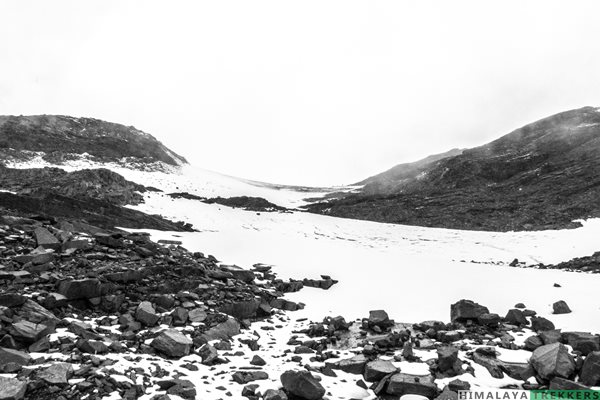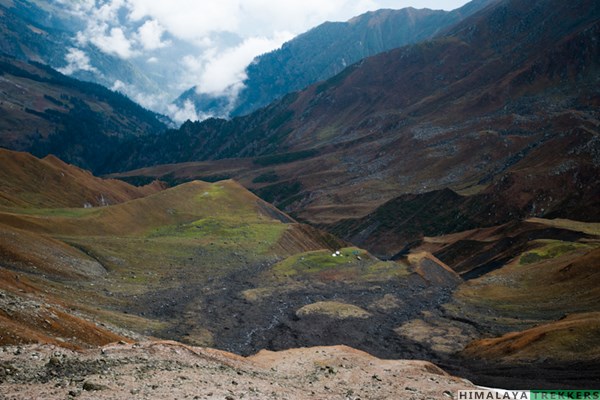 Kaliheni base to Dor Nullah via Riyali Thatch – 15 Km – 6/7 hours
Trek starts leaving behind the Kaliheni Base and retracing the same path all the way to the Riyali Thach camping ground. After 10 minutes we take a detour from the main trail ( the trail through we came) and take the trail right of us. Our campsite can be located from here but will take couple of hours from this place. A ~200 m/650 ft of descent takes us to the bed of a stream. We gradually follow a stream down and cross to its left bank. The gorge is narrow and colourful rocky cliffs clinging with lichens and moss. After the crossover the trail is somewhat long but rewards with the beautiful expanses of the sprawling meadows at Dor Nallah, and the camp site (~ 3200 m/10500 ft) is itself at the top of a round Thach/Bugiyal. Total distance is 15 Km and may take 6/7 hours. Rocky walls jut out in our front like ancient Stonehenge. Night falls with emerging of a breathtakingly starry sky as if like viewing from space.
Dor Nullah to intermediate camp – 8 Km – 4/5 hours
The trek starts and we traverse the meadows on the last day of the trek, back descending towards Sangchur. Beautiful meadows gently descend and we could see Lammergeiers, Griffons and Golden Eagles circling in the sky high above us, as we slowly go down. After couple of hours, we reached the tree line distinctly marking the edges of the meadows. The trail turns narrow and the steep descent starts through the bushy and shrubby undergrowth.  As one descends, the valley rises up and gets more distinct.After an hour of descent, one can suddenly see a fantastic view of vast stretch of Kullu valley, from Manali to Kullu town with the meandering Beas in the middle, an unforgettable bird's eye view. We camp at a suitable spot.
Trek to Sangchur – 6 Km – 3 hours – Drive to Manali – 30 Km – 2 hours (by 4 pm)
Today is the last day of our trek and we will negotiate a steep and muddy (at places) descent marked with high stepping stones. The sustained lower gradient continues for more than an hour. Entering in the Sangchur Village (~ 2150m/7050 ft) brings again a relief and joy of seeing a habitation after a break in wilderness. We take a pre booked car from here to Manali, 30 Km via Patlikuhl. Trip ends here.
P.S.: Distances and altitudes are approximate and may not be exact.
  TREK FEE: ₹ 17,800 (Manali to Manali) + 5% GST  
Book for 5 persons or more and get flat 10% Group Discount on TREK FEE.
Inclusions:
1 night's accommodation at Vashisht, Manali (Day 1) on sharing basis. Meals at Manali are on your own.
 Car drop from Vashisht to trek starting point (Day 1) and  pick up from trek end point Sangchur to Manali back.
 All meals during the trek (From Day 2 lunch to Day 8 lunch). Regular Indian style nutritious vegetarian food during the trek (including occasional eggs), breakfast packed/hot lunch (depending upon the time you reach a campsite), snacks, dinner along with coffee/tea/soup.
Excellent Trekking Guide(s), who will be a local to this particular area and has profound knowledge of the trekking trails around.
Specialised Cook, Support staff, Porters/Packed Animals for carrying the central logistics of the trek.
 Stay in tents (3 persons dome or ridge shaped tents) on triple sharing basis during the trek.
Camping equipment like Sleeping bag, Carry mattress, Gaiters, Micro spikes/Crampon. (Bring your own sleeping if you have a high altitude specific personal Sleeping Bag. This is always better for hygienic reasons.)
Kitchen tent, dinning tent and toilet tent as required during the trek.
All permit fee, camping charges, forest levy required for the trek.
 Basic Medical & First Aid kit.
Accidental Insurance Policy covering high altitude trekking tours (For Indian nationals it is included in the TREK FEE, up to 60 years of age). It covers your trek as well as your return journey to home (10 days).
Exclusions:
Any meals at Manali. There are good amount of choice for vegetarian and non veg food in the restaurant of Vashisht.
We assume that you will carry your personal Rucksack/Backpack with all your personal belongings. If you want to offload your Rucksack and be carried by our Pack Animal/Porter then you need to pay additional ₹ 2000 for the entire duration of the trek. The Rucksack should not weigh more than 10 Kg.
 Any tip/gratuity to the HT supports staff.
Anything which is NOT mentioned in the "Inclusions" or personal in nature.
Booking:
We assume that you have read and understood our "Terms & Conditions" (https://himalayatrekker.com/terms-and-conditions) before Booking a trek/tour.
To reserve your place in a scheduled Fixed Departure trek or a Customised/Private trek pay 25% of the TREK/TOUR FEE as the initial "Booking Deposit". You can pay by Net banking/IMPS/Cash Deposit to our account. This will ensure your participation in the desired trek and we will reserve your place in the scheduled date. You need to pay the remaining amount at least 15 days before Trek Starting Date.
If you book a Trek/Tour before 14 days or less from Trek/Tour Starting Date, you need to pay the full TREK/TOUR FEE.
 Cancellations:
"Booking Amount" i.e.25% of the TREK/TOUR FEE is Non-Refundable at any stage.
If in case you are not able to make it due to unavoidable reason(s), we provide you avery flexible choice of Shifting to another trek within next one year. One year is counted from the starting date of the trek/tour you booked initially with us.
In case you postpone your trip you need to informminimum of 15 days before the trek/tour starting date. (Though we suggest to inform us earlier if known)
In case you postpone a trek/tour before 15 days of the scheduled Trek/Tour Starting date or prior, you may shift to another group of the same trek/tour scheduled in the same season or within next one year. You may shift to another suitable route also. For changing any, you need our approval first. Your request must be in written communication through your registered email with us.
If you cancel/postpone a trek/tour from14 days to 8 days before tour starting date, your Booking Amount is Non-Refundable. We will not take any request of shifting dates. We will charge 50% of the amount as Cancellation Charges and process refund of remaining 50%. You may also shift to another group within next year but 25% Booking Amount will be deemed as Cancellation Charge and the rest amount will be transferred to the shifted group.
If you cancel a trek/tour 7 days (i.e. a week) before Trek/Tour Starting Date or later, there will be NO REFUND.
In case of any unforeseen incident including but not limited to natural calamities like flood, earthquake, landslide, forest fire or any political unrest, if we are compelled to cancel the trek/trip, you will be entitled to redeem the full amount for the same/similar kind of trek/trip within next one year.
If you need more clarifications write in to [email protected]