3820 m/12500 ft
Highest Point
Kedarkantha Trek – Nov'23 to March'24
Updates for Kedarkantha trek:
Upcoming group departure for Kedarkantha trek (Nov to March) from Dehradun. Snow usually starts depositing  on trail from the later half of November and remains till late March to early April.
Private/customised tours to Kedarkantha for your own group/family is open as per your preferred date. TREK FEE will be same for a group of 8 to 9 persons i.e. ₹ 9950 + 5% GST per person (Sankri to Sankri) and will be proportianately lower for 10 persons or more in a private/customised tour.
Below is your Complete Guide to Kedarkantha trekking tour 2023 and will help you to navigate through this detailed page information. Click a link to jump to a specific part of information.
Introduction
Itinerary
Altitude and distance graph
Campsites
Temperature & clothing
How to reach the trek base
Snow during spring
Snow conditions during 2019-20 season
About the trek:
Probably you have searched for a winter or snow trekking trail in India and  landed on our Kedarkantha trek details page. It is indeed the most popular winter trekking destination in India. Kedarkantha  peak (Latitude 31.02257° N & Longitude 78.17185° E) is a low altitude mountain peak  at ~3810 m/12500 ft. The peak and trail are on the fringe of Govind National Park, Uttarakhand.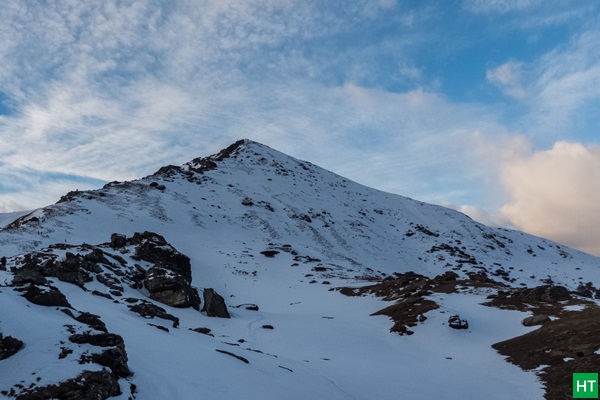 The region marks the boundary with its neighbouring state Himachal Pradesh and situated in western flank of Uttarkashi district. Naturally the area is surrounded by Shivalik hills and approaching to high Himalayan snow peaks. From summit you can see a 360° panorama, very special during sunrise. Peaks like Swargarohini, Bandarpunch, Black Peak create the backdrop.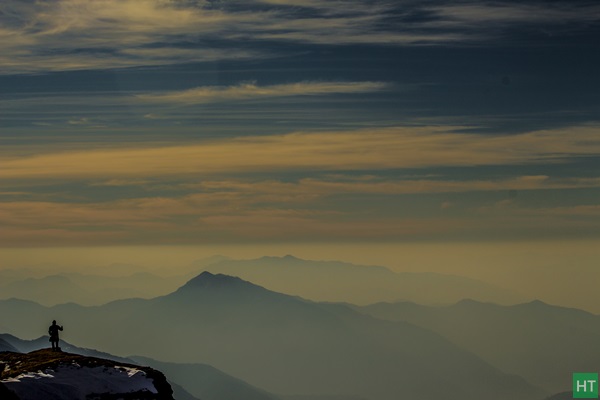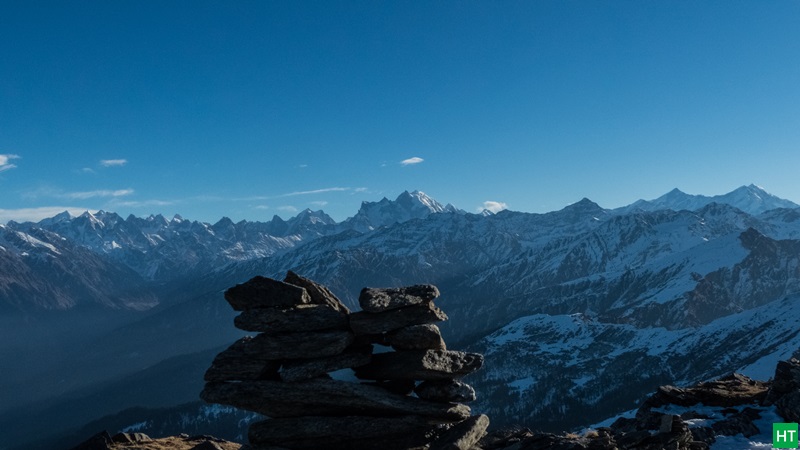 Winter and Spring add snow and blooming of flowers, a nearly ideal experience for your Himalayan hiking destination. Surrounding Tons river valley, dotted with remote villages, snow capped mountain ranges in the horizon, and rich flora and fauna of the national park makes the short and easy hike to the Kedarkantha peak an enjoyable hiking experience.  In winter or spring, the trail remains covered with fresh snow. Snow patches amidst giant pine forest and snow covered meadow in this altitude, even late till spring, makes this trek a special one. Campsites in winter are mostly on or around snow. In spring during March and April another added bonus is the blooming of Rhododendrons. Temperatures are warmer than the harsh winter days but residual snow remains intact on higher altitude, specially on top and even till base camp.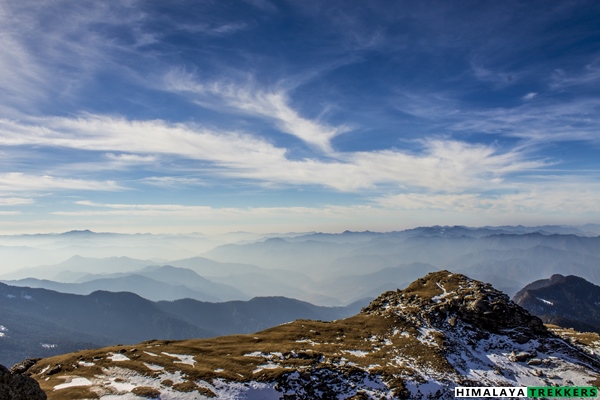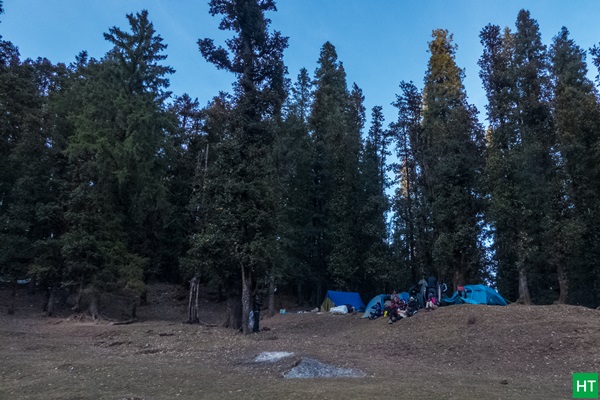 Winter summit to the Kedarkantha peak is indeed special. You will remember the summit push while breaking the dawn for long in your memory. Pictures can give you some feel, but not all 🙂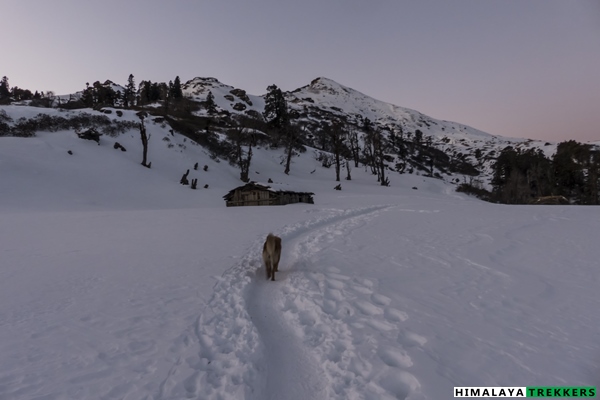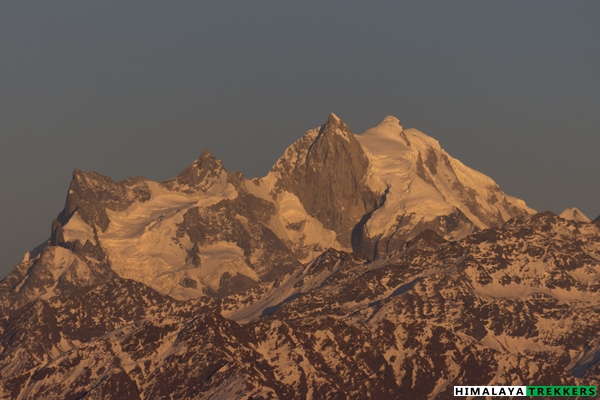 We believe that our HT support team can give you one of the most memorable experience of your lifetime. This is how you feel on the trek wit HT: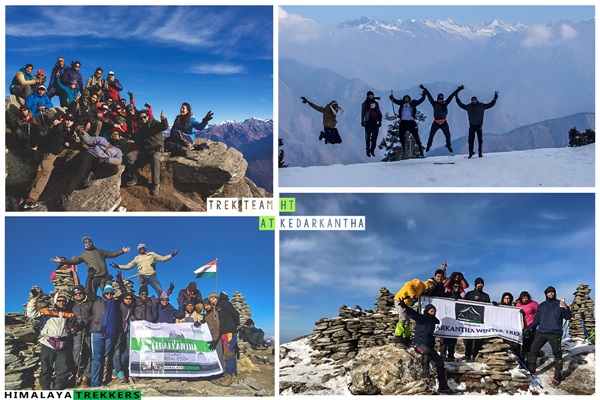 Kedarkantha trek brief itinerary: 
Day 1: Drive from Dehradun to Sankri (~1930 m/6360 ft) – 200 Km – 9 to 10 hrs. Lodge or a guest house accommodation on a triple sharing basis.
Day 2: Trek to the campsite near to Juda Tal (~ 2800 m/9185 ft) – 5 Km- 4/5 hours. Twin sharing tent.
Day 3: Trek to Kedarkantha base (~ 3440 m/11285 ft) – 5 Km – 3 hours. Twin sharing tent.
Day 4: Trek to Kedarkantha Peak (~ 3800 m/12465 ft) – approx 2 to 3 hours climb – spend some time at the summit and back to Kedarkantha base – total 7 Km – 6/7 hours. Twin sharing tent.
Day 5: Trek to Sankri — 8 Km – 4/5 hours. Lodge or a guest house accommodation on a triple sharing basis.
Day 6: Drive from Sankri to Dehradun – 200 Km – 8/9 hours
Important note:
You need to reach on your own to Dehradun on Day 1 morning (latest by 7 am) or the previous night. Return to Dehradun on Day 6 evening (by 7 pm).  Arrange your tickets for inward journey and return from Dehradun accordingly. We will arrange transport to reach Sankri and return but are NOT included in the TREK FEE.
Last ATM is at Mori, 25 Km before Sankri but don't depend till you reach  here. Withdraw cash well in advance either in Dehradun,  Naugaon or Purola.
Only BSNL and Jio network may work at trek base Sankri, that too with limited connections. Make a phone call back to home from Mori while reaching Sankri. After Sankri there is no presence of network.
 Altitude & Distance Profile Graph for Kedarkantha TREK:
Here you will get a pictorial idea, before going to some facts and details.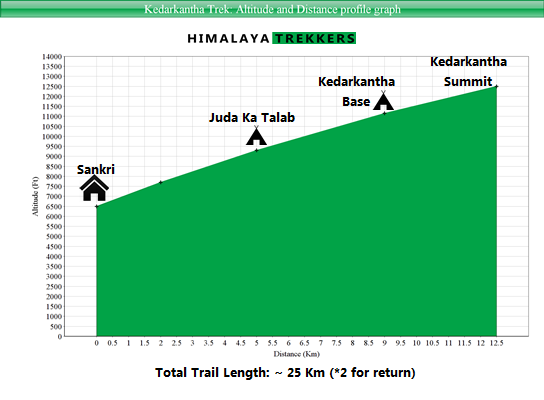 Campsites during winter Kedarkantha trek:
In winter Juda Ta Talab starts freezing around mid December and by month end the area receives moderate amount of snow (around 6 inch up to a feet). Surrounding conifer jungle set up creates the perfect back drop and a sudden snowfall can turn this site powdery and surreal :-). Snow remains as late as mid of March in this campsite.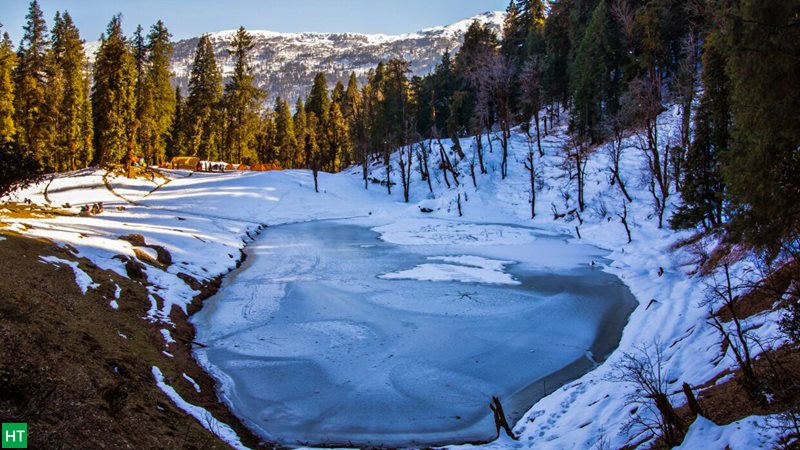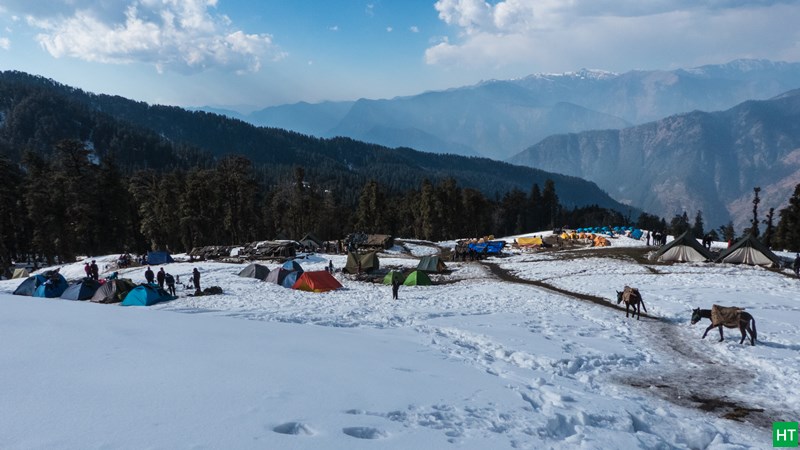 Temperature range during Kedarkantha trek:
Winter (Dec to Feb) temperature: From December to February during winter the daytime temp remains cool and nights are cold. Night/early morning temperatures (when it usually reaches minimum) will be approximately as following
Sankri: 2°C to 0°C
Juda Tal: -2°C to -5°C
Kedarkantha base: -5°C to -10° C.
Note that the temperature will be around 6° to 8°C warmer at a given place inside the tent, and still, the temperature inside the tent can be freezing. Keep adequate warm layers with you.
Spring (Mar-Apr) & Autumn (Oct-Nov) temperature: Day time weather remains pleasant and nights are cooler.
Night/early morning temperatures at camp sites  can be from 8-10°C (lower camps/Juda Tal) to 0-2°C (higher camps/Kedarkantha base)
What type of clothing should I bring for this trek?
It is important to carry proper clothing on this trek. Three layers of clothing are recommended at the campsite in the early morning or evening while you are outside your tent.
Base layer (moisture-wicking layer; use synthetic and avoid cotton): A quick-dry base layer (dry-fit t-shirt, half or full sleeves) & trekking pants (synthetic, preferably quick-dry, and some wind- or water-proof material is useful)
Mid layer (warm clothing): Usually a warm jacket (synthetic, hollow fibre, fleece, or down jacket, etc.), but you may use combinations of layers as well (e.g., a light jacket + hoodies + a sweater or a thermal, which you may already have with you).
Outer layer (weatherproofing): a windproof and waterproof jacket with a hood is best, or a poncho or raincoat.
Note that we don't have any gear renting facilities, although at some bases, you may get a few on the spot. You may read our opinion on whether should you buy or rent your trekking gear to get a broader understanding.
Check a comprehensive List of things to carry in a himalayan trek or download the PDF. Also read how to choose right trekking gear before purchasing any gear.
Access to trek base Sankri:
We may arrange a pickup  from Dehradun to Sankri and return. This will be on a cost to cost basis and shared by the availing team members. You pay directly to the driver, sharing equally.  The fare is ₹ 6000 for a Tata Sumo, one way and can accommodate 5 to 6 people. Whereas a Tempo Traveller charges ₹ 900 (10 to 12 seats) one way. Approximately, ₹ 2000 per person when you avail both ways. This cost is not included in the TREK FEE.
Or else you may reach Sankri independently and join us here. Here is a road map with major points en route to Sankri.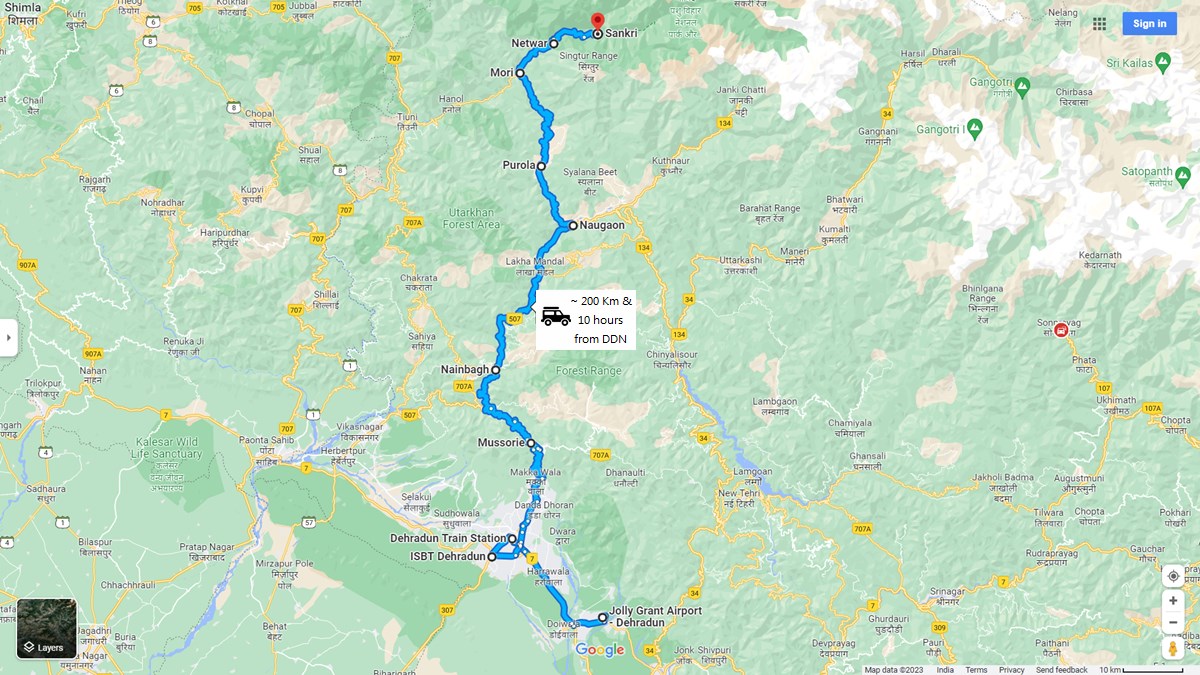 Do we get snow in Kedarkantha trek during spring (March/April)?
Being in Uttarkashi district and due to proximity with the Himachal border, Kedarkantha trail normally receives moderate to heavy snowfall from December to February. Quite naturally winter snow deposition remains as late as April. Also a fresh snowfall in not rare even in spring on altitude around ~ 3000 m/10000 ft or above.  In general you will get patches of snow in and around Juda Tal campsite. As you climb higher, you will encounter more snow. From Kedarkantha base to the summit, normally the trail will be covered with moderate snow (around 6 inches). Another advantage of Kedarkantha spring trek is that the temperature will be warmer comparing to winter months and more conducive to trekkers who don't feel like getting into subzero temperature throughout. Plus blooming of Rhododendron in the stretch between Sankri to Juda Ka Talao is definitely a bonus in spring :-).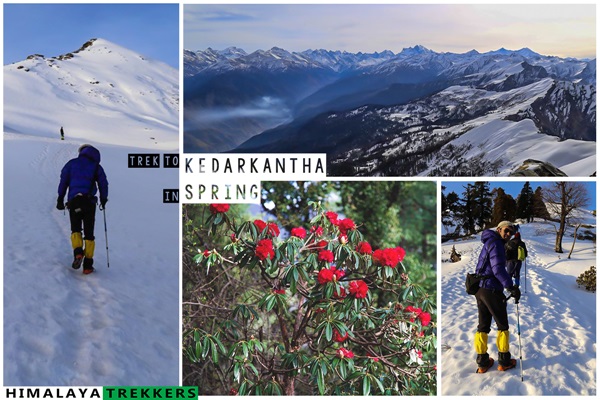 Past snow updates for Winter-Spring:
2019-20:
Check here for latest update from Kedarkantha trail along with fresh photos during early December 2019. You will have an understanding of current snow condition and forecast for the season. You should get moderate snow in mid to late December . Heavy snow from December end to January end is expected this time. February is normally not conducive for this trek due to harshest winter conditions with heavy deposited snow. March and April, i.e. spring season is ideal for snow spring trek, when weather starts getting warmer.
2018-1919:
As of beginning of March, 2019, Kedarkantha peak may have accumulated "4 foot snow barrier". February is always been the harshest month on mountains, cold and snowy. This winter promised good snow by mid December.  Till mid Jan 2019 we got expected snow of 1 to 2 Ft varying from Juda Tal to the Kedarkantha peak.  Then came the snow storm which poured more than 2 Ft snow at Sankri in itself. Summit to Kedarkantha peak was a mini expedition (just joking) mostly in February. Groups trekked to Juda Tal, camped there , hiked around and returned frequently. Occasional small sized groups reached the summit.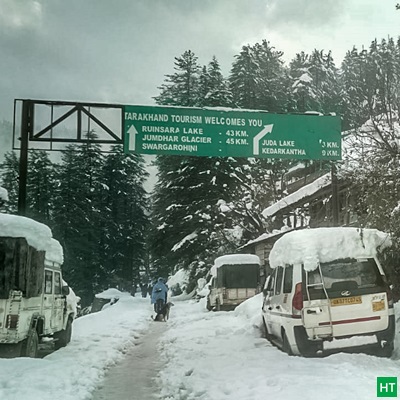 As the spring approaches, our spring trek groups are starting from 10th March, 2019. It is needless to say that Kedarkantha trail will remain covered with moderate to heavy snow in March and could very possibly till end of April 2019. Till mid of March it will be challenging to reach the summit, but will ease out if there is no further significant snowfall.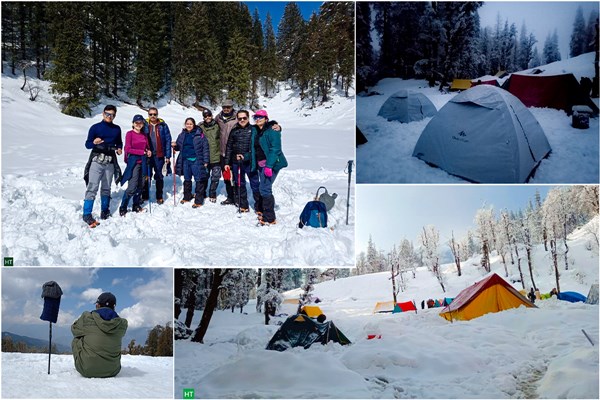 Finally Kedarkantha summit opened again on 18th March'19, as the first team after a long break reached the summit of Kedarkantha. Entire February and till mid of March snow was just too much to deal with and no team was able to reach summit. These are the pictures of our team who summit Kedarkantha on  24th March'19. This year snow will remain on summit till May beginning for sure.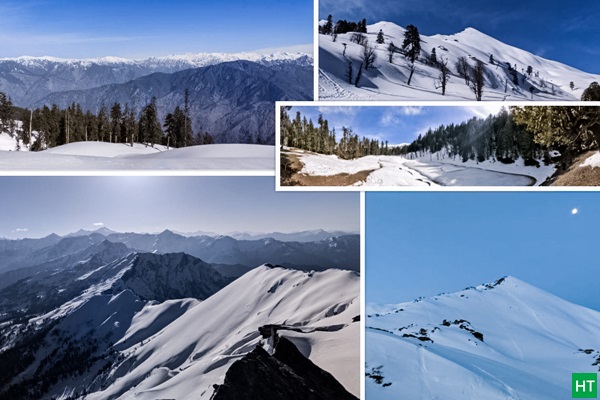 Why treks with HT?
| | |
| --- | --- |
| Expertise: | 10 years on ground experience |
| Support staff: | Qualified local & office staff |
| Group size: | Small groups up to 15 |
| Insurance: | Travel insured trek and tour itinerary |
| Easy Bookings: | 25% Booking Deposit |
 Duration: 4 days of trekking; Walking from Sankri to Kedarkantha summit and back to Sankri. 6 days from Dehradun to Dehradun.
 Prerequisite: No prior trekking experience is required. Good physical fitness is always desired in any trek.
 Grade: Easy
 Physicality: 5.5/10
 Trail Length: 25 Km
 Highest Point: Kedarkantha  peak ~ 3820 m/12500 ft
 Seasons: March/April (Spring/Snow),  October/November (Post Monsoon/Fall), & December to February (Winter/Snow)
 Further Option: Har Ki Dun trek can be combined.
 Access: Trek starting point (trek base) is Sankri, 200 Km from Dehradun.
 Rail station: Dehradun (Station Code: DDN)
 Airport: Delhi, Jolly Grant in Dehradun (Airport Code: DED)
 Map:
Upcoming scheduled dates for Kedarkantha trek:

 
You can check the scheduled Fixed Departure dates in the calendar available inside Booking Form or inside REGISTER NOW form. Tour starting Dates are highlighted as per our itinerary (Day 1 of  6 days itinerary).
At present BOOK NOW functionality is disabled. You can get all the information in your email by submitting the REGISTER NOW form.
If you are a group of people and available dates are not matching then you may select Custom date mode (by clicking the Select your custom date) and fill in the displayed form.
You can also check all the available dates at a glance in our

TREK CALENDAR

.
Trekkers need to reach Dehradun on Day 1 morning (latest by 8 am) or the previous night. Return to Dehradun on Day 6 evening (around 7 pm). Arrange your tickets for inward journey and return accordingly.
| | |
| --- | --- |
| DEPARTURE LOCATION | Dehradun railway station |
| REPORTING TIME | 7:00 AM for a prompt departure to Sankri (Day 1) |
| RETURN LOCATION | Dehradun |
| RETURN TIME | Approximately 7:00 PM (Day 6) |
How to reach Sankri (The trek base):
 Nearest Rail station: Dehradun (Station Code: DDN)
 Nearest Airport: Delhi, Jolly Grant in Dehradun (Airport Code: DED)
Based upon your request we will arrange a pick up and drop from Dehradun to Sankri and back. This will be shared equally by the team members on actual basis. You pay directly to the driver/transporter. The fare is Rs 5500 for a Tata Sumo/Mahindra Maxx one way. This can accommodate 6 to 8 people. A Tempo Traveller charges Rs 9000 (12-14 seat) one way. This is NOT included in TREK FEE and to be paid directly to the driver/owner.
If you wish to reach our Trek Base Sankri on your own by public transportation:
There are 2/3 privately operated buses from Dehradun (near DDN railway station on Gandhi road) To Sankri. The 200 Km journey will take around 10/12 hours. The busses start at  5:30/6/7 am.
While returning from Sankri take the morning bus to Dehradun/Vikasnagar and reach by 7 pm.
How to reach Dehradun:
For the treks at Uttarkashi district in Garhwal , one has to reach the capital city of Uttarakhand, Dehradun, specially the trek starting from Sankri, Yamunotri etc. Haridwar, Rishikesh and Dehradun are 3 nearby cities in the area and one can move from one to another by public vehicles like bus or shared Jeeps.
For more options to reach Haridwar you can check here.
Haridwar to Dehradun: 55 Km and may take one and half to 2 hours.
Dehradun to Rishikesh: 45 Km and may take around one and a half hour.
You can fly or by train reach New Delhi as per your convenience from any part within India.
There are direct trains from Kolkata to Dehradun.
KUMBHA EXPRESS – Train No. – 12369 ( Very good option to reach Haridwar by 5 pm; You can take a bus from the terminus just opposite to the railway station referred as Roadways bus stand/ISBT and reach Dehradun in one and half hour. Spend the night in Dehradun and start your onward journey by car next morning.)
UPASANA EXPRESS – Train No. – 12327 ( Very good option to reach Dehradun directly by 5 pm; Spend the night in Haridwar and start your onward journey by car next morning)
DOON EXPRESS – Train No. – 13009 (Don't book this train when you plan a long onward journey immediately in the morning)]
Avoid booking wait listed (WL) tickets in AC classes (1A/2A/3A) or Chair Car (CC). Book Sleeper class (SL)/Second Sitting class (2S) tickets which have normally more seats/berths and hence much better chance to get confirmed.
You can reach Dehradun easily  from New Delhi by train or bus (~ 6/7 hours) and is around 260 Km.
By train:
Following trains are good to reach Haridwar and run daily.
DDN JANSHTBDI – Train No. 12055 (Arrives DDN in the evening @ 9:10 pm, good choice when you stay the night in Dehradun and have a long drive ahead next day)
NANDA DEVI EXP – Train No. 12205 (arrives DDN early morning @ 5:40 am)
Always avoid booking waitlisted (WL) tickets in AC classes (1A/2A/3A) or Chair Car (CC). Book Sleeper class (SL)/Second Sitting class (2S) tickets which have normally more seats/berth and hence much better chance to get confirmed.
By bus:
Govt. Road Transport (Roadways of Uttarakhand, Uttar Pradesh, Delhi, Haryana, Punjab etc.) buses are frequently available in day time and night from Kashmiri Gate ISBT (http://www.delhi.gov.in/wps/wcm/connect/doit_transport/Transport/Home/ISBT/Fare+Chart). Tickets are available on board for these regular type buses. From Delhi Airport or Station you can reach ISBT Kashmiri Gate via Delhi Metro service (http://www.delhimetrorail.com/metro-fares.aspx). It is only 4 Km from NDLS and can be reached easily by booking an auto rickshaw.
For privately operated bus, you can book online from different portals. Select a boarding point suitably. Overnight Volvo/A.C/Push back buses are available. Normally these buses take up to 7 hours to reach Dehradun ISBT. You can book an auto rickshaw for Railway Station (5 Km away)/Hotel Drona (GMVN) or take a shared auto (Route No. 5) from ISBT.
[There are two major bus terminus in Dehradun. The buses from Delhi/Haridwar goes to the ISBT (Inter State Bus Terminus) and the other one is the Parvatiya Depot (Hill Depot, from where you can get the buses going up the hills like Uttarkashi, Barkot, Purola etc) located just beside the Railway station.
Nearest Airport Jolly Grant is 25 Km away from Dehradun. book a private taxi to reach Dehradun city. This airport is accessed from Dehradun, Haridwar and Rishikesh easily. The flights are mostly via Delhi.
For night stay in Dehradun:
Trekkers reaching on the previous day before the journey to the actual trek base need to stay the night in Dehradun. There are several options in Dehradun for spending a night while staying in Premium, Standard or Budget accommodation. Options vary from Privately operated Hotels/Lodges, to state run Tourist Rest Houses.
State run GMVN (Garhwal Mandal Vikas Nigam) operates Hotel Drona complex is 10 minutes walking from the railway Station. You can book an auto rickshaw. From ISBT it is around 5 Km. You can book an auto rickshaw to Hotel Drona (GMVN) or take a shared auto (Route No. 5) from ISBT (Inter State Bus Terminus). This is a reliable and a decent choice for Standard accommodation. The have restaurant and room service.
Check the following for online booking of the above: http://www.gmvnl.com/newgmvn/tour/booktrh.asp
You can call or visit GMVN nearest office or even send an email for more information.The information is available at:
http://www.gmvnl.com/newgmvn/online_reservation/#
Return from Dehradun:
Normally you reach Dehradun from any trek base  by 6/7 pm in the evening. You can take any train after 9 pm or regular bus service as mentioned above to reach Delhi or directly to your homeward journey in the same night.
Drive from Dehradun to Sankri – 200 km – 10 hours
Today morning we start our trip from Dehradun.  200 Km long drive takes at least 10 hours to reach Sankri, our trek base.  It's advisable to start latest by 7 am in the morning.
Initially after crossing Mussoorie town the road enters the Yamuna valley and we continue along the river for a while. It gets better after crossing the town of Purola. The car goes up the winding road surrounded by blue pine forest.  From Mori we follow the course of Tons river. You'll enter Govind National Park after you cross Netwar and after Netwar you will be following the course of the river Supin. The road gets bumpy at times but you won't feel much because of the astounding beauty of the surroundings. On your way you will experience dense conifer forest, scattered apple orchids, farming fields and open valleys in between.
Sankri may appear comparatively busy in a trekking season than the villages you may have visited interior in the Himalayas. But if you look carefully, you'll find that most of the people around you are either trekkers or the local support staff.
We will arrange your accommodation in a home stay at Saur village or in a lodge at Sankri. This will be on sharing basis and on the basecamp always expect a dormitory style room.  Saur is actually bigger than Sankri and in the 'Pahari' essence too. It is just two minutes' drive from Sankri. If the sky is clear and you reach Sankri/ Saur before sunset, you can't miss the vibrant orange and purple hue on beautiful snowcapped ranges of Mt. Swargarohini from here. Over a hot cup of tea, you'll be discussing the trail with our coordinator/trek guide keeping that beautiful painting into the backdrop.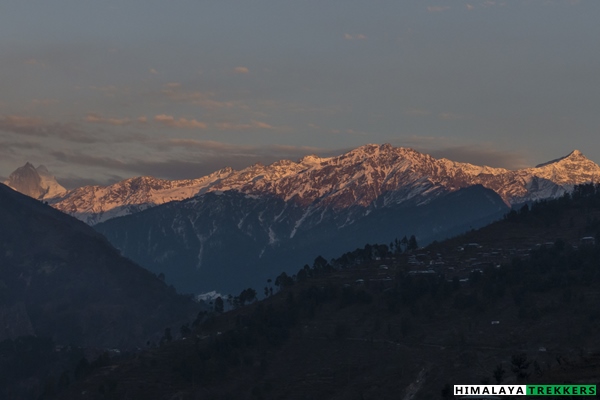 Trek to Juda Tal - 5 Km - 4/5 hours
Today morning after breakfast we start our trek to Juda Tal also referred Juda Ka Talao.  Initially we follow the road which connects Sankri to Taluka for about five minutes. Then we leave the motor able road and turn right to take the trail which leads to Kedarkantha.
The climb for today is throughout of moderate gradient and can be tiring at stretches. The trail starts gaining height among sparse conifers at the beginning.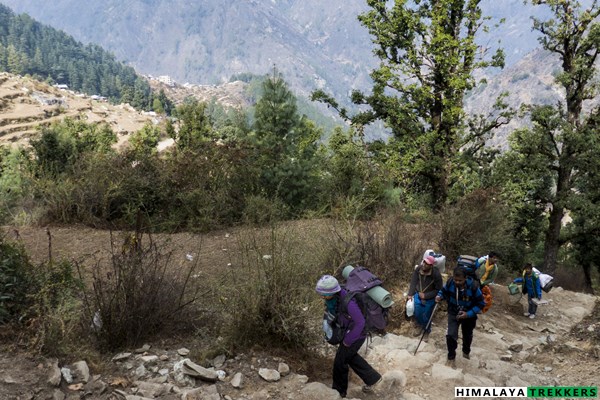 After following the trail for about an hour on the mountain slope, you will find a cement bridge lying on a small stream. The foot trail splits into two and we take the left one.  The tree line clearly starts to change by then. You'll see more Maple and Oak trees in the forest. After ascending for another hour or so you'll cross a huge fallen trunk to reach a glade inside the forest.  Surprisingly a single walnut tree stands tall in the middle. We take a well-deserved rest here. After all we completed halfway to the Juda Ka Talao.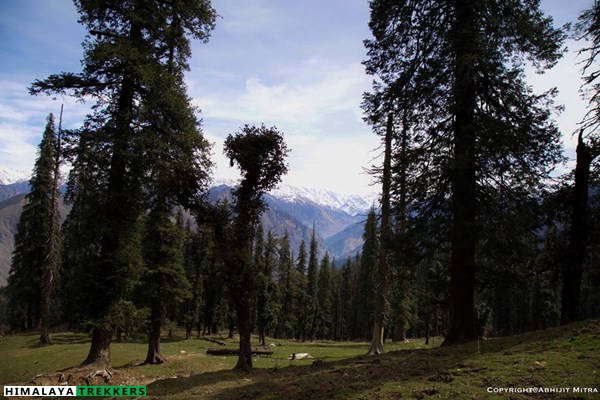 Continue climbing after taking a good rest at the "Fallen Trunk" meadow. Before reaching the last meadow of the day we cross another meadow in between. Both of the meadows share surprisingly same characteristics. Both are covered with lush green carpet of soft grass. If you have any time or energy left, allow yourself to walk a few steps barefoot on it. But certainly not at all if it's cold and snow covered. These are the small pleasures of life what we city dwellers miss back at home. Both the meadows have shepherd huts nearby.  Hop inside.  Imagine spending a lonely night there sharpening your knife, cooking your own food on a wooden fire and praying all night long that bear doesn't attack your sheep as does the shepherd. Not really that lonely, huh? Well, you can imagine as many sheep as you want with you!
However, let us take a break from our imagination and let us get back to the trek. We turn right from the last meadow and climb for 15-20 minutes more and we'll reach our campsite for the day. The total distance is hardly 5 Km but it may take up to 5 hours!
Judatal is a really pretty campsite. Imagine an undulated wavy meadow amidst a dense Maple-Oak forest and at the left corner of the clearing there's a small lake which remains frozen in most of the winter. So, what do you think? Pretty enough?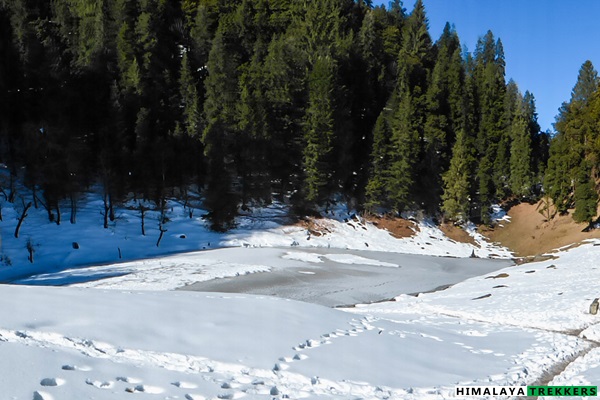 There are quite a few stories about Juda Ka Talao. Locals say that this small lake is somehow channelled with a well of Saur villages. Long time ago, a small shepherd boy got drowned in the lake. That little boy loved to play his flute. He carried his flute everywhere he would go. Almost after a week of the tragedy, the flute was discovered from that well in the Saur village. True or not? You be the judge.
Today we trekked only about 5 km but remember that we have climbed three mountains and gained considerable altitude. Today's trek was not that easy as it appears. After an early dinner we call it a night and get into the cosy comfort of the sleeping bag inside tent.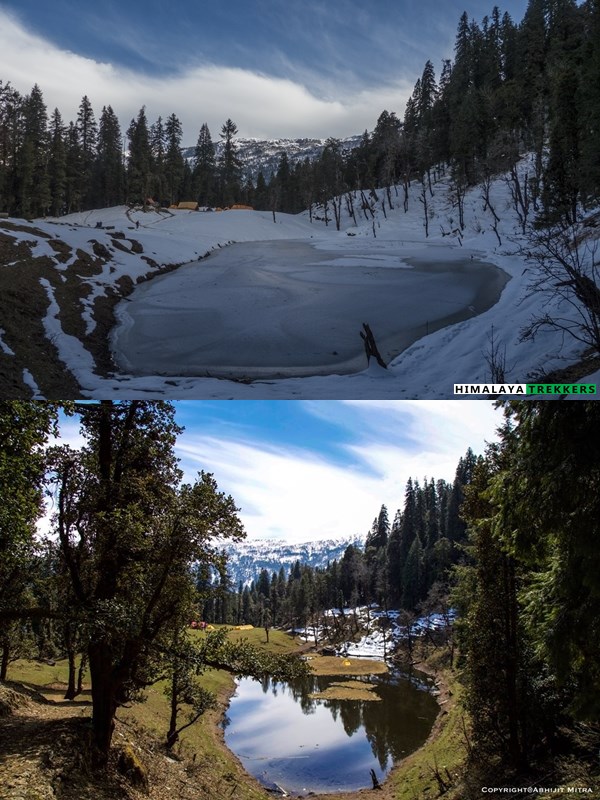 Trek from Juda Ka Talab to Kedarkantha base – 4 km – 3 hours
The trail towards Kedarkantha base is clearly defined across Juda Ka Talab campsite.  After about 5-10 minutes of climb we reach a vantage point on the slope from where you get a full view of the pristine lake and the grassy meadow. Take out your camera for sure! Climb further and you'll see the trail going straight forward keeping the ridge to your left. Don't take that trail but wait for your guide here. That route will take you straight to another campsite called Hargaon. You are supposed to climb the ridge to your left. The trail goes inside the Oak, Conifers and Maple. In winter the snowline would have begun by this point.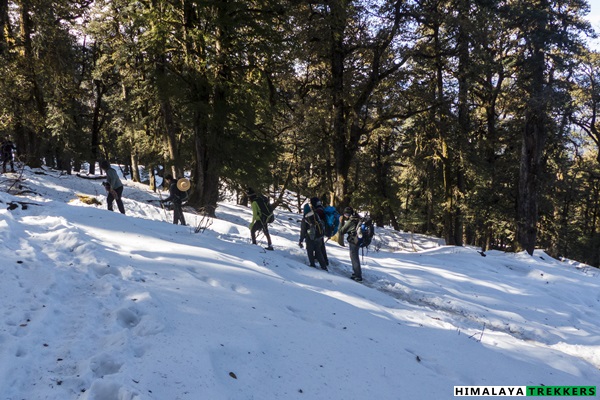 Can you see the triangle shaped peak right above the tree line peeping ahead? Yes, that is Kedarkantha 🙂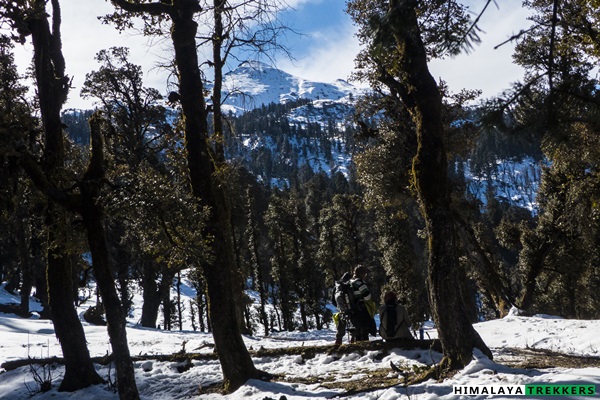 Continue about an hour of steep climb we reach a spot where stands a solitary shepherd hut.  The ascent gets gentler after this point and we'll reach today's destination after maximum one more hour of trekking. Spend few minutes here, enjoy the surroundings.
As said before, after walking another hour you'll see a vast opening with few desolated shepherd huts. A thrilling view of a 180 degree arc of majestic snow capped Himalayan ranges with significant peaks like Bandarpunch, Swargarohini, Kalanag and Ranglana can be seen from here. Yes, cheer up, we have reached today's camp site. Now don't get too carried away with the view. Look left to the arc. You are supposed to start before the break of the dawn next day to reach the top on or before sunrise! We serve the dinner early in the evening, as the last scattered light remains on the horizon.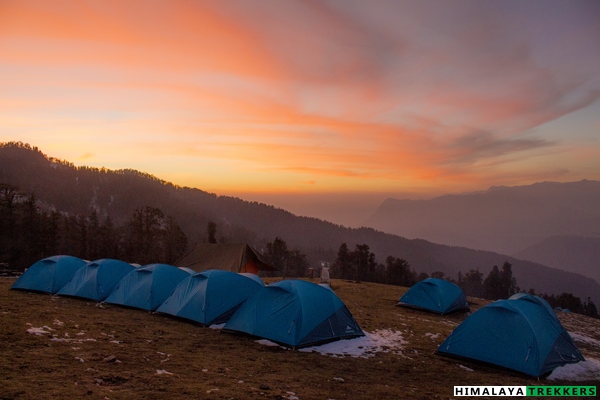 Get into the tent and pack your light day pack, if you have one. Otherwise keep at least a bottle of water and some dry food/chocolates with you during summit. Tomorrow expect tea to be served by 3 am in the morning.
Trek to Kedarkantha top and back to base: 8 Km - 7/8 hours
Today we start as it has been planned. In December/January it will be pretty cold at the onset of the dawn. Wear warm jacket and certainly a windproof on top. A pair of gloves is a must, if not a waterproof one. Take out your torch, a headlamp is always better as it keeps your hands free.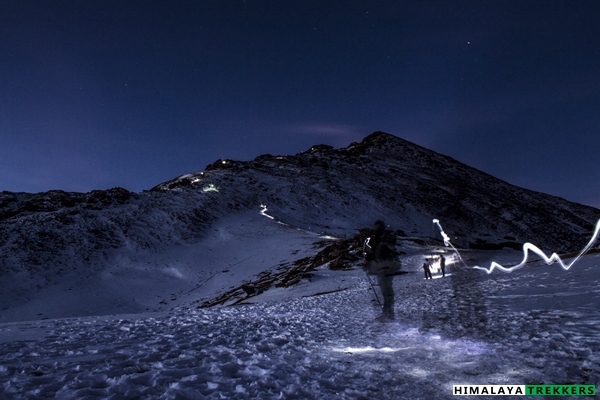 The first hour of the hike takes you through dense Oak/Kharsu forest but as you climb further the forest recedes.  You may come across something quite interesting to attract your attention during the initial walk. You may spot pug marks on snow larger than human. Ha-ha, you haven't discovered "Big foot" or "Yeti" pug marks but probably of the Himalayan Black Bear. And yes, Govind National Park has quite a number of Himalayan Black Bears in its wild life chart. But unlike their pug marks you have to be really lucky to spot one.
However, after almost an hour of gentle climb you'll reach a clearing with a shepherd hut from where there are mainly two trails on the way to the top.  Depending on the conditions, especially on snow in winters most of the hiking teams take the left one while climbing and descending the other way.
From here the trail gets steep. After climbing for another half an hour or so, you'll find yourself above the tree line. The structure of the shrine at the top is clearly visible from here. Usually dawn starts to break by this time.  After this point we climb the steep ridge to the top.  Follow your guide and his footsteps as he takes you to the top through the switchbacks.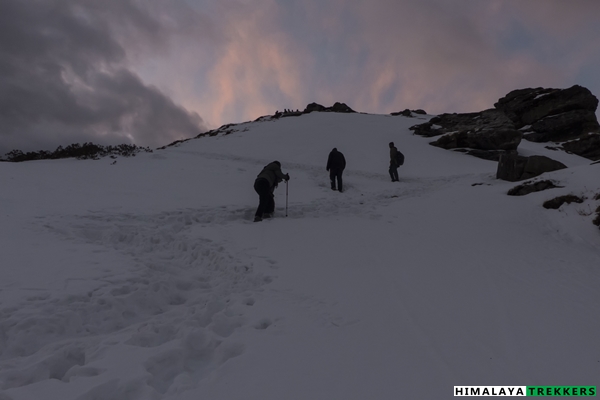 The trail can be slushy and icy at stretches in the morning.  We will provide you a pair of Anti Slip Grip/Crampon that help you get a better hold. After hiking another half an hour that way you'll find yourself right in front of the shrine. Don't stop there. Take left and climb for five more minutes and you reach the top. Yes, it's a summit, essentially every peak has one.
Majestic 360 degree view of the Himalayas waits at the summit. In the southerly direction you can see the wide valleys sloping down. A number of high peaks in Gangotri and Yamunotri ranges can be seen towards the north. Your guide will help you to spot the Swargarohini range, Mt. Kalanag/Black peak, Hati parvat, Ranglana and more. Snow capped ranges of Kinnaur forms the backdrop in west. Savour the summit to your heart's content and head back towards base camp.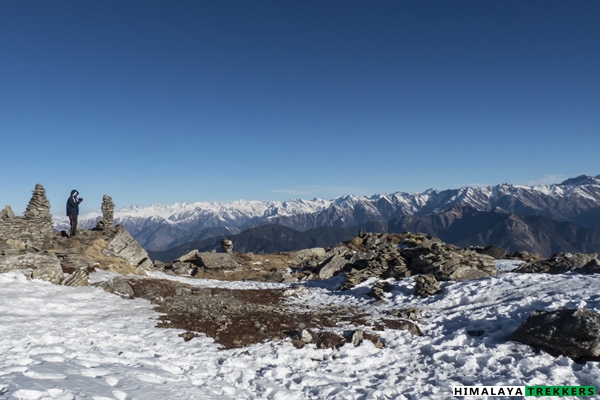 While going down we may take the alternative route. In winter this trail is fully covered with soft snow and be careful while descending. Use your heel to get a better grip.  At times a glissading can be the icing on the cake.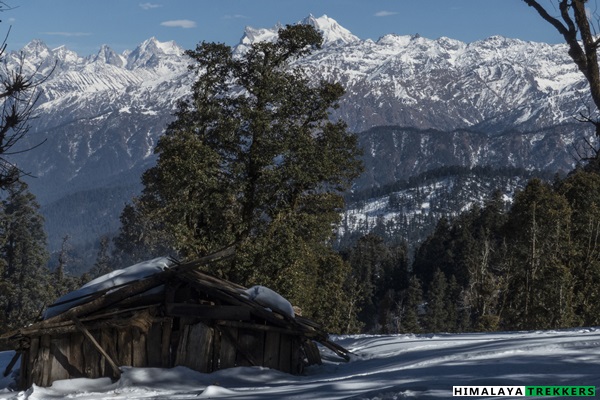 It will take around 2 hours to get to the base camp from summit. Have your hot lunch and enjoy the well earned rest after the tiring summit :-). We camp overnight at Kedarkantha base.
Trek to Sankri via Hargaon: 8 Km - 4/5 hours
Today is the last day of our trekking and it's all the way down to Sankri. There's no hurry and we'll enjoy the morning and then start going down to Sankri.
For the first half an hour we retrace our steps to the Shepherd hut where we took a good rest while reaching the base camp. From here we take a different route through dense Maple-Oak forest to the opening of Hargaon campsite. From the clearing the entire Har Ki Dun river valley is distinctly visible dotted with villages on both the sides of the carving Har Ki Dun nallah.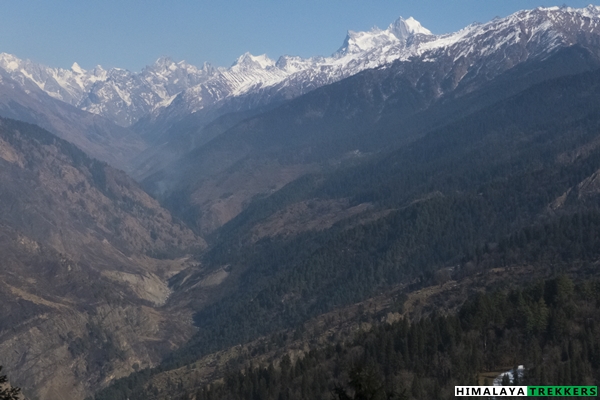 Another hour of hike will take you to the cement bridge which we crossed on the first day of our trekking. Saur is not far from here. It takes maximum one hour to reach the Saur village from here and another 5 minutes to Sankri. If you have any more energy left, explore around the Saur village or just stroll around Sankri bazaar.  Accommodation will be in lodge/home stay.
Drive to Dehradun: 200 Km - 10 hours
If you start by 6:30-7 am in the morning, expect to reach Dehradun by 6 pm latest. The trip ends here, but not the memories!
P.S.: Distances and altitudes are approximate and may not be exact.
  TREK FEE: ₹ 9,950 + 5% GST per person, Sankri to Sankri  
Notes:
The above cost is applicable for

Fixed Group Departure treks

. If such dates are published for this trek, then you can see the 

Green coloured

 dates inside the calendar available in the Booking Enquiry Form on the trek details page or in the Upcoming Treks Calendar.
You will get a

10% Group Discount

when you book for

5 persons or more

in a Fixed Group Departure trek.
If you have your own group or would like to have your own private tour, then you may customise this trek for your team only and as per your preferred dates. A

customised trek's cost

depends on the number of persons and the inclusions. TREK FEE will be the same as mentioned here if you are a group of

8 to 9 people

with the same inclusions and exclusions as mentioned below (i.e., the Fixed departures). The cost will increase if the number of persons decreases, and it will decrease if the number of persons increases.
To book a trek, first you need to

submit the Booking Enquiry Form

on the trek details page so that we can send you all the relevant details by email and call you to discuss. You will get the package as well as preparation details and payment instructions. Choose from the radio button for a Scheduled date (i.e., a group departure, if available) or your Custom date.
Inclusions:
2 night's accommodation at Sankri (Day 1 & Day 5) in a lodge/guest house on a triple sharing basis and dinner. We will provide separate room(s) for male and female member(s) for the group departure treks.
 All meals during the trek. Regular Indian style nutritious vegetarian food during the trek (including occasional eggs), breakfast packed/hot lunch (depending upon the time you reach a campsite), light evening refreshment, and dinner. Tea is served during breakfast and the evening.
Excellent Trekking Guide, who will be a local to this particular area and has profound knowledge of the trekking trails around.
Specialised Cook, Support staff, Porters/Packed Animals for carrying the central logistics of the trek.
Twin sharing tent during the trek. We will provide separate tent(s) for male and female member(s) in the group departure treks.
Camping equipment/gears like Sleeping bag, Carry mattress, Gaiters, Micro spikes/Crampon. (If you have a high altitude specific personal Sleeping Bag use it for better hygiene). You need to bring a personal rucksack, trekking shoes and suitable clothing for the trek.
Kitchen tent, dining tent and toilet tent (with a toilet seat) as required during the trek.
All permit fee, camping charges, forest levy required for the trek.
Basic Medical & First Aid kit. Always bring your personal medicines kit.
Travel insurance cum Accidental Insurance Policy covering high altitude trekking tours (For Indian nationals it is included in the TREK FEE, up to 60 years of age). It covers your trek as well as Dehradun to Dehradun, for a duration of 7 days.
Exclusions:
Transportation from Dehradun to Sankri and back (₹ 6,000 for Tata Sumo/Bolero and ₹ 9,000 for a Tempo Traveller. Approximately ₹ 1000 per person one way for the pick up or drop when shared with fellow trekkers). One way bus ride is ~ ₹ 600.
We assume that you will carry your personal Rucksack/Backpack with all your personal belongings. If you want to offload your Rucksack and be carried by thorse then you need to pay an additional ₹ 1200 for the entire duration of the trek. The Rucksack should not weigh more than 10 Kg. Always carry your personal daypack in case you opted for rucksack offloading.
Any tip/gratuity to the HT support staff.
Anything that is NOT mentioned in the "Inclusions" or personal in nature.
Booking:
We assume that you have read and understood our "Terms & Conditions" (https://himalayatrekker.com/terms-and-conditions) before Booking a trek/tour.
To reserve your place in a scheduled Fixed Departure trek or a Customised/Private trek pay 25% of the TREK/TOUR FEE as the initial "Booking Deposit". You can pay by Net banking/Draft/Cheque/Credit/Debit/AMEX cards. This will ensure your participation in the desired trek and we will reserve your place in the scheduled date. You need to pay the remaining amount at least 15 days before Trek Starting Date.
If you book a Trek/Tour before 14 days or less from Trek/Tour Starting Date, you need to pay the full TREK/TOUR FEE.
 Cancellations:
"Booking Amount" i.e.25% of the TREK/TOUR FEE is Non-Refundable at any stage.
If in case you are not able to make it due to unavoidable reason(s), we provide you a very flexible choice of Shifting to another trek within next one year. One year is counted from the starting date of the trek/tour you booked initially with us.
In case you postpone your trip you need to informminimum of 15 days before the trek/tour starting date. (Though we suggest to inform us earlier if known)
In case you postpone a trek/tour before 15 days of the scheduled Trek/Tour Starting date or prior, you may shift to another group of the same trek/tour scheduled in the same season or within next one year. You may shift to another suitable route also. For changing any, you need our approval first. Your request must be in written communication through your registered email with us.
If you cancel/postpone a trek/tour from 14 days to 8 days before tour starting date, your Booking Amount is Non-Refundable. We will not take any request of shifting dates. We will charge 50% of the amount as Cancellation Charges and process refund of remaining 50%. You may also shift to another group within next year but 25% Booking Amount will be deemed as Cancellation Charge and the rest amount will be transferred to the shifted group.
If you cancel a trek/tour 7 days (i.e. a week) before Trek/Tour Starting Date or later, there will be NO REFUND.
In case of any unforeseen incident including but not limited to natural calamities like flood, earthquake, landslide, forest fire or any political unrest, if we are compelled to cancel the trek/trip, you will be entitled to redeem the full amount for the same/similar kind of trek/trip within next one year.
If you need more clarifications write in to [email protected]