4160 m/13645 ft
Highest Point
Bhrigu Lake Trek:
Bhrigu lake group departure starting on 21st May 2023 @ Manali.
Bhrigu lake is an alpine lake lying east of the famous Rohtang pass. While on the trail, you will come to see almost all possible varieties a mid altitude trail has to offer. The lake itself derived its name from the adjacent peak called Bhrigu. The legend is that, Maharishi (Saint) Bhrigu of Saptarishi fame had meditated on bank of this secluded and pristine lake lying at ~4160 m/13645 ft above sea level. The shallow lake remains frozen for more than half of the year. Even in summer (as late as late June) the approach is filled with the fun of walking on snow.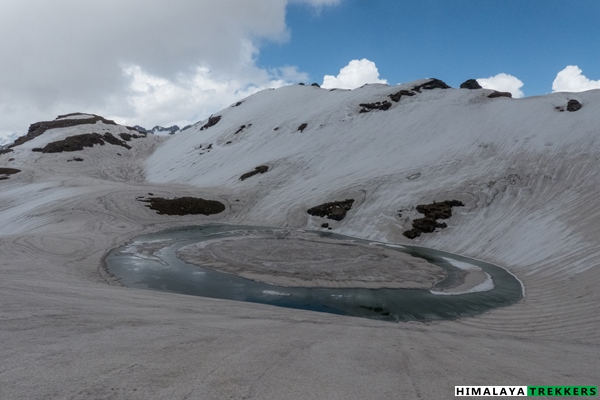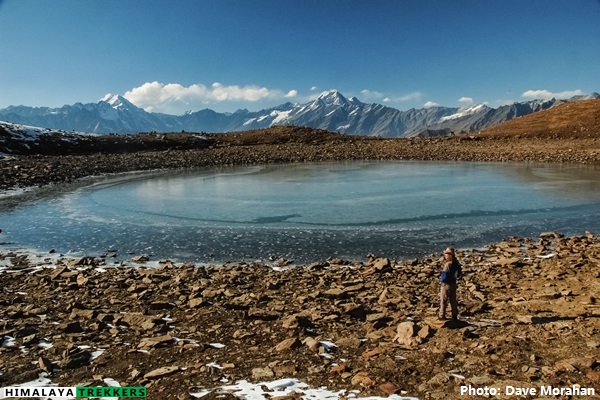 The trail starts 12 Km ahead of Manali from a  place called Kulhan, on  Rohtang road. Initially it goes though pristine forest of cedar, maple, oak and conifers till Moridugh. From here we climb to cross the treeline and continue on lush green alpine meadows. Meadows change colours from spring to summer and autumn. You will get rolling meadow stretch on both side of the Bhrigu lake. You can't miss the "Bird's-eye" views of the surrounding valleys like Manali, Solang and Gulaba area.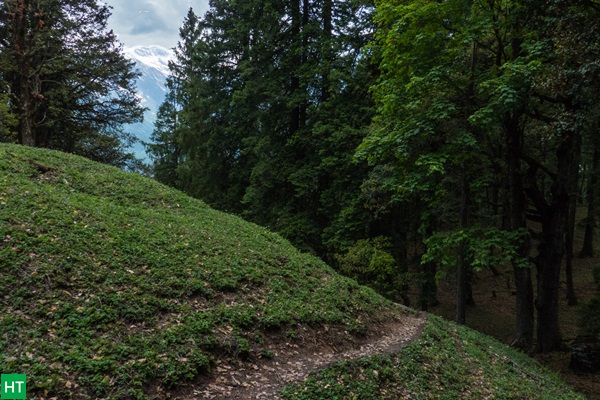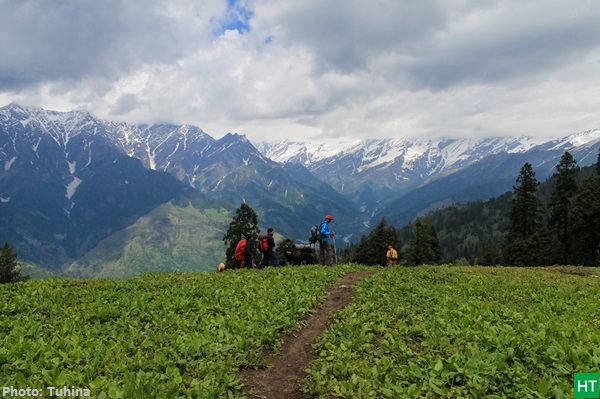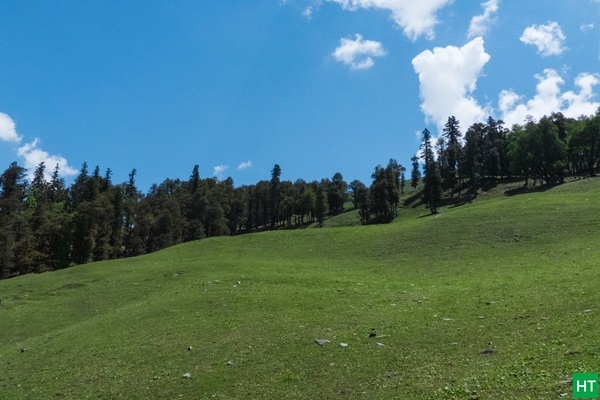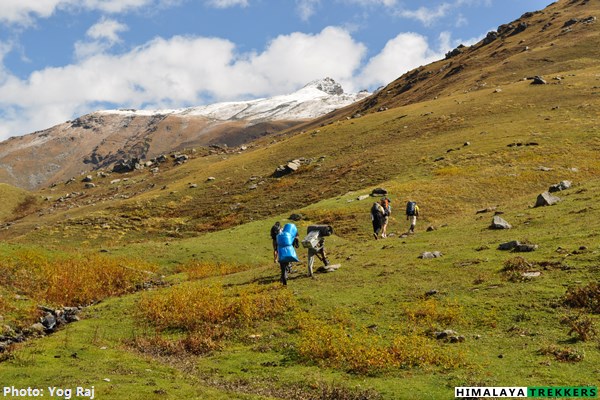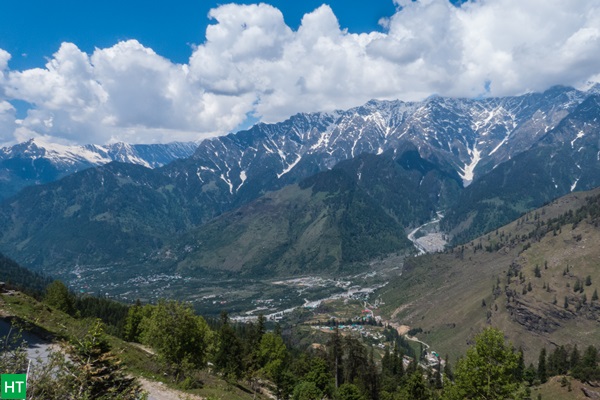 Once we reach the meadows, views of the snow clad peaks and ranges of Dhauladhar and Pir Panjal are captivating. From Panduropa side you can isolate the peaks of Hampta valley like Deo Tibba, Indrasan. On the other side Hanuman Tibba, Ladakhi, Shetidhar, Friendship, Gyapancho, Makar Bay, Shakhar Bay and Chandrabhaga (CB) range, all you can see in one stretch surrounding the Rohtang area.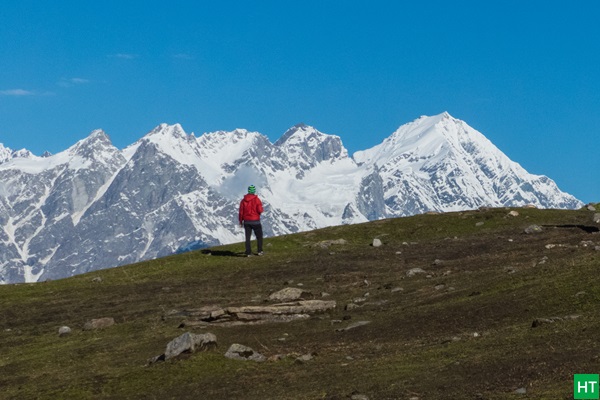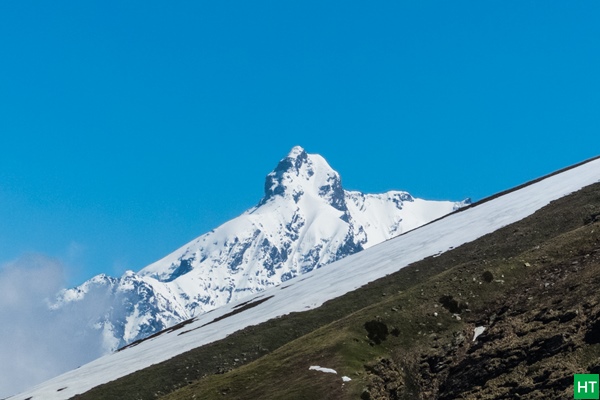 Campsites of this round Bhrigu trek are wonderful to spend the day after the walk. Resting in these for the night provide overwhelming feeling of wonder and admiration.  You will camp inside or fringe of the forest, on meadows and possibly on snow during early summer.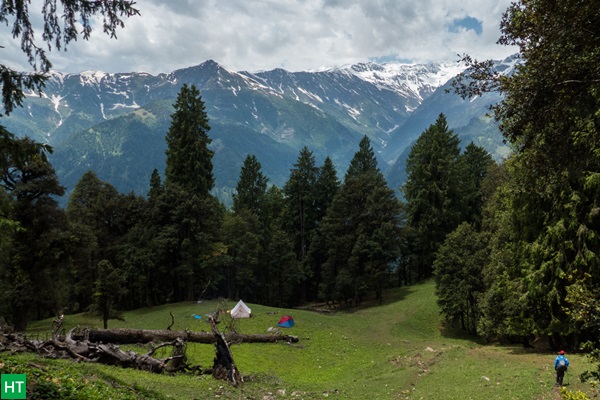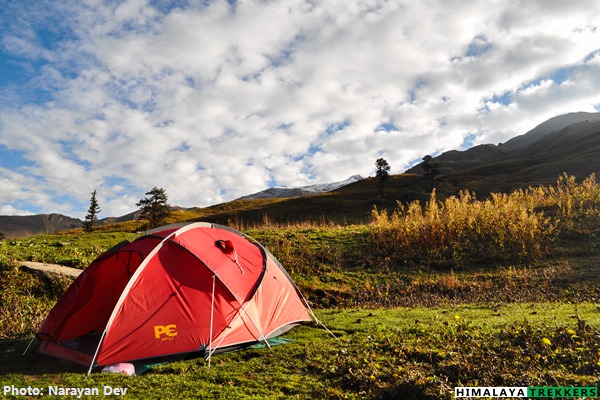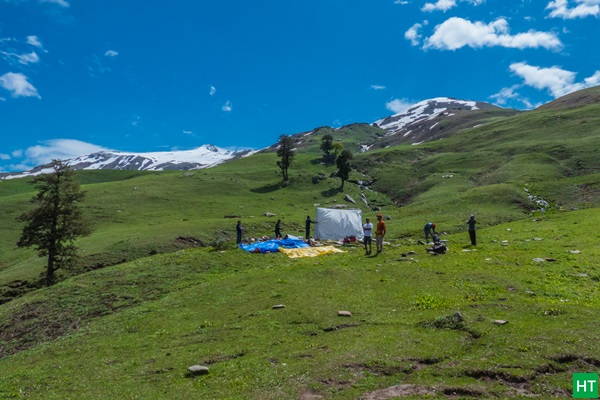 This round trek's start and end point, the village of Vashisht ( Another Rishi of Saptarishi fame extolled here ) has surprises in many folds. A Neatly carved wooden temple, hot spring, surrounding Jogini waterfalls, village home-stays, availability of world cuisines make it a compelling destination for newbie as well as experienced hikers.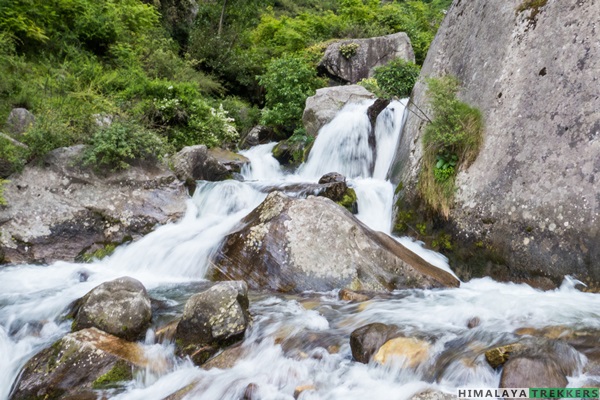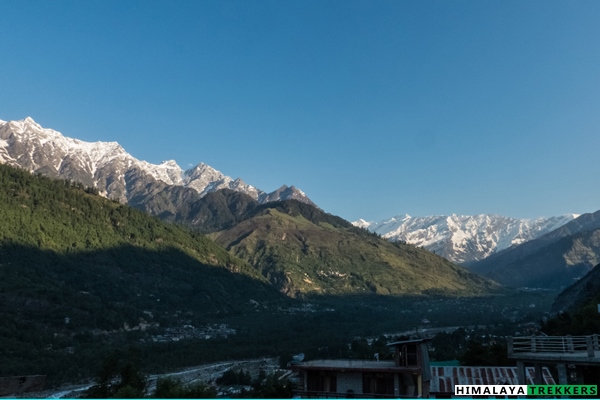 Brief Itinerary:
Our Bhrigu lake trek is round trip starting from Manali/Vashisht and after crossing Bhrigu lake, descend to Kothi/Gulaba road head. There are lovely camping ground  with open views on both side of the lake. We choose suitable for the group as per season. Here is the most frequent one:
Day 1: Reach Manali by morning/noon – Lodge/Guest house accommodation at Vashisht. In the late afternoon you may visit Jogini falls, 1 and half/2 hours round trip (well defined road, but consider getting a local guide).
Day 2: Drive to Kulang village –30 min – Trek to Moridugh – 7 Km – 4/5 hours
Day 3: Trek to Tenta via Panduropa – 6 Km – 4/5 hours
Day 4: Trek to Bhrigu Lake and decent to camping ground above Gulaba – 12 Km – 7/8 hours
Day 5: Trek down to Kothi – 8 Km – 4 hours – drive to Manali – 1 hour
Why Bhrigu Lake trek  with HT:
We understand that this trek is not one to be done in a hurry. This is not a low altitude trek by any means and beginners do take up this summer trek on snow. Our itinerary provides much required acclimatisation at Vashisht (~  2050 m/6725 ft) before starting your trek. Additionally our itinerary includes one more day to acclimatise at Moridugh campsite inside treeline.
Your trip is travel and medically insured. Also one night of accommodation @ Vashisht, Manali is also included in the TREK FEE.
Most of the companies take the same trail to reach Bhrigu lake and return via Rauli kholi. We take you through a round trail while starting from one side of Bhrigu lake and cross to camp on the other side as well. For camping grounds we selectively choose as per season and team that the trail can be completed comfortably.
Our fixed departure groups are limited and group sizes are between 6 to 10 members usually.
On contrary to running batches after batches on the same slope up and down, we operate in proper running camp mode, meaning everything including the logistics moving with you.
Reaching Vashisht, Manali (The trek base):
Our trek base is Vashisht, 3 Km uphill from Manali. Either you can take an auto rickshaw or walk around an hour to reach Vashisht, where the famous temple in the same name is situated.
Manali is well connected by road from Delhi and Chandigarh. There are a handful of buses, ranging from regular, luxury and Volvo operated by both Govt. and private agencies from New Delhi and Chandigarh to Manali.
1) From Delhi (Kashmiri Gate ISBT) the Volvo and regular buses start in the afternoon and evening. It takes up to 15 hours to cover the distance of 560 Km. HP Government transport operated HRTC (http://hrtchp.com) and Tourism Department HPTDC operated busses are reliable and runs on time. There are privately operated bus services also having different pick up points in Delhi.
2) From Chandigarh (ISBT Sector 43) there are regular bus services for Manali, starting early morning till 6 am. It may take around 10/12 hrs depending upon the road conditions. Distance around 320 Km.
3) While returning one can take overnight bus from Manali which again reaches Delhi in 13/14 hours. Normally the last Volvo service (both Govt. and Private) is around 6:30 pm. The last regular bus by  Himachal Road Transport Corporation (HRTC) starts from Manali at 9:30 p.m.
Why treks with HT?
| | |
| --- | --- |
| Expertise: | 10 years on ground experience |
| Support staff: | Qualified local & office staff |
| Group size: | Small groups up to 15 |
| Insurance: | Travel insured trek and tour itinerary |
| Easy Bookings: | 25% Booking Deposit |
 Duration: 4 days of trek; Manali to Manali in 5 days.
 Highest Point: Bhrigu Lake ~ 4270 m/14000 ft.
 Grade: Easy
 Length: 45 Km
 Seasons: May to October
 Further Option: Climb Bhrigu peak
 Access: Trek starting point and end point is Manali
Rail station: Chandigarh (STN Code: CDG)
 Airport: Delhi, Chandigarh, Kullu airport at Bhuntar (Code: KUU)
 Map:
Upcoming scheduled dates for Bhrigu Lake trek:

 
You can check the scheduled Fixed Departure dates in the calendar available inside Booking Form or inside REGISTER NOW form. Tour starting Dates are highlighted as per our itinerary (Day 1 of  5 days itinerary).
At present BOOK NOW functionality is disabled. You can get all the information in your email by submitting the REGISTER NOW form.
If you are a group of people and available dates are not matching then you may select Custom date mode (by clicking the Select your custom date) and fill in the displayed form.
You can also check all the available dates at a glance in our

TREK CALENDAR

.
Trekkers need to reach Manali on Day 1 morning (by noon). Return to Manali on Day 5 early afternoon (around 3 pm). Arrange your tickets for inward journey and return accordingly.
| | |
| --- | --- |
| DEPARTURE LOCATION |  From Vashisht, Manali |
| REPORTING TIME | Vashisht by noon (Day 1) |
| RETURN LOCATION | Manali |
| RETURN TIME | Approximately 4:00 PM in Manali (Day 5) |
Access to Manali (The trek base): You need to reach the trek base Manali o your own.
Ample choice of bus, ranging from regular, luxury and Volvo operated by both Govt. and private agencies from New Delhi and Chandigarh to Manali.
1)From Delhi the buses normally start in the afternoon and reaches Manali next day by noon. Depending upon the service it may take 14 to 16 hrs. Distance is around 550 Km.
2)From Chandigarh ISBT there are regular bus services for Manali, starting in the early morning. It may take 8 to 10 hrs depending upon the bus service. Distance around 320 Km.
3) While returning Volvo service from Manali to Delhi starts at 4:30/5 pm in the afternoon. The last bus operated by HRTC starts at 9:30 pm for Delhi.
You can fly or by train reach New Delhi as per your convenience from any part within India.
Avoid booking wait listed (WL) train tickets in AC classes (1A/2A/3A) or Chair Car (CC). Book Sleeper class (SL)/Second Sitting class (2S) tickets which have normally more seats/berth and hence much better chance to get confirmed.
The buses from Delhi to Manali start in the afternoon and evening and reaches Manali in 14/16 hours depending on the bus operator. You reach Manali in the morning between 7 to 9 am.
1) Govt run HRTC (Himachal Road Transport Corporation) and HPTDC (Himachal Pradesh Tourism Development Corporation) buses operate on daily basis.
HRTC buses start from Kashmiri Gate ISBT. From Delhi Airport or Station you can reach ISBT Kashmiri Gate via Delhi Metro service (http://www.delhimetrorail.com/metro-fares.aspx). It is only 4 Km from NDLS Railway Station and can be reached easily by booking an Auto Rickshaw.
To check availability and book online (Login required):
http://www.hrtc.gov.in/hrtctickets
HPTDC buses start from Himachal Bhaban, Janpath (Close to Cannaught Place, CP). To check availability and book online (Login required):
http://hp.gov.in/hptdc/Availability.aspx
2) Several private operators run Volvo/A.C bus services from Delhi to Manali. They have different pickup points spread over Delhi. Choose a boarding point according to your convenience. Check for good reviews and ratings before selecting an operator.
http://www.redbus.in/
You can fly or by train reach Chandigarh directly from some cities within India.
Avoid booking wait listed (WL) train tickets in AC classes (1A/2A/3A) or Chair Car (CC). Book Sleeper class (SL)/Second Sitting class (2S) tickets which have normally more seats/berth and hence much better chance to get confirmed.
Chandigrah to Manali buses start from ISBT Sector 43 (verify before the journey). You can check while taking an Auto Rickshaw/Taxi from Chandigarh Railway Station or Airport. Ordinary buses are available from early morning at 4 am ( HRTC, Haryana Roadways, Punjab Transport etc) and tickets are onboard. For online availability and booking refer the earlier links.
There are two bus terminus in Manali, one for the state operated buses on the Manali mall and the other one for private buses (5 mins walking). It takes around 15 hours and 10 hours to reach Delhi and Chandigarh respectively.
Regular/Ordinary buses are available from morning to evening. Last being at 9:30 pm in the night. Takes around 15 hours to reach Kashmiri Gate ISBT. For booking check: http://www.hrtc.gov.in/hrtctickets
Volvo bus services are available in the afternoon/early evening between 3 pm to 7 pm. For booking check the above links.
For night stay in Manali:
We  provide the accommodation In Manali ( At Vashisht, 3 Km uphill) for our Fixed Departure treks.  However if any trekker is interested to spend more time in Manali, he/she can inquire State operated HPDC hotels. They provide a wide range of choices of Premium, Deluxe and Budget options in Manali. To check see: http://www.hptdc.nic.in/cir0203.htm#hhami
Arrival in Manali: Accommodation at Vashisht
Reach Manali  by noon/afternoon. Our guest house will be at Vashisht (~ 1980 m/6500 ft), which is 3 Km further up from Manali town. You can get an auto or walk up for an hour. Vashisht has a temple and is famous for its hot spring inside the temple. In the afternoon take a walk towards Jogini falls around 2 Km ahead. The road is well marked. Accommodation in lodge/guest house.
Drive to Kulhan - 6 Km; Trek to Moridugh: 7 Km - 4/5 hours
Have your breakfast and meet us in our office just beside the temple. We drive to Kulhan village, 6 Km from here, on Rohtang Pass road. From Kulhan we take the track on our right and trek to Moridugh.
Trek to Tenta via Panduropa – 6 Km – 5/6 hours
From Moridugh today we will cross the trek line and enter into the meadows.
Trek to Bhrigu Lake and decent to Raoli Kholi/Gulaba camp – 10 Km or 14 Km – 6 hours or 8 hours
Today's trekking will take us once more onto the high plateaus above the Kullu valley. We start the day with an ascent up to the Bhrigu Lake Total distance is 14 Km and may take 7/8 hours.
Trek to Kothi - 8 Km - 4 hours - Drive to Manali/Vashisht - 1 hour
We have a steep descent to finish the trek today. The trail winds it's way through the various types of vegetation on offer in the valley. The area is abundant in wildlife, and hopefully we can spot Himalayan Monal, Snow Cock and Kaleej Pheasant. Eagles and vultures glide effortlessly on the vast expanse of the valley. We finally reach our trek end point at the Vashisht village (~2100 m/6900 ft). Total distance is 10 Km and may take 5 hours. Night stay in lodge. Trip ends here.
  TREK FEE: ₹ 9800 (Manali to Manali) + 5% GST  
Book for 5 persons or more and get flat 10% Group Discount on TREK FEE on a Fixed Departure date.
Inclusions:
One night accommodation at Vashisht, Manali on twin sharing basis.
Car pick up from Vashisht to the trek starting point Kothi on Day 2.
 All meals during the trek. Regular Indian style nutritious vegetarian food during the trek (occasional eggs), breakfast packed/hot lunch (depending upon the time you reach a campsite), snacks, dinner along with coffee/tea/soup.
 Excellent Mountain Guide, who will be a local to this particular area and has profound knowledge of the trekking trails around.
Specialised Cook, Support staff, Porters for carrying the central logistics of the trek.
Accommodation in tents on sharing basis during the trek.
Camping equipment like Sleeping bag, Carry mattress, Dining tent, Toilet tent, Gaiters, Micro spikes/Crampon.
 Permit fee, camping charges, forest levy as required in the trek.
 Basic Medical & First Aid kit.
Travel cum medical insurance covering high altitude trekking tours (For Indian nationals it is included in the TREK FEE, up to 60 years of age). It covers your trek as well as your return journey for a duration of 7 days.
Exclusions:
Food during the stay at Vashisht, Manali. There are decent options of restaurants/hotels for veg and non veg food.
We assume that you will carry your personal Rucksack/Backpack with all your personal belongings. If you want to offload your rucksack and carried by our horse then you need to pay additional Rs 1200 for the entire duration of the trek (4 days). one such bag should not weigh more than 10 Kg.
 Any tip/gratuity to the HT supports staff.
Anything is is NOT mentioned in the "Inclusions" or personal in nature.
Booking:
We assume that you have read and understood our "Terms & Conditions" (https://himalayatrekker.com/terms-and-conditions) before Booking a trek/tour.
To reserve your place in a scheduled Fixed Departure trek or a Customised/Private trek pay 25% of the TREK/TOUR FEE as the initial "Booking Deposit". You can pay by Net banking/Draft/Cheque/Credit/Debit/AMEX cards. This will ensure your participation in the desired trek and we will reserve your place in the scheduled date. You need to pay the remaining amount at least 15 days before Trek Starting Date.
If you book a Trek/Tour before 14 days or less from Trek/Tour Starting Date, you need to pay the full TREK/TOUR FEE.
 Cancellations:
"Booking Amount" i.e.25% of the TREK/TOUR FEE is Non-Refundable at any stage.
If in case you are not able to make it due to unavoidable reason(s), we provide you avery flexible choice of Shifting to another trek within next one year. One year is counted from the starting date of the trek/tour you booked initially with us.
In case you postpone your trip you need to informminimum of 15 days before the trek/tour starting date. (Though we suggest to inform us earlier if known)
In case you postpone a trek/tour before 15 days of the scheduled Trek/Tour Starting date or prior, you may shift to another group of the same trek/tour scheduled in the same season or within next one year. You may shift to another suitable route also. For changing any, you need our approval first. Your request must be in written communication through your registered email with us.
If you cancel/postpone a trek/tour from14 days to 8 days before tour starting date, your Booking Amount is Non-Refundable. We will not take any request of shifting dates. We will charge 50% of the amount as Cancellation Charges and process refund of remaining 50%. You may also shift to another group within next year but 25% Booking Amount will be deemed as Cancellation Charge and the rest amount will be transferred to the shifted group.
If you cancel a trek/tour 7 days (i.e. a week) before Trek/Tour Starting Date or later, there will be NO REFUND.
In case of any unforeseen incident including but not limited to natural calamities like flood, earthquake, landslide, forest fire or any political unrest, if we are compelled to cancel the trek/trip, you will be entitled to redeem the full amount for the same/similar kind of trek/trip within next one year.
If you need more clarifications write in to [email protected]