4150 m/13612 ft
Highest Point
Dzongri Trek:
Sikkim COVID Travel guidelines (Updated on 10th Aug 2021):
All tourists must be fully vaccinated (two doses) while entering Sikkim. You need to produce your vaccinated certificate at any of the Sikkim Entry point/Check post.
All tourist entering Sikkim needs to apply for a mandatory Travel Card in the following portal:
Usual COVID protocols, SOPs, social distancing are to be followed. Carrying masks and sanitisers are a must.
Without a doubt Dzongri trek is one of the most significant trails for you to taste the flavours of the Eastern Himalayas. Dzongri Top offers a surreal 360 degree view of the entire Sikkim & Darjeeling Himalayas.  Ranging from Far East stand tall the snow cloaked giants covering the whole North and expands till Bhutan touching horizons of West. Rathong, Kokthang, Frey Peak, Kabru North, South & Dome, Kanchendzongha, Pandim, Narsing, Tinchenkhang, Simvo are amongst them to name a few major ones.  The whole trail passes through the core area of the Kanchedzongha National Park, West Sikkim.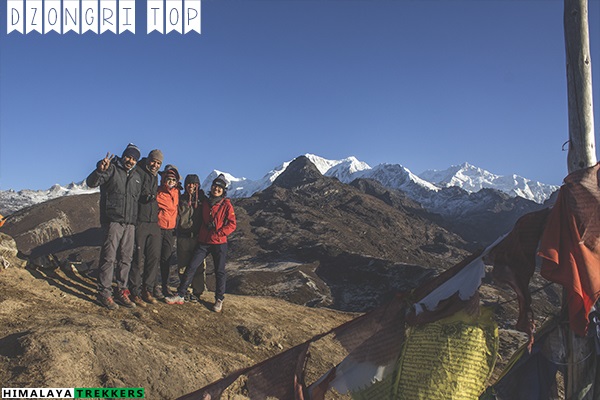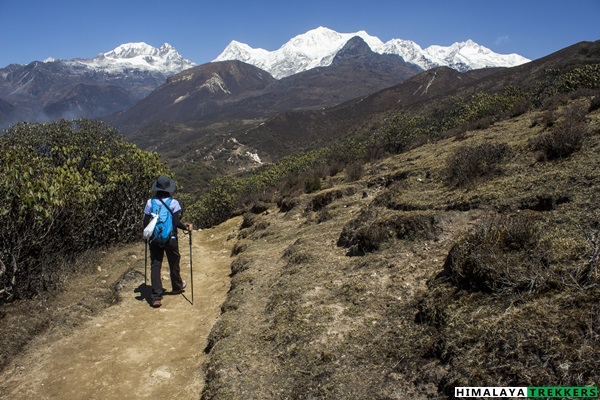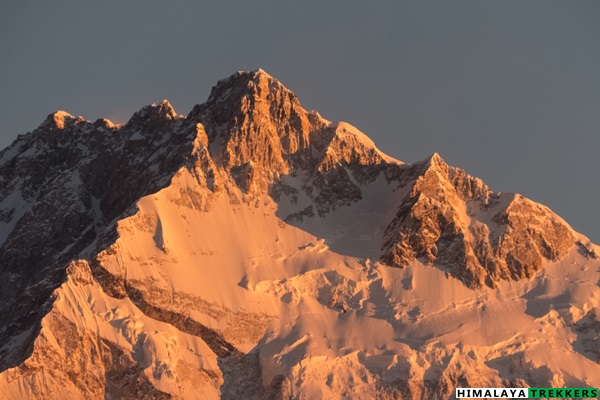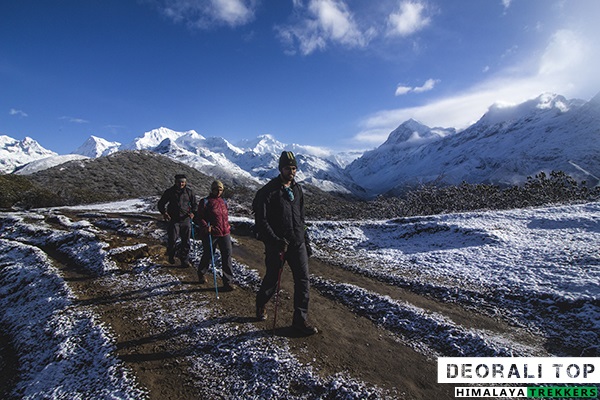 Enroute you cross Temperate Broad-Leaved Forest, Mixed Coniferous/Sub-Alpine Forest and stand on the verge of land covered only by Alpine Scrub and Grass. Needless to say that this diverse bio reserve falling under the Group 12 Himalayan Moist Temperate Forest is filthy rich by a vast range of flora and fauna. The months of April –May are ripe to visit this sanctuary to see various species of rhododendrons lit brightly all around the corners.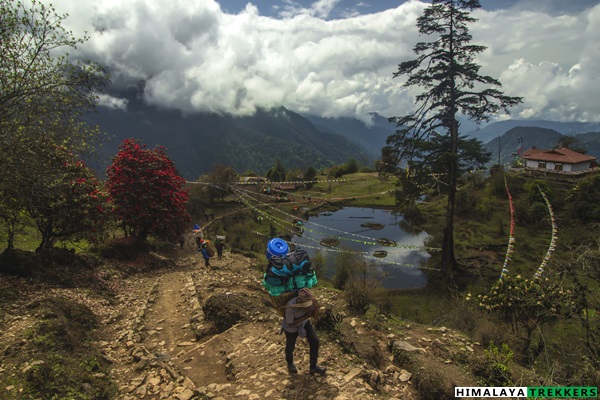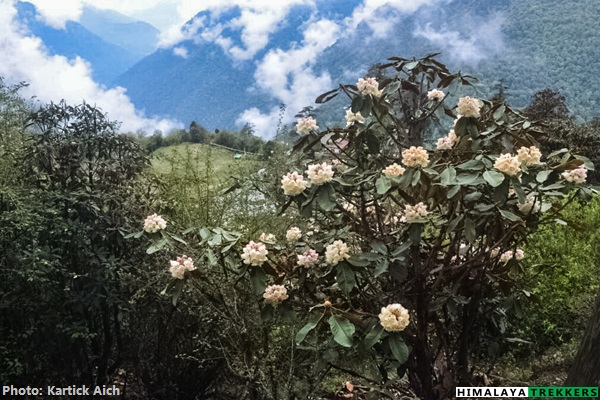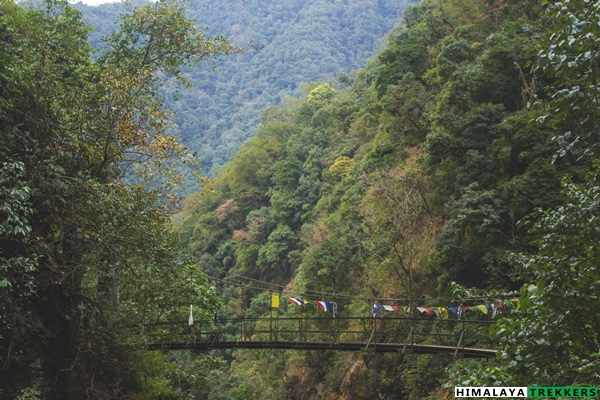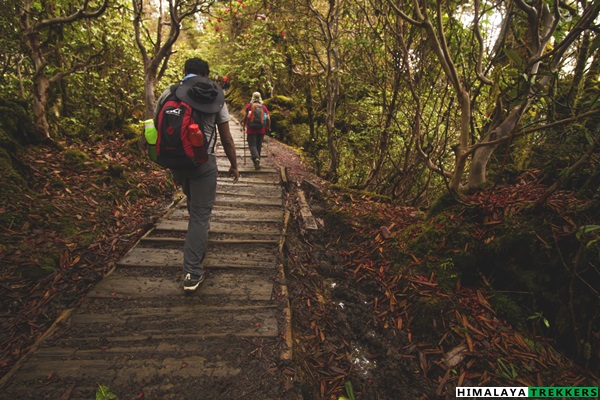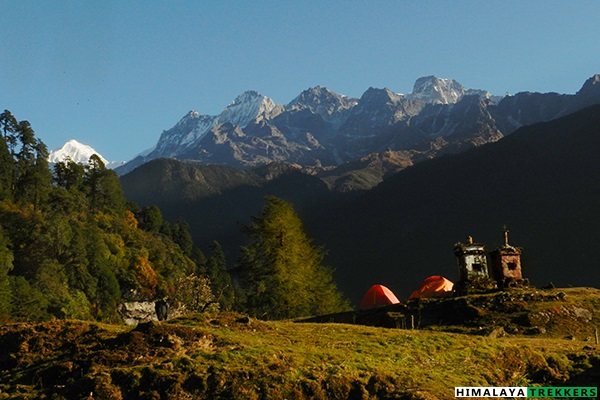 On mountains, valley clouds move upward in the afternoon and common in the afternoon. Here is a small time lapse taken at Tsokha.
We have split the long and steep climb from Tsokha to Dzongri at Phedang. Staying a night at this forest covered beautiful campsite will definitely help you reach comfortably to Dzongri next day.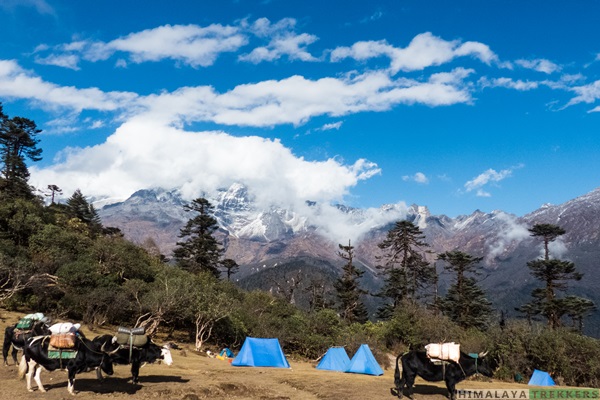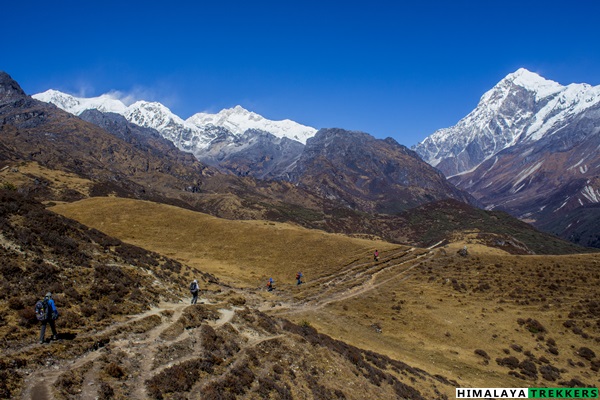 Brief Itinerary for Dzongri trek:
Day 1: NJP/Bagdogra to Yuksom – 160 Km by car – 8/9 hours
Day 2: Trek to Sachen – 8 Km – 4 hours
Day 3: Trek to Tsokha – 7 Km – 4/5 hours
Day 4: Trek to Phedang – 6  Km – 3/4 hours
Day 5: Trek to Dzongri via Deorali Top – 6 Km – 3/4 hours
Day 6:  Explore around Dzongri. Climb to Dzongri top for sunrise. After breakfast  Visit Laxmi pokhri and back for lunch.
Day 7: Trek back  to Tsokha – 12 Km – 5/6 hours
Day 8: Trek back to Yuksom – 15 Km – 6/7 hours
Day 9: Yuksom to NJP/Bagdogra – 160 Km by car – 8/9 hours
*** Trekkers need to reach latest by 10 am on Day 1 at NJP/Bagdogra. You will return to NJP/Bagdogra in 8 hours drive from Yuksom on Day 10, i.e. around 4-5 pm. ***
Dzongri trek altitude and distance profile:
The following chart will give you an idea gradient and distance of our Dzongri trek.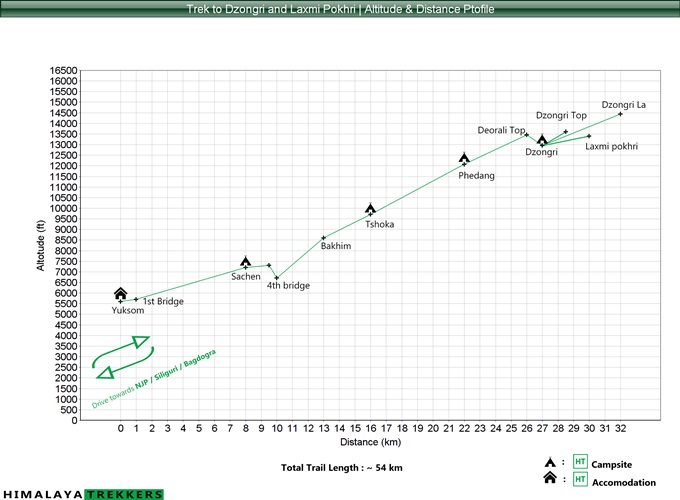 Dzongri Exploration day:
Due to relaxed itinerary you will get ample time to explore Dzongri and around. Following is an outline on how you may utilise. Your trek guide will decide as per prevailing weather conditions and based on team performance as a whole.
On Day 5 you should reach Dzongri by lunchtime. You may consider witnessing sunset from Dzongri top, which is an hours climb from camping ground.
On Day 6 wake up early, by 4 am latest. You must not miss sunrise from the top. Depending on season sunrise time will vary, earliest being in May, before 5 am, 5:30 am around October and stretching towards 6:30 am in January. Start accordingly an hour before to reach on time.
You have options to visit the Lampokhri lake another 4 hours round trip from campsite. The trail goes through Dzongri meadows.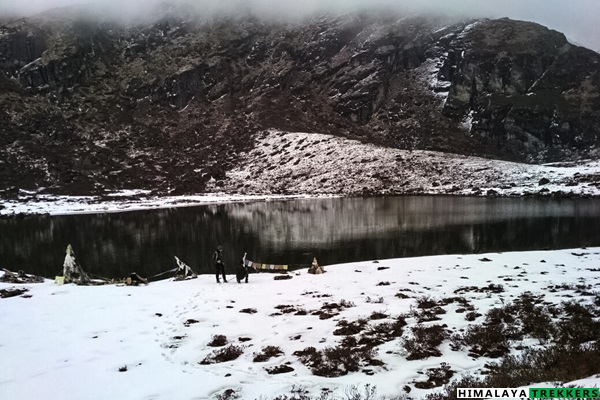 Dzongri La (4380 m/14365 ft) or the Dzongri Pass is more challenging day hike towards HMI base camp Chaurikhang and Rathong glacier. This is a full day hike from Dzongri campsite and can take 8 hours round trip.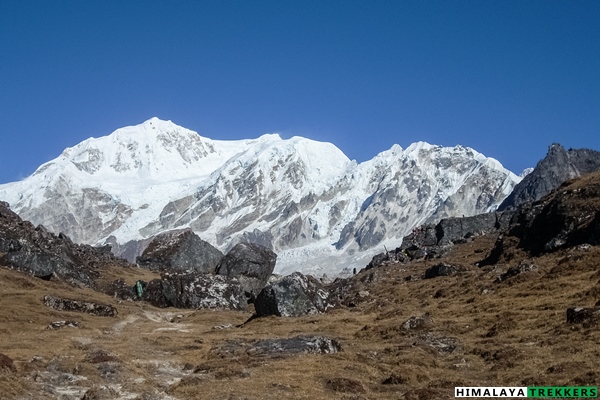 Bird species and wildlife on Dzongri trek:
Visiting bird watchers will find this place most appealing considering the fact that this National Park forms part of the Important Bird Area (IBA) network  which contains around 550 species and subspecies of avi-fauna. Some of such species include some flamboyant high altitude pheasants like Tragopan pheasants and Blood pheasants, Tibetan Snow Cock, Tibetan Horned owl, Hill Partridge, Forest Eagle, Falcons, Hawks and even some Lammergeiers. This National Park is also home to a wide range of animals including Red panda, Snow Leopard, Common Leopard, Himalayan Black Bear, Lesser cats, Mountain fox, Kasturi Mriga/musk Deer, Nayan/ Great Tibetan sheep, Bharal/Blue Sheep, Shapi/Himalayan Tahr/, Barking Deer, Martens and Pikas to name few.
Which season to choose for Dzongri trek?
The first being the Spring during April and May – the blooming season. The later season is combined in Fall and Winter, continued from October to February. This tenure boasts  cloud-free weather and offers spectacular mountain views.
Season: Being in the Eastern Himalayas this area observes longer monsoon. Clouds start to hover from April and prolong till October beginning. There are two distinct seasons when this year trek is particularly beautiful:
1) Spring/Summer (Apr/May) trek during Rhododendron bloom: April and May is spring time,  blooming time. Flowering starts as early as March in the lower elevation, and gradually towards end of spring on higher altitude. Rhododendron and Giant Magnolia are two most famous along with several other wild flower species. Cloudy or misty atmosphere is common during Spring. Though clear mountain views are not uncommon, specially during morning. For bird watching this is certainly a better season to visit.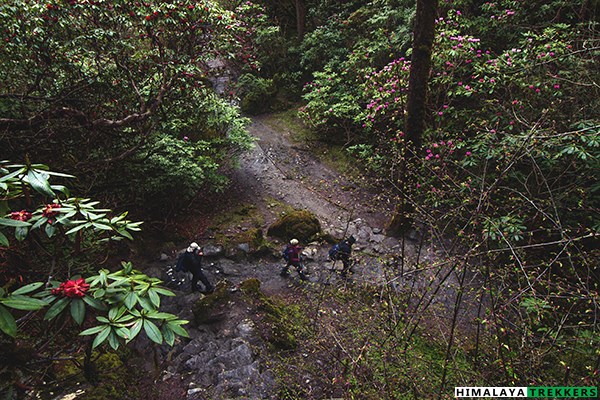 2) Fall/Winter (Oct – Jan) treks for clear weather: From October to end of November. In the beginning of October clouds start moving out from this region and weather becomes clearer. November is  particularly known for its crystal clear views of the mountains. From end of November it becomes very pretty cold at Dzongri. Also being  high altitude the chances of snowfall can't be neglected during late December and January.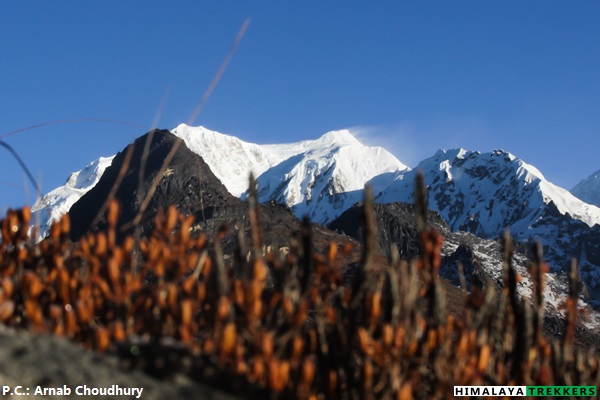 Can I attempt Dzongri trek as my first hiking/trekking on the Himalayas?
The itinerary of the trek is planned in such a way that being a beginner you don't find it too stressful. While ascending to Dzongri, the trek day duration is not more than 4/5 hours covering maximum of 7/8 Km a day or less.
However, it is always better if you have prior hiking/trek experience(s) at least in Sahyadris or in Western Ghats or perhaps on any trail This is NOT a Difficult but a Moderate grade trek and we do encourage first timers on this trail. But not to forget that this trail takes you to an altitude of about 14000 ft. To minimise the risk (as that any high altitude Himalayan trekking) you must have the following:
A healthy physical condition [as well as mental; You need to adjust and share on mountains :-)] without any known issues related to heart or lungs.
Must be in a fitness training schedule. Your focus should be achieving more cardio vascular output through a regular aerobic training. A minimum of 2 months training is a must that you can walk comfortably on the slope. People will find it easier who are already following a routine. It is it highly advised that you follow a minimum of 6 months routine (weekly 4/5 days of training for an hour or more) if you are not living an active life at present. To know more on how to prepare, click here.
Specialised personal gears like waterproof trekking shoes, warm jacket, wind cum waterproof jacket are must. To read on how to choose the right gear click here.
And last but not the least, you need reliable and experienced support team who know every corner of the trail. In high altitude an unexpected weather can increase the risk many fold. Trekkers who wish to go independently must have an experienced freelance guide and his team to provide support and guidance that you are safely back to trek base.
Dzongri trek temperatures:
Sikkim Darjeeling and surrounding region is known for its moist weather, almost year around.  At higher altitude  dampness adds on top of the natural cold conditions.
Usually the minimum temperature of a place is attained early in the morning, 3 to 5 am.  During Dzongri trek, there are couple of days (one being at Phedang and the other to Dzongri) when you have to leave camp early in the morning.  In spring expect the minimum temperature to be around 0°C  at Dzongri. In October the temperatures will be similar and temperatures plummet further in late October/November. During peak winter from late December temperature may go down as low as -10°C at Dzongri. Do account strong wind at times which in turn can make you feel colder. This is the wind chill factor and feels like temperature can be as lower than the actual. Temperature inside tent will be around 10°C warmer than that of outside.  During daytime the temperature will be cooler and can vary from 10°C to 25°C depending upon season and altitude.
Access to Dzongri trek base, Yuksom:
You need to reach NJP (by train) or Bagdogra (by flight) around the city Siliguri in West Bengal for your Darjeeling or Sikkim trips. Kolkata is well connected to Siliguri through flights and overnight trains and busses (road from Kolkata to Siliguri is not in good condition and may take 15/16 hours!) .
Do carefully check for the latest arrival timings on Day 1 of the itinerary (latest by 10 am) before you book your train or flight tickets.
We will arrange a pickup and drop from NJP/Siliguri to Yuksom and back. This will be shared by the team members on actual basis and you pay directly to driver/owner on spot. Typically a Tata Sumo/Mahindra Maxx type Jeep charges ₹ 6000 one side which can accommodate 6 to 8 people. Tempo Traveller type vans are not available in this route. This cost is NOT included in the TREK FEE.
For details on how to reach nearest railways station/airport and move to trek base independently/public transportation check the details in GETTING THERE TAB.
Permit requirements to enter Sikkim and treks in Sikkim including Dzongri trek:
Sikkim has some restrictions regarding travelling and special permits are a must to obtain. It is a good space to write the details regarding the different permits and fees required by the administration. Also we hope that this section will help those people who want to reach independently to Sikkim. Indians may skip this section if you don't have a travel plan specifically in North Sikkim.
(A) For Indian Nationals: Trekking permit is required inside Kanchendzongha National park and the local police verification at Yuksom police outpost. Two recent passport size photos, One personal photo ID card with address proof in it (Aadhar/Driving Licence/Voter ID/Passport) along with photocopies of the same are to be submitted along with a self declaration at Yuksom police outpost. Below is a handy guide for those having plan for additional holidays/destinations in Sikkim. Even Indians need Protected Area Permit (PAP) for visiting North Sikkim or Nathu La.
http://www.sikkimtourism.gov.in/Webforms/General/faq.aspx
(B) For Foreign Nationals:
Any foreigner (some relaxation to Nepalese and Bhutanese citizens) will require Inner Line Permit which is recently renamed as Restricted Area Permit (RAP) to enter the boundary of Sikkim.
http://www.sikkimtourism.gov.in/Webforms/General/Essential%20Information/Entry.aspx
Nationals of Bangladesh, Pakistan, Myanmar, Nigeria and China can only apply for ILP/RAP through Ministry of Home Affairs, Government of India, New Delhi.
Any other foreign national's with the strength of valid Passport and Indian visa can obtain the ILP (RAP), Free of cost, at the below check points while entering Sikkim.
1) Assistant Director– Tourism Department , Melli, Near Melli Police Check Post, South Sikkim, Mobile No: 9775453611, 03595-248536, PLS NOTE: ILP issuing time is from 8 am to 8 pm everyday (Though we struggled to keep them stay after 6 pm!)- On the way to West Sikkim (Yuksom, Pelling, Hilley, Uttarey etc)
2) Assistant Director, Tourism Department, Sikkim Tourism Office, Rangpo, East Sikkim phone no: 03592-240818 – On the way to Gangtok and East/North Sikkim.
If you produce a proper itinerary (additionally if any supporting booking documents) then the authority will usually issue an ILP up to 30 days initially. It can be extended to another 30 days but you to get an extension we need to exit Sikkim and apply again when you re-enter.
Travellers who arrive initially in Darjeeling (state of West Bengal) has to get the permit from the above two check posts. There is shorter route from Darjeeling to Jorethang via Jamuney (40 Km, 2 hours maximum)  but foreigner's are not allowed to enter Sikkim along this road. You have to go via Darjeeling – Jorbanglow – Teesta route.
You may obtain an ILP online, but that doesn't make much sense. This is a document valid only when it is signed physically in any of the above two offices. It takes 10/15 minutes to process the ILP at Melli/Rongpo with the strength of your valid passport and Indian visa.
Foreign national tourists who wish to trek to Dzongri/Dzongri, Singalila/Phoktey Dara (Barsey Rhododendron Sanctuary), Round Singalila Dzongri (Uttarey to Dzongri) will require an additional permit called Protected Area Permit (PAP, often referred as Trekking Permit). This is issued to a minimum group of 2 persons or more from the following office on strength of signed and valid  ILP/RAP.
Adventure Cell of Tourism & Civil Aviation Department, Govt. of Sikkim, Gangtok
http://www.sikkimtourism.gov.in/Webforms/General/pdf/RAP.pdf
(Note: Green Lake trek in North Sikkim requires Alpine Mountaineering Expedition permit, which in turn needs more approvals, time and high expenses. Total 5 different permits are needed from Sikkim state and Delhi for both Indian and foreign nationals.)
If you (foreign nationals) wish to book Dzongri/Phoktey Dara/Dafeybhir trek or any other with us (HT) in Sikkim then:
We will require at least one additional day to process the PAP/Trekking Permit. This can't be processed in advance and we can only apply once we receive your signed copy of ILP. This means that you can't start the trek very next day you enter Sikkim. We would recommend a couple of days in advance.
Tourist's who are having plan to visit other places in Sikkim can obtain the ILP as mentioned and send the same to us for processing the Trekking Permit.
We charge an additional Rs 3000 as Service Charge per person to process the Trekking Permit and to counter the differential of various permit fees inside Kanchendzongha National park for Non Indian nationals. It is indeed expensive to send someone to Gangtok for processing the Trekking Permit and get it back at the respective trek base like Yuksom, Hilley, Uttarey etc.
In simple words it is not difficult to get the required permits to trek inside Sikkim (apart from Green Lake trek) if you (minimum of a group of 2) have couple of additional days to spend in Sikkim before the trek; There are plenty of these places  🙂
Do carry multiple copies (both hard and soft versions) of your recent passport size photos and photocopies of your documents (Passport/Visa/ILP) to avoid a showstopper on mountains!
Click here to view the List of Things to carry in Dzongri trek or  Download the PDF
Duration: 7 days of trekking; NJP to NJP in 9 days
Prerequisite: Prior trekking experience is desired. Good physical fitness.
Grade: Moderate
Physicality: 6/10
Trail Length: 60 Km
Highest Point: Dzongri top ~ 4150 m/13612 ft
Seasons: April/May (Spring/Summer) & October to January(Fall/Winter)
Further Option: From Dzongri one can add a 3 days side trip to Chaurikhang, base camp of Himalayan Mountaineering Institute (HMI). Also one may take a different route while descending from Thansing to Lampokhri and then to Labdang and Tashiding (Goecha La Kasturi trek).
Access: Trek starting point (trek base) is Yuksom, 160 Km from NJP.
Rail station: New Jailpaiguri (Station Code: NJP)
Airport: Bagdogra (Airport Code: IXB)
Map:
Upcoming scheduled dates for Dzongri trek:

 
You can check the scheduled Fixed Departure dates in the calendar available inside Booking Form or inside REGISTER NOW form. Tour starting Dates are highlighted as per our itinerary (Day 1 of  9 days itinerary).
At present BOOK NOW functionality is disabled. You can get all the information in your email by submitting the REGISTER NOW form.
If you are a group of people and available dates are not matching then you may select Custom date mode (by clicking the Select your custom date) and fill in the displayed form.
You can also check all the available dates at a glance in our

TREK CALENDAR

.
Trekkers need to reach NJP/Bagdogra on Day 1 morning (latest by 10 am). Return to NJP/Bagdogra on Day 9 early evening (6 pm). Arrange your tickets for inward journey and return accordingly.
| | |
| --- | --- |
| DEPARTURE LOCATION | New Jalpaiguri railway station/Bagdogra airport |
| REPORTING TIME | 9:00 AM for a prompt departure to Yuksom (Day 1) |
| RETURN LOCATION | New Jalpaiguri/Bagdogra/Siliguri |
| RETURN TIME | Approximately 5 PM (Day 9) |
How to reach Yuksom (The trek base):
Depending upon the trek members we will arrange a pickup and drop from NJP/Siliguri to Yuksom and back. This will be shared equally by the availing team members on actual basis.
Typically a Tata Sumo/Mahindra Maxx/Bolero charges Rs 5500 one side which can accommodate 6 to 8 people. This is NOT included in the TREK FEE and to be payable directly to the driver/owner.
Nearest Rail station: New Jailpaiguri (Station Code: NJP)
Nearest Airport: Bagdogra (Airport Code: IXB)
If you want to reach Yuksom by public transportation then here is the options. You have to reach Tenzing Norgay Bus Terminus in Siliguri. Then take a shared jeep for Jorethang in south Sikkim, takes around 4 hours. From there one may get a shared jeep service for Yuksom, but a seat is not guaranteed. The earlier you reach Jorethang the chances are higher to get this service. From Jorethang it is another 3 hours journey to Yuksom. Often It is difficult to reach Yuksom from NJP/Siliguri in one day.
For the treks in Sikkim and Darjeeling , one has to reach the city of Siliguri (considered the corridor to the North-East) in West Bengal.
The nearest Railway Station is New Jalpaiguri (NJP), 5 Km from Siliguri and the airport Bagdogra is 10 Km.
You can fly or by train reach Siliguri from Kolkata ( good for the trekkers coming from South/central or Western India) or Delhi as per your convenience from any part within India.
Direct flights are available from New Delhi and Kolkata. All the flights to Bagdogra reaches late in the morning or early afternoon. It becomes difficult to reach the trek base like Yuksom/Hilley/Uttarey on the same day unless a car is booked (takes around 8 hours to reach). One can stay the night in Siliguri and start the travel to the trek base next morning. It is better to reach Siliguri by flight/train to Kolkata and then take an overnight train to NJP unless you are coming from northern India. 
From Kolkata to Siliguri:
1) By train:
There are several overnight trains running between Kolkata (Howrah or Sealdah) to NJP. Day trains are also available.
From airport (Dumdum, CCU) , Sealdah railway station is 15 Km and may take 1 to 2 hours depending upon the time you travel. Howrah is 17 Km and may take up to 2 hours during the heavy traffic in the rush hours. Howrah and Sealdah are only 5 Km apart, though it may take an hour to travel. Pre Paid taxi booths are available.
DARJEELING MAIL – Train No. – 12343 (Very good option to reach NJP in the morning. Starts around 10 pm in the night and reaches NJP 8 am in the morning.)
PADATIK EXPRESS – Train No. – 12377 (Very good option to reach NJP in the morning. Starts around 11 pm in the night and reaches NJP 9 am in the morning.)
KANCHANKANYA EXPRESS – Train No. – 13149 (Starts at 8:30 pm in the evening and reaches NJP 7:30 am in the morning)
SHATABDI EXPRESS – Train No. – 12041 (Day train, starts 2:15 pm in the afternoon and reaches NP at 10:20 pm in the night. There are hotels/lodges outside the railway station at a walking distance of 5 minutes. Otherwise book an auto rickshaw/taxi to Siliguri, which takes around 15 minutes. There are several hotels around Siliguri Junction/Tenzing Norgay Bus Terminus/S.N.T (Sikkim Nationalised Transport stand).
There are other trains also of which some run daily and some on particular days of week.
Avoid booking wait listed (WL) tickets in AC classes (1A/2A/3A) or Chair Car (CC). Book Sleeper class (SL)/Second Sitting class (2S) tickets which have normally more seats/berths and hence much better chance to get confirmed.
2) By flight:
From Kolkata(CCU)  take a flight to Bagdogra (IXB). From airport book a taxi to reach Siliguri which is 10 Km away.
From Delhi to Siliguri:
1) By Train:
Following trains are good to reach NJP and run daily.
DIBRUGARH RAJDHANI – Train No. 12424 (arrives NJP late in the morning @ 10:45 am)
NORTH EAST EXP – Train No. 12506 (arrives NJP @ 8:20 am in the morning)
BRAHMAPUTRA MAIL – Train No. 12424 (arrives NJP at 5 am in the morning. But this train runs late frequently.
Always avoid booking wait listed (WL) tickets in AC classes (1A/2A/3A) or Chair Car (CC). Book Sleeper class (SL)/Second Sitting class (2S) tickets which have normally more seats/berth and hence much better chance to get confirmed.
2) By flight:
From Delhi (DEL) take a flight to Bagdogra (IXB). From airport book a taxi to reach Siliguri which is 10 Km away.
For night stay in NJP/SIliguri:
Trekkers reaching on the previous day before the journey to the actual trek base need to stay the night in Siliguri/NJP. There are several options in Siliguri for spending a night while staying in Standard or Budget accommodation. It is better to reach to the centre of Siliguri called Siliguri Junction (adjacent to Tenzing Norgay Bus Terminus and Sikkim Nationalised Transport/S.N.T Bus terminus). It takes 30 minutes from Bagdogra or 15 minutes from NJP. There are hotels 5 minutes walking from NJP also.
Return from NJP/Bagdogra:
Normally you reach NJP/Bagdogra from any trek base  by 5/6 pm in the evening. You can take any train after 7 pm. Accordingly arrange your homeward journey.
Drive to Yuksom: 160 Km - 8/9 hours
Pickup from New Jalpaiguri Railway Station (NJP) in the morning and reach the trek base Yuksom (~ 1710 m/5600 ft) which was the first capital of Sikkim. The distance is around 160 Km and may take 8 hour including a lunch break. The road goes via Teesta, Malli, Jorethang and Tashiding.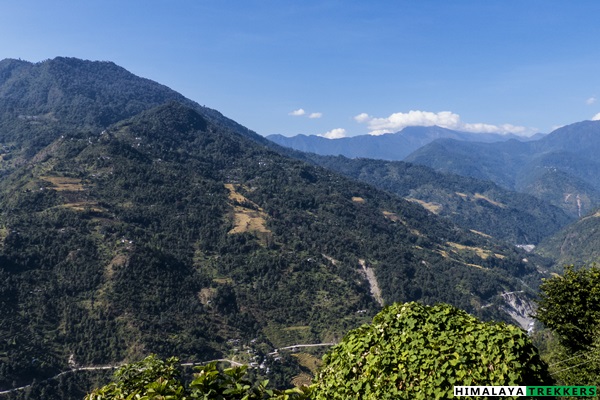 Yuksom is a typical small and laid-back Sikkimese town with one strip of Bazaar area in the centre. The village is spread out on the valley with Kabru peak setting the backdrop. The first king of Sikkim, His Holiness Funchook Namgyal was crowned here by His Holiness Gyalwa Latchen Chembo, the same man who brought Buddhism to Sikkim in 1641. There are quite a few hotels and lodges ranging from premium to budget type. Also there are few restaurants offering veg and non veg food in the Bazaar area. All the major mobile networks wok here and has a small internet cafe. Night stay in tourist lodge.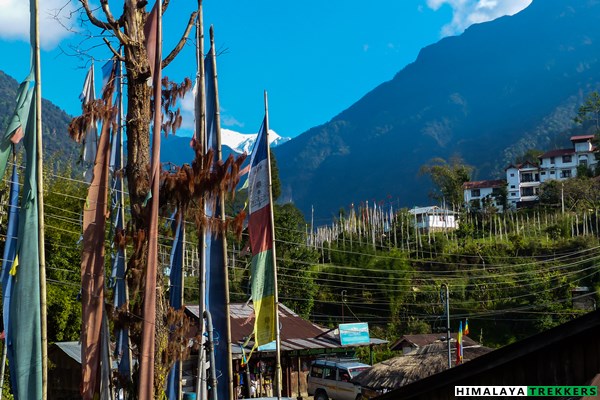 Note: If you plan to reach Bagdogra on Day 1 and hire a reserved vehicle, arrive latest by noon. People willing to reach Yuksom independently must reach NJP latest by 7 am (detail is given above on how to reach Yuksom by public transportation). It is often handy to fly to Kolkata and take the overnight trains to NJP which reach latest by 10 am or you may fly directly to Bagdogra on Day 0. Due to ongoing road construction work between Melli and Jorethang, it takes more than 3 hours to reach Jorethang. Yuksom is another 75 Km on hilly road from here and is another 3 hours. Also you need a break (preferably a lunch break at Jorethang). Yuksom is a small stretch of Bazaar (where the lodges and restaurants are clustered) and sleeps as expected on mountains latest by 9 pm.
Trek from Yuksom to Sachen: 8 Km - 4 hours
We start our 8 days of strenuous but astonishingly beautiful trek from today. To start with an easy day, while spending time and gaining some height on the mountain for Sachen (~ 2200 m/7200 ft). Usually it takes some time in the morning to process the permit at police check post and we start around 9/9:30 am in the morning. By the time you can visit Yuksom Coronation site which is some 5/7 minutes from the bazaar area and has a small monastery adjacent to it.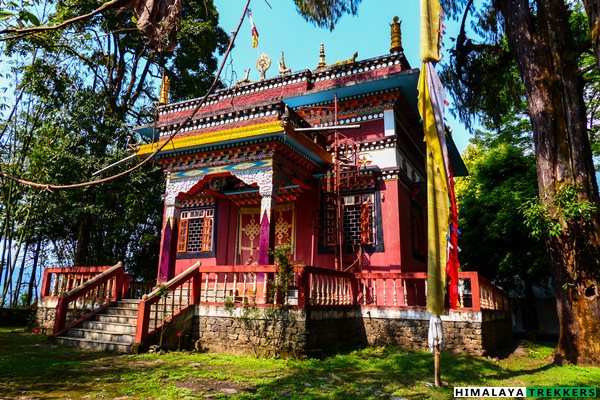 Have your breakfast from one of the available restaurants and then we take the left trail from the main road in Bazaar area. After crossing desolated Forest Huts and KNP Check post, locate a sign stating "Satellite phones are not allowed in this route" in the Yuksom Colony area. From here we leave the village and get into the trek trail. After leaving few last houses and a nursery we finally depart from Yuksom. The trail is typically a narrow river valley while the river is running in the gorge. We slowly ascent going through the thick vegetation of sub alpine evergreen forest of Sikkim. It runs through moss-laden forests of Oak, Spruce, Chestnut, Fir, Pines, giant Magnolias and wide variety of orchids. Shades of Green change seasonally.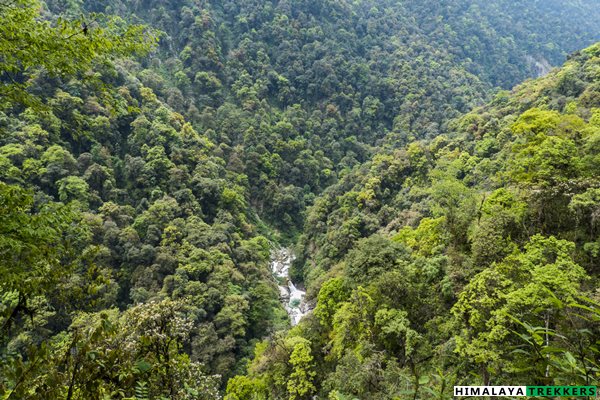 Our trail now enters into Kanchendzongha National Park. This Biosphere reserve is a Botanist's paradise and rich with exotic birds, butterflies and mammals. We have to cross 3 bridges on the river today, referred as 1st, 2nd and 3rd bridge. We continue our gradual ascent to a clearing we reach, which is our campsite of Sachen for the day. There is a Kitchen Hut built by the Forest Department on the left of the trail and the camping ground is above the trail on the right. The site is full of different bird species including Thrushes and Laughing Thrushes. It may take around 4 hours and we cover a distance of 8 Km. Camp for the night.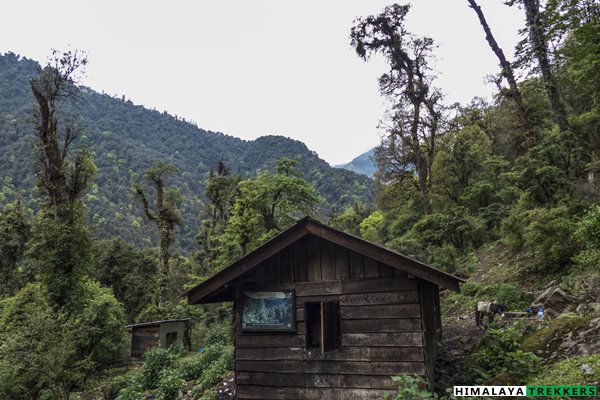 Trek to Tsokha: 8 Km - 5/6 hours
We start gradually for first half an hour and then descend to the 4th bridge on the river Prek Chu (Chu means River in Nepali), the last of the four but most significant. Prek River coming down from Goecha La/Samity area meets Rathong Chu which is feeding from Rathong glacier someway further down.After crossing the bridge, the trail turns to left and spirals up. This is the first half of climb for today and continuous one with steady height gain.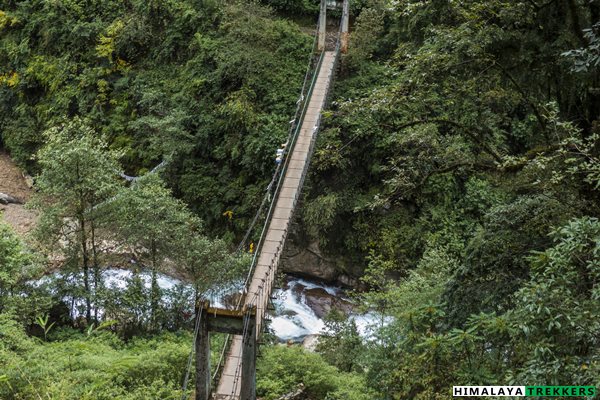 We climb through the often misty forest and slowly the valley widens up on our left. Slowly climbing for an hour and half we reach at the top of this ridge and suddenly turning to right we see the Forest Bungalow of Bakhim ( ~ 2620 m/8600 ft) at our left and house with a coffee shop on the right. The Bungalow with concrete exterior and wooden interior suffered during the earthquake in 2011 but still serves the night halt for the Himalayan Mountaineering Institute (HMI) students. A cup of tea or coffee looking at the valley down under should not be missed. On a clear day one can see Yuksom and the hill station of Pelling from this viewpoint.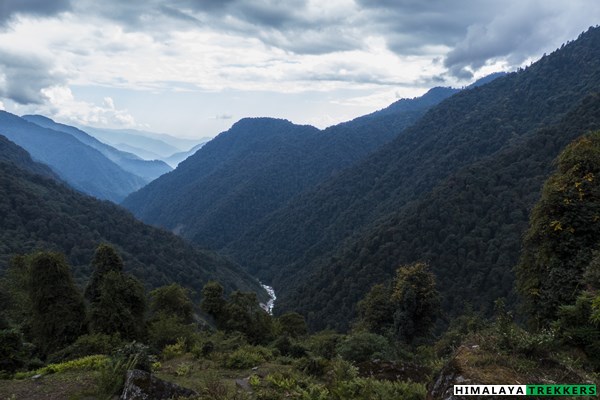 After a much needed break we start our second phase of climb for the day after our break. The trail continues to zigzag and the first noticeable Rhododendron trees appear. During spring we can see the red and the white flowers particularly in abundance. There is a short cut on the right of the main trail but it is better to stay on the well defined track. We turn right and reach a clearing in the forest. From here we continue our climb and until we reach our destination Tsokha (~ 2960 m/9700 ft) a table top on top of the hill. The camping ground of Tsokha is on the right of the trail and is a delight. The wooden Trekkers Hut is adjacent to the camping ground and well equipped with rooms and a big dinning hall. We get the first view of the snow capped mountains behind the Trekkers Hut. Magnificent Mount Pandim is standing straight along with Jopunu and Tinchenkhang.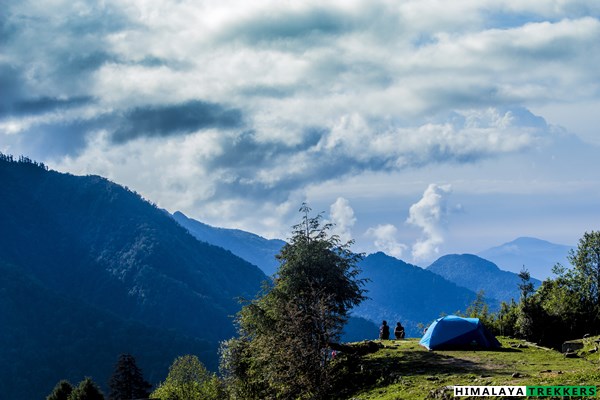 Tsokha used to be a settlement for the Tibetan refugees but recently the people are rehabilitated at Yuksom. There are few private guest houses but one is still operating. Also there is a monastery few turns up on the left of the trail with a shallow pond in front of it. In the afternoon it is worth to visit the monastery and the lone shop which serves tea, coffee and sells woollen clothes, gloves and shawl.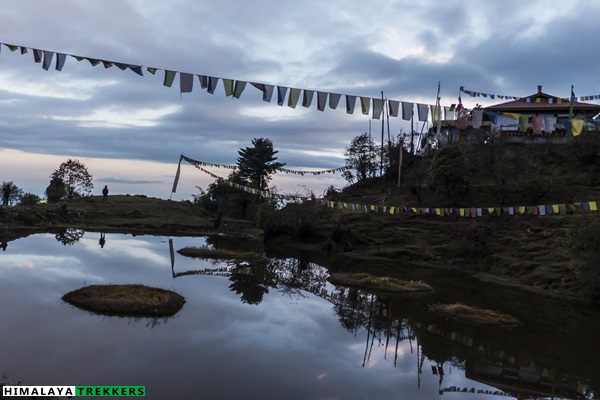 Tsokha has mobile networks working but not a steady one. You may talk with your near and dear ones from here if you are lucky. Total distance we cover is 8 Km and may take up to 5/6 hours. Night stay in tent.
Trek to Phedand: 6 Km - 3/4 hours
If the weather is clear we can see the sunrise on the backdrop of Mt. Pandim, standing from the camping ground. Being on the mountain for 3 days, our body is supposed to get acclimatised by this time. Today we gain significant height while most of the climb is moderately steep. The walk can be divided into 3 parts, climb till Phedang (~ 3680 m/12070 ft), then further ascent to Deorali Top (~ 4100 m/13,450 ft) and finally a gradual descent to our destination for the day Dzongri (~ 3950 m/12,950 ft). We leave Tsokha after crossing the monastery and turn right as the trail to start the steep climb for about half an hour. Then the trail is eases with paved wooden logs as rain turns it pretty muddy by the movements of Yaks and Horses. This trail is surrounded by dense Rhododendrons trees bloomed in different colour ( flowering season is mid April to mid May) and conifers. This is perhaps one of the best jungle trails on the Himalaya and takes away the tiredness of body. Often cloudy, the misty scent of the trail is unforgettable. After climbing another hour we reach to a small clearing where we take a rest and enjoy the silence of the jungle. From this point climbing for little more than an hour we reach the top of this hill, a wide open area of Phedang. There is a Kitchen hut and small sitting arrangement for the tired trekkers. The area remains cloudy mostly after midday and can be damp and cold.
Trek to Dzongri via Deorali Top: 6 Km - 3/4 hours
The trail splits from this place as the straight one goes to Dzongri and the trail on the right leads to Kokchurang. After a much needed replenishment we start for the 2nd half of our climb. The trail climbs steadily again zigzagging while we climb slowly as can can feel the altitude resulting into headache. Here the Rhododendron trees have turned it bushes aligning more horizontally. Climbing for two hours we reach the top of Deorali, a sacred place having a Chorten and prayer flags. There are spectacular views of the Sikkim mountains and its peaks from here. We start descending from this point and after crossing a clearing on a meadow we climb a small hump. From this hump we gently descend and traverse to the meadows of Dzongri. Walking around an hour we reach the Trekkers Hut and the camping side. The wooden hut consists of four rooms, a dinning hall and a separate setup for kitchen. The camping ground is on the left side of the hut along the narrow stream which flows in front of the hut. We camp or stay in the hut. Total distance is 6 Km and may take 3/4 hours. Night stay either in tent.
Exploration day at Dzongri. Climb to Dzongri top and visit Laxmi Pokhri lake
We wake up very early in the morning around 4 am and prepare to go to the top of Dzongri which is the sunrise point and offers majestic views. It is essential to climb to the Dzongri top as the hill straight in front of Dzongri restricts the views of the mountains. A good 45 minutes to an hour climb gaining a height around 200 m/650 ft will take us to Dzongri top. The panorama from Dzongri Top is simply breathtaking during sunrise when peaks are tinted in the softest of hues. It is almost an 150 degree panorama, from right Jopunu, Mt. Pandim to our left the Kabru group of peaks. Straight ahead is Kanchendzongha, the third highest peak in the world standing with massive glory. Local people offer prayers and incense of Cryptomaria Japonica shrubs to the Chorten at the top. After clicking photographs we descend to the base  for the breakfast. In the early afternoon you may walk towards Dzongri La (Dzongri Pass) on the trail to Chowrikhang, HMI (Himalayan Mountaineering Institute) base camp for couple of hours. However a round trip to Dzongri La (Dzongri Pass) will take 6/7 hours and is out of scope. Camp for the night.
Trek back to Tsokha – 12 Km – 5/6 hours
After breakfast we start our days trek and climb to Deorali first and then descent to Phedang. We continue going down till we reach our campsite Tsokha.  It should take around 5/6 hours to complete 12 Km distance.
Trek to Yuksom: 15 Km - 5/6 hours
Today is our last day on trail and we descend via Bakhim and 4th bridge. From here we climb for half an hour and then almost straight to Sachen. Then we continue retracing our path back to the town of Yuksom. It will take around 5/6 hours for a distance of 15 Km. Night stay in tourist lodge.
Drive to NJP/Bagdogga: 160 Km - 8/9 hours
In the morning take the car and drive back to NJP/Bagdogra/Siliguri. The trip ends.
P.S.: Distances and altitudes are approximate and may not be exact.
  TREK FEE: Rs 15,500 (Yuksom to Yuksom) + 5% GST  
Book for 5 or more persons get flat 10% discount on TREK FEE
Inclusions:
2 night's accommodation at Yuksom (Day 1 & Day 8) in lodge on sharing basis.
All meals during the trek (starting from Day 1 dinner and ending on day 8 dinner). Regular Indian style nutritious vegetarian food during the trek (including occasional eggs), breakfast packed/hot lunch (depending upon the time you reach a campsite), snacks, dinner along with coffee/tea/soup.
Excellent Trekking Guide, who will be a local to this particular area and has profound knowledge of the trekking trails around.
 Specialised Cook, Support staff, Porters/Packed Animals for carrying the central logistics of the trek.
 Stay in tents (3 persons dome or ridge shaped tents) on sharing basis during the trek.
Camping equipment like Sleeping bag, Carry mattress, Gaiters, Micro spikes/Crampon. (Bring your own sleeping if you have a high altitude specific personal Sleeping Bag. This is always better for hygienic reasons.)
Kitchen tent, dinning tent and toilet tent as required during the trek.
All permit fee, camping charges, forest levy required for the trek inside Kanchendzongha National Park.
 Basic Medical & First Aid kit.
Accidental Insurance Policy covering high altitude trekking tours (For Indian nationals it is included in the TREK FEE, up to 60 years of age). It covers your trek as well as your return journey to NJP/Bagdogra.
Exclusions:
Transportation from NJP/Bagdogra to Yuksom and return to NJP/Bagdogra. ₹ 6000 for a Tata Sumo, one way.
We assume that you will carry your personal Rucksack/Backpack with all your personal belongings. If you want to offload your Rucksack and be carried by Porter then you need to pay additional ₹ 1800 for the entire duration of the trek. The Rucksack should not weigh more than 10 Kg.
 Any tip/gratuity to the HT supports staff.
Anything is is NOT mentioned in the "Inclusions" or personal in nature.
Booking:
We assume that you have read and understood our "Terms & Conditions" before Booking.
To book a Fixed Departure/Schedule trek or a Customised/Private trekpay 25% of the Trek/Tour Fee as the initial "Booking Amount". You can pay by Net banking/Draft/Credit/Debit/AMEX cards. This will ensure your participation in the desired trek and we will reserve your place in the scheduled date. You need to pay the remaining amount at least 15 days before starting the trek.
 Cancellations:
"Booking Amount" i.e.25% of the Trek/Tour Fee is Non-Refundable at any stage.
If in case you are not able to make it due to unavoidable reason(s), we provide you avery flexible choice of Shifting to another trek withing next one year. One year is counted from the starting date of the trek/tour you booked initially with us.
In case you postpone your trip you need to informminimum of 15 days before the trek/tour starting date. (Though we suggest to inform us earlier if known)
In case you postpone a Trek/Tour before 15 days of the scheduled starting date, you may shift to the same trek/tour group scheduled in the same season or within next one year. You may shift to another suitable route also. For changing any, you need our approval first. Your request must be in written communication through your registered email with us.
If you Cancel/Postpone a trek/trip from14 days to 8 days before starting date, your Booking Amount is Non-Refundable. We will not take any request of shifting dates. We will charge 50% of the amount as Cancellation Charges and process refund of remaining 50%. You may also shift to another group within next year but 25% Booking Amount will be deemed as Cancellation Charge and the rest amount will be transferred to the shifted group.
If you cancel a trek/trip before7 days (i.e. a week) before starting date there will be NO REFUND.
In case of any unforeseen incident including but not limited to natural calamities like flood, earthquake, landslide, forest fire or any political unrest, if we are compelled to cancel the trek/trip, you will be entitled to redeem the full amount for the same/similar kind of trek/trip within next one year.