3700 m/12150 ft
Highest Point
Singalila Pass – Phoktey Dara Trek
A prevalent pristine jungle trail with charming beauty of panoramic High Nepal/Sikkim ranges is mere to describe Phoktey Dara trek. Staying entirely at campsites inside treeline is an ideal beginning for many trekkers. The trail inside Barsey Rhododendron Sanctuary goes through the last few remaining undisturbed patches of forests in Sikkim. Forest types ranging from Montane Wet Temperate Forests, Mixed Coniferous Forests, Sub-alpine Birch-Fir and Conifer Forest and Moist Dry Alpine Scrub (Rhododendron and Juniper scrubs) in varying altitude. The atmosphere inside dense forests are mostly wet and damp, age old trunks with clinging ferns, growing mosses and lichens. Rhododendrons trees or scrubs ( on higher altitudes) and giant Magnolias blossom in spring. Rich ground flora comprised of primulas, potentillas, gentians, poppies and aconites. Even during winter the forest remains deep green in contrast with Maple foliage during fall. Clouds hover around from spring to fall ! Forests are full of life, thanks to the rich biodiversity. Flycatchers & Warblers, Sun birds, Thrushes & Babblers, Tits & Fiches tweet and sing relentless. Colourful flowers attract hundreds of butterflies. Spreading across an area of 104 Square Km, this sanctuary is home to endangered Red Panda, Barking Deer (Kakar), Himalayan Black Bear, Marbled Cat and many other mammal species.  But this is just one side. Due to the proximity of Sikkim and Nepal High Himalayas, the views of High Himalayan ranges are fascinating. Singalila Pass and Phoktey Dara the two spurs offer majestic views of gigantic massif of Kanchendzongha range in a famous "Sleeping Buddha" formation. Sunrise and sunset panorama are surreal and profound. On a clear day, 4 out of the 5 highest peaks in the world, Mt. Everest, Kanchendzongha, Lhotse and Makalu are distinctly visible. Campsites are strategically on glades to enhance the grandeur experience. Jannu (Kumbhakarna), Pandim, Kabru North/south/Dome, Simvo are noteworthy in the vicinity. This less trodden trail is devoid of any human existence, grazing cattle and is uncommon to find other group(s) travelling alongside. For amateur and experienced photographers the route is bountiful of wild life, flowers, panorama and certainly the Himalayan ranges and peaks. This is indeed a must trek for all Himalayan nature lover, botanist and birders.
Note: If you are looking for a shorter hike with families and kids then you can check our Barsey Rhododendron Sanctuary trek. This is indeed a fantastic opportunity to enjoy the ecstatic jungle around Barsey.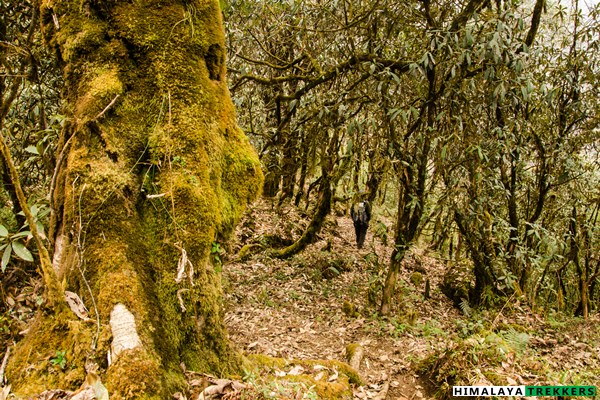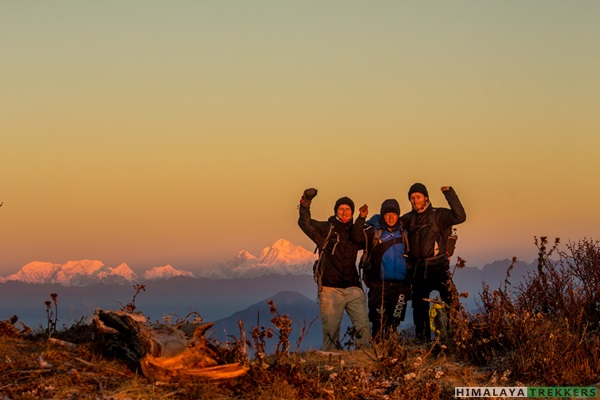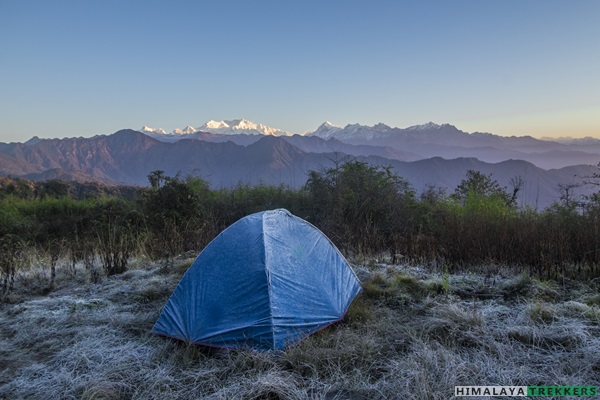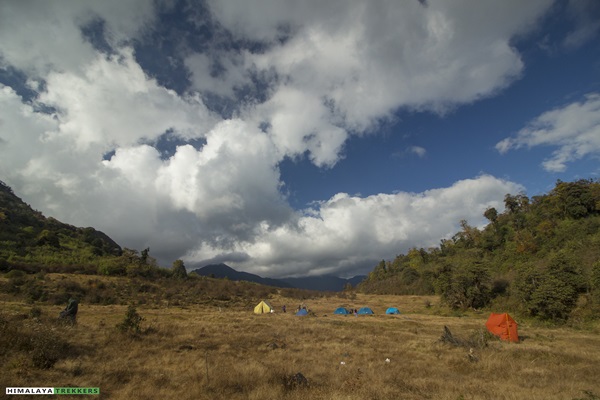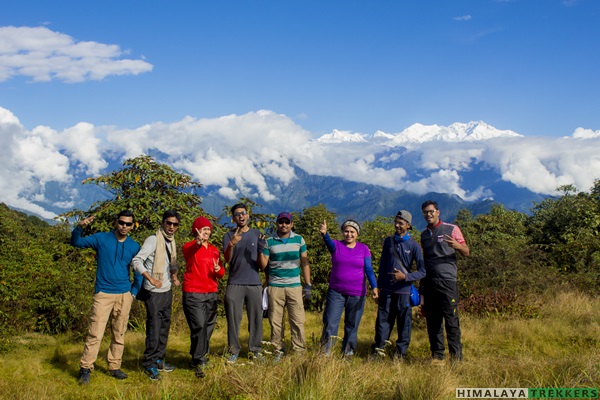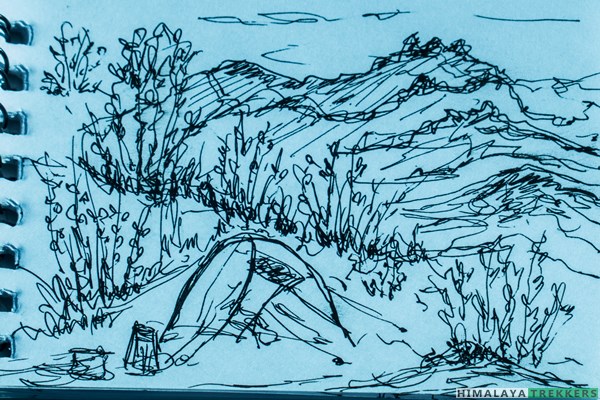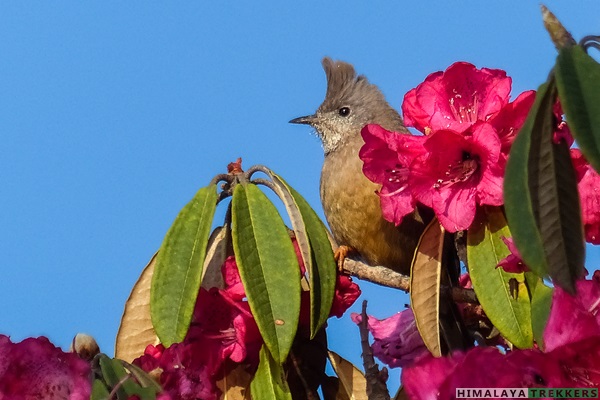 Brief Itinerary:
Day 1: From NJP/Bagdogra to Hilley by car – 150 Km – 8 hours
Day 2: Trek from Hilley to Barsey– 4.5 Km – 2/3 hours
Day 3: Trek to Joributey via Deolinga Dhap – 12 Km – 6/7 hrs
Day 4: Trek to Kharka Dara/Kalijhar via Thulo Dhap – 12 Km – 6/7 hrs
Day 5: Trek to Phoktey Dara and Singalila Pass, back to Thulo Dhap via Kalijhar – 10 km – 6/7 hours
Day 6: Trek to Uttarey via Achaley – 12 Km – 6/7 hours
Day 7: Drive from Uttarey to NJP – 170 Km – 8 hours or Drive to Gangtok – 6/7 hours.
*** You need to reach NJP/Bagdogra latest by 10 am on Day 1. Similarly you will return to NJP/Bagdogra by 6 pm on Day 7. Arrange of tickets accordingly ***
Note:
There is another variant of Phoktey Dara trek which starts from Uttarey and climbs through Chitrey, Chewabhanjung and eventually meets our trail at Kalijhar. This Uttarey to Phoktey Dara trail is steep inside jungle and doesn't offer any mountain views till one reaches Kalijhar. As this route is outside Barsey Rhododendron Sanctuary, Yaks/Horses are allowed on the trail. Hence logistically this trail is much easier to arrange and economic. However there is no comparison of views that you can get from our proposed trail.
Due to unavailability of water we may have to camp at Thulodhap instead Kharka Dara, specially during November to March. In this case we will visit Phoktey Dara and and Singalila Pass starting early in the morning and return to Thulodhap. It will take 7/8 hours for a round trip from Thulodhap.
Watch this glimpse of Phoktey Dara trek video
 TREK FEE: ₹ 15,950 (Hilley to Uttarey) + 5% GST
The above TREK FEE is applicable for Fixed Departure treks as we schedule time to time. Also we can customise this trek, if you are looking for a private trek or if the our date(s) is not matching with you. Expect similar TREK FEE if you are 8 to 10 persons together forming a group. For 4/5 persons trekking logistics and overhead is too heavy that it is not sustainable.
TREK FEE includes everything which you will require once you reach at Hilley and till you end the trek at Uttarey. Tented accommodation during trek, all meals, trekking guide, porters to carry the logistics and equipment, all permits   and camping charges. This also includes Accidental insurance policy (Indian nationals only) for 7 days covering NJP to NJP. Check COST INCLUSIONS tab for specific details.
Seasons for Phoktey Dara trek:
Being in the Nepal/Sikkim border this area observes longer monsoon. Clouds start to hover from April and prolong till October beginning. There are two distinct seasons when this year trek is particularly beautiful:
1) Spring/Summer for Rhododendron season: From mid of March to Mid of May. Flowering starts from early March in the lower elevation, and gradually towards end of spring on higher altitude. Rhododendron and Giant Magnolia are two most famous along with several other wild flower species. Cloudy or misty atmosphere is common during Spring. Though clear mountains views are not uncommon, specially during morning.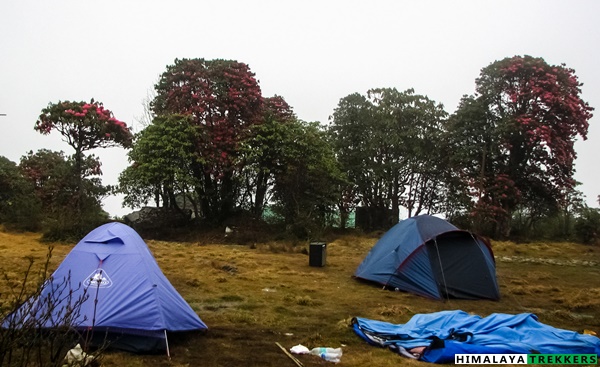 2) Fall/Winter for clear weather: From mid October to January. In the beginning of October clouds start moving out from this region and weather becomes clearer. November is  particularly known for its crystal clear views of the mountains.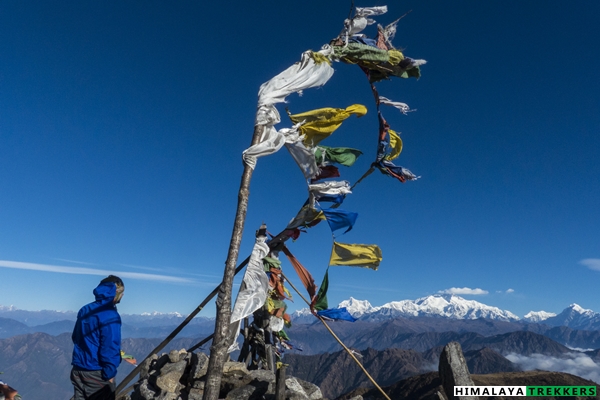 Important notes on Camping grounds for Phoktey Dara trek:
This trail inside Barsey Rhododendron Sanctuary has limited water source at intervals. The streams are seasonal and it is difficult to get water around Kharka Dara and Kalijhar campsite apart from months of April to September. For camping, proximity of water is a must and we may have to camp as per availability of water. However, we will cover Phoktey Dara top and Singalila Pass as mentioned in the itinerary.
Access to Phoktey Dara trek base (Hilley):
We will arrange a pickup  from NJP/Bagdogra/Siliguri to Hilley and drop from Uttarey to NJP/Bagdogra. This will be shared by the team members on actual basis and paid directly to the driver. Typically a Tata Sumo/Mahindra Maxx type Jeep charges Rs 5000 one way. One such car can accommodate 6 to 8 people. This cost is NOT included in the TREK FEE.
To reach the trek base Hilley the access in from NJP/Siliguri/Bagdogra. For details on how to reach nearest railways station/airport and move to trek base independently/public transportation check the details in GETTING THERE TAB.
Click here to view the List of Things to carry in Singalila Phoktey Dara trek
Permit requirements to enter and trek in Sikkim including Phoktey Dara trek:
Sikkim has some restrictions regarding travelling and special permits are a must to obtain. It is a good space to write the details regarding the different permits and fees required by the administration. Also we hope that this section will help those people who want to reach independently to Sikkim. Indians may skip this section if you don't have a travel plan specifically in North Sikkim.
(A) For Indian Nationals: Trekking permit is required inside Barsey Rhododendron Sanctuary and can be obtained at Hilley Forest checkpost. Two recent passport size photos, One personal photo ID card with address proof in it (Aadhar/Driving Licence/Voter ID/Passport) along with photocopies of the same are to be submitted along with a self declaration at Yuksom police outpost. Below is a handy guide for those having plan for additional holidays/destinations in Sikkim. Even Indians need Protected Area Permit (PAP) for visiting North Sikkim or Nathu La.
http://www.sikkimtourism.gov.in/Webforms/General/faq.aspx
(B) For Foreign Nationals:
Any foreigner (some relaxation to Nepalese and Bhutanese citizens) will require Inner Line Permit which is recently renamed as Restricted Area Permit (RAP) to enter the boundary of Sikkim.
http://www.sikkimtourism.gov.in/Webforms/General/Essential%20Information/Entry.aspx
Nationals of Bangladesh, Pakistan, Myanmar, Nigeria and China can only apply for ILP/RAP through Ministry of Home Affairs, Government of India, New Delhi.
Any other foreign national's with the strength of valid Passport and Indian visa can obtain the ILP (RAP), Free of cost, at the below check points while entering Sikkim.
1) Assistant Director– Tourism Department , Melli, Near Melli Police Check Post, South Sikkim, Mobile No: 9775453611, 03595-248536, PLS NOTE: ILP issuing time is from 8 am to 8 pm everyday (Though we struggled to keep them stay after 6 pm!)- On the way to West Sikkim (Yuksom, Pelling, Hilley, Uttarey etc)
2) Assistant Director, Tourism Department, Sikkim Tourism Office, Rangpo, East Sikkim phone no: 03592-240818 – On the way to Gangtok and East/North Sikkim.
If you produce a proper itinerary (additionally if any supporting booking documents) then the authority will usually issue an ILP up to 30 days initially. It can be extended to another 30 days but you to get an extension we need to exit Sikkim and apply again when you re-enter.
Travellers who arrive initially in Darjeeling (state of West Bengal) has to get the permit from the above two check posts. There is shorter route from Darjeeling to Jorethang via Jamuney (40 Km, 2 hours maximum)  but foreigner's are not allowed to enter Sikkim along this road. You have to go via Darjeeling – Jorbanglow – Teesta route.
You may obtain an ILP online, but that doesn't make much sense. This is a document valid only when it is signed physically in any of the above two offices. It takes 10/15 minutes to process the ILP at Melli/Rongpo with the strength of your valid passport and Indian visa.
Foreign national tourists who wish to trek to Dzongri/Goecha La, Singalila/Phoktey Dara (Barsey Rhododendron Sanctuary), Round Singalila Dzongri (Uttarey to Dzongri) will require an additional permit called Protected Area Permit (PAP, often referred as Trekking Permit). This is issued to a minimum group of 2 persons or more from the following office on strength of signed and valid  ILP/RAP.
Adventure Cell of Tourism & Civil Aviation Department, Govt. of Sikkim, Gangtok
http://www.sikkimtourism.gov.in/Webforms/General/pdf/RAP.pdf
(Note: Green Lake trek in North Sikkim requires Alpine Mountaineering Expedition permit, which in turn needs more approvals, time and high expenses. Total 5 different permits are needed from Sikkim state and Delhi for both Indian and foreign nationals.)
If you (foreign nationals) wish to book Phoktey Dara/Goecha La/Dafeybhir trek or any other with us (HT) in Sikkim then:
We will require at least one additional day to process the PAP/Trekking Permit. This can't be processed in advance and we can only apply once we receive your signed copy of ILP. This means that you can't start the trek very next day you enter Sikkim. We would recommend a couple of days in advance.
Tourist's who are having plan to visit other places in Sikkim can obtain the ILP as mentioned and send the same to us for processing the Trekking Permit.
We charge an additional ₹ 3000 as Service Charge per person to process the Trekking Permit and to counter the differential of various permit fees inside Barsey Rhododendron Sanctuary/Kanchendzongha National park for Non Indian nationals. It is indeed expensive to send someone to Gangtok for processing the Trekking Permit and get it back at the respective trek base like Yuksom, Hilley, Uttarey etc.
In easy words it is not difficult to get the required permits to trek inside Sikkim (apart from Green Lake trek) if you (minimum of a group of 2) have couple of additional days to spend in Sikkim before the trek;
Do carry multiple copies (both hard and soft versions) of your recent passport size photo and photocopies of your documents (Passport/Visa/ILP) to avoid any showstopper on mountains!
Duration: 5 days of trek; NJP/Bagdogra to NJP  return in 7 days.
Prerequisite: Ideal for beginners/first Himalayan trek. Descent is steep and sustained.
Grade: Easy
Physicality: 5.5/10
Trail Length: 50 Km
Highest Point: Singalila Pass ~ 3700m/12150 ft
Seasons: March to May (Spring/Summer) and October to January (Fall/Winter)
Further Option: From Singalila Pass descent to Phalut in West Bengal via Toriphuley and then move out via Gorkhey and Rimbick. 75 Km long Moderate grade trek.
Access: Trek starting point is Hilley and end point is Uttarey.
Rail station: New Jalpaiguri (STN Code: NJP)
Airport: Bagdogra (Code: IXB)
 Map:
Upcoming scheduled dates for Singalila Phoktey Dara trek:

 
You can check the scheduled Fixed Departure dates in the calendar available inside Booking Form or inside REGISTER NOW form. Tour starting Dates are highlighted as per our itinerary (Day 1 of 7 days itinerary).
At present BOOK NOW functionality is disabled. You can get all the information in your email by submitting the REGISTER NOW form.
If you are a group of people and available dates are not matching then you may select Custom date mode (by clicking the Select your custom date) and fill in the displayed form.
You can also check all the available dates at a glance in our

TREK CALENDAR

.
Trekkers need to reach NJP on Day 1 morning or the previous night. Return to NJP on Day 7 evening by 6 pm. Arrange your tickets for inward journey and return accordingly.
| | |
| --- | --- |
| DEPARTURE LOCATION | New Jailpaiguri railway station |
| REPORTING TIME | 8:00 AM for a prompt departure to Hilley (Day 1) |
| RETURN LOCATION | NJP/Siliguri |
| RETURN TIME | Approximately 6:00 PM (Day 7) |
How to reach Hilley (The trek base):
Nearest Rail station: New Jailpaiguri (Station Code: NJP)
Nearest Airport: Bagdogra (Airport Code: IXB)
We will arrange a pickup  from NJP/Bagdogra/Siliguri to Hilley and drop from Uttarey to NJP/Bagdogra. This will be shared by the team members on actual basis and paid directly to the driver. Typically a Tata Sumo/Mahindra Maxx charges Rs 5000 one way. One such car can accommodate 6 to 8 people. This is NOT included in the TREK FEE and to be payable directly to the driver/owner.
If you wish to reach our Trek Base Hilley on your own by public transportation:
Reach NJP in the morning and take a shared auto to Siliguri Junction/SNT(Sikkim Nationalised Transport/Tenzing Norgay Bus Terminus. From  there board a shared vehicle to Jorethang in South Sikkim. This is the entry point for South & West Sikkim. If you reach there by Noon then probably you will get your seat in one of the few jeeps plying Between Jorethang and Okhrey. From Okhrey you have to book a vehicle for Hilley which is 10 Km apart.
From NJP/Bagdogra reach Darjeeling Mor (crossing/chowk in Siliguri on the way to Darjeeling) on Hill Cart Road. From here you get shared services for Sukhiapokhri. From Sukhia you can reach Chitrey as mentioned earlier. Be sure that you have enough time as you may have to wait long for your turn. Sometime you may get a direct Maneybhanjung service (essentially the cars returning to Srikhola) in around noon/early afternoon.
While returning from Uttarey you can book a seat in the shared vehicle which leaves for Jorethang by 6 am in the morning. From Jorethang you will get vehicle for Siliguri till 3 pm.
How to reach NJP:
For the treks in Sikkim and Darjeeling , one has to reach the city of Siliguri (considered the corridor to the North-East) in West Bengal.
The nearest Railway Station is New Jalpaiguri (NJP), 5 Km from Siliguri and the airport Bagdogra is 10 Km.
You can fly or by train reach Siliguri from Kolkata ( good for the trekkers coming from South/central or Western India) or Delhi as per your convenience from any part within India.
Direct flights are available from New Delhi and Kolkata. All the flights to Bagdogra reaches late in the morning or early afternoon. It becomes difficult to reach the trek base like Yuksom/Hilley/Uttarey on the same day unless a car is booked (takes around 8 hours to reach). One can stay the night in Siliguri and start the travel to the trek base next morning. It is better to reach Siliguri by flight/train to Kolkata and then take an overnight train to NJP unless you are coming from northern India. 
From Kolkata to Siliguri:
1) By train:
There are several overnight trains running between Kolkata (Howrah or Sealdah) to NJP. Day trains are also available.
From airport (Dumdum, CCU) , Sealdah railway station is 15 Km and may take 1 to 2 hours depending upon the time you travel. Howrah is 17 Km and may take up to 2 hours during the heavy traffic in the rush hours. Howrah and Sealdah are only 5 Km apart, though it may take an hour to travel. Pre Paid taxi booths are available.
DARJEELING MAIL – Train No. – 12343 (Good option to reach NJP in the morning. Starts around 10 pm in the night and reaches NJP 8 am in the morning.)
PADATIK EXPRESS – Train No. – 12377 (Good option to reach NJP in the morning. Starts around 11 pm in the night and reaches NJP 9 am in the morning.)
KANCHANKANYA EXPRESS – Train No. – 13149 (Starts at 8:30 pm in the evening and reaches NJP 7:30 am in the morning)
SHATABDI EXPRESS – Train No. – 12041 (Day train, starts 2:15 pm in the afternoon and reaches NP at 10:20 pm in the night. There are hotels/lodges outside the railway station at a walking distance of 5 minutes. Otherwise book an auto rickshaw/taxi to Siliguri, which takes around 15 minutes. There are several hotels around Siliguri Junction/Tenzing Norgay Bus Terminus/S.N.T (Sikkim Nationalised Transport stand).
There are other trains also of which some run daily and some on particular days of week.
Avoid booking wait listed (WL) tickets in AC classes (1A/2A/3A) or Chair Car (CC). Book Sleeper class (SL)/Second Sitting class (2S) tickets which have normally more seats/berths and hence much better chance to get confirmed.
2) By flight:
From Kolkata(CCU)  take a flight to Bagdogra (IXB). From airport book a taxi to reach Siliguri which is 10 Km away.
From Delhi to Siliguri:
1) By Train:
Following trains are good to reach NJP and run daily.
DIBRUGARH RAJDHANI – Train No. 12424 (arrives NJP late in the morning @ 10:45 am)
NORTH EAST EXP – Train No. 12506 (arrives NJP @ 8:20 am in the morning)
BRAHMAPUTRA MAIL – Train No. 12424 (arrives NJP at 5 am in the morning. But this train runs late frequently.
Always avoid booking wait listed (WL) tickets in AC classes (1A/2A/3A) or Chair Car (CC). Book Sleeper class (SL)/Second Sitting class (2S) tickets which have normally more seats/berth and hence much better chance to get confirmed.
2) By flight:
From Delhi (DEL) take a flight to Bagdogra (IXB). From airport book a taxi to reach Siliguri which is 10 Km away.
For night stay in NJP/SIliguri:
Trekkers reaching on the previous day before the journey to the actual trek base need to stay the night in Siliguri/NJP. There are several options in Siliguri for spending a night while staying in Standard or Budget accommodation. It is better to reach to the centre of SIliguri called Siliguri Junction (adjacent to Tenzing Norgay Bus Terminus and Sikkim nationalised Transport/S.N.T stand). It takes 30 minutes from Bagdogra or 15 minutes from NJP. There are hotels 5 minutes walking from NJP also.
Return from NJP/Bagdogra:
Normally you reach NJP/Bagdogra from any trek base  by 5/6 pm in the evening. You can take any train after 7 pm to Kolkata safely, which reach early in the morning. Accordingly arrange your homeward journey from Kolkata onward.
Drive from NJP/Siliguri/Bagdogra to Hilley via Jorethang – 150 Km – 8 hours
Pickup in the morning from NJP/Bagdogra and reach Hilley (~2600m, 8500ft) in 8 hours. The road goes inside the Mahananda Wildlife Sanctuary at Sevok and then enters to Sikkim through Malli. Til Jorethang (~900m, 3000ft). The road goes along the moist evergreen forests of foothills while we cross Kitam Bird Sanctuary. From Jorethang the metalled road gains  height rapidly . The car takes 7/8 hours to cover the distance of 150 Km. Hilley isn't a village but a small settlement of people working for Forest department's horticultural garden and nurseries. Many endemic medicinal plants grow inside these. 2/3 privately owned lodges are available to stay and they serve food. Hilley doesn't have any shop and the last market to shop and ATM's are in Jorethang. Hilley has forests as well as clearings in the surroundings. Red Crossbill and Parrotbills  are the speciality and delight for the bird watchers. The viewpoint is a 15 mins walk and offers first views of Sikkim ranges. Night stay in lodge.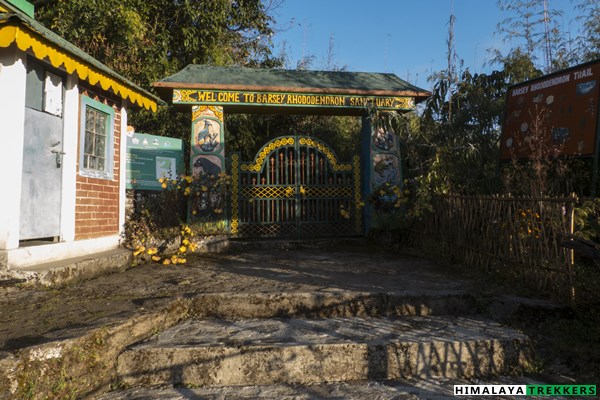 Trek from Hilley to Barsey – 4.5 Km – 2/3 hours
Today we start our exciting journey through woods. The Check-post of Barsey Rhododendron Sanctuary is a 5 minutes walk from the lodge. There is a small restaurant/shop beside. Obtaining our permit (if you are a student, do produce the identity card for a discounted permit charge) we enter the sanctuary gate to a cakewalking trail on soft earth. Barsey is just 4.5 Km away  skirting the hills through evergreen forest. After half an hour we reach our first resting shelter. There will be few more ahead. Continue your walk gently amid quintessence of forest, avoid talking loud. Enjoy the pristine nature in silence. If you are lucky enough, you may witness an endangered vividly colured Satyr Trogopan or a Kalij Pheasant crossing the trail. During March and April, this trail changes to riotously red with one of the major species Rhododendron arboreum, locally called Gurans. High altitude vegetation is frail, avoid trampling, always follow main trails and do not pick plants or flowers. Following the trail for another hour we reach a clearing with an artificial reservoir on the left side of the trail.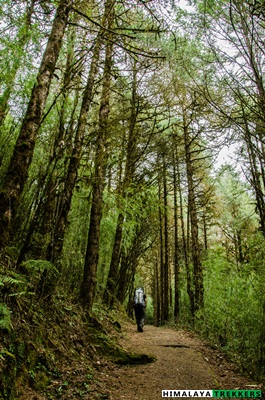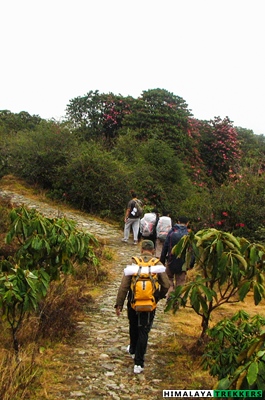 This place is specially notable for different types of birds species, most notably the Green-tailed Sunbird, Fulvettas and Yuhinas. Walk along the reservoir and follow the trail for another 10 minutes. From the bifurcation take the main trail on right and follow till we reach the opening of Barsey (~2750 m/8900 ft). It is situated on the top of this ridge and the main ridge line continues toward left. First views of Kanchendzongha will spellbound you looking straight in the north. The area is surrounded by dense vegetation of Rhododendron trees. Total distance is 4.5 Km and at a leisurely pace may take 2 to 2 and half hours. There is a Log-house with one dormitory and 2 rooms (called "Guras Kunj") and a Forest-hut for accommodation. They can serve food if informed earlier. Camping ground is inside the boundary of Guras Kunj. In the afternoon walk along the trail  going away from the hut to a small hilltop. Stones are carved accompanied by a small Buddhist Chorten. Enjoy the freshness of air. If you stay here for an additional day, you can trek to Guras Tal (There isn't a lake though) on top of a hill some 5 Km away. But this requires hiking a full day, up and down. For the tourists who don't want to go further towards Singalila range, it is wise to stay one more day here to explore the area. There is a trail descends through the forest to Dentam (a small town of West Sikkim) 10 Km away and another leading to Soreng. These are spectacular bird watching forest trails. A binocular is recommended . Night stay in tent.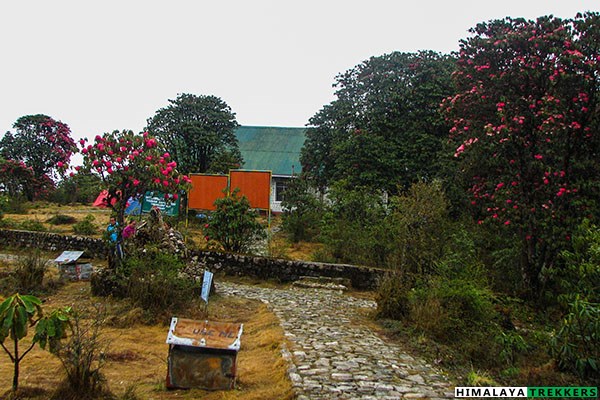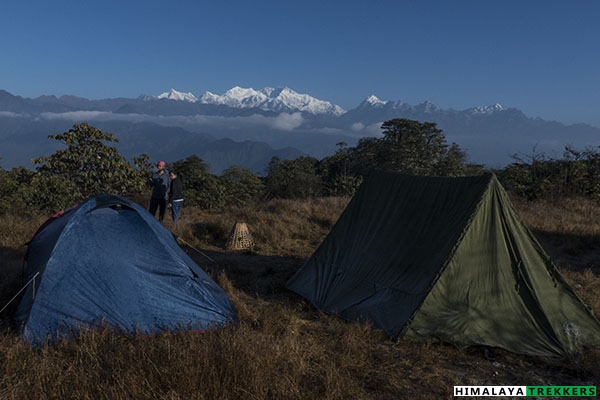 Trek to Joributey via Deolinga Dhap – 12 Km – 6/7 hours
Today and tomorrow you will probably see the best among the alpine forests in Sikkim. There is no flowing water source in today's trail, fill up your bottles from Barsey. The trail continues traversing from one hill to another and going interior towards Singalila range. There are two trails opposite of the Guras Kunj compound, one going down to Dentam, another going towards left inside the Sanctuary. We take the the later, and start our journey inside rich forest. The trail is almost on a flat level, actually going down a bit. Canopied by Rhododendron, Magnolia and Bamboo, the trail receives just enough sunlight that it remains dusky green even in the morning. Undergrowth is so dense that at times you have to look for the marking trail. There are glades inside jungle in continuous interval to surprise you. Day's walk is divided in to 3 equal parts. After walking for 2 hours and 4 Km, we reach the first opening between two hills a small sized dry swamp called Lassuney. Crossing the field we cover another 4 Km to reach  Deolinga Dhap, much bigger in size. A team can camp, at the fringe of the this swampland, but it is two early for us to pitch the tents. The last stretch of 4 Km is also easy undulating till we reach our campsite at Joributey (~2700 m,/8850 ft). Distance is 12 Km and may take 6 hours. Joributey is a clearing on the slope of the hill. A low swamp is just beside the camping ground and the accompanying hill slope thickly covered with Magnolia and conifer forest. This is a beautiful camping ground and the opening attracts different type of bird species. In the evening  sit outside the tent and enjoy the silence of the jungle in soughing wind. An alarm call of Kakar (Barking dear/Muntjac) is common. Tent for the night.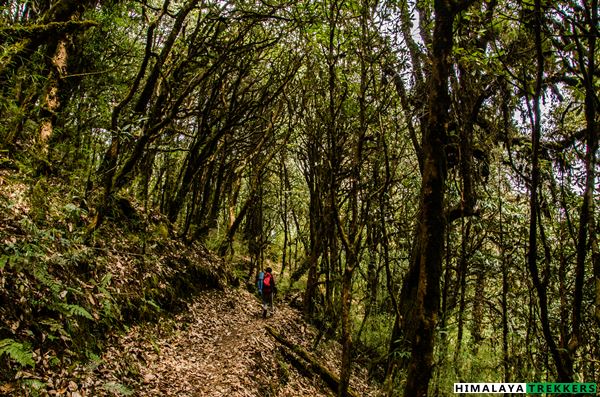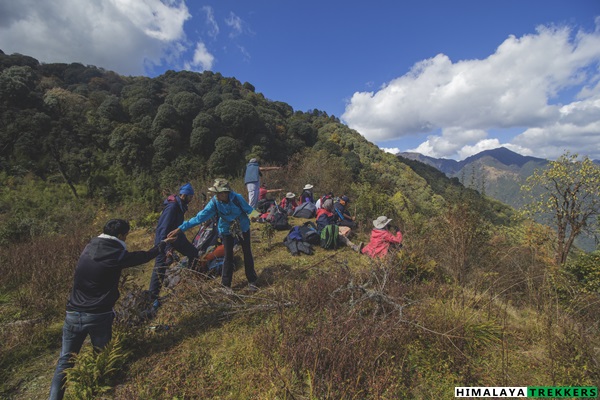 Trek to Kharka Dara/Kalijhar via Thulo Dhap – 12 Km – 6/7 hours
We start our trek taking the trail from the campsite going along the slope of the hill. A small climb on the gradient will take us to the shoulder of this hill and  a clearance in the jungle. Here is small lake down on our right called Hans Pokhri, and we turn right . Forest beside the trail here is not thick and we walk on gentle track for 30 minutes. Again we enter in to the dense forest and gain some height for an hour to reach the clearing of the hill top called Achaley. From here a trail goes down on our right to Uttarey. This top has recorded sighting of Red pandas. Clear weather will produce magnificent view of Kanchendzongha and surrounding high peaks. Continue walking straight through the top and descend along the trail to enter into jungle once again. This is a damp and moist forest , and a small ravine alongside. Walk silently to listen to the hundreds of birds chirping and singing in the bushes. Climbing up and down to two small hillocks we reach the largest of the swampland called Thulo Dhap (~2800 m/9300 ft) in this trail. Walk carefully on the swamp to protect the shoes from getting wet in muddy water. A small stream cuts the grassland in between. Take some rest and enjoy the vista once you cross. Fill in the water bottles and start climbing the trail. This is a moderate zigzag climb of nearly ~300 m/1000 ft and can take one hour or little more.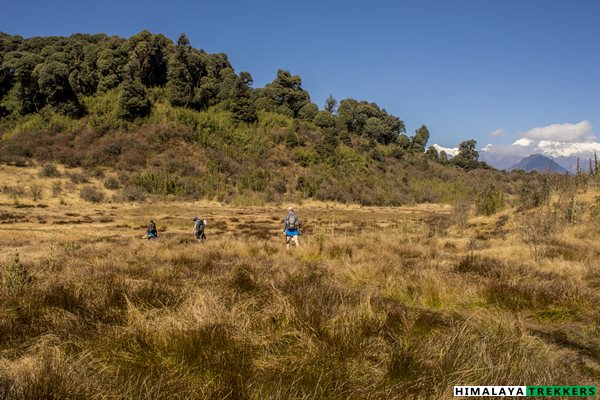 The jungle is a series of stretches of Rhododendron, Birch and Far trees.Finishing the climb we reach another hill top surrounded by alpine scrubs called Tiktiki.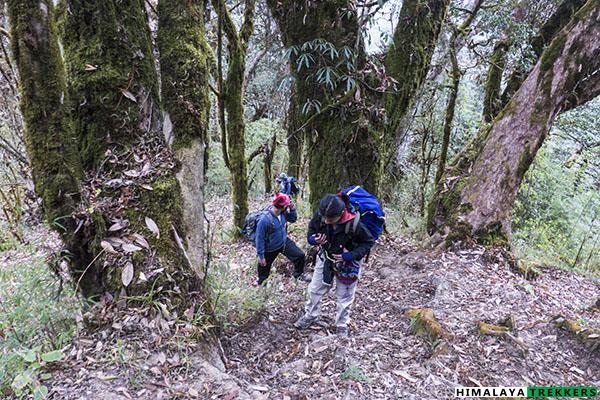 From here we follow the trail gently upwards in to a glade called Kharka Dara (~3350 m/11000 ft). Depending up on the time, either we camp here or at Kalijhar (~3400 m/11500 ft), 30 minutes further ahead. Distance is 13 Km and may take 6/7 hours. Water is scarce at both the camp sites. As these campsites are situated facing the barren high Himalayas, wind is fierce in the afternoon and evening. During sunset Shifting patterns of light turns the snow capped mountains from golden hue to magenta. Night temperature will drop to below freezing in the night and early morning. Frost forms outside the tent even in April or November. Normally mornings are calm and offers enigmatic view of Sleeping Buddha. Night stay in tent.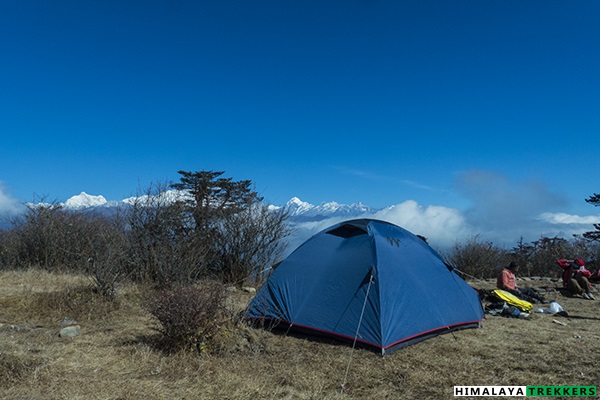 Trek to Phoktey Dara/Singalila Pass and back to Thulo Dhap – 10 km – 6/7 hours
Early morning we wake up to witness the surreal  sunrise. You can see either from Kharka Dara or Kalijhar. We will visit Singalila Pass, the top point in this ridge and return. The first rays on Kanchendzongha create magical reality. It is a brilliant display of radiant colours. Bright streaks of red, pink, and orange. After an early breakfast we start following the wide trail on level ground and skirting one table top we reach Kalijhar. Below on our right the trail on the ridge goes to Chewabhanjung and we can see the SSB camp. Kalijhar is another clearing with alpine conifers and scrubs,  surrounding the campsite. The top of Kalijhar is Phoktey Dara and a spectacular viewpoint and you can climb in half an hour.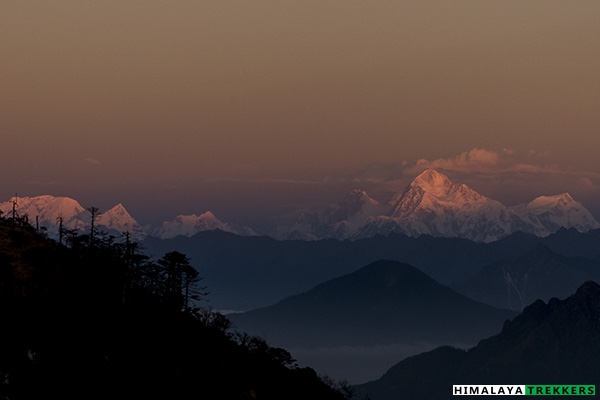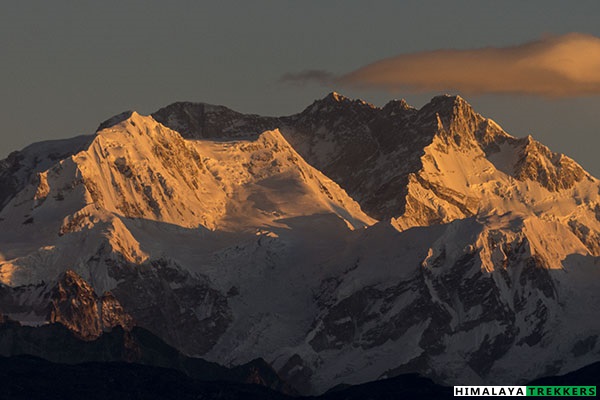 From here we traverse the hill while the treeline recedes. This particular stretch in the morning is abundant of several bird species. We would prefer it call it as "Sunbird Trail" . Fire-tailed Sunbird with its magnificent plumage perch and play in this alpine shrubbery.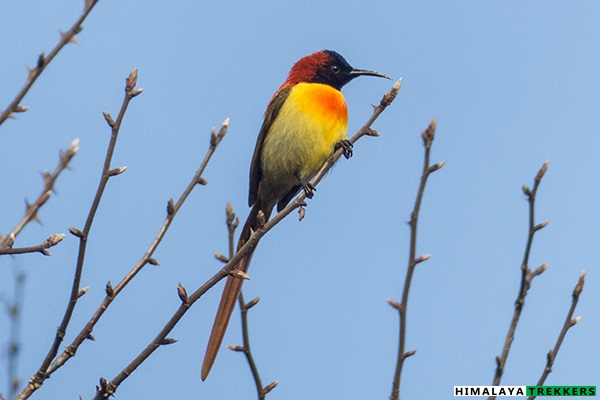 After continuing our walk for 45 minutes we reach the base of the Singalila Pass. The pass is clearly visible from this point and about ~200m/650 ft higher. Endless ridge-lines are visible in the south and east till Barsey. We commence our final ascent to the pass and reach in 30 minutes. Breathtaking view from left to right encompassing majestic Nepal and Sikkim Himalaya to the north. Most of these peaks are towering above 7000 m. In the far left (west) we can see the Everest group of peaks and to the right Three sisters, Chamlang, Baruntse, Kanchendzongha, Simvo, Pandim, Tinchenkhang one after another. The entire Kabru range (North, South, Dome) Fork I/II, Rathong, Frey peak (just above Chaurikhang, HMI base camp area) are south to the gigantic Kanchendzongha and form a semicircle in front of the massif. Spend around an hour and start retracing the trail to return.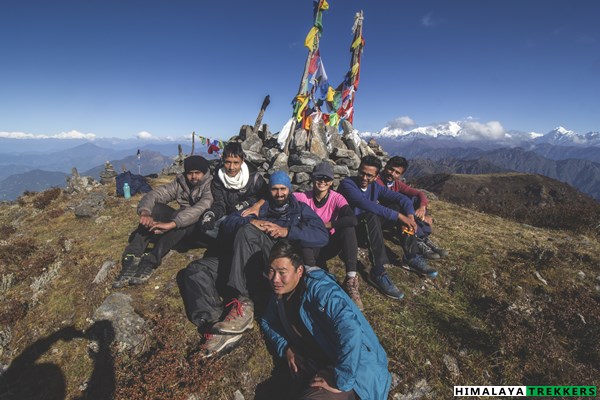 We return to our campsite and take lunch. Distance to Singalila Pass and return is around 8 Km and may take 4/5 hours. After lunch we descent to our camping ground at Thulo Dhap.In the afternoon we are free to explore the surrounding area. Night stay in tent.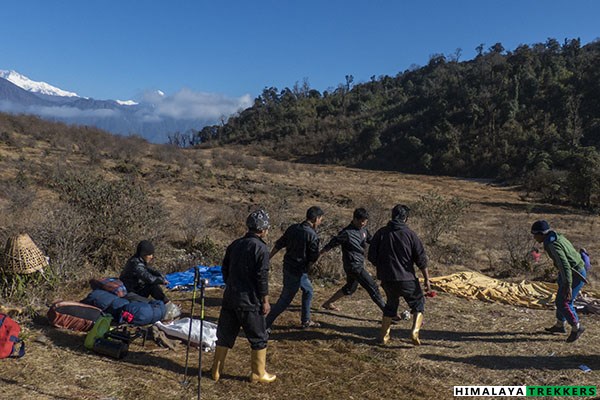 Trek to Uttarey via Achaley – 12 Km – 6/7 hours
Weather on mountain is only predictable to an extent and changes frequently. If the weather remains clear we will visit Phoktey Dara to witness the sunrise and unbelievable panorama. It is only 30 minutes walk from the campsite and on the top of a table mountain. The unmistakable Sleeping Buddha dominates the eye shot. An irresistible temptation for the shutter bugs to try different angles, panorama and hues. We return to the campsite and complete the breakfast. Today is our last day of this charmingly beautiful trek. We return to Achaley top via Tiktiki and Thulo Dhap, this time almost entirely gentle to moderate descent. From here two trails split , the one on the right through which we came and the other which we take now and descents on the slope traversing on our left. The down slope goes through conifers and Rhododendrons in the beginning and evergreen forest at later stage, occasionally passing between glades. After 3 hours we suddenly enter in to a large opening with few homes at fringe. These can be considered upper peripheral houses of Uttarey. Birds eye view of the entire valley of Uttarey is fantastic , a monastery and mobile tower on a hillock, the main bazaar stretch, the swampland alongside the road down below. It is another 3 Km to reach Uttarey (~2000 m/6550 ft) main bazaar. Total distance is 14 Km and may take 6/7 hours. Night stay in lodge.
Drive from Uttarey to NJP/Bagdogra – 170 Km – 8 hours or Drive to Gangtok – 6/7 hours
In the morning we take the car from Uttarey and start the return journey to NJP/Bagdogra. The Singshore bridge is just 5 Km from Uttarey on our return. This suspension bridge is almost 250m long and 300m/1000ft above the gorge and said to be 2nd highest in Asia. The road is scenically blessed and we cross beautiful hill stations like Dentam, Hee, Barmiok and Rinchenpong to reach Jorethang. Have your lunch here. Continue journey to reach Siliguri/Bagdogra by 5 pm. Our trip ends here.
P.S.: Distances and altitudes are approximate and may not be exact.
  TREK FEE: ₹ 15,950 (Hilley to Uttarey) + 5% GST  
The above TREK FEE is for published fixed group departure date(s). However we seldom arrange a group departure for this trek. Usually we arrange customised private tours for this trek. Expect a similar TREK FEE with same inclusions when you are a group of 6 to 8 members for your private trek.
Inclusions:
 2 night's accommodation at Hilley (Day 1) & Uttarey (Day 6) in lodge on sharing basis and dinner.
 All meals during the trek. Regular Indian style nutritious vegetarian food during the trek (including occasional eggs), breakfast packed/hot lunch (depending upon the time you reach a campsite), snacks, dinner along with coffee/tea/soup.
Excellent Mountain Guide, who will be a local to this particular area and has profound knowledge of the trekking trails around.
 Specialised Cook, Support staff, Porters/Packed Animals for carrying the central logistics of the trek.
 Stay in tents (3 persons dome or ridge shaped tents) on sharing basis during the trek.
Camping equipment like Sleeping bag, Carry mattress, Gaiters, Micro spikes/Crampon. (Bring your own sleeping if you have a high altitude specific personal Sleeping Bag. This is always better for hygienic reasons.)
Kitchen tent, dinning tent and toilet tent as required during the trek.
All permit fee, camping charges, forest levy required for the trek inside Barsey Rhododendron Sanctuary.
 Basic Medical & First Aid kit.
Accidental Insurance Policy covering high altitude trekking tours (For Indian nationals it is included in the TREK FEE, up to 60 years of age). It covers your trek as well as your return journey to NJP/Bagdogra.
Exclusions:
Transportation from NJP/Bagdogra to Hilley and return from Uttarey to NJP/Bagdogra.
We assume that you will carry your personal Rucksack/Backpack with all your personal belongings. If you want to offload your Rucksack and be carried by Porter then you need to pay additional ₹ 3500 for the entire duration of the trek. The Rucksack should not weigh more than 10 Kg.
We charge an additional ₹ 4000 as Service Charge + 5% Govt. Tax per person to process the Trekking Permit/PAP and also to counter the differential of various permit fees/entry tickets inside Kanchendzongha National Park (KNP) for Non Indian nationals/Foreigners/OCIs. In this process we get your PAP from Gangtok and send it back to Hilley.
 Any tip/gratuity to the HT supports staff.
Anything is is NOT mentioned in the "Inclusions" or personal in nature.
Booking:
We assume that you have read and understood our "Terms & Conditions" (https://himalayatrekker.com/terms-and-conditions) before Booking a trek/tour.
To reserve your place in a scheduled Fixed Departure trek or a Customised/Private trek pay 25% of the TREK/TOUR FEE as the initial "Booking Deposit". You can pay by Net banking/Draft/Cheque/Credit/Debit/AMEX cards. This will ensure your participation in the desired trek and we will reserve your place in the scheduled date. You need to pay the remaining amount at least 15 days before Trek Starting Date.
If you book a Trek/Tour before 14 days or less from Trek/Tour Starting Date, you need to pay the full TREK/TOUR FEE.
 Cancellations:
"Booking Amount" i.e.25% of the TREK/TOUR FEE is Non-Refundable at any stage.
If in case you are not able to make it due to unavoidable reason(s), we provide you avery flexible choice of Shifting to another trek within next one year. One year is counted from the starting date of the trek/tour you booked initially with us.
In case you postpone your trip you need to informminimum of 15 days before the trek/tour starting date. (Though we suggest to inform us earlier if known)
In case you postpone a trek/tour before 15 days of the scheduled Trek/Tour Starting date or prior, you may shift to another group of the same trek/tour scheduled in the same season or within next one year. You may shift to another suitable route also. For changing any, you need our approval first. Your request must be in written communication through your registered email with us.
If you cancel/postpone a trek/tour from14 days to 8 days before tour starting date, your Booking Amount is Non-Refundable. We will not take any request of shifting dates. We will charge 50% of the amount as Cancellation Charges and process refund of remaining 50%. You may also shift to another group within next year but 25% Booking Amount will be deemed as Cancellation Charge and the rest amount will be transferred to the shifted group.
If you cancel a trek/tour 7 days (i.e. a week) before Trek/Tour Starting Date or later, there will be NO REFUND.
In case of any unforeseen incident including but not limited to natural calamities like flood, earthquake, landslide, forest fire or any political unrest, if we are compelled to cancel the trek/trip, you will be entitled to redeem the full amount for the same/similar kind of trek/trip within next one year.
If you need more clarifications write in to [email protected]