5200 m/17050 ft
Highest Point
Ronti Saddle Trek:
Private/customised treks for your own group is open as per your preferred date. TREK FEE will be same for a group of 6 persons i.e. ₹ 19,500 + 5% GST per person (Sutol to Sutol) and will be proportianately lower for 7 persons or more in a private/customised tour.
Ronti Saddle trek, a lesser known but probably should be in your "to experiment" list, if you are an experienced hiker. This Saddle or the depression is a point on a narrow ridge at an altitude of 5200 m/17055 ft and basically on the continuing ridges of two very high mountains, Mt. Trishul and Mt. Nanda Ghunti. Reaching this glaciated saddle will surely be an enthralling journey for trekkers who wish to venture on pristine high mountains trail.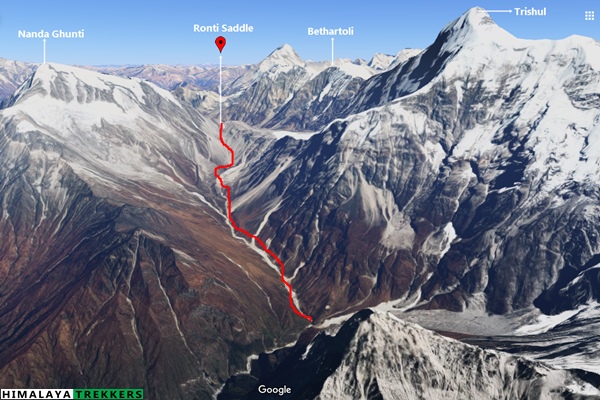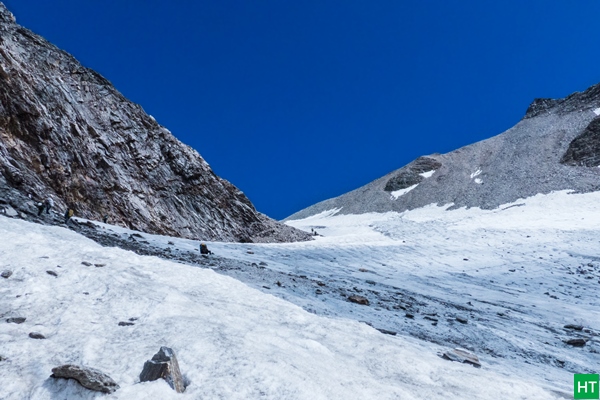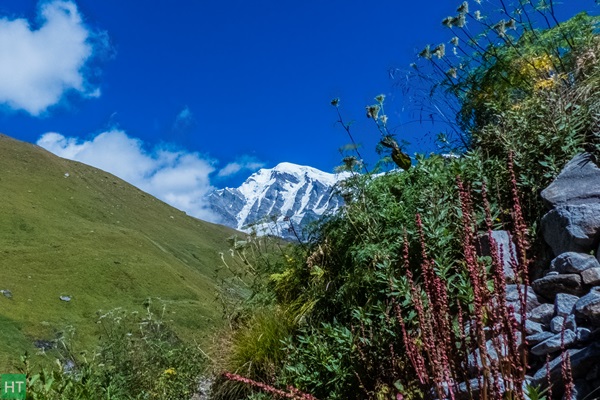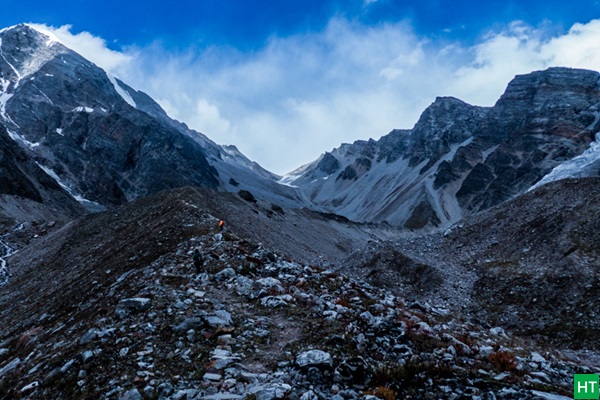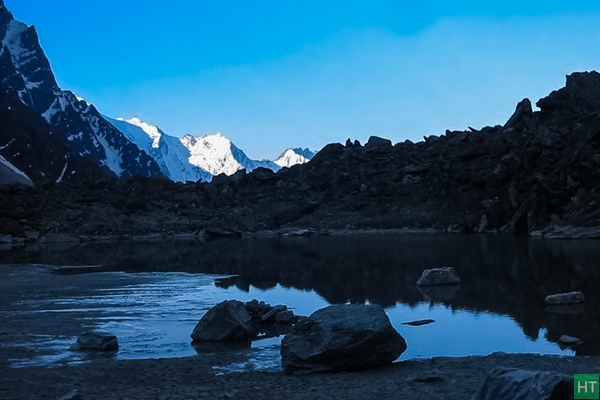 Ronti Saddle trek is a kind of trail in which you will follow a river gorge inside dense forest initially for couple of days. Its not a trek that you will watch panorama of peaks from day 1. Instead, the trail starts from the last motorable village on Nandakini river valley, called Sutol and follows the valley, upstream. As the valley gets narrowed, you will get inside dense forest and bushes along with seasonal undergrowth. Initial two camps are at Latakhopri and Bhujani inside treeline.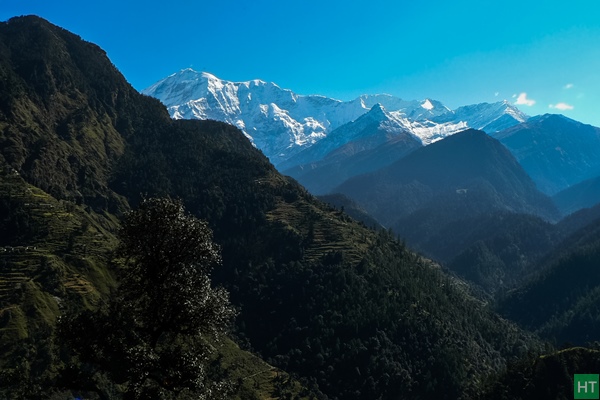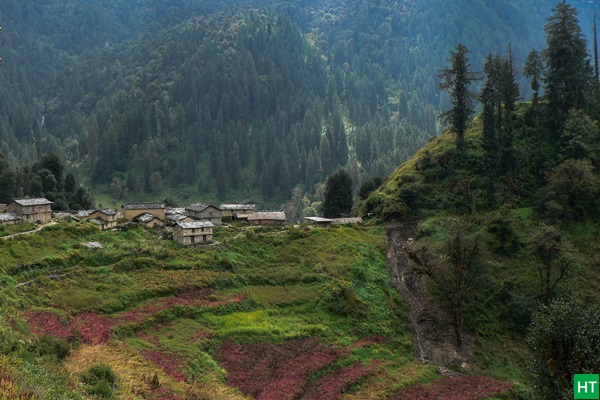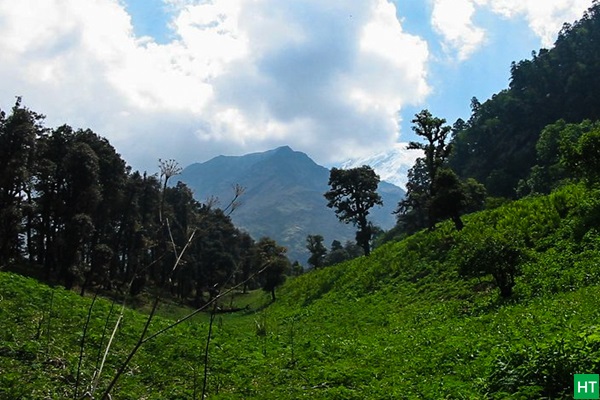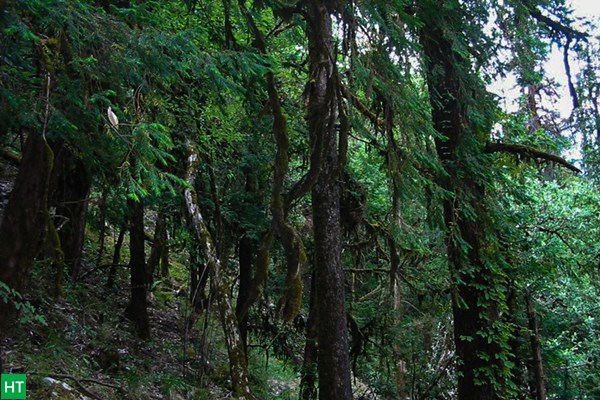 From 3rd day of trek, the valley widens out while forking in two branches at a place called Sila Samudra. We will follow the left one along Nandakini. Right one is a glacial moraine valley coming down from Trisul massif. Because of the moraine, the place is called Sila (Rock) Samudra (Sea). Suddenly you will feel yourself cradled in high mountain ridges with views all around. The campsite is on a grassland on the right side of the valley beside a huge boulder. You will reach here before lunch and time to explore the area. Due to its amphitheatre like formation, this place receives late sun rays in the morning and retreats early in the evening. Indeed its a cold place at ~ 3900 m/12800 ft.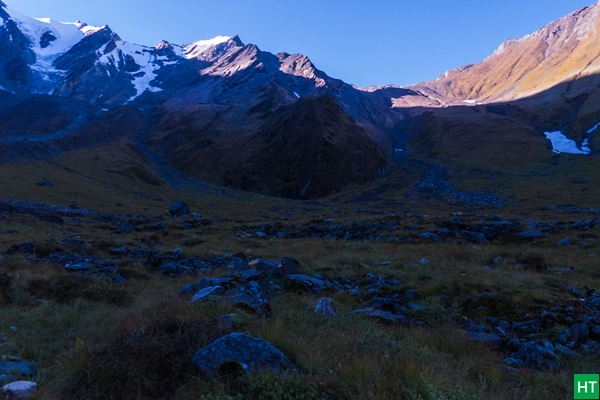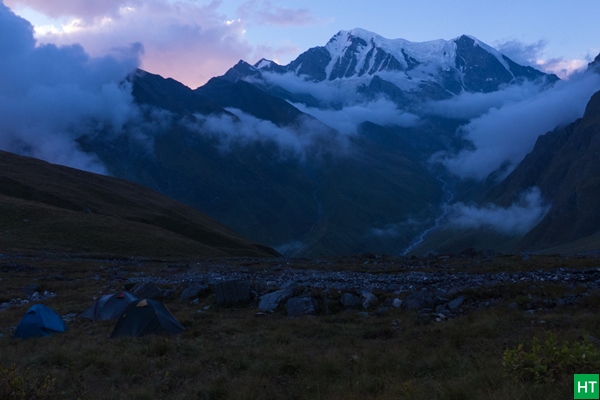 From here we quickly get into  the glacier covered with moraines, rocks of different size, some well balanced, some loose. This glacier is around half a kilometre in width and be carefully while negotiating this stretch. Crossing this boulder zone after a short climb you will get back to left bank of Nandakini. Couple of hours of  easy walk you will reach few short stretch of boulders, cutting across. The place is called Dodang, as derived from the strategic campsite placed between Do(two)-dang(boulder). From Dodang we continue along a fine moraine ridge and climb steadily for an hour. Our campsite is on the right of the moraine ridge, in a depression. Homkund is a shallow lake, often dried up in post monsoon. This is a very sacred place, with a small temple of Goddess Nanda Devi. Nanda Devi Raj Jat culminates here in every 12 years. This trail is also the climbing expedition to Trisul and teams setup their base camp around this place.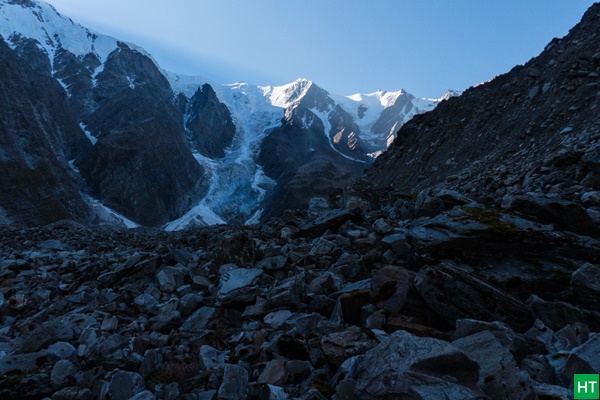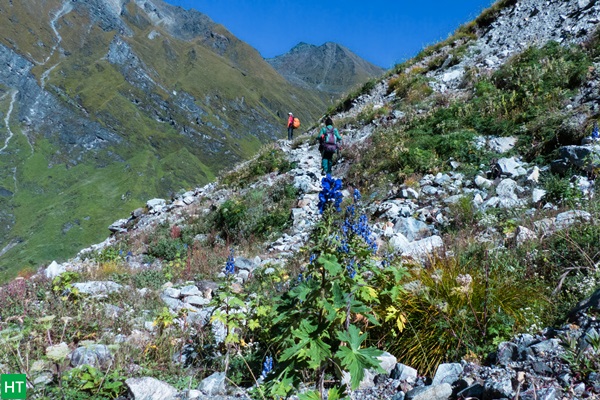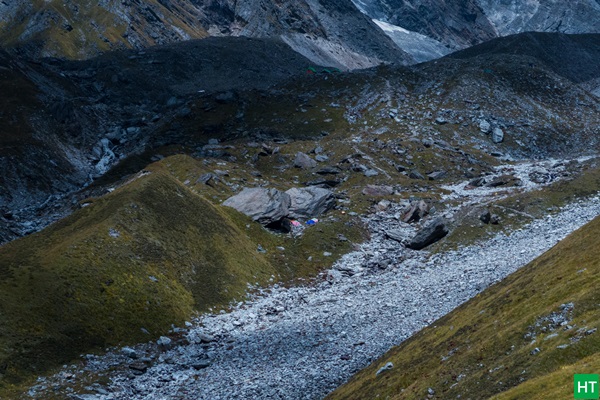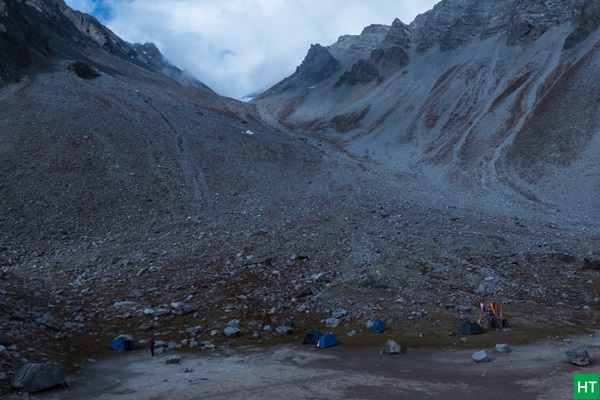 At Homkund you will feel like at the base of high mountains and surrounded by jugged rocks, boulders, icefall and the peaks. You need to start early from here and its a good climb of 2 hours to reach Ronti Saddle. Weather normally remains clear and good during morning hours. Although the saddle is glaciated but the snow ice condition will vary in summer and post monsoon. In May you will get snow from Homkund while after monsoon the snow melts and you will get icy glacier above Homkund. The last stretch on ice and scree is rather steep.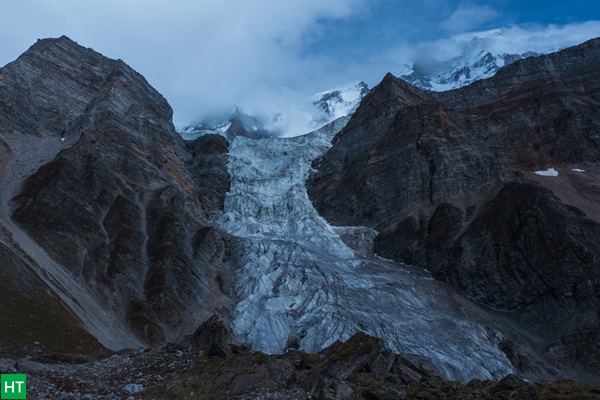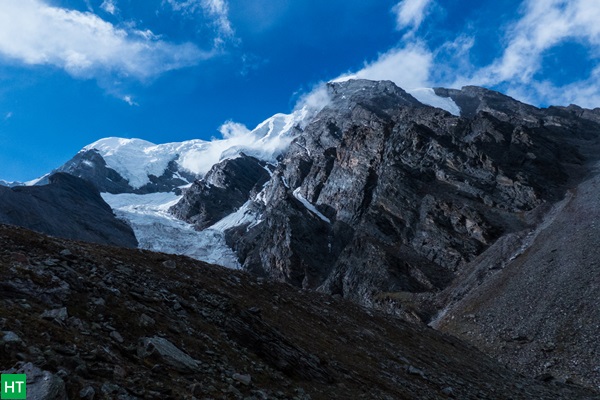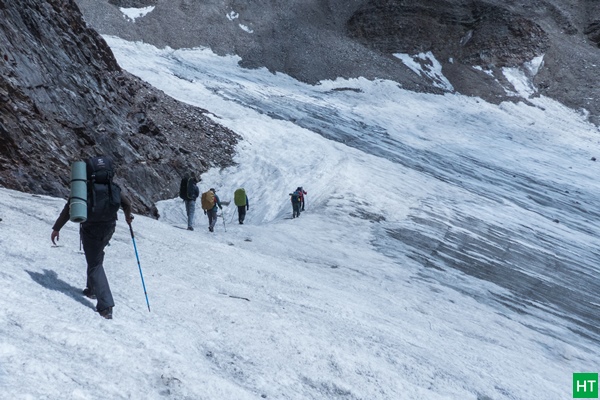 Once you ascent the saddle,  naturally the vista on the other side opens.  Its a quite contrasting landscape towards north, full of glaciers, moraines, rocky bands and mountains. Peaks comprising outer rim of Nanda Devi sanctuary like Bethartoli I and II, along with Trishul massif on one side and Ronti Peak, Nanda Ghunti dominate the skyline on other side.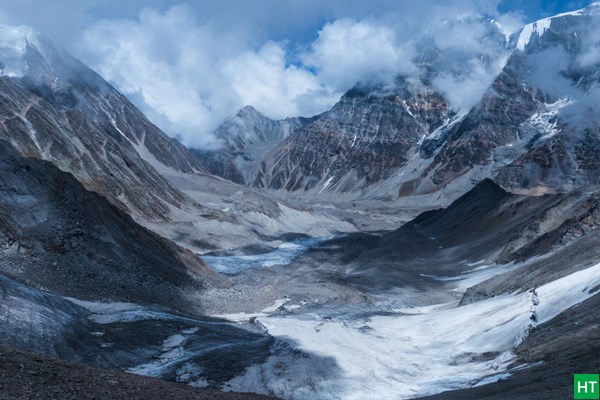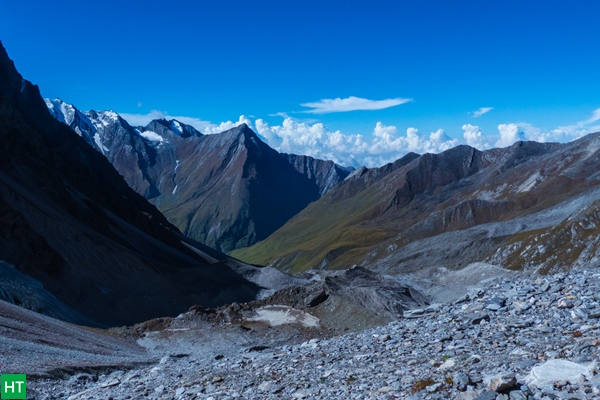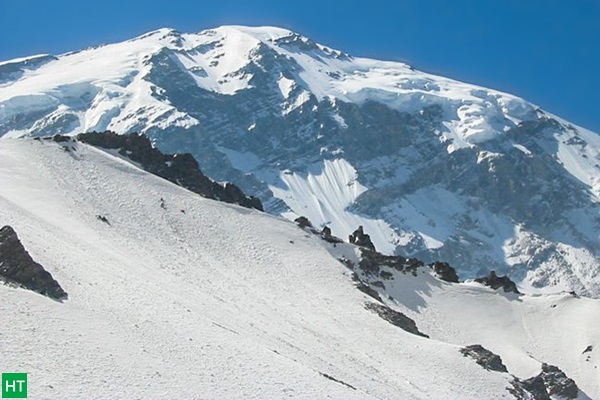 Brief Itinerary of the trek:
Day 1: Early morning start from Haridwar and reach Sutol (~ 2300 m/7545 ft) via Rishikesh, Karnaprayag, Nandaprayag and Ghat.  260 Km by car – 12 hours –  Lodge/Homestay accommodation.
Day 2: Trek starts, trek to Lata Khopri (3080 m/10100 ft)- 12 Km – 6/7 hours. Camp.
Day 3: Trek to Bhujani (3550 m/11640 ft) – 8 Km – 4/5 hours. Camp.
Day 4: Trek to Sila Samudra (3900 m/12800 ft) – 5 Km – 2/3 hours. Camp.
Day 5: Trek to Homkund (4620 m/15150 ft) via Dodang – 11 Km – 6/7 hours. Camp.
Day 6: Trek to Ronti Saddle (5200 m/17050 ft)- 2/3 hours – descent to Dodang – 4/5 hours – total 11 Km – Camp.
Day 7 : Trek down to Lata Khopri via Chandaniaghat – 16 Km – 7/8 hours. Camp.
Day 8: Trek back to Sutol – 12 Km – 5/6 hours. Camp.
Day 9: By car reach Haridwar via , and Ghat 250 Km – 9/10 hours.
Season and best time for this trek:
This high altitude trek has two distinct seasons in a calendar year.
During Pre Monsoon/Summer: (May & Jun): From early May to late June. Best time during this season is between mid May to Mid June.
During Post Monsoon/Autumn (Sep & Oct): From early September to late October. Best time during this season is to complete it between mid September to mid October.
Access to Sutol (trek base):
Based on your request we may arrange a pick up and drop to and fro trek base Sutol. You share the amount among availing trekkers and pay directly to the drive.
The fare is ₹ 7000 for a Tata Sumo/Mahindra Bolero, one way. These cars accommodate 6 to 8 people. TREK FEE doesn't include transportation cost.
To reach the trek base independently/public transportation check the details in GETTING THERE TAB.
Duration: 7 days of trekking; Walking from Sutol to Ronti Saddle via Sila Samudra and Homkund. Haridwar to Haridwar/Rishikesh/Dehradun in 9 days.
Grade: Difficult
Physicality: 8/10
Trail Length: 75 Km
Highest Point: Ronty Saddle ~ 5200 m/17050 ft ;
Prerequisite: At least 2 Himalayan treks of which one must be high altitude one (~ 4500m) involving walking on snow and negotiating rough rocky terrain.
Seasons: June (Summer/Pre monsoon) & September/October (Post Monsoon/Fall)
Access: Trek starting point (trek base) is Lohajung, 220 Km from Kathgodam.
Rail station: Kathgodam (Station Code: KGM)
Airport: Delhi
 Map:
Upcoming scheduled dates for Ronty Saddle trek:

 
You can check the scheduled Fixed Departure dates in the calendar available inside Booking Form or inside REGISTER NOW form. Tour starting Dates are highlighted as per our itinerary (Day 1 of  9 days itinerary).
At present BOOK NOW functionality is disabled. You can get all the information in your email by submitting the REGISTER NOW form.
If you are a group of people and available dates are not matching then you may select Custom date mode (by clicking the Select your custom date) and fill in the displayed form.
You can also check all the available dates at a glance in our

TREK CALENDAR

.
Trekkers need to reach Haridwar on Day 1 morning (latest by 7 am). Return to Haridwar on Day 9 late evening (7-8 pm). Arrange your tickets for inward journey and return accordingly.
| | |
| --- | --- |
| DEPARTURE LOCATION | Haridwar railway station |
| REPORTING TIME | 7:00 AM for a prompt departure to Sutol (Day 1) |
| RETURN LOCATION | Haridwar |
| RETURN TIME | Approximately 7:00/8:00 PM (Day 9) |
How to reach Lohajung (The trek base):
Nearest Rail station: Kathgodam (Station Code: KGM)
Nearest Airport: Delhi
Based upon your request we will arrange a pick up and drop from Kathgodam to Lohajung and back. This will be shared equally by the team members on actual basis. You pay directly to the driver/transporter. The fare is Rs 5500 for a Tata Sumo/Mahindra Maxx one way. These can accommodate 6 to 8 people. Similarly from the trek end point Sutol a Jeep may charge Rs 6500/7000 for a drop to Haridwar. This is NOT included in the TREK FEE and to be payable directly to the driver/owner.
If you wish to reach our Trek Base Lohajung on your own by public transportation:
From Kathgodam there is no direct bus or shared car service to Lohajung. Reach latest by 6 am to Haldwani (The city, 4 Km before Kathgodam) and take a shared Jeep service to Deval. This is is 25 Km before Lohajung. From Deval you may get another shared service to Lohajung or you may have to hire one.
If you travel from Haridwar side, then reach Rishikesh on the previous night (Day 0, 25 Km from Haridwar) and board the bus for Mandoli/Lohajung at 5 am next morning. This private bus takes 12 to 14 hours to reach Lohajung. As this is a privately operated bus so may not operate during the high demand of Chardham yatra season. The route is via Devprayag, Rudraprayag, Karanprayag, Tharali and Deval. 260 Km.
From the Trek End point Sutol you need to hire a Jeep for the nearest town Ghat. This is following the Nandakini river via Sithel and is 35 Km. From Ghat you will get bus services to Haridwar/Rishikesh in the morning latest by 6/7 am. Bus may take 10 hours to reach Haridwar which is 240 Km.
How to reach Kathgodam:
For the treks in Kumaon or in the bordering area of Garhwal, one has to reach Kathgodam/Haldwani normally. Lal Kuan is just 20 Km and Haldwani is 5 Km before Kathgodam. Bus, shared taxi and private cars are available.
You can fly or by train reach New Delhi as per your convenience from any part within India. Reach Delhi accordingly that you have enough time for transit withing Delhi.
There are direct trains from Kolkata to Kathgodam(KGM)/Lal Kuan(LKU)
BAGH EXPRESS – Train No. 13019 (ONLY book when you stay the night at Kathgodam, DON't book this train when you plan a long onward journey immediately in the morning)]
HWH LKU EXP – Train No. 12353 – Lalkuan Express (runs only on Friday, you need to stay at Kathgodam for the night, only 20 Km away)
Avoid booking wait listed (WL) tickets in AC classes (1A/2A/3A) or Chair Car (CC). Book Sleeper class (SL)/Second Sitting class (2S) tickets which have normally more seats/berth and hence much better chance to get confirmed.
You can reach KATHGODAM/HALDWANI EASILY FROM NEW DELHI BY TRAIN OR BUS (~ 6/8 HOURS) AND IS AROUND 270 KM.
By Train:
Following trains are good to reach Kathgodam and run daily.
RANIKHET EXP – Train No. 15013 (best option, runs overnight, arrives KGM early morning @ 5 am. Board from Delhi(DLI)/Old Delhi Junction station)
UTR SAMPRK K EX – Uttaranchal Sampark Kranti Express – Train No. 15035 (good option when you stay the night @ Kathgodam and travel next morning)
ANVT KGM SHT – Anand Vihar Kathgodam Shatabdi Express – Train No. 12040 (Arrives KGM in the morning @ 11:40 am, alternate choice when you stay the night in Kathgodam and travel by car next morning)
Always avoid booking wait listed (WL) tickets in AC classes (1A/2A/3A) or Chair Car (CC). Book Sleeper class (SL)/Second Sitting class (2S) tickets which have normally more seats/berth and hence much better chance to get confirmed.
By Bus:
Haldwani buses are more frequent than that of Kathgodam. Its easy to reach Kathgodam from Haldwani which is only 5 Km away.
Govt. Road Transport (Roadways of Uttarakhand, Uttar Pradesh, Delhi, Haryana etc) buses are frequently available in day time and night from Anand Vihar ISBT Tickets are available on board for these regular type buses. Some of the state transport companies offer online reservation for Volvo/A.C Luxury buses. Check these Govt. operated state bus services for online booking:
https://www.upsrtconline.co.in/#  
From Delhi Airport or Station you can reach ISBT Anand Vihar via Delhi Metro service (http://www.delhimetrorail.com/metro-fares.aspx).
For privately operated bus, you can book online from different portals (http://www.redbus.in). Select a boarding point suitably. Overnight Volvo/A.C/Push back bus service.
For night stay in Kathgodam:
Trekkers reaching on the previous day before the journey to the actual trek base need to stay the night in Kathgodam. There are few options in Kathgodam for spending a night while staying in Standard accommodation.
State run KMVN (Kumaon Mandal Vikas Nigam) operates Tourist Rest House at Kathgodam just opposite to the railway station (beside Bus stand). This is a reliable and a decent choice for Standard accommodation. Check the following for reservation of the above
http://www.kmvn.gov.in/contacts/index/23
There are privately run hotels/lodges near Kathgodam railway station & Haldwani Bus terminus.
Return from Kathgodam:
Normally you reach from trek base to Kathgodam by 5/6 pm in the evening. You can take any train after 7 pm or regular bus service as mentioned above to reach Delhi or directly to your homeward journey.
Start from Kathgodam and reach Lohajung
Early morning start from Kathgodam and reach Lohajung. 220 Km and may take 10 hours. Night stay in lodge.
Trek to Didna
rek starts, trek to Didna, 10 Km 4/5 hours. Night stay at Homestay.
Trek to Bedni Bugiyal
Trek to Bedni Bugiyal. Camp overnight. 12 Km, 6/7 hours. Camp..
Trek to Baguabasa
Trek to Baguabasa. Camp. 10 Km, 5/6 hours. Overnight in tent.
Trek to Sila Samudra
Trek to Sila Samudra via Roopkund and Junargali Pass. 12 Km, 8/9 hours. Camp.
Trek to Dodang
Trek to Dodang. 8 Km, 5/6 hours. Camp.
Trek to Ronti Saddle
Trek to Ronti Saddle via Homkund and then descent to Ronti Gad. 10 Km, 6/7 hours. Camp.
Trek to Nandaghunti Base
Trek to Nandaghunti Base camp area. 12 Km , 6/7 hours. Camp
Trek to Shepherds camp/Kharak camp
Trek to Shepherds camp/Kharak camp. 14 Km, 6/7 hours.
Trek to Subhai Gaon/Bhabisya Badri temple
Trek to Subhai Gaon/Bhabisya Badri temple. Road head is another one and half Km down. May take up to 4 hours. Take the car and drive 25 Km to Joshimath. Night stay in Hotel/Lodge etc.
Rest day/Buffer day
Rest day/Buffer day. We will use it if required.
From Joshimath by car reach Haridwar
From Joshimath by car reach Haridwar. 10 hours. Reach by 8 pm in the evening.
P.S.: Distances and altitudes are approximate and may not be exact.
  TREK FEE: ₹ 19,500 (Sutol to Sutol) + 5% GST  
Book for 5 persons or more and get flat 10% Group Discount on TREK FEE
Inclusions:
Two nights accommodation at Sutol (Day 1 & Day 8) in lodge/homestay on sharing basis.
Tent accommodation during trek in triple sharing dome tents.
 All meals (Day 1 dinner to Day 8 dinner) during the trek. Regular Indian style nutritious vegetarian food during the trek (including occasional eggs), breakfast packed/hot lunch (depending upon the time you reach a campsite), snacks, dinner along with coffee/tea/soup.
Professional Guide, Cook & Supports staff.
Porters to carry the central logistics (provisions, tents, utensils, fuel etc).
Accommodation as required in tents on sharing basis during the trek.
Camping equipment like Sleeping bag, Carry mattress, Dining tent, Toilet tent, Gaiters, Micro spikes/Crampon.
Permit fee, camping charges, forest levy as required in the trek.
Basic Medical & First Aid kit.
Accidental adventure tour insurance for the scheduled departure treks.
Exclusions:
Transportation from Kathgodam to Lohajung and return from Sutol to Haridwar.
We assume that you will carry your Rucksack/Backpack including all your personal belongings. As this is a Difficult grade and porter run trek so it is safer and economic if you carry your personal rucksack. To offload your rucksack separate charges will be applicable.
Any tip/gratuity to the HT supports staff.
Anything is is NOT mentioned in the "Inclusions" or personal in nature.
Booking:
We assume that you have read and understood our "Terms & Conditions" (https://himalayatrekker.com/terms-and-conditions) before Booking a trek/tour.
To reserve your place in a scheduled Fixed Departure trek or a Customised/Private trek pay 25% of the TREK/TOUR FEE as the initial "Booking Deposit". You can pay to our account by Net banking/IMPS/UPI/Draft. This will ensure your participation in the desired trek and we will reserve your place in the scheduled date. You need to pay the remaining amount at least 15 days before Trek Starting Date.
If you book a Trek/Tour before 14 days or less from Trek/Tour Starting Date, you need to pay the full TREK/TOUR FEE.
 Cancellations:
"Booking Amount" i.e. 25% of the TREK/TOUR FEE is Non-Refundable at any stage.
If in case you are not able to make it due to unavoidable reason(s), we provide you a very flexible choice of Shifting to another trek within next one year. One year is counted from the starting date of the trek/tour you booked initially with us.
In case you postpone your trip you need to inform minimum of 15 days before the trek/tour starting date. (Though we suggest to inform us earlier if known)
In case you postpone a trek/tour before 15 days of the scheduled Trek/Tour Starting date or prior, you may shift to another group of the same trek/tour scheduled in the same season or within next one year. You may shift to another suitable route also. For changing any, you need our approval first. Your request must be in written communication through your registered email with us.
If you cancel/postpone a trek/tour between 14 days to 8 days before tour starting date, your Booking Amount is Non-Refundable. We will not take any request of shifting dates. We will charge 50% of the amount as Cancellation Charges and process refund of remaining 50%. You may also shift to another group within next year but 25% Booking Amount will be deemed as Cancellation Charge and the rest amount will be transferred to the shifted group.
If you cancel a trek/tour 7 days (i.e. a week) before Trek/Tour Starting Date or later, there will be NO REFUND.
In case of any unforeseen incident including but not limited to natural calamities like flood, earthquake, landslide, forest fire or any political unrest, if we are compelled to cancel the trek/trip, you will be entitled to redeem the full amount for the same/similar kind of trek/trip within next one year.
If you need more clarifications write in to [email protected]