5300 m/17400 ft
Highest Point
Pin Parvati Pass Trek:
Pin Parvati Pass trek is indeed one of the most glamourous trans Himalayan trek. This difficult and strenuous trail is ONLY for the experienced and physically active hikers who have been to high Himalayan multi day camping treks at least in 2/3 occasions, if not more. The trans Himalayan valleys of Spiti were once difficult to gain access to, but the route through Pin Parvati pass halves the distance between the Kullu and Spiti valleys. The route is opened to trekkers in 1993. Though the trek is strenuous and challenging, the beauty of the region, makes it one of the most sought after Trans-Himalayan trek.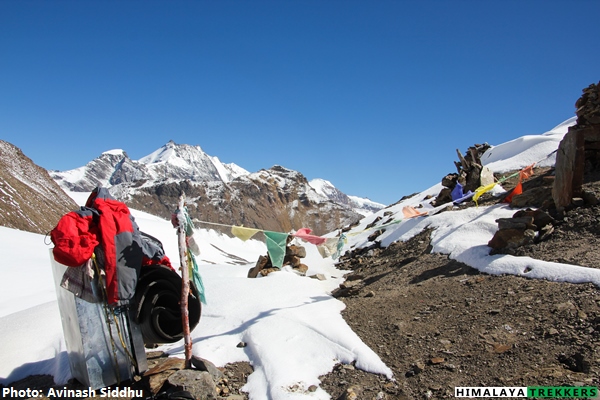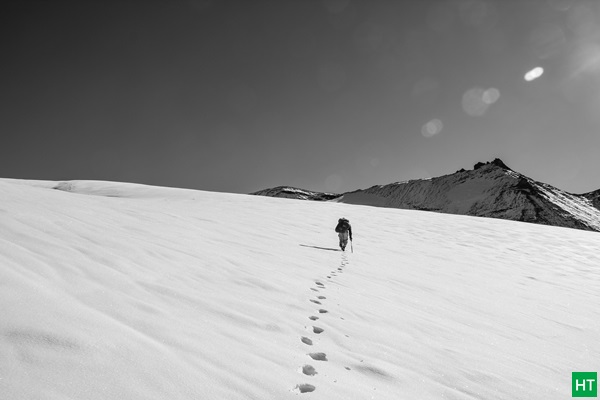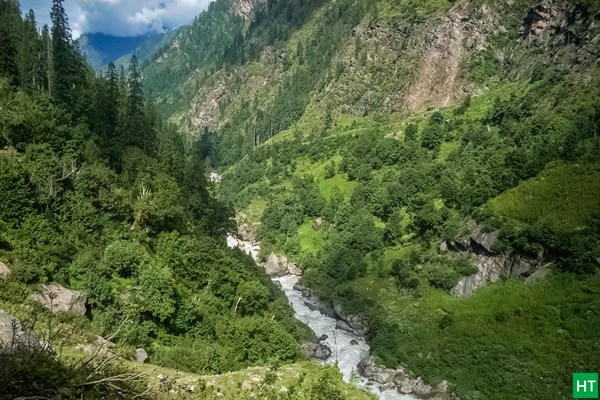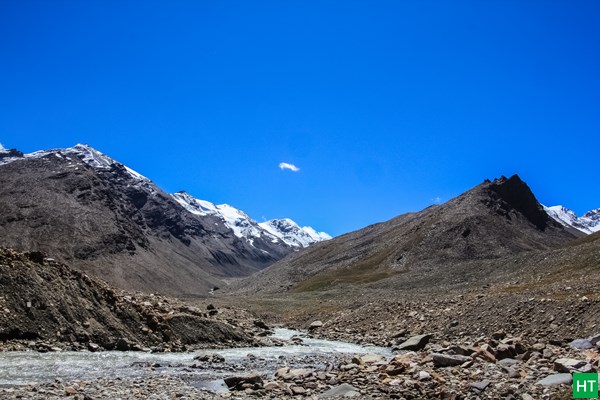 This remarkable trail truly delivers landscapes which are completely different on two sides of the pass. This always snow bound pass unfurls the stark contrast between barren and rain shed Pin valley (Spiti side) to that of lush green Parvati valley (Kullu side). Trekking through this trail of a lifetime, one can see dense forests, hot springs, grazing pastures, meandering streams, moraines and glaciers, snow capped peaks, coloured mountains and many more. The major peaks seen are Kullu Eiger, Parvati South, Kangla Tarbo, Kullu Makalu & West Horn. The trail runs through the Pin Valley National Park, known for sighting of the snow leopards and the Great Himalayan National Park with many rare Himalayan birds like the Western Tragopan. Here are some visual evidences to show. 🙂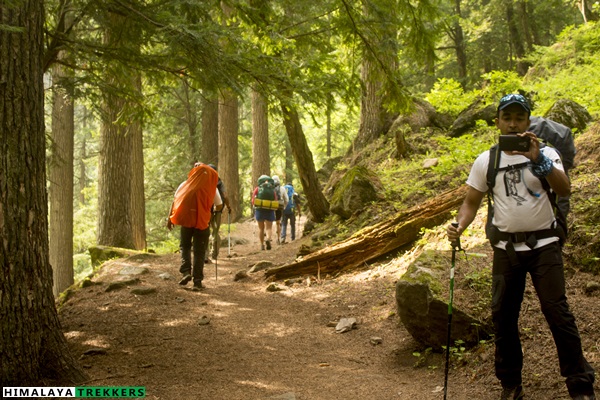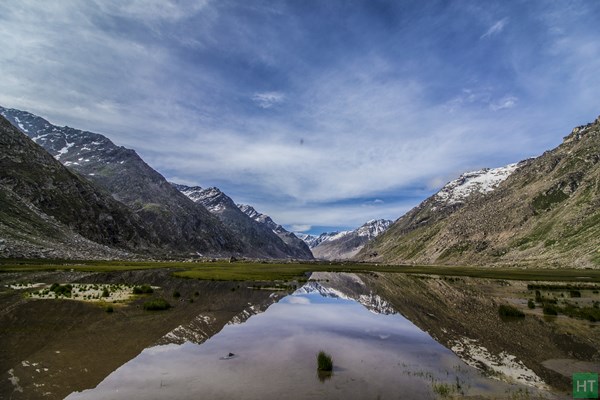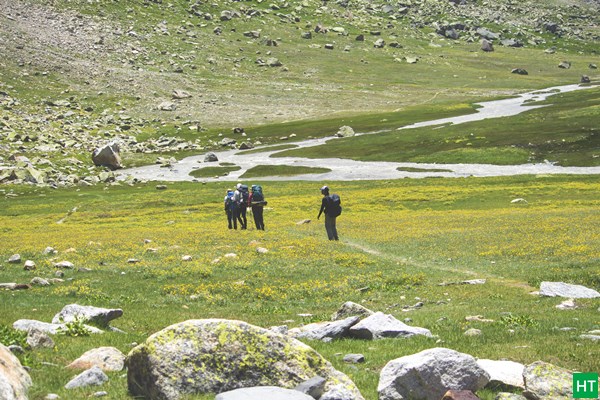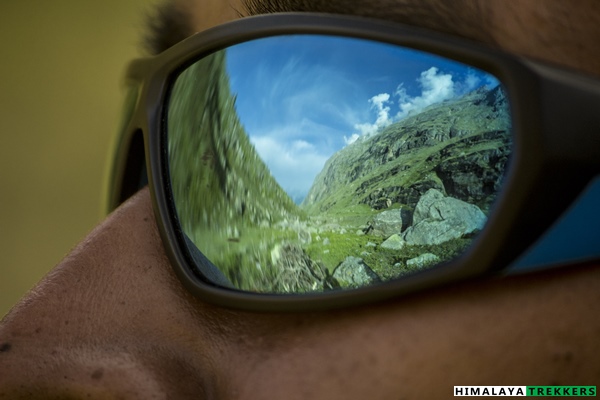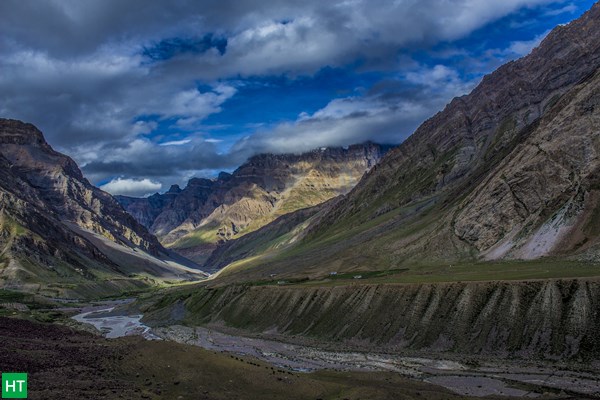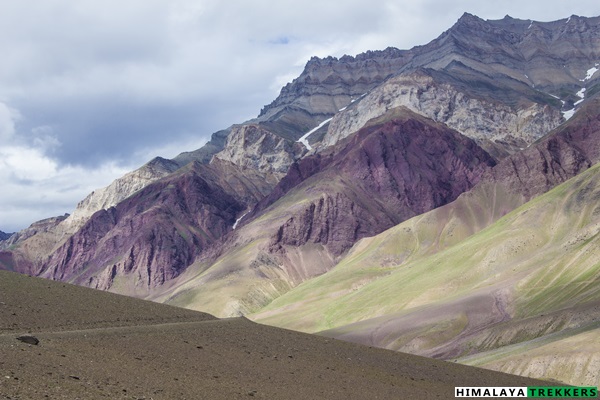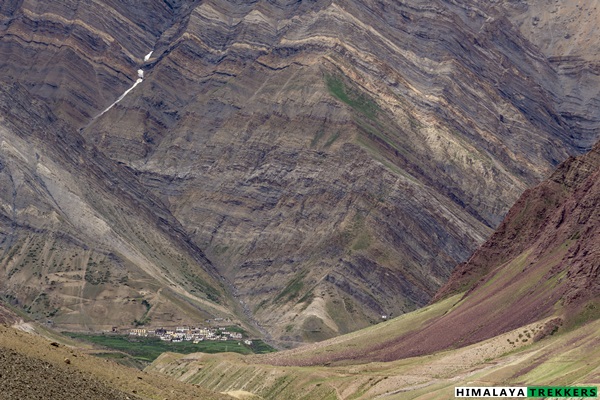 Brief Itinerary for Pin Parvati pass trek:
Day 1: Reach Manali by Noon – Lodge/Guest house accommodation at Vashisht (3 Km above Manali bazaar)
Day 2: Drive to Barsheni – 110 Km – 4 hours – Trek to Kheer Ganga 9 Km – 5 hours
Day 3: Kheer Ganga to Tundabhuj– 12 Km – 6/7 hours
Day 4: Tundabhuj to Thakur Kuan– 6 Km – 3 hours
Day 5: Thakur Kuan to Odi Thatch – 10 Km – 5/6 hours
Day 6: Odi Thatch to Mantalai – 9 Km – 5/6 hours
Day 7: Mantalai to base camp on Parvati side –  10 Km – 7/8hours
Day 8: Parvati side base camp to Pin side base over Pin Parvati Pass – 9 Km – 7/8 hours
Day 9: Pin side base  to Mud via Chinpatta Maidan– 25 Km – 9/10 hours – Camp or Drive to Kaza – 45 Km – 2 hours
Day 10: Drive from Mud/Kaza to Manali – 245/200 Km – 12/10 hours
Day 11: Mandatory buffer/rest day (will be utilised if required, or a rest/acclimatisation day at Mantalai)
Altitude and distance profile graph for Pin Parvati trek:
The below graph will give you a pictorial representation of various campsites and and their distances in between and general gradient/altitude profile.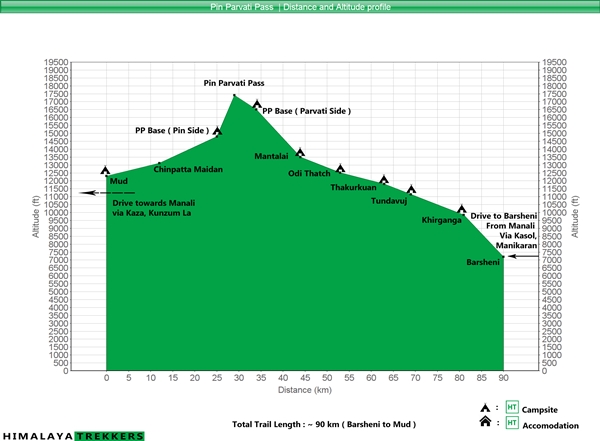 Why Pin Parvati Pass trek with HT?
There are few reliable tour operators who can safely create a passage between Pin and Parvati valley. We have been operating on this trail from 2011, when there were hardly any companies to take up this challenge. This is not a trail where any operator can run batch after batches but to carefully select the best time to organise. Selecting  the appropriate weather window is the key and should be given highest priority. However often this is not the case but when a company's logistics is free to manage! More portion of the trail to Pin Parvati pass trek is along Parvati valley where monsoon is adequate. So this trail should be avoided starting from later half of July to a month's tenure till late August. Also our itinerary is carefully made that you get proper acclimatisation chance, yet its a day shorter while descending. As of now all of our groups have successfully completed this trek, be it in pre monsoon or in post monsoon, following our itinerary. So our years of experience in running this route along with most reliable local guide should be the solid reason to choose us. Also please note that we don't send send a Trek Leader to any of our treks, but best in class support and local trekking guide(s) selectively chosen for the trek.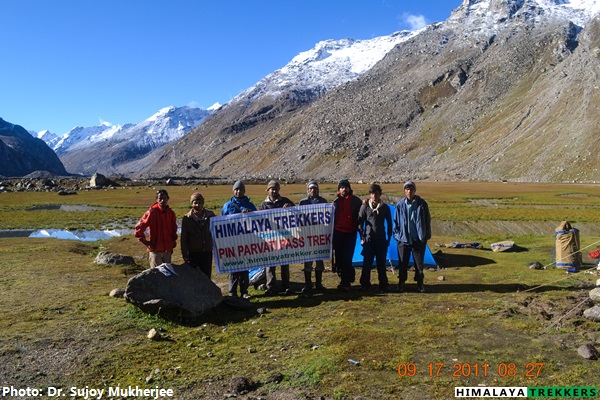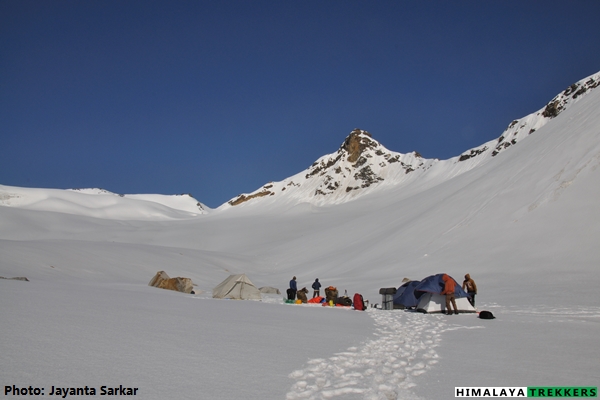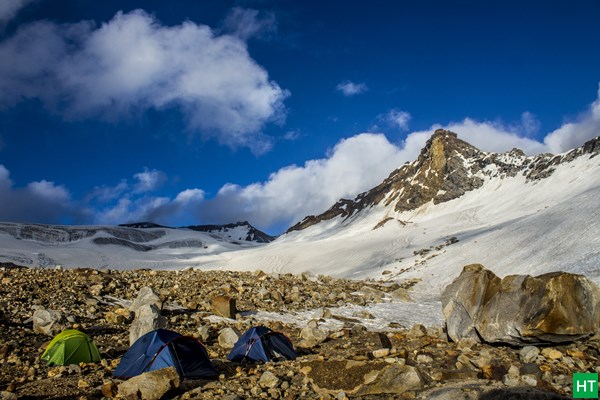 Best time/season for Pin Parvati pass trek:
Like any other high altitude season this trail has also two windows where your chances are more to get clearer and safer weather.
Pre-monsoon/Summer: From third week of June to a one month span. Best would be around 20th June to 20th July. Earlier you start, chances of snow from lower altitude, probably in and around Mantalai lake and above.
Post monsoon/Fall: September to mid of October. Mid of October can be really cold, specially in Spiti side. Also the chances of fresh snowfall increases in October.
Challenges of Pin Parvati pass trek:
There are quite a few challenges involved on this trail. Apart from your prior high altitude trekking experiences, you need to have high level of physical and mental fitness to complete this difficult and strenuous trek. It covers around 90 Km of trail and rucksack offloading is NOT allowed on this trek. This means you need to carry all your personal belongings along with the sleeping bag (which we will provide or you can bring your personal one) in your rucksack throughout the trek. This ensures you are safer on trail in case of any unwanted situation or in case you are benighted.
The trail comprises boulder and moraine stretches, icy cold river crossings and crevasse filled glacier round the pass.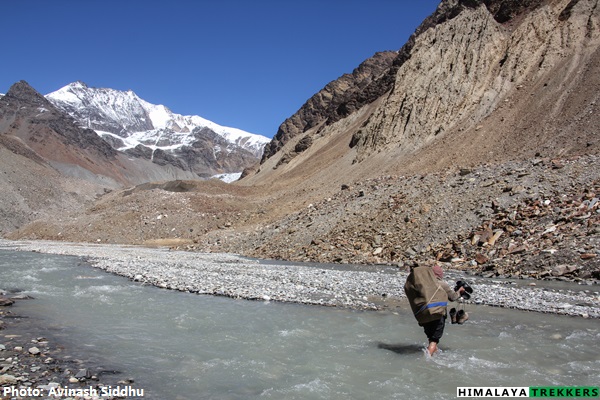 There are tricky sections on the trail with potential exposures. There are two natural boulder on river (one being on the Parvati river named Pandu Pul/bridge, and the other one on a side stream called as Chhota Pandu Pul) where you need to cross without any rope. There are ample friction on the rock, but you need to headstrong and must not panic.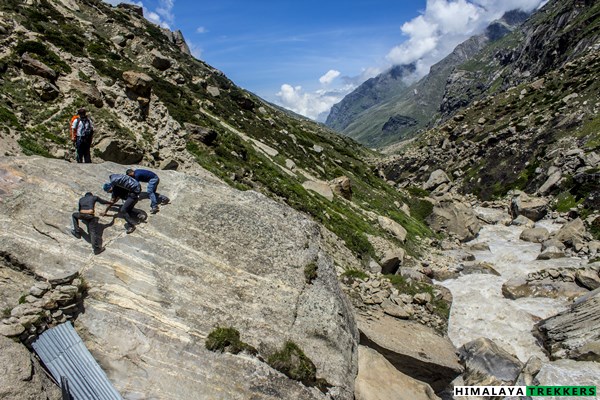 Reaching Vashisht, Manali (The trek base):
Our trek base is Vashisht, 3 Km uphill from Manali. Either you can take an auto rickshaw or walk around an hour to reach Vashisht, where the famous temple in the same name is situated.
Manali is well connected by road from Delhi and Chandigarh. There are a handful of buses, ranging from regular, luxury and Volvo operated by both Govt. and private agencies from New Delhi and Chandigarh to Manali.
1) From Delhi (Kashmiri Gate ISBT) the Volvo and regular buses start in the afternoon and evening. It takes up to 15 hours to cover the distance of 560 Km. HP Government transport operated HRTC (http://hrtchp.com) and Tourism Department HPTDC operated busses are reliable and runs on time. There are privately operated bus services also having different pick up points in Delhi. You will get busses starting from late afternoon to 10 pm  in the night.
2) From Chandigarh (ISBT Sector 43) there are regular bus services for Manali, starting early morning till 6 am. It may take around 10/12 hrs depending upon the road conditions. Distance around 320 Km.
3) While returning one can take overnight bus from Manali which again reaches Delhi in 13/14 hours. Normally the last Volvo service (both Govt. and Private) is around 6:30 pm. The last regular bus by  Himachal Road Transport Corporation (HRTC) starts from Manali at 9:30 p.m.
Click here to view the List of Things to carry Pin Parvati Pass trek or  Download the PDF
 Duration: 9 days of trek; Manali to Manali in 11 days.
 Prerequisite: At least 2 Moderate grade prior Himalayan treks experience of around ~ 4500 m/14760 ft or above.
 Grade: Difficult
 Physicality: 8/10
 Trail Length: 90 Km
 Highest Point: Pin Parvati Pass ~ 5300 m/17400 ft.
Seasons: mid June to mid October (expect a month from Mid July to mid August).
Further Option: Combine Bhaba Pass trail to connect with Kinnaur.
Access: Trek starting point and end point is Manali
Rail station: Chandigarh (STN Code: CDG)
Airport: Delhi, Chandigarh (Code: IXC), Kullu airport at Bhuntar (Code: KUU, avoid this as flights get cancelled frequently)
 Map:
Upcoming scheduled dates for Pin Parvati Pass trek:

 
You can check the scheduled Fixed Departure dates in the calendar available inside Booking Form or inside REGISTER NOW form. Tour starting Dates are highlighted as per our itinerary (Day 1 of  11 days itinerary).
At present BOOK NOW functionality is disabled. You can get all the information in your email by submitting the REGISTER NOW form.
If you are a group of people and available dates are not matching then you may select Custom date mode (by clicking the Select your custom date) and fill in the displayed form.
You can also check all the available dates at a glance in our

TREK CALENDAR

.
Trekkers need to reach Manali on Day 1 by noon. Return to Manali on Day 11 evening (around 7 pm). Arrange your tickets for inward journey and return accordingly.
| | |
| --- | --- |
| REPORTING LOCATION |  Vashisht, Manali on Day 1 |
| REPORTING TIME |  Around noon (Day 1) |
| RETURN LOCATION | Manali |
| RETURN TIME | Approximately 7:00 PM (Day 11) |
Access to Manali (The trek base): Depending upon the trek members we can arrange a pickup and drop from Chandigarh to Manali (320 Km) and back.
However there is a wide choices of bus, starting from regular, luxury and Volvo operated by both Govt. and private agencies from New Delhi and Chandigarh to Manali.
1)From Delhi the buses normally start in the afternoon and reaches Manali next day by noon. Depending upon the service it may take 14 to 16 hrs. Distance is around 550 Km.
2)From Chandigarh ISBT there are regular bus services for Manali, starting in the early morning. It may take 8 to 10 hrs depending upon the bus service. Distance around 320 Km.
3) While returning Volvo service from Manali to Delhi starts at 4:30/5 pm in the afternoon. The last bus operated by HRTC starts at 9:30 pm for Delhi.
You can fly or by train reach New Delhi as per your convenience from any part within India.
Avoid booking wait listed (WL) train tickets in AC classes (1A/2A/3A) or Chair Car (CC). Book Sleeper class (SL)/Second Sitting class (2S) tickets which have normally more seats/berth and hence much better chance to get confirmed.
The buses from Delhi to Manali start in the afternoon and evening and reaches Manali in 14/16 hours depending on the bus operator. You reach Manali in the morning between 7 to 9 am.
1) Govt run HRTC (Himachal Road Transport Corporation) and HPTDC (Himachal Pradesh Tourism Development Corporation) buses operate on daily basis.
HRTC buses start from Kashmiri Gate ISBT. From Delhi Airport or Station you can reach ISBT Kashmiri Gate via Delhi Metro service (http://www.delhimetrorail.com/metro-fares.aspx). It is only 4 Km from NDLS Railway Station and can be reached easily by booking an Auto Rickshaw.
To check availability and book online (Login required):
http://www.hrtc.gov.in/hrtctickets
HPTDC buses start from Himachal Bhaban, Janpath (Close to Cannaught Place, CP). To check availability and book online (Login required):
http://hp.gov.in/hptdc/Availability.aspx
2) Several private operators run Volvo/A.C bus services from Delhi to Manali. They have different pickup points spread over Delhi. Choose a boarding point according to your convenience. Check for good reviews and ratings before selecting an operator.
http://www.redbus.in/
You can fly or by train reach Chandigarh directly from some cities within India.
Avoid booking wait listed (WL) train tickets in AC classes (1A/2A/3A) or Chair Car (CC). Book Sleeper class (SL)/Second Sitting class (2S) tickets which have normally more seats/berth and hence much better chance to get confirmed.
Chandigrah to Manali buses start from ISBT Sector 43 (verify before the journey). You can check while taking an Auto Rickshaw/Taxi from Chandigarh Railway Station or Airport. Ordinary buses are available from early morning at 4 am ( HRTC, Haryana Roadways, Punjab Transport etc) and tickets are onboard. For online availability and booking refer the earlier links.
There are two bus terminus in Manali, one for the state operated buses on the Manali mall and the other one for private buses (5 mins walking). It takes around 15 hours and 10 hours to reach Delhi and Chandigarh respectively.
Regular/Ordinary buses are available from morning to evening. Last being at 9:30 pm in the night. Takes around 15 hours to reach Kashmiri Gate ISBT. For booking check: http://www.hrtc.gov.in/hrtctickets
Volvo bus services are available in the afternoon/early evening between 3 pm to 7 pm. For booking check the above links.
For night stay in Manali:
We at Himalaya Trekkers (HT) provide the accommodation In Manali ( At Vashisht, 3 Km uphill) for our Fixed Departure treks. Do check the inclusions in the PDF brochure provided for a chosen trek. However if any trekker is interested to spend more time in Manali, he/she can inquire State operated HPDC hotels. They provide a wide range of choices of Premium, Deluxe and Budget options in Manali. To check see: http://www.hptdc.nic.in/cir0203.htm#hhami
Arrival in Manali: Accommodation at Vashisht
Reach Manali (~ 1950 m/6400 ft) by noon/afternoon. Our guest house will be either at Vashisht, which is 3 Km further up from Manali town. Vashisht has a temple and is famous for its hot spring inside the temple. In the after take a walk towards Jogini falls (Vashisht). Accommodation in lodge/guest house.
Drive to Barsheni: 110 Km - 4 hours; Trek to Kheerganga: 9 Km - 5 hours
Pickup from Manali in the early morning and reach Barsheni (~ 2200 m, 7200 ft) via Kasol and Manikaran by car. Distance is around 110 km and can take around 4 hours. Trek starts from here. The trail ahead is a 9 Km walk through a lovely forest to the open meadow of Khirganga (~ 2920 m, 9580 ft). According to the myth, this is the hot spring where Lord Shiva meditated. One can take a refreshing bath in the spring. The climb will take around 5 hr. Overnight in tent.
Trek to Tundabhuj: 12 Km - 56/7 hours
The 12 Km walk to Tundabhuj (~3400 m, 11150 ft) is very enjoyable while we again follow the Parvati river valley. Gently ups and downs, passing through the lovely grazing grounds and the stretches of montane conifer forest gives the flavour of a classy Himalayan trail. Occasionally the river is seen on our left.  Camping ground is situated in the fringe of the birch forest. The Parvati river ramble in the gorge to our left while we camp on the true left of Parvati. A sheer rock wall jutting on the opposite side of the river having five distinct spikes. According to legend these are the five Pandav and called Pandu Shilla. We camp for the night.
Trek to Thakurkuan: 6 km - 3 hours
Today is a short trek to  Thakurkuan (~3600 m, 11800 ft). We follow the course of the river. After a while the trail becomes difficult and we walk on a narrow rocky trail. The wooden bridge to cross the river is washed off in 2014 and since then the trail till Thakurkuan follows along the true left of Parvati. Earlier we had to cross the river once more over a hand drawn Pulley Bridge which is no longer required. After continuing for 2 Km or so a wide vista opens up. The panorama offers a plethora of wild flowers, iris and poppies to name a few. We camp on the valley for the day.Distance is 6 Km and may take 3 to 4 hours.
Trek to Odi Thatch: 10 Km - 5/6 hours
We continue our days trek along the river. After a while we cross a side stream over a boulder. This is referred as Chhota Pandu pool and the traverse on the rock is exposed to the stream itself running some 30 feet underneath. After that we cross the main river over a huge boulder spanning Parvati river. This is a marvel of local engineering and called Pandu Pool. From now onward the river is on our right and we will remain in the true right of the river. A climb starts immediately after crossing the bridge and continues for an hour. We turn left once we reach the shoulder of the mountain and continue gently on a wide alpine meadow. The campsite of Odi Thatch is at the end of this meadow. This is a pastoral ground and shepherds start going down denoting the beginning of fall season.  Kullu Eiger  (~ 5650 m/18530 ft) peak stands inviting with its 2000 m/6500 ft rock buttress for the rock climbers. We camp beside the river. Distance is 10 Km and may take 5/6 hours.
Trek to Mantalai: 9 Km - 5/6 hours
Today we trek to Mantalai (~4100 m/13500 ft), considered to be the origin of Parvati River. At the beginning the trail is gradual along the river and then the valley widens as well the water flow. A marsh land spans a kilometre or so due to the shallow flow of the river. The area is called Chhota Mantalai. One can spot a rock wall at a distance across the the river. We leave behind the vegetation and suddenly enter into the glacial moraine and debris. The snout of the glacier is clearly visible. We follow and climb a moraine ridge that dams the Mantalai Lake. From top of this ridge the vast area of Mantalai amazes any tired trekker. A temple along with cairns and flags welcome s us. We find a suitable spot for camp. This area is also a marshland in the middle of the valley. Distance around 9 Km and may take 5/6 hours.
Trek to Parvati base camp: 10 Km - 7/8 hours
Today is a long & tough day. Start early from the camp and we move along the valley after crossing a side stream. We keep left as we climb a steep and steady ridge. This is indeed a tough section. At the end of the climb we turn left and enter into a rock and boulder zone. We encircle the zone over boulders.  Another bone chilling stream just gushing out of the glacier awaits for us to cross. One final climb on a rocky ridge takes us to the beginning of the glacier. This is the glacier which comes from the watershed of Parvati pass. We camp at the edge of the glacier for the Parvati side base camp (~5000 m, 16500 ft). Distance is 10 Km and may take up to 8 hours.
Trek to Pin side base camp over Pin Parvati Pass: 9 Km - 7/8 hours
Today again we start early morning across the huge open ice field leading to the pass in the east, which can be reached in 4 hr. We need to negotiate the crevasses and hard icy slopes carefully. While walking on the permafrost region we see the glacial lake formation and snow capped peaks. There are few crevasses on the glacier which is to be negotiated. To reach the Pin Parvati Pass (~5300 m/17400 ft) we climb a steep rocky ridge and the last stretch.. The pass offers a wide panorama of peaks and the valleys of Spiti. We descent from the pass, first on snow and ice and then on steep loose scree. Finally we cross an ice cold wide open stream and reach the camp at Pin side base camp (~4500 m, 14800 ft). It is a patch of grass on the left bank of the Pin River. Distance around 9 km in total which may take up to 8 hr.
Trek to Mud: 25 Km - 10/11 hours
From today onward the valley is typically Spitian, barren, but with patches of grass and scree. Start early in the morning and we follow the left bank of Pin River (as we stay on the true left of the river) to descent gradually. We reach Chinpatta Maidan (~4000 m/13120 ft) around a distance of 13 Km. One can see the route leading towards the Bhaba Pass for Kinnaur on the other side of the river. From here scenically proliferation of the coloured mountains mesmerises you as the Pin valley broadens up. The trail gently descends along the left bank of the river and reaches Mud (~3750 m, 12300 ft), the first village on the Pin valley is another 12 Km. Total trekking will take around 10/11 hours.We camp for the night. [Note: If we reach Mud early in the evening then we may proceed to Kaza depending upon the availability of a vehicle].
Drive to Manali: 245 Km - 12 hours
Final day of the trip as we take the road back to Manali via Kaza, Lohsar, Kunzum La to Chhatru and then finally To Manali over Rohtang Pass. Trip ends here.
Buffer day
This is an additionally day which is absolutely required for a long and difficult trek. We will use this day as a buffer day due to weather conditions or in case a rest day at Mantalai.
P.S.: Distances and altitudes are approximate and may not be exact.
  TREK FEE: ₹48,500 (Manali to Kaza) + 5% GST  
Inclusions:
One night accommodation at Vashisht village, Manali (Day 1) on twin sharing basis. Meals on your own.
Car drop from Manali to the trek starting point Barsheni.
All meals during the trek (Day 2 lunch to Day 10 dinner). Regular Indian style nutritious vegetarian food during the trek (including occasional eggs), breakfast packed/hot lunch (depending upon the time you reach a campsite), snacks, dinner along with coffee/tea/soup.
Experienced Trekking Guide, who will be a local to this particular area and has profound knowledge of the trekking trails around.
Specialised Cook, Support staffs Porters for carrying the central logistics of the trek.
Stay in tents on twin sharing basis during the trek.
Camping equipment like Sleeping bag, Carry mattress, Gaiters, Micro spikes/Crampon. (Bring your own sleeping if you have a high altitude specific personal Sleeping Bag. This is always better for hygienic reasons.)
Kitchen tent, dinning tent and toilet tent as required during the trek.
Any permit fee, camping charges, Forest levy required for the trek.
Car drop from Mud to Kaza.
One night stay at Mud or Kaza (Day 10) on sharing basis and dinner.
Travel and Medical insurance policy (covering illness, AMS, evacuation, accidents etc) covering high altitude trekking and mountaineering up to 6500 m. (For Indian nationals it is included in the TREK FEE, up to 60 years of age). It covers your trek as well as your your travel for a maximum duration of 15 days.
Exclusions:
Food during your stay at Vashisht, Manali (Day 1 and Day 2 breakfast). Variety of options are available ranging from Indian, Chinese, and Continental with choice of Veg & Non Veg food.
Transportation back from Kaza to Manali.
Cost of buffer day. If it is utilised during trek, an additional ₹ 5000 per person will be collected on spot.
Any tip/gratuity to the HT supports staff. If you are happy with the service, please tip them generously
Anything which is NOT mentioned in the "Inclusions" or personal in nature.
Note: You need to carry your own backpack along with all your personal belongings and the sleeping bag (provided by HT or your personal one).  This is mandatory for a difficult trek and is aiming to the safety of the trekkers.
Booking:
We assume that you have read and understood our "Terms & Conditions" (https://himalayatrekker.com/terms-and-conditions) before Booking a trek/tour.
To reserve your place in a scheduled Fixed Departure trek or a Customised/Private trek pay 25% of the TREK/TOUR FEE as the initial "Booking Deposit". You can pay by Net banking/Draft/Cheque/Credit/Debit/AMEX cards. This will ensure your participation in the desired trek and we will reserve your place in the scheduled date. You need to pay the remaining amount at least 15 days before Trek Starting Date.
If you book a Trek/Tour before 14 days or less from Trek/Tour Starting Date, you need to pay the full TREK/TOUR FEE.
 Cancellations:
"Booking Amount" i.e.25% of the TREK/TOUR FEE is Non-Refundable at any stage.
If in case you are not able to make it due to unavoidable reason(s), we provide you a very flexible choice of Shifting to another trek within next one year. One year is counted from the starting date of the trek/tour you booked initially with us.
In case you postpone your trip you need to informminimum of 15 days before the trek/tour starting date. (Though we suggest to inform us earlier if known)
In case you postpone a trek/tour before 15 days of the scheduled Trek/Tour Starting date or prior, you may shift to another group of the same trek/tour scheduled in the same season or within next one year. You may shift to another suitable route also. For changing any, you need our approval first. Your request must be in written communication through your registered email with us.
If you cancel/postpone a trek/tour from 14 days to 8 days before tour starting date, your Booking Amount is Non-Refundable. We will not take any request of shifting dates. We will charge 50% of the amount as Cancellation Charges and process refund of remaining 50%. You may also shift to another group within next year but 25% Booking Amount will be deemed as Cancellation Charge and the rest amount will be transferred to the shifted group.
If you cancel a trek/tour 7 days (i.e. a week) before Trek/Tour Starting Date or later, there will be NO REFUND.
In case of any unforeseen incident including but not limited to natural calamities like flood, earthquake, landslide, forest fire or any political unrest, if we are compelled to cancel the trek/trip, you will be entitled to redeem the full amount for the same/similar kind of trek/trip within next one year.
If you need more clarifications write in to [email protected]