4000 m/ 13120 ft
Highest Point
Tarsar Marsar Trek:
Tarsar Marsar trek is one of the latest additions among monsoon treks which is gaining increasing attention to the trekkers. Be it the secluded alpine lakes, green meadows with wildflowers and wide swathes of green – this trail has all the flavours of a Kashmir valley trek.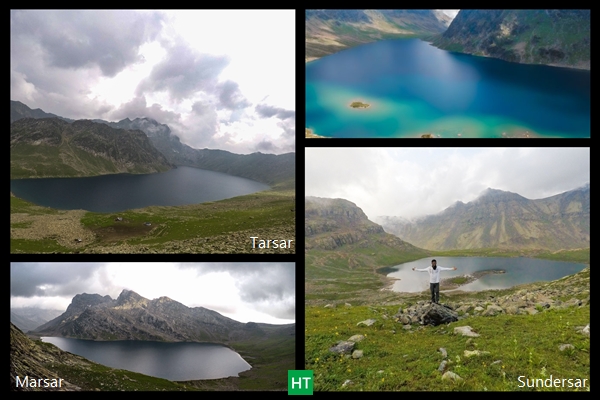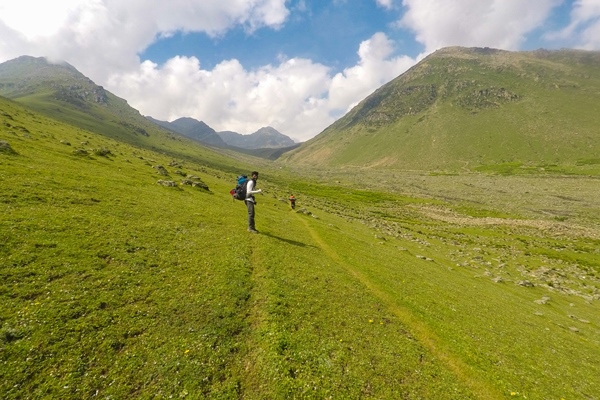 If you see the trail map below, our trek base camp is Aru, one of the upper valleys ahead of the famous Pahalgam town. From here we will follow the picture perfect  Lidder river for a day along cedar and conifer forest to camp at Lidderwat. Henceforth we will get into the one side vally which leads us to Tarsar, through the meadows of Sekhwas.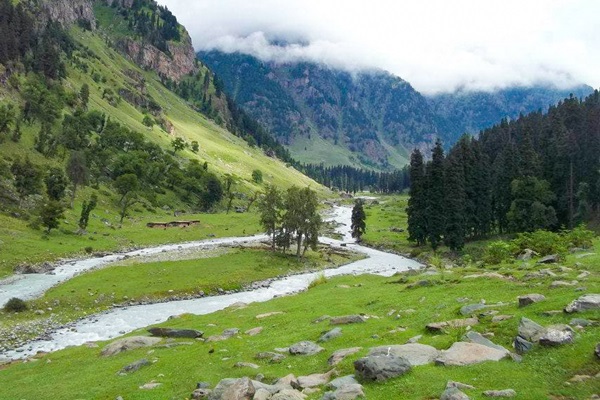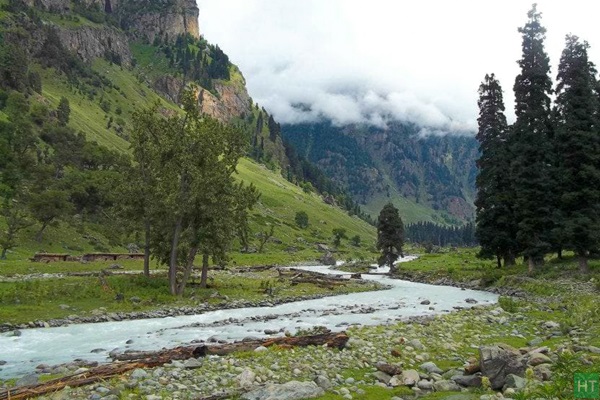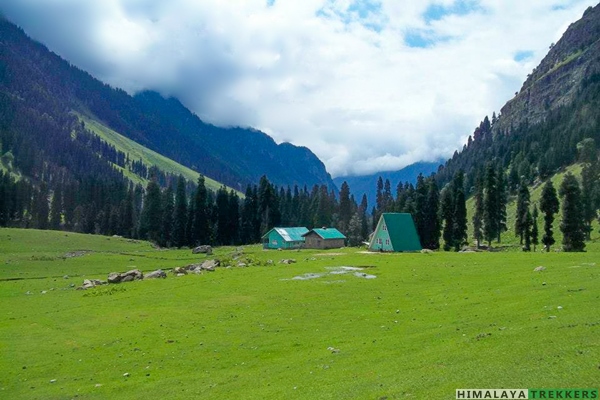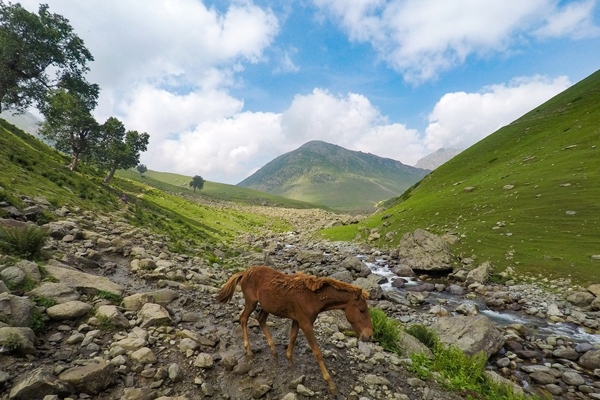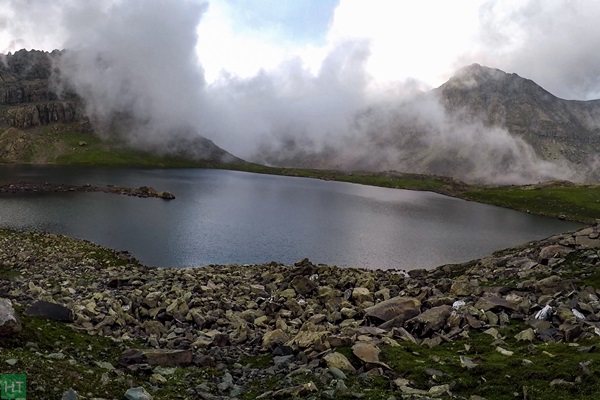 Brief Itinerary:
Day 1: Arrive Srinagar airport latest by noon and drive to Aru (~ 2440 m/8000 ft) via Pahalgam – 110 Km – 4 hours. Twin sharing tent accommodation.
Day 2: Trek from Aru to Lidderwat (~ 2800 m/9180 ft) – 10 Km – 5/6 hours. Camp.
Day 3: Trek from Lidderwat to Shekwas (~3380 m/11100 ft) – 6 Km – 4/5 hours. Camp
Day 4: Trek from Shekwas to Tarsar lake (~ 3800 m/12465 ft) – 5 Km – 4 hours. Explore around. Camp.
Day 5: Trek from Tarsar to Sundersar (~ 3950 m/12950 ft) via Sonamous Pass (~ 4000 m/13120 ft) – 5 Km – 4/5 hours. Camp.
Day 6: Visit Marsar lake (~ 3960 m/13000 ft) and then trek to Homwas (~ 3500 m/11500 ft) – 9 Km – 6/7 hours. Camp
Day 7: Homwas to Aru (~ 2440 m/8000 ft) – 13 Km – 5/6 hours – Drive to Srinagar – 110 Km – 3/4 hours. You will reach Srinagar city by 8 pm.
Day 8: Mandatory reserve day. Must due to weather or any other unforeseen conditions. If not utilised during the trek, you may stay a day in Srinagar/houseboat etc.
Day 9: Fly out of Srinagar.
Important Notes:
You need to reach the latest by 12 noon on Day 1 in Srinagar. After the trek you will return to Srinagar on Day 7 or Day 8 (if reserve day is utilised), by 7 pm. Arrange your tickets, and stay in Srinagar accordingly.
We will arrange a shared transportation from Srinagar (usually Airport or city centre) to basecamp  Aru and return, The fare is ₹ 500 one way (Innova, 4 to 5 seat). You pay the driver directly, sharing equally with the other team members. Or else you may reach independently to Aru.
Cost of Mandatory reserve day, i.e. Day 8 is NOT included in the TREK FEE. If we use this during trekking, you need to pay an additional ₹ 2500 per person. This will be collected at Aru.
If we don't use the reserve day then you will be back to Srinagar on Day 7 evening. You may take a Shikara ride on Dal Lake, houseboat stay etc in Srinagar.
Note that prepaid sim cards do not work in Kashmir.
Tarsar Marsar trek map:
Here is a 3D satellite view of the Tarsar Marsar trail.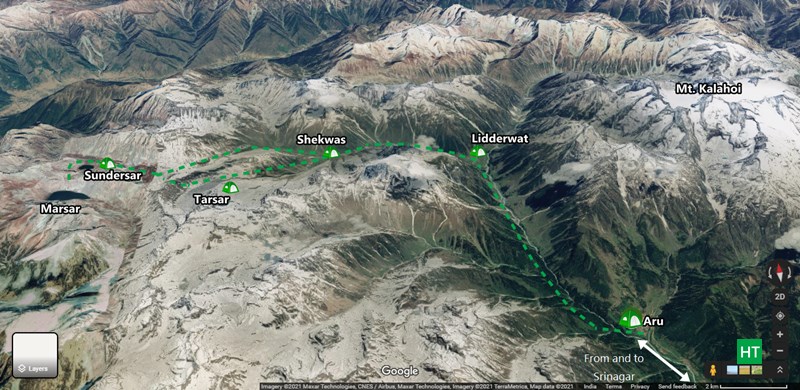 Distance & Altitude profile of the trail:
Below is an indicative profile of the trekking trail. This will give you an idea of the relative gradient (steepness of ascent or descent) of the trekking trail from one campsite to another. Note that you will get more undulations (ups and downs) on the actual trail.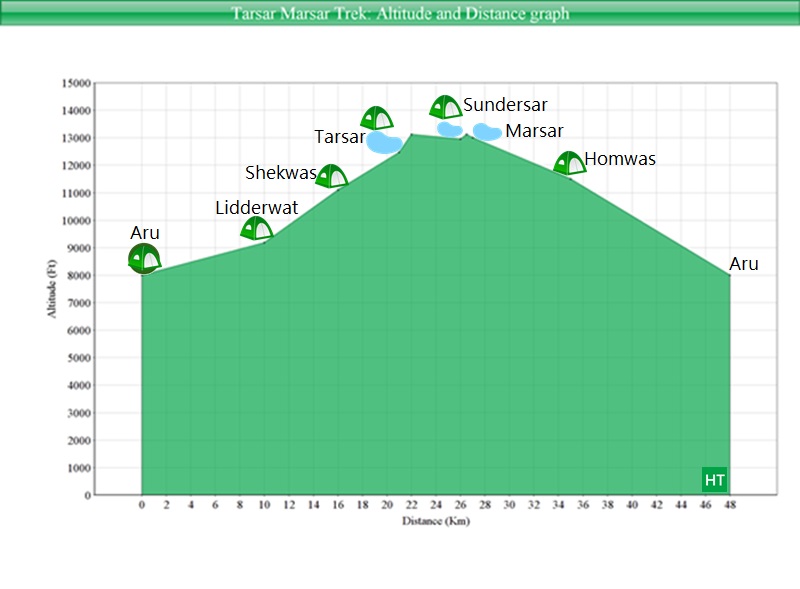 Is this trek suitable for beginners?
Yes, as a first timer you can comfortably complete this trek, provided:
You are living a healthy and active lifestyle.
Have a decent amount of physical fitness to endure 5/6 hours of hiking everyday with your backpack. Do check the guidelines to prepare and improve your fitness for treks so that you are comfortable on the trail.
Proper guidance and logistical support for the trek.
Assistance with some personal clothing and gear.
The trail reaches a highest point just above 13000 ft which is not very high considering the Himalayas. But if you have struggled to acclimatise in any of your prior high altitude tours (e.g. Rohtang Pass, Leh/Ladakh or Lahaul/Spiti etc.) then you need to be careful. Do consult with us @ 9836133166/9831112469 or shoot an email to [email protected]
What is the best season for Tarsar Marsar trek? What would the weather be like?
Season time for Tarsar Marsar trek is between late June to late September. The main essence of Kashmir valley, the gushing brooks, verdant meadows with wildflowers are best viewed during July and August.
After mid September green meadows will change to yellowish. From October as the autumn sets in, the weather will be cold. You will see some autumn foliage in giant Chinar trees, which is a cousin of Maple.
Now let us look at some weather data for the Pahalgam area. Our trek starts 10 Km further up and through the upper valleys of Pahalgam. As a result temperatures will be less and so will the rain in general.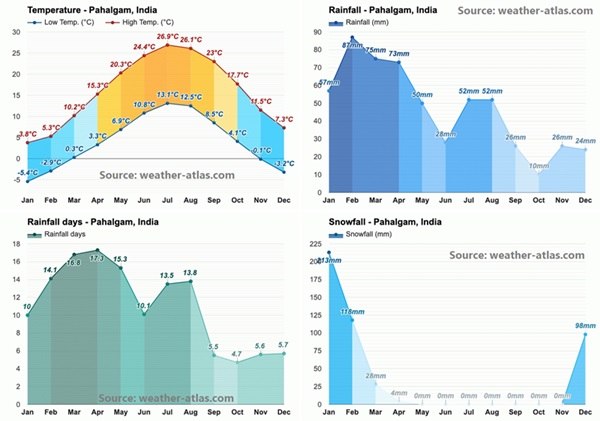 As you can see from the above chart temperature remains on the warmer side of the scale and it is conducive for trekking between July to September. Tarsar and Sundersar camps are our higher camps, so these places will be coldest in the course of your hike.
Expect and prepare for a minimum temperature of 0° to 5°C at Tarsar or Sundersar campsites, with some windchill. Usually minimum temperature is attained late in the night/early morning time. At the same time it will be 5°-6°C warmer inside the tent than that of outside.
Will it be raining during Jul-Aug?
Technically there is no "monsoon wind"  in Kashmir valley. As you can see from the above chart, main rainfall occurs between January to April due to western disturbances. At the same time it does rain in July and August as well.
Expect some rains, rain showers, afternoon showers/thunderstorms usually not lasting more than an hour. This type of showers are common on mountains but rarely incessant daylong rains. Your trek is for 6 days, so expect rain on some of these days. So carrying a waterproof layer is a must for all.
What type of clothing should I bring for Tarsar Marsar trek?
It is important to carry proper clothing on this trek. We recommend using "three layers" of clothing  in the campsite during early morning or evening, while you are outside the tent. You may not need to wear your warm jacket while walking unless it is cold/cloudy/very windy during the months of July and August. In general you will need:
A quick dry base layer (Dry-fit t-shirt).
A warm jacket (Double layer or Fleece jacket ) as middle layer.
A windproof cum waterproof with hood as the outer layer.
Additionally you would require a rucksack and a decent trekking shoe.
Check the detailed List of things to carry or download the PDF. Also check how to select the correct gears/clothing you need for the high altitude treks.
How to reach trek basecamp (Aru near Pahalgam):
Our trek basecamp Aru is an offbeat tourist destination 10 Km ahead of famous Pahalgam. It takes between 3 to 4 hours to reach Aru from Srinagar covering around 110 Km distance. Trek's end point is also Aru. Here is the road map to reach basecamp and the surroundings to give a broad idea of your destination.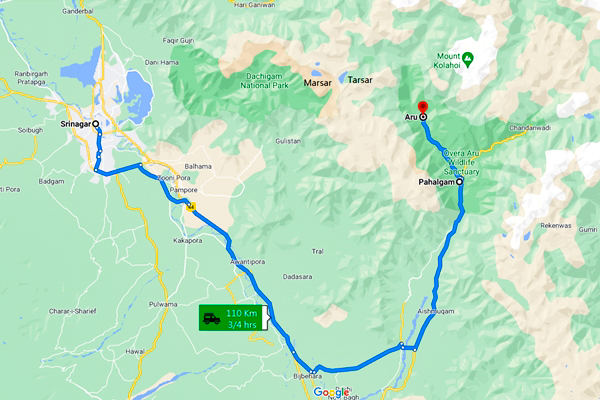 We will arrange a car pick up from the Srinagar airport to basecamp Aru and return to Srinagar. A  Toyota Innova charges ₹ 4500 one way (4 to 5 people can seat), one way. You pay directly to the driver sharing equally.
Most convenient way to reach Srinagar is via flight. Sheikh Ul-Alam International Airport in Srinagar (Code: SXR) is around 10 Km away from the city centre.
Otherwise, the nearest railway station is in Jammu (Station Code: JAT) and it takes around 10 hours to reach Srinagar, covering ~ 280 Km.
COVID Update and guidelines 2022:
1) Carry either a fully vaccinated certificate or a RT-PCR negative test report not older than 72 hours.
2) General COVID social distancing and hygiene are to be followed in the lodge/homestay/hotel, especially in the common areas. Carrying masks and sanitisers are a must.
Why treks with HT?
| | |
| --- | --- |
| Expertise: | 12 years of on ground experiences |
| Support staff: | Qualified local & office staff |
| Group size: | Small groups up to 15 |
| Insurance: | Travel insured trek and tour itinerary |
| Easy Bookings: | 25% Booking Deposit |
 Duration: 6 days of trek; Srinagar to  Srinagar in 7 days. Adding a mandatory buffer day it is 8 days, Srinagar to Srinagar.
 Prerequisite: Prior trekking experience is nice to have. Good physical fitness is always desired in any trek.
 Highest Point: Tarsar ~ 3800 m/12465 ft, Marsar ~ 3960 m/13000 ft, Sundersar ~ 3950 m/12950 ft.
 Grade: Moderate
Physicality: 6/10
 Length: 50 Km
 Seasons: July to September
 Further Option: From Naranag drive to Sumbhol and trek to Tarsar and Marsar
 Access: Trek starting point is Aru near Pahalgam, 110 Km from Srinagar
Rail station: Jammu Tawi (STN Code: JAT)
 Airport:Srinagar (Code: SXR)
 Map:
Upcoming scheduled dates for KGL trek:

 
You can check the scheduled Fixed Departure dates in the calendar available inside Booking Form or inside REGISTER NOW form. Tour starting Dates are highlighted as per our itinerary (Day 1 of 8 days itinerary).
At present BOOK NOW functionality is disabled. You can get all the information in your email by submitting the REGISTER NOW form.
If you are a group of people and available dates are not matching then you may select Custom date mode (by clicking the Select your custom date) and fill in the displayed form.
You can also check all the available dates at a glance in our

TREK CALENDAR

.
Trekkers need to reach Srinagar on Day 1 by 12 noon. Return to Srinagar on Day 7 evening by 8 pm. Arrange your tickets for inward journey and return accordingly.
| | |
| --- | --- |
| DEPARTURE LOCATION | Srinagar Tourist Reception Centre (TRC) |
| REPORTING TIME | 12:00 noon for a prompt departure to Aru (Day 1) |
| RETURN LOCATION | Srinagar |
| RETURN TIME | Approximately 8:00 PM (Day 7) |
Getting to Aru (The trek base):
We will arrange a car pickup from Srinagar to Aru and return. This will be shared equally by the availing team members.
The best option to reach Srinagar is by flight. There are direct flights from Delhi and other major cities.
By train one has to reach Jammu and then a drive to Srinagar takes around 12 hours covering approximately 300 Km.
  TREK FEE: ₹ 14,500 per person (Aru to Aru) + 5% GST  
Inclusions:
All meals during the trek (vegetarian with occasional serving of eggs) including breakfast, hot/packed lunch (carry your lunch box), light refreshment/soup in the evening and dinner. Tea will be served in the morning and evening.
All accommodation in tent during the trek on a twin sharing basis.
Professional Guide, Cook & Helper.
Porters/Packed animals to carry the central logistics.
Camping equipment like Sleeping bag, Carry mattress, Dining tent, Toilet tent, Gaiters, Micro spikes/Crampon.
Permit fee, camping charges, forest levy as required in the trek.
Basic Medical & First Aid kit.
Travel and Medical Insurance Policy covering high altitude trekking tours (For Indian nationals it is included in the TREK FEE, up to 60 years of age). It covers your trek as well as your itinerary for a duration of 7 days.
Exclusions:
Transportation from Srinagar airport to trek base Aru and return. ₹ 4800 one way for a Toyota Innova and can accommodate 4-5 persons.
Cost of Mandatory reserve day, i.e. Day 8. If we use this during trekking, you need to pay additional ₹ 2500 per person. This will be collected at Aru.
We assume that you will carry your Rucksack/Backpack including all your personal belongings. If you prefer to offload your bag and carried by our horse/porter then an additional Rucksack offloading charge of ₹ 2200 is to be paid directly on spot for the entire duration of the trek. One such rucksack should weigh within 10 kg.
Any tip/gratuity to the HT supports staff.
Anything which is NOT mentioned in the "Inclusions" or personal in nature.
Booking:
We assume that you have read and understood our "Terms & Conditions" before Booking a trek/tour.
To reserve your place in a scheduled Fixed Departure trek or a Customised/Private trek pay 25% of the Trek/Tour Fee as the initial "Booking Deposit". You can pay by Net banking/Draft/Cheque/Credit/Debit cards. This will ensure your participation in the desired trek and we will reserve your place in the scheduled date. You need to pay the remaining amount at least 15 days before Trek Starting Date.
If you book a Trek/Tour before 14 days or less from Trek/Tour Starting Date, you need to pay the full Trek/Tour Fee.
 Cancellations:
"Booking Amount" i.e. 25% of the Trek/Tour Fee is Non-Refundable at any stage.
If in case you are not able to make it due to unavoidable reason(s), we provide you a very flexible choice of Shifting to another trek within next one year. One year is counted from the starting date of the trek/tour you booked initially with us.
In case you postpone your trip you need to inform minimum of 15 days before the trek/tour starting date. (Though we suggest to inform us earlier if known)
In case you postpone a trek/tour before 15 days of the scheduled Trek/Tour Starting date or prior, you may shift to another group of the same trek/tour scheduled in the same season or within next one year. You may shift to another suitable route also. For changing any, you need our approval first. Your request must be in written communication through your registered email with us.
If you cancel/postpone a trek/tour from 14 days to 8 days before tour starting date, your Booking Amount is Non-Refundable. We will not take any request of shifting dates. We will charge 50% of the amount as Cancellation Charges and process refund of remaining 50%. You may also shift to another group within next year but 25% Booking Amount will be deemed as Cancellation Charge and the rest amount will be transferred to the shifted group.
If you cancel a trek/tour 7 days (i.e. a week) before Trek/Tour Starting Date or later, there will be NO REFUND.
In case of any unforeseen incident including but not limited to natural calamities like flood, earthquake, landslide, forest fire or any political unrest, if we are compelled to cancel the trek/trip, you will be entitled to redeem the full amount for the same/similar kind of trek/trip within next one year.
If you need more clarifications write in to [email protected]