4270 m/14005 ft
Highest Point
Hampta Pass Trek with Chandratal tour:
Group departure starting from 12th June 2022 at Manali.
Kullu and Lahaul are two adjoining districts of Himachal Pradesh, separated by high mostly snowbound Rohtang Pass. These valleys are geographically quite different, the Kullu/Manali valleys are green, with excellent forest cover and heavy rains, where as Lahaul is in rain shade barren and arid area. A trail combining both these areas by crossing the Hampta Pass gives a spectacular walk into two different terrains. The trail also offers gorgeous views of Dhauladhar, Chandra Bhaga and Mulkila range and the high peaks of Indrasan, Deo TIbba, Shigri Parvat, Kullu Pumori and few other peaks. The trek has surprises of crossing turbulent streams, Snow Bridge, walking on glaciers and boulder zone. At the end of the trek, visiting the "Moon lake" Chandratal or Kunzum pass is a delight. Area is known for rich Himalayan flora and fauna and is a birder's paradise. Hampta Pass is indeed a compact but almost "All in One" trek.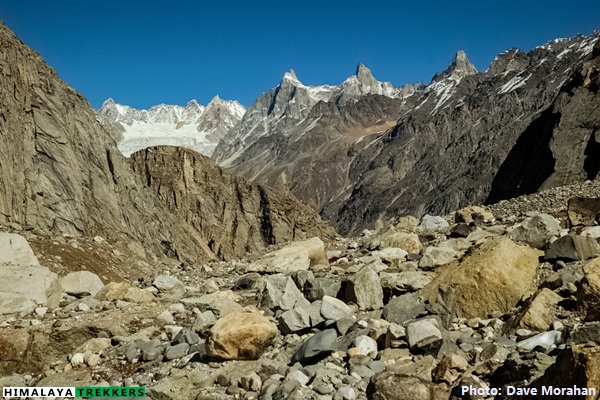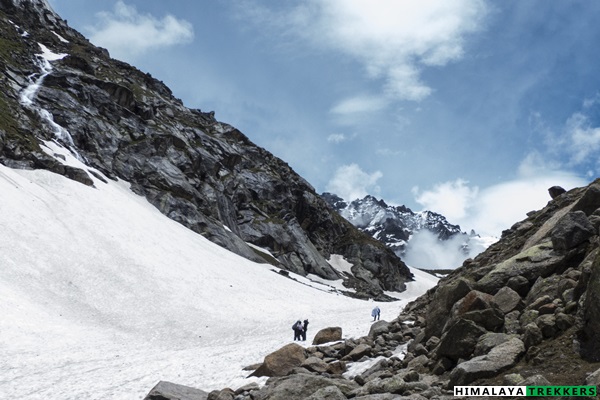 Hampta pass is an essentially river valley trek where you approach to the pass following Hampta nallah (a tributary of Beas River) amidst green Kullu valley. Descending from pass is also following a river valley a tributary of Chandra River. This time through a contrasting landscape which is barren and rocky in Lahoul.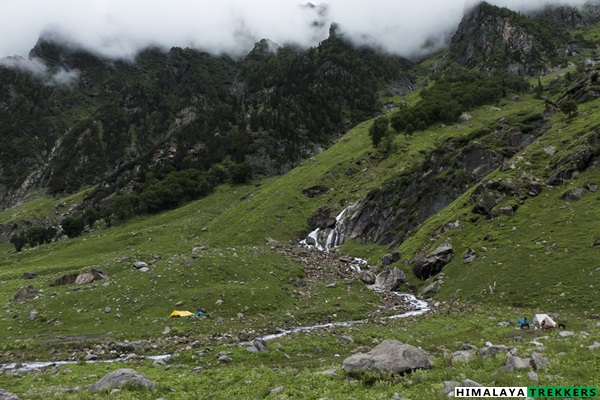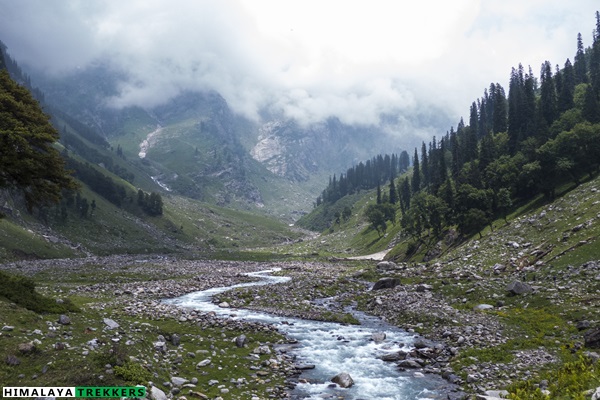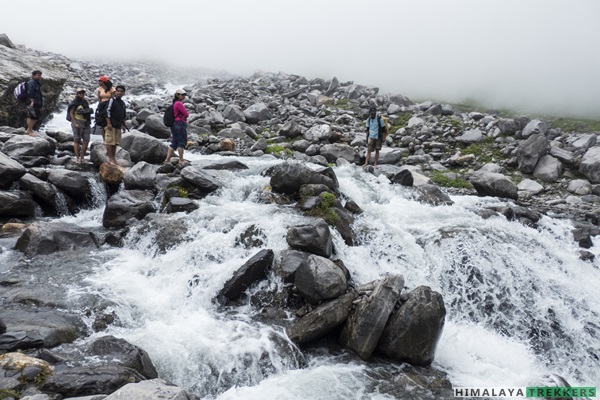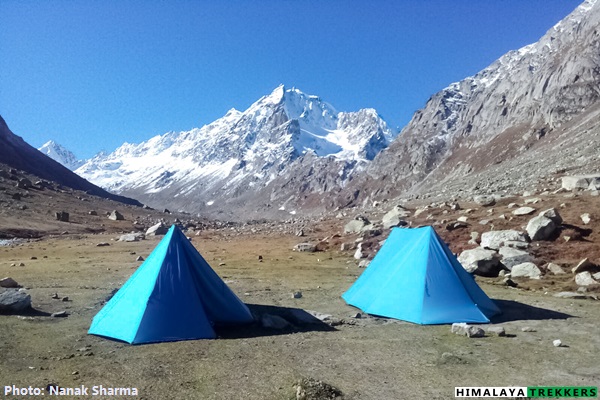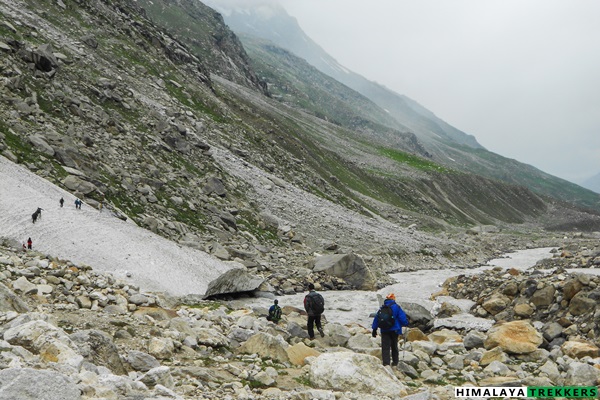 The valley remains in bloom for a considerably time from late summer to as late as September. Abundance of streams along the trail keep the valley well fed.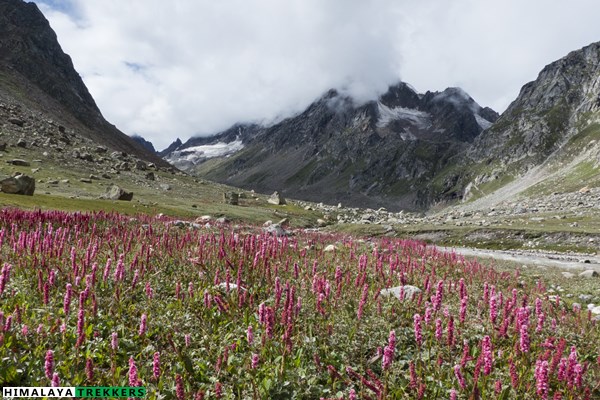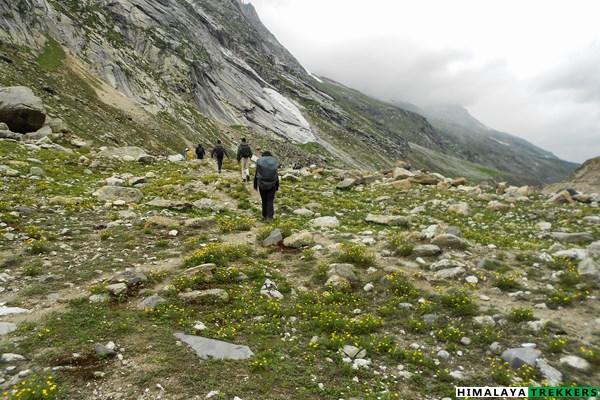 At the end of the trek there is a surprise, a visit to Chandratal lake by car. The dirt road to this famous moon lake opens around mid of June. The stunning contrast of the landscape of this area bordering Lahoul and Spiti is hard to believe. The road from Chhatru to Batal following Chandra River is arid, barren and full of rock debris. The  area surrounding Chandratal (~ 4200 m/13780 ft) is a typical Spiti moonscape with vivid colours.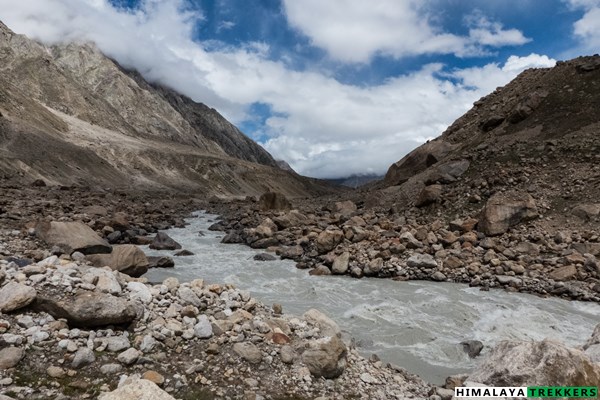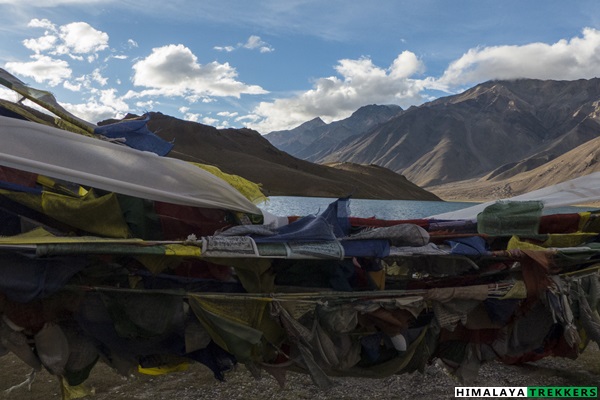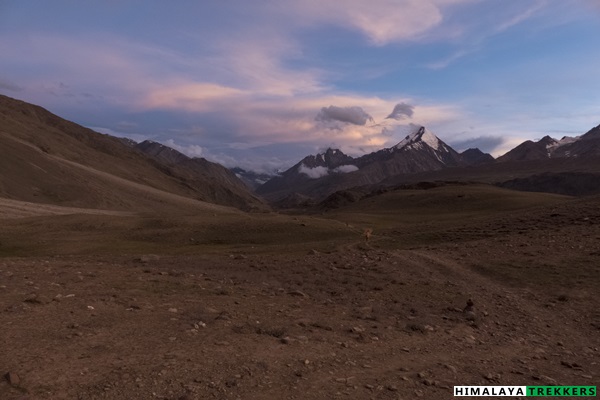 Brief Itinerary:
Day 1: Reach Manali by Noon – Lodge/Guest house accommodation at Vashisht.
Day 2: Drive to Jobri – 30 Km – 1 and half hours – Trek to Chhika 5 Km – 3 hours. Camp.
Day 3: Chhika to Balu Ka Gera– 8 Km – 5 hours. Camp/
Day 4: Balu Ka Gera to Shea Goru over Hampta Pass – 9 Km – 8/10 hours. Camp.
Day 5: Shea Goru to Chhatru – 7 Km – 4 hours. Camp. Optional – Drive to Chandratal and back to Chhatru camp – 90 Km – 5/6 hours (cost is NOT included).
Day 6: Drive from Chhatru to Manali  – 85 Km – 4/5 hours.
Important Note:
Reach Manali latest by noon on Day 1. While returning from Manali, book a bus etc not before 6 pm on Day 6 or later.
In case Chandratal road doesn't open by the time of your trip, we will visit Kunzum La viewpoint which marks the border between Spiti and Lahaul. Then we will return to Chhatru camp.
Hampta Pass trek distance and altitude profile:
Below figure will give you an idea of the Hampta Pass trek distance and corresponding altitude profile.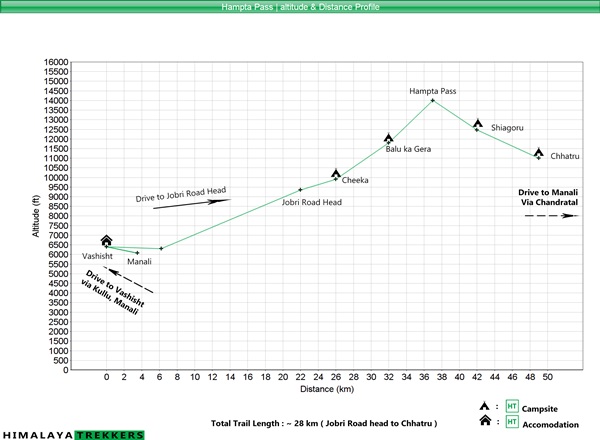 Reaching Vashisht, Manali (The trek base):
Our trek base is Vashisht, 3 Km uphill from Manali. Either you can take an auto rickshaw or walk around an hour to reach Vashisht. This is where the famous Vashisht temple and hot water spring inside it.
Manali is well connected by road from Delhi and Chandigarh. There are a handful of buses, ranging from regular, luxury and Volvo operated by both Govt. and private agencies from New Delhi and Chandigarh to Manali.
1) From Delhi (Kashmiri Gate ISBT) the Volvo and regular buses start in the afternoon and evening. It takes up to 15 hours to cover the distance of 560 Km. HP Government transport operated HRTC (For online availability check here) and Tourism Department HPTDC operated busses are reliable and usually run on time. There are privately operated bus services also having different pick up points in Delhi.
2) From Chandigarh (ISBT Sector 43) there are regular bus services for Manali, starting early morning till 6 am. It may take around 10/12 hrs depending upon the road conditions. Distance around 320 Km.
3) While returning one can take overnight bus from Manali which again reaches Delhi in 13/14 hours. Normally the last Volvo service (both Govt. and Private) is around 6:30 pm. The last regular bus by  Himachal Road Transport Corporation (HRTC) starts from Manali at 9:30 p.m.
Why treks with HT?
| | |
| --- | --- |
| Expertise: | 10 years on ground experience |
| Support staff: | Qualified local & office staff |
| Group size: | Small groups up to 15 |
| Insurance: | Travel insured trek and tour itinerary |
| Easy Bookings: | 25% Booking Deposit |
 Duration: 4 days of trek; Manali to Manali in 6 days.
 Highest Point: Hampta Pass ~ 4270 m/14005 ft.
 Grade: Moderate
 Length: 30 Km
 Seasons: June to October
 Further Option: Combine Sethan Dome for a round Hampta trek
 Access: Trek starting point and end point is Manali
Rail station: Chandigarh (STN Code: CDG)
 Airport: Delhi, Chandigarh, Kullu airport at Bhuntar (Code: KUU)
 Map:
Upcoming scheduled dates for Hampta Pass trek:

 
You can check the scheduled Fixed Departure dates in the calendar available inside Booking Form or inside REGISTER NOW form. Tour starting Dates are highlighted as per our itinerary (Day 1 of  6 days itinerary).
At present BOOK NOW functionality is disabled. You can get all the information in your email by submitting the REGISTER NOW form.
If you are a group of people and available dates are not matching then you may select Custom date mode (by clicking the Select your custom date) and fill in the displayed form.
You can also check all the available dates at a glance in our

TREK CALENDAR

.
Trekkers need to reach Manali on Day 1 morning (by noon). Return to Manali on Day 6 early afternoon (around 3 pm). Arrange your tickets for inward journey and return accordingly.
| | |
| --- | --- |
| DEPARTURE LOCATION |  From Vashisht, Manali |
| REPORTING TIME | Vashisht by noon (Day 1) |
| RETURN LOCATION | Manali |
| RETURN TIME | Approximately 3:00 PM in Manali (Day 6) |
Access to Manali (The trek base): You need to reach the trek base Manali o your own.
Ample choice of bus, ranging from regular, luxury and Volvo operated by both Govt. and private agencies from New Delhi and Chandigarh to Manali.
1)From Delhi the buses normally start in the afternoon and reaches Manali next day by noon. Depending upon the service it may take 14 to 16 hrs. Distance is around 550 Km.
2)From Chandigarh ISBT there are regular bus services for Manali, starting in the early morning. It may take 8 to 10 hrs depending upon the bus service. Distance around 320 Km.
3) While returning Volvo service from Manali to Delhi starts at 4:30/5 pm in the afternoon. The last bus operated by HRTC starts at 9:30 pm for Delhi.
You can fly or by train reach New Delhi as per your convenience from any part within India.
Avoid booking wait listed (WL) train tickets in AC classes (1A/2A/3A) or Chair Car (CC). Book Sleeper class (SL)/Second Sitting class (2S) tickets which have normally more seats/berth and hence much better chance to get confirmed.
The buses from Delhi to Manali start in the afternoon and evening and reaches Manali in 14/16 hours depending on the bus operator. You reach Manali in the morning between 7 to 9 am.
1) Govt run HRTC (Himachal Road Transport Corporation) and HPTDC (Himachal Pradesh Tourism Development Corporation) buses operate on daily basis.
HRTC buses start from Kashmiri Gate ISBT. From Delhi Airport or Station you can reach ISBT Kashmiri Gate via Delhi Metro service (http://www.delhimetrorail.com/metro-fares.aspx). It is only 4 Km from NDLS Railway Station and can be reached easily by booking an Auto Rickshaw.
To check availability and book online (Login required):
http://www.hrtc.gov.in/hrtctickets
HPTDC buses start from Himachal Bhaban, Janpath (Close to Cannaught Place, CP). To check availability and book online (Login required):
http://hp.gov.in/hptdc/Availability.aspx
2) Several private operators run Volvo/A.C bus services from Delhi to Manali. They have different pickup points spread over Delhi. Choose a boarding point according to your convenience. Check for good reviews and ratings before selecting an operator.
http://www.redbus.in/
You can fly or by train reach Chandigarh directly from some cities within India.
Avoid booking wait listed (WL) train tickets in AC classes (1A/2A/3A) or Chair Car (CC). Book Sleeper class (SL)/Second Sitting class (2S) tickets which have normally more seats/berth and hence much better chance to get confirmed.
Chandigrah to Manali buses start from ISBT Sector 43 (verify before the journey). You can check while taking an Auto Rickshaw/Taxi from Chandigarh Railway Station or Airport. Ordinary buses are available from early morning at 4 am ( HRTC, Haryana Roadways, Punjab Transport etc) and tickets are onboard. For online availability and booking refer the earlier links.
There are two bus terminus in Manali, one for the state operated buses on the Manali mall and the other one for private buses (5 mins walking). It takes around 15 hours and 10 hours to reach Delhi and Chandigarh respectively.
Regular/Ordinary buses are available from morning to evening. Last being at 9:30 pm in the night. Takes around 15 hours to reach Kashmiri Gate ISBT. For booking check: http://www.hrtc.gov.in/hrtctickets
Volvo bus services are available in the afternoon/early evening between 3 pm to 7 pm. For booking check the above links.
For night stay in Manali:
We  provide the accommodation In Manali ( At Vashisht, 3 Km uphill) for our Fixed Departure treks.  However if any trekker is interested to spend more time in Manali, he/she can inquire State operated HPDC hotels. They provide a wide range of choices of Premium, Deluxe and Budget options in Manali. To check see: http://www.hptdc.nic.in/cir0203.htm#hhami
Arrival in Manali: Accommodation at Vashisht
Reach Manali by noon overnight from Delhi. Our guest house accommodation is at Vashisht (~  2050 m/6725 ft) , 3.5 Km further up from Manali town (Rs 150/200 by Auto Rickshaw). Vashisht has a temple and is famous for its hot spring inside the temple. In the afternoon take a walk towards Jogini falls for couple  of hours. Accommodation in lodge/guest house.
Drive to Jobri: 30 Km - 1 and half hours; Trek to Chhika: 5 Km - 3 hours
We start our journey today and by vehicle drive 30 Km to reach Jobri road  head (~2850 m, 9350 ft) via Preni village. The road is winding and goes through steep hairpin bends and gains height considerably. Jobri is not a village but have few temporary constructions for the local workers of the hydro power plant. From here the trek starts. We cross a concrete bridge and take left. We keep the Aleo Nallah on our left. The trail goes inside the confer forest and finally by crossing the Aleo Nallah we enter into an open meadow. After easy walking of 5 Km we camp at Chhika (~3020 m/9905 ft) and will take 2 to 3 hours. The camping ground is situated beside the left bank of the stream. There is a beautiful waterfall above the slopes of the campsite.
Trek to Balu Ka Gera: 8 Km - 5 hours
Today after breakfast we start for our camping destination named Bhalu-Ka-Gera (~ 3600 m/11800 ft)  which means "Bear's Circle" where brown bears are said to hibernate during the winter. Just after leaving the camp we cross the small side stream over a log bridge. We keep left of the valley and gently go up on the slopes along the Aleo Nallah. Today's walk is very scenic with numerous wild flowers covering the valley. We need to cross another gushing side stream pouring in to the main Aleo Nallah. Earlier in the morning is better to cross this, as the water level goes up during the day time. After crossing the river we keep walking on the left bank and gradually ascend to reach the camp site. Distance is around 8 Km and can take 4 to 5 hours.
Trek to Shiagoru over Hampta Pass: 9 Km - 8/10 hours
We start early in the morning and stay on the left ridge of the valley. Depending upon the season one can see several snow bridges on the river which we came along. Continue on the left to cross Hampta Pass (~4270 m/14005 ft) rand reach the Lahaul side. The region below the pass has ice field which remains intact almost the entire year. The climb to the pass is moderate while the last ridge is a little steep. After crossing the pass the sharp descent leads us to a flattened ground with boulders scattered all along. Now we follow another stream coming from the upper range of the mountains and stay on our left. Moving along the river and after a almost levelled walk we reach the camping ground named Shiagoru (~3800 m/12470 ft). Distance is around 9 Km and may take 8 to 10 hours.
Trek to Chhatru: 7 Km - 4 hours Camp; Drive to Chandratal and back – 90 Km – 5/6 hours
We start the day by crossing the river and keep the river on our left. We follow our descend easily at the first half while walking along the river and later on it becomes a little tricky on the boulder and rock zone. After descending we reach a wide valley of the river Chandra and can see the motor road connecting to Spiti and Kaza. We continue our walk by crossing the log bridge on the side stream and keep the river Chandra on our right. We stay on the left of the Chandra and camp at Chhatru (~3350 m/11000 ft). This place is on the highway from Kaza to Manali and reveals the barren brown and white beauty of Trans Himalaya. There are few seasonal Dhaba on the other side of the river which can be accessed using the steel bridge on the Kaza road.  Distance is around 7 Km and can take 3 to 4 hours. We camp here. The road to Chandra Tal normally opens by end of June and remains open till mid of October. If the road to Chandra Tal is not open then we visit Kunzum La, a high Pass which marks the border between Lahaul and Spiti. We take the car and go through the Kaza road to Batal via Chhota Dhara. From Batal either we go to Chandra Tal (~ 4300 m/14100 ft) or Kunzum La (~4300 m/14100 ft), which are almost at a same altitude. Chandra Tal is a moon shaped crystal clear lake with spectacular mountain view around it.  Kunzum offers a very close view of the Chandra Bhaga (CB) range mountains. There is a monastery and a Chorten with colourful prayer flags.
Drive to Manali via Rohtang Pass - 85 Km - 4/5 hours
Today morning after breakfast we drive to Manali via Rohtang Pass. We reach Manali early afternoon by 2 pm. Our trip ends here. Take afternoon/evening bus to Delhi or stay back for the night.
P.S. Altitudes and distances are approximate and may not be exact.
  TREK FEE: ₹ 14,950 (Manali to Manali) + 5% GST  
Inclusions:
1 night's accommodation at Vashisht, Manali (Day 1) in lodge on sharing basis (meals on your own).
 Car pick up from Vashisht/Old Manali to the trek starting point Jobri on Day 2.
Car transportation from trek end point Chhatru to Manali.
 All meals (Day 2 lunch to Day 6 breakfast) during the trek. Regular Indian style nutritious vegetarian food during the trek (including occasional eggs), breakfast packed/hot lunch (depending upon the time you reach a campsite), snacks, dinner along with coffee/tea/soup.
Excellent Trekking Guide, who will be a local to this particular area and has profound knowledge of the trekking trails around.
 Specialised Cook, Support staff, Porters/Packed Animals for carrying the central logistics of the trek.
 Stay in tents (3 persons dome or ridge shaped tents) on sharing basis during the trek.
Camping equipment like Sleeping bag, Carry mattress, Gaiters, Micro spikes/Crampon. (Bring your own sleeping if you have a high altitude specific personal Sleeping Bag. This is always better for hygienic reasons.)
Kitchen tent, dinning tent and toilet tent as required during the trek.
All permit fee, camping charges, forest levy required for the trek.
 Basic Medical & First Aid kit.
Travel insurance cum Accidental Insurance Policy covering high altitude trekking tours (For Indian nationals it is included in the TREK FEE, up to 60 years of age). It covers your trek as well as Manali to Manali, for a duration of 7 days.
Exclusions:
Any meals at Vashisht, Manali. There are decent options of restaurants/hotels for veg and non veg food.
Sightseeing to Chandratal (or Kunzum La, if the road to Chandratal is closed).
We assume that you will carry your personal Rucksack/Backpack with all your personal belongings. If you want to offload your rucksack and be carried by our Pack Animal/Porter then you need to pay additional ₹ 1800 for the entire duration of the trek. The Rucksack should not weigh more than 10 Kg.
 Any tip/gratuity to the HT supports staff.
Anything which is NOT mentioned in the "Inclusions" or personal in nature.
Booking:
We assume that you have read and understood our "Terms & Conditions" (https://himalayatrekker.com/terms-and-conditions) before Booking a trek/tour.
To reserve your place in a scheduled Fixed Departure trek or a Customised/Private trek pay 25% of the TREK/TOUR FEE as the initial "Booking Deposit". You can pay by Net banking/Draft/Cheque/Credit/Debit/AMEX cards. This will ensure your participation in the desired trek and we will reserve your place in the scheduled date. You need to pay the remaining amount at least 15 days before Trek Starting Date.
If you book a Trek/Tour before 14 days or less from Trek/Tour Starting Date, you need to pay the full TREK/TOUR FEE.
 Cancellations:
"Booking Amount" i.e.25% of the TREK/TOUR FEE is Non-Refundable at any stage.
If in case you are not able to make it due to unavoidable reason(s), we provide you avery flexible choice of Shifting to another trek within next one year. One year is counted from the starting date of the trek/tour you booked initially with us.
In case you postpone your trip you need to informminimum of 15 days before the trek/tour starting date. (Though we suggest to inform us earlier if known)
In case you postpone a trek/tour before 15 days of the scheduled Trek/Tour Starting date or prior, you may shift to another group of the same trek/tour scheduled in the same season or within next one year. You may shift to another suitable route also. For changing any, you need our approval first. Your request must be in written communication through your registered email with us.
If you cancel/postpone a trek/tour from14 days to 8 days before tour starting date, your Booking Amount is Non-Refundable. We will not take any request of shifting dates. We will charge 50% of the amount as Cancellation Charges and process refund of remaining 50%. You may also shift to another group within next year but 25% Booking Amount will be deemed as Cancellation Charge and the rest amount will be transferred to the shifted group.
If you cancel a trek/tour 7 days (i.e. a week) before Trek/Tour Starting Date or later, there will be NO REFUND.
In case of any unforeseen incident including but not limited to natural calamities like flood, earthquake, landslide, forest fire or any political unrest, if we are compelled to cancel the trek/trip, you will be entitled to redeem the full amount for the same/similar kind of trek/trip within next one year.
If you need more clarifications write in to [email protected]