4400 m/14430 ft
Highest Point
Satopanth Tal Trek:
Upcoming post monsoon Satopanth tal trek starting on 24th September 2023 at Badrinath.
The mythical lake trek route to Satopanth Tal encompasses the flavor of high altitude feature, walking on boulder, moraine, glacier and knife edge ridge are enthralling. Captivating peak views are hard to believe. This triangular shaped glacial lake lies above 14000 ft, hidden inside the ridge believed to be the "the road to truth" (Satya Ki Pantha) . The Panch Pandavas of epic Mahabharata took this difficult trail to try to reach the heaven. At different places on the trail, the legends still live, and the names bear the resemblance of the myth. Towering Chaukhamba ridge looms over the lake along with the Neelkanth, Balakun, Parvati and other peaks. Many people believe that the Trimoortis,  Brahma, Vishnu and Maheshswar, take bathe in the lake in an auspicious day. Adventurous devotees and Sadhus visit this lake in the monsoon for pilgrimage.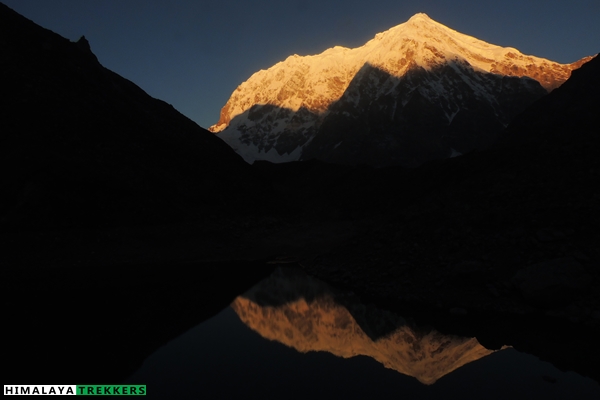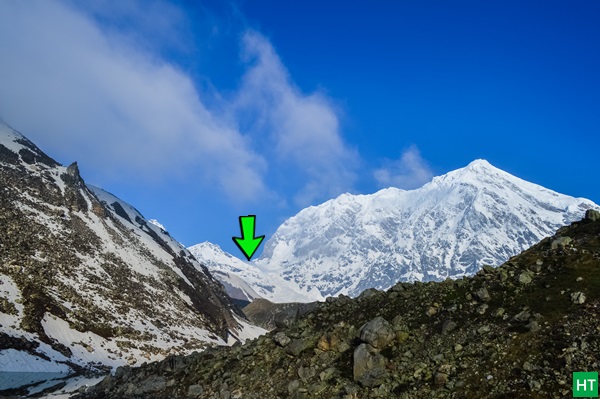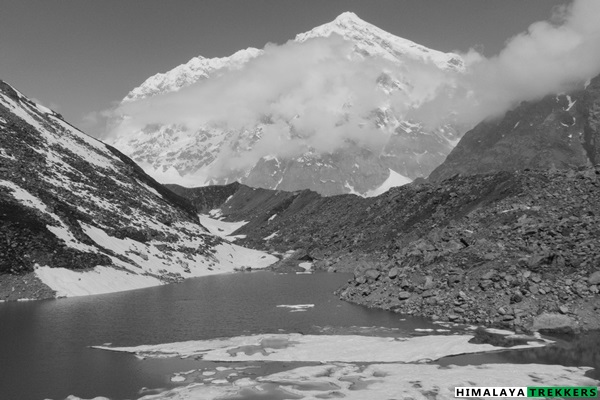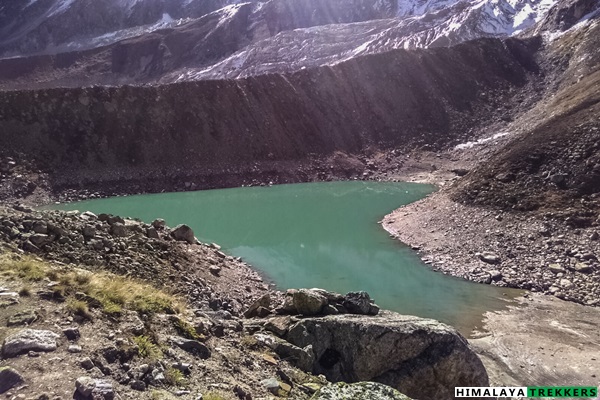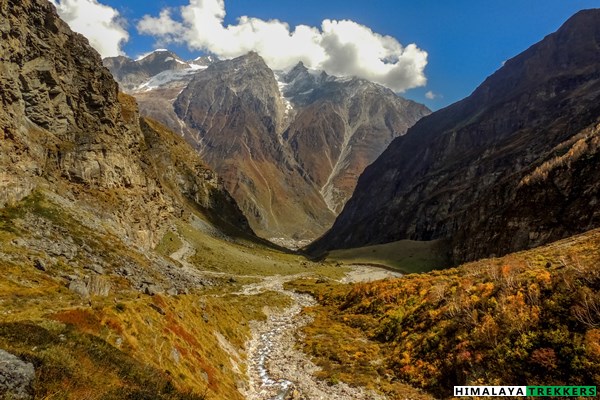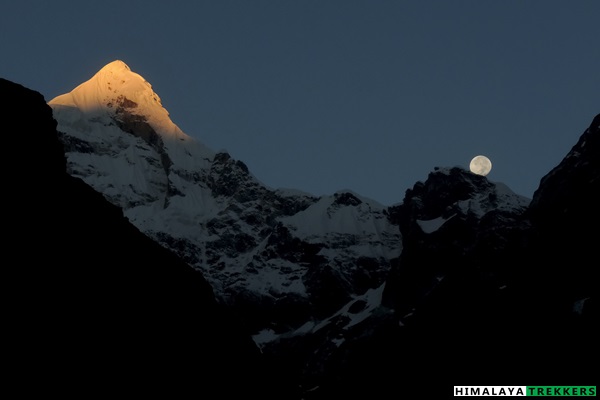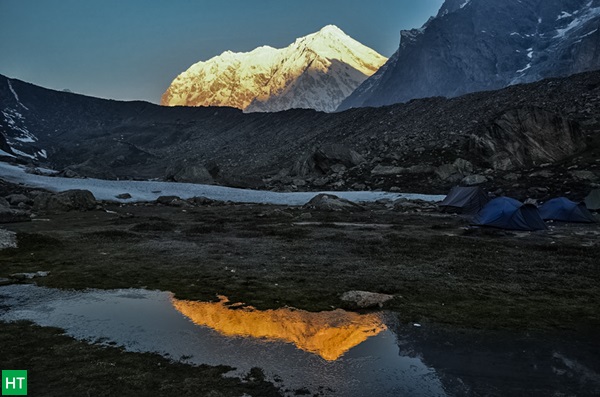 This trail is a classy example of glacier moraine walk on boulders, loose rock and scree zones to the core of the Himalayas and NOT recommended for the beginners. Trekkers must be having prior high altitude multi day trekking experiences.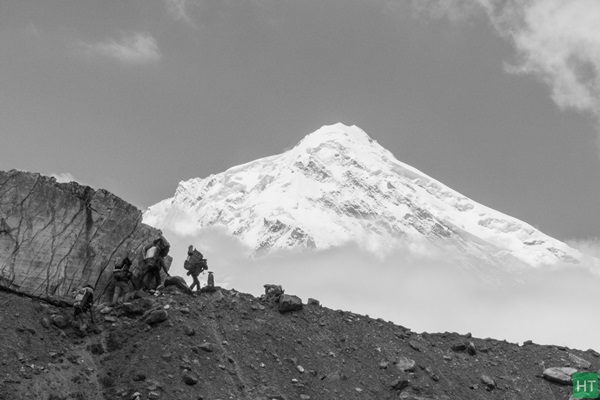 After crossing Alaknanda at Mana the trail till Laxmivan is relatively easy and like the usual trekking trails. The trail on the opposite side of the river goes to Vasudhara falls. Campsite of Laxmivan is located on a patch of grass and perhaps the campsites are the only shades of green from now on.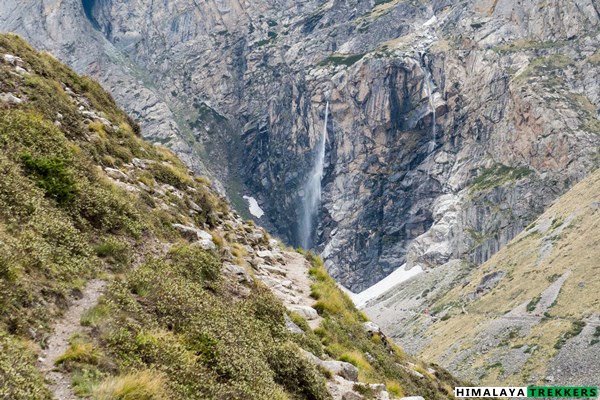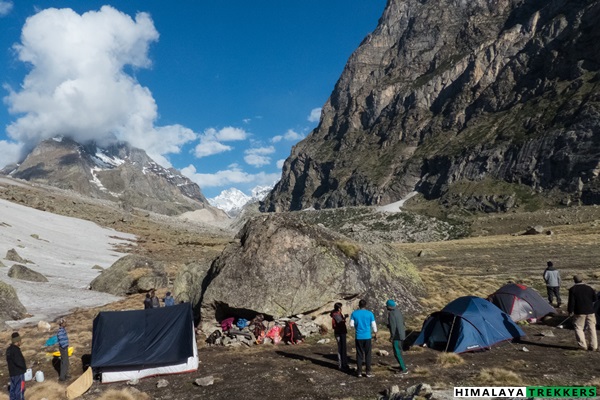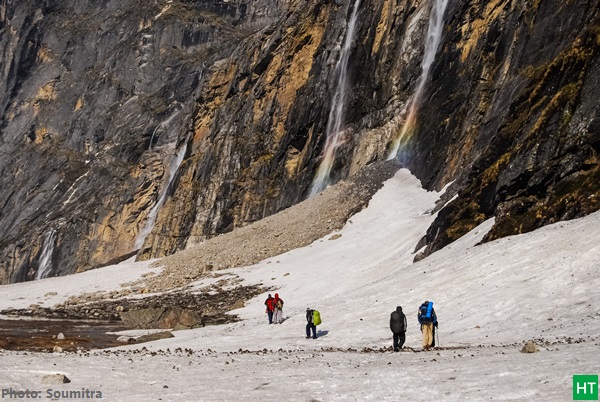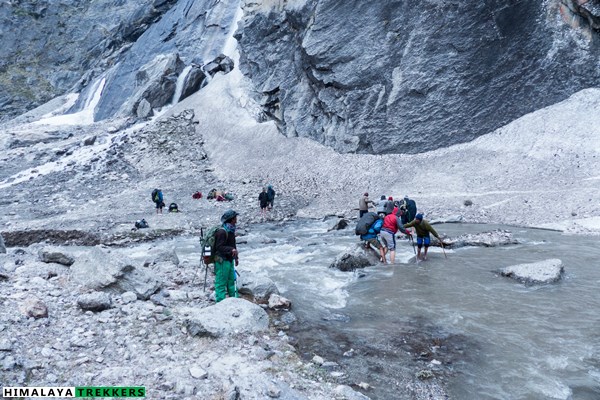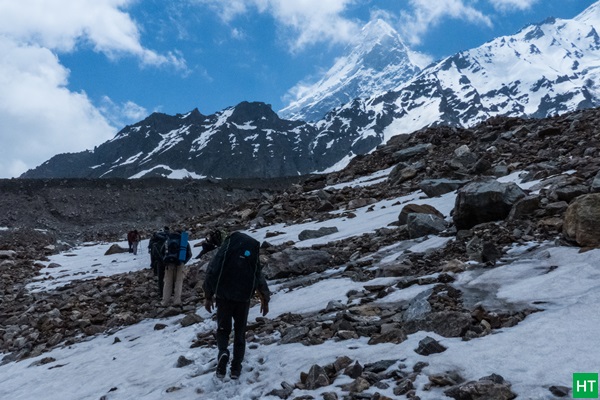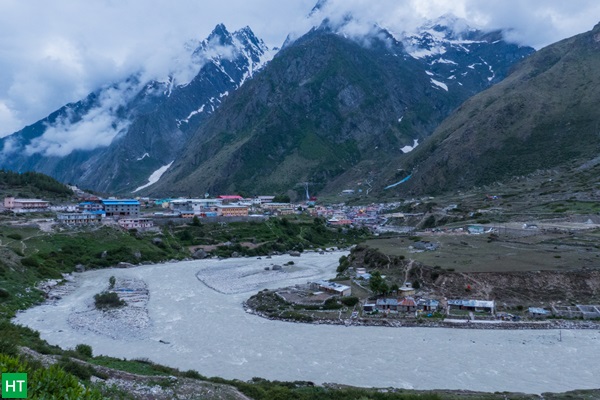 Brief Itinerary for Satopanth trek:
Day 1: Drive from Haridwar to Badrinath – 310 Km – 11/12 hours. Accommodation and meals on your own.
Day 2: Active Acclimatisation at Badrinath – Visit temple/walk towards Mana village, Charan Paduka etc. Accommodation and meals on your own.
Day 3: Trek to Laxmivan – 9 Km – 5/6 hours. Camp
Day 4: Trek to Chakratirtha – 11 Km – 6/7 hours. Camp
Day 5: Trek to Satopanth Tal – 5 Km – 3/4 hours – spend an hour and return to Chakratirtha – Total 10 Km – 8 hours. Camp
Day 6: Trek from Chakratirtha to Mana – 17 Km – 7/8 hours – By car Badrinath. Accommodation and meals on your own.
Day 7: Drive from Badrinath to Haridwar – 310 Km – 12 hours.
Important Note:
You need to reach on their own to Haridwar on Day 1 morning (by 6 am) or the previous night. Return to Haridwar on Day 7 evening (by 8 pm).  Arrange your tickets for inward journey and return from Haridwar accordingly. TREK FEE ₹ 15,950 + 5% GST per person is excluding Badrinath and includes everything for the trek to Satopanth and back, i.e. 4 days of trekking.
For further acclimatisation you may reach Joshimath on Day 0 and then move to Badrinath next day, i.e. Day 1 of our itinerary.
Satopanth Tal trek route and the legend:
We are purely trek organisers and run this trek once or twice in a year for interested and experienced Himalayan hikers.This typical glacial moraine trail into the core of the Himalayas is indeed a delight to any trekker. At the same time 50 Km round trip from Badrinath is tricky in many aspects. It is a full camping style porter run (no horses/mules) trek and there is nowhere you get any food or shelter. This glacier valley is typically low in oxygen and trekkers must get acclimatised once reaching Chakratirtha. If not, there is noway but to return. You need to negotiate boulder zones, moraine debris and scree zones before reaching Satopanth Tal.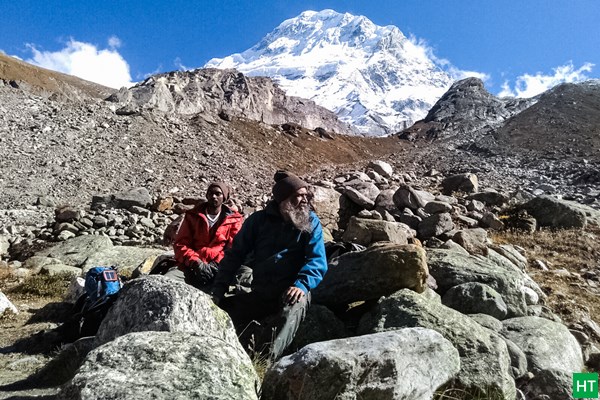 We often get requests from people wishing for Satopanth and Swargarohini Yatra. This must be taken as a high altitude Himalayan trek and the pilgrims must have prior trekking experiences like Kailash, Adi Kailash, Manimahesh, Kinnaur Kailash circuit, Srikhand Mahadev or similar, preferably all. Swargarohini area is out of scope of this trek as that is a mountaineering pursuit. On a clear day one can see clearly the legendary Swargarohini steps from Satopanth Tal and its surrounding. Here is how it looks from Satopanth on a clear day.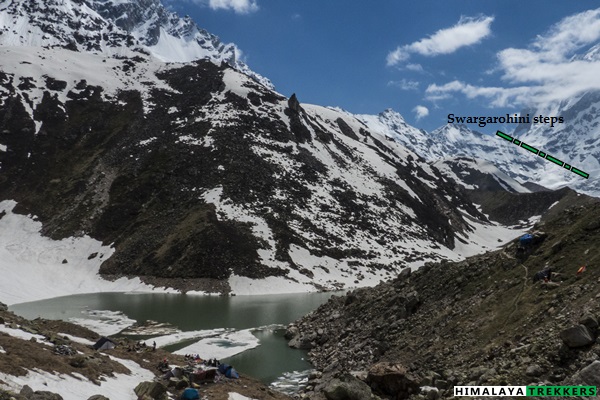 Camping restricted at Satopanth Tal  (with effect from Sep 2018):
As per Uttarakhand High Court order (Petition No. : 123/2014 ) , one can not camp on alpine and sub-alpine meadows/grasslands, locally called "Bugyal".  Therefore forest department has revoked the permit to camp at the lake, i.e. Satopanth Tal. Starting from Sep 2018, our highest camp is at Chakratirtha and we visit Satopanth and return to same camp.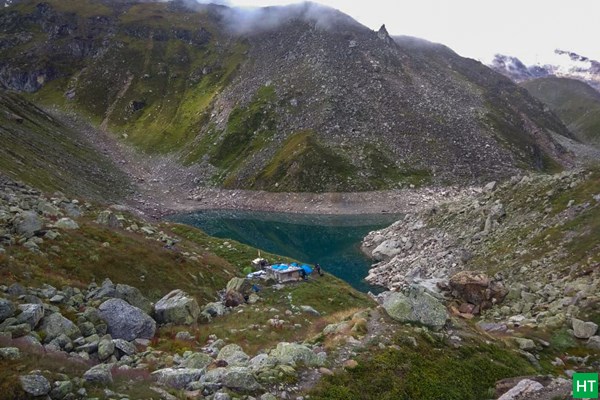 Access to Satopanth trek base – Badrinath:
To reach the trek base Badrinath you need to reach Haridwar on your own arrangements. Haridwar is well connected by train from Delhi and Kolkata. Frequent regular and Volvo bus service from Delhi Kashmiri Gate ISBT.
Based upon trekkers request we may arrange a pickup  from Haridwar railway station to Badrinath and back. This will be shared equally by the availing team members on actual basis and paid directly to the driver. The fare is ₹ 8000 for a Tata Sumo/Mahindra Maxx one way. This can accommodate 5 to 6 people. A Tempo Traveller charges ₹ 12000 (12-13 seat) one way. This is NOT included in TREK FEE.
You can reach Badrinath by bus which start very early morning from Haridwar, latest by 4:30/5 am. Its a long journey and may take up to 13/14 hours.
To reach the trek base Badrinath independently/public transportation check the details in GETTING THERE TAB.
Click here to check the List of things to carry in Satopanth Tal trek or Download the PDF list.
 Duration: 4 days of trekking from Badrinath to Satopanth Tal and return. Haridwar to Haridwar in 7 days.
 Prerequisite: Prior high altitude trekking experiences are must. At least 2 Moderate grade treks are highly recommended.
 Grade: Moderate
 Physicality: 6.5/10
 Trail Length: 50 Km
 Highest Point: Satopanth Tal ~ 4400 m/14430 ft
 Seasons: June & August/September
 Access: Trek starting point (trek base) is Badrinath, 310 Km from Haridwar
 Rail station: Haridwar (Station Code: HW)
 Airport: Delhi, Jolly Grant in Dehradun (Airport Code: DED)
 Map:
Upcoming scheduled dates for Satopanth Tal trek:

 
You can check the scheduled Fixed Departure dates in the calendar available inside Booking Form or inside REGISTER NOW form. Tour starting Dates are highlighted as per our itinerary (Day 1 of  8 days itinerary).
At present BOOK NOW functionality is disabled. You can get all the information in your email by submitting the REGISTER NOW form.
If you are a group of people and available dates are not matching then you may select Custom date mode (by clicking the Select your custom date) and fill in the displayed form.
You can also check all the available dates at a glance in our

TREK CALENDAR

.
Trekkers need to reach Haridwar on Day 1 morning (latest by 6 am) or the previous night. Return to Haridwar on Day 8 evening (around 8/9 pm). Arrange your tickets for inward journey and return accordingly.
| | |
| --- | --- |
| DEPARTURE LOCATION | Haridwar railway station |
| REPORTING TIME | 6:00 AM for a prompt departure to Badrinath (Day 1) |
| RETURN LOCATION | Haridwar |
| RETURN TIME | Approximately 8:00 PM (Day 7) |
Access to Badrinath (The trek base): Haridwar is well connected by train from Delhi and Kolkata. Frequent regular and Volvo bus service from Delhi Kashimiri Gate ISBT.
To reach the trek base Badrinath you need to reach Haridwar by your own arrangements.
We will arrange a pickup from Haridwar to Badrinath and back. The cost will be shared equally by the team members and is approximately around 7000 Rs one side in a Jeep (Mahindra Maxx, Sumo). One such Jeep is comfortable for 6-8 persons.
If you want to reach and return from Badrinath by public vehicle then:
1) Take early morning bus service from Haridwar to directly Badrinath or till Joshimath. Direct buses leave by 5 am. The state operated Bus terminus (referred as Roadways) is just opposite to the Haridwar railway station. Privately operated buses start just 2 minutes walking from here. In the summer during Char Dham Yatra, buses are packed. It takes 11/12 hours to reach Joshimath. Look for a shared Jeep service or book a car till Badrinath. It may take up to 14 hours.
2) From Badrinath early in the morning board the direct bus for Haridwar/Rishikesh. It will take 12 hours. From Rishikesh, it is only 25 Km journey to Haridwar by frequent bus service.


There are direct trains from Kolkata to Haridwar.
KUMBHA EXPRESS – Train No. – 12369 ( Very good option to reach Haridwar by 5 pm; Spend the night in Haridwar and start your onward journey by car next morning)
UPASANA EXPRESS – Train No. – 12327 ( Very good option to reach Haridwar by 5 pm; Spend the night in Haridwar and start your onward journey by car next morning)
DOON EXPRESS – Train No. – 13009 (Don't book this train when you plan a long onward journey immediately in the morning)]
Avoid booking wait listed (WL) tickets in AC classes (1A/2A/3A) or Chair Car (CC). Book Sleeper class (SL)/Second Sitting class (2S) tickets which have normally more seats/berth and hence much better chance to get confirmed.
Following trains are good to reach Haridwar and run daily.
DDN JANSHTBDI – Train No. 12055 (Arrives HW in the evening @ 7:30 pm, good choice when you stay the night in Haridwar and have a long drive ahead next day)
NANDA DEVI EXP – Train No. 12205 (arrives HW early morning @ 4am)
UTKAL EXPRESS – Train No. 18477 (arrives HW in the night @ 9pm)
MUSSOORIE EXP – Train No. 14041 (arrives HW in the morning @ 5:45am)
Always avoid booking waitlisted (WL) tickets in AC classes (1A/2A/3A) or Chair Car (CC). Book Sleeper class (SL)/Second Sitting class (2S) tickets which have normally more seats/berth and hence much better chance to get confirmed.
Govt. Road Transport (Roadways of Uttarakhand, Uttar Pradesh, Delhi, Haryana, Punjab etc.) buses are frequently available in day time and night from Kashmiri Gate ISBT (http://www.delhi.gov.in/wps/wcm/connect/doit_transport/Transport/Home/ISBT/Fare+Chart). Tickets are available on board for these regular type buses. From Delhi Airport or Station you can reach ISBT Kashmiri Gate via Delhi Metro service (http://www.delhimetrorail.com/metro-fares.aspx). It is only 4 Km from NDLS and can be reached easily by booking an auto rickshaw.
For privately operated bus, you can book online from different portals (http://www.redbus.in). Select a boarding point suitably. Overnight Volvo/A.C/Push back bus service.
For night stay in Haridwar:
Trekkers reaching on the previous day before the journey to the actual trek base need to stay the night in Haridwar. There are several options in Haridwar for spending a night while staying in Premium, Standard or Budget accommodation. Options vary from Privately operated Hotels/Lodges, to State run Tourist rest House and Dharamshalas.
State run GMVN (Garhwal Mandal Vikas Nigam) operates Hotel Rahi just beside the Bus Stand and opposite to the Haridwar Railway Station. This is a reliable and a decent choice for Standard accommodation.
Check the following for online booking of the above: http://www.gmvnl.com/newgmvn/tour/booktrh.asp
You can call or visit GMVN nearest office or even send an email for more information.The information is available at:
http://www.gmvnl.com/newgmvn/online_reservation/#
Normally you reach Haridwar from any trek base  by 7/8 pm in the evening. You can take any train after 9 pm or regular bus service as mentioned above to reach Delhi or directly to your homeward journey in the same night.
Drive from Haridwar to Badrinath – 310 km – 12 hours
You must reach Haridwar by 5 am latest or you can reach the previous evening/night. This is possibly one of the longest journeys in a day on the mountain. From the plains of Haridwar to the the holy shrine of Badrinath at 3000 m/10000 ft. The road (NH 58) follows initially the valley of River Ganga, and  later for a major section beside its main tributary Alaknanda. On route we cross Rishikesh and then the confluence at Deoprayag, Rudraprayag, Karnaprayag, Nandaprayag to reach Joshimath. From here Badrinath is another 45 Km. Total distance is 310 Km and can take around 13/14 hours. Night stay at lodge/rest house.
Note: Trekkers having an extra day and willing to spend on the mountain are advised to reach till Joshimath on first day. Next day after lunch you can reach Badrinath in 2/3 hours drive (by bus or reserved car). In Joshimath town you may visit Shri Shankracharya Math, Bhavishya Kedar & Narsing temple or a car trip to Auli, (14 Km, 45 mins drive) or a ride in Auli Rope way. So it is better to stretch this journey in 9 days instead 8 days as this one.
Active Acclimatisation at Badrinath
After a much needed sleep today visit the Badrinath temple in the morning at your will. After lunch we will walk either to Mana Village or to Charan Paduka area for an acclimatisation walk. This is pretty much a must at Badrinath which is already a place devoid of visible tree and having an oxygen level of only 70% that of sea level. Mana village is only 3 Km away from Badrinath. This is a small settlement of Tibetan/Bhutia/Bhote people and settled here for ages. People stay here only in summer and monsoon. From fall they start their downward movement to lower areas. At Mana you will find a SBI ATM welcoming that we are at the last ATM in the Indian side. At Bhim Pul you can see Saraswati river gushing down carving the rocks and disappearing inside a cave. However you can see clearly this stream meets Alaknanda just after a while.
Trek to Laxmivan – 9 Km – 5/6 hours
Today morning after breakfast we start our 5 days trek to Satopanth and back.  We will follow the Alaknanda river and will keep the river on our right (true right of the river). In June it is possible to cross the river at Mana as the snow bridge after Mana normally remains good and intact. In post monsoon you will cross the river at Badrinath temple bridge and turn left to take the concrete track for few kilometres. The trail is a gentle uphill following Alaknanda.  Walking around 3 hours we reach a flattened ground called Chamtoli Bugyal. Myriads of tiny wildflowers bloom during summer and monsoon in this valley. Vasudhara falls is just opposite to this on the other side of river. From here it is another hour to our camping ground called Laxmivan (~ 3650 m/11650 ft). Total distance is 9 Km and may take 6 hours. Though called a "Van"(Forest in Hindi), this place is only a patch of green grass on the trail. Draupadi of Mahabharata supposed to breath her last here. From this ground the views are simply breath taking, in fact in all our next camping grounds. If you look directly north, you will notice that two glacial valleys connecting ahead. the right is the Alkapuri valley, the source of the river Alaknanda. This is also said to be the abode of Kuber, Yakshas and Gandharvas.  The fluted peak called Shri Parvat is at the head of the valley and is mesmerising during the sunrise from this camp. Looking back you can see the Mana peak towering above Mana area. The valley which turned right is the one towards Satopanth Tal and we will follow tomorrow. On the other side of the river you can see the much famed Vasudhara waterfalls. Tent accommodation for the night.
Trek to Chakratirtha – 11 Km – 6/7 hours
Today we trek to Chakratirtha another 11 Km ahead towards Satopanth Tal. Initial 2 km is an easy walk till Bandhar from where the valleys bifurcate. This area has quite a few Rhododendron bushes flowering late in May. From here the terrain changes to typical glacial moraine covered with boulders and rocks. On our left locate a single standalone rock pillar named Bhim Gada. We cross the stream in a suitable place and continue to walk on the moraine ridge. After continuing for couple of hours we reach Sahastradhara, where numerous waterfalls cascading down the mountains on the left. As per legend brother twins Nakula and Sahadeva  died around this place. Crossing the area we climb on moraine ridge and continue for another two hours to reach another patch of green, beautiful camping ground called Chakratirtha (~ 3950 m/12750 m). The way may take 6/7 hours. The view of Mount Neelkanth from this campsite produces a different angle and face of this iconic mountain. Lord Arjuna died at this holy place. We camp for the night.
Trek to Satopanth Tal – 5 Km – 4/5 hours – In the afternoon walk around the lake
After breakfast we start our today's trek to Satopanth Tal. Leaving behind our camping area we climb on a steep section to reach the shoulder of a ridge. From here the view unfurls and Chaukhamba massif marks the end of this valley ahead. The terrain becomes rough, full of scree, moraine and debris. We continue our climb and slowly gain altitude while crossing smaller ridges hiking up and down. Though the distance is short but the journey is tiring. Finally we climb a ridge and the turquoise lake is seen in the depression. The shape of the lake is like a "Boomerang", two arms spreading on the opposite sides. We camp on a suitable place around the Satopanth Tal (~4400 m/14430 ft). It may take 5 hours to cover the 5 Km distance. There is a small temple of Lord Shiva and Parvati is on the left arm  and a small hut is constructed on the right arm, where a Sadhu resides in summer and monsoon.
Trek from Satopanth Tal to Bandhar – 14 Km – 6/7 hours
Wake up early in the morning to witness the magnificent sunrise and the reflection of Chaukhamba peak on Satopanth Tal. Legendary Swargarohini steps on the left side of the Chaukhamba massif is clearly visible on a clear day. Bhim couldn't go any further and Yudhisthira continued alone to heaven following the Swargarohini. After breakfast our descent starts and we trace back our trail to Bandhar, 14 Km via Chakratirtha and Shahastradhara. The walk can take 6/7 hours. Camp for the night.
Trek back to Badrinath – 11 Km – 6 hours
We return to Badrinath via Laxmivan and Chamtoli. 11 Km distance may take 5/6 hours. Night accommodation in lodge.
Drive from Badrinath to Haridwar – 310 Km – 12 hours
Today morning we start our long journey back to Haridwar. We reach Haridwar by 8/9 pm in the evening. Trip ends here.
P.S.: Distances and altitudes are approximate and may not be exact.
  TREK FEE: ₹ 15950 (Badrinath to Badrinath) + 5% GST  
Book for 5 or more persons on a Fixed Departure date and get flat 10% discount on TREK FEE.
Inclusions:
TREK FEE is Ex Badrinath and includes accommodation, permits, logistics and all meals during the trek.
 All meals during the trek (Day 3 lunch to Day 6 lunch). Regular Indian style nutritious vegetarian food during the trek, breakfast packed/hot lunch (depending upon the time you reach a campsite), light snacks, dinner along with coffee/tea/soup.
Excellent Trekking Guide, who will be a local to this particular area and has profound knowledge of the trekking trails around.
Specialised Cook, Support staff, Porters for carrying the central logistics of the trek.
 Stay in tents (3 persons dome or ridge shaped tents) on sharing basis during the trek.
Camping equipment like Sleeping bag, Carry mattress, Gaiters, Micro spikes/Crampon. (Bring your own sleeping bag,  if you have a high altitude specific personal one. This is always better for hygienic reasons.)
Kitchen tent, dining tent and toilet tent as required during the trek.
All permit fees, camping charges, forest levy required for the trek.
 Basic Medical & First Aid kit.
Travel Insurance Policy covering high altitude trekking tours (For Indian nationals it is included in the TREK FEE, up to 60 years of age). It covers your trek as well as your return journey to Haridwar for a maximum duration of 7 days.
Exclusions:
Transportation from Haridwar to Badrinath and back. We can arrange the same and trekkers need to pay directly to the driver sharing equally on actual basis.
Any accommodation or meal in Badrinath. There are plenty of options for vegetarian food at Badrinath along with budget and standard accommodation choices.
We assume that you will carry your personal Rucksack/Backpack with all your personal belongings. If you want to offload your Rucksack and be carried by a Porter, then you need to pay additional ₹ 2500 for the entire duration of the trek. The Rucksack should not weigh more than 10 Kg.
 Any tip/gratuity to the HT supports staff.
Anything is is NOT mentioned in the "Inclusions" or personal in nature.
Booking:
We assume that you have read and understood our "Terms & Conditions" (https://himalayatrekker.com/terms-and-conditions) before Booking a trek/tour.
To reserve your place in a scheduled Fixed Departure trek or a Customised/Private trek pay 25% of the TREK/TOUR FEE as the initial "Booking Deposit". You can pay by Net banking/Draft/Cheque/Credit/Debit/AMEX cards. This will ensure your participation in the desired trek and we will reserve your place in the scheduled date. You need to pay the remaining amount at least 15 days before Trek Starting Date.
If you book a Trek/Tour before 14 days or less from Trek/Tour Starting Date, you need to pay the full TREK/TOUR FEE.
 Cancellations:
"Booking Amount" i.e.25% of the TREK/TOUR FEE is Non-Refundable at any stage.
If in case you are not able to make it due to unavoidable reason(s), we provide you a very flexible choice of Shifting to another trek within next one year. One year is counted from the starting date of the trek/tour you booked initially with us.
In case you postpone your trip you need to informminimum of 15 days before the trek/tour starting date. (Though we suggest to inform us earlier if known)
In case you postpone a trek/tour before 15 days of the scheduled Trek/Tour Starting date or prior, you may shift to another group of the same trek/tour scheduled in the same season or within next one year. You may shift to another suitable route also. For changing any, you need our approval first. Your request must be in written communication through your registered email with us.
If you cancel/postpone a trek/tour from 14 days to 8 days before tour starting date, your Booking Amount is Non-Refundable. We will not take any request of shifting dates. We will charge 50% of the amount as Cancellation Charges and process refund of remaining 50%. You may also shift to another group within next year but 25% Booking Amount will be deemed as Cancellation Charge and the rest amount will be transferred to the shifted group.
If you cancel a trek/tour 7 days (i.e. a week) before Trek/Tour Starting Date or later, there will be NO REFUND.
In case of any unforeseen incident including but not limited to natural calamities like flood, earthquake, landslide, forest fire or any political unrest, if we are compelled to cancel the trek/trip, you will be entitled to redeem the full amount for the same/similar kind of trek/trip within next one year.
If you need more clarifications write in to [email protected]