3500 m/11500 ft
Highest Point
Private Har Ki Dun trek in Gangar and Osla Homestay:
As this is a customisable and private trek, you may choose any date to start if we are able to arrange.
For any queries or clarification do consult with us.
Probably you are looking for a homestay trek in the interior Himalayas. Without much logistical hassle, you still don't want to miss the original Himalayan feel! How about combining both of them?
If you like to stay in a simple village homestay and observe the local cultural tradition, then the trail to Har Ki Dun with the Gangar and Osla homestay options is an excellent choice in the Western Himalayas.
This variant takes the  same trail as our regular Har Ki Dun trek, yet very different from the original. Har Ki Dun (Har is Shiva/God and Dun is valley symbolising Valley Of God) is a revered sanctum for locals and at the same time it is very attractive to the hikers, globally. This is an humble attempt that you, being a traveller may observe and get connected closely to the local culture and people.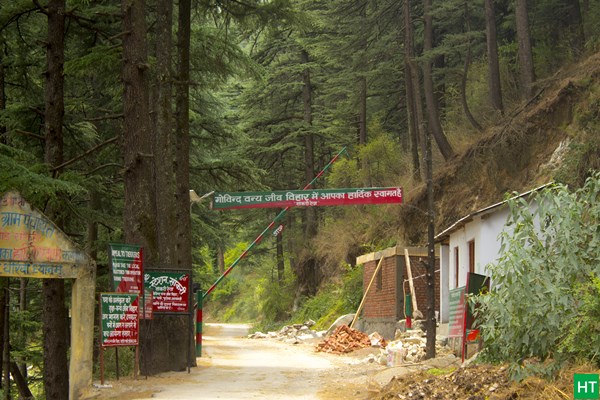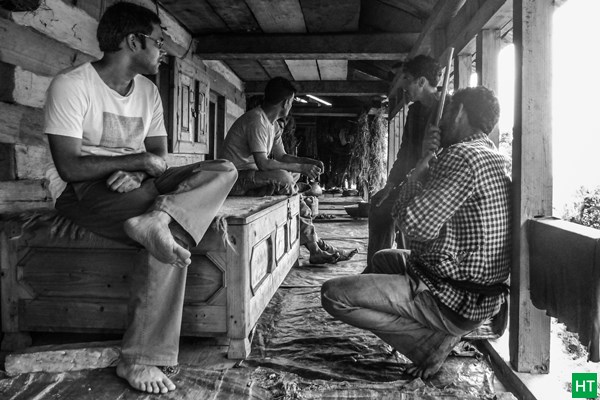 This trail is primarily a river valley walk through interior villages settled inside core national park area to a confluence of three streams at Har Ki Dun (~ 3500 m/11500 ft). It is around 10/11 Km away from Osla, which is the last village on our hiking trail. There are villages on both side of the valley, some off trail, Taluka, Gangar, Powani and Osla villages on your trail. You will stay inside village in homestay at Gangar and Osla.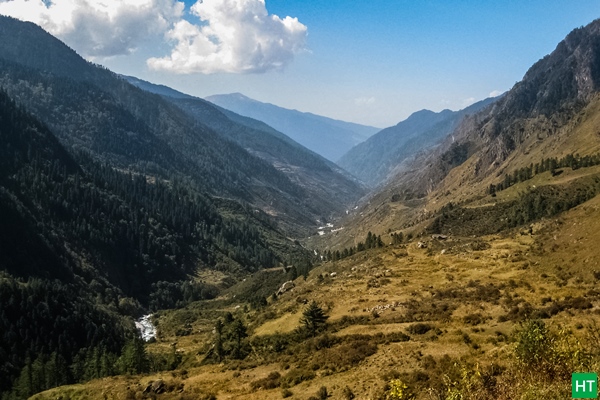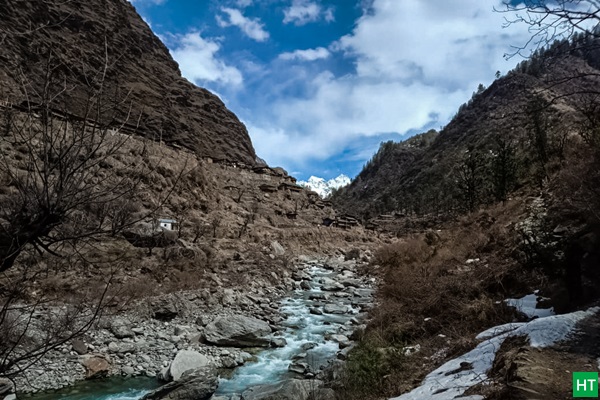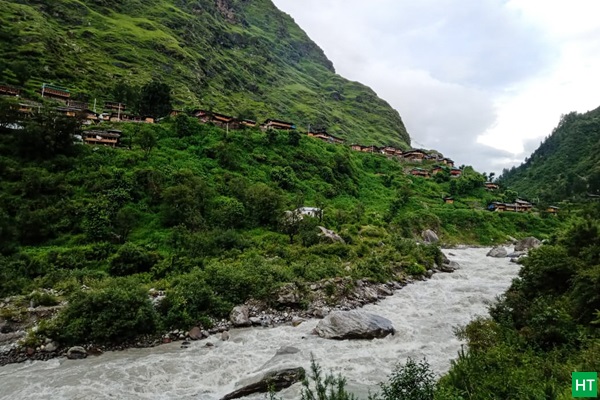 Brief Itinerary for Har Ki Dun in Osla homestay trek:
Day 1: Dehradun to Sankri (~1950 m/6400 ft) – 200 Km by private car or bus at 6 am– 9 to 10 hours. Homestay or lodge accommodation
Day 2: Sankri to Taluka village  (~2100 m)– 11 Km by car – 1 hour – Trek from Taluka to Gangar village (~2350 m) – 9 Km – 4/5 hours. Homestay. Explore the village in the afternoon.
Day 3: Trek to Osla village (~2750 m/9000 ft) – 5 Km – 2 to 3 hours via Powani village. Homestay. Explore Osla village and temple in the afternoon.
Day 4: Early morning day hike to Har Ki Dun valley (~3500 m/11500 ft) – 11 Km – 5 hours – packed lunch – Explore valley and return to Osla – Total 10 to 12 hours, approximate 22 Km, a moderate day. Homestay at Osla. Carry light daypack.
Day 5: Trek to Taluka – 5 hours – drive to Sankri – 1 hour. Twin sharing homestay or lodge.
Day 6: Drive to Dehradun – 200 Km – 9 to 10 hours.
Day 7 and longer: (Additional/Optional). Possibility to stay at Har Ki Dun Forest rest house and explore any of the three valleys forking out from the cradle shaped Har Ki Dun valley. We can also connect Dhatmir and Dharkot villages which you can read here.
Important note:
You need to reach on your own to Dehradun on Day 1 morning (by 6 am) or the previous night. Return to Dehradun on Day 6 evening (by 7 pm).  Arrange your tickets for inward journey and return from Dehradun accordingly. We can arrange a pick up from Dehradun to Sankri if you wish so.
Last ATM is at Mori, 25 Km before Sankri though often cashless. Withdraw cash well in advance, best in Dehradun or latest  Naugaon or Purola.
Mobile connectivity: Airtel and Jio network should work at trek base Sankri. Complete any phone calls from Mori, if need be. After Sankri you will not get any steady network.
Infographic and Altitude (gain) – Distance graph:
Here you will get an idea of distance and corresponding altitude gain of the trail. From this you can also understand the general gradient.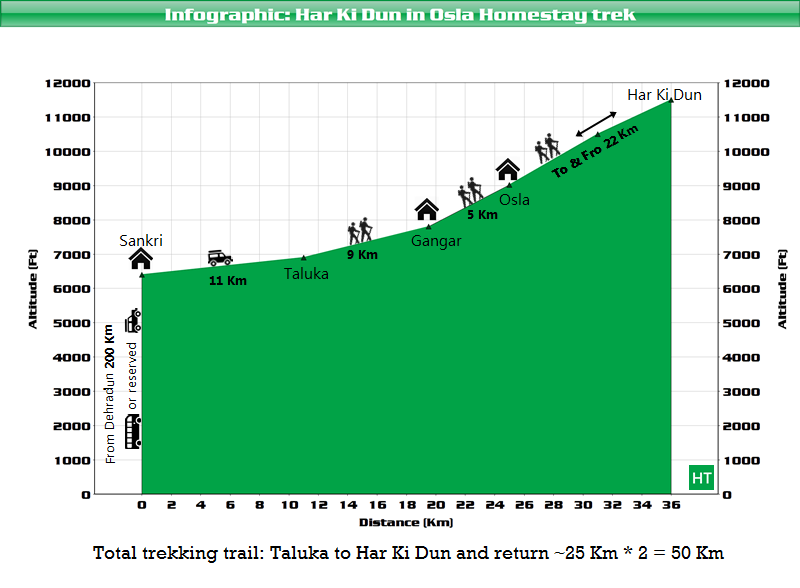 Why Har Ki Dun trek in homestay?
While you will walk on the same trail that of our regular Har Ki Dun trek, yet there are distinct advantages of this mode of trek.
Due to easy logistics, you will get adequate flexibility and advantages over our regular Har Ki Dun trek. It doesn't require the overhead of camping logistics, so cost is suitable for small groups of 2 to 4 persons. You can literally choose any date as per your preferred window, you don't need to wait for a fixed departure or a group to form.
You will get all views here as you will get in our Har Ki Dun camping trek. In the regular trek campsites are away from the villages. Here you will stay inside the villages, namely Gangar and Osla. This is an unique opportunity to extensively observe and meet local people. You have half a day in the each village to explore. This trek is surely a surprise than your usual Himalayan trek, even if you are visiting a popular trail. In India Himalayas, you will barely get a chance to trek on a trail, while staying in homestay. Few pictures can probably justify our claim!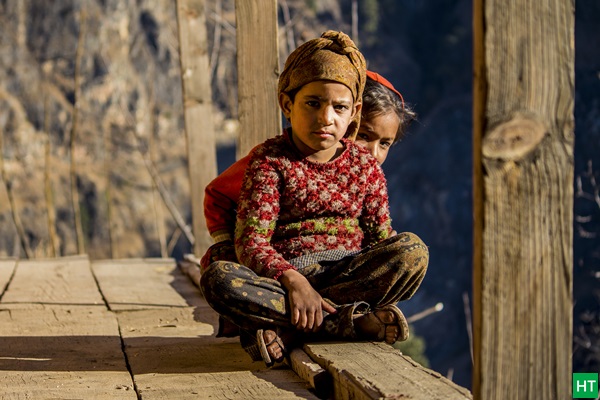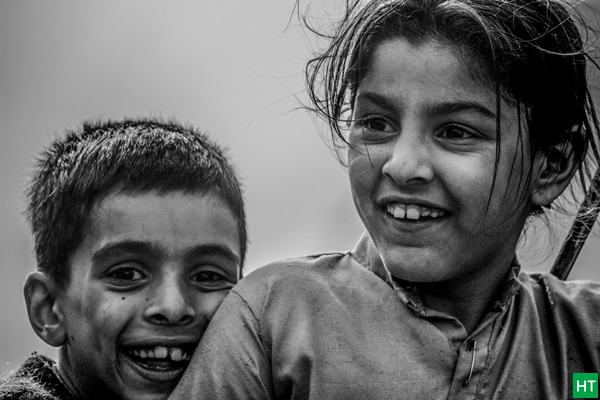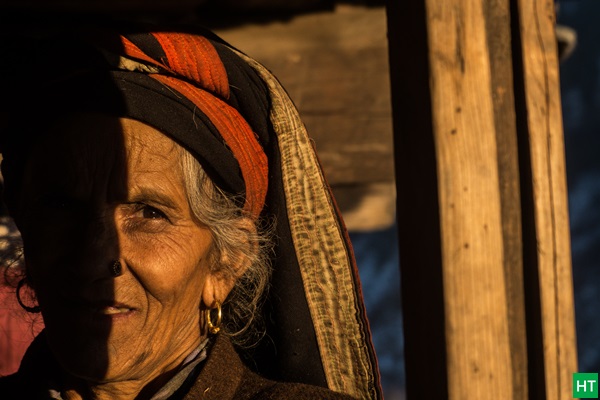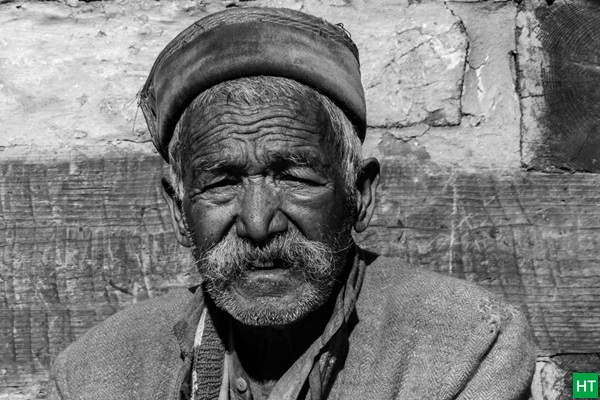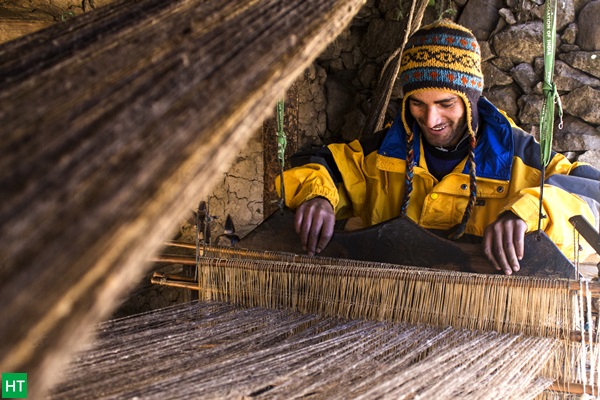 You can't camp at Har Ki Dun as per current permit by forest department, so you don't miss this part as well. But as said earlier, you need to push extra for Har Ki Dun in this variant.
Homestay and Food:
Expect simplest of arrangements for your night accommodations. You will get a room to sleep with blankets. Food will be same as the locals eat. You may get seasonal vegetable(s) or any delicacy, if available. If you like simple local way of living, you will definitely like it.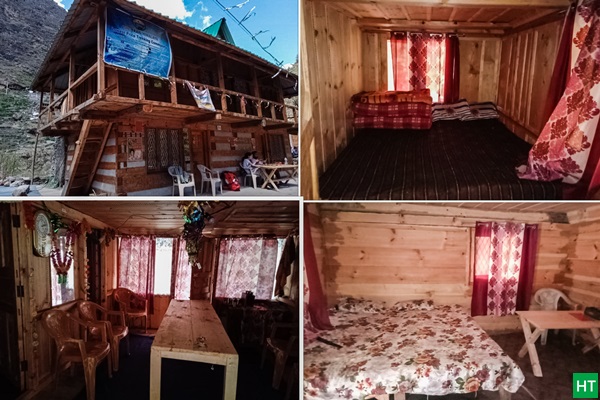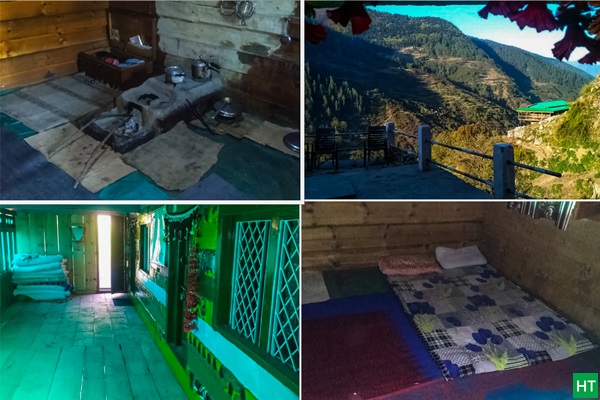 Who can opt for Har Ki Dun Osla homestay trek?
Though there are many flexibility, yet there are some factors that you need to consider as well.
This is a "Moderate grade trek, if you wish to reach Har Ki Dun and return to Osla in a day. On ground this translates to 22 Km, to and fro. While reaching so, your altitude gain is ~ 750 m/2460 ft. Due to longer distance the climb is not steep, and so is the descent. Nevertheless, this is NOT an easy trekking day, rather can be strenuous, if not adequately prepared. It will take around 4/5 hours from Osla to Har Ki Dun, assuming couple of hours around and explore, another 3 hours to get down to Osla, making it a good 10 hours excursion day. To make it less difficult, note that you need NOT to carry your luggage/rucksack for Har Ki Dun push. To summarise this particular day can be strenuous on some, be mentally prepared, and more importantly be in a good physical condition to sustain the day.
On the other hand it is relatively easy to acclimatise in the suggested itinerary. You will reach Osla (~ 2750 m/9020 ft) within tree cover after spending two nights at Sankri and Gangar. On Har Ki Dun excursion day, you will walk high and sleep low.
Season and  best time for Har Ki Dun homestay trek?
Osla homestay with Har Ki Dun trail is truly a year around trek, apart from monsoon season of July/August when it not convenient to trek. Every season has something to offer, which is special on its own.
From 2016 winter, local Forest authorities are not permitting this trail from December to February.  Entire trail falls under buffer and core region of Govind National Park . This is enforced due to the existing corridor of winter migration for wildlife inside the trail. At present no permit is given for winter Har Ki Dun trek but you can visit Osla and explore around.
As said above, this trek is still pretty beautiful in permitted seasons. If you are looking for snow, Spring (March/April) is ideal. Amount of residual snow depends on the actual snowfall during winter months though you can be sure to get some or ample amount of residual snow in spring.
From May onward during the summer time, the valley turns into green, bright and luminous. Blue Pine, Deodar (Himalayan Cedar), Kharsu (Oak), Spruce, Silver Fir and Birch trees are lush and glossy green. Due to the heat glaciers melt faster and pour more water to the tributaries on Tons river. Day time temperatures are warm to pleasant and nights are cooler. If you don't like the cold, this is the season to choose.
After monsoon is over, in September the valley remains lush green. As the fall approaches, slowly the grass turns into pale yellow. Maple, Chestnut, Walnut and other deciduous tree species take the autumn leaf foliage. The surrounding transformed into spectacular yellow, orange and bronze hue.
As you see, it is up to you to choose the best suitable time to trek in this beautiful valley. Its a beautiful route all around the year.
Temperature & clothing:
A trekker needs to be careful while selecting the proper clothing in winter as the campsite temperatures are sub zero in winter even at Osla.
Summer (May/June): Day time weather remains warm, specially if it is sunny and scorching and can go as high as 25/30°C. Night/early morning temp at Osla will be around 15°C to 10°C.
Fall/Autumn (Oct/Nov) or Spring (Mar/Apr): From October temperature starts cooling down. At Har Ki Dun temperature can plummet to freezing in the night/early morning. Be prepared for 0°C. Expect similar temperatures if you trek during spring.
Winter (Dec/Feb): In Dec/Jan the daytime temp remains cool and nights are cold. Early morning or night temp at Sankri, Gangar and Osla will be be around 0°,  -5° and -5° to -10° C.
Three layers of clothing is mandatory while on outdoor.
A base layer, can be a thermal layer or a quick dry t-shirt.
A warm jacket (Double layer or Fleece jacket ) as middle layer.
A windproof with hood as the outer layer.
Access to trek base Sankri:
Sankri is 200 Km away from Dehradun. You can get direct busses to Sankri from Dehradun:
3 privately operated busses (midi "Chicken bus") start from Gandhi road, Dehradun at 5:30 am, 6:30 am and 7:am daily. These buses stand on Gandhi road, 2/3 minutes walking from railways station and opposite to Agrawal Bhawan, Beside Hotel Grant. Buses take around 11/12 hours with couple of breaks in between.
A state govt. operated (Uttarakhand transport) midi bus at 8:00 am from Mussoorie bus depot, just adjacent to Dehradun railways station. It is better to take earlier private bus as there is no other bus service left, if this gets cancelled.
While returning from Sankri you can get the same busses starting between 6:30 to 7:30 am and reaching Dehradun in 11/12 hours.
Also, you can opt for a private car. We can arrange a pickup  from Dehradun railway station to Sankri and back. This You pay directly to the driver/owner. The fare is ₹ 6000 for a Tata Sumo/Mahindra Maxx one way and can accommodate 6 persons comfortably. You pay directly to the driver.
Here is a road map with major points enroute from Dehradun to Sankri.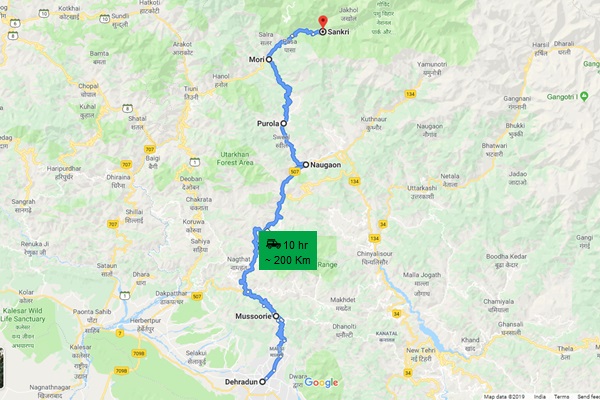 Why treks with HT?
| | |
| --- | --- |
| Expertise: | 10 years on ground experience |
| Support staff: | Qualified local & office staff |
| Group size: | Small groups up to 15 |
| Insurance: | Travel insured trek and tour itinerary |
| Easy Bookings: | 25% Booking Deposit |
Duration: 4 days of trek; Walking to Har Ki Dun, exploration and return. Dehradun to Dehradun in 6 days.
Prerequisite: Ideal first Himalayan trek with basic physical fitness.
 Grade: Moderate
Physicality: 6/10 to 6.5/10 with the given itinerary. Osla to Har Ki Dun and back is a good 10-hour walk, including a couple of hours of staying in the valley itself.
 Trail Length: 50 Km
 Highest Point: Har Ki Dun valley ~ 3500 m/11500 ft.
 Seasons: March to June (snow) and September to November.
Further Option: You may extend your travel and stay in different villages, like Datmir, Jakhol and so on.
Access: Trek starting point and end point is Sankri.
Rail station: Dehradun (STN Code: DDN)
Airport: Delhi; Jolly Grant in Dehradun (Airport Code: DED)
Map:
Dates for Har Ki Dun in Osla Homestay trek:

 
We don't run this trek as Fixed Departure. This is intended for small group of people as a customised private tour.
Trekkers need to reach Dehradun on Day 1 morning (latest by 6 am) or the previous night. Return to Dehradun on Day 6 evening by 7 pm. Arrange your tickets for inward journey and return accordingly.
| | |
| --- | --- |
| DEPARTURE LOCATION | Dehradun railway station |
| REPORTING TIME | 6:00 AM for a prompt departure to Sankri (Day 1) |
| RETURN LOCATION | Dehradun |
| RETURN TIME | Approximately 7:00 PM (Day 6) |
How to reach Sankri (The trek base):
 Nearest Rail station: Dehradun (Station Code: DDN)
 Nearest Airport: Delhi, Jolly Grant in Dehradun (Airport Code: DED)
Based upon your request we will arrange a pick up and drop from Dehradun to Sankri and back. This will be shared equally by the team members on actual basis. You pay directly to the driver/transporter. The fare is Rs 5500 for a Tata Sumo/Mahindra Maxx one way. This can accommodate 6 to 8 people. A Tempo Traveller charges Rs 9000 (12-14 seat) one way. This is NOT included in TREK FEE and to be paid directly to the driver/owner.
If you wish to reach our Trek Base Sankri on your own by public transportation:
There are 2/3 privately operated buses from Dehradun (near DDN railway station on Gandhi road) To Sankri. The 200 Km journey will take around 10/12 hours. The busses start at  5:30/6/7 am.
While returning from Sankri take the morning bus to Dehradun/Vikasnagar and reach by 7 pm.
How to reach Dehradun:
For the treks at Uttarkashi district in Garhwal , one has to reach the capital city of Uttarakhand, Dehradun, specially the trek starting from Sankri, Yamunotri etc. Haridwar, Rishikesh and Dehradun are 3 nearby cities in the area and one can move from one to another by public vehicles like bus or shared Jeeps.
For more options to reach Haridwar you can check here.
Haridwar to Dehradun: 55 Km and may take one and half to 2 hours.
Dehradun to Rishikesh: 45 Km and may take around one and a half hour.
You can fly or by train reach New Delhi as per your convenience from any part within India.
There are direct trains from Kolkata to Dehradun.
KUMBHA EXPRESS – Train No. – 12369 ( Very good option to reach Haridwar by 5 pm; You can take a bus from the terminus just opposite to the railway station referred as Roadways bus stand/ISBT and reach Dehradun in one and half hour. Spend the night in Dehradun and start your onward journey by car next morning.)
UPASANA EXPRESS – Train No. – 12327 ( Very good option to reach Dehradun directly by 5 pm; Spend the night in Haridwar and start your onward journey by car next morning)
DOON EXPRESS – Train No. – 13009 (Don't book this train when you plan a long onward journey immediately in the morning)]
Avoid booking wait listed (WL) tickets in AC classes (1A/2A/3A) or Chair Car (CC). Book Sleeper class (SL)/Second Sitting class (2S) tickets which have normally more seats/berths and hence much better chance to get confirmed.
You can reach Dehradun easily  from New Delhi by train or bus (~ 6/7 hours) and is around 260 Km.
By train:
Following trains are good to reach Haridwar and run daily.
DDN JANSHTBDI – Train No. 12055 (Arrives DDN in the evening @ 9:10 pm, good choice when you stay the night in Dehradun and have a long drive ahead next day)
NANDA DEVI EXP – Train No. 12205 (arrives DDN early morning @ 5:40 am)
Always avoid booking waitlisted (WL) tickets in AC classes (1A/2A/3A) or Chair Car (CC). Book Sleeper class (SL)/Second Sitting class (2S) tickets which have normally more seats/berth and hence much better chance to get confirmed.
By bus:
Govt. Road Transport (Roadways of Uttarakhand, Uttar Pradesh, Delhi, Haryana, Punjab etc.) buses are frequently available in day time and night from Kashmiri Gate ISBT (http://www.delhi.gov.in/wps/wcm/connect/doit_transport/Transport/Home/ISBT/Fare+Chart). Tickets are available on board for these regular type buses. From Delhi Airport or Station you can reach ISBT Kashmiri Gate via Delhi Metro service (http://www.delhimetrorail.com/metro-fares.aspx). It is only 4 Km from NDLS and can be reached easily by booking an auto rickshaw.
For privately operated bus, you can book online from different portals. Select a boarding point suitably. Overnight Volvo/A.C/Push back buses are available. Normally these buses take up to 7 hours to reach Dehradun ISBT. You can book an auto rickshaw for Railway Station (5 Km away)/Hotel Drona (GMVN) or take a shared auto (Route No. 5) from ISBT.
[There are two major bus terminus in Dehradun. The buses from Delhi/Haridwar goes to the ISBT (Inter State Bus Terminus) and the other one is the Parvatiya Depot (Hill Depot, from where you can get the buses going up the hills like Uttarkashi, Barkot, Purola etc) located just beside the Railway station.
Nearest Airport Jolly Grant is 25 Km away from Dehradun. book a private taxi to reach Dehradun city. This airport is accessed from Dehradun, Haridwar and Rishikesh easily. The flights are mostly via Delhi.
For night stay in Dehradun:
Trekkers reaching on the previous day before the journey to the actual trek base need to stay the night in Dehradun. There are several options in Dehradun for spending a night while staying in Premium, Standard or Budget accommodation. Options vary from Privately operated Hotels/Lodges, to state run Tourist Rest Houses.
State run GMVN (Garhwal Mandal Vikas Nigam) operates Hotel Drona complex is 10 minutes walking from the railway Station. You can book an auto rickshaw. From ISBT it is around 5 Km. You can book an auto rickshaw to Hotel Drona (GMVN) or take a shared auto (Route No. 5) from ISBT (Inter State Bus Terminus). This is a reliable and a decent choice for Standard accommodation. The have restaurant and room service.
Check the following for online booking of the above: http://www.gmvnl.com/newgmvn/tour/booktrh.asp
You can call or visit GMVN nearest office or even send an email for more information.The information is available at:
http://www.gmvnl.com/newgmvn/online_reservation/#
Return from Dehradun:
Normally you reach Dehradun from any trek base  by 6/7 pm in the evening. You can take any train after 9 pm or regular bus service as mentioned above to reach Delhi or directly to your homeward journey in the same night.
  TREK FEE: ₹ 21,500 (Sankri to Sankri) + 5% GST  
Note: This tour is designed as a customisable private tour. We don't publish a fixed departure for this variant of the Har Ki Dun trek.
The above trek fee is based on a minimum of 2 trekking members, Sankri to Sankri.
If you are a minimum of 4 members, the TREK FEE will be ₹ 18,500 + 5% GST per person, Sankri to Sankri.
If you are a solo person, the TREK FEE will be ₹ 32,000 + 5% GST per person, Sankri to Sankri.
Note: Sometimes it is possible to stay at Har Ki Dun Forest Rest House as well. This is a basic arrangement (4 beds and an attached toilet) and depends on availability.
Additional ₹ 5,000 per person for a group of 4
₹ 6,000 per person for a group of 2 and
₹ 8,000 for a solo traveller.
Inclusions:
5 nights' accommodation (Day 1 to Day 5) in a homestay on a twin or double sharing basis as per availability. For solo travellers, we provide one room.
All meals during the trek (B, L, D; Breakfast, lunch, and dinner, from Day 1 diner to Day 5 dinner) Simple India vegetarian food during the trek along with morning and evening tea.
An experienced local trekking guide (who will be able to communicate in very basic English, if need be).
Any permit fees for the trek (for Indians only).
Taxi drop from trek basecamp Sankri to trek starting point Taluka and return.
Basic Medical and First Aid Kit.
Travel and medical insurance for Indian nationals up to 60 years of age for a duration of 7 days
Exclusions:
Transportation from Dehradun to Sankri and return ₹ 6,000 for a private taxi (Tata Sumo, similar), one way. You may also avail one of the direct buses from Dehradun to Sankri early in the morning (6 a.m.). The fare is approx. ₹ 500 one way.
We assume that you will carry your personal backpack with all your personal belongings. If you want to offload your backpack and be carried by a porter, you need to pay separately. A porter charge is ₹ 1,500 per day, which covers his wage along with food and any stay expenses.
Additional ₹ 2000 + 5% GST per person service charge for foreigners towards permits and levies.
 Any tip or gratuity to the HT support staff.
Anything that is not mentioned in the "Inclusions" or is personal in nature.
Drive to Sankri: 200 Km - 10/11 hours
Pickup in the morning from Dehradun and reach Sankri (~ 1900 m, 6230 ft) . Distance around 200 Km and can take 9/10 hours. The road is one of the most scenic in Garhwal region while we go up to the classy hill station of Mussoorie at the beginning, turquoise Yamuna river in the middle and conifer forests of blue pine and meandering Tons river at the later half of the journey. The major points are Mussorie, Yamuna Pool, Damta, Nawgaon, Purola, Mori and Netwar. Mori is the last place from where you can get a confirmed mobile phone network and also has a SBI ATM. Though Sankri has a BSNL tower but network doesn't remain most of the time! After crossing Netwar we reach the check post of Govind Vanya Jibh Vihar (Govind National Park) from where the permits need to be obtained. Sankri has few private lodges and a GMVN operated Tourist Rest House (TRH) and couple of basic restaurant to serve food. Night stay in lodge/homestay.
Drive to Taluka: 1 hour; Trek to Seema: 14 Km - 6/7 hours
Wake up early in the morning to see the first sun light on Sankri. It is a small stretch of Bazaar and the adjacent village. After breakfast we prepare to start our trek. There is a motor able Kaccha road from Sankri to Taluka heading up the valley. The bumpy 11 Km ride takes around 45 minutes to reach Taluka (~2100 m/6900 ft). Our walk starts from Taluka. The camping ground is adjacent to the Forest Rest House. There is a small tea shop at the end of the road and 2/3 very small provision stores. We directly take the stony stair cases to get down almost to the river bed and start walking along the Tamosa river, keeping it on our left ("True Left" of the river). It is an easy gently walk gradually moving up the valley. Snow is encountered at patches where sun doesn't get a chance to enter for longer duration. After walking for an hour we cross a side stream and move on to an flat opening on the left hand of the trail. Local people are seen in an interval with heavy loads on their back aiming to stock provisions for long winters. There are few villages in this valley like Datmir, Gangar, Powani and Osla, the last one being the farthest. Walking along the valley in the shades of conifer and occasional snow patches for 9 Km, we reach a side stream and cross the bridge to get on the main valley again. This place has also a bridge on the Tamosa river and the Village named "Gangar" is mostly on the other side of the river. From here we continue our gradual walk for another hour to reach an opening with a new concrete construction for a proposed school. A bridge on Tamosa is built here to reach the village of Osla. We keep our track while the river is on our left and walk another hour inside a sun shed thick forest to reach Seema (~2500 m, 8200 ft). The last stretch remains snowy in winter and avoid slush. One GMVN TRH and a Forest Rest House along with a solitary private Dhaba (Opens from Jun till Oct) to serve food. Prior booking of the any of these is highly recommended for trekkers who don't have camping setup. Camping ground is also nearby. Seema is not a village but only a tourist shelter point. The village Osla is on the other side of the river, almost ~ 215 m/700 ft above the river bed. Total distance is 14 Km and may take 6/7 hours. We camp for the night.
Trek to Har Ki Dun: 11 Km - 5/6 hours
We start in the morning on the stoned trail and reach the suspension bridge at Seema. The trail straight ahead goes to Ruinsara Tal and further to Bali Pass or Dhumdharkandi Pass. Cross the Tamosa river and climb up to reach the trail which is going along the river upstream. From now onward the river will be on our right ("True Right" of the river) and we gradually go up to reach a vast green expanse which is a huge clearing for farming by the people of Osla. From here the peaks facing north and north east opens up and the views of Banderpunch group and Swargarohini group are breathtaking along with Black Peak (Kalanag). We gradually skirt the mountain for another hour to reach the base of the steady climb to Kalkatti Dhar. From here we can see the Ruinsara valley takes a right turn , while we take a left turn. Har Ki Dun Nallah and Ruinsara Nallah meets below Kalkatti Dhar to form Tamosa river. It is normally windy while we climb to Kalkatti Dhar. After reaching the the highest point on the shoulder of the mountain we turn left and gradually go down. First time after Seema we again enter into the forest and descend steadily to a side stream. In winter the waterfall remains frozen. This is a good place to have lunch. From here we gradually climb in to a forest canopy of Silver Fir , Cedar and Oak. Crossing the forest we enter in to the wider valley with occasional Birch ( Bhurja Patra in Hindi) and Rhododendrons. The valley is teemed with bird life. Buntings, Flycatchers and Mountain Fiches are abundant. Himalayan Langur and Blue Sheep are common in this valley. There are reported sightings of elusive Snow Leopard in this region. Now the river bed is almost at the same level and Har Ki Dun valley approaches. The camping ground is near the river and several tents can be pitched. Walk another 10 mins to cross the Har Ki Dun Nallah over a small wooden bridge. Forest Rest house (FRH) is a minutes walk from here. GMVN TRH is another 10 mins ahead. It is mandatory in winter to book in advance for any of these huts. Caretaker only comes along with the keys for a prior booking. During summer food is available in GMVN TRH. There are two rooms at FRH and one dormitory at GMVN which can be booked. It is better to come with own tent and provisions in season to avoid any hassle. Total distance is 11 Km and may take 5/6 hours. Average height of the valley is ~ 3500 m/11500 ft. Camp for the night.
Exploration Day towards Marinda Tal or Jamdar Glacier: 8/10 Km - 4/5 hours
Wake up early in the morning to see the sunrise on Swargarohini group of peaks. Changing colour is magnificent to watch and unforgettable. The Forest Rest House (FRH) is located some what centrally in this vast expanse of the valley.  Heading straight from FRH is Har Ki Dun peak. On the right towering Swargarohini and to the left is Hata peak. Two streams are coming from two different directions, one from Jaundar glacier and other from Borasu pass watershed to Har Ki Dun and forming the Har Ki Dun Nallah. Har Ki Dun is a big enough valley sitting in the middle with forking of trails in different directions. Treeline recedes here in all directions. Today is an exploration day amidst snow or simply one can sit back at the campsite and relax while sipping a cup of coffee. After breakfast one can either go to explore the Jaundar glacier or to Maninda Tal area, which are on different directions. The snout of Janudar glacier is 8 Km from Har Ki Dun. The trail is not defined and on snow, boulder and moraine, involving descent and ascent. It is pretty difficult to reach the snout of the glacier and return to the campsite in a single push. A camping is required in between. It is advisable to venture and advance in this direction only till noon and retrace back by 3 pm. On the other hand, Maninda Tal is about 2 hours walk from Har Ki Dun and is in the route towards Borasu Pass trail which connects this valley to Baspa valley in Kinnaur, Himachal Pradesh. The area is a shallow formation of clogged water resulting from a flattened bed of the stream. The valley heading upward looks splendid from here. Lammergeier and Himalayan Griffons encircle the valley surrounded by rocky cliffs. Pug marks of Snow Leopard following a flock of Bharal (Blue Sheep) is common. Return to Har Ki Dun by lunch time and take the hot lunch prepared freshly. From the FRH cross the wooden bridge on the Har Ki Dun Nallah walk toward the camping ground in the afternoon. Kedarkanta peak is clearly visible and the highest point in this direction. Sunset is mesmerising , reflecting the last rays of sun on Har Ki Dun Nallah and peak. Changing golden hue makes any trekker a spellbound spectator. It is a good idea to collect firewood to setup a fire in the night. This is already a fragile ecosystem, so ONLY collect branches and twigs which are already fallen from the trees. The FRH has a fireplace inside. Nights are pretty cold here and the temperature can plummet to -10 deg C outside the night in winters. Night stay in tent.
Trek to Osla/Seema: 11 Km - 5 hours
Today after breakfast we start our return journey toward Seema. It is a gentle descent along downstream till we reach the waterfall which remains frozen in winter. From here we climb up to Kalkatti Dhar and descend gradually to the vast crop field. Approaching the Seema bridge, we take the trail straight heading toward the village Osla, instead of directly going down to Seema. It is a memorable experience to visit a village like Osla, nestled on the lap of mountain. The houses are mostly build of wooden structure with slate as the roof. Houses are two storied, lower being the cattle shelter and firewood/fodder store, upper being the residence of the family. Though few satellite TV dishes  are present on top of few houses but the village lacks  very basic facilities.  A satellite phone is available to connect to the outer world. One can make a phone call to home by paying nominal charge, if a connection is available. The village is spread along the slope of the mountain and a temple is the heart of the village. Wood crafted temple is more than a century old. It is a legend that Duryodhan, the eldest brother of the Kauravas is worshipped in this temple. The deity of the temple resides at different temples of the villages of this valley, turn by turn. The rule being same across the Himalaya, summer is higher, and winter is lower. It is a chance to meet local children and people, knowing their livelihood, custom and culture, social structure. It is worthwhile to spend some time with joyful kids in the village. After spending some time in the village we take the trail down toward the Seema bridge and by crossing the suspension bridge we reach Seema. Night accommodation in tent.
Trek to Taluka: 14 Km - 6/7 hours; Drive to Sankri: 1 hour
We retrace our trail back to Taluka. From here take the car to reach the trek end point Sankri. Night stay in lodge/homestay.
Drive to Dehradun: 200 Km - 10 hours
In the morning we start our return journey and reach Dehradun by 7 pm. Trip ends here.
P.S.: Distances and altitudes are approximate and may not be exact.
Booking:
We assume that you have read and understood our "Terms & Conditions" (https://himalayatrekker.com/terms-and-conditions) before Booking a trek/tour.
To reserve your place in a scheduled Fixed Departure trek or a Customised/Private trek pay 25% of the TREK/TOUR FEE as the initial "Booking Deposit". You can pay by Net banking/Draft/Cheque/Credit/Debit/AMEX cards. This will ensure your participation in the desired trek and we will reserve your place in the scheduled date. You need to pay the remaining amount at least 15 days before Trek Starting Date.
If you book a Trek/Tour before 14 days or less from Trek/Tour Starting Date, you need to pay the full TREK/TOUR FEE.
 Cancellations:
"Booking Amount" i.e.25% of the TREK/TOUR FEE is Non-Refundable at any stage.
If in case you are not able to make it due to unavoidable reason(s), we provide you a very flexible choice of Shifting to another trek within next one year. One year is counted from the starting date of the trek/tour you booked initially with us.
In case you postpone your trip you need to informminimum of 15 days before the trek/tour starting date. (Though we suggest to inform us earlier if known)
In case you postpone a trek/tour before 15 days of the scheduled Trek/Tour Starting date or prior, you may shift to another group of the same trek/tour scheduled in the same season or within next one year. You may shift to another suitable route also. For changing any, you need our approval first. Your request must be in written communication through your registered email with us.
If you cancel/postpone a trek/tour from14 days to 8 days before tour starting date, your Booking Amount is Non-Refundable. We will not take any request of shifting dates. We will charge 50% of the amount as Cancellation Charges and process refund of remaining 50%. You may also shift to another group within next year but 25% Booking Amount will be deemed as Cancellation Charge and the rest amount will be transferred to the shifted group.
If you cancel a trek/tour 7 days (i.e. a week) before Trek/Tour Starting Date or later, there will be NO REFUND.
In case of any unforeseen incident including but not limited to natural calamities like flood, earthquake, landslide, forest fire or any political unrest, if we are compelled to cancel the trek/trip, you will be entitled to redeem the full amount for the same/similar kind of trek/trip within next one year.
If you need more clarifications write in to [email protected]