4200 m/13775 ft
Highest Point
Kashmir Great Lakes Trek:
Available upcoming group departures for Kashmir Great lakes trek starting on 29th Jul; 5th, 12th & 13th Aug .
Customised private tours are possible from late June to late September. Costs as per group size are given in details on this page here.
Kashmir Great Lakes, a.ka. KGL trek, became increasingly popular and now probably the most coveted trek during monsoon in Indian Himalayas. Kashmir – "The paradise on earth" is truly unfurled during this 7 days walk covering a distance of ~ 70 Km. Six high altitude lakes, alpine meadows dotted with tiny wildflowers, exquisite campsites make this journey a fascinating one. Consequently the KGL trail is the Best of Kashmir, what locals call Jannat E Kashmir, a piece of paradise on earth.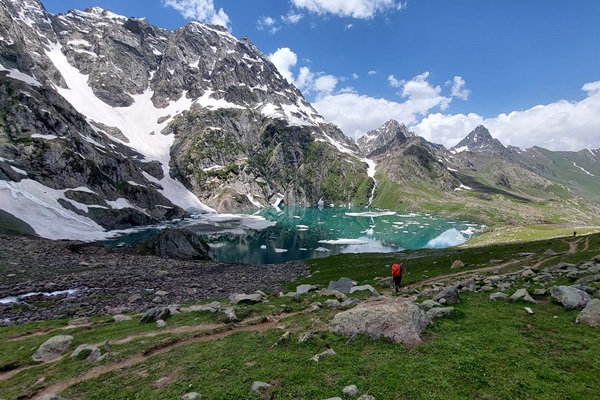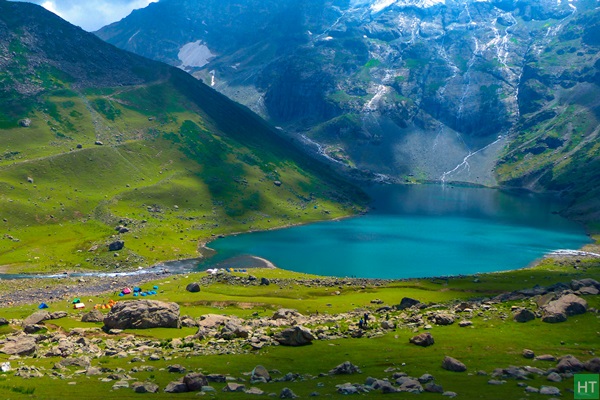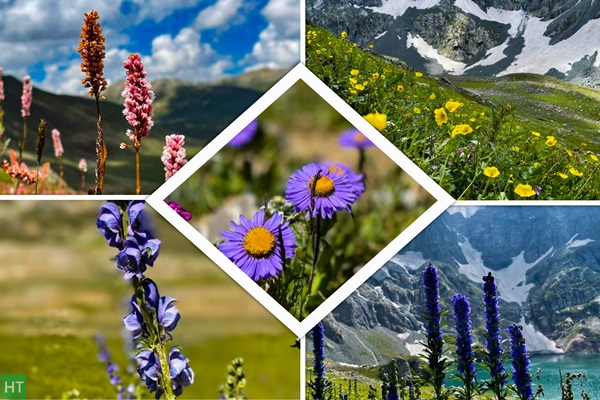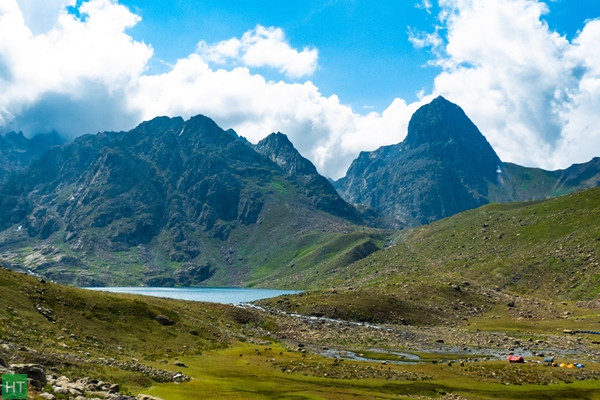 Below is your Complete Guide to KGL Trek for 2023. Click on a link to jump to a specific part of information.
Itinerary
Notes on itinerary
About KGL trek
Altitude & Distance graph
Trek Difficulty
Is it doable by beginners?
Weather & Best time to visit
Rainfall during best season: An observation
Things to bring
Flora & Fauna
2023 Tour packages & Cost
Reaching trekbase
Itinerary for KGL trek:
Day 1: Drive from Srinagar (latest by 12 o'clock) to the trek base Shitkari (~ 2650 m/8690 ft, 2 Km before Sonamarg) – 85 Km – 3 to 4 hours drive. Twin sharing camp.
Day 2: Trek to Nichnai (~ 3505m/11500 ft) – 13 Km – 7/8 hours. Camp.
Day 3: Trek to Vishansar Lake (~ 365o m/11970 ft) via Nichnai Pass (~ 4070 m/13350 ft) – 12 Km – 6 to 7 hours. Camp.
Day 4: Rest and active acclimatisation Day. Hike to Kishansar lake and back – 2 hours. Camp. (subject to weather and team conditions)
Day 5: Trek from Vishansar to Gadsar (~ 3660/12000 ft) via Gadsar Pass (~ 4200 m/13775 ft) – 16 Km – 7 to 8 hours. Camping ground is further down (~ 3300 m/10825 ft) from Gadsar lake.  A strenuous day.
Day 6: Trek to Megandob (~ 3650 m/11970 ft) via Satsar lake – 10 Km – 5/6 hours. Camp.
Day 7: Trek to Nundkol lake via Zaj Pass – 8 Km – 5/6 hours –  visit Gangabal lake and return – 2 hours. Camp.
Day 8: Trek to Naranag – 11 Km – 5/6 hours – 60 Km drive to Srinagar – 3 hours. You will reach Srinagar by 7 pm.
Day 9: Fly out from Srinagar.
Important notes on itinerary:
Carefully read the following points so that you can arrange your tickets and understand the estimated additional expenses outside the TREK FEE.
You need to reach the latest by 12 noon on Day 1 in Srinagar. After the trek you will return to Srinagar on Day 8 or Day 9 (if reserve day is utilised), by 7 pm. You may fly out of Srinagar anytime on Day 9 or later. Arrange your tickets, and stay in Srinagar accordingly.
Day 4, i.e. rest and acclimatisation day depends on different actual conditions during the trek. Sometimes we may skip it and keep a rest day at Gangabal twin lakes camp instead. In this way trekkers get a full day to relax at Gangabal twin lakes camp.
We will arrange a shared transportation from Srinagar airport  (or from TRC Srinagar) to basecamp Sitkari and from trek endpoint Naranag to Srinagar city back. The fare is ₹ 4500 one way for a Tata Sumo/similar and can accommodate up to 6 persons. You pay the driver directly, sharing equally with the other team members. Consider ₹ 1500 to 2000 per person which includes pick up and drop.
Leave luggage facility is

not available

on this trek as the trek start and end points are not the same but far away.
Note that prepaid sim cards do not work in Kashmir. Airtel and Jio have decent networks at basecamp Shitkari and Naranag. In between we will not get any network.
About the trek:
Not only do you see six fairly large alpine lakes on this trail but get an all round hiking flavour in Kashmir Valley. Jannat doesn't need a long introduction. As they say, "A picture is worth a thousand words", let's go through this incredible hiking experience visually.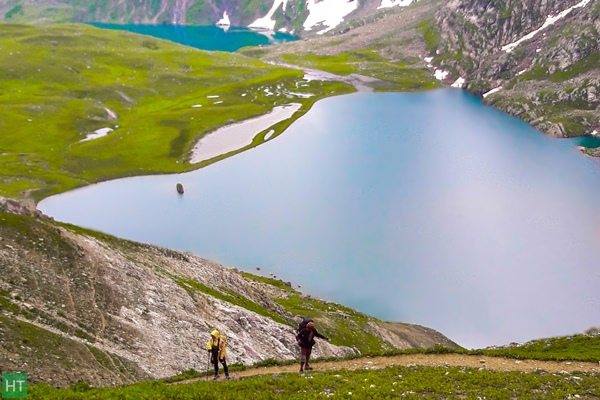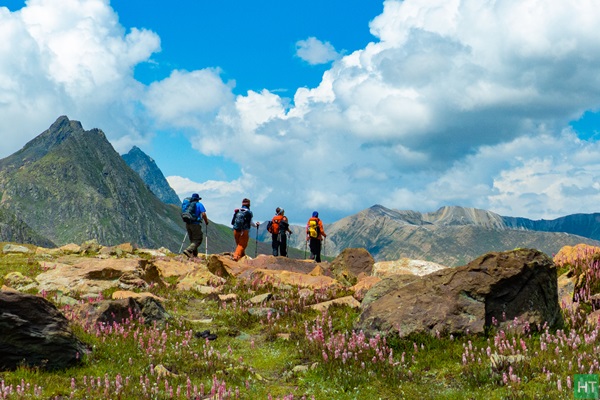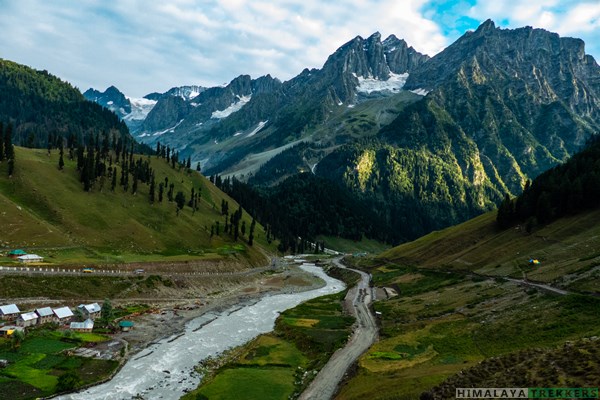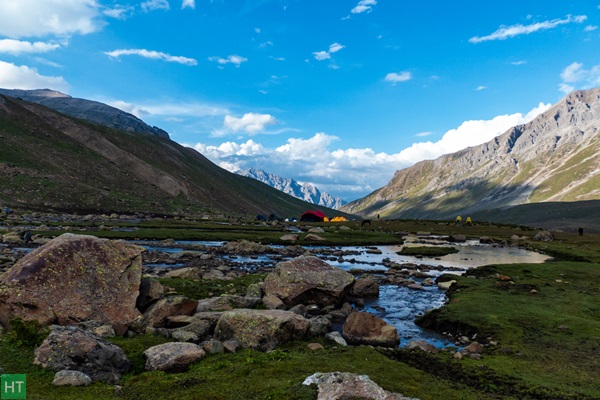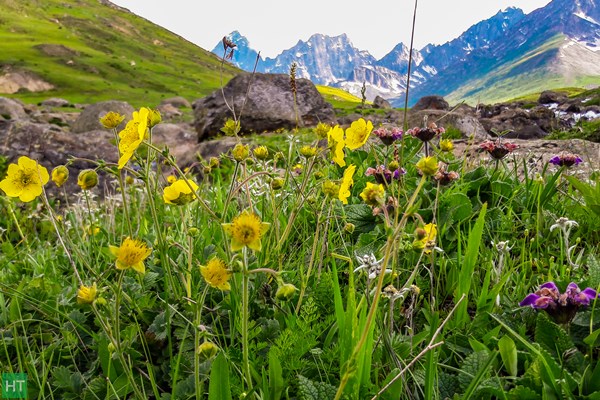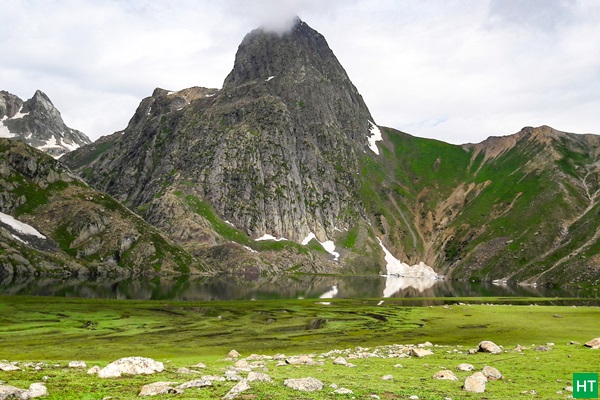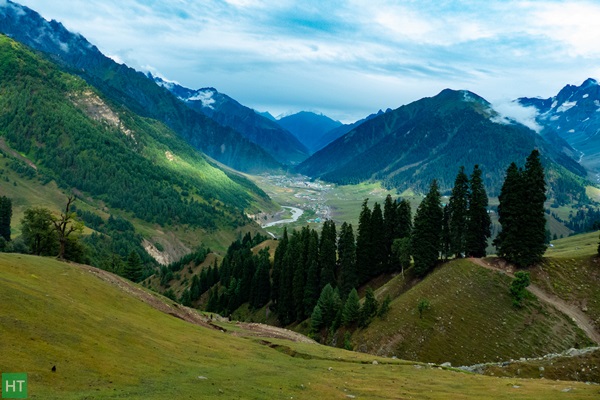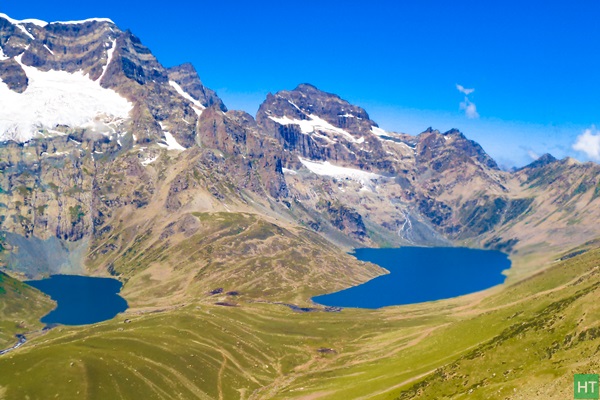 Beautiful, isn't it? But just don't jump into this moderate grade trek! Undestand and get more insights reading thoroughly so that you can plan and prepare.
KGL trek: Distance & Altitude profile chart:
Below is an indicative profile of the trekking trail. Note that you will get more undulations (ups and downs) on the actual trail.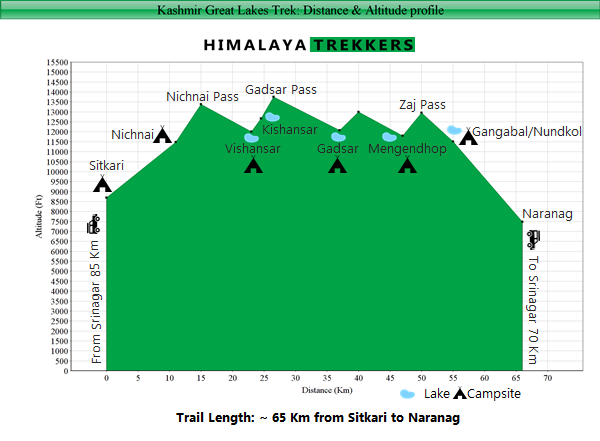 How difficult is the Kashmir Great Lakes trek?
KGL is a moderate grade Himalayan trek. Walking considerable distances everyday with some ascent and descent may fee a a bit strenuous to some as well. That is why we rate it 6.5/10 on a grade of physicality scale.
At the same time our itinerary has 7 trekking days. Initial couple of days are long and you gain height as you reach the first lake on the trail Vishansar. Depending upon team and weather condition we may take an active acclimatisation day here as mentioned in the itinerary. We will visit the next lake Kishansar, gain some height towards Gadsar pass and return to Vishansar camp. Or else if everything looks good we can skip this day and continue till the last campsite at Gangabal twin lakes. This is also a welcome opportunity to relax a full day beside the exquisite campsite at Gangabal.
The fairly long ~ 65 Km trail has few ups and downs as well (refer to the altitude profile graph above). Water bodies/lakes are at the base of the mountains and usually you will cross a pass or ridge like Gadsar or Satsar and followed by a descent to the next valley and lake(s). So prepare for some easy to moderate ascents and descents during the trek. The trek from basecamp to Nichnai has moderate grade of ascent with a relatively steep gradient in the initial couple of hours.
When you go up on a mountain trail, eventually you need to get down. Here in KGL trek almost all the altitude loss, i.e. your climb down on the hike is on the last day of the trek. To note that more than 1000 m/3300 ft descent in a span of 11 Km. Use walking sticks and knee cap particularly who may have prior knee conditions/injuries or suspect one.
Is KGL trek suitable for beginners?
At the same time there are encouraging parameters for beginners as well. While the highest altitude on this hike is below 14000 ft (4200 m/13775 ft), all camps are more or less in between 11500 to 12200 ft. In between we climb higher although sleep at a lower altitude, following the "walk high, sleep low" mantra of acclimatisation.
So you can understand that KGL is not a trek to take casually. It is ideal for hikers with few prior experiences or even for the beginners who have pretty good physical fitness and leading an active healthy life. Do check the guidelines to prepare and improve your fitness for treks so that you are comfortable on the trail.
Weather pattern and best time for Kashmir Great Lakes trek:
Kashmir treks are best done between July to September and so is the KGL trek. There are no theoretical summer monsoons in Kashmir. This region receives maximum precipitation as snow during winters due to the western disturbances.
Season starts as early as the later half of June when snow becomes minimum. Although there is no monsoon, but July and August do get rain showers. On mountains afternoon showers are common in summer and monsoon. Due to rain and warmer temperatures valleys turn greener with vibrant wildflowers.
From September autumn sets in. Rains are minimal during this month of the season. Meadows turn yellow to golden as we move on. Shepherds and Bakkarwals return to their base with their cattle after the grazing season.
Finally in our opinion mid July to late August is the best window to visit Kashmir Great Lakes trail within the possible season of late June to late September.
Monsoon and rainfall during Jun to Sep in KGL trek: An observation
Practically there is no or almost negligible "monsoon wind" that enters the Kashmir valley. Kashmir region receives most of its annual precipitation from western disturbances and lesser precipitation from Indian Summer Monsoon (ISM). You will get more idea of monsoon patterns and precipitation in our article for best monsoon treks in India.
However note that it does rain during the possible season between Jun to Sep. A recent research shows that rainfall has increased and become somwhat errant nowadays. Climate change is playing its part here as well. The following chart shows a yearwise study of rainfall since 1980.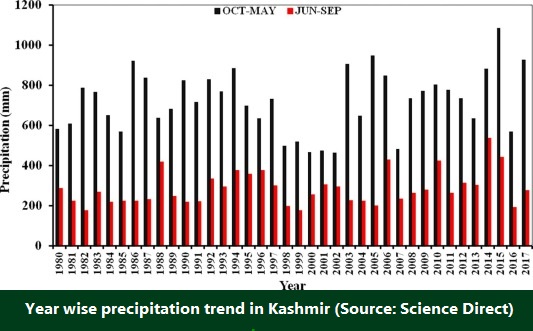 So be prepared to get some rainfall during your trek. Usually pm showers mostly in the afternoon for an hour or two and common on mountains. Rarely you may get moderate to heavy rain throughout the day. Carry your waterproof clothing (raincoat or a poncho) and you should be OK on the trail.
What type of clothing should I bring for this trek?
It is important to carry proper clothing in this trek. We recommend to use "three layers" of clothing  in the campsite during early morning or evening, while you are outside tent.
A quick dry base layer (Dry-fit t-shirt).
A warm jacket (Double layer or Fleece jacket ) as middle layer.
A windproof cum waterproof with hood as the outer layer.
Additionally you would require a rucksack and a decent trekking shoe.
Check the detailed List of things to carry or download the PDF. Also check how to select the correct gears/clothing you need for the high altitude treks.
Flora Fauna on KGL trail:
Often we overlook the actual residents i.e. the various species of plants and animals or birds on a hiking trail. Kashmir valley is typically famous for its alpine wildflowers and you can spot more than 50 species easily on this trail alone. Hyacinths, Lilies, Jasmine, Marigold, Kashmir Iris are some common ones.
Among birds, gold and rose finches, wagtails and pipits are easy to spot. You may spot a colony of Himalayan marmots on the rocky side walls of the valley.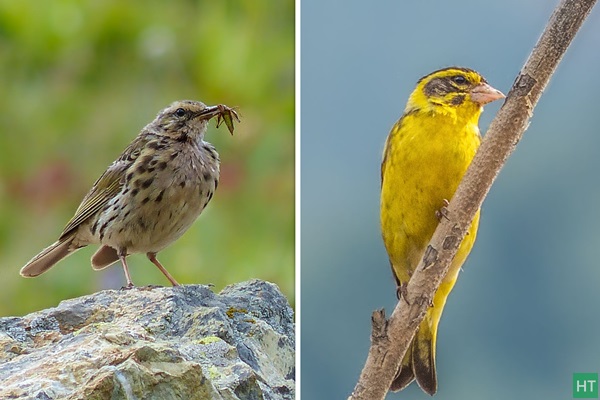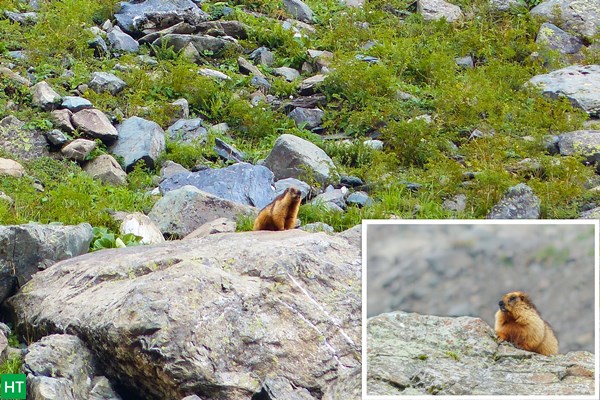 Kashmir Great Lakes trek cost and packages for 2023:
A) Fixed Group Deparutes: TREK FEE:  ₹15,950 per person (Sitkari to Naranag)  + 5% GST. Dates are published and available in the Booking Form calendar (marked in green). You will get a flat 10% Group Discount on TREK FEE, if you book for 5 persons or more in any available group departure date. TREK FEE includes all meals, twin sharing tent accommodation, permit, guide, cook support staff, camping equipment. Your tour is travel and medically insured for a duration of 10 days. Check detailed inclusions and exclusions list in the COST INCLUSIONS tab.
Note: Offloading of backpack is ₹ 2500 per bag up to 10 Kg for the entire duration of the trek.
B) Customised Private tours: It is also possible to customise this trek as per your preferred dates and services. This is usually cost effective when you are a larger group of 10 people or more. However this is also suitable for smaller groups who prefer more flexibility or tailor made itineraries and additional services suiting their specific needs.
Below is a Price-Matrix for customised treks assuming the same inclusions and exclusions as that of our group departures (Economy Budget inclusions, same as that of Fixed group departures).
Kashmir Great Lakes trek Cost 2023 (Sitkari to Naranag)

| No of Persons | TREK FEE, ₹ per person |
| --- | --- |
| 6 to 7 | 22,000 |
| 8 to 9 | 20,000 |
| 10 to 12 | 16,000 |
| 13 to 15 | 15,000 |
| 16 to 20 | 14,000 |
5% GST applicable on TREK FEE.
How to reach Kashmir Great Lakes trek base (Sitkari near Sonamarg):
Our trek base Sitkari is around 3 hours drive from Srinagar via Kangan and Gangangir. Similarly trek end point Naranag is around 60 Km away from Srinagar.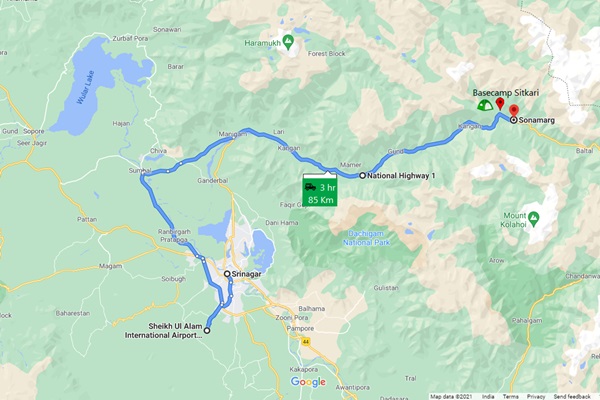 We will arrange a car pick up from the airport/city centre to trek base Sitkari and from trek end point Naranag to Srinagar back. The charges for 2023 are following:
Srinagar airport to base camp Sitkari: ₹ 4500 (Tata Sumo, Non AC)
Naranag to Srinagar: ₹ 4500 for a Tata Sumo (Non AC).
You pay directly to the driver sharing equally.
Most convenient way to reach Srinagar is via flight. Sheikh Ul-Alam International Airport in Srinagar (Code: SXR) is around 10 Km away from the city centre.
Otherwise, the nearest railway station is in Jammu (Station Code: JAT) and it takes around 10 -12 hours to reach Srinagar, covering ~ 280 Km.
Why treks with HT?
| | |
| --- | --- |
| Expertise: | 12 years of on ground experience |
| Support staff: | Qualified local & office staff |
| Group size: | Small groups up to 15 |
| Insurance: | Travel insured trek and tour itinerary |
| Easy Bookings: | 25% Booking Deposit |
 Duration: 7 days of trek; Srinagar to  Srinagar in 8 days.
 Prerequisite: Prior trekking experience is desirable. Good physical fitness to comfortably walk sustained duration on mountais.
 Highest Point: Gadsar Pass ~ 4200 m/13750 ft.
 Grade: Moderate
Physicality: 6.5/10
 Length: ~ 70 Km
 Seasons: July to September
 Further Option: From Naranag drive to Sumbhol and trek to Tarsar and Marsar
 Access: Trek starting point is Shitkari, Sonamarg, 85 Km from Srinagar
Rail station: Jammu Tawi (STN Code: JAT)
 Airport:Srinagar (Code: SXR)
 Map:
Upcoming scheduled dates for KGL trek:

 
You can check the scheduled Fixed Departure dates in the calendar available inside Booking Form or inside REGISTER NOW form. Tour starting Dates are highlighted as per our itinerary (Day 1 of 8 days itinerary).
At present BOOK NOW functionality is disabled. You can get all the information in your email by submitting the REGISTER NOW form.
If you are a group of people and available dates are not matching then you may select Custom date mode (by clicking the Select your custom date) and fill in the displayed form.
You can also check all the available dates at a glance in our

TREK CALENDAR

.
Trekkers need to reach Srinagar on Day 1 by 12 noon. Return to Srinagar on Day 8 evening by 8 pm. Arrange your tickets for inward journey and return accordingly.
| | |
| --- | --- |
| DEPARTURE LOCATION | Srinagar Tourist Reception Centre (TRC) |
| REPORTING TIME | 12:00 noon for a prompt departure to Sonamarg (Day 1) |
| RETURN LOCATION | Srinagar |
| RETURN TIME | Approximately 7:00 PM (Day 8) |
Getting to Sonamarg (The trek base):
We will arrange a car pickup from Srinagar to Sonamarg and from Naranag to Srinagar back. This will be shared equally by the availing team members.
The best option to reach Srinagar is by flight. There are direct flights from Delhi.
By train one has to reach Jammu and then a drive to Srinagar takes around 12 hours covering approximately 300 Km.
Drive to Sonamarg: 90 Km - 3 hours
Pickup from Srinagar TRC in the afternoon (between 2 to 3 PM) and reach Shutkari (~ 2300m, 7500ft) the trek base which is 2 Km before Sonamarg. The 80 odd Km drive from Srinagar takes up to 3 hours, following Sindh river on Srinagar Leh highway. The camp site is beside a tributary to Indus and located opposite to the small village called Shutkari. Tented accommodation for the night.
Trek to Nichnai: 11 Km - 7/8 hours
Trek to Vishansar via Nichnai Pass: 12 Km - 6/7 hours
Trek to Gadsar via Kishansar and Gadsar Pass: 12 Km - 7/8 hours
Trek to Myangandhop via Satsar: 10 Km - 6/7 hours
Trek to Nandkul via Zaj Pass: 10 Km - 6/7 hours
A walk to Gangabal lake plus a rest day
Trek to Naranag: 11 Km - 6/7 hours; Drive to Srinagar: 70 Km - 3 hours
P.S.: Distances and altitudes are approximate and may not be exact.
  TREK FEE: ₹ 15,950 (Sitkari near Sonamarg to Naranag) + 5% GST  
Inclusions:
Accommodation in twin sharing tents as per itinerary during the trek.
All Meals during the trek (vegetarian with occasional serving of eggs) including breakfast, hot/packed lunch, and dinner with morning and evening tea.
Professional Guide, Cook & Helper.
Porters/Packed animals to carry the central logistics.
Camping equipment like Sleeping bag, Carry mattress, Dining tent, Toilet tent, Gaiters, Micro spikes/Crampon.
Permit fee, camping charges, forest levy as required in the trek.
Basic Medical & First Aid kit.
Travel  cum Medical Insurance Policy covering high altitude trekking tours (For Indian nationals it is included in the TREK FEE, up to 60 years of age) for a duration of 7 days.
Exclusions:
Transportation from Srinagar airport to trek base Sitkari, and from trek end point Naranag to Srinagar back. ₹ 4500 by a Tata Sumo (Non AC) one way.
We assume that you will carry your Rucksack/Backpack including all your personal belongings. If you prefer to offload your bag and be carried by our horse/porter then an additional Rucksack offloading charge of ₹ 2500 is to be paid directly on spot for the entire duration of the trek. One such rucksack should weigh within 10 kg.
₹ 2000 + 5% GST per person additional for foreign citizens toward permits and different fees.
Any tip/gratuity to the HT supports staff.
Anything which is NOT mentioned in the "Inclusions" or personal in nature.
Booking:
We assume that you have read and understood our "Terms & Conditions" before Booking a trek/tour.
To reserve your place in a scheduled Fixed Departure trek or a Customised/Private trek pay 25% of the Trek/Tour Fee as the initial "Booking Deposit". You can pay by Net banking/Draft/Cheque/Credit/Debit cards. This will ensure your participation in the desired trek and we will reserve your place in the scheduled date. You need to pay the remaining amount at least 15 days before Trek Starting Date.
If you book a Trek/Tour before 14 days or less from Trek/Tour Starting Date, you need to pay the full Trek/Tour Fee.
 Cancellations:
"Booking Amount" i.e. 25% of the Trek/Tour Fee is Non-Refundable at any stage.
If in case you are not able to make it due to unavoidable reason(s), we provide you a very flexible choice of Shifting to another trek within next one year. One year is counted from the starting date of the trek/tour you booked initially with us.
In case you postpone your trip you need to inform minimum of 15 days before the trek/tour starting date. (Though we suggest to inform us earlier if known)
In case you postpone a trek/tour before 15 days of the scheduled Trek/Tour Starting date or prior, you may shift to another group of the same trek/tour scheduled in the same season or within next one year. You may shift to another suitable route also. For changing any, you need our approval first. Your request must be in written communication through your registered email with us.
If you cancel/postpone a trek/tour from 14 days to 8 days before tour starting date, your Booking Amount is Non-Refundable. We will not take any request of shifting dates. We will charge 50% of the amount as Cancellation Charges and process refund of remaining 50%. You may also shift to another group within next year but 25% Booking Amount will be deemed as Cancellation Charge and the rest amount will be transferred to the shifted group.
If you cancel a trek/tour 7 days (i.e. a week) before Trek/Tour Starting Date or later, there will be NO REFUND.
In case of any unforeseen incident including but not limited to natural calamities like flood, earthquake, landslide, forest fire or any political unrest, if we are compelled to cancel the trek/trip, you will be entitled to redeem the full amount for the same/similar kind of trek/trip within next one year.
If you need more clarifications write in to [email protected]