4160 m/13650 ft
Highest Point
Valley Of Flowers Trek:
Upcoming Valley of Flowers trek 2023 in July and August as per the given itinerary.  Customised private tours are possible from early July till end of September. Only available group tour is starting on 20th August 2023 from Rishikesh. Submit the Booking form to get all relevant details in email.
Valley of Flowers trek is a chart topper, when you are considering a monsoon trek. Below is your Complete Guide to Valley of Flowers trekking tour 2023. Click on a link to jump to a specific part of information.
Valley of Flowers: Current Status, News & latest updates 2022
Brief itinerary
Notes on itinerary
Why it is special
About the trek
Trek distances, altitude gain and profile
Trek difficulty
Safety and risks during monsoon
Things to bring
Best time to visit
Package and trek cost
Biodiversity, flora & fauna
How to reach trek basecamp?
Brief Itinerary:
Day 1: Start from Rishikesh by 6 a.m. and drive  to Govindghat (~1815 m/5950 ft) – 265 Km  – 10 to 12 hours. Lodge or hotel accommodation.
Day 2: Drive from Govindghat to Pulna  (~ 2050 m/6725 ft) – 4 Km and then trek to Ghangaria (~3050 m/10000 ft) – 10 Km – 5 to 6 hours. Lodge or hotel.
Day 3: Trek to the Valley of Flowers, (~3450 m/11320 ft) explore around and back to Ghangaria – 8 to 10 Km – 6 to 8 hours. Lodge or hotel.
Day 4: Trek to Hemkund Sahib (~4160 m/13650 ft), explore the adjacent lake and back to Ghangaria – 12 Km – 7 to 8 hours. Lodge  or hotel.
Day 5: Trek to Pulna – 10 Km – 4 to 5 hours. Drive 4 Km to Govindghat. Lodge or hotel accommodation.
Day 6: Drive from Govindghat to Rishikesh – 265 Km – 10 to 11 hours. You will reach Rishikesh by 6 to 7 pm. From here, Haridwar is ~ 20 Km, Dehradun (DED) Jolly Grant Airport is also 20 Km away and an hour's drive.
Important notes on travel and the itinerary:
You may opt for shared transportation with other group members (NOT included in the TREK FEE) from Rishikesh on Day 1 at 6 a.m. Pickup spots in Rishikesh are Natraj Chowk and Tapovan Police Checkpost on Badrinath road. Otherwise, you are free to reach basecamp independently. Similarly, you will return to Rishikesh on Day 6 evening by 6 to 7 p.m. Arrange your travel tickets accordingly.
Cab fare is ₹ 8,000 and ₹ 11,500 for a Tata Sumo and Tempo Traveller one way respectively. This is shared equally by the team members and paid directly to the driver.
Often, it is convenient to reach Rishikesh anytime on Day 0. Either you can fly to Dehradun (DED, Jolly Grant airport) which is only 1 hour's drive from Rishikesh. Otherwise, you can take Uttarakhand state transport volvo bus services (afternoon and overnight) from ISBT Kashmiri Gate Delhi to Rishikesh (5/6 hours). Arrange your stay in Rishikesh accordingly.
The last ATM is at Joshimath, ~20 Km before Govindghat. Withdraw cash well in advance either in Rishikesh, Srinagar, or Karnaprayag.
Major mobile networks work at basecamp Govindghat. You will get some or intermittent mobile connectivity at Ghangaria.
Why Valley of Flowers is special:
Already you may be in love with the just wow photos, typically a slope of a mountain covered with wild flowers. You can see somewhat similar flower covered slopes or ground  in some other valleys on the Himalayas as well. However this valley is not special due to a few varieties in abundance during monsoon. But it is the sheer variety and the amount of flowers together that make Valley of Flowers a unique and a must to visit place for a nature lover.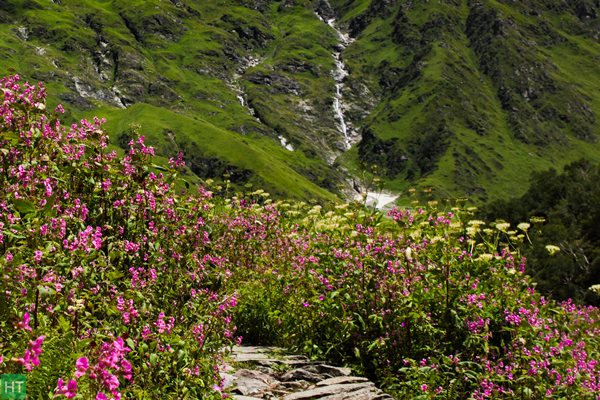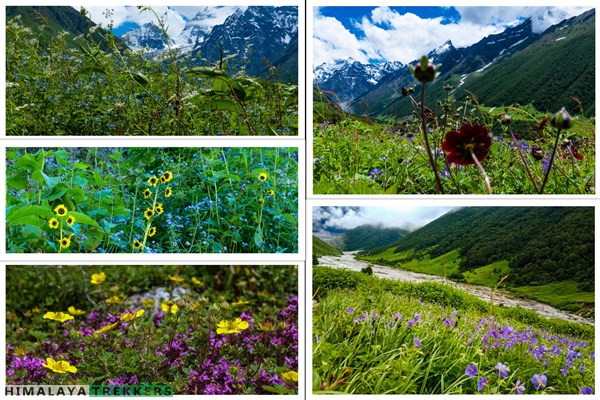 About Valley Of Flowers trek:
Legend and myths met reality when three British mountaineers Frank Smythe, Eric Shipton and Romilly Holdsworth lost their way and reached this piece of paradise on earth. They went to Mt. Kamet expedition (First ascent) and entered into Bhyundar valley during their dramatic descent. Unknowingly the trio found this valley instead of as planned to reach Mana village. Hence the outer world knew that the valley exists.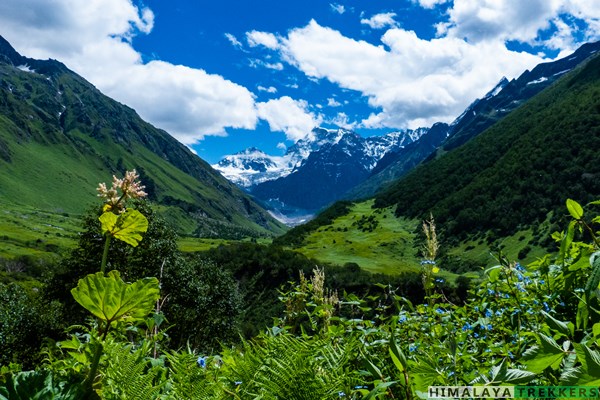 According to Hindu mythology this is the Nandan Kanan, garden of Lord Indra. A high altitude valley carved by glacial action of the river Pushpawati and runs east west direction along the river. According to a legend, the river was named Pushpawati by the Pandavas when they saw flowers floating on the waters of this snow fed river.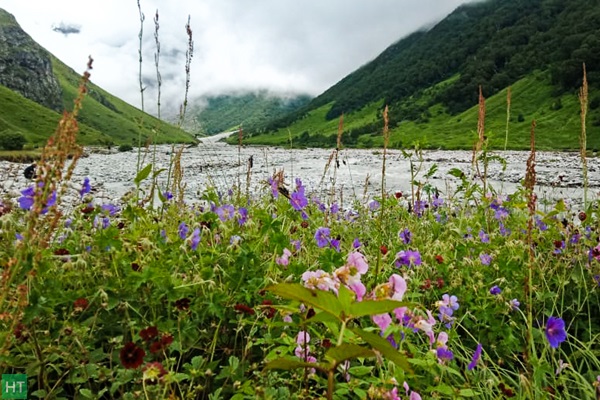 A gigantic snow clad ridge hems this valley from almost all sides. On an average the valley is around 5 Km long and 1 Km wide. Altitude varies between  ~ 3200 m to 3600 m. The area blooms in alpine vegetation for a period of 15-20 weeks (June to October). Rataban peak and Tipra glacier mark the boundary of the valley in the upstream direction. This National Park is truly an all-in-one as a botanist's dream, an ornithologist's charm, a photographer's excitement and a hiker's delight.
The valley turns in pink, white, blue and violet cover during monsoon (July-August). Anemone, Balsam, Angelica, Bell Flower, Brahma Kamal, Blue Poppy, Forget Me Not, Cobra Lily, Marsh Marigold and Birch are a few common types abundant inside the valley.
Pushpawati flowing through the valley and Laxman Ganga coming from the Hemkund Sahib meet below Ghagaria. From here on it is called Laxman Ganga or sometimes Bhyundar Ganga which in turn meets Alaknanda at Govindghat.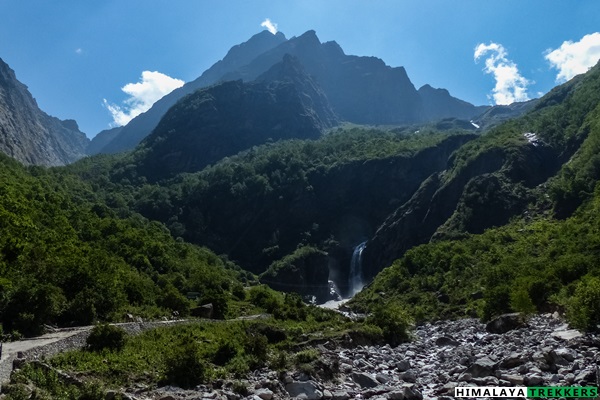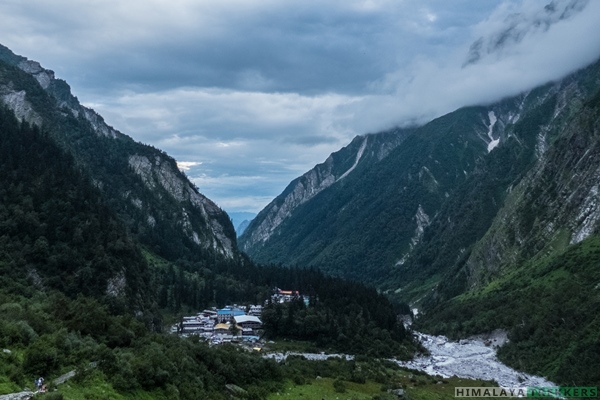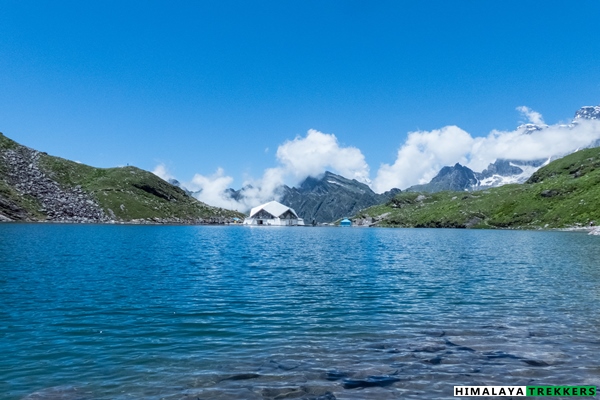 The initial trail from Govindghat to Ghangaria is a long walk of 14  Km, though it's mostly gradual along with Pushpawati River. Now a motor able road is constructed further till Pulna village, 4 Km ahead. You may hire a car and share with the fellow trekkers. This reduces the trail to around 4 Km and the initial climb from the bridge on the Alaknanda River. Second and the last climb is from Bhyunder village to the Helipad ground from where Ghangaria is another Kilometre walk. You will get tea-stalls/small dhaba throughout the trail within short intervals.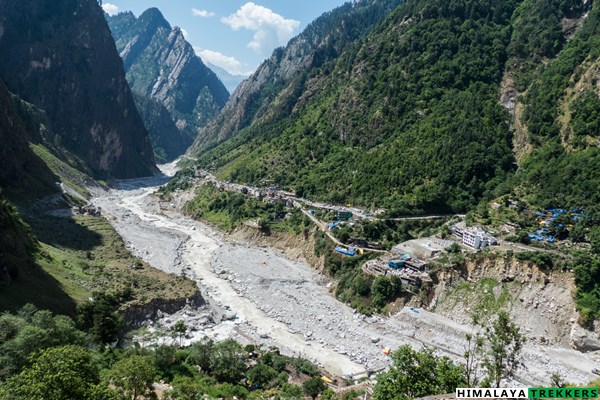 Although the paved walk till Ghangaria isn't worth much, things change dramatically  from here  onward. We will visit two valleys on two separate days in our tour. The trail to our left goes inside the Valley of flowers. This trail is pristine and no nuisance of horses inside. This very special valley is indeed very charming for the experienced Himalayan hikers as well. We will walk to the head of the valley and return to Ghangaria.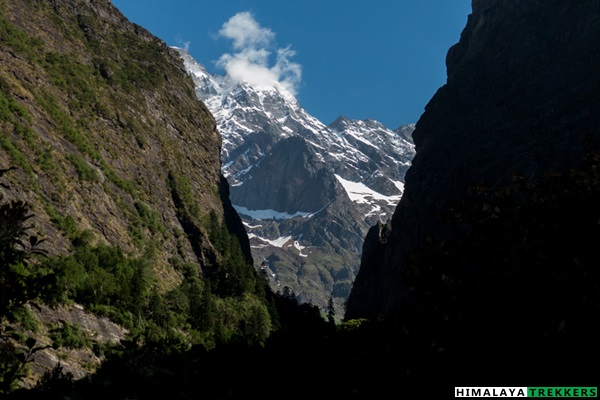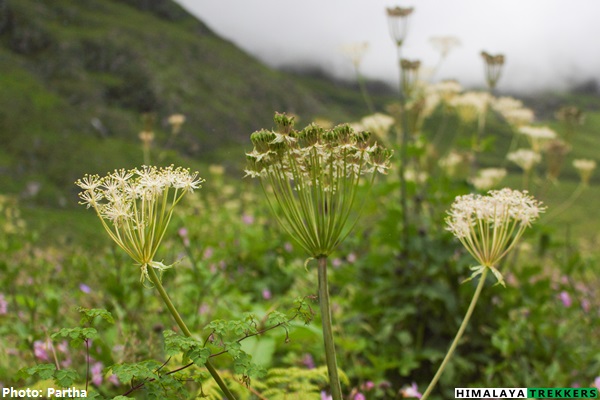 Next we will visit Hemkund Sahib, a moderate climb to a large high altitude lake and the holy shrine. You may think of hiring a horse on the paved way, if you don't wish to test your endurance. This track is different from the one inside the valley, but indeed worth a visit. As you gain altitude you will get some snow sections even as late as July. As we approach ~ 4000 m/13000 ft, the terrain gets rocky and is ideal for Brahmakamal bloom.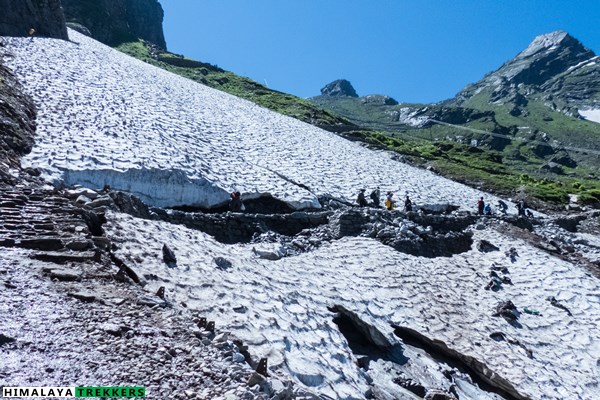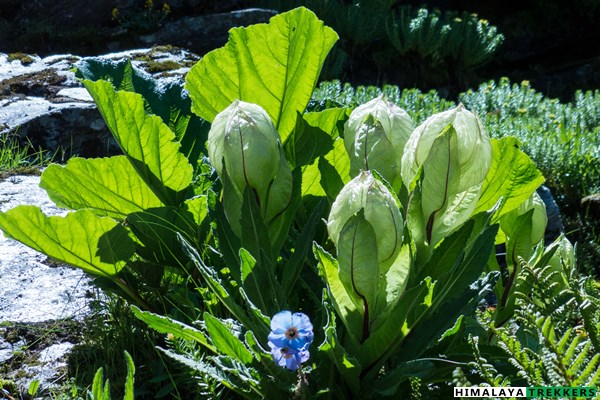 Valley of Flowers trek distance and altitude profile:
Now the track is motorable from Govindghat to Pulna, 4 Km on the way to Ghangaria. This reduced the distance to around 8 Km than it was a few years back. Pulna to Ghangaria, to and fro is around  20 Km. Take 8 Km, to and fro to Valley Of Flowers from Ghangaria and another 12 for a return trek from Hemkund. You need to walk around a total 40 Km or so on mostly paved track and trail inside the valley.
Below figure will give you an idea of the Valley Of Flowers trek distance and corresponding altitude profile.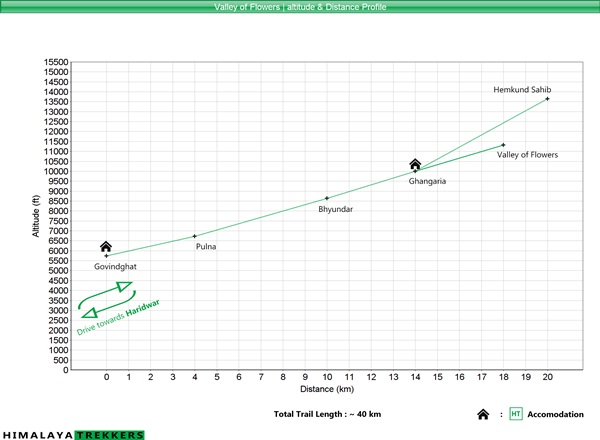 Valley Of Flowers trek difficulty level: Is it suitable for first timers?
Yes, certainly this is a Himalayan trek which is ideal for the beginners. We categorise it as an "Easy" grade trek.
Although the entire trail length is longer than our many Easy grade treks, at the same time it's pretty gentle till Bhuydar village. A moderately steep climb for an hour or so from Bhundar bridge is the only climb till you reach Ghangaria.
The trail is concrete or paved track and well marked throughout.  The climb to Hemkund Sahib can be tiring and slow ascend is recommended. Being a "Tea-House" trek you will stay in a lodge throughout the trek and may be convenient for the beginners.  However you should keep in mind that this is a trekking trail, where you need to walk 6/7 hours a day and need basic physical fitness to complete the Valley Of Flowers trek comfortably. If you are not sure about carrying your own backpack, you have the option to offload the bag and carry it by horse. This will be arranged with additional charges, on spot.
Safety and risks on the Valley of Flowers during monsoon: What is expected?
As this is a Himalayan trek, the adventure components will have their uncertainties and associated risks. But there is nothing to be worried of or can't be dealt with. This section will help you on what to expect on an adventure tour in monsoon meanwhile getting ready for the same.
Valley of Flowers and Hemkund is perhaps one of the safest Himalayan treks. Most of it is a paved concrete trail essentially the type one gets in the Yatri/Pilgrims routes. Only Ghangaria to the valley and return, one day you will get the usual easy grade trekking trail with some cobble stoned path. rocks etc. In case of an emergency horses can be used to return quickly. Additionally there is a Helipad at Ghangaria with flights from and to basecamp Govindghat. Note that during inclement weathers Helicopter will not fly.
At the same time monsoon brings some risks. Usually you will not trek in the monsoon unless there is a special reason. Flowers are the reason that you travel during monsoon.
Be it during the road travel/drive to basecamp and return or in the trek, mentally prepare for some delays, unexpected situations, hindrances etc. For example minor landslides or rockfalls and subsequently a road block/road diversion for a couple of hours is common. Similarly on the trek if it continues to rain for long hours, sometimes entry to the Valley/park is closed for a day. This is a precautionary measure and to quickly check and fix the trail. Here in such a situation we will visit Hemkund first and wait to visit Valley of flowers next day.
Pro tips: Adding a buffer day to the itinerary makes sense here. Surely this will help during the monsoon and in particular groups coming together in private/cutomised tours.
To conclude, even with the above risks it is completely safe to trek on this trail during the monsoon season.
Do I need special clothing or shoes for this trek? Things to carry for Valley of flowers tour:
As this trek is best during monsoon, you will need to bring adequate waterproofing. Either you can carry a raincoat/poncho or a waterproof windcheater to fully protect yourself from rain. Make sure that your waterproof gear has a hood that protects your head during rain.
It is always better and recommended to get specific warm clothing and trekking shoes for any Himalayan treks. However you can reuse your existing warm clothing and good quality rubber soled sports shoes for Valley Of Flowers trek. You may have to use more than one layer of warm clothing.
So you need to bring at least:
1) Waterproof jacket/raincoat/poncho.
2) Warm clothes – jacket, sweaters, hoodies, thermals (use couple of layers), anything which may keep you warm.
3) A rucksack to carry your stuff. Pack clothes etc, inside plastic packets and put inside your backpack to keep things dry.
4) A decent rubber soled sports shoe to give you some grip on the trail. A waterproof shoe is a better choice during monsoon season. Trekking show (with wateproofing + ankle support) is a plus.
Check here for the detailed List of things to carry in a Himalayan trek. Do check the list as there are other essentials which you need to take in Valley Of Flowers trek. Also you can download the list as PDF.
Best time to visit Valley Of Flowers? When should I visit to get maximum flowers?
The seasonal bloom in the national park area begins as early as June. Some flowers remain as late as the end of September. So it spans over a period of 16 weeks or so when you will get to see some flowers.
However you will get more species variety and flowering as the monsoon sets in properly. As in this area, monsoon sets during early July and extends till late of August. In this way it is good to visit Valley Of Flowers anytime in July or August. Even if you visit during early September, you will get a green valley and some flowers.
Considering this it is best to plan Valley of Flowers trek between mid July to late August.
Valley of Flowers trek tour packages and cost inclusions:
Fixed Group departures: Our usual scheduled Fixed Departure Valley of Flowers treks are of Economy/Budget type. The accommodation at lodge/hotel in Govindghat and Ghangaria is usually on twin/quad sharing basis. We will provide separate rooms for male and female trek members. Meals are simple vegetarian and nutritious.
One or more local expert trekking guide(s) will accompany you depending on the strength of the group. He will be carrying a basic medical kit as required. You are protected with accidental insurance coverage aiming for evacuation and hospitalisation which covers the full itinerary of 7 days.
The TREK FEE is ₹ 10,500 + 5% GST per person, Govindghat to Govindghat.
On request we may arrange your transportation from Haridwar to Govindghat and return. This is on an actual basis and payable directly to the driver. Check the COST INCLUSIONS tab for more detailed information.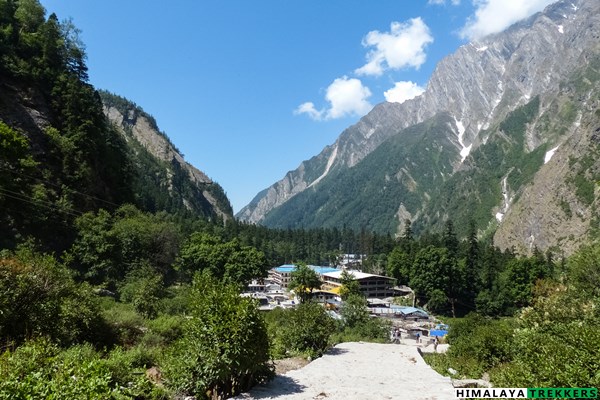 Customised private tour packages: This is more flexible in nature as you can choose any date to start. TREK FEE depends on group size and type of accommodation. You can either opt for Economy/Budget type or avail the option of Standard/Premium type accommodation on twin sharing basis.
Expect a matching TREK FEE as of our Fixed Departure when you are a group of 8 to 10 persons. Inclusions will be the same as the COST INCLUSIONS tab.
In standard & premium package we provide twin/triple sharing type rooms at Govindghat. Premium package includes Swiss cottage tents instead of rooms at Ghangaria. This is mainly for families or small groups of people, however we can arrange for larger groups as well.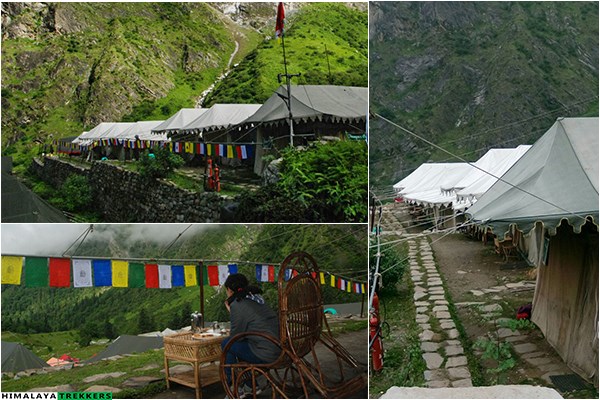 Valley of Flowers packages 2022
Valley of Flowers National park and it's Biodiversity:
Cuddled on the high Himalayan peaks in Chamoli district of Garhwal, Valley of Flowers National Park is always noteworthy for its floral diversity and unmatched natural beauty. This biome is home for more than 500 species of vascular plants, 160 + species of birds and other insects and mammals.
The Nanda Devi National Park and Valley of Flowers National Park are exceptionally beautiful high-altitude West Himalayan landscapes with outstanding biodiversity. Both the parks form the core zones of the Nanda Devi Biosphere Reserve and listed under UNESCO: http://whc.unesco.org/en/list/335). The Park is declared as a UNESCO heritage site of biosphere reserve in 2005.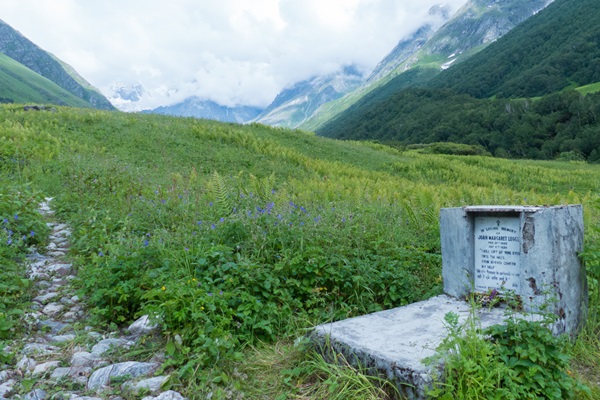 Flora inside Valley Of flowers:
This valley boasts more than 520 species (recorded and identified) of plant and flowers of which many are endemic to this area.  Here are some of these:
Himalayan Rose (Rosa Macrophylla); Himalayan Honeysuckle (Leycesteria formosa); Woolly Pearly Everlasting (Anaphalis Triplinervis)Himalayan Blue Poppy (Meconopsis bella); Himalayan Mini Sunflower (Cremanthodium ellisii); ; Brahma Kamal (Saussurea obvallata); Himalayan Cinquefoil (Potentilla Atrosanguinea) 8) Silky Woundwort (Stachys emodi) 9) Whiskered Commelina (Commelina benghalensis) 10) European Goldenrod (Solidago virgaurea) 11) Himalayan Thyme (Thymus linearis) 12) Woolly Pearly Everlasting (Anaphalis triplinervis) 13) Himalayan Rhodiola (Rhodiola himalensis) 14) Whorled Solomon's Seal (Polygonatum verticillatum) 15) Devendra's Balsam (Impatiens devendrae) 16) Purple Stalked Gentian (Gentiana pedicellata) 17) Showy Inula  (Inula orientalis) 18) Jacquemont's Cobra Lily (Arisaema jacquemontii) 19) Large Bellflower (Campanula latifolia) 20) Himalayan Milk Vetch (Astragalus himalayanus) 21) Himalayan Monkshood (Aconitum ferox) 22) Purple Stalked Gentian (Gentiana pedicellata) 23) Creeping Aster (Aster diplostephioides) 24) Himalayan Typhonium (Typhonium diversifolium) 25) Himalayan Thimbleweed (Anemone obtusiloba)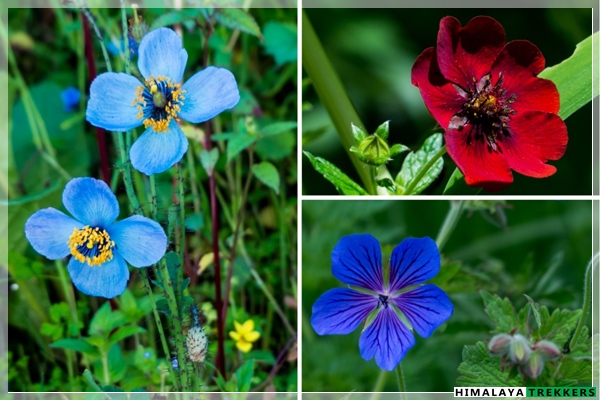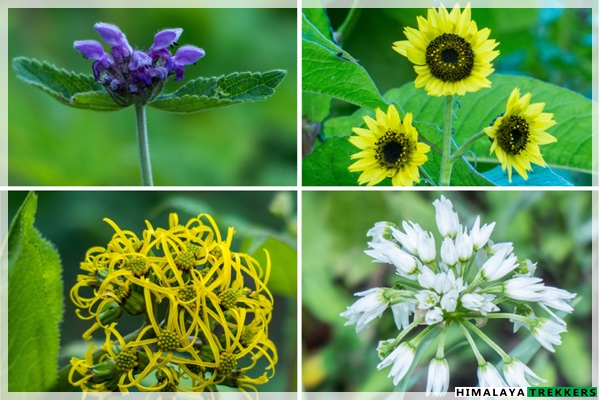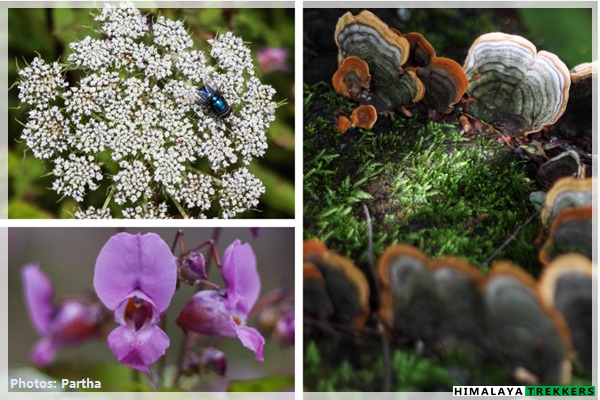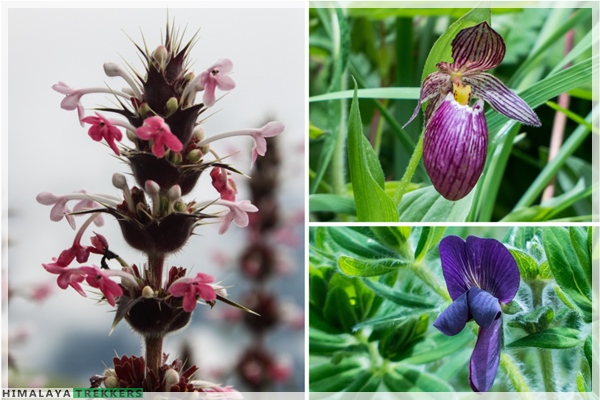 Fauna inside Valley Of Flowers National Park:
This National Park together with Nanda Devi National Park forms one of the most bio diversified regions on the Himalaya. This area is the home of many mammals including Asiatic black bear, Leopard, Snow leopard, Brown bear, Civet cat, Musk deer, Blue sheep, Serow and others.
The bird type includes, Snowcock, Partridge, Monal, Pheasant, Vultures, Eagles, Laughing- thrushes, Warblers, Yuhina, Nuthatch, Honeyguide, Woodpeckers, Flycatchers, Magpies, Robins and Redstarts, Sunbirds, Accentors, Rosefinches etc. One can observe many species of colourful butterflies, moths and bees. Birding enthusiasts can check the list of available species in Valley of Flowers National Park from here.
References:
Concise Flowers of the Himalaya, illustrated edition by Adam Stainton & Oleg Polunin, ISBN: 9780195644142;
Pocket Guide to the Birds of the Indian Subontinent, Grimmett & Inskipp, ISBN: 9780195651553;
Birds of India, Om Field Guides by Krys Kazmierczak, ISBN: 9788187107040;
National parks of India by R.S.Bisht, ISBN: 8123001789;
EDC (Eco Development Committee), Bhyundar;
Updates from 2022:
As we update this section in mid July, Valley Of Flowers is open i.e. the forest department is issuing national park entry permits/tickets. Valley was closed on 10th July and reopened again the very next day. Here are the photos after reopening the park on 11th July.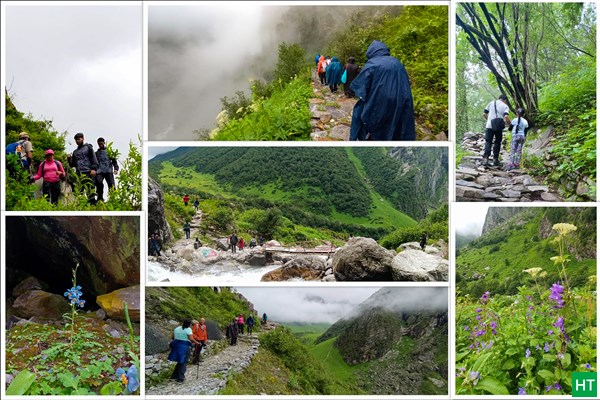 Note that it is not uncommon to close the valley temporarily for a day due to precautionary measures. For example if heavy rain continues during night and even in the morning then the forest department may not  issue entry tickets on that day. Usually their staff will inspect the route on the same day and quickly fix any risk of rockfall/slides on the trail. In this case we will visit Hemkund Sahib on this day and Valley of flowers the next day so that we can cover both.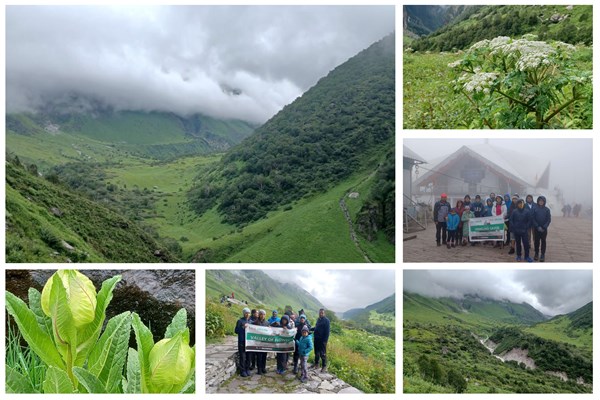 There are speculations of early bloom due to intense heat throughout the summer. However we found the valley is still in the early bloom stage with a few flowers as one can expect in early July. As the monsoon is picking some momentum now, we can expect more flowering in mid and late July.
All travellers are required to fill Hemkund Sahib Registration Form on the E-Portal. Save the PDF file and take a print. There is a cap of 5000 entries per day to the Gurudwara this year. Fill the form as per the dates of your itinerary. Additionally carry your COVID vaccination certificate(s) and a Photo ID card along with a photocopy of  each.
Access to Valley Of Flowers trekbase – Govindghat:
To reach the trek base Govindghat you need to reach Rishikesh on your own arrangements. Nearest airport Dehraun (DED, Jolly Grant) is only 20 Km from Rishikesh (1 hour).
We may arrange a pickup  from Rishikesh to Govind Ghat and return. This will be on a cost to cost basis and shared by the availing team members. You pay directly to the driver, sharing equally.  The fare is ₹ 8,000 for a Tata Sumo, one way and can accommodate 5 to 6 people. Whereas a Tempo Traveller charges ₹ 11,500 (10 to 12 seats) one way. Approximately, ₹ 2500 per person when you avail both ways. This cost is not included in the TREK FEE.
Or else you may reach Govindghat independently and join us here. Below is a road map with major points en route to Govindghat.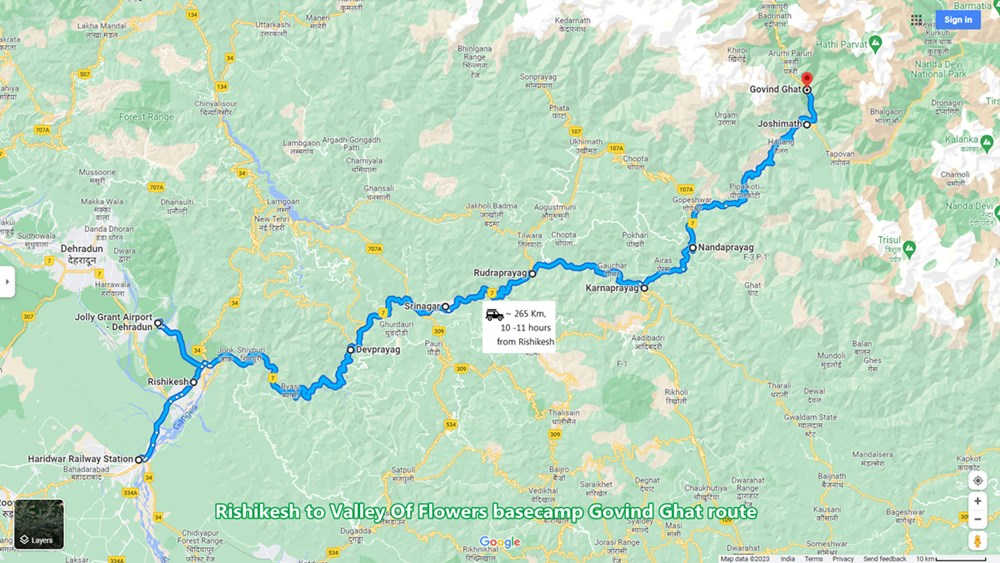 Duration: 4 days of trekking; Govindghat to valley of flowers and Hemkund Sahib and back to Govindghat. Rishikesh to Rishikesh in 6 days.
Prerequisite: No prior trekking experience is required and ideal for beginners. Longish walk on the first day to Ghangaria (10 Km).
Grade: Easy
Physicality: 5.5/10
Trail Length: 40 Km
Highest Point: Hemkund Sahib~ 4160 m/13650 ft.
 Seasons: June to September (Best in July and August)
Further Option: Trek to Bhyunder Khal (Difficult) or Kagbhusandi Tal (Moderate)
 Access: Trek starting point and end point is Govindghat which can is 290 Km from Haridwar.
Rail station: Haridwar (STN Code: HW), Rishikesh/Yog Nagari Rishikesh (RKSH/YNRK
 Airport: Delhi; Dehradun (Airport Code: DED), Jolly Grant
 Map:
Upcoming scheduled dates for Valley Of Flowers trek:

 
Please check the available dates from the Booking Form calendar in the sidebar/tab. Tour starting Dates are highlighted as per our itinerary (Day 1 of 6 day's itinerary).
 You can send a request through REGISTER NOW button or directly book using the BOOK NOW button in the Booking Form.
| | |
| --- | --- |
| DEPARTURE LOCATION | Rishikesh ISBT |
| REPORTING TIME | 6:00 AM for a prompt departure to Govindghat (Day 1) |
| RETURN LOCATION | Rishikesh |
| RETURN TIME | Approximately 7:00 PM (Day 6) |
How to reach Govindghat (the trek base):
Nearest Rail station: Haridwar (Station Code: HW) or Rishikesh/Yog Nagari Rishikesh (RKSH/YNRK).
Nearest Airport: Delhi; Dehradun (Airport Code: DED). Dehradun airport at Jolly Grant is only 20 Km from Rishikesh and an hour's drive.
Haridwar is well connected by train from Delhi . Frequent regular and Volvo bus service from Delhi Kashmiri Gate ISBT. To reach the trek base Govindghat you need to reach Haridwar on your own arrangements.
We will arrange a pickup from Haridwar to Govindghat and back. The cost will be shared equally by the team members and is approximately around ₹ 6500 Rs one side in a Jeep (Mahindra Maxx, Tata Sumo etc). One such Jeep is comfortable for 6-8 persons. A Tempo Traveller charges ₹ 9000 (one way) which can accommodate 12 persons. This is NOT included in the TREK FEE and payable directly to the driver/owner.
If you want to reach and return from Govindghat by public vehicle then:
Take early morning bus service from Haridwar to directly Badrinath or till Joshimath. Direct buses leave by 5 am. The state operated Bus terminus referred as Roadways/ISBT) is just opposite to the railway station. Privately operated buses start just 2 minutes walking from here. In the summer during Char Dham Yatra, buses are packed. It takes 11/12 hours to reach Joshimath. Look for a shared Jeep service or book a car till Govindghat which is another 20 Km towards Badrinath. It may take up to 14 hours.
From Govindghat early in the morning board the direct bus for Haridwar/Rishikesh. It will take 11/12 hours. From Rishikesh, it is only 25 Km journey to Haridwar by frequent bus service.
How to reach Haridwar:
For the treks in Garhwal, one has to reach Haridwar normally. Rishikesh is another 25 Km from here and is considered a gateway to Garhwal Himalayas. You can fly or by train reach New Delhi as per your convenience from any part within India.
There are direct trains from Kolkata to Haridwar.
KUMBHA EXPRESS – Train No. – 12369 ( Very good option to reach Haridwar by 5 pm; Spend the night in Haridwar and start your onward journey by car next morning)
UPASANA EXPRESS – Train No. – 12327 ( Very good option to reach Haridwar by 5 pm; Spend the night in Haridwar and start your onward journey by car next morning)
DOON EXPRESS – Train No. – 13009 (Don't book this train when you plan a long onward journey immediately nn the same morning)]
Avoid booking wait listed (WL) tickets in AC classes (1A/2A/3A) or Chair Car (CC). Book Sleeper class (SL)/Second Sitting class (2S) tickets which have normally more seats/berth and hence much better chance to get confirmed.
You can easily reach Haridwar from New Delhi by train or bus (~ 5/6 hours) and is around 210 Km.
By train:
Following trains are good to reach Haridwar and run daily.
DDN JANSHTBDI – Train No. 12055 (Arrives HW in the evening @ 7:30 pm, good choice when you stay the night in Haridwar and have a long drive ahead next day)
NANDA DEVI EXP – Train No. 12205 (arrives HW early morning @ 4am)
UTKAL EXPRESS – Train No. 18477 (arrives HW in the night @ 9pm)
MUSSOORIE EXP – Train No. 14041 (arrives HW in the morning @ 5:45am)
Always avoid booking waitlisted (WL) tickets in AC classes (1A/2A/3A) or Chair Car (CC). Book Sleeper class (SL)/Second Sitting class (2S) tickets which have normally more seats/berth and hence much better chance to get confirmed.
By bus:
Govt. Road Transport (Roadways of Uttarakhand, Uttar Pradesh, Delhi, Haryana, Punjab etc.) buses are frequently available in day time and night from Kashmiri Gate ISBT (http://www.delhi.gov.in/wps/wcm/connect/doit_transport/Transport/Home/ISBT/Fare+Chart). Tickets are available on board for these regular type buses. From Delhi Airport or Station you can reach ISBT Kashmiri Gate via Delhi Metro service (http://www.delhimetrorail.com/metro-fares.aspx). It is only 4 Km from NDLS and can be reached easily by booking an auto rickshaw.
For privately operated bus, you can book online from different portals (http://www.redbus.in). Select a boarding point suitably. Overnight Volvo/A.C/Push back bus service.
Nearest Airport Jolly Grant near Dehradun (Airport code: DED) is 35 Km away from Haridwar. This airport is accessed from Dehradun, Haridwar and Rishikesh easily. The flights are mostly via Delhi.
Regarding night accommodations in Haridwar:
Trekkers reaching on the previous day before the journey to the actual trek base need to stay the night in Haridwar. There are several options in Haridwar for spending a night while staying in Premium, Standard or Budget accommodation. Options vary from Privately operated Hotels/Lodges, to State run Tourist rest House and Dharamshala.
State run GMVN (Garhwal Mandal Vikas Nigam) operates Hotel Rahi just beside the Bus Stand and opposite to the Haridwar Railway Station. This is a reliable and a decent choice for Standard accommodation.Check the following for online booking of the above: http://www.gmvnl.com/newgmvn/tour/booktrh.asp
You can call or visit GMVN nearest office or even send an email for more information.The information is available at: http://www.gmvnl.com/newgmvn/online_reservation/#
Return from Haridwar:
Normally you reach Haridwar from any trek base  by 7/8 pm in the evening. You can take any train after 9 pm or regular bus service as mentioned above to reach Delhi or directly to your homeward journey in the same night.
Drive from Haridwar to Govindghat: 290 Km - 12 hours
Today morning by 6 am we start our long journey from the plains of Haridwar toward the holy Sikh shrine of Govindghat. The road (NH 58) follows initially the valley of Ganga, and later for a major section of its main tributary Alaknanda. On route we cross Rishikesh and then the confluence at Devprayag, Rudraprayag, Karnaprayag, Nandaprayag to reach Joshimath. From here Govindghat (~1815 m/5950 ft) is another 20 Km. The entire distance is 290 Km and can take around 12/13 hours. There are number of private hotels and lodges serving to the tourists and pilgrims. Gurudwara provides shelter to the pilgrims going to Hemkund Sahib. Night stay at lodge/rest house.
Trek to Ghangaria: 14 Km - 7/8 hours
We start our trek to Ghangaria in the morning. We leave the Badrinath highway (NH58) and get down to the Alaknanda Rived bed and cross the bridge at the confluence of Alaknanda and Laxman/Bhyundar Ganga river. From here onward we will enter in to the Bhyundar Ganga valley. The wide track climbs steadily as we enter through the gate of the National Park. The track is cemented or cobble stoned till Ghangaria. During the month of May and June the route is crowded due to the thousands of pilgrims. Small tea shops, Dhabas and temporary stalls offer variety of choice in every 10/15 minutes walk. We walk on the gentle inclined gradient while the river on our right (TRUE right of Laxman Ganga) to reach the first village on the route named "Pulna (~ 2050 m/6725 ft)" at a distance of 4 Km. The houses on the river bank washed off in 2013 disaster (Flash flood started in the morning so no fatalities reported in this valley). In 2/2 and half hours we reach "Jungle Chatti" at a distance of 5 Km. From here we walk another 3 Km to reach the last village on this valley called Bhyundar (~ 2550 m/8365 ft). The village destroyed in  2013 flash flood and residents were shifted lower in the valley. The river (with a tributary coming from Kagbhusandi Tal) has taken a course on the erstwhile village. At Bhyundar we cross the bridge on the Laxman Ganga and turn left. From here the climb is somewhat steep for next hour and half on a ridge. The trail is moist, full of Maple, Deodar and Rhododendron trees. Drongo, Magpie, Bushchat and Thrushes are common. After climbing to the top the ridge a View Point welcomes us in the left. From this point the valley widens and the track is flat for next 15 minutes. Ghangaria helipad and the camping ground is on our left. It is another 10 minutes walk to the main street of Ghangaria (~3050 m/10000 ft). Total distance is 13 Km and may take 6/7 hours. Ghangaria is not a village but essentially a one street/main Bazaar based settlement serving the tourists and pilgrims. There are several hotels/lodges, shops and a Gurudwara. Electricity and STD booths are available. Night stay in lodge.
Trek to Valley Of Flowers and back to Ghangaria: 8 Km - 6/8 hours
We leave early in the morning after breakfast to the much revered valley. Crossing the last stretch of Ghangaria we cross a bridge on the Laxman Ganga. The the he track bifurcates and we move on to the left. The main trail on the right goes to Hemkund Sahib. Suddenly the atmosphere changes and nature starts unfurling its treasure cove. The river Pushpawati flows to our left. Side streams forming waterfalls over the sheer rocky cliff are common in monsoon. We walk for half a Km to cross the river and stay on the true right of Pushpawati. Stories are often heard that people became senseless or unconscious inside the valley, thanks to the intoxicating smell! Please DON'T touch and trample any flower or plant, and always stay on the well defined track.  Pleasant smell of vegetation and fresh air enthral every visitor. The valley starts changing its hue and turns into a fairyland. Large swath of the valley is covered in pink due to the Himalayan Balsam, or white for Anemones. Observe the tiny myriad little flowers like Gentians or Asters. The entire area seems like Eden while sheer mountain cliffs encompassing the valley. The hike is gentle and we walk slowly to get the smell of the mist and contrasting colours. Closely observe the buds, leaves and flowers with combinations of different size, shape and colour. The river Pushpawati cuts along the valley and gushing down to the bottom of the valley. Look out carefully for the many tiny to medium size of birds on the trees and flowering plants. After moving around 4 Km packed lunch is served. After 6 Km or so we reach the head of the valley. We can continue further north to the valley where the trail goes along almost river bed. You can see the Tipra glacier and Rataban peak towering the backdrop. We reach an altitude of ~3450 m/11320 ft. Spend some time and retrace the trail till Ghangaria. Distance is 8 Km and time spent around 6/8 hours. Night stay in hotel.
Trek to Hemkund Sahib and back to Ghangaria: 12 Km - 7/8 hours
Today we will visit to the holy shrine of Hemkund Sahib. It is only 6 Km from Ghangaria but at an altitude which is alpine and above tree line. The track is wide and well defined as thousands of pilgrims visit every year. Tea stalls and Dhaba are available throughout. Brahma Kamal blooms in abundance around this trail while approaching altitude of 4000 m. The climb is continuous with a moderate gradient. It may take 3 and half/4 hours to reach. The lake is a delight to watch and remains misty during monsoon . Spend some time around the lake and have a cup of milk tea served by the Gurudwara committee. Weather can turn bad easily at this altitude. Start your return by 1:30 pm. Total distance is 12 Km and may take 7/8 hours. Night stay at Ghangaria hotel.

Trek back to Govindghat: 12 Km - 7/8 hours
Today we start our descent in the morning to Govindghat and reach by afternoon. May take 6/7 hours. Night stay in hotel.
Return drive to Haridwar: 290 Km - 12 hours
By car we get back to Haridwar by 8 pm in the evening. Book your tickets for return journey 9 pm or later.
P.S.: Distances and altitudes are approximate and may not be exact.
  TREK FEE: ₹ 10,500 (Govindghat  to Govindghat) + 5% GST  
Book for 5 persons or more and get flat 10% Group Discount on TREK FEE
 2 nights accommodation at Govindghat (Day 1 & Day 5) in hotel/lodge on sharing basis (trip/quad). Male and female members will be housed in separate room (s).
3 nights stay at Ghangaria (Day 2, 3 & 4) in hotel/lodge on sharing basis (triple/quad). Male and female members will be housed in separate room (s).
 All Meals ( vegetarian) starting from Day 1 dinner to Day 5 dinner, including breakfast, hot/packed lunch, dinner with tea/soup.
Excellent professional trekking  guide, who will be a local to this particular area and has profound knowledge of the trekking trails around.
 Porters/Packed animals to carry the central logistics of the trek.
 Permit fee for Valley Of Flowers National Park.
 Basic Medical & First Aid kit.
Travel and medical insurance for a duration of 7 days including high altitude trekking (For Indian citizens up to an age of 60 years).
Exclusions:
Transportation from Rishikesh to Govindghat and back. ₹ 8000 for a Tata Sumo (5 to 6 seat) and ₹ 11,500 for a Tempo Traveller (10 to 12 seat), one way. ₹ 2000 – 3000 per persons including pick up and drop when sharef by trekkers, payable directly to driver.
We assume that you will carry your Rucksack/Backpack including all your personal belongings. If you prefer to offload your bag and carried by horse then an additional Rucksack offloading charge (₹ 800 for Govindghat to Ghangaria and back) is to be paid. One such bag must weigh within 10 Kg.
​₹ 1000 + 5% GST for processing charge of permit/entry ticket. for foreign nationals.
 Any tip/gratuity to the HT supports staff.
Anything which is NOT mentioned in the "Inclusions" or personal in nature.
Booking:
We assume that you have read and understood our "Terms & Conditions" before Booking a trek/tour.
To reserve your place in a scheduled Fixed Departure trek or a Customised/Private trek pay 25% of the Trek/Tour Fee as the initial "Booking Deposit". You can pay by Net banking/Draft/Cheque/Credit/Debit/AMEX cards. This will ensure your participation in the desired trek and we will reserve your place in the scheduled date. You need to pay the remaining amount at least 15 days before Trek Starting Date.
If you book a Trek/Tour before 14 days or less from Trek/Tour Starting Date, you need to pay the full Trek/Tour Fee.
 Cancellations:
"Booking Amount" i.e. 25% of the Trek/Tour Fee is Non-Refundable at any stage.
If in case you are not able to make it due to unavoidable reason(s), we provide you a very flexible choice of Shifting to another trek within next one year. One year is counted from the starting date of the trek/tour you booked initially with us.
In case you postpone your trip you need to inform minimum of 15 days before the trek/tour starting date. (Though we suggest to inform us earlier if known)
In case you postpone a trek/tour before 15 days of the scheduled Trek/Tour Starting date or prior, you may shift to another group of the same trek/tour scheduled in the same season or within next one year. You may shift to another suitable route also. For changing any, you need our approval first. Your request must be in written communication through your registered email with us.
If you cancel/postpone a trek/tour from 14 days to 8 days before tour starting date, your Booking Amount is Non-Refundable. We will not take any request of shifting dates. We will charge 50% of the amount as Cancellation Charges and process refund of remaining 50%. You may also shift to another group within next year but 25% Booking Amount will be deemed as Cancellation Charge and the rest amount will be transferred to the shifted group.
If you cancel a trek/tour 7 days (i.e. a week) before Trek/Tour Starting Date or later, there will be NO REFUND.
In case of any unforeseen incident including but not limited to natural calamities like flood, earthquake, landslide, forest fire or any political unrest, if we are compelled to cancel the trek/trip, you will be entitled to redeem the full amount for the same/similar kind of trek/trip within next one year.
If you need more clarifications write in to [email protected]