3020 m/9905 ft
Highest Point
Nag Tibba Trek
If you think about a short hike near to Delhi or Dehradun, then Nag Tibba trek is almost a certain choice. Nag Tibba in local Garhwali means Serpent's Peak. This is the highest point in the region, which is locally called Mussoorie range. Geographically its in the lesser Himalayas range inside Uttarakhand. Nagtibba top, standing at an impressive altitude of  of 3020 m/9905 ft offers surprisingly good view of the snow capped peaks straight to its north. Some easily recognised ones are Swargarohini and Gangotri peaks, Kalanag, Bandarpoonch and Srikantha. To reach the top you'll cross dense sub alpine forest, sudden openings of sprawling meadows and some short ridge walks.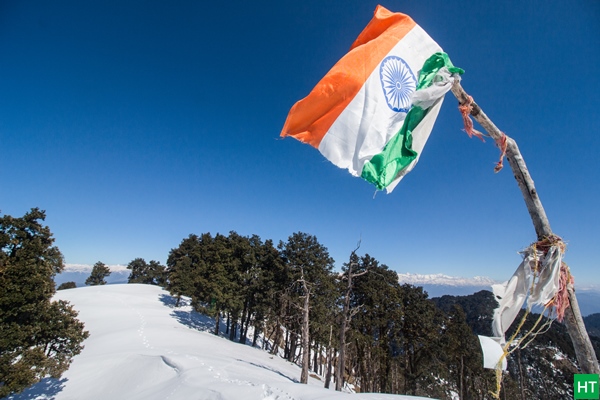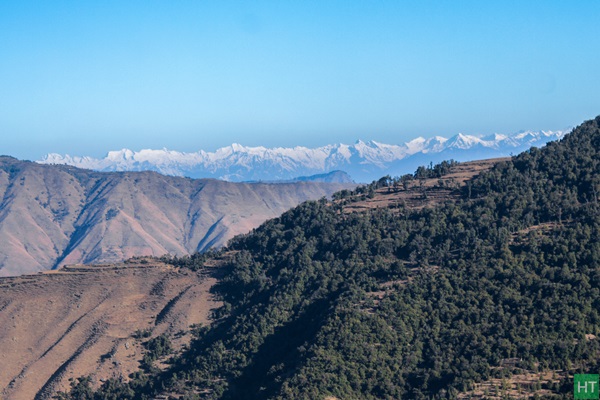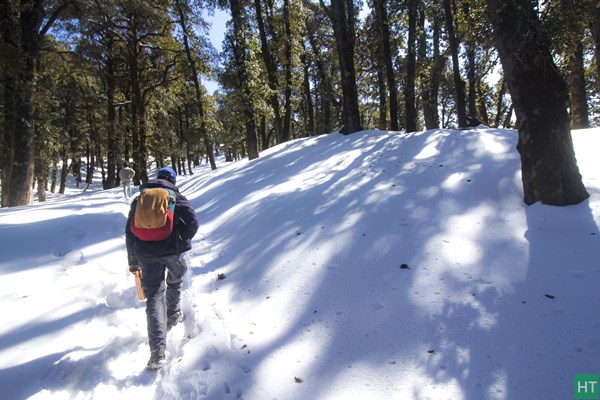 This place is accessible all over the year apart from the months of monsoon. The region gets decent amount of snowfall in winter. This comparatively easy trek is an excellent choice for beginners. Nagtibba opens up a window for those who don't want to invest too much time and effort but are interested to know how it feels to spend nights camping in wilderness, away from the amenities and comforts offered by civilisation.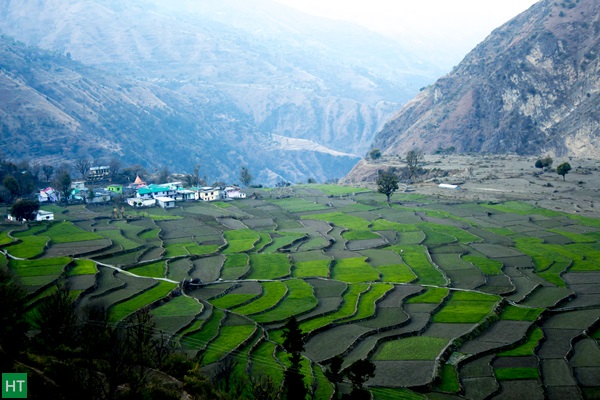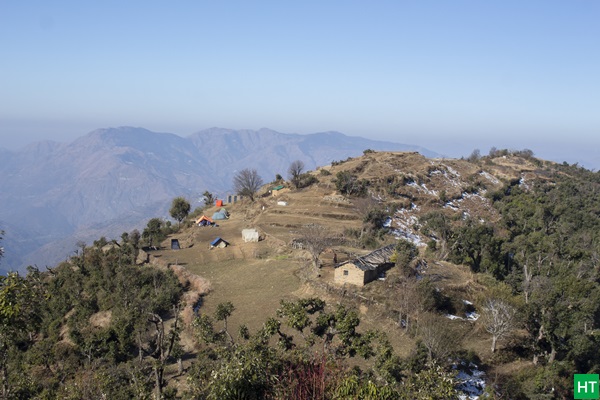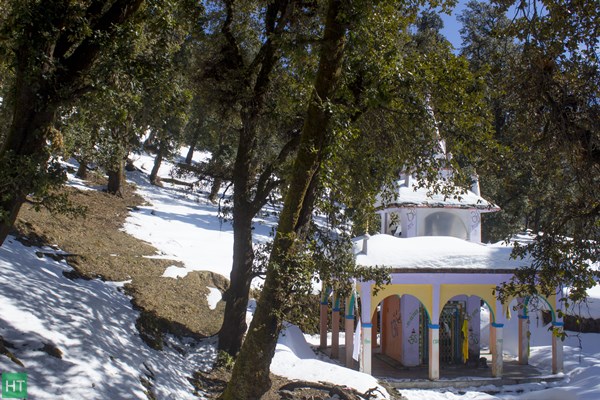 Nag Tibba trek brief itinerary: 
Day 1: Drive to Pantwari from Dehradun via Mussoorie and Nainbagh –  3/4 hours – 100 Km and trek to Thath – 2/3 hours and 4 Km. Camp
Day 2: Trek to Nagtibba top and return to Pantwari – 7/8 hours, 14 Km. Drive to Dehradun – 3/4 hours, 100 Km or drive to Mussoorie – 2 hours and 55 Km.
Important note:
You need to reach on your own to Dehradun on Day 1 morning by 7 am. Return to Dehradun on Day 2 evening (by 7 pm).  Arrange your tickets for inward journey and return from Dehradun accordingly.
Last ATM is at Pantwari although don't depend till you reach here, in case you need one. Withdraw cash well in advance either in Dehradun or Nainbagh.
All major mobile networks work on the trail. However you may not get continuous network or patchy signal at times.
Altitude and distance profile graph for Nag Tibba trek:
Here you will get a pictorial representation of the trail for your understanding.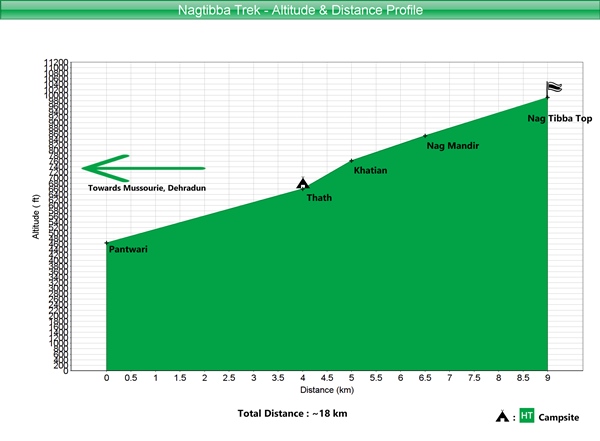 TREK FEE: ₹ 3950 (Pantwari to Pantwari) + 5% GST 
Above TREK FEE essentially includes everything that you need for the trek, all meals, trekking permit, trek guide and one night camp. You need to bring personal clothing/jacket(s), trekking shoes, rucksack.
For more detailed inclusions & exclusions, check the COST INCLUSIONS tab.
What should I bring for Nag Tibba trek?
This is a short hike and not going to high altitude. Although you need to be typically careful about your clothing during winters. Temperatures can easily drop to ~ freezing (0°C) or even below, especially early in the morning around Nag Tibba summit.
Normally you can reuse your sports shoes while you hike on this trail. Similarly you should be able to use your jackets/sweaters/hoodies to keep yourself warm. If you don't have one particularly warm, then you can always use multiple layers.
A rucksack or a backpack. Usually anything between 20 to 30 L should be good enough.
A sports shoe with good traction. If you have a hiking specific shoe, that is simply great.
A quick dry base layer (Dry-fit t-shirt).
A warm jacket (Synthetic/Fleece jacket ) as middle layer in winters.
A windproof cum waterproof with hood as the outer layer/or a raincoat.
Check here the detailed list of things that one needs for trekking in the Himalayas. This is important to check for small but useful things to carry while you are hiking.
Access to trek base (Dehradun to Pantwari):
We may arrange a pick up and drop to Dehradun. If you wish to hire a private transfer then the fare is approximately ₹ 5000 for a Tata Sumo/Mahindra Bolero one way. This can accommodate comfortably 5 and up to 8 persons.  Similarly from Mussoorie to Pantwari or a return drop ₹ 2500 for a Tata Sumo/Mahindra Bolero (5 to 8 may share), one way. This is NOT included in the TREK FEE.
It is also possible to reach trek base Pantwari independently and by public transportation. Catch any bus to Naogaon/Purola/Barkot/Sankri Nainbagh and get down at Nainbagh, which is on the Yamunotri road. You will get busses just beside Dehradun railway station or on adjacent Gandhi road. Multiple busses are there till 8 am in the morning. From Nainbagh take a shared ride till Pantwari. You have to wait till the car becomes full.
Here is a road map with major points enroute from Dehradun to trek base Pantwari.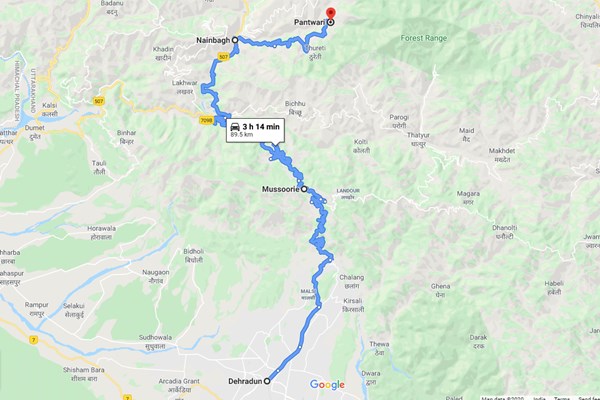 Why treks with HT?
| | |
| --- | --- |
| Expertise: | 10 years on ground experience |
| Support staff: | Qualified local & office staff |
| Group size: | Small groups up to 15 |
| Insurance: | Travel insured trek and tour itinerary |
| Easy Bookings: | 25% Booking Deposit |
 Duration: Hiking from Pantwari to Nag Tibba top and back. Dehradun to Dehradun in 2 days.
 Prerequisite: No prior trekking experience is required. Good physical fitness is always desired in any trek.
 Grade: Easy
Physicality: 4/10
 Trail Length: 18 Km
 Highest Point: Phulara ridge ~ 3020 m/9905 ft
 Seasons: May/June(Summur),  Sep to November (Post Monsoon/Fall),
Further Option: Can be combined with Kedarkantha and/or Har Ki Dun trek.
 Access: Trek starting point (trek base) is Pantwari, 90 Km from Dehradun.
 Rail station: Dehradun (Station Code: DDN)
 Airport: Delhi, Jolly Grant in Dehradun (Airport Code: DED)
 Map:
Upcoming scheduled dates for Nag Tibba trek:

 
You can check the scheduled Fixed Departure dates in the calendar available inside Booking Form or inside REGISTER NOW form. Tour starting Dates are highlighted as per our itinerary (Day 1 of  2 days itinerary).
At present BOOK NOW functionality is disabled. You can get all the information in your email by submitting the REGISTER NOW form.
If you are a group of people and available dates are not matching then you may select Custom date mode (by clicking the Select your custom date) and fill in the displayed form.
You can also check all the available dates at a glance in our

TREK CALENDAR

.
Trekkers need to reach Dehradun on Day 1 morning (latest by 8 am) or the previous night. Return to Dehradun on Day 6 evening (around 7 pm). Arrange your tickets for inward journey and return accordingly.
| | |
| --- | --- |
| DEPARTURE LOCATION | Dehradun railway station |
| REPORTING TIME | 7:00 AM for a prompt departure to Sankri (Day 1) |
| RETURN LOCATION | Dehradun |
| RETURN TIME | Approximately 7:00 PM (Day 2) |
How to reach Pantwari (The trek base):
 Nearest Rail station: Dehradun (Station Code: DDN)
 Nearest Airport: Delhi, Jolly Grant in Dehradun (Airport Code: DED)
we will arrange a pick up from Dehradun to trek base Pantwari and a drop while returning. You will be sharing a car along with other team members.
How to reach Dehradun:
For the treks at Uttarkashi district in Garhwal , one has to reach the capital city of Uttarakhand, Dehradun, specially the trek starting from Sankri, Yamunotri etc. Haridwar, Rishikesh and Dehradun are 3 nearby cities in the area and one can move from one to another by public vehicles like bus or shared Jeeps.
For more options to reach Haridwar you can check here.
Haridwar to Dehradun: 55 Km and may take one and half to 2 hours.
Dehradun to Rishikesh: 45 Km and may take around one and a half hour.
You can fly or by train reach New Delhi as per your convenience from any part within India.
There are direct trains from Kolkata to Dehradun.
KUMBHA EXPRESS – Train No. – 12369 ( Very good option to reach Haridwar by 5 pm; You can take a bus from the terminus just opposite to the railway station referred as Roadways bus stand/ISBT and reach Dehradun in one and half hour. Spend the night in Dehradun and start your onward journey by car next morning.)
UPASANA EXPRESS – Train No. – 12327 ( Very good option to reach Dehradun directly by 5 pm; Spend the night in Haridwar and start your onward journey by car next morning)
DOON EXPRESS – Train No. – 13009 (Don't book this train when you plan a long onward journey immediately in the morning)]
Avoid booking wait listed (WL) tickets in AC classes (1A/2A/3A) or Chair Car (CC). Book Sleeper class (SL)/Second Sitting class (2S) tickets which have normally more seats/berths and hence much better chance to get confirmed.
You can reach Dehradun easily  from New Delhi by train or bus (~ 6/7 hours) and is around 260 Km.
By train:
Following trains are good to reach Haridwar and run daily.
DDN JANSHTBDI – Train No. 12055 (Arrives DDN in the evening @ 9:10 pm, good choice when you stay the night in Dehradun and have a long drive ahead next day)
NANDA DEVI EXP – Train No. 12205 (arrives DDN early morning @ 5:40 am)
Always avoid booking waitlisted (WL) tickets in AC classes (1A/2A/3A) or Chair Car (CC). Book Sleeper class (SL)/Second Sitting class (2S) tickets which have normally more seats/berth and hence much better chance to get confirmed.
By bus:
Govt. Road Transport (Roadways of Uttarakhand, Uttar Pradesh, Delhi, Haryana, Punjab etc.) buses are frequently available in day time and night from Kashmiri Gate ISBT (http://www.delhi.gov.in/wps/wcm/connect/doit_transport/Transport/Home/ISBT/Fare+Chart). Tickets are available on board for these regular type buses. From Delhi Airport or Station you can reach ISBT Kashmiri Gate via Delhi Metro service (http://www.delhimetrorail.com/metro-fares.aspx). It is only 4 Km from NDLS and can be reached easily by booking an auto rickshaw.
For privately operated bus, you can book online from different portals. Select a boarding point suitably. Overnight Volvo/A.C/Push back buses are available. Normally these buses take up to 7 hours to reach Dehradun ISBT. You can book an auto rickshaw for Railway Station (5 Km away)/Hotel Drona (GMVN) or take a shared auto (Route No. 5) from ISBT.
[There are two major bus terminus in Dehradun. The buses from Delhi/Haridwar goes to the ISBT (Inter State Bus Terminus) and the other one is the Parvatiya Depot (Hill Depot, from where you can get the buses going up the hills like Uttarkashi, Barkot, Purola etc) located just beside the Railway station.
Nearest Airport Jolly Grant is 25 Km away from Dehradun. book a private taxi to reach Dehradun city. This airport is accessed from Dehradun, Haridwar and Rishikesh easily. The flights are mostly via Delhi.
For night stay in Dehradun:
Trekkers reaching on the previous day before the journey to the actual trek base need to stay the night in Dehradun. There are several options in Dehradun for spending a night while staying in Premium, Standard or Budget accommodation. Options vary from Privately operated Hotels/Lodges, to state run Tourist Rest Houses.
State run GMVN (Garhwal Mandal Vikas Nigam) operates Hotel Drona complex is 10 minutes walking from the railway Station. You can book an auto rickshaw. From ISBT it is around 5 Km. You can book an auto rickshaw to Hotel Drona (GMVN) or take a shared auto (Route No. 5) from ISBT (Inter State Bus Terminus). This is a reliable and a decent choice for Standard accommodation. The have restaurant and room service.
Check the following for online booking of the above: http://www.gmvnl.com/newgmvn/tour/booktrh.asp
You can call or visit GMVN nearest office or even send an email for more information.The information is available at:
http://www.gmvnl.com/newgmvn/online_reservation/#
Return from Dehradun:
Normally you reach Dehradun from any trek base  by 6/7 pm in the evening. You can take any train after 9 pm or regular bus service as mentioned above to reach Delhi or directly to your homeward journey in the same night.
  TREK FEE: ₹ 3950 (Pantwari to Pantwari) + 5% GST  
Book  for 5 or more persons and avail flat 10% Group Discount on TREK FEE.
Inclusions:
1 night camping on twin sharing basis and dinner.
 All meals during the trek, starting from Day 1 lunch to Day 2 lunch. Regular Indian style nutritious vegetarian food during the trek (including occasional eggs), breakfast packed/hot lunch (depending upon the time you reach a campsite), snacks, dinner along with coffee/tea/soup.
Excellent Trekking Guide, who will be a local to this particular area and has profound knowledge of the trekking trails around.
 Specialised Cook, Support staff, Porters/Packed Animals for carrying the central logistics of the trek.
Camping equipment/gears like Sleeping bag, Carry mattress, Gaiters, Micro spikes/Crampon. (If you have a high altitude specific personal Sleeping Bag use it for better hygiene). You need to bring personal rucksack, trekking shoes and suitable clothing for the trek.
Kitchen tent, dinning tent and toilet tent as required during the trek.
All permit fee, camping charges, forest levy required for the trek.
Basic Medical & First Aid kit. Always bring your personal medicines kit.
Exclusions:
Transportation from Dehradun to trek base Pantwari and back. We can arrange if you need so, pay directly to the driver.
We assume that you will carry your personal Rucksack/Backpack with all your personal belongings. If you want to offload your Rucksack and be carried by our Pack Animal/Porter then you need to pay additional ₹ 800 for the entire duration of the trek. The Rucksack should not weigh more than 10 Kg. Always carry your personal daypack in case of you opted for rucksack offloading.
 Any tip/gratuity to the HT supports staff.
Anything is is NOT mentioned in the "Inclusions" or personal in nature.
Booking:
We assume that you have read and understood our "Terms & Conditions" (https://himalayatrekker.com/terms-and-conditions) before Booking a trek/tour.
To reserve your place in a scheduled Fixed Departure trek or a Customised/Private trek pay 25% of the TREK/TOUR FEE as the initial "Booking Deposit". You can pay by Net banking/Draft/Cheque/Credit/Debit/AMEX cards. This will ensure your participation in the desired trek and we will reserve your place in the scheduled date. You need to pay the remaining amount at least 15 days before Trek Starting Date.
If you book a Trek/Tour before 14 days or less from Trek/Tour Starting Date, you need to pay the full TREK/TOUR FEE.
 Cancellations:
"Booking Amount" i.e.25% of the TREK/TOUR FEE is Non-Refundable at any stage.
If in case you are not able to make it due to unavoidable reason(s), we provide you a very flexible choice of Shifting to another trek within next one year. One year is counted from the starting date of the trek/tour you booked initially with us.
In case you postpone your trip you need to informminimum of 15 days before the trek/tour starting date. (Though we suggest to inform us earlier if known)
In case you postpone a trek/tour before 15 days of the scheduled Trek/Tour Starting date or prior, you may shift to another group of the same trek/tour scheduled in the same season or within next one year. You may shift to another suitable route also. For changing any, you need our approval first. Your request must be in written communication through your registered email with us.
If you cancel/postpone a trek/tour from 14 days to 8 days before tour starting date, your Booking Amount is Non-Refundable. We will not take any request of shifting dates. We will charge 50% of the amount as Cancellation Charges and process refund of remaining 50%. You may also shift to another group within next year but 25% Booking Amount will be deemed as Cancellation Charge and the rest amount will be transferred to the shifted group.
If you cancel a trek/tour 7 days (i.e. a week) before Trek/Tour Starting Date or later, there will be NO REFUND.
In case of any unforeseen incident including but not limited to natural calamities like flood, earthquake, landslide, forest fire or any political unrest, if we are compelled to cancel the trek/trip, you will be entitled to redeem the full amount for the same/similar kind of trek/trip within next one year.
If you need more clarifications write in to [email protected]