3000 m/9840 ft
Highest Point
Barsey Rhododendron Sanctuary trek:
Barsey, also spelled Varsey (Location 27.1942° N, 88.1183° E) is a Rhododendron Sanctuary and a nature preserve inside West Sikkim.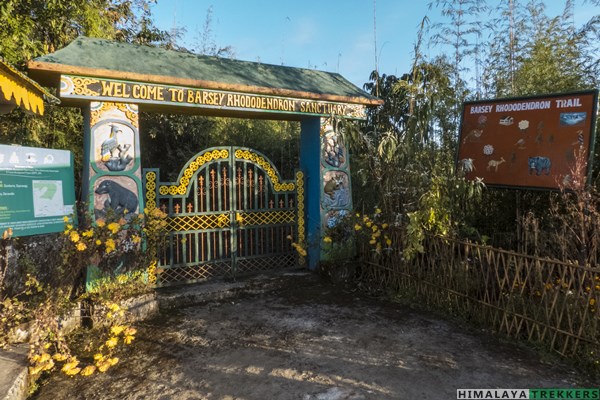 You may have heard that the views of Kanchendzongha is breathtaking from Barsey. You will get full view of the major peaks of Sikkim including Pandim, Rathong, Kabru group (North South and Dome), Kumbhakarna (Jannu), Tinchenkhang and more. All though this 104 sq Km spread Rhododendron Sanctuary has more to offer than the high mountain views. According to Sikkim forest Dept (http://www.sikkimforest.gov.in/docs/IBA/sk1.pdf) it's a vital corridor connecting the Kanchendzongha National Park (KNP, same as Kanchendzongha Biosphere Reserve) to its north with the Singalila National Park of West Bengal to its south.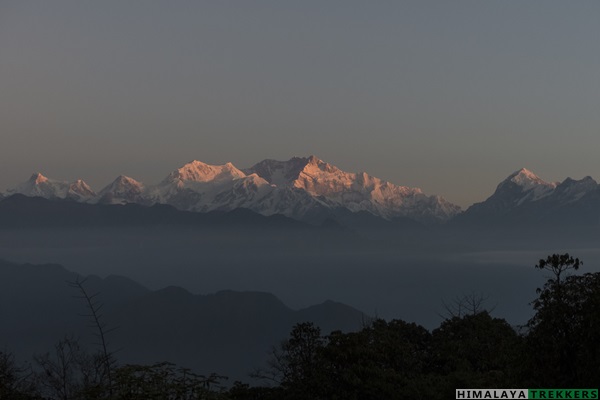 The gentle walk from Hilley to Barsey inside pristine jungle is probably one of the finest in Sikkim. More than 250 cm of rainfall and above 2000 m of altitude makes the prevailing climate of this area wet and cold and hence proved ideal for it's dominant floral genus Rhododendron to grow rapidly and diversify. April and May are the best months to visit this place if Rhododendrons, a lots of them, fascinates you. With the onset of spring Rhododendrons start blooming all around the terrain and stays till mid May, till monsoon takes over.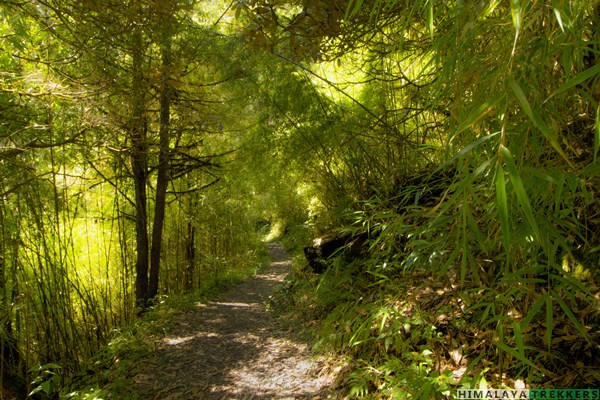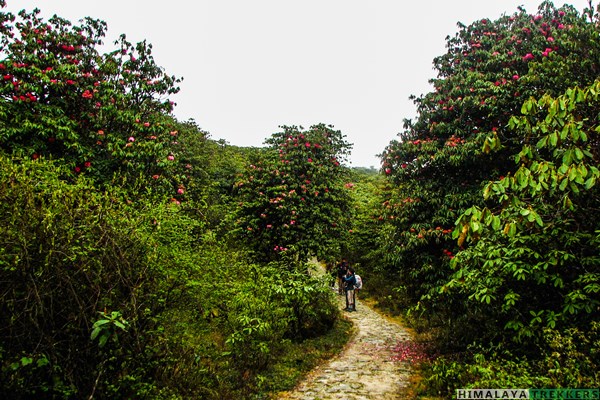 When you visit a jungle, certainly you can expect to catch some of its wildlife. For birders this place is no less than a paradise. This sanctuary harbours one of the elusive species on earth, Red Panda. Consider yourself lucky though, if you come across one though. These shy creatures are not particularly fond of us to say the least, and try their best to stay away from any kind of human interaction!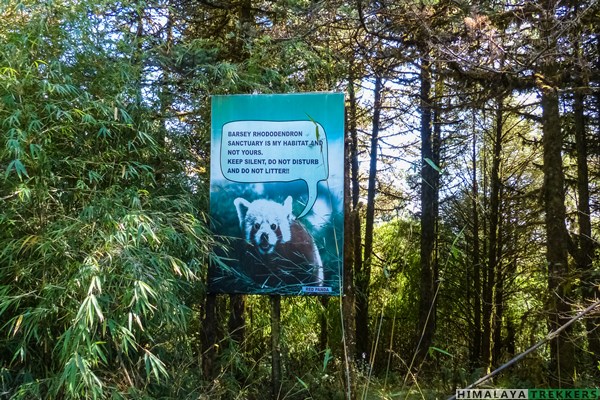 If you want a relaxed family vacation away from the touristy crowd with a pinch of adventure spread over it, this trip might be just what you're looking for. Staying in simple village homestay or Trekkers Hut inside jungle are certainly not a luxury but indeed positive gateways than usual ones.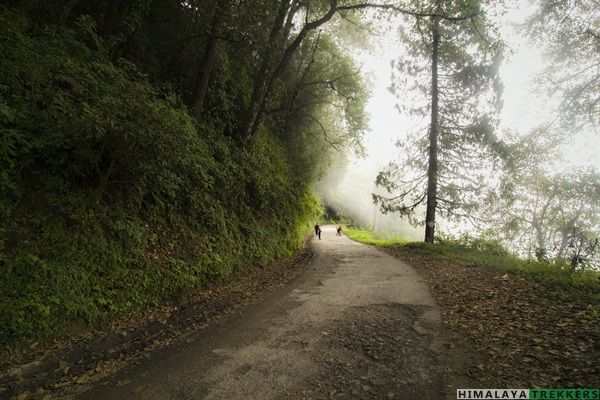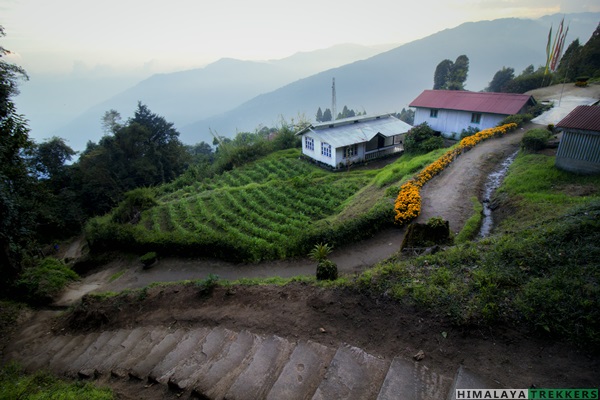 We also arrange multi day trekking trips crisscrossing this Sanctuary reaching the Singalila Ridge starting from Hilley and Uttarey. One such scenically mesmerising route is our Singalila Phoktey Dara Trek.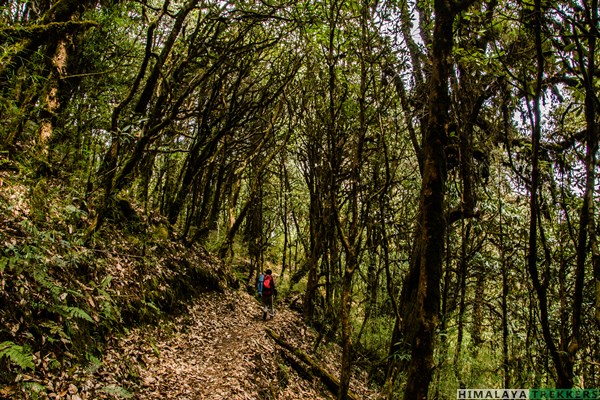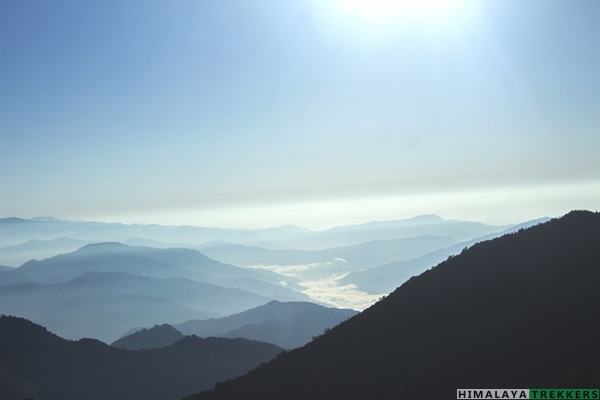 Brief Itinerary:

 
Day 1: Reach NJP/Bagdogra  and Drive to Okhrey via Jorethang and Sombaria. Homestay accommodation  – 130 Km – 6/7 hours
Day 2: Drive to Hilley – 10 Km –  30 min – trek to Barsey – 4.5 Km – 2/3 hours. Accommodation in Trekkers Hut.
Day 3: Explore around Barsey  – half day hike – 4/5 hours
Day 4 : Trek to return Hilley 4.5 Km – 2/3 hours and drive back to NJP/Bagdogra  – 140 Km – 7/8  hours
Note: You need to reach NJP/Bagdogra latest by 10 am on Day 1. Similarly you will return to NJP/Bagdogra by 6 pm on Day 4. Arrange of tickets accordingly.
Note:
This itinerary is intended to initiate knowing nature and it's elements around you and growing interest to conserve. Its a wonderful opportunity for the families and kids to introduce themselves to nature in the Himalayas.
You can extend the itinerary to a week long holiday by adding less touristy places like Rinchenpong, Barmiok , Kewzing or popular destinations like Pelling, Gangtok or Darjeeling.
Our hiking trail is inside "Barsey Rhododendron Sanctuary". You can spend more days in sanctuary for bird watching or in Rhododendron flowering season. You can even add a tented accommodation at Barsey. Check with us for availability if you specifically wish to stay in a tent (regular dome or ridge shaped mountain tents, No Swiss tent or anything fancy).
 TREK FEE: ₹ 7000 (Okhrey to Hilley) + 5% GST 
Above TREK FEE is applicable for a minimum of 4 members and you can choose any date for your trip. For 2 members the TREK FEE will be ₹ 8500 + 5% GST per person.
TREK FEE includes homestay accommodation at Okhrey and 2 nights Trekkers Hut accommodation at Barsey.
All meals at Okhrey and Barsey.
Entry fee and permits for Barsey Rhododendron Sanctuary and a local hiking guide to accompany you.
Transportation to Okhrey, Hilley and return are not included.
For detailed inclusions and exclusions check the COST INCLUSIONS tab.
 Seasons for Barsey Rhododendron Sanctuary trek: 
Being in Eastern Himalayas (Sikkim/Nepal border) this area observes longer monsoon. Clouds start to hover from April and prolong till October beginning. There are two distinct seasons when this year trek is particularly beautiful:
1) Spring/Summer for Rhododendron season (Mar to May): From mid of March to Mid of May. Flowering starts from early March in the lower elevation, and gradually towards end of spring on higher altitude. Rhododendron and Giant Magnolia are two most famous along with several other wild flower species. Cloudy or misty atmosphere is common during Spring. Though clear mountains views are not uncommon, specially during morning.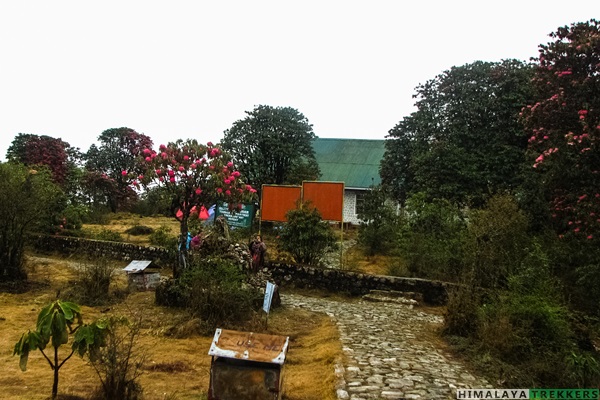 2) Fall/Winter for clear weather (Oct to Feb): From mid October to January. In the beginning of October clouds start moving out from this region and weather becomes clearer. November is  particularly known for its crystal clear views of the mountains.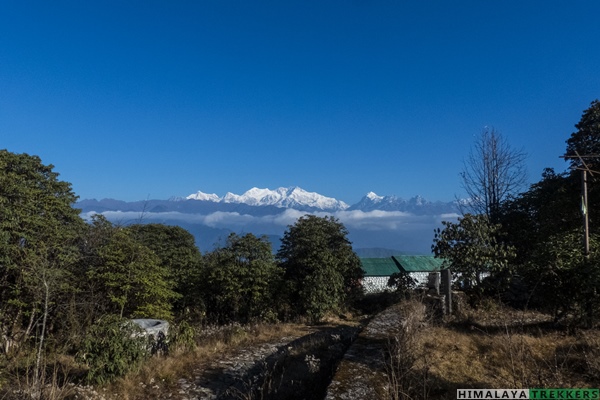 From June to September, the sanctuary is closed due to Monsoons.
 Accommodation options inside Barsey Rhododendron Sanctuary: 
From road head Hilley, Barsey is just 4 and a half Km walk.
At Hilley you will get couple of basic lodge to stay. These will also serve food. Charges can vary depending on season from ₹ 1200 to ₹ 1500 per person (including meals). Rooms are for sharing of 4/5 persons or dormitories. It is possible to reach a check in based upon availability. We recommend to book in advance, specially during season time.
At Barsey you have two accommodation options to stay:
Barsey Trekkers Hut:

This is a government hut maintained by and leased to local people around. You can book through us or other agencies. Trekkers Hut has 2 rooms (sharing for 3/4) a dinning space, kitchen and a lovely dormitory in attic ( around 20 separate single beds). Cost varies from ₹ 1500 to ₹ 2000 per person  with meals depending upon season.

Forest Hut:

This is reserved for forest department officials. It may be possible to write to state forest department and get an approval for stay.
Note: We can arrange a stay in tents (twin or triple sharing dome or ridge shaped tents) along with sleeping bag and mattresses at Barsey. We will get required permit from Forest Department and arrange the logistics. Charges will be ₹ 1500 to ₹ 2000 per person including meals (breakfast, lunch and dinner) depending upon total number of persons. Remember that these are not Swiss luxury tents but portable hiking tents.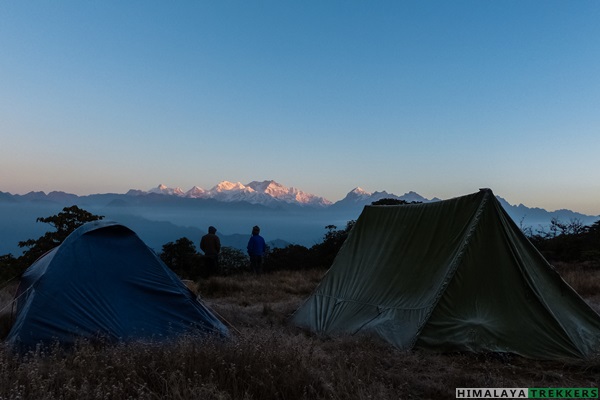 Exploring Barsey Rhododendron Sanctuary, wildlife, birds and big mountains: 
In our standard itinerary, you will get a chance to hike inside dense forest, sunrise and sunset time opportunity to witness High Himalayan Grandeur (Kanchendzongha massif standing at 28000 ft and not far as the crow flies).
Before going into some technical details, its simply ecstatic to walk and stay inside this Bamboo, Rhododendron, fern, moss and lichen covered jungle.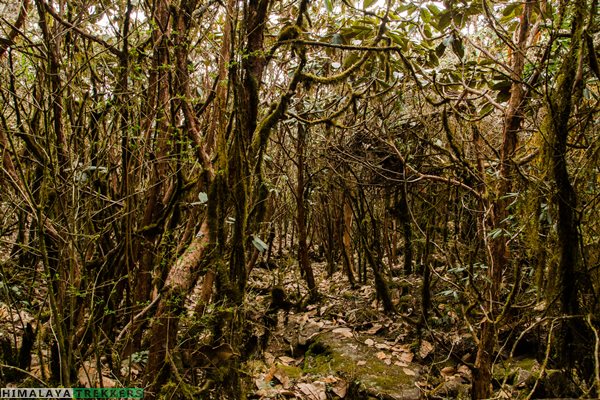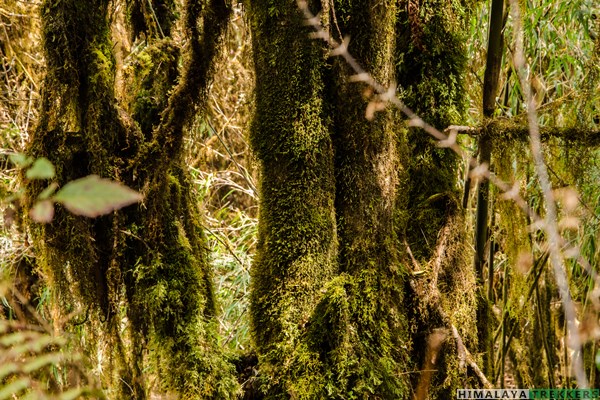 Not only this sanctuary is the only corridor between Kanchendzongha and Singalila National park makes it special. What makes it more interesting is that Barsey and its surrounding reserve forests ( Chhangey Reserve Forest to the north, Sungri Reserve Forest to the east, Phunsebung Reserve Forest to south-east) come under 2C as Himalaya-Central Himalaya Bio-geographic Province. Five forest types are seen in this site: Subtropical Moist Deciduous Forests (2,200-2,400 m); Wet Temperate Forests (2,400-2,700 m); Moist Temperate Forests (2,700-3,250 m); Subalpine Forests (3,250-4000 m)(Sharma 2001).It is situated at the southwestst corner of Sikkim with Nepal as its western border and it's contiguity with KNP and Singalila, stretching from alpine meadows down to subtropical forests makes this sanctuary an IBA ( Important Bird Area ).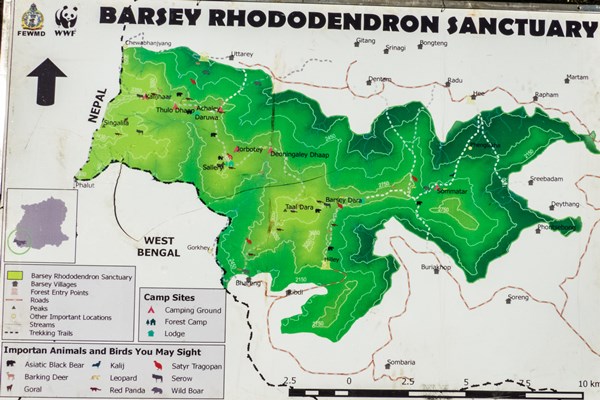 Birding inside Barsey Rhododendron Sanctuary has tremendous potential, while staying at Barsey. For birders, this place is no less than a treasure trove. It is situated at the southwest corner of Sikkim with Nepal as its western border and it's contiguity with KNP and Singalila, stretching from alpine meadows down to subtropical forests makes this sanctuary an IBA ( Important Bird Area ). Different species of Thrushes, Sunbirds, Flycatchers, Finches, Shrikes, Magpies, Minivets are common sight. Vibrant colourful pheasants like Monal Pheasant, Kaleej Pheasant, Satyr Trogopan come down to the comparatively lower attitude of Barsey Rhododendron Sanctuary from the heights of Kanchendzongha National Park in the harsh and cold months of winter.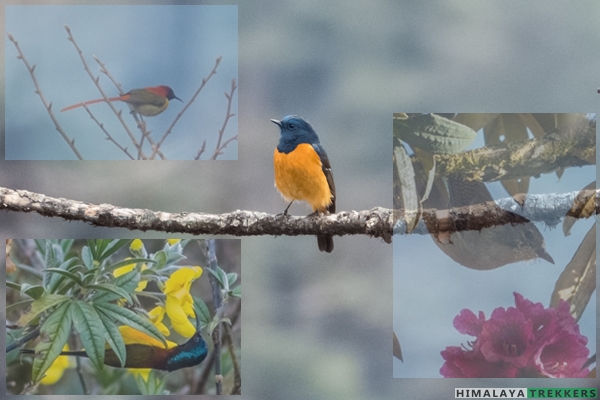 Apart from elusive Red Panda, Leopard, Asiatic Balck Bear, Leopard Cat, Marbled Cat, Himalayan Yellow Throated Marten, Himalayan Palm Civet, Wild Boar, Barking Deer, Serow, Crestless Porcupine, Rufous Tailed Hare, Chinese Pangolin, Flying Squirrel, Giant Squirrel and Himalayan Mouse Hare are some of the other animals which consider this sanctuary as their home.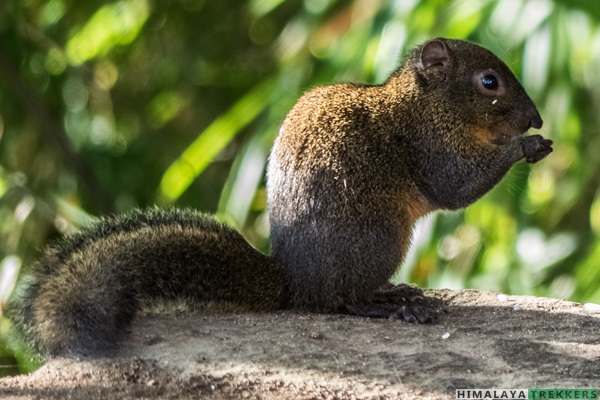 Reaching NJP Bagdogra and to tour starting point Okhrey, West Sikkim: 
We will arrange a pickup  from NJP/Bagdogra/Siliguri to Hilley and drop from Hilley to NJP/Bagdogra. This will be shared by the team members on actual basis and to be paid directly to the driver. A Tata Sumo/Mahindra Maxx Jeep (accommodates 5/6 persons) charges ₹ 6,000 for pick up from NJP to Okhrey and ₹ 7,500 for a drop from Hilley to NJP/Bagdogra. One such car can accommodate up to 8 persons. This cost is NOT included in the TREK FEE.
To reach the trek base Hilley the access in from NJP/Siliguri/Bagdogra. For details on how to reach nearest railways station/airport and move to trek base independently/public transportation check the details in GETTING THERE TAB.
 Permit requirements to enter Sikkim and hike to Barsey (Indians & Foreigners): 
Sikkim has some restrictions regarding travelling and special permits are a must to obtain. It is a good space to write the details regarding the different permits and fees required by the administration. Also we hope that this section will help those people who want to reach independently to Sikkim.
 (A) For Indian National: 
Every tourist or trekker visiting Barsey Rhododendron Sanctuary will need a permit. You can get it at Hilley Forest check post with an original Photo ID card with address (Aadhar/Driving Licence/Voter ID/Passport but NOT PAN CARD) & 2 photocopies of the same. Below is a handy guide for those having plan for additional holidays/destinations in Sikkim. Even Indians need Protected Area Permit (PAP) for visiting North Sikkim or Nathu La border
 (B) For Foreign National including OCI: 
All foreigners (excluding people of Bhutanese origin) will require Inner Line Permit (ILP) which is recently renamed as Restricted Area Permit (RAP) to enter the boundary of Sikkim. This is issued Free Of Cost at Sikkim check posts while you enter Sikkim by road. This takes 15/20 minutes with the strength of your passport and valid Indian VISA. Overseas Citizens of India (OCIs) has to go through the same process as of a foreign national.
For trekking inside Barsey Rhododendron Sanctuary, you will need PAP (Protected Area Permit), often referred to as "Trekking Permit". This permit is issued from Adventure Cell of Tourism & Civil Aviation Department, Govt. of Sikkim, Gangtok. We charge an additional ₹ 4000 as Service Charge per person + 5% Govt. Tax per person to process the Trekking Permit and counter the differential of various permit fees inside Barsey Rhododendron Sanctuary for Non Indian nationals. Note that PAP can be processed for a minimum of 2 foreigners going together.
Check the following two links on Sikkim Govt. Tourism Department website for an understanding:
Duration: 3 days of hiking; NJP/Bagdogra to NJP  round trip in 4 days.
Prerequisite: Ideal for beginners/first Himalayan trek.
Grade: Easy for beginners.
Physicality: 3/10
Trail Length: 15 Km
Highest Point: Barsey ~ 3000 m/9840 ft
Seasons: March to May (Spring/Summer) for Rhododendron bloom. Oct to Feb for clear mountain views (Fall/Winter).
Further Option: From Singalila Pass descent to Phalut in West Bengal via Toriphuley and then move out via Gorkhey and Rimbick. 75 Km long Moderate grade trek.
Access: Trek starting point is Hilley and end point is Uttarey.
Rail station: New Jalpaiguri (STN Code: NJP)
Airport: Bagdogra (Code: IXB)
 Map:
At present direct booking from website is disabled. You can get all the information in your email by submitting the Enquiry Form available on the page.
You can book for any date, if a homestay accommodation is available.
You need to reach NJP/Bagdogra on Day 1 morning (latest by 8 am) or the previous night. Return to NJP on Day 4 evening by 5 pm. Arrange your tickets for inward journey and return accordingly.
| | |
| --- | --- |
| DEPARTURE LOCATION | New Jalpaiguri railway station (NJP)/Bagdogra airport |
| REPORTING TIME | 9:00 AM for a prompt departure to Okhrey (Day 1) |
| RETURN LOCATION | NJP/Siliguri/Bagdogra |
| RETURN TIME | Approximately 6:00 PM (Day 4) |
How to reach Okhrey (The trek base):
Nearest Rail station: New Jailpaiguri (Station Code: NJP)
Nearest Airport: Bagdogra (Airport Code: IXB)
We will arrange a pickup  from NJP/Bagdogra/Siliguri to Okhrey and drop from Hilley to NJP/Bagdogra. A Tata Sumo/Mahindra Maxx Jeep (accommodates 5/6 persons) charges ₹ 4500 for pick up from NJP to Okhrey and ₹ 5500 for a drop from Hilley to NJP/Bagdogra. One such car can accommodate up to 8 people. This is NOT included in the TREK FEE and to be payable directly to the driver/owner.
If you wish to reach our Trek Base Okhrey on your own by public transportation:
Reach NJP in the morning and take a shared auto to Siliguri Junction/SNT(Sikkim Nationalised Transport/Tenzing Norgay Bus Terminus. From  there board a shared vehicle to Jorethang in South Sikkim. This is the entry point for South & West Sikkim. If you reach here by noon, probably you will get your seat in one of the few service jeeps plying Between Jorethang and Okhrey.
While returning from Hilley there is no service jeep available. You need to book a car till Jorethang. From Jorethang you will get shared vehicle for Siliguri till 3 pm.
How to reach NJP:
For the treks in Sikkim and Darjeeling , one has to reach the city of Siliguri (considered the corridor to the North-East) in West Bengal.
The nearest Railway Station is New Jalpaiguri (NJP), 5 Km from Siliguri and the airport Bagdogra is 10 Km.
You can fly or by train reach Siliguri from Kolkata ( good for the trekkers coming from South/central or Western India) or Delhi as per your convenience from any part within India.
Direct flights are available from New Delhi and Kolkata. All the flights to Bagdogra reaches late in the morning or early afternoon. It becomes difficult to reach the trek base like Yuksom/Hilley/Uttarey on the same day unless a car is booked (takes around 8 hours to reach). One can stay the night in Siliguri and start the travel to the trek base next morning. It is better to reach Siliguri by flight/train to Kolkata and then take an overnight train to NJP unless you are coming from northern India. 
 From Kolkata to Siliguri: 
1) By train:
There are several overnight trains running between Kolkata (Howrah or Sealdah) to NJP. Day trains are also available.
From airport (Dumdum, CCU) , Sealdah railway station is 15 Km and may take 1 to 2 hours depending upon the time you travel. Howrah is 17 Km and may take up to 2 hours during the heavy traffic in the rush hours. Howrah and Sealdah are only 5 Km apart, though it may take an hour to travel. Pre Paid taxi booths are available.
DARJEELING MAIL – Train No. – 12343 (Good option to reach NJP in the morning. Starts around 10 pm in the night and reaches NJP 8 am in the morning.)
PADATIK EXPRESS – Train No. – 12377 (Good option to reach NJP in the morning. Starts around 11 pm in the night and reaches NJP 9 am in the morning.)
KANCHANKANYA EXPRESS – Train No. – 13149 (Starts at 8:30 pm in the evening and reaches NJP 7:30 am in the morning)
SHATABDI EXPRESS – Train No. – 12041 (Day train, starts 2:15 pm in the afternoon and reaches NP at 10:20 pm in the night. There are hotels/lodges outside the railway station at a walking distance of 5 minutes. Otherwise book an auto rickshaw/taxi to Siliguri, which takes around 15 minutes. There are several hotels around Siliguri Junction/Tenzing Norgay Bus Terminus/S.N.T (Sikkim Nationalised Transport stand).
There are other trains also of which some run daily and some on particular days of week.
Avoid booking wait listed (WL) tickets in AC classes (1A/2A/3A) or Chair Car (CC). Book Sleeper class (SL)/Second Sitting class (2S) tickets which have normally more seats/berths and hence much better chance to get confirmed.
2) By flight:
From Kolkata(CCU)  take a flight to Bagdogra (IXB). From airport book a taxi to reach Siliguri which is 10 Km away.
 From Delhi to Siliguri: 
1) By Train:
Following trains are good to reach NJP and run daily.
DIBRUGARH RAJDHANI – Train No. 12424 (arrives NJP late in the morning @ 10:45 am)
NORTH EAST EXP – Train No. 12506 (arrives NJP @ 8:20 am in the morning)
BRAHMAPUTRA MAIL – Train No. 12424 (arrives NJP at 5 am in the morning. But this train runs late frequently.
Always avoid booking wait listed (WL) tickets in AC classes (1A/2A/3A) or Chair Car (CC). Book Sleeper class (SL)/Second Sitting class (2S) tickets which have normally more seats/berth and hence much better chance to get confirmed.
2) By flight:
From Delhi (DEL) take a flight to Bagdogra (IXB). From airport book a taxi to reach Siliguri which is 10 Km away.
 For night accommodation in NJP/Bagdogra/ Siliguri: 
Trekkers reaching on the previous day (Day 0) before the journey to the actual trek base need to stay the night in Siliguri/NJP. There are several options in Siliguri for spending a night while staying in Standard or Budget accommodation. It is better to reach to the centre of Siliguri called Siliguri Junction (adjacent to Tenzing Norgay Bus Terminus and Sikkim nationalised Transport/S.N.T stand). It takes 30 minutes from Bagdogra or 15 minutes from NJP.  Also you will get hotels 5 minutes walking from NJP station.
Return from NJP/Bagdogra:
Normally you reach NJP/Bagdogra from any trek base  by 5/6 pm in the evening. You can take any train after 7 pm to Kolkata safely, which reach early in the morning. Accordingly arrange your homeward journey from Kolkata onward.
Drive from NJP/Siliguri/Bagdogra to Okhrey via Jorethang – 130 Km – 7/8 hours
Pickup in the morning from NJP/Bagdogra and reach Okhrey (~2300 m, 7550 ft) in 7/8 hours. The road goes inside the Mahananda Wildlife Sanctuary at Sevok and then enters to Sikkim through Malli check post. Til Jorethang (~900 m, 3000 ft) the road goes along the moist evergreen forests of foothills while we cross Kitam Bird Sanctuary. From Jorethang the metalled road gains  height rapidly . The drive may take up to 8 hours to cover the distance of 130 Km, with a break or two. Jorethang is the last market to shop and you will get ATM's.
Drive to Hilley - 30 mins - trek from Hilley to Barsey – 4.5 Km – 2/3 hours
Hike and explore around Barsey – 4/5 Km – 4/5 hours
Trek back to Hilley – 4.5 Km – 2 hours - drive to NJP/Bagdogra - 140 Km - 6/7 hours
P.S.: Distances and altitudes are approximate and may not be exact.
  TREK FEE: ₹ 7,000 (Okhrey to Hilley) + 5% GST  
The above cost is applicable for a group of minimum 4 person. For 2 persons TREK FEE will be ₹ 8,500 + 5% GST per person, Okhrey to Hilley.
Inclusions:
1 night's accommodation at Okhrey homestay on sharing basis. Basic clean beds and toilet, running hot water available.
2 night's accommodation (Day 2 & 3) at Barsey Trekkers Hut on dormitory sharing basis. Basic clean beds and toilet. Toilets are outside and common in nature. No Electricity and running hot water.
 All meals (Day 1  evening snacks to Day 4 breakfast) during the  tour, apart from the ones during transit. Regular Indian style nutritious vegetarian food during the trek (including eggs), breakfast, hot lunch, evening snacks, dinner (option of chicken as non veg) along with coffee/tea/soup.
All permit and entry fee, forest levy required inside Barsey Rhododendron Sanctuary.
A local hiking guide guide for Barsey trek, who will be a local to this particular area and has good knowledge of the trekking trails around. Note: If you need a birding guide, check with us, if we can arrange one.
Permit, food and any other expenses for the hiking guide.
Exclusions:
Any kind of transportation involved in the itinerary. Either you can reach trek base Okhrey independently or we may arrange a private car. You pay directly to the driver. Fares are as following:
₹ 6,000 from NJP/Bagdogra Okhrey.
₹ 1500 from Okhrey to Hilley.
₹ 7,500 from Hilley to NJP/Bagdogra.
We assume that you will carry your personal Rucksack/Backpack with all your personal belongings. If you want to offload your Rucksack/Duffel Bag (No suitcase or Trolley bag) and carried by a Porter, then you need to pay additional ₹ 600 one way from Hilley to Barsey, i.e. ₹ 1200 for a return trip. One such Rucksack should not weigh more than 15 Kg.
Anything which is NOT mentioned in the "Inclusions" or personal in nature.
Booking:
We assume that you have read and understood our "Terms & Conditions" (https://himalayatrekker.com/terms-and-conditions) before Booking a trek/tour.
To reserve your place in a scheduled Fixed Departure trek or a Customised/Private trek pay 25% of the TREK/TOUR FEE as the initial "Booking Deposit". You can pay by Net banking/Draft/Cheque/Credit/Debit/AMEX cards. This will ensure your participation in the desired trek and we will reserve your place in the scheduled date. You need to pay the remaining amount at least 15 days before Trek Starting Date.
If you book a Trek/Tour before 14 days or less from Trek/Tour Starting Date, you need to pay the full TREK/TOUR FEE.
 Cancellations:
"Booking Amount" i.e.25% of the TREK/TOUR FEE is Non-Refundable at any stage.
If in case you are not able to make it due to unavoidable reason(s), we provide you avery flexible choice of Shifting to another trek within next one year. One year is counted from the starting date of the trek/tour you booked initially with us.
In case you postpone your trip you need to informminimum of 15 days before the trek/tour starting date. (Though we suggest to inform us earlier if known)
In case you postpone a trek/tour before 15 days of the scheduled Trek/Tour Starting date or prior, you may shift to another group of the same trek/tour scheduled in the same season or within next one year. You may shift to another suitable route also. For changing any, you need our approval first. Your request must be in written communication through your registered email with us.
If you cancel/postpone a trek/tour from14 days to 8 days before tour starting date, your Booking Amount is Non-Refundable. We will not take any request of shifting dates. We will charge 50% of the amount as Cancellation Charges and process refund of remaining 50%. You may also shift to another group within next year but 25% Booking Amount will be deemed as Cancellation Charge and the rest amount will be transferred to the shifted group.
If you cancel a trek/tour 7 days (i.e. a week) before Trek/Tour Starting Date or later, there will be NO REFUND.
In case of any unforeseen incident including but not limited to natural calamities like flood, earthquake, landslide, forest fire or any political unrest, if we are compelled to cancel the trek/trip, you will be entitled to redeem the full amount for the same/similar kind of trek/trip within next one year.
If you need more clarifications write in to [email protected]