3500 m/11500 ft
Highest Point
Update about Chadar trek:
As per our company's vision, Live Green, Trek Green, we are committed to sustainable Eco-friendly treks. We noticed that for last couple of years there are too many of the companies operating on that trail and taking thousands of trekkers! This has caused a havoc and route is getting destroyed very fast. The route , i.e. frozen Zanskar river is a traditional route for the local people to connect with the other part of Ladakh during winter, when the roads are cut off. This was limited till 2010 as there were hardly few groups trekking in winter. As a matter of fact, every year, whooping thousands of tourists visit Chadar in a span of just over a month. We realised and stopped arranging Chadar trek from 2016. We know that this will not help to protect this fragile ecosystem, but we are doing our bit.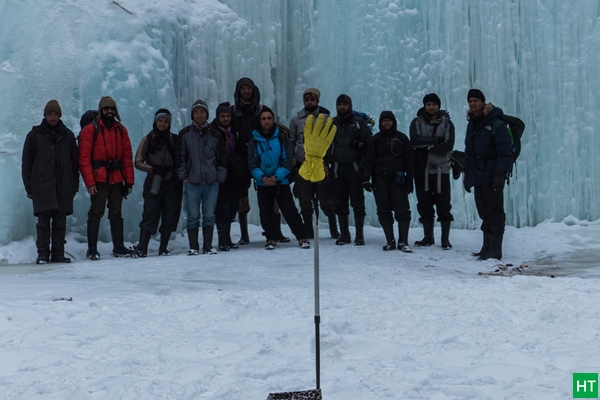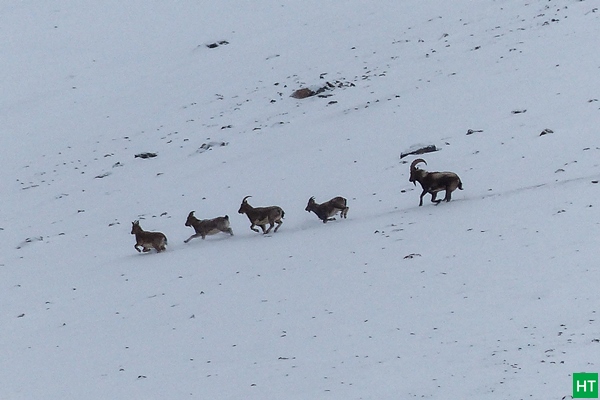 About Chadar Trek:
Chadar, the frozen Zanskar river trek is unique in many aspects during cold and harsh winter. Be it geographically or geologically or culturally. Padum, the heartland of Zanskar remains cut off by road in winters. This is a traditional route which the people of Zanskar use to connect themselves to Leh and other regions of Ladakh. In the winter when the Zanskar River freezes, the ice sheet is referred to as as "Chadar" (Means "Cover" in Hindi). It takes at least a month after the onset of winter to form the Chadar. People just walk over the river while the children and luggage are carried by local made wooden ski sledges.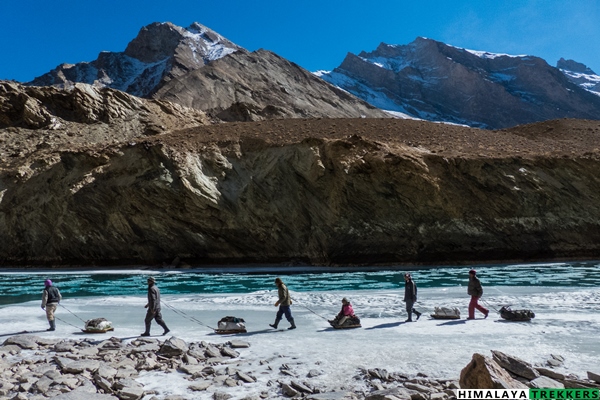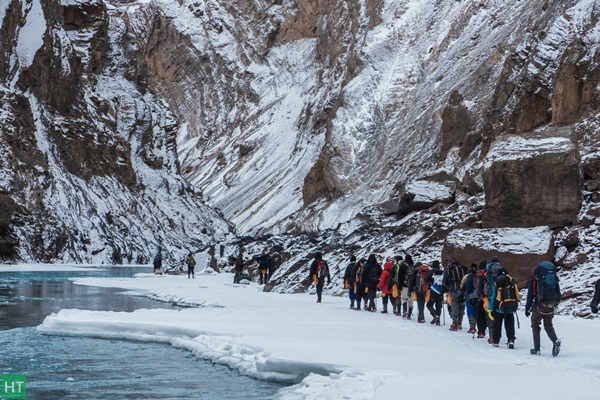 The river gorge is deep and most of the time it is barred from direct sunlight. At places the river bed is pretty wide and in places much narrower. The temperature remains below freezing throughout the day and can plummet to -20/25° C in the night. Vegetation is sparse in the trek route apart from few Juniper trees.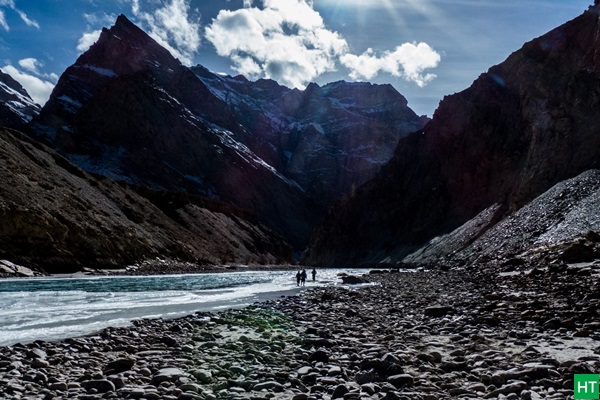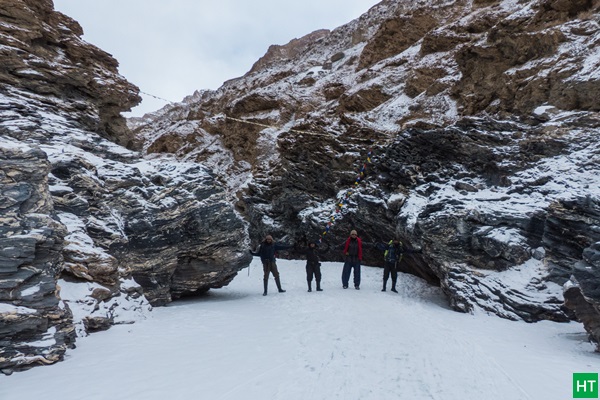 Due to wind and water erosion, the rock formation of the gorge is spectacular to see. Due to irregularities in weather pattern the ice sheet forms and breaks frequently. For this reason the trail frequently changes its course on both side of the river.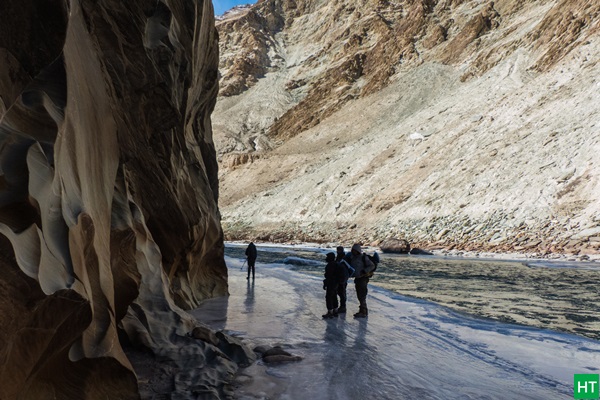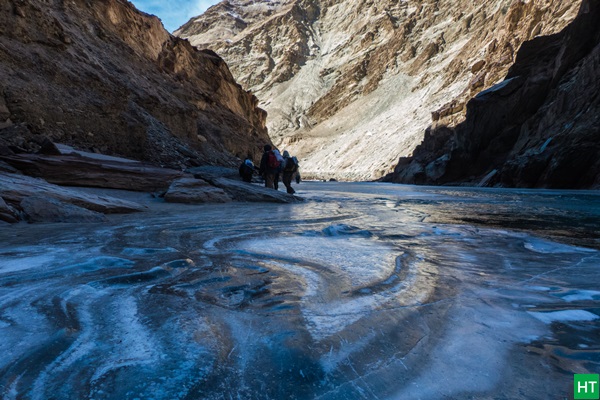 At furthest point of the trek is Nerak village. The main village is some 30 minutes of climb from the river gorge, though few homestay and small shops are nearby. The famous frozen waterfalls at Nerak is an added attraction of this unique trek.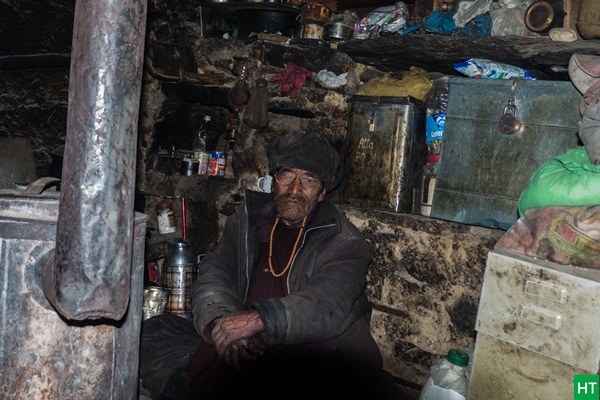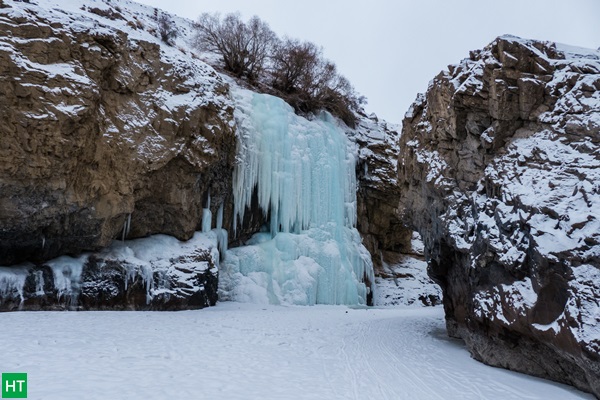 Suggested Itinerary:
Day 0: Arrive in Leh (For better acclimatisation) – Lodge accommodation.
Day 1: Around Leh – Walk to Leh palace, local market etc. – Lodge in Leh.
Day 2: Drive to Tilat Sumdo – 75 Km – 3/4 hours. Camp.
Day 3: Tilat Sumdo to Shingra Kongma – 10 Km – 5/6 hour. Camp.
Day 4: Shingra Kongma to Tibb – 12 Km – 6/7 hours. Camp.
Day 5: Tibb to Nerak- 12 Km – 6/7 hours. Camp/homestay accommodation.
Day 6: Nerak to Tibb – 12 Km – 5  hours. Camp.
Day 7: Tibb to Shingra Yongma – 15 Km – 5/6 hours. Camp.
Day 8: Shingra Yongma to Tilat Sumdo– 7 Km – 2/2and half hours – Drive to Leh – 75 Km – 3/4 hours. Lodge accommodation.
Day 9: Mandatory buffer day (Utilised in case we need to take a break during trek).
Day 10: Fly back home from Leh.
Acclimatisation & Buffer days for the trek:
Leh is at ~3500 m/11500 ft altitude and remains very dry and cold during winter. It is the highest point of the trek along with Nerak at the end. We suggest that you spend at least 2 nights in Leh before the trek. This helps in better acclimatisation. So we strongly advice that you arrive at least a day earlier i.e. Day 0 instead of Day 1 (refer to the trip itinerary) of the actual trek schedule.
We keep a buffer/additional day after the scheduled end date of the trek. You will use this day in trekking if required . During winter the Chadar may melt and then you have to wait to refreeze it again to continue. So it is possible that you may reach Leh on Day 9 instead of Day 8 (Refer to the trip itinerary) as scheduled. Plan your flight tickets accordingly.
Expected Temperature during Chadar trek:
Your entire stay during the trek will be mostly in sub zero/freezing temperatures.
Leh: Day time temperatures will be around 0°/2° C and nights can be  -8°/-10° C
Tilat Sumdo is particularly a cold place where morning temperature around 8 am can be -10° C.
During Night and early morning the temperatures can plummet to -15° C
In recent years the temperature of Leh has increased in winter. It is NOT a common that you will get a minimum temperature of -25°/-30°C, though it is best to prepare for the worst!
Clothing:
You have to be careful and cautious while selecting the proper clothing, shoes and gears for the Chadar trek due to harsh and cold climatic conditions. You must be particularly careful about carrying warm and waterproof clothes.
You will need three layers of clothing in general.
Base layer – A t-shirt of dry fit/quick dry type (preferably a full sleeve one). Additionally carry a thermal woolly cot material.
Mid layer – A toasty warm  jacket, either insulated (synthetic fill)/fleece or a down jacket.
Outer layer – A windproof cum waterproof jacket on top whenever needed (hooded one is better).
To protect your legs use an inner thermal wear and on top of it a wear a waterproof cum windproof trouser/trek pant.
Gloves are a must. Use a double layer gloves, fleece or woollen inner layer and waterproof outer layer.
To protect your head use a woollen balaclava/cap which can be covered with the hood of the jacket/windproof.
Don't forget to check and download the general "list of things that you need to carry during Chadar trek".
Trekking Shoes:
Use regular high ankle shoes with good rubber sole. Shoes with waterproof and breathable membrane (e.g. Gore Tex membrane helps). Additionally carry a "rubber" sole "Gum Boot" (high ankle plastic boot till below knee length) from the local Leh market. These are totally waterproof and give reasonable good grip on ice. The price of such a boot is around ₹ 500 in Leh. Be sure to break in the boot before starting the trek. Don't forget to bring your regular trekking shoes!
Crampons are NOT a must but better to keep a pair with you. Either they will be strap on Crampons or Ice traction/Anti slip grips/micro spikes in nature. These can fit to a trekking shoe or  a rubber sole plastic gum boot.
Trekking poles are highly recommended for this trek. We advice you to bring at least one good quality anti-shock adjustable length trekking pole, if not a pair.
 Duration: 7 days of trek; Leh to Leh in 9 days.
 Highest Point: Leh ~ 3500 m/11500 ft, Nerak ~ 3500 m/11500 ft
 Grade: Moderate
 Length: 70 Km
 Seasons: January & February
 Further Option: Trek to Padum in Zanskar valley and back on the same way
 Access: Trek starting point and end point is Leh.
 Airport: Leh (Code: IXL)
 Map:
Arrival In Leh

For better acclimatisation reasons we highly insist that the trekkers reach Leh a day prior to the reporting date. Delhi to Leh flight is spectacular and a tourist's delight. One can see the Snow capped endless ridges and mountains of Ladakh, Zanskar and Eastern Karakoram range. In the later stage the river Indus is clearly seen and the monasteries on top of the hills. Leh is one of the most popular tourist destination for tourist worldwide in India and known as centre of Little Tibet. There are several hotel/lodge/home stay scattered throughout the city. Restaurants and eateries cater people of different continents. However during winter the tourist influx is limited and most of the shops, restaurants including the hotels remain closed. There are limited choices of North, South or Kashmiri food in the main market strip. Spend the afternoon buying last minute items like rubber gummed boots, gloves, cap etc. Night stay in Lodge/Home-Stay/Hotel.
Around Leh
Today is spent in Leh. You may arrive today morning if not able to reach Leh on Day 0 (But this is NOT advisable). Stroll in the local Leh market for the things that you need to buy. After lunch take a walk to Leh castle. Night stay in Lodge/Hotel.
Drive to Tilat Sumdo: 75 Km - 3/4 hours
In the morning by car reach Tilat Sumdo (~3170m/10400ft). We take the NH1 (Srinagar Leh highway) and the road descends slowly till Nimmo which is the confluence of Indus and Zanskar river. The start difference between the flowing pattern is surprising. While Indus flows steadily, Zanskar remains frozen. After Nimmo we leave the main highway and enter in to the Zanskar valley and slowly ascend following the river course. This road will eventually connect Padum, the capital of Zanskar to Leh and cut short the road distance to a third to the present road via Kargil. Distance is 75Km and can take around 4 hours. After unloading the logistic we carefully descend to the river bed. The camp is beside the frozen river bed and there are few caves which are used by the local support staffs for night shelter. . "Sum" means 3 in Zanskari language. A tributary named Yunglam joins here with Zanskar. After taking the hot lunch walk around on ice to get the feel of it. This is a cold and windy place indeed in the night. Night stay in tent.
Trek to Shingra Kongma: 10 Km - 5/6 hours
Today morning we start our trek to Shingra Kongma (~3270m, 10725ft). Mornings are typically cold at Tital Sumdo. Water freezes quickly inside bottle. We start our trek on the frozen bed of the river. Walk slowly to get adjusted with this typical terrain. Depending on the current condition of the Chadar either we walk on the left or right of the ice sheet. In 3 hours we reach Shingra Yongma. This is a good spot to take the hot lunch enroute. The river valley is wide here and a suitable place to camp. Walking for another ohour or so we notice a cave on our left ( True right of the river) and prayer flags. This place is called Bakula Bao. From here we follow the river course to reach our campsite for today named Shingra Kongma. Kongma means "Up" and Yongma means "down" in Zanskari dialect. The camping site is on our right ( True left of the river ) and can easily accommodate 10/12 tents. Distance is around 10 Km take and may take 5/6 hours. Night stay in tent.
Trek to Tibb: 12 Km - 6/7 hours
Today we trek to Tibb (~3370m/11050ft). The river takes a turn from Shingra Kongma and then goes straight for a while. There are frozen waterfalls on the left bank of the river. After walking for an hour we reach an opening beside the river where camp is possible and called Tsomo. The river gorge becomes narrow as small as ~6m/20ft at a place and zigzags through. Prayer flags flung here. This stretch is adrenaline pumping for the people who raft down the Zanskar river in summer. Continue walking for another 2 hour to reach Hotong Yongma, and is a good place to take hot lunch. After lunch in an hour we reach Hotong Kongma. Our campsite for the day Tibb is another 2 hours from this point. Distance is 12 Km and may take 6/7 hours. Tibb has camping side on both side of the Chadar, right side being the bigger. On the left side of the Zanskar river, there are few caves which can also be used as shelter. Night stay in tent.
Trek to Nerak: 12 Km - 6/7 hours
Our walk for today is till Nerak (~3500m/11500ft). After walking an hour we reach Yongma Do. Here we may have to take a detour from river bed and climb up a rocky cliff to negotiate the semi frozen ice sheet. Continue the walk to Kongma Do and then to a place called Juniper Point where few Juniper trees stand aside the river bed on our right. Local porters will greet you with the Juniper leafs. Tipping the jovial support team is a custom here. From here we go straight and take a right turn and find a huge frozen waterfall. We stop here for posing in front of cameras. Nerak is only 10 minutes walk from here. A wooden bridge is present here to connect Lingshed and Nerak. The villagers of Nerak and Lingshed exchange provisions and connect using this bridge during summer and monsoon. Nerak campsite is on our left side (True right of the river) and is around ~45m/150 ft above the river bed. There are couple of very basic home-stays and one small shop inside it. Basic provisions are available here. Total distance is 12 Km and can take 5/6 hours. The Nerak village is another one hour climb up from the campsite. Night stay in tent/home-stay.
Trek to Tibb: 12 Km - 5/6 hours
Today we start our return journey and trek back to Tibb. Night stay in ten
Trek to Shingra Yongma: 15 Km - 5/6 hours
Trek back to Shingra Yongma. Distance is 15Km and may take 5 hours. Night stay in tent.
Trek back to Tilat Sumdo: 7 Km - 2 hours; Drive to Leh: 75 Km -3/4 hours
Trek back to Tilat Sumdo, 7 Km and can take 2 hours. Then we take the car and get back to Leh by late afternoon. Night stay in hotel/lodge
Buffer day
This day is kept as an additional day and utilised for trekking if needed.
Fly back home from Leh
You are free to move out from Leh and book your tickets accordingly.
P.S.: Distances and altitudes are approximate and may not be exact.
BOOKING & CANCELLATION
We assume that you have read and understood our "Declaration Form".
To book for a Fixed Departure or Customised Trek you need to pay 25% of the trek/trip fee as the initial "Booking Amount". You can pay by Online Transfer/Draft/Cash. This will ensure your participation in the desired trek. You need to pay the remaining amount at a later stage.
"Booking Amount" i.e. 25% of the trek/tour fee is Non-Refundable at any stage.
If you cancel a trek/trip before 15 days, we will refund 75% of the trek/trip fee.
If you cancel a trek/trip before 14 days to 7 days, we will refund 50% of the trek/trip fee.
If you cancel a trek/trip before 6 to 1 days there will be NO REFUND.
In case of any unforeseen incident including but not limited to natural calamities like flood, earthquake, landslide, forest fire or any political unrest, if we are compelled to cancel the trek/trip, you will be entitled to redeem the full amount for the same/similar kind of trek/trip within next one year.