3850 m/12630 ft
Highest Point
Kuari Pass Trek – On Curzon's trail:
Kuari pass trek route has two major variants, primary being the exploratory route by British Viceroy George Curzon (Commonly known as Lord Curzon) and referred Kuari Pass on Curzon's trail. The shorter variant is the North side of Kuari Pass, Joshimath to Joshimath or commonly referred Winter Kuari Pass trek. Kuari Pass at an altitude of (3850 m/12630 ft), is a mid altitude pass located centrally in Garhwal Himalayas. The trail traced by Curzon in the beginning of 20th century involves approaching from southern lower valleys of Nandakini river and crossing over Kuari Pass to reach the confluence of Alaknanda and Dhauli Ganga valleys. This trail can't be approached during mid December to mid April , as deposited snow makes conditions impassable for main logistics and horses.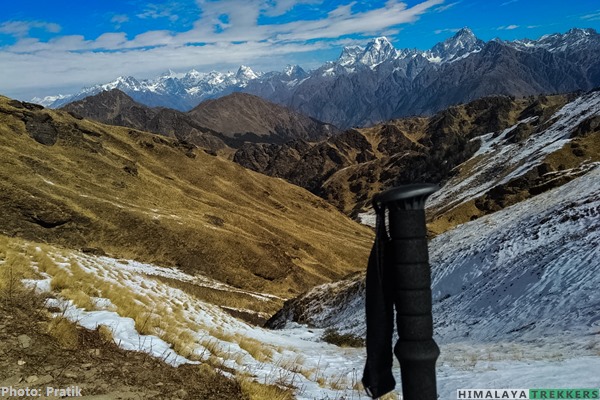 This classy trek route blends almost every variety which a medium altitude trek may offer. Connecting one valley to another, pristine forests, interior villages, vast expanse of Bugyal are delightful to camp. Gradual ups and downs to the pass present surprise to the experienced trekkers too. From Kuari Pass the view is one of the best panoramas in the Himalayas. All the peaks in the upper Dhauliganga valley, Badrinath valley and Chowkhamba/Satopanth valley peaks are visible. Hati & Ghora Parvat, Mukut, Rishi, Kamet, Dronagiri, Nilgiri Parvat, Ratavan, Neelkanth, Mana and Chowkhamba are notable peaks. From Tali, Gurson Bugyal and Auli you can see gracious Nanda Devi. Gurson Bugyal considered one of the most beautiful alpine meadows in Garhwal and offers stunning view points of gigantic Himalayan massifs throughout. Auli is revered for its close view of Mt. Nanda Devi and the cable car ride down to Joshimath.
Brief Itinerary:
Day 1: Haridwar to Ramni (via Nandaprayag, Ghat) – 260 Km by car – 12 hours
Day 2: Ramni to Jhinji over Chechna Vinayak Pass – 9 Km – 5/6 hours
Day 3: Jhinji to Pana – 10 Km – 5/6 hours
Day 4: Pana to Dakwani – 11 Km – 6/7 hour
Day 5: Dakwani to Tali Forest camp over Kuari Pass – 8 Km – 5/6 hours
Day 6: Trek to Auli via Gurson Bugyal – 7 Km – 3/4 hours – Drive to Joshimath – 1 hour – Lodge.
Day 7: Drive from Joshimath to Haridwar – 275 Km by car – 10/11 hours
Note: Additional one day required to include Pangarchulla summit
*** Trekkers need to reach on their own to Haridwar, Day 1 morning (by 7 am) or the previous night. Return to Haridwar on Day 7 evening (by 8 pm).  Arrange your tickets for inward journey and return from Haridwar accordingly. Transportation cost to reach Ramni and return from Auli are not included in the TREK FEE. ***
Note: To attempt Pangarchulla peak you will require one day extra, while staying at Tali Jungle camp and attempting the peak. This is possible for customised private treks by adding  a day, but not for our usual Fixed Departure treks.
 Duration: 5 days of trek; Haridwar to Haridwar in 7 days.
 Highest Point: Kuari Pass ~ 3850 m/12630 ft.
 Grade: Moderate
 Length: 45 Km
 Seasons: May/June and September to November.
 Further Option: Climb Pangarchulla peak
 Access: Trek starting point is Ramni and end point is Auli.
Rail station: Haridwar (STN Code: HW)
 Airport: Delhi, Jolly Grant in Dehradun (Airport Code: DED)
 Map:
Upcoming scheduled dates for Kuari Pass trek:

 
You can check the scheduled Fixed Departure dates in the calendar available inside Booking Form or inside REGISTER NOW form. Tour starting Dates are highlighted as per our itinerary (Day 1 of  7 days itinerary).
At present BOOK NOW functionality is disabled. You can get all the information in your email by submitting the REGISTER NOW form.
If you are a group of people and available dates are not matching then you may select Custom date mode (by clicking the Select your custom date) and fill in the displayed form.
You can also check all the available dates at a glance in our

TREK CALENDAR

.
Trekkers need to reach Haridwar on Day 1 morning (latest by 7 am) or the previous night. Return to Haridwar on Day 7 evening (around 8 pm). Arrange your tickets for inward journey and return accordingly.
| | |
| --- | --- |
| DEPARTURE LOCATION | Haridwar railway station |
| REPORTING TIME | 6:00 AM for a prompt departure to Joshimath (Day 1) |
| RETURN LOCATION | Haridwar |
| RETURN TIME | Approximately 8:00 PM (Day 7) |
Access to Ghat (The trek base):  We will arrange a pickup and drop from Haridwar to Ghat and back from Auli to Haridwar. This will be shared by the team members on actual basis. The car fare is Rs 6000 one way for a Ta Ta Sumo/Mahindra Maxx vehicle.
Otherwise if a trekker wants to reach Ghat by public vehicle then there are two options:
1) Reach Haridwar in the previous night or earlyin the morning and board the direct bus for Ghat. It starts from Haridwar (GMOU Private Bus stand, opposite to Haridwar Railway Station) at 5 am in the morning and takes around 12 hrs to reach Ghat. This is a privately operated bus and may not operate during the high Chardham yatra season. The route is via Rishikesh, Devprayag, Rudraprayag, Karanprayag, and Devprayag.
2) Take a State or Private operated bus for Karnaprayag or Nandaprayag.Also sometime you can get shared taxis just outside the Haridwar Railway Station. Ghat is 40 Km from Karnaprayag and 20 Km from Nandaprayag. From here you can get shared taxi for Ghat.
3) From the trek end point Auli, Joshimath is 14 km downhill. You have to reserve a taxi from Auli or simply you can trek down in 2 to 2 and 1/2 hrs. Joshimath is on the Badrinath highway and early in the morning you can get buses for Haridwar or Rishikesh.
For


There are direct trains from Kolkata to Haridwar.
KUMBHA EXPRESS – Train No. – 12369 ( Very good option to reach Haridwar by 5 pm; Spend the night in Haridwar and start your onward journey by car next morning)
UPASANA EXPRESS – Train No. – 12327 ( Very good option to reach Haridwar by 5 pm; Spend the night in Haridwar and start your onward journey by car next morning)
DOON EXPRESS – Train No. – 13009 (Don't book this train when you plan a long onward journey immediately in the morning)]
Avoid booking wait listed (WL) tickets in AC classes (1A/2A/3A) or Chair Car (CC). Book Sleeper class (SL)/Second Sitting class (2S) tickets which have normally more seats/berth and hence much better chance to get confirmed.
Following trains are good to reach Haridwar and run daily.
DDN JANSHTBDI – Train No. 12055 (Arrives HW in the evening @ 7:30 pm, good choice when you stay the night in Haridwar and have a long drive ahead next day)
NANDA DEVI EXP – Train No. 12205 (arrives HW early morning @ 4am)
UTKAL EXPRESS – Train No. 18477 (arrives HW in the night @ 9pm)
MUSSOORIE EXP – Train No. 14041 (arrives HW in the morning @ 5:45am)
Always avoid booking waitlisted (WL) tickets in AC classes (1A/2A/3A) or Chair Car (CC). Book Sleeper class (SL)/Second Sitting class (2S) tickets which have normally more seats/berth and hence much better chance to get confirmed.
Govt. Road Transport (Roadways of Uttarakhand, Uttar Pradesh, Delhi, Haryana, Punjab etc.) buses are frequently available in day time and night from Kashmiri Gate ISBT (http://www.delhi.gov.in/wps/wcm/connect/doit_transport/Transport/Home/ISBT/Fare+Chart). Tickets are available on board for these regular type buses. From Delhi Airport or Station you can reach ISBT Kashmiri Gate via Delhi Metro service (http://www.delhimetrorail.com/metro-fares.aspx). It is only 4 Km from NDLS and can be reached easily by booking an auto rickshaw.
For privately operated bus, you can book online from different portals (http://www.redbus.in). Select a boarding point suitably. Overnight Volvo/A.C/Push back bus service.
For night stay in Haridwar:
Trekkers reaching on the previous day before the journey to the actual trek base need to stay the night in Haridwar. There are several options in Haridwar for spending a night while staying in Premium, Standard or Budget accommodation. Options vary from Privately operated Hotels/Lodges, to State run Tourist rest House and Dharamshalas.
State run GMVN (Garhwal Mandal Vikas Nigam) operates Hotel Rahi just beside the Bus Stand and opposite to the Haridwar Railway Station. This is a reliable and a decent choice for Standard accommodation.
Check the following for online booking of the above: http://www.gmvnl.com/newgmvn/tour/booktrh.asp
You can call or visit GMVN nearest office or even send an email for more information.The information is available at:
http://www.gmvnl.com/newgmvn/online_reservation/#
Normally you reach Haridwar from any trek base  by 7/8 pm in the evening. You can take any train after 9 pm or regular bus service as mentioned above to reach Delhi or directly to your homeward journey in the same night.
Drive to Ramni: 260 Km - 12 hours

Pickup from Haridwar in the morning and reach Ramni/Ramani (~ 2200 m, 7200 ft) which is 260 Km away. The journey may take around 12 hours with a break or two. The entire journey is along the Ganges and its major tributaries and touching several confluence points named as Prayag, e.g. Deoprayag ( Bhagirathi and Alaknanda), Rudraprayag (Alaknanda and Mandakini), Karnaprayag (Alaknanda and Pindar).The road till Nandaprayag (Alaknanda and Nandakini) is the one which leads to Badrinath and we take a detour from Nandaprayag to the right and get into the Nandakini valley to reach the small town called Ghat. From here the road starts gaining altitude and we reach the last road on this side to the small village called Ramni. We camp for the night.
Trek to Jhinji: 9 Km - 5/6 hours
Our trek starts from today.
Trek to Pana: 10 Km - 5/6 hours
Today we continue our trek to Pana village (~ 2400 m, 8000 ft). Starting from Jhinji, we descend till Jhinji Pool to cross the Birahi Ganga River. This bridge needs a special mention for its long length and cabled suspension type. On the left the Birahi valley is wide open with several villages seen at a distance and an exit route goes to a place called Birahi (via Durmi village)which is near Chamoli town. After crossing the bridge we start gradually climbing up till we reach a vantage point from where the trail turns right. Surrounding is rich with thick vegetation and Pana village can be seen on the other side of the hill. We encircle the trail on a level track and reach a camping ground called Kaliaghat before Pana. Continue to walk and slowly cross the last village of the route. We climb firther up and camp at the top of the Pana village.and and then a gradual climb to the last village in this route named Pana. Distance around 10 km and can take 5/6 hrs. Overnight in tent.
Trek to Dakwani: 8 Km - 5 hours
Start in the morning to trek to our today's destination Dakwani (~ 3500m/11500ft). We start gradually climbing the ridge for the Pana top and then a wide open vista opens up. Now we enterinto the grazing ground of Sartoli which is in a lower elevation to that of Pana top. There are several shepherd huts on this meadow who stay till the end of September before cold starts to set in. On a clear day we can see the Kuari pass cleary from this place.Crossing the meadow we descend to a side stream and cross the bridge at Domabhiti. From this point the switchback climb starts. This climb can be tiring due to scorching sun. After an hour and half we come to a small clearing called Falchwani. Crossing another small bridge the trail starts climbing again keeing the stream on right.After climbing for an hour the tree line starts receding. Finally we enter into the open pastures and camp at Dakwani. This place is specially notable for Himalayan Monal which is the state bird of Uttarakhand. Distance is 8 Km and may take 5 to 6 hrs.
Trek to Tali over Kuari Pass: 8 Km - 5/6 hours
We Start early in the morning to reach Kuari Pass (~3900m/12800ft) and get the mesmerising views of the surrounding Himalaya. The pass is formed by two ridges bent in an arch shape and is clearly visible from Dakwani. The climb is moderately steep and can take around one and half hour. As we go higher the lower level of oxygen is felt. Once we reach the Pass, a panorama of massive snow clad peaks accompanied with far streched Bugiyal (alpine meadow) open up. Straight ahead is the twin peak of Hathi Parvat and Ghori Parvat. On a clear day one can witness the sheer expanse of great Himalayan range spanning from Kumaon side (in the right ) to the Garhwal ranges farthest till Gangotri (on the left). We take a right from the pass and encirle the track to reach the opposite side. On the way we cross a small camping ground called Kuari Khana and a Place Khulara from where a trail descends on our right to Tapovan. From here we see the broad Dhauli Ganga valley to our right. We continue on the left trail and then descend to Tali (~3500m, 11500ft). This is a beauiful camping ground with a small pond.
Trek to Auli: 7 Km - 4 hours
we enter into the forest of Oak and Rhododendrons till we come to a clearing. We climb a little on the grassy slope and traverse to reach Gurson Bugiyal. On our right the chain of high Himalayan peaks loom throughout. After crossing the bugiyal tree line reappears. There is a small clearing after finishing the meadows surrounded with trees and desolated camp of police, which is a potential camping ground. There is a small temple beside the trail nearby. We continue further down to reach Auli top where we find a forest check post and the famous Auli cable car station. From here we descend for another half an hour to reach our camping ground at Auli (~2600m, 8500 ft). A long day of walk finally halts. Total distance is around 7 Km and can take up to 4 hours. Camp for the night.
Drive to Haridwar: 290 Km - 12 hours
In the morning take the car. In the morning we take the car and descend to Joshimath and take the Badrinath highway back to Haridwar via Chamoli, Karnaprayag and Devprayag etc. It may take up to 12 hrs to cover the distance of 290 Km. The trip ends at Haridwar.
P.S.: Distances and altitudes are approximate and may not be exact.
Pangarchulla peak climb:
Trekkers who are interested to summit the Pangarchulla peak (~ 4400 m/14400 ft) need an additional day. After crossing the pass we traverse towards the peak and camp at a suitable spot below the summit.  Pangarchulla is a uniform triangular shaped peak standing almost 2000 ft (~ 600 m) higher from this point. Till the end of May snow remains on the grassy slope of the peak. During monsoon and till October the climb is easy on the gradual grassy slope. This is the highest point of the surrounding area and the views from the peak are captivating. It may take 5 hrs to climb the peak from the camp and another 3 hrs to return. Next day you can directly descent to Auli.
  TREK FEE: Rs 11800 (Ramni to Auli) + 5% GST  
Book for 3-5 persons and get a discount of 5% and for 5 or more persons get flat 10% discount on TREK FEE
Inclusions:
 All meals (Day 1 dinner to Day 6 dinner) during the trek. Regular Indian style nutritious vegetarian food during the trek (including occasional eggs), breakfast packed/hot lunch (depending upon the time you reach a campsite), snacks, dinner along with coffee/tea/soup.
 One night accommodation (Day 6) at Joshimath on sharing basis and dinner.
Excellent Trekking Guide, who will be a local to this particular area and has profound knowledge of the trekking trails around.
 Specialised Cook, Support staff, Porters/Packed Animals for carrying the central logistics of the trek.
All night accommodations in tents (3 persons dome or ridge shaped tents) on sharing basis during the trek.
Camping equipment like Sleeping bag, Carry mattress, Gaiters, Micro spikes/Crampon. (Bring your own sleeping if you have a high altitude specific personal Sleeping Bag. This is always better for hygienic reasons.)
Kitchen tent, dinning tent and toilet tent as required during the trek.
All permit fee, camping charges, forest levy required for the trek.
Car drop from Auli to Joshimath (Day 6)
 Basic Medical & First Aid kit.
Accidental Insurance Policy covering high altitude trekking tours (For Indian nationals it is included in the TREK FEE, up to 60 years of age). It covers your trek as well as your return journey to Haridwar.
Exclusions:
Transportation from Haridwar to Ramni and return from Auli. (₹ 2000-2400 per persons both ways for the pick up and drop when shared with fellow trekkers)
We assume that you will carry your personal Rucksack/Backpack with all your personal belongings. If you want to offload your Rucksack and be carried by our Pack Animal/Porter then you need to pay additional ₹ 1500 for the entire duration of the trek. The Rucksack should not weigh more than 10 Kg.
 Any tip/gratuity to the HT supports staff.
Anything is is NOT mentioned in the "Inclusions" or personal in nature.
Booking:
We assume that you have read and understood the "Terms & Conditions" before any payment.
To book for a Fixed Departure or Customised Trek you need to pay 25% of the Trek Cost as the initial "Booking Amount". You can pay by Online Transfer/Draft. This will ensure your participation in the desired trek. You need to pay the remaining amount at a later stage.
 Cancellation:
"Booking Amount" i.e. 25% of the Trek Cost is Non-Refundable at any stage.
If you cancel a trek before 15 days, we will refund 75% of the Trek Cost.
If you cancel a trek before 14 days to 7 days, we will refund 50% of the Trek Cost.
If you cancel a trek before 6 to 1 days there will be NO REFUND.
In case of any unforeseen incident including but not limited to natural calamities like flood, earthquake, landslide, forest fire or any political unrest, if we are compelled to cancel the trek/trip, you will be entitled to redeem the full amount for the same/similar kind of trek/trip within next one year.
Click to Download the PDF brochure