5600 m/18370 ft
Highest Point
Parang La trek
Parang La trek is a strenuous high altitude trail connecting south eastern Ladakh to Spiti over Parang La (5600 m/18370 ft). This wide glaciated pass is itself in Spiti, Himachal Pradesh and the traditional trade route between Spiti, Changthang and Tibet. The trail is a true Trans Himalayan starting from Zanskar range and reaching to Great Himalayan range. Truly this is an incredible journey of a lifetime for the experienced hikers. Here is a pictorial satellite view of the Parang La trek trail, starting from Tso Moriri to Kibber and Kaza in Spiti.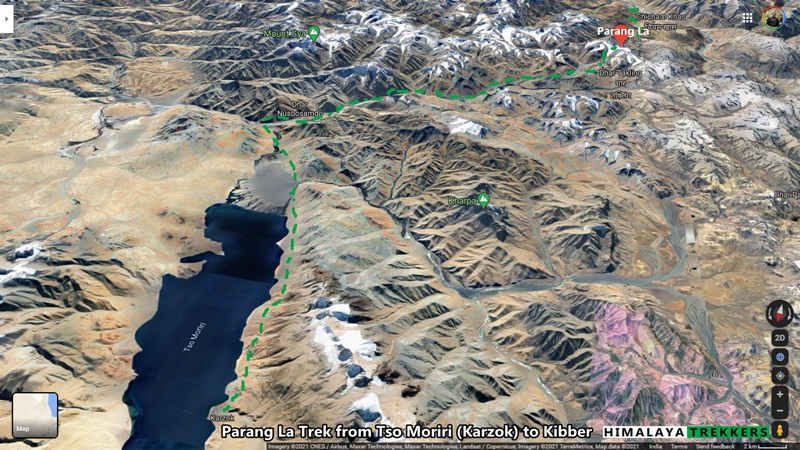 The strenuous trail for experienced hikers has all the flavours of Ladakh and Spiti that you may expect. High mountain arid landscapes, rocky cliffs, stunning colouration of rock bands, wide valleys to mention with patches of green, here and there. It also gives you the opportunity to spend nights on Tso Moriri lake while hiking its entire length during the day. Indeed it is of the most famous Trans Himalayan treks in India.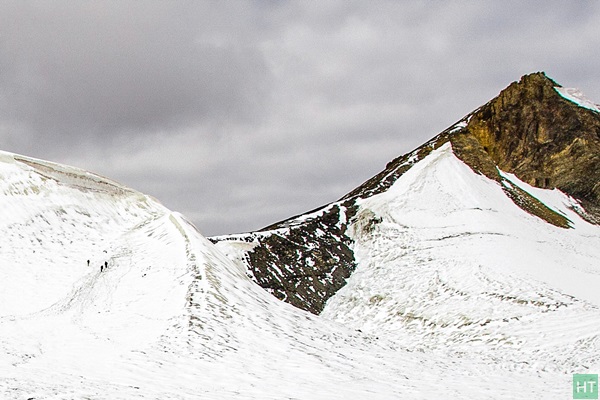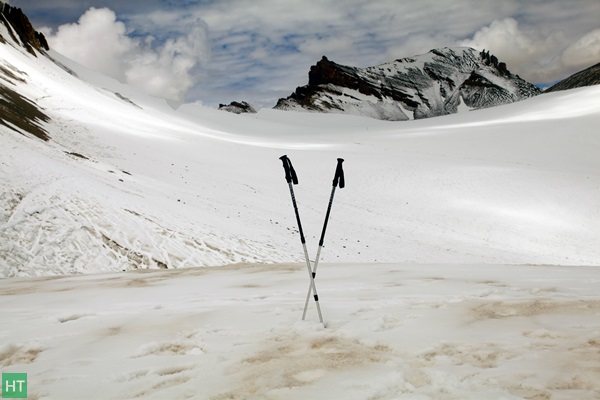 After an acclimatisation Day in and around Leh, we drive to our basecamp Karzok village beside Tso Moriri Lake. Once the trek starts from Karzog village, we will walk along Tso Moriri to camp on the south western corner of the lake at Kiangdom. The place is named after the Kiang, a native wild ass of Tibetan plateau. Then we will walk along the last swampy stretch of the lake and to turn right and follow the river Pare Chu upstream, which is originating from Parang La.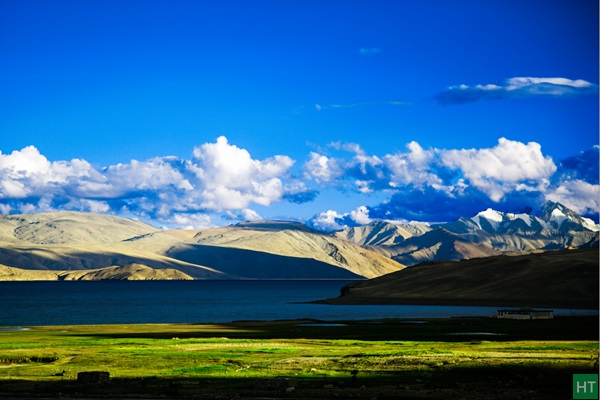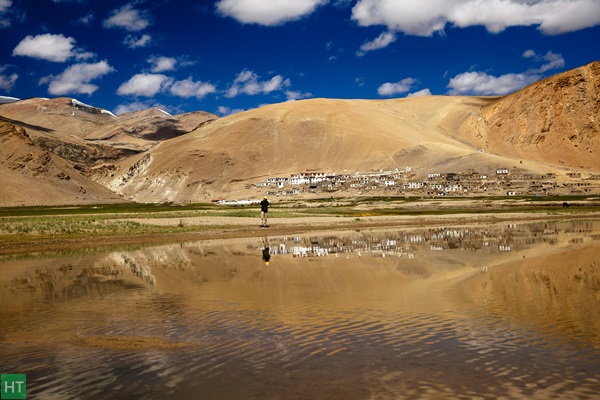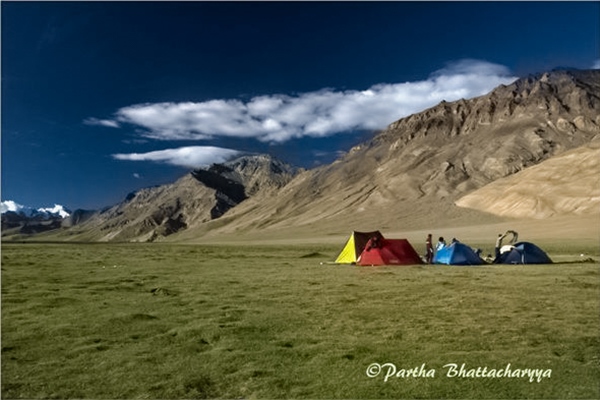 While following Pare Chu we will cross the river on a couple of occasions for suitable campsites. We camp at Norbu Sumdo, Datang Yangma, Kapa Boche and at Dak Karzong before Parang La. The pass has much longer glacier and snow filed on the Tso Moriri side than the Kibber side.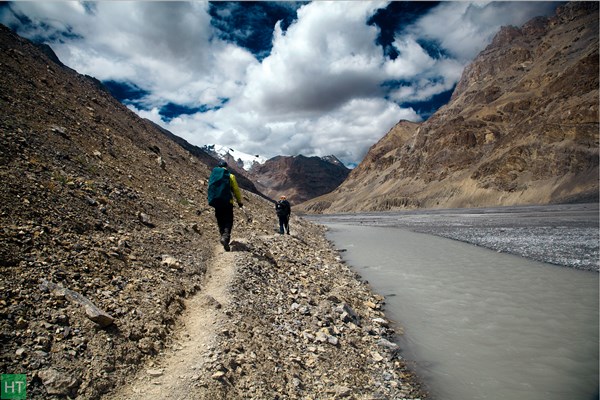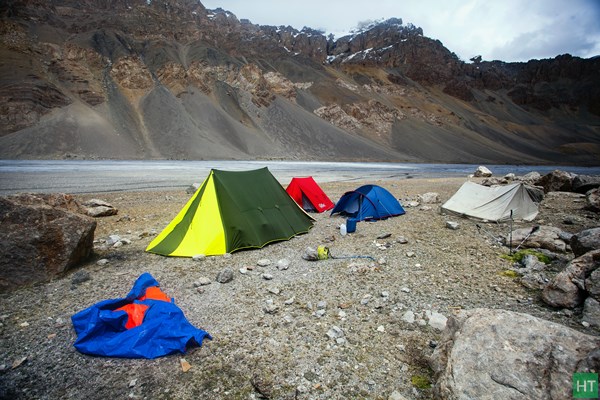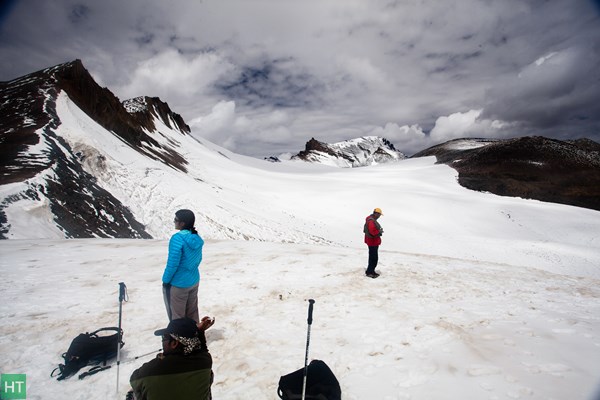 After reaching the pass it is a short descent on snow and ice on the glacier followed by a boulder zone to Bongrojen. From here we enter inside a very dry and arid Spiti gorge . Hereafter we continue our descent to Thaltak meadows and to the first village named Dumla and finally to Kibber.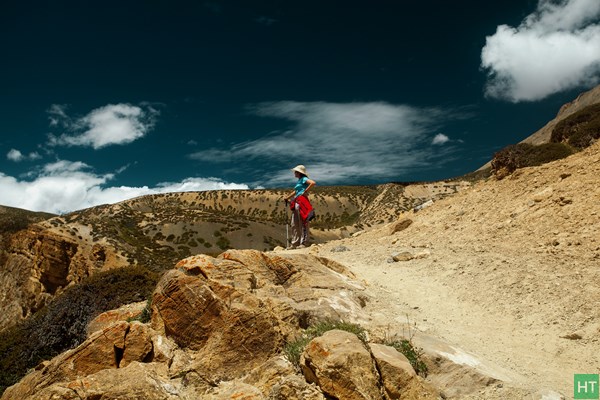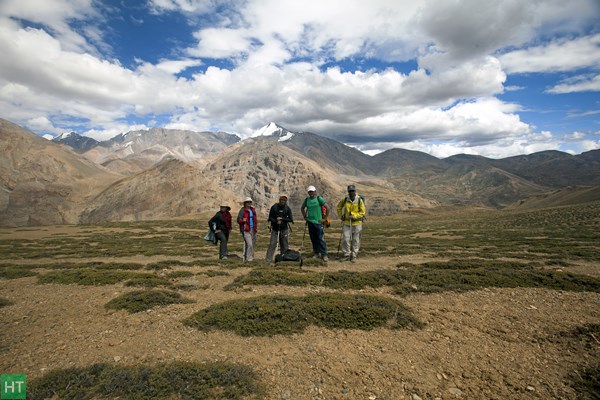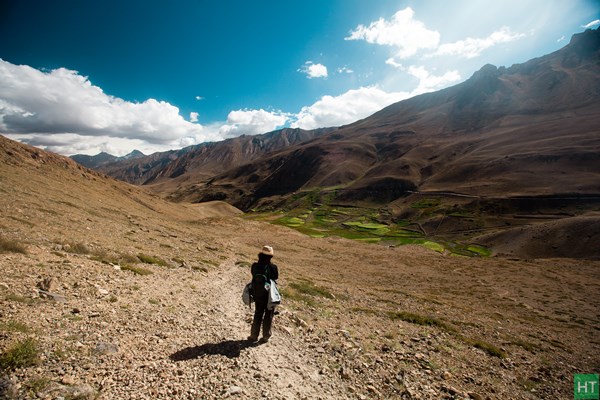 Itinerary for Parang La trek:
Day 1: Arrive Leh ( 3,500 m/11,500 ft) – you may take a direct flight or access by bus from Srinagar Srinagar.
Day 2: Rest and active acclimatisation in Leh. Feel free to roam around and walk around.
Day 3: Drive to Korzok village (4,550 m/14,925 ft) beside Tso Moriri lake – 210 km – 7/8 hours ; Explore the area in the afternoon. Lodge/homestay.
Day 4: Trek  to Kiangdam; ~ 20 Km flat walk beside the lake may take 6/7 hours. Camp.
Day 5: Trek from Kiangdam to Nurbo Sumdo. Camp.
Day 6: Trek to Datang Yangma. Camp.
Day 7: Trek  to Kapa Boche. Camp.
Day 8: Trek to Dak Karzong at Parangla base. Camp
Day 9: Trek to Parang La and descent too Thaltak meadows. Camp
Day 10: Trek to Dumla village. Camp.
Day 11: Trek to Chicham, and by car to Kaza via Kibber.
Day 12: Mandatory reserve day. (if we don't use this during the trek  then you can explore/sightseeing around Kaza e.g. Dhankar monastery, Pin Valley/Mud village etc.)
Note:
You need to reach Leh on Day 1 latest by early afternoon. Arrange your return tickets from from Manali on Day 13 evening or later. While returning from Kaza to Manali, you may visit Chandratal as well on the same day.
Apart from Parang La base to the pass, the walk is pretty gradual from Karzok. We cover every day 15 to 20 Km in 6/7 hours walk.
The cost of mandatory buffer/reserve day (Day 12) is NOT included in TREK FEE. If we use this during trekking, you need to pay additional ₹ 4000. This will be collected at Kaza after the trek.
Parangla trek from Ladakh or Spiti: Which one is better and safer?
We would recommend that you start your trek from Korzok/Karzok in Ladakh. Due to the ease of arranging logistics from Kaza, most will readily suggest starting your trek from Kibber. Although we feel its safer to start from Tso Moriri lake, i.e. Karzok village, albeit it is challenging with respect to logistics arrangements. Here is why:
Although Leh and Kaza or Korzok and Kibber are at a similar altitude, the pass is much closer from the Spiti side. Meaning you reach the highest altitude of the trail much faster.
Campsites are limited towards Kibber side, once you enter steep Spiti gorge. This arid area is notorious to acclimatise and furthermore you have to gain considerable height with just one camp in between. On the contrary from Korzok we can camp on both sides of Pare Chu river. In our opinion it is easier to acclimatise from Leh side than Kaza as here the climb is very gradual mostly along wide Pare Chu than much steeper and narrow Spiti side gorges.
Season/Best time to visit Parang La:
July to September is suitable for Parang La trek. Early July will attract more snow (varies year over year) and later September will become colder.
Expect occasional rain in August.
Around Leh & journey to the basecamp Karzok village beside Tso Moriri
Our expedition starts from Leh, which is almost 11000 ft above m.s.l. After you reach Leh, by flight o by bus or by car, it's very important that you to spend at least two nights there to acclimatise a bit before the actual journey. Feel free roam around. Leh is quite popular for its cultural treasures, monasteries, palaces and temples.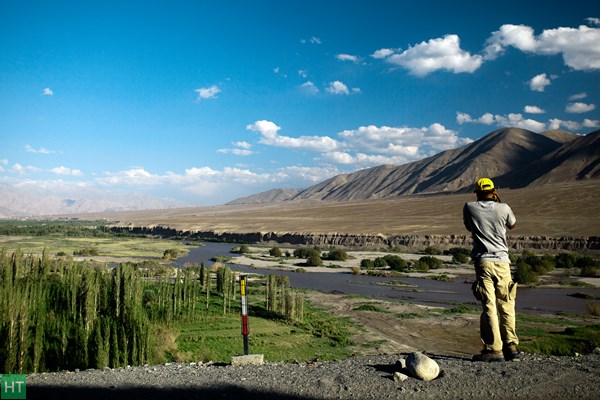 The drive from Leh to Tso Moriri is through typical Ladakh landscapes with changing tones and indeed a beautiful one. We will pass by another lake called Kyagar Tso on our way to Tso Moriri.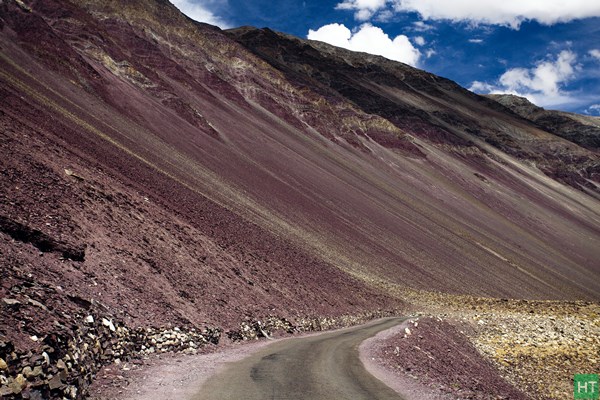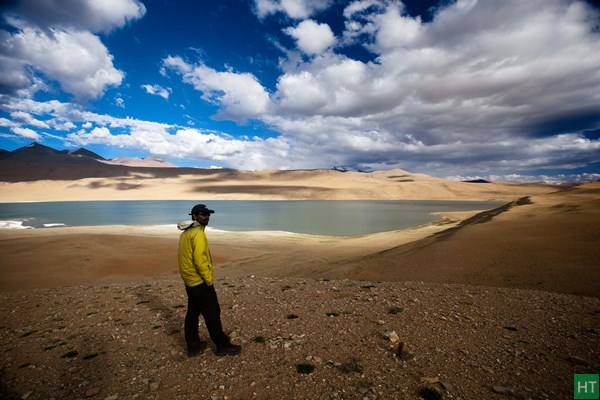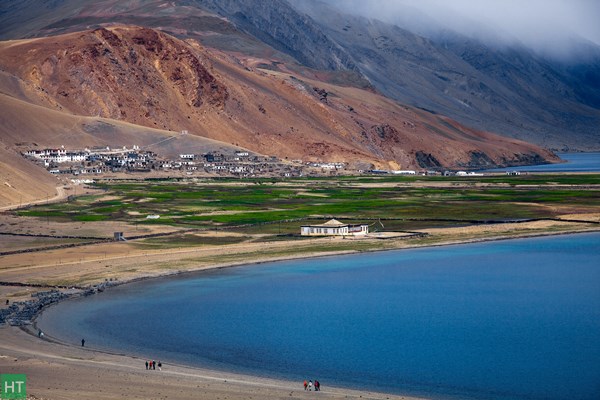 Parangla trek – Prerequisites:
A trekker should have completed at least 2 high altitude treks going above ~ 4500 m/15000 ft.
A trekker must be in excellent physical condition along with NO prior acclimatisation issues on high altitude.
Download the list of things to carry in Parang La trek or check here
Why treks with HT?
| | |
| --- | --- |
| Expertise: | 10 years on ground experience |
| Support staff: | Experienced and technical support plus office staff |
| Group size: | Small groups up to 10 |
| Insurance: | Travel and Medical insurance policy (covers illness, AMS, evacuation, accidents) |
| Easy Bookings: | 25% Booking Deposit |
 Duration: Leh to Kaza in 12 days
 Prerequisite: Prior multiple high altitude trekking experiences along with good physical fitness and no reported acclimatisation issues.
 Grade: Difficult
Physicality: 8/10
 Trail Length: 100 Km
 Highest Point: Parang La ~ 5600 m/18370 ft
 Seasons: July to September
Further Option: Trek from Tso Kar to Tso Moriri
 Access: From Leh
 Rail station: NA
 Airport: Leh  (Airport Code: IXL)
 Map:
Upcoming scheduled dates for Yunam expedition:

 
You can check the scheduled Fixed Departure dates in the calendar available inside Booking Form or inside REGISTER NOW form. Tour starting Dates are highlighted as per our itinerary (Day 1 of  12 days itinerary).
At present BOOK NOW functionality is disabled. You can get all the information in your email by submitting the REGISTER NOW form.
If you are a group of people and available dates are not matching then you may select Custom date mode (by clicking the Select your custom date) and fill in the displayed form.
You can also check all the available dates at a glance in our

TREK CALENDAR

.
Trekkers need to reach Vashisht, Manali on Day 1 (by noon). Return to Manali on Day 9 evening (around 8/9 pm). Arrange your tickets for inward journey and return accordingly.
| | |
| --- | --- |
| REPORTING LOCATION | Leh |
| REPORTING TIME | By noon (Day 1) |
| RETURN LOCATION | Leh |
| RETURN TIME | Approximately 7:00 PM (Day 11) |
How to reach Leh:
 Nearest Airport: Leh (IXL)
 Nearest Rail station: Chandigarh (if you reach via Manali) or Jammu (in case you travel via Srinagar)
You need to reach the trek and expedition base Leh on your own.
By Flight :-
Daily flights are available to Leh from new Delhi. However Leh is a popular tourist destination and the window of accessibility to this place is rather short (2-3 months of summer) and overlaps with our expedition window. Hence it's better to book the tickets beforehand.
By Road :-
There are two roads which connects Leh with mainland India. One from Manali and another from Srinagar. First one is approx 472 km and follows Leh Manali highway. You cross Rohtang Pass and continue till Gramphu where the road diverges. One goes right towards Lahoul, Spiti. The left one will reach you Leh via Keylong, Jispa, Baralacha la. Regular buses are available but let me warn you, the journey takes over two days and quite hectic to say the least. It's better to take a SUV.
The later one connecting Leh and Srinagar is approx 450 km and no less hectic than the previous one. Enroute you'll cross famous destinations like Sonamarg, Dras, Kargil, Khalsi etc.
  TREK FEE: ₹ 49,500 (Karzok to Kaza) + 5% GST  
The above TREK FEE is based upon a minimum of 6 trekkers.
Inclusions:
Stay in homestay at Karzok on a sharing basis.
Stay in tents from Kiangdom to Dumla on twin sharing dome tents.
All meals during the trek  (starting from Day 3 dinner and ending with Day 11 breakfast). Regular Indian style nutritious vegetarian food including eggs during the trek, breakfast packed/hot lunch (depending upon the time you reach a campsite), snacks, dinner along with coffee/tea/soup.
Excellent trekking guide, who will be a local to this particular area and has profound knowledge of the trekking trails and peaks around. We will provide one guide for every 6 trekkers. At least one guide will be mountaineering course(s) certified.
 Specialised Cook, Support staff, horses/High Altitude Porters (HAP) for carrying the central logistics of the trek.
Camping equipment like Sleeping bag, Carry mattress. (Bring your own sleeping if you have a high altitude specific personal Sleeping Bag. This is always better for hygienic reasons.).
Any technical equipment like static/dynamic rope, carabiners, sling, ice axe, gaiters, micro spikes/crampon etc.
Kitchen, dining and toilet tent as required during the trek.
Car drop from Chicham/Kibber to Kaza.
All permit fee, camping charges, forest levy required during the trek for Indian nationals. Foreigners need to pay additional permit fees.
Basic Medical & First Aid kit.
Travel and Medical insurance policy (covering illness, AMS, evacuation, accidents etc) covering high altitude trekking and mountaineering up to 6000 m. (For Indian nationals it is included in the TREK FEE, up to 60 years of age). It covers your itinerary, Leh to Kaza.
Exclusions:
Accommodation and meals at Leh and Kaza.
Car transportation from Leh to Tso Moriri (Karzok).
We assume that you will carry your personal Rucksack/Backpack with all your personal belongings. If you want to offload your rucksack and be carried by Porter then you need to pay additional ₹ 4000 for the entire duration of the trek. The Rucksack should not weigh more than 10 Kg.
Cost of buffer/reserve day, i.e. Day 12. If we use this during trekking, you need to pay additional ₹ 4000 for that day. This will be collected in Manali after the trek.
 Any tip/gratuity to the HT supports staff.
Anything which is NOT mentioned in the "Inclusions" or personal in nature.
Booking:
We assume that you have read and understood our "Terms & Conditions" (https://himalayatrekker.com/terms-and-conditions) before Booking a trek/tour.
To reserve your place in a scheduled Fixed Departure trek or a Customised/Private trek pay 25% of the TREK/TOUR FEE as the initial "Booking Deposit". You can pay by Net banking/Draft/Cheque/Credit/Debit/AMEX cards. This will ensure your participation in the desired trek and we will reserve your place in the scheduled date. You need to pay the remaining amount at least 15 days before Trek Starting Date.
If you book a Trek/Tour before 14 days or less from Trek/Tour Starting Date, you need to pay the full TREK/TOUR FEE.
 Cancellations:
"Booking Amount" i.e.25% of the TREK/TOUR FEE is Non-Refundable at any stage.
If in case you are not able to make it due to unavoidable reason(s), we provide you avery flexible choice of Shifting to another trek within next one year. One year is counted from the starting date of the trek/tour you booked initially with us.
In case you postpone your trip you need to informminimum of 15 days before the trek/tour starting date. (Though we suggest to inform us earlier if known)
In case you postpone a trek/tour before 15 days of the scheduled Trek/Tour Starting date or prior, you may shift to another group of the same trek/tour scheduled in the same season or within next one year. You may shift to another suitable route also. For changing any, you need our approval first. Your request must be in written communication through your registered email with us.
If you cancel/postpone a trek/tour from 14 days to 8 days before tour starting date, your Booking Amount is Non-Refundable. We will not take any request of shifting dates. We will charge 50% of the amount as Cancellation Charges and process refund of remaining 50%. You may also shift to another group within next year but 25% Booking Amount will be deemed as Cancellation Charge and the rest amount will be transferred to the shifted group.
If you cancel a trek/tour 7 days (i.e. a week) before Trek/Tour Starting Date or later, there will be NO REFUND.
In case of any unforeseen incident including but not limited to natural calamities like flood, earthquake, landslide, forest fire or any political unrest, if we are compelled to cancel the trek/trip, you will be entitled to redeem the full amount for the same/similar kind of trek/trip within next one year.
If you need more clarifications write in to [email protected]