3220 m/10560 ft
Highest Point
Maenam trek:
If you want to include a hike in your Sikkim tour, the Maenam Trek is a short but very productive trail for you. It has fascinating mountain views, albeit not as close as most of the longer Sikkim treks. In contrast, it probably has the widest panorama of Sikkim peaks around you.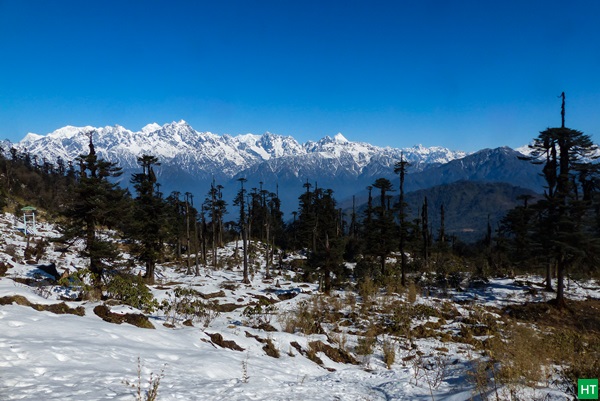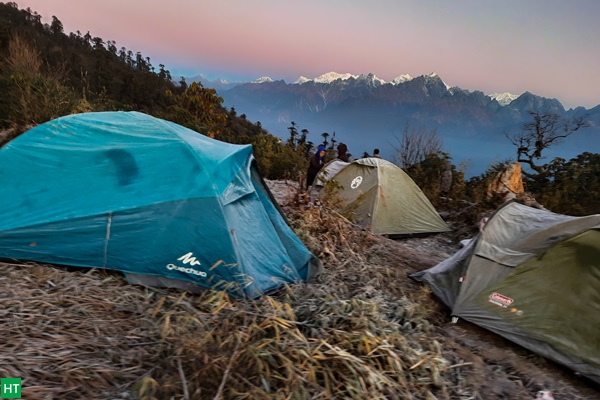 About the trail:
Our trail is inside Maenam Wildlife Sanctuary, which is in Namchi District (formerly South Sikkim district). Despite its small size of 35 square kilometers, the reserve is rich in biodiversity. Lying between 2200 m and 3350 m altitude, it is particularly rich in medicinal plants and herbs. The temperate forests are also home to a variety of fauna, including the red panda, marbled cat, blood pheasant, magpies, and various sunbirds.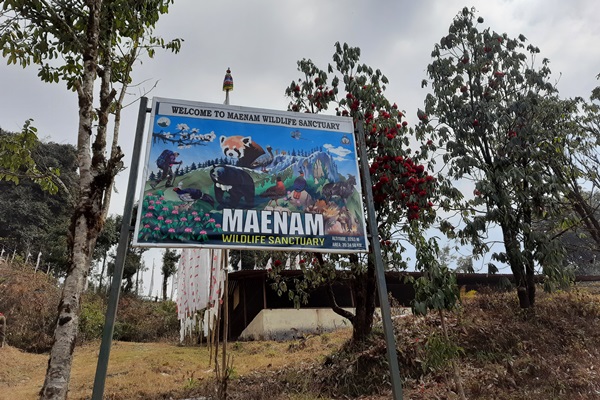 Our trek base, Ravangla, is now a recognised name among tourists. Substantial mountain views and Buddha Park are the major attractions.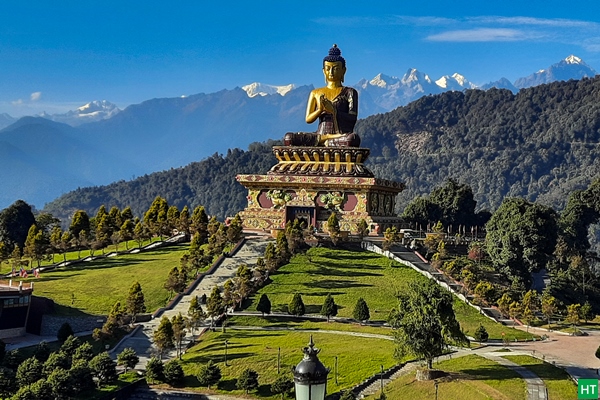 The trail starting from the sanctuary gate is a typical Sikkim one. After 15 minutes or so, we leave the main track and take the shortcut going up on the right. Due to poor maintenance, fallen trees, and other factors, we will take mostly the shorter trail that runs perpendicular to the main track. You will get 5 resting points or shades during this moderate climb to the campsite on top of the ridge. The trail is through dense rhododendron and oak forests, culminating in silver firs and other conifers on top.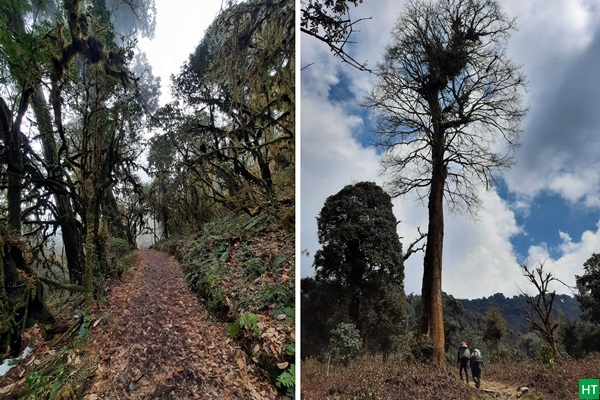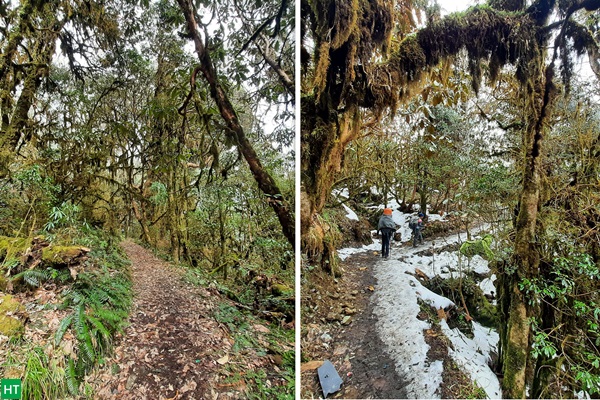 At the top of the ridge, the trail flattens and splits in different directions. We will camp in a suitable spot for the night. From the vantage points, you can see a series of peaks forming the great Nepal-Sikkim Himalayan range. Starting in the east in Bhutan, the range extends to Sikkim and further west in Nepal. The Siniolchu, Kanchenjunga, and Kabru ranges, as well as Pandim, Rahong, and Janu, are notable peaks. Visit the Maenam Gompa at the top to get a captivating 360-degree view. Sunset and sunrise views are no less rewarding.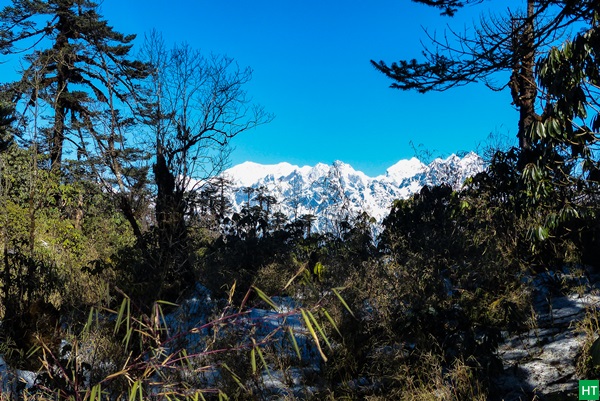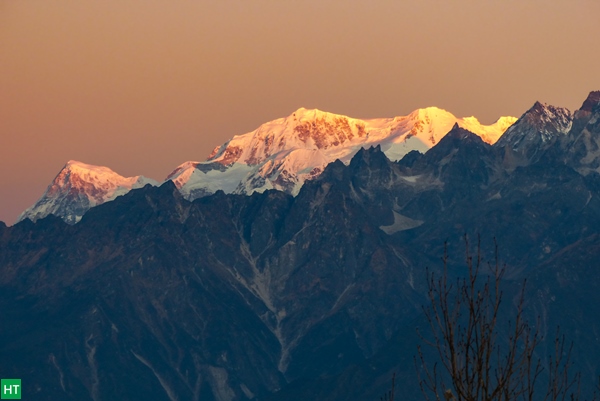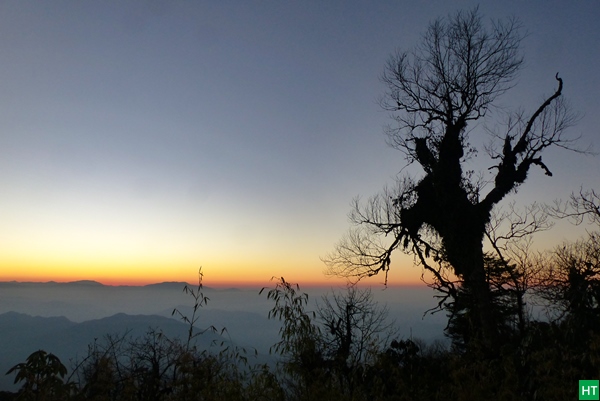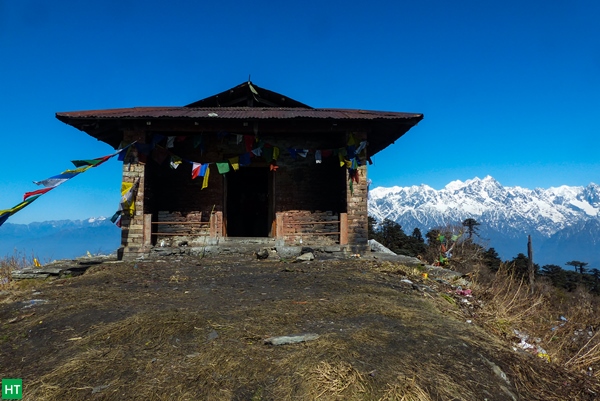 Itinerary for Maenam trek:

 
Day 1: Start from NJP or Bagdogra (latest by 10 am) and drive to Ravangla (~ 2100 m/6900 ft) in South Sikkim – 125 Km – 5 hours. Accommodation in a lodge/hotel.
Day 2: Trek to Maenam Hill top – Bhaleydhunga area. Camp at a suitable spot ~ 11 Km – 5 to 7 hours. Camp (~ 3150 m/10330 ft). Explore the top and enjoy the sunset views.
Day 3: Visit Maenam Gompa (~ 3220 m/10560 ft) at the top for sunrise views – 360 views of the surroundings – Descend to Ravangla – 12 Km – 5/6 hours. You should reach Ravangla by 2 pm. Drive down to Siliguri/NJP in 4 to 5 hours. Or esle continue to your Sikkim tour/plan.
Note:
You need to arrive at NJP station/Bagdogra airport/Siliguri latest by 10 am on Day 1. While returning you will reach Ravangla on Day 3 afternoon (around 2 pm).
You may also reach Ravangla from other places like Gangtok, Pelling or Yuksom conveniently.
Best time to trek and visit Maenam Wildlife Sactuary:
1) Spring/Summer for Rhododendron season: From mid of March to Mid of May. Flowering starts from early March in the lower elevation, and gradually towards end of spring on higher altitude. Rhododendron and Magnolia are two most famous along with several other wild flower species. Cloudy or misty atmosphere is common during Spring. Although clear mountains views are not uncommon, specially during morning.
2) Autumn/Fall & Winter for clear weather: From mid October to mid of March. In the beginning of October clouds start moving out from this region and weather becomes clearer. November is  particularly known for its crystal clear views of the mountains. Fall colours changing around Gairibas and higher on the trail is another reason to choose this trek in autumn.
Considering the above we would recommend you to visit Maenam Hills between November to March.
Access to Maenam trek base Ravangla: 
To reach the trek base Ravangla, the access in from NJP (railway station)/Siliguri city/Bagdogra airport.
Either you can reach Ravangla independently or we may arrange a private pick up. This cost is NOT included in the TREK FEE.
A Tata Sumo Jeep charges ₹ 6000 one way from NJP railway station or Bagdogra airport to trek base Ravangla. Below is the route showing major points from NJP/Bagdogra to Ravangla.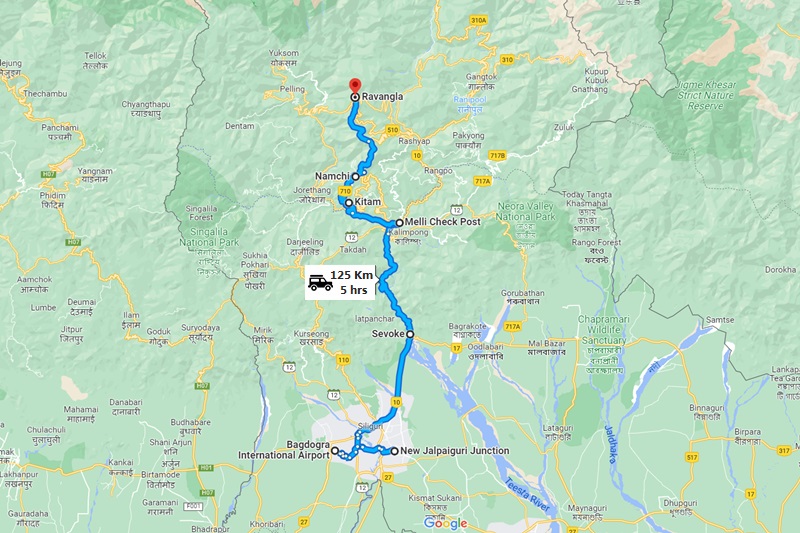 Permit requirements for travelling and hiking in Sikkim: 
Sikkim has some restrictions regarding travelling and special permits are a must to obtain for visiting different areas.
If you are planning for extended holidays/destinations in Sikkim then check complete guide for permits requirements in Sikkim.
 (A) For Indian National: 
(A) For Indian Nationals: No special permit is required for this tour. Carry an original Photo ID card with address proof on it (Aadhar/Driving Licence/Voter ID/Passport but NOT PAN CARD) & 2 photocopies of the same.
 (B) For Foreign National including OCI: 
All foreigners will require Inner Line Permit (ILP) which is recently renamed as Restricted Area Permit (RAP) to enter the boundary of Sikkim. This is issued Free Of Cost at Sikkim check posts while you enter Sikkim by road. This takes 15/20 minutes with the strength of your passport and valid Indian VISA. Overseas Citizens of India (OCI) has to go through the same process as of a foreign national.
Note: Diplomatic passport/ID card holders need to obtain a RAP/PAP directly applying to the  "Ministry of External Affairs, Govt. Of India", through their embassy/high commission channel.
https://www.sikkimtourism.gov.in/Public/TravellerEssentials/pap
Nationals of Pakistan, Myanmar, Nigeria and China can only apply for ILP/RAP through Ministry of Home Affairs, Government of India, New Delhi.
Do carry multiple copies (both hard and soft versions) of your recent passport size photo and photocopies of your documents (Passport/Visa/ILP) to avoid any showstopper on mountains!
Duration: 2  days of trekking. NJP/Bagdogra to NJP round trip in 3 days.
Prerequisite: Comfortable for experienced hikers. Beginners need to be physically fit to climb ~ 1000 m/3300 ft in a day.
Grade: Easy
Physicality: 5/10
Trail Length: 22 Km
Highest Point: Maenam Top ~ 3220m m/10560 ft
Seasons: March to May (Spring/Summer) for Rhododendron bloom. Oct to Feb for clear mountain views (Fall/Winter).
Further Option: From Khecheopalri lake you can hike to Yuksom in 5/6 hours time furhter continue on Sikkim Monastery trail.
Access: Trek starting and end points are at Melliaching and Khecheopalri lake, West Sikkim.
Rail station: New Jalpaiguri (STN Code: NJP)
Airport: Bagdogra (Code: IXB)
 Map:
At present direct booking from website is disabled. You can get all the information in your email by submitting the Enquiry Form available on the page.
You need to reach NJP/Bagdogra on Day 1 morning (latest by 10 am) or the previous night. Return to NJP on Day 5 evening by 6 pm. Arrange your tickets for inward journey and return accordingly.
| | |
| --- | --- |
| DEPARTURE LOCATION | New Jalpaiguri railway station (NJP)/Bagdogra airport |
| REPORTING TIME | 10:00 AM for a prompt departure to Ravangla (Day 1) |
| RETURN LOCATION | NJP/Siliguri/Bagdogra |
| RETURN TIME | Approximately 6:00 PM (Day 3) |
How to reach Ravangla (The trek base):
Depending upon the trek members we will arrange a pickup and drop from NJP/Bagdogra/Siliguri to trek base and return. We will arrange the pick up and drop, you pay directly to the driver.
Typically a Tata Sumo/Mahindra Maxx/Bolero charges ₹ 6000 one side which can accommodate 6 to 8 people. This is NOT included in the TREK FEE and to be payable directly to the driver/owner.
Nearest Rail station: New Jalpaiguri (Station Code: NJP)
Nearest Airport: Bagdogra (Airport Code: IXB)
For the treks in Sikkim and Darjeeling , one has to reach the city of Siliguri (considered the corridor to the North-East) in West Bengal.
The nearest Railway Station is New Jalpaiguri (NJP), 5 Km from Siliguri and the airport Bagdogra is 10 Km.
You can fly or by train reach Siliguri from Kolkata ( good for the trekkers coming from South/central or Western India) or Delhi as per your convenience from any part within India.
Direct flights are available from New Delhi, Kolkata and Bangalore. All the flights to Bagdogra reaches late in the morning or early afternoon. It becomes difficult to reach the trek base like Yuksom/Hilley/Uttarey on the same day unless a car is booked (takes around 8 hours to reach). One can stay the night in Siliguri and start the travel to the trek base next morning. It is better to reach Siliguri by flight/train to Kolkata and then take an overnight train to NJP unless you are coming from northern India.
From Kolkata to Siliguri:
1) By train:
There are several overnight trains running between Kolkata (Howrah or Sealdah) to NJP. Day trains are also available.
From airport (Dumdum, CCU) , Sealdah railway station is 15 Km and may take 1 to 2 hours depending upon the time you travel. Howrah is 17 Km and may take up to 2 hours during the heavy traffic in the rush hours. Howrah and Sealdah are only 5 Km apart, though it may take an hour to travel. Pre Paid taxi booths are available.
DARJEELING MAIL – Train No. – 12343 (Very good option to reach NJP in the morning. Starts around 10 pm in the night and reaches NJP 8 am in the morning.)
PADATIK EXPRESS – Train No. – 12377 (Very good option to reach NJP in the morning. Starts around 11 pm in the night and reaches NJP 9 am in the morning.)
KANCHANKANYA EXPRESS – Train No. – 13149 (Starts at 8:30 pm in the evening and reaches NJP 7:30 am in the morning)
SHATABDI EXPRESS – Train No. – 12041 (Day train, starts 2:15 pm in the afternoon and reaches NP at 10:20 pm in the night. There are hotels/lodges outside the railway station at a walking distance of 5 minutes. Otherwise book an auto rickshaw/taxi to Siliguri, which takes around 15 minutes. There are several hotels around Siliguri Junction/Tenzing Norgay Bus Terminus/S.N.T (Sikkim Nationalised Transport stand).
There are other trains also of which some run daily and some on particular days of week.
Avoid booking wait listed (WL) tickets in AC classes (1A/2A/3A) or Chair Car (CC). Book Sleeper class (SL)/Second Sitting class (2S) tickets which have normally more seats/berths and hence much better chance to get confirmed.
2) By flight:
From Kolkata(CCU)  take a flight to Bagdogra (IXB). From airport book a taxi to reach Siliguri which is 10 Km away.
From Delhi to Siliguri:
1) By Train:
Following trains are good to reach NJP and run daily.
DIBRUGARH RAJDHANI – Train No. 12424 (arrives NJP late in the morning @ 10:45 am)
NORTH EAST EXP – Train No. 12506 (arrives NJP @ 8:20 am in the morning)
BRAHMAPUTRA MAIL – Train No. 12424 (arrives NJP at 5 am in the morning. But this train runs late frequently.
Always avoid booking wait listed (WL) tickets in AC classes (1A/2A/3A) or Chair Car (CC). Book Sleeper class (SL)/Second Sitting class (2S) tickets which have normally more seats/berth and hence much better chance to get confirmed.
2) By flight:
From Delhi (DEL) take a flight to Bagdogra (IXB). From airport book a taxi to reach Siliguri which is 10 Km away.
For night stay in NJP/SIliguri:
Trekkers reaching on the previous day before the journey to the actual trek base need to stay the night in Siliguri/NJP. There are several options in Siliguri for spending a night while staying in Standard or Budget accommodation. It is better to reach to the centre of Siliguri called Siliguri Junction (adjacent to Tenzing Norgay Bus Terminus and Sikkim Nationalised Transport/S.N.T Bus terminus). It takes 30 minutes from Bagdogra or 15 minutes from NJP. There are hotels 5 minutes walking from NJP also.
Return from NJP/Bagdogra:
Normally you reach NJP/Bagdogra from any trek base  by 6 pm in the evening. You can take any train after 7 pm. Accordingly arrange your homeward journey.
  TREK FEE: ₹ 7950 per person (Ravangla to Ravangla) + 5% GST  
The above cost is for a minimum of 4 to 6 persons. If you are only 2 persons, the TREK FEE will be ₹ 12,000 per person + 5% GST.
Inclusions:
1 night's accommodation at Ravangla (Day 1 ) in a lodge on a twin sharing basis.
 All meals during the trek (from Day 1 dinner to Day 3 lunch). Regular Indian style nutritious vegetarian food during the trek (including eggs), breakfast packed/hot lunch (depending upon the time you reach a campsite), snacks, dinner along with coffee/tea/soup.
Excellent Trekking Guide, who will be a local to this particular area having sound knowledge of the trekking trails around.
 Specialised cook, support staff and porters for carrying the central logistics of the trek.
Stay in tent (Day 2) on a twin sharing basis.
Camping equipment like Sleeping bag, Carry mattresses.
Kitchen tent and toilet tent as required during the trek.
All permit fee, camping charges, forest levy required for the trek.
 Basic Medical & First Aid kit.
Exclusions:
Transportation from NJP/Bagdogra to trek base Ravangla and return. One way Tata Sumo fare is ₹ 6000, maybe shared by 5/6 fellow trekkers. We may arrange, you pay directly to the driver, sharing equally with the fellow trekkers.
We assume that you will carry your personal Rucksack/Backpack with all your personal belongings. If you want to offload your Rucksack and be carried by Porter then you need to pay  an additional ₹ 1500 for the entire duration of the trek. The Rucksack should not weigh more than 10 Kg.
 Any tip/gratuity to the HT supports staff.
Anything which is NOT mentioned in the "Inclusions" or personal in nature.
Booking:
We assume that you have read and understood our "Terms & Conditions" (https://himalayatrekker.com/terms-and-conditions) before Booking a trek/tour.
To reserve your place in a scheduled Fixed Departure trek or a Customised/Private trek pay 25% of the TREK/TOUR FEE as the initial "Booking Deposit". You can pay by Net banking/Draft/Cheque/Credit/Debit/AMEX cards. This will ensure your participation in the desired trek and we will reserve your place in the scheduled date. You need to pay the remaining amount at least 15 days before Trek Starting Date.
If you book a Trek/Tour before 14 days or less from Trek/Tour Starting Date, you need to pay the full TREK/TOUR FEE.
 Cancellations:
"Booking Amount" i.e.25% of the TREK/TOUR FEE is Non-Refundable at any stage.
If in case you are not able to make it due to unavoidable reason(s), we provide you avery flexible choice of Shifting to another trek within next one year. One year is counted from the starting date of the trek/tour you booked initially with us.
In case you postpone your trip you need to informminimum of 15 days before the trek/tour starting date. (Though we suggest to inform us earlier if known)
In case you postpone a trek/tour before 15 days of the scheduled Trek/Tour Starting date or prior, you may shift to another group of the same trek/tour scheduled in the same season or within next one year. You may shift to another suitable route also. For changing any, you need our approval first. Your request must be in written communication through your registered email with us.
If you cancel/postpone a trek/tour from14 days to 8 days before tour starting date, your Booking Amount is Non-Refundable. We will not take any request of shifting dates. We will charge 50% of the amount as Cancellation Charges and process refund of remaining 50%. You may also shift to another group within next year but 25% Booking Amount will be deemed as Cancellation Charge and the rest amount will be transferred to the shifted group.
If you cancel a trek/tour 7 days (i.e. a week) before Trek/Tour Starting Date or later, there will be NO REFUND.
In case of any unforeseen incident including but not limited to natural calamities like flood, earthquake, landslide, forest fire or any political unrest, if we are compelled to cancel the trek/trip, you will be entitled to redeem the full amount for the same/similar kind of trek/trip within next one year.
If you need more clarifications write in to [email protected]