Indian state of Sikkim has some regulations and accompanied restrictions with respect to travelling and trekking within the state. You need to obtain certain permits, depending on your:
Area/places of visit
Nationality
Here we will elaborate about the different permits and any fees required by the administration/authority. Also we hope that this will help you to plan travelling independently inside Sikkim.
There are two main permits as following:
Restricted Area Permit (RAP), same as Inner Line Permit (ILP)
Protected Area Permit (PAP) commonly knows as "Trekking Permit"
If you are an Indian citizen, you will ONLY need PAP to visit certain areas. Check the section below for more details.
You will need to obtain RAP/ILP to enter Sikkim, if you are a foreigner. This is required for Overseas Citizen's Of India (OCI) as well. You will also require PAP for trekking in West/North Sikkim along with sightseeing tours in North and some areas of East Sikkim.
Both for Indians and foreigners, you need to apply PAP through a registered tour operator.
Below is an outline of Protected Areas inside Sikkim. Note that you will require PAP for entire North Sikkim district and some areas of East Sikkim district. Check the full size map of Forest Department, Govt Of Sikkim here.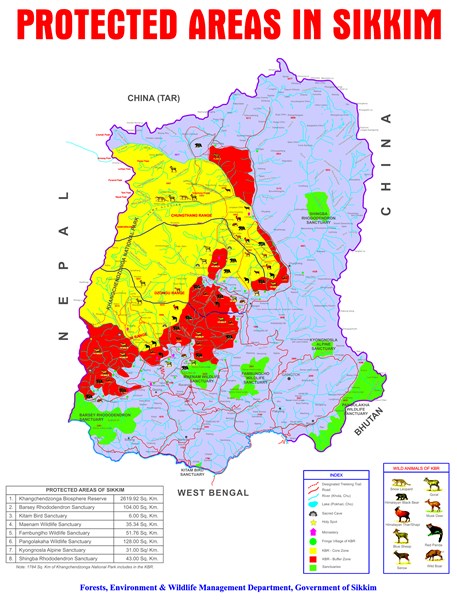 For Indian Nationals:
For trekking in West Sikkim district e.g. Goecha La, Singalila Pass or Dafeybhir trek you need to get entry permit and pay necessary fees for camping inside National Park/Sanctuary check post of Forest Department. Here you can check our list of all Sikkim treks.
You will need trekking permit inside Khanchendzongha National park (same as Khanchendzongha Biosphere Reserve) and a verification process at SDM office, Yuksom/Local police  outpost. Carry at least two recent passport size photos, One personal photo ID card with address proof in it (Aadhar/Driving Licence/Voter ID/Passport). Don't forget to carry photocopies of your ID. You may have to submit a self declaration at Yuksom police outpost.
Below is a handy guide for those having plan for additional holidays/destinations in Sikkim. You will need Protected Area Permit (PAP) for sightseeing tours to North Sikkim, Nathu La, Old Silk route in East Sikkim. Apply this through a registered tour operator only.
For Foreign Nationals:
All foreigners (some relaxation to Nepalese and Bhutanese citizens) will require Inner Line Permit which is recently renamed as Restricted Area Permit (RAP) to enter inside Sikkim. This is FREE OF COST.
Overseas Citizen of India (OCI) cardholders are treated as foreigner's regarding entry and trekking permit inside Sikkim. We need at least two OCI/Foreign nationals to process the Trekking Permit (PAP).
Nationals of Pakistan, Myanmar, Nigeria and China/Hong Kong can only apply for ILP/RAP through Ministry of Home Affairs, Government of India, New Delhi. Bangladesh passport holders are now can normally apply and get their ILP at any Sikkim check post office.
Any other foreign national can apply and obtain the ILP (RAP), Free of cost, at the police check points while entering into Sikkim state. You need to have original Passport, INDIAN VISA/e-VISA with photocopies and recent passport size photos. Below are the two ILP issuing office on Sikkim border:
1) Assistant Director– Tourism Department , Melli: Near Melli Police Check Post, South Sikkim, Mobile No: 9775453611, 03595-248536,
NOTE: ILP issuing time is from 8 am to 8 pm everyday (better to reach by 6 pm)- On your way to West Sikkim (Yuksom, Pelling, Hilley, Uttarey etc)
2) Assistant Director, Tourism Department, Sikkim Tourism Office, Rangpo East Sikkim: – On your way to Gangtok and East/South & North Sikkim.
If you produce a proper itinerary (additionally if any supporting booking documents) then the authority will usually issue an ILP up to 30 days initially. It can be extended to another 30 days but to get an extension you need to exit Sikkim and apply again when you re-enter.
Travellers who arrive initially in Darjeeling (state of West Bengal) has to get the permit from the above two check posts. There is shorter route from Darjeeling to Jorethang via Jamuney (40 Km, 2 hours maximum)  but foreigner's are not allowed to enter Sikkim along this road. You have to go via Darjeeling – Jorbanglow – Teesta route.
You may obtain an ILP online, but that doesn't make much sense. This is a document valid only when it is signed physically in any of the above two offices. It takes 10/15 minutes to process the ILP at Melli/Rongpo with the strength of your valid passport and Indian visa.
Foreign national/citizens who wish to trek to Dzongri/Goecha La, Singalila Pass/Phoktey Dara (Barsey Rhododendron Sanctuary), Round Singalila Dzongri (Uttarey to Dzongri) will require an additional permit called Protected Area Permit (PAP, often referred to as Trekking Permit). This is issued to a minimum group of 2 persons or more from the following office on strength of signed and valid  ILP/RAP.
Adventure Cell of Tourism & Civil Aviation Department, Govt. of Sikkim, Gangtok:
https://www.sikkimtourism.gov.in/Public/TravellerEssentials/pap
(Note: Green Lake trek in North Sikkim requires Alpine Mountaineering Expedition permit, which in turn needs more approvals, time and high expenses. Different permits are needed from Sikkim state/Indian Govt. plus a Liaison Officer from IMF Delhi will be appointed. This is for both Indian and foreign nationals.)
 How a foreigner can book a trek in Sikkim with us, HT? 
We will require at least one additional day to process the PAP/Trekking Permit. This can't be processed in advance and we can only apply once we receive your signed copy of ILP. This means that you can't start the trek very next day you enter Sikkim. We would recommend a couple of days in advance.
To open booking, we will require a minimum of 2 foreign nationals trekking together. Later we can take solo trekker booking in the same group.
We charge an additional ₹ 4000 as Service Charge + 5% Govt. Tax per person to process the Trekking Permit and to counter the differential of various permit fees inside Kanchendzongha National park for Non Indian nationals. It is indeed expensive to send someone to Gangtok for processing the Trekking Permit and get it back at the respective trek base like Yuksom, Hilley, Uttarey etc.
To summarise it is not difficult to get the required permits to trek inside Sikkim if you are:
minimum of a group of two persons.
have couple of additional days to spend in Sikkim before the trek; There are plenty of these places 
Do carry multiple copies (both hard and soft versions) of your recent passport size photos and photocopies of your documents (Passport/Visa/ILP) to avoid a showstopper on mountains!