New rules and regulations for Goecha La trek inside Kanchendzongha National Park (KNP), July 2019:
On 25th July 2019, a new set of rules and regulations suggested by SDM of Yuksom, Govt. Of Sikkim. This is a good time to go through these proposed changes and its impact. If you are going to Goecha La trek with a registered tour operator, then you need not to worry. They will take care of these changes and implement the recommendations. Otherwise as an independent trekker, you should note carefully and ensure that is followed.
Though Goecha La trail is inside Kanchendzongha National Park, A UNESCO heritage site, safety didn't get its due importance. Till date, it greatly relies on either the quality of the tour operator or awareness of the independent trekkers in a group.
The new order aims to implement more safety to the trekkers, expedition teams, local staff members, in general all who are visiting the National Park.
Note that effective from Aug 2019, any individual/team visiting the park need to obtain the "Entry Permit" from Office of the Sub Divisional, Yuksom. Previously one had to submit photocopies of ID, photos and a self declaration at Police Station, Yuksom. Read the order issued by SDM, Yuksom, July 2019, or photocopy below: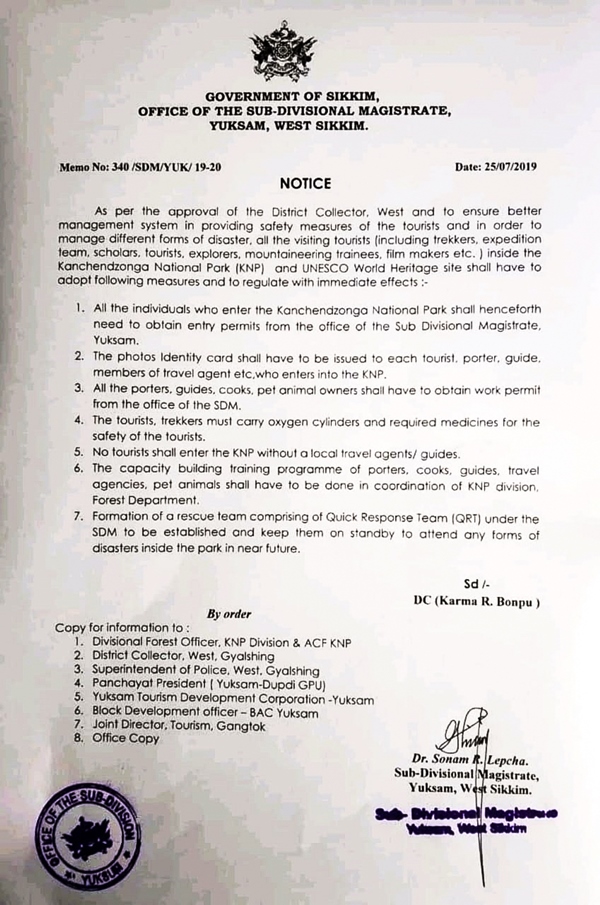 Additionally one will need to pay existing camping charges, permit fees and any other levy to the KNP office, Forest Department, Yuksom.
What is new in this notice?
Safety is the prime theme of this notice. In last 5 years number of groups visiting Goecha La have doubled, thanks to big companies and independent groups. At the same time instances of hikers getting seriously ill have increased in many folds. On rare occasions it became fatal. A trekker literally vanished on the trail leaving no trace. It all happened!
The new measures of issuing work permit and capacity building of guides, porters, cooks and staff will help to reduce such mishaps to take place at first. Formation of a rescue team by administration is a very positive intention. We hope the concerned authority will take quick steps to implement in real world.