4800 m/15750 ft
Highest Point
Roopkund Trek:
Updates on Roopkund trek 2023: Erstwhile the most popular high altitude trek Roopkund remains CLOSED as of 2023. You may check Ali Bedni Bugyal trek which covers almost all attractions of the trail without the lake! The trail is in pristine condition due to very rare visits by the trekkers and is an excellent choice who wish to avoid crowds, yet wish to get fantastic mountain views and some significant general aspects of a Himalayan hike.
As per Uttarakhand High Court order (Petition No. : 123 / 2014) in August 2018, one can not camp on alpine meadows or grassland, locally called Bugyal. Therefore we inform you with regret that we won't be able to run any Roopkund trek for this season. Check here the notice issued by Principal Chief Conservator of Forests (HoFF), Uttarakhand in accord with the court verdict. On 26th Sep'18 a reconsideration appeal is also turned down by the court and the possibility to arrange Roopkund trek is next to nil.
Roopkund – India's most popular summer trek is closed due to Bugyal camping ban:
As we update this page on March 2019, there has been no positive outcome on trekking to Roopkund. As a responsible tour operator we are always committed to Green, Eco Friendly treks which are sustainable and have minimal impact on the environment. However the honourable court had a different opinion which put a bar on camping at Bedni Bugyal and Patar Nachuni, two back to back campsites on Roopkund trail. In reality this means, one has to push 16 hours or probably more to reach Roopkund from a permitted campsite and return! Who would have thought last summer that this will be the end of it? Below pictures are shared by our trekkers during 2018 summer treks.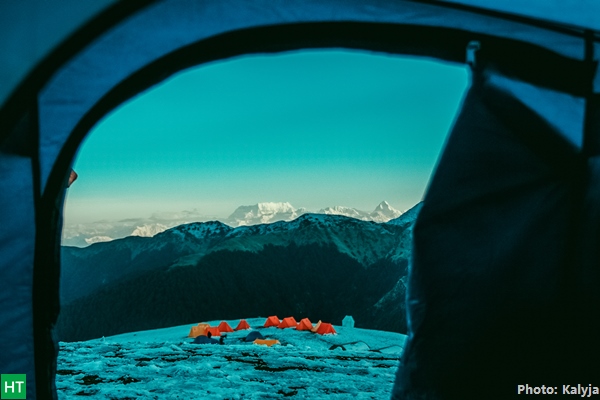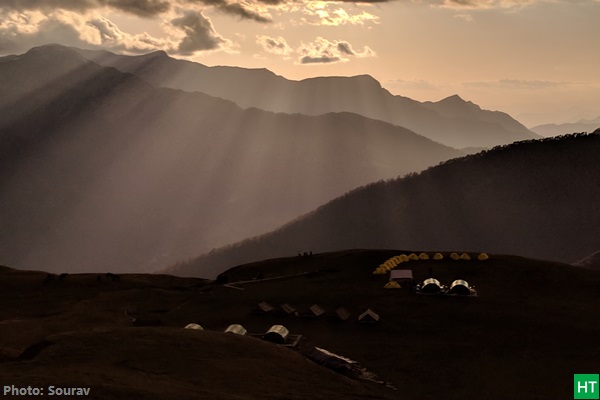 As Roopkund trek is closed, which trek I may consider?
It is still possible to enjoy the magnificent peak views and sprawling meadows through our Ali Bugyal and Bedni Bugyal trek. It is true that you can't reach Roopkund anymore, but you will literally spend two full days on alpine meadows while camping inside jungle. Needless to say that you will get to see all the peaks in this trek as well. This is certainly a suitable alternate for those who want to avoid large trekking groups during peak season and enjoy the tranquillity of nature. Remember that the proposed trek is shorter in duration, still imposes a "Moderate" trekking grade. Also Check our Fixed Departure Trek Calendar 2019  for a general listing of available treks.
Roopkund an alpine medium size lake, situated at an altitude of 16000 ft inside the district of Chamoli in Garhwal region (State of Uttarakhand), bordering western flank of Kumaon. Roopkund trek route has almost everything a high Himalayan trek can offer. Two seasons, first one in Summer/Pre Monsoon ( around two months starting in early May) and the other being Post Monsoon/Fall ( for 2 months, starting from early September) spanning around a window of 4 months in a calendar year.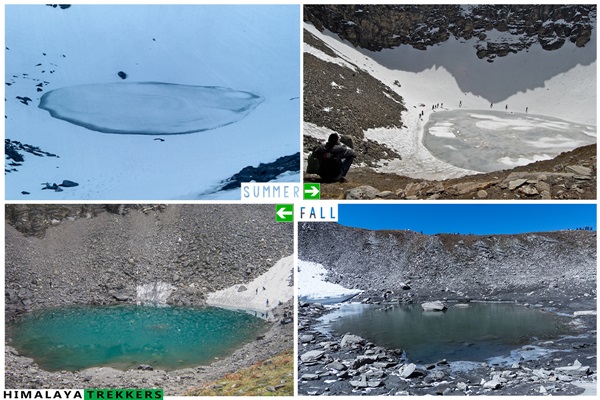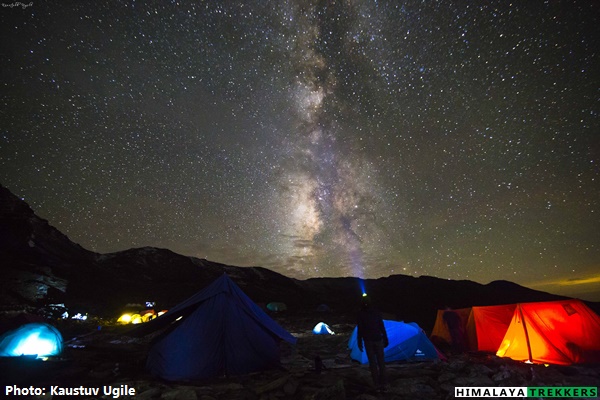 The trekking trail in the lower altitude goes through interior villages, inside the Banj Oak and then Kharsu Oak jungles to finally Rhododendrons. Around ~ 3300 m/11000 ft the Tree Line recedes and alpine meadow or locally called "Bugyal" starts. Sprawling meadow, common to this altitude in Himalaya, but this picturesque span needs a special mention. Ali Bugyal, combined with Bedni Bugyal arguably delivers finest of alpine meadows that you can see on the Himalayas. Mighty Himalayan peaks peep behind while tiny little myriads of wild flower carpet the grassy slopes during monsoon . On higher altitude barren rocky terrain coupled with snow and ice ignite the adventurous mind. Trishul and Nandaghunti peaks cordon the area while Mrigthuni Chaukhamba, Neelkanth and other peaks set the backdrop.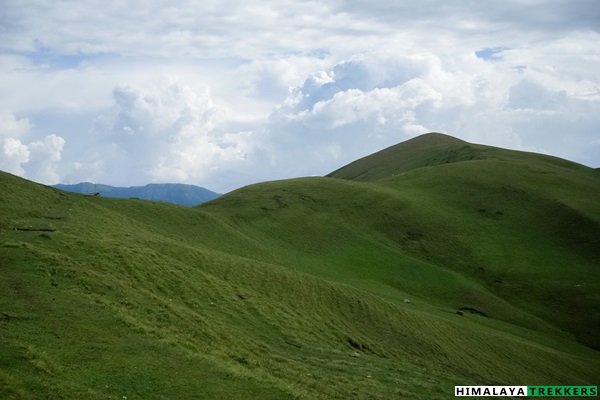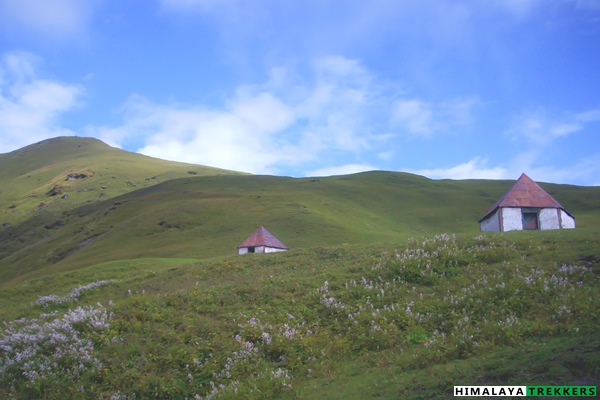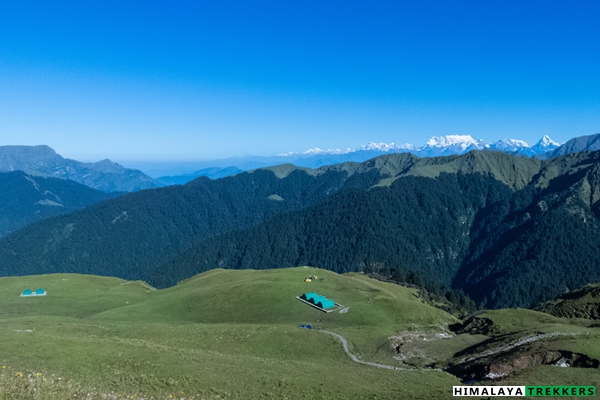 This is not all. The lake is often called Mystery Lake or Skeleton Lake. Skeletons of over 200 people remain in and around this shallow lake of maximum 2 metre depth. The cold climate helped to preserve the hairs and soft tissues. Stories and legends meet to a logical conclusion that a group of pilgrims reached the lake with locals and were crossing the Junargali Pass above Roopkund. Bad weather sealed their fate. Scientific research unveil that the skeletons are as old as dating back to ~ 850 A.D. ( Source : The Nanda Devi Affair, Bill Aitken, ISBN: 9780140240450; National Geographic : Riddles of the dead: Skeleton Lake). Recently in August 2019 an experiment result is published regarding these skeletons in Nature magazine. Read here for the revelations of the Roopkund skeletons.  It is truly a fascinating journey to listen the legends from the local and experiencing the present.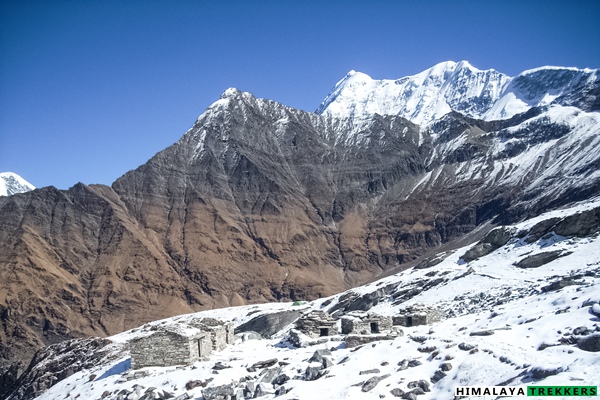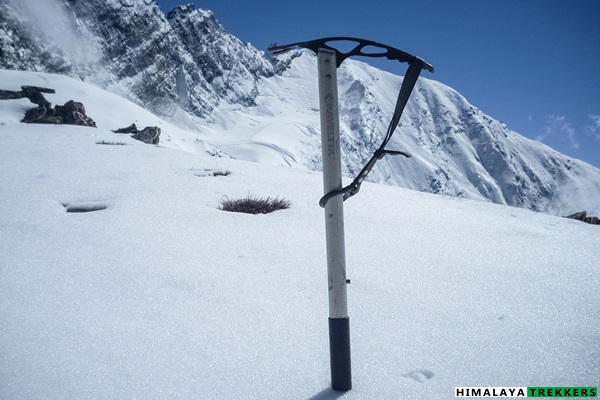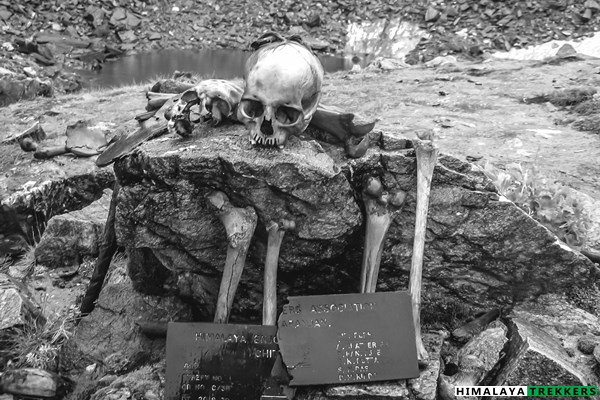 Watch this fantastic short film "Roopkund – Rocking The Himalayas" depicting the journey to Roopkund. This is filmed and edited by Mario Yáñez Aller. He trekked with HT during May/June 2015 season. This is shared for viewing purpose only.
Filming and editing: Mario Yáñez Aller
Music: Dirty Paws .-. Of Monsters and Men
Cameras: GoPro 4 Silver Edition, Canon EOS 70D, Canon EOS 350 D
Brief Itinerary:
Day 1: Drive from Kathgodam to Lohajung – 220 Km – 10/11 hours
Day 2: Lohajung to Didna – 10 Km – 4/5 hours
Day 3: Didna to Bedni Bugyal – 12 Km – 6/7 hours
Day 4: Bedni Bugyal to Patar Nachuni – 4 Km – 2/3 hour
Day 5: Patar Nachuni to Baguabasa – 5 Km – 4/5 hours
Day 6: Baguabasa to Roopkund and back to Patar Nachuni – 12 Km – 8/10 hours
Day 7: Patar Nachuni to Wan – 17 Km – 8/9 hr – 1 hour drive back to Lohajung
Day 8: Drive from Lohajung to Kathgodam – 220 Km – 10 hours
*** Trekkers need to reach on their own to Kathgodam on Day 1 morning (by 7 am) or the previous night. Return to Kathgodam on Day 8 evening (by 7 pm). Arrange your tickets for inward journey and return from Kathgodam accordingly ***
Update of treks in May/June 2018:
This season, weather unusually turned rough during early weeks of May. It snowed in first and second week, as low down till Ali Bugyal (~ 11000 ft), accumulating more than one foot of snow at Baguabasa. Groups started reaching Roopkund including HT's only after mid of May. At the end of May snow condition reduced naturally, having 3/4 hours walking on snow, all together. Weather is also cleared up, with great views of the mountains. Some moments from our May teams.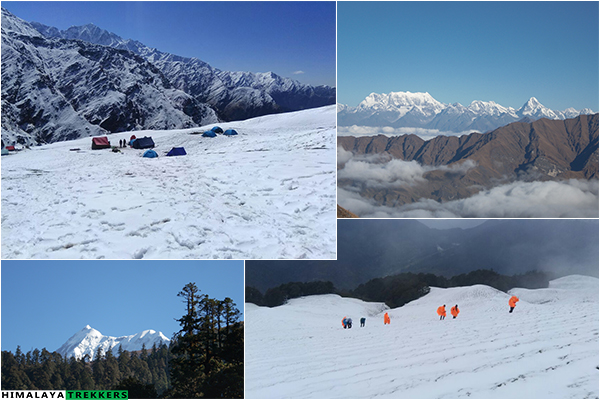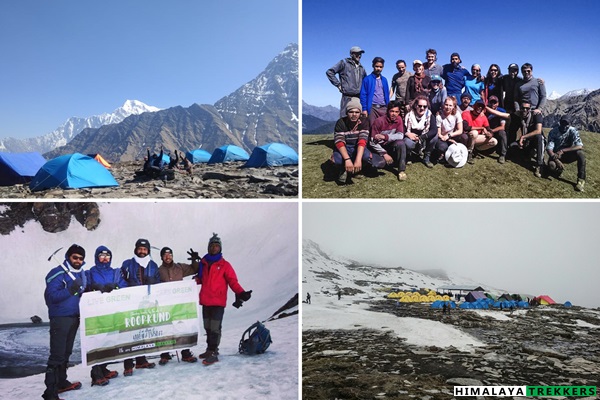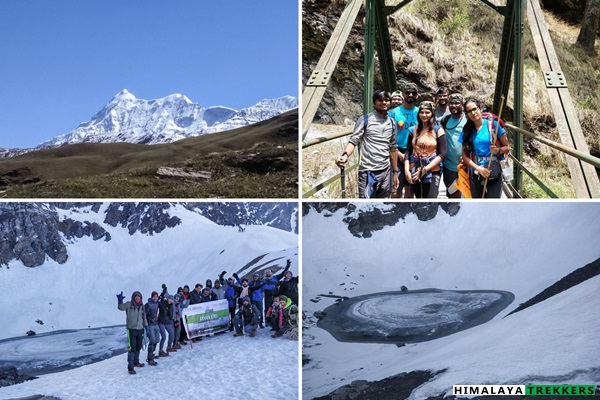 Why Roopkund with HT?
We believe that we have the best local support team in the region with whom you are probably safest on the trail. From our inception in 2010 we have arranged this trek and we know the seasonal variations, changing weather patterns and rightly judge the adverse conditions. Our group size for Moderate treks like Roopkund is limited to a maximum of 15 trekkers that you can enjoy and at the same time we can manage efficiently. Apart from the standardised camping equipment and medical kit, you are accidentally insured in your Roopkund trek with us.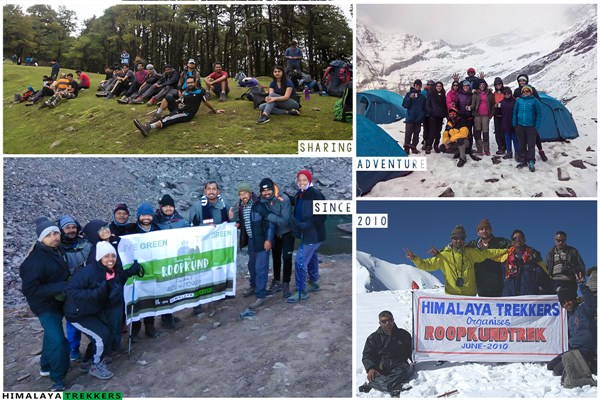 Altitude and distance profile graph for Roopkund trek:
Below is a graphical representation of the altitude and distance of major points on Roopkund trek trail.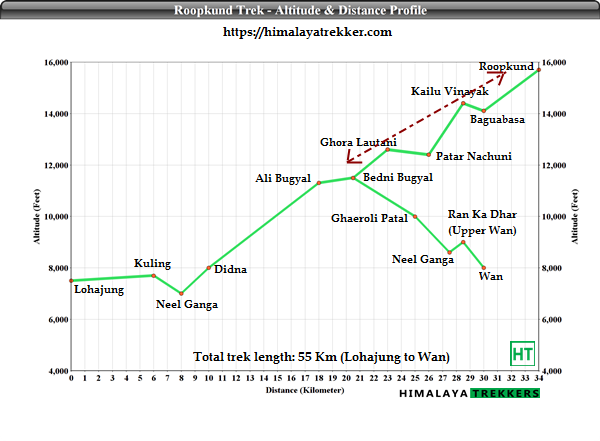 Can I try Roopkund trek as my first hiking/trekking on the Himalayas?
Yes you can try Roopkund trek as your first trek. It is always better if you have prior hiking/trek experience(s) like in Sahyadris or in Deccan or perhaps on any trail. Experiences walking on snow/icy conditions definitely helps in pre monsoon/summer season. This is NOT a Difficult but a Moderate grade trek and we do encourage first timers on this trail. But not to forget that this takes you to an alpine lake which is really high altitude in any standard (Just less than 16000 ft). To minimise the risk (as that any high altitude Himalayan trekking) you must have the following:
A healthy physical condition [as well as mental; You need to adjust and share on mountains :-)] without any known issues related to heart or lungs.
Must be in a fitness training schedule. Your focus should be achieving more cardio vascular output through a regular aerobic training. A minimum of 2 months training is a must that you can walk comfortably on the slope. People will find it easier who are already following a routine. It is it highly advised that you follow a minimum of 6 months routine (weekly 4/5 days of training for an hour or more) if you are not living an active life at present. To know more on how to prepare, click here.
 Specialised personal gears like waterproof trekking shoes, warm jacket, wind cum waterproof jacket are must.  To read on how to choose the right gear click here.
And most importantly you need reliable and experienced support team who know every corner of the trail. In high altitude an unexpected weather can increase the risk many fold. Trekkers who wish to go independently must have an experienced freelance guide and his team to provide support and guidance that you are safely back to trek base.
Is Roopkund trek better in Summer (May/Jun) or Post Monsoon Sep/Oct)?
Well, each season has its own beauty, and advantages. In India, summer treks are popular for much anticipated reasons. A summer vacation, respite from scorching days along with snowy alpine lake are solid to be a compelling proposition. No wonder that Roopkund trek is de facto the most popular summer trek in India. If you are not keen on these but like to hike on the same trail over lush greener meadows (Bugyals are indeed best in Aug/Sep), flowers in abundance then post monsoon is the right choice for you. So the journey of the frozen Roopkund in summer is a different one than the original skeletal lake as seen in post monsoon. Actually there is no disadvantage in any season (assuming you have a solid support team) and you may choose as per your own taste 🙂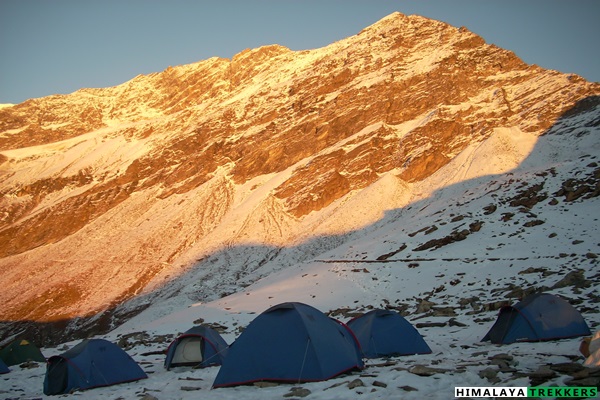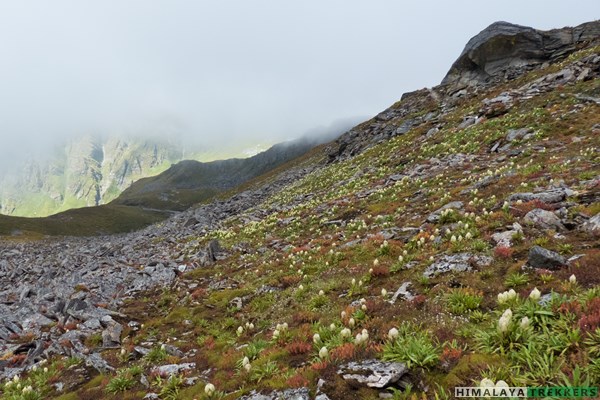 Access to Roopkund trek base (Lohajung) and Kathgodam:
We will arrange a pickup  from Kathgodam railway station to trek base Lohajung and drop to Kathgodam. This will be shared by the team members on actual basis and paid directly to the driver. his will be shared equally by the team members on actual basis (usually Rs 800/1000 one way). You pay directly to the driver/transporter. The fare is Rs 5500 for a Tata Sumo/Mahindra Maxx one way. This can accommodate 6 to 8 people. A Tempo Traveller charges Rs 9000 (12-14 seat) one way. This is NOT included in TREK FEE.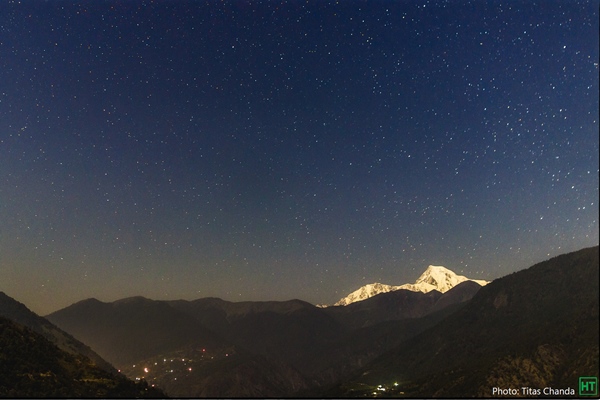 It takes 8/9 hours to reach Kathgodam from Delhi.
Take overnight Ranikhet Express (Train No 15013) from Delhi  Junction(STN Code: DLI), which departs at 10 pm. From New Delhi (NDLS), it is hardly 4 Km, but may take 30 min in Auto Rickshaw. Just adjacent metro station is Chandni Chowk. If the tickets are already wait-listed you can:
Book online Volvo/AC bus from Delhi UTC (Uttarakhand Transport Corporation https://utconline.uk.gov.in/). Select Anand Vihar ISBT (45 mins in Blue line metro from New Delhi, NDLS) to Haldwani city, 7 Km before Kathgodam. Reserve an auto rickshaw/shared from Haldwani to Kathgodam. There are frequent ordinary/regular busses by state corporations from Anand Vihar ISBT/Terminal to Haldwani in the evening. Tickets are on boarding. You can get private busses from booking portals.
While returning from Kathgodam to Delhi, similar options for overnight
To reach the trek base Lohajung independently/public transportation and more, check the details in GETTING THERE TAB.
Download the list of things to carry in Roopkund trek
Duration: 6 days of trekking; Walking from Lohajung to Roopkund and back to Wan. 8 days from Kathgodam to Kathgodam.
Prerequisite: Prior Himalayan trekking experience is a plus. Specially in the summer/pre monsoon due to snow and icy conditions.
Grade: Moderate
Physicality: 6.5/10
Trail Length: 55 Km
Highest Point: Roopkund ~ 4800m/15750ft
Seasons: May/June (Summer/Pre monsoon) & September/October (Post Monsoon/Fall)
Further Option: From Roopkund climb Junargali and continue to Homkund and finally to Ronty Saddle.  Difficult long duration trek.
Access: Trek starting point (trek base) is Lohajung, 220 Km from Kathgodam.
Rail station: Kathgodam (Station Code: KGM)
Airport: Delhi
Map:
Upcoming scheduled dates for Roopkund trek:

 
You can check the scheduled Fixed Departure dates in the calendar available inside Booking Form or inside REGISTER NOW form. Tour starting Dates are highlighted as per our itinerary (Day 1 of  8 days itinerary).
At present BOOK NOW functionality is disabled. You can get all the information in your email by submitting the REGISTER NOW form.
If you are a group of people and available dates are not matching then you may select Custom date mode (by clicking the Select your custom date) and fill in the displayed form.
You can also check all the available dates at a glance in our

TREK CALENDAR

.
Trekkers need to reach Kathgodam on Day 1 morning (latest by 7 am). Return to Kathgodam on Day 8 evening (7 pm). Arrange your tickets for inward journey and return accordingly.
| | |
| --- | --- |
| REPORTING LOCATION | Kathgodam railways station |
| REPORTING TIME | 7:00 AM for a prompt departure to Lohajung (Day 1) |
| RETURN LOCATION | Kathgodam |
| RETURN TIME | Approximately 7:00 PM (Day 8) |
How to reach Lohajung (The trek base):
Nearest Rail station: Kathgodam (Station Code: KGM)
Nearest Airport: Delhi
We will arrange a pick up and drop from Kathgodam to Lohajung and back. This will be shared equally by the team members on actual basis. You pay directly to the driver/transporter. The fare is Rs 5500 for a Tata Sumo/Mahindra Maxx one way. These can accommodate 6 to 8 people. Similarly a Tempo Traveller charges Rs 9000 which can accommodate 12 people. This is NOT included in the TREK FEE and to be payable directly to the driver/owner.
If you wish to reach our Trek Base Lohajung on your own by public transportation:
From Kathgodam there is no direct bus or shared car service to Lohajung. Reach latest by 6 am to Haldwani (The city, 4 Km before Kathgodam) and take a shared Jeep service to Deval. This is is 25 Km before Lohajung. From Deval you may get another shared service to Lohajung or you may have to hire one.
If you travel from Haridwar side, then reach Rishikesh on the previous night (Day 0, 25 Km from Haridwar) and board the bus for Mandoli/Lohajung at 5 am next morning. This private bus takes 12 to 14 hours to reach Lohajung. As this is a privately operated bus so may not operate during the high demand of Chardham yatra season. The route is via Devprayag, Rudraprayag, Karanprayag, Tharali and Deval. 260 Km.
From Lohajung the bus to Rishikesh starts early in the morning by 6 am and reach by 6 pm .
How to reach Kathgodam:
For the treks in Kumaon or in the bordering area of Garhwal, one has to reach Kathgodam/Haldwani normally. Lal Kuan is just 20 Km and Haldwani is 5 Km before Kathgodam. Bus, shared taxi and private cars are available.
You can fly or by train reach New Delhi as per your convenience from any part within India. Reach Delhi accordingly that you have enough time for transit withing Delhi.
There are direct trains from Kolkata to Kathgodam(KGM)/Lal Kuan(LKU)
BAGH EXPRESS – Train No. 13019 (ONLY book when you stay the night at Kathgodam, DON't book this train when you plan a long onward journey immediately in the morning)]
HWH LKU EXP – Train No. 12353 – Lalkuan Express (runs only on Friday, you need to stay at Kathgodam for the night, only 20 Km away)
Avoid booking wait listed (WL) tickets in AC classes (1A/2A/3A) or Chair Car (CC). Book Sleeper class (SL)/Second Sitting class (2S) tickets which have normally more seats/berth and hence much better chance to get confirmed.
You can reach KATHGODAM/HALDWANI EASILY FROM NEW DELHI BY TRAIN OR BUS (~ 6/8 HOURS) AND IS AROUND 270 KM.
By Train:
Following trains are good to reach Kathgodam and run daily.
RANIKHET EXP – Train No. 15013 (best option, runs overnight, arrives KGM early morning @ 5 am. Board from Delhi(DLI)/Old Delhi Junction station)
UTR SAMPRK K EX – Uttaranchal Sampark Kranti Express – Train No. 15035 (good option when you stay the night @ Kathgodam and travel next morning)
ANVT KGM SHT – Anand Vihar Kathgodam Shatabdi Express – Train No. 12040 (Arrives KGM in the morning @ 11:40 am, alternate choice when you stay the night in Kathgodam and travel by car next morning)
Always avoid booking wait listed (WL) tickets in AC classes (1A/2A/3A) or Chair Car (CC). Book Sleeper class (SL)/Second Sitting class (2S) tickets which have normally more seats/berth and hence much better chance to get confirmed.
By Bus:
Haldwani buses are more frequent than that of Kathgodam. Its easy to reach Kathgodam from Haldwani which is only 5 Km away.
Govt. Road Transport (Roadways of Uttarakhand, Uttar Pradesh, Delhi, Haryana etc) buses are frequently available in day time and night from Anand Vihar ISBT Tickets are available on board for these regular type buses. Some of the state transport companies offer online reservation for Volvo/A.C Luxury buses. Check these Govt. operated state bus services for online booking:
https://www.upsrtconline.co.in/#  
From Delhi Airport or Station you can reach ISBT Anand Vihar via Delhi Metro service (http://www.delhimetrorail.com/metro-fares.aspx).
For privately operated bus, you can book online from different portals (http://www.redbus.in). Select a boarding point suitably. Overnight Volvo/A.C/Push back bus service.
For night stay in Kathgodam:
Trekkers reaching on the previous day before the journey to the actual trek base need to stay the night in Kathgodam. There are few options in Kathgodam for spending a night while staying in Standard accommodation.
State run KMVN (Kumaon Mandal Vikas Nigam) operates Tourist Rest House at Kathgodam just opposite to the railway station (beside Bus stand). This is a reliable and a decent choice for Standard accommodation. Check the following for reservation of the above
http://www.kmvn.gov.in/contacts/index/23
There are privately run hotels/lodges near Kathgodam railway station & Haldwani Bus terminus.
Return from Kathgodam:
Normally you reach from trek base to Kathgodam by 5/6 pm in the evening. You can take any train after 7 pm or regular bus service as mentioned above to reach Delhi or directly to your homeward journey.
Drive from Kathgodam to Lohajung - 220 Km - 10 hours
Pickup from Kathgodam in the morning and reach Lohajung (~ 2300m, 7500ft) which is 220 Km away. The journey may take around 10 hours with a break or two. The road is through the Kumaon region and mostly goes along wide spread valleys of Shivalik Himalaya. We cross Almora and Kausani on our way. From Gwaldam onwards the road enters in the Garhwal administrative region and the road is gradually winding and goes through the evergreen montane and conifer forests. The last stretch of the journey from Deval has considerable height gain. Our Roopkund trek base Lohajung is essentially transit point with a local bazaar and few lodges. Lohajung has one GMVN tourist lodge (TRH), one panchayat Tourist Rest House and 3/4 private hotels. All the major mobile networks have connectivity here. Night stay in Tourist Rest House/Lodge.
Trek to Didna - 10 Km - 5 hours
Our trek starts today morning. After breakfast we walk on the freshly tarred motor able road towards the village of Wan. After walking for an hour and half on the flat surface we reach Kulling at a distance of 6 Km from Lohajung. From here we take a right turn and descend through the village. Initially it is a narrow concrete lane inside the village and cuts along houses and firming fields till we reach a small stream.  We descend further till we reach the river bed of Neel Ganga. We cross the cemented bridge and start climbing the ridge on the right side. The ascent is a moderately steep one and ends at the village of Didna (~ 2450m, 8000ft). The trail goes through the sub alpine evergreen forest. After climbing around two hours we reach the top of the ridge and see the firming fields wide stretch on the lap of the mountain with scattered houses here and there. Didna and Kuling village host the same set of people while the prior is used for the summer and monsoon while the later for winter. We reach by lunch time and enjoy the hot lunch after finishing the days trek. Total distance is 10 Km and may take around 4/5 hours.  Accommodation at homestay.
Trek to Bedni Bugyal - 12 Km - 6/7 hours
Today we start early and trek to Bedni Bugyal (~ 3500m, 11500ft) via  Ali Bugyal (~ 3450m, 11300ft), one of the most scenically beautiful alpine meadows in Indian Himalayas  . We will climb the mountain which sets the backdrop of Didna village. After starting on the trail which goes out of the village we get a bifurcation. The trail on the right is longer but with gentle gradient and goes through a temporary settlement of the shepherds called Tolpani. The trail on the left is with continuous gradient but shorter. Eventually both the trail leads to Ali Bugiyal. The trails consist of thickly vegetation of Oak, Birch and Rhododendron trees. A trek during the late spring is full of red and pink varieties of Rhododendrons. Once we approach to the top of this mountain face the tree line recedes and the grassy slopes start from here. The climb may take 3 to 4 hours. After ascending this face suddenly a wide vista opens up and we are on one of the most beautiful meadows of Himalaya called Ali Bugyal. The far stretched green field clearly resembles the default wallpaper of Mcrosoft XP (if you remember he old days!) . As it is a table top, the clouds start to sell in after midday . Misty Bugyal has its own charm and feeling. We slowly walk on the gentle rolling slopes of the meadow. In summer and especially during monsoon this meadow is full with wildflowers in hues of blue, yellow and white. You can see grazing cattle and horses which will stay here till the end of monsoon. On a clear day one can see the peaks of Trisul and Mrigthuni towering straight. After crossing this Bugiyal we climb a small face and traversing for an hour reach another Bugiyal, our camping ground for the day Bedni. In the afternoon walk around the Bedni Kund and visit the small temple inside the boundary of the Kund. Clear weather will unfold mighty Trisul and Nandaghunti in front. On the other side we can see the panorama of Garhwal Himalaya like Neelkantha, Chowkhamba and others. Total distance is around 12 km and can take 6 to 7 hours. Camp overnight.
Trek to Patar Nachuni 5 Km - 3 hours
Today you will hike a short distance due to acclimatisation purpose. From today onward the oxygen starts reducing so we spend more nights before reaching the higher altitude. A short and easy walk takes us to Patar Nachuni (~ 3750m/12300ft). Total distance is 5 Km and may take 3 hours. We start by walking on the Bugyal and climb for half an hour to take the trail which is coming from Ali Bugyal. From here onward the road is almost flat till we reach Ghora Lautani. The road splits and we take the trail which goes to the right. Walking an hour on level ground we are at Patar Nachoni. The green fibre huts of the Forest Department is on the left hand side of the trail while the beautiful camping ground is around 200 feet down on the meadow situated in the right. On a clear day the view of Mrigthuni range is magnificent form this place. There is a small shop run by a local in season time inside one of the green hut. It offers basics like tea/coffee, noodles and biscuits. We camp for the night.
Trek to Baguabasa - 4 Km - 4 hours
Today we trek to Baguabasa (~ 4300m, 14000ft) via Kailuvinayak(~ 4400m, 14400ft). Patar Nachuni is surrounded by meadows and occasional mountain tops. The top of the ridge going almost straight ahead is Kailu Vinayak. First we gradually climb the ridge for first 2 Km. Then the ridge turns right and rises sharply in next one and half Km. This is a steep climb and we gain almost 1500 feet within a distance of 1.5Km. The ridge goes zigzagging on the gravel. Slow but steadily climb this face without any hurry. The lack of oxygen may result to a headache. Once we reach the top there is small stoned temple of Ganesha with bells clinging to it. The deity is of black stone and thus the place got its name Kailu (Black) – Vinayaka (Ganesha). From here the vista in front widens and first view of the Roopkund area ( the depression of the lake) is visible on the lap of the ridge straight. It is truly mesmerising with glittering Trishul on right and bell shaped Nandaghunti on left at a stone throwing distance! We gradually go down on the rocky trail for another 1 Km to reach Bagua Basa.  Total distance is 5 Km and can take up to 3/3 and half hours. There is a small cave on the right side of the well defined trail, and according to the legend it is the resting place or shelter of the Tiger ( Bagua -> Bagh/Tiger, Basa -> Home) that the goddess Nanda Devi rides. There are green fibre huts also here. The camping ground is also referred as Hunia Thar. This area is famous for Brahma Kamal, blooming in the monsoon. Fen Kamal (Pink) and Neel Kamal (Blue) are two other flower species which grow in this altitude. The flowers remain till early September. Being at an altitude of 14000 feet the area is rocky and brown while snow clad mountains towering in front. The area is notorious for snowfall. Snowfalls may start even in the month of early June or October. We tent for the night.
Baguabasa to Roopkund and back to Patar Nachuni – 12 Km – 8/10 hours
We start early in the morning by 5 am for Roopkund. It is a moderate climb to Roopkund for about 4 km but surely the altitude gain tires the body. Depending upon snow conditions it may take 2 to 4 hours to reach. Until mid of June the trail is covered with snow. During monsoon to late September snow will be much lesser. The trail is well defined but on snow it is difficult to locate. From Baguabasa camping ground the trail is a traverse first till we reach a place called Chhiria Nag meaning staircase formation like a snake. From this point the climb is moderately steep and one final steep climb on rock leads us to a flattened trail. Due the Nanda Raj Jat (Yatra) in 2014 the trail has been maintained and in well condition. From here we can see the depression ahead which is our destination, Roopkund (~4800m/15750ft). We spend some time clicking the photos and offering puja to the small temple of Goddess Nanda Devi. The shallow lake has remains of skeletons which are almost 1200 years old! There are still remains of semi decomposed torsos on the other side of the lake, which is a permafrost area. Depending upon the weather condition/time and team condition we may decide to attempt Junargali Pass (~ 4950 m, 16240 ft). The pass is between the ridges joining two low altitude peaks, Chandaniya Kot (on the left) and Kali Dang (on the right). Without snow in September it will take 30 to 45 min to reach the top. From Junargali, Nanda Ghunti and Trisul massifs are magnanimous. The depression between Bethartoli Himal and Nanda Ghunti is the famous Ronty Saddle. We return on the same trail to Baguabasa. Descend on a steep trail is often tricky comparing to that of ascent. We climb down till Baguabasa and then almost on a level ground till Kailu Vinayak. We continue our descent till we reach Patar Nachuni. A long days trek ends at the lush green camping ground. Total trek distance is around 15 Km and may take 8 to 10 hours depending upon the snow condition. Depending on the team condition we may return to Bedni Bugyal. Camp for the night.
Patar Nachuni to Wan – 15Km – 7/8 hours – 1 hour drive back to Lohajung
Today is a long way descending till Wan. From the camping ground a small climb takes us on the main trail. Now we follow the same path back. This feels like a cakewalk after the strenuous day before. We continue our trail back to Ghora Lautani and then to Bedni Bugiyal. After reaching Bedni camping ground we take the trail on the right and is different from the route by which we reached Bedni. Now we go down on the Bugiyal while we see the green fibre huts on our right. After going down for a while the road splits. We take the right hand side trail which goes down and slowly we enter into the tree line again. In few places the gradient down is steep and goes through the forest all the way. Avoid taking the shortcuts as it may hurt your knees. After descending for an hour we reach an opening inside the forest and called Gahroli Patal. We continue going down till we reach the river bed of Neel Ganga. From here we climb to reach the top of the Wan Village which is called Ran ka Dhar. Now we enter into the village of Wan and continue to descend. The village is stretched on both sides of the mountain and indeed huge comparing to normal Himalayan villages. Finally we reach the road head to take the Jeep. Total distance is 17 Km and takes around 7/8 hours. It is around an hour from Wan to Lohajung by car and the road road is bumpy at places. Enjoy the evening at Lohajung while sharing the fresh memories of the trek. Night stay in Tourist rest house/Lodge.
Drive from Lohajung to Kathgodam – 220 Km by car 9/10 hours
In the morning start from Lohajung to Kathgodam by car and reach in 10 hours. Roopkund trek tour ends here. You will reach by 7 pm in the afternoon. You can book tickets accordingly.
P.S.: Distances and altitudes are approximate and may not be exact.
  TREK FEE: ₹ 13,800 (Lohajung to Lohajung) + 5% GST  
Book for 5 persons or more persons and avail flat 10% Group Discount.
Inclusions:
 2 night's accommodation at Lohajung (Day 1 & Day 7) in lodge on sharing basis and dinner.
 All meals during the trek. Regular Indian style nutritious vegetarian food during the trek (including occasional eggs), breakfast packed/hot lunch (depending upon the time you reach a campsite), snacks, dinner along with coffee/tea/soup.
Excellent Trekking Guide, who will be a local to this particular area and has profound knowledge of the trekking trails around.
 Specialised Cook, Support staff, Porters/Packed Animals for carrying the central logistics of the trek.
 Stay in tents (3 persons dome or ridge shaped tents) on sharing basis during the trek.
Camping equipment like Sleeping bag, Carry mattress, Gaiters, Micro spikes/Crampon. (Bring your own sleeping if you have a high altitude specific personal Sleeping Bag. This is always better for hygienic reasons.)
Kitchen tent, dinning tent and toilet tent as required during the trek.
All permit fee, camping charges, forest levy required for the trek.
 Basic Medical & First Aid kit.
Accidental Insurance Policy covering high altitude trekking tours (For Indian nationals it is included in the TREK FEE, up to 60 years of age).
Exclusions:
Transportation from Kathgodam to Lohajung and back to Haridwar/Kathgodam (Rs 1500-1800 per persons both ways for the pick up and drop)
We assume that you will carry your personal Rucksack/Backpack with all your personal belongings. If you want to offload your Rucksack and be carried by our Pack Animal/Porter then you need to pay additional ₹ 1500 for the entire duration of the trek. The Rucksack should not weigh more than 10 Kg.
 Any tip/gratuity to the HT supports staff.
Anything is is NOT mentioned in the "Inclusions" or personal in nature.
Booking:
We assume that you have read and understood our "Terms & Conditions" (https://himalayatrekker.com/terms-and-conditions) before Booking a trek/tour.
To reserve your place in a scheduled Fixed Departure trek or a Customised/Private trek pay 25% of the TREK/TOUR FEE as the initial "Booking Deposit". You can pay by Net banking/Draft/Cheque/Credit/Debit/AMEX cards. This will ensure your participation in the desired trek and we will reserve your place in the scheduled date. You need to pay the remaining amount at least 15 days before Trek Starting Date.
If you book a Trek/Tour before 14 days or less from Trek/Tour Starting Date, you need to pay the full TREK/TOUR FEE.
 Cancellations:
"Booking Amount" i.e.25% of the TREK/TOUR FEE is Non-Refundable at any stage.
If in case you are not able to make it due to unavoidable reason(s), we provide you avery flexible choice of Shifting to another trek within next one year. One year is counted from the starting date of the trek/tour you booked initially with us.
In case you postpone your trip you need to informminimum of 15 days before the trek/tour starting date. (Though we suggest to inform us earlier if known)
In case you postpone a trek/tour before 15 days of the scheduled Trek/Tour Starting date or prior, you may shift to another group of the same trek/tour scheduled in the same season or within next one year. You may shift to another suitable route also. For changing any, you need our approval first. Your request must be in written communication through your registered email with us.
If you cancel/postpone a trek/tour from14 days to 8 days before tour starting date, your Booking Amount is Non-Refundable. We will not take any request of shifting dates. We will charge 50% of the amount as Cancellation Charges and process refund of remaining 50%. You may also shift to another group within next year but 25% Booking Amount will be deemed as Cancellation Charge and the rest amount will be transferred to the shifted group.
If you cancel a trek/tour 7 days (i.e. a week) before Trek/Tour Starting Date or later, there will be NO REFUND.
In case of any unforeseen incident including but not limited to natural calamities like flood, earthquake, landslide, forest fire or any political unrest, if we are compelled to cancel the trek/trip, you will be entitled to redeem the full amount for the same/similar kind of trek/trip within next one year.
If you need more clarifications write in to [email protected]