Best treks in monsoon (July & August) on the Himalayas
Getting monsoon rain in general is not a good "thing" for trekking high up on the Himalayas. At the same time there are regions in the Indian Himalayas where monsoon has little or almost no impact. Remember that a rain/shower/drizzle is very common in most of the treks during summer months as well.
But monsoon rains are different and can continue for a  day and night, if not more. Quite obviously none of you intend to walk in the rains or amid foggy weather so that you miss most of the grand views of the high mountains and snow clad peaks.  Frequent and or continuous rain is indeed a spoiler on a trek. There are other risks as well like landslides or a rare cloudburst.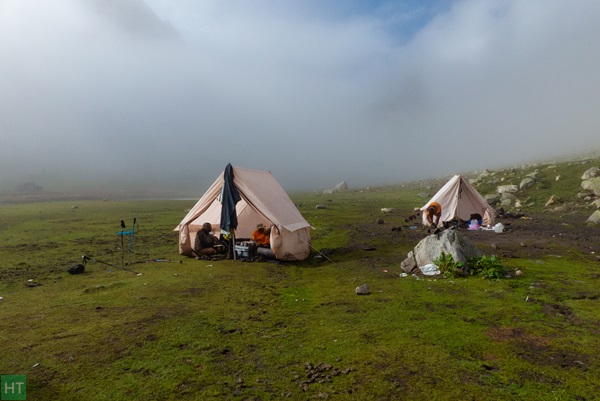 This already may sound demoralising? I was only emphasising that you should be careful in selecting your monsoon trek. Be rest assured that there are sound reasons to trek in monsoon i.e. in general during July and August. And we do have a wide range for all, starting from a beginner to an expert. So no hurries and no worries.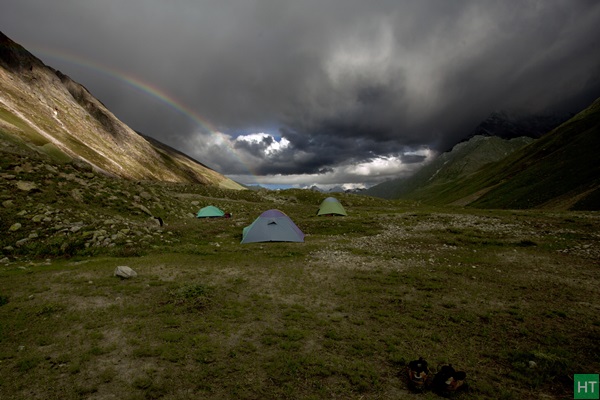 Why a monsoon trek?
Monsoon is the greenest part of the year in the Himalayas, just like across the country. Most flowers bloom during this time especially above the treeline, i.e.on the alpine meadows. Rocky barren landscapes do produce stunning hues when it gets its portion of rain. Usually if you get a view after, that will be clearer and haze free than in summer.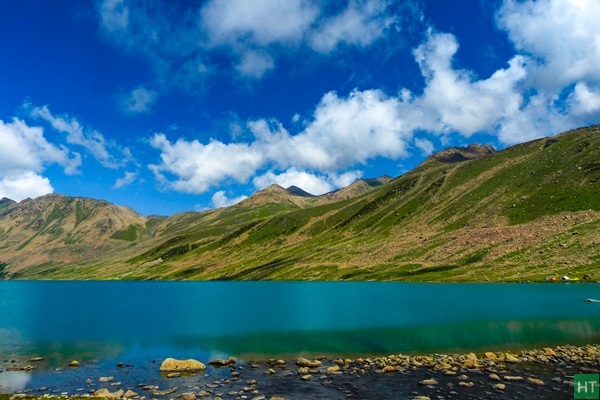 Last but not the least, your job! Maybe this is the time that you can take your holidays.  Rest assured that there are quite a few treks which are pretty safe in monsoon. Be it in aspects of "views" or any other risks due to frequent rains. As we go through this article, hopefully you will develop an understanding and be aware of some treks which are best done during monsoon months.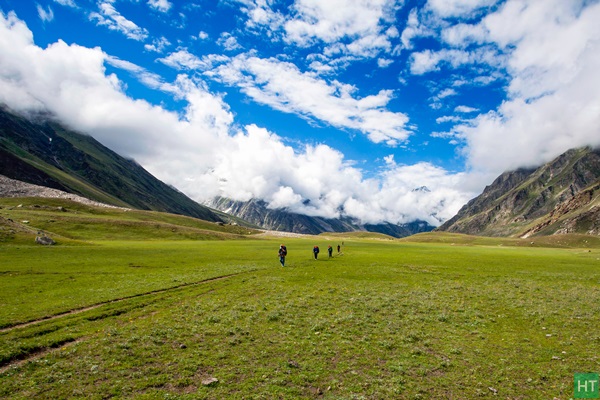 Let's get an understanding first that you will get to know the spectrum of best, rather perfectly fine treks in monsoon. I hope then it will be much easier for you to choose your best trek in monsoon henceforth. Remember that it is important to choose the "right treks list" rather than just following a"list of best treks".
Monsoon and its arrival in the Himalayas:
Summer monsoon is the effect of southwesterly monsoon winds across a vast part of India. This south-west monsoon brings most of the rainfall during a year in India. It arrives early June in Kerala and progresses to the north and eastward directions through different branches.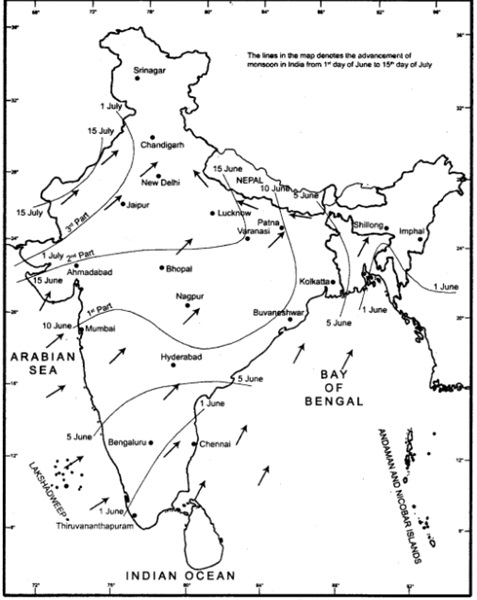 Following its course, it reaches to the eastern Himalayan foothills as early as the beginning of June. Whereas in western Himalayan foothills towards the end of June. As we move from east to west in the Himalayas, yearly average rainfall decreases significantly.
In our purpose to learn about best treks in monsoon we will consider monsoon  season as July and August primarily. Although some areas are affected until mid of September. Still high altitudes above 3000 m/10000 ft have lesser impact at this late stage.  If you have a priority to get clear weather you should keep another 15 days or so that any impact of residual rain is minimal.
Now let us have a look at the below chart. This bar chart is based on the IMD website and their research data. This is a normal monthly rainfall distribution of the Himalayan states/region which we are interested in. Just to note that as per IMD convention, up to +- 20% deviation is considered "normal", +20% or above is "excess" and -20%  and above is "deficient" and so on. The chart is quite straightforward to understand.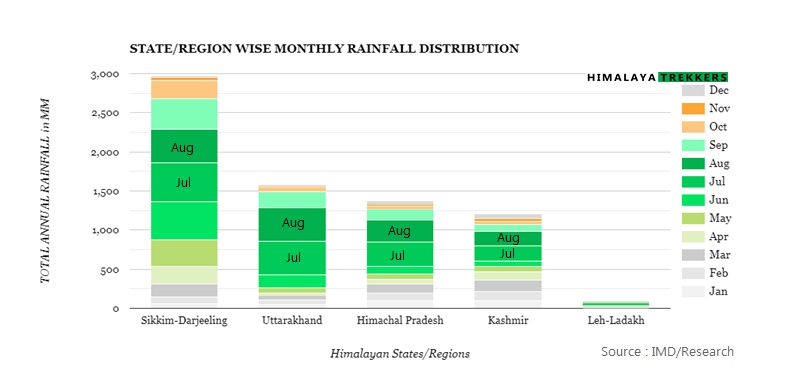 Choosing the right Himalayan region for your monsoon trek in the Himalayas
From the above chart, it is quite clear that rainfall reduces consistently from east to west within the Himalayas. Annual as well as monsoon rainfall i.e. for July and August is significantly less from east to west direction. However, do continue to read so that you can make a well informed decision.
1) Eastern Himalayas (Darjeeling/Sikkim treks): Monsoon is heavy and longer here. On an average the area receives more than 2000 mm of annual rainfall. E.g. Darjeeling and Gangtok receives ~ 3000 mm of yearly rainfall, of which more than 90% is during monsoon. Expect frequent/continuous heavy rains here between early June to mid September. Due to warmer temperatures leeches are another nuisance here for treks in monsoon. Avoid trekking in Darjeeling and Sikkim between June to mid September.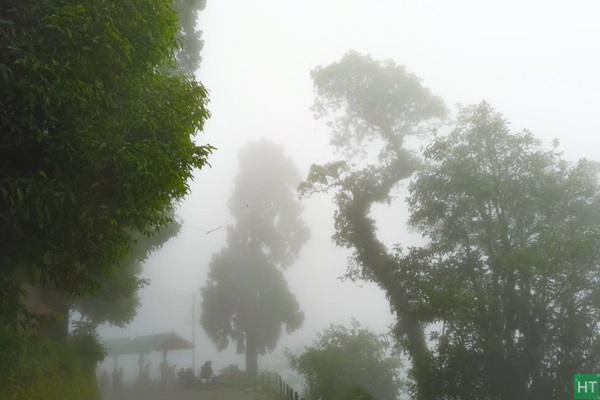 2) Western Himalayas: This part of the Himalayas can be divided further into the following from east to west direction.
A) Uttarakhand treks: Monsoon is consistent here in July and August. On an average this state receives ~ 1250 mm of annual rainfall. Avoid treks in Garhwal as well as treks in Kumaon region within Uttarakhand during July and August. Exceptions are those treks which are particularly beautiful in monsoon, i.e. have its reason(s) to visit amid rain.
Note: Monsoon/rain has minimal impact on higher altitude above 4000 m/13000 ft. Traditionally late August to early September is a good time for treks going around or above 5000 m here in Uttarakhand.
B) Himachal Pradesh treks: Here the situation is a bit complex. You need to understand where your trek route is. The state receives a good amount of annual rainfall ~ 1250 mm (similar to that of Uttarakhand) although it varies to a great extent from one region to another within the state.
All three major Himalayan ranges have their part in Himachal. From south to north runs Dhauladhar, Pir Panjal and Great Himalayan range of which the first two merges near Manali-Rohtang pass region. Additionally Himachal has its share in the Zanskar range which runs north of the Great HImalaya.
Let's have a look at the below "normal" distribution of monthly and total yearly rainfall of the districts of our interest within Himachal. On the other hand I have skipped the data for the districts which constitute entirely foothills or lower hills (Shivalik region).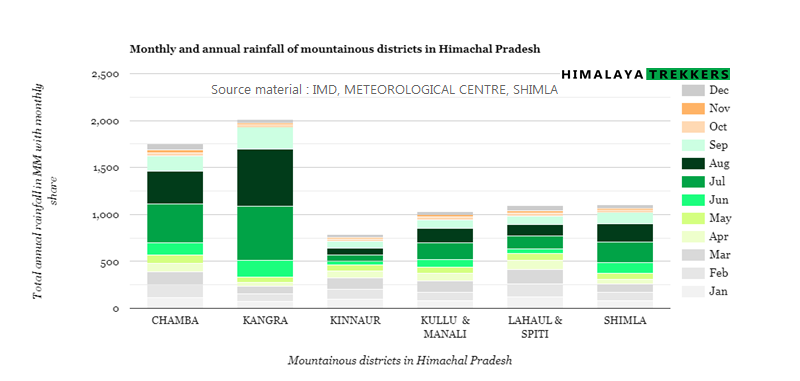 Note: The rainfall during winters from Dec to Feb and early spring (March) are very likely to trasslate to a snowfall on the higher altitudes.
From the above chart you can surely see that Kangra and Chamba district get most of the rain within this state and so as during monsoon. Simply avoid the treks which lie entirely within this region. Choose a different time for treks like Triund, Kareri Lake, Indrahar Pass, Minkiani Pass etc. In general treks starting or ending around Dharamshala, Bharmour etc are not at all good options for monsoon.
The conditions are somewhat similar in Kullu-Manali-Parvati valley and Kinnaur regions which receive the usual monsoon in July and August. Many popular treks in this region which are south of the Rohtang like Pass like Bhrigu Lake, Beas Kund, Kalihani Pass/Bara Bhangal, Chandrakhani Pass, Sar Pass, Deotibba base camp, etc. have better season(s) to go than in July or in August.
Treks originating and spanning within Great Himalayas or Zanskar ranges are pretty good options during monsoon in Himachal Pradesh. As a matter of fact, this is the best time to visit this high altitude region. From September onward some of these routes become pretty cold. On the other hand treks lying within Dhauladhar or Pin Panjal are not that favourable in monsoon.
Last but not the least, few trans Himalayan treks in this state which span across different ranges within Himalayas do receive frequent moderate rain. Treks  like Hampta Pass, Pin Parvati Pass or to an extent Pin Bhaba pass treks are more or less monsoon affected. Similarly Kinnaur and upper regions of Shimla hills (treks like Lamkhaga Pass, Borasu Pass, Rupin Pass or Buran Ghati)  also get usual monsoon during monsoon. You should avoid these regions from early July to late August.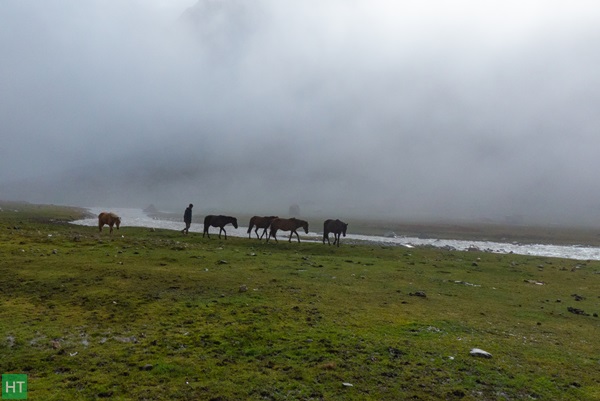 Lahaul and Spiti region treks including upper reaches of Chamba, Pangi and Miyar valley treks are perfectly fine during monsoon. This area receives occasional rain during July and August and the arid regions become somewhat green with different shades and usually better during the monsoon.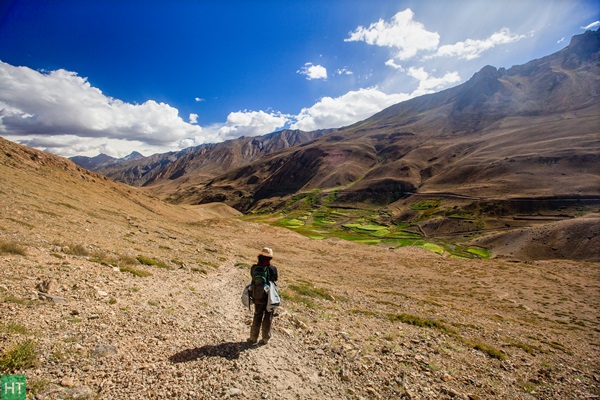 C) Kashmir treks: This area has little impact due to monsoon. Kashmir valley falls in the leeward side of the monsoon winds and is positioned between Pir Panjal and Great Himalayan range. A major portion of the rainfall occurs in winters, due to western disturbances. You will still get some scattered rainfall in July and August, usually up to an hour or so. Continuous monsoon downpour is rather rare.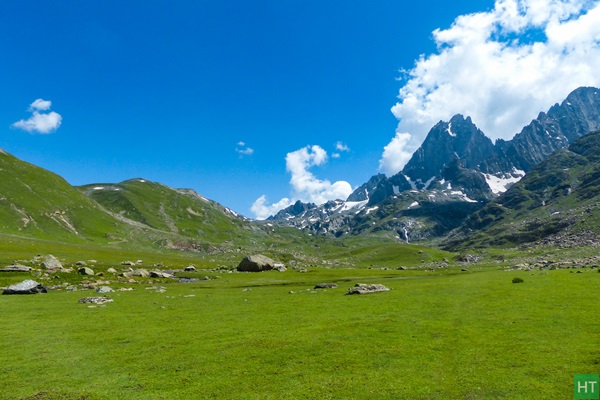 Another strong reason to visit Kashmir in monsoon is its nature of the landscapes. Already green by summer this region becomes luxuriant during July and August. Some rain (low to moderate) makes it lively and richer. Verdant meadows with wildflower carpet, gushing streams and an array of Chinar and Cedar forest, alpine turquoise lakes, all in all truly connect to a paradise on Earth – Kashmir.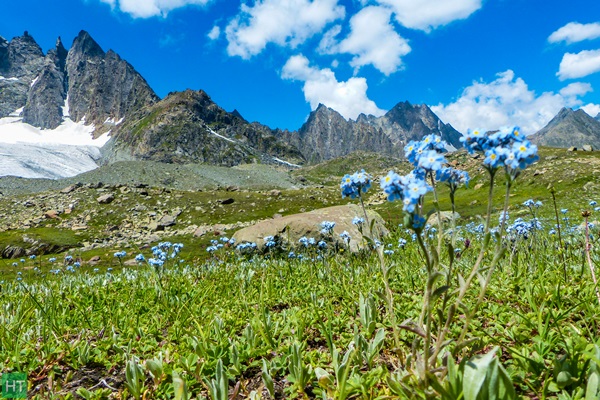 D) Leh ladakh and Zanskar treks: Ladakh is safest to trek, if we consider monsoon. This area has evenless impact of monsoon winds and historically this is a good time to explore the trails here. Ladakh region being a high elevation cold desert of India is marked by extreme aridity with acute moisture deficit throughout the year. Annual precipitation is extremely low due to rain shadow effect caused by Karakoram ranges on one side, mighty Greater Himalayas and Zanskar ranges on the other side.
This dry and arid region gets some green shades  during July and August that the landscapes produce starking colour contrast. Although there are many treks in this region, but most of them are long duration treks which are often strenuous or difficult in nature.
Our top 10 picks for best treks in Monsoon:
Here are the very likely favourites for monsoon treks in the Himalayas. The list has Easy, Moderate and Difficult grade treks which are beautiful during monsoon or have its very reason(s) to visit even if it rains. On the other hand if there is a better time than monsoon for a given trek, then simply avoid monsoon.
Remember the rule of thumb? As we move east to west, you should be less affected by monsoon rain, i.e. between July and August. Also we are not considering treks which have a much better season(s) to visit in a calendar year.
Duration: 8 days
Grade: Moderate
Region: Kashmir Valley, Sonamarg
Where to reach: Srinagar
Stay type: Tent
Best time to visit: July to September
Tour highlights: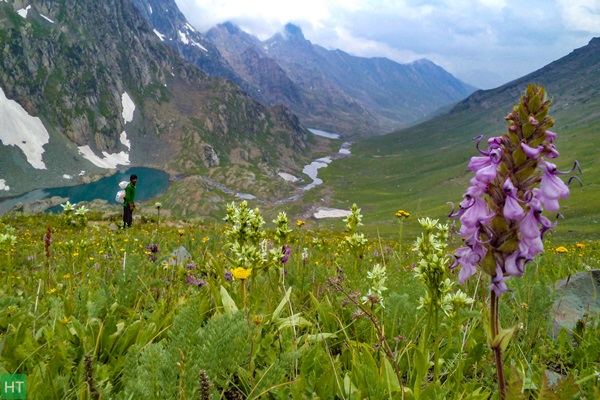 Duration: 6 days
Grade: Easy
Region: Garhwal, Uttarakhand
Where to reach: Rishikesh/Dehradun
Stay type: Lodge/Hotel
Best time to visit: July and August
Tour highlights: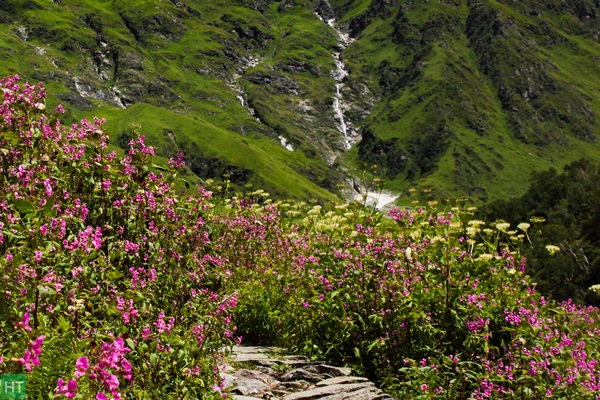 Markha Valley (plus) Kang Yatse trek
Duration: 8 to 12 days
Grade: Moderate, Difficult when you add Kang Yatse 2 summit
Region: Ladakh/Zanskar
Where to reach: Leh
Stay type: Tent/Homestay
Best time to visit: July to September
Tour highlights: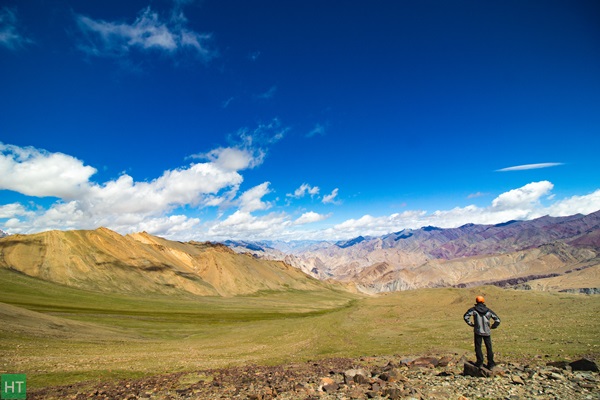 Duration: 7 days
Grade: Moderate
Region: Kashmir Valley, Pahalgam
Where to reach: Srinagar
Stay type: Tent
Best time to visit: July to September
Tour highlights: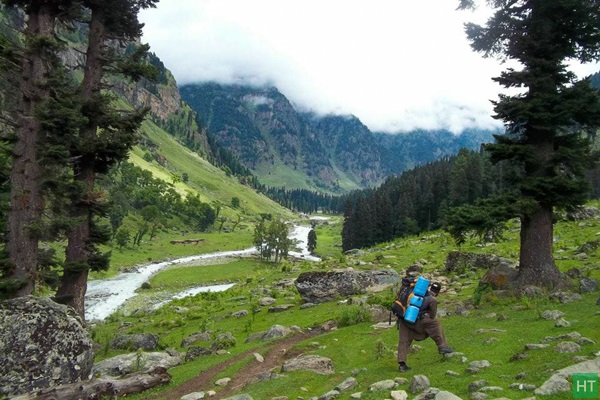 Duration: 12 days
Grade: Difficult
Region: Ladakh & Spiti
Where to reach: Leh
Stay type: Tent
Best time to visit: July to September
Tour highlights: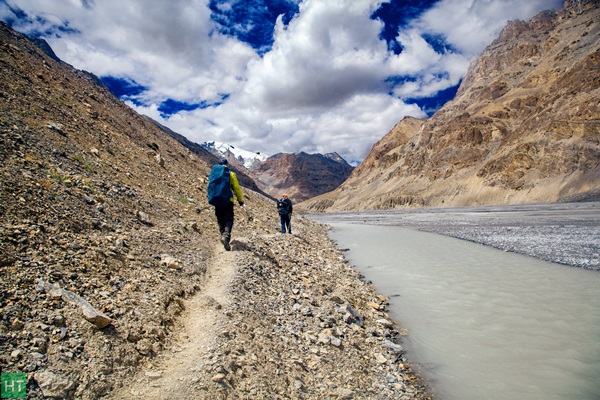 Duration: 9 days
Grade: Difficult
Region: Zanskar & Lahaul
Where to reach: Manali
Stay type: Tent
Best time to visit: July to September
Tour highlights: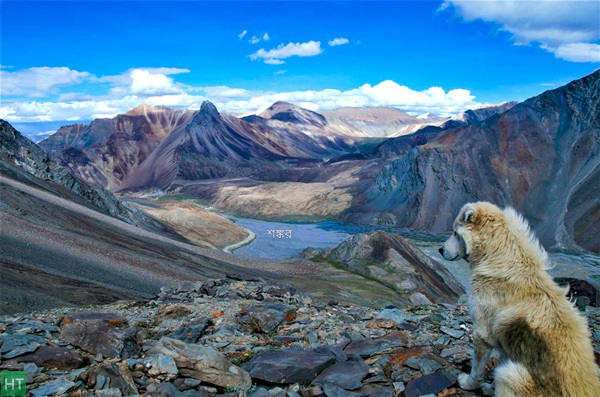 Spiti Valley Homestay trek:
Duration: 4 to 6 days
Grade: Easy to Moderate
Region: Spiti
Where to reach: Kaza via Manali
Stay type: Homestay
Best time to visit: July to September
Tour highlights:
Miyar Valley Kang La trek:
Duration: 12 days
Grade: Difficult
Region: Lahaul and Zanskar
Where to reach: Udaipur via Manali
Stay type: Tent
Best time to visit: July to September
Tour highlights: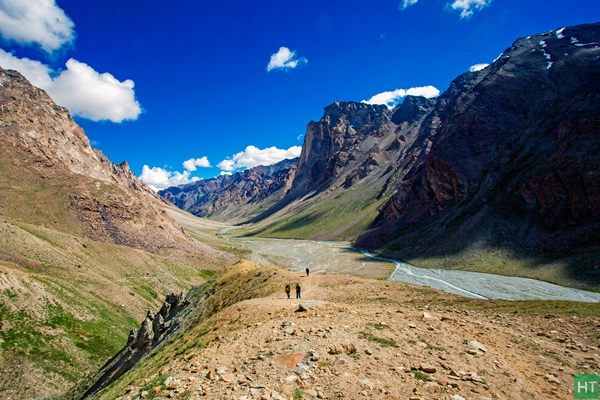 Tso Moriri to Tso Kar trek:
Duration: 7-8 days
Grade: Moderate, Strenuous
Region: Ladakh, Rupshu valley
Where to reach: Leh
Stay type: Tent
Best time to visit: July to September
Tour highlights: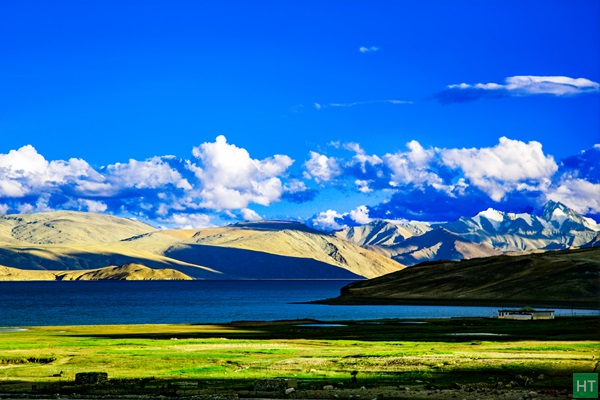 Bedni Bugyal trek:
Duration: 6 days
Grade: Moderate
Region: Garhwal, Uttarakhand
Where to reach: Rishikesh/Kathgodam
Stay type: Tent and Homestay
Best time to visit:
Tour highlights: