Overview:
If you're looking for a day hike / weekend trek and at the same time challenging, this short trek to the ridge top above the popular tourist destination Ravangla will absolutely delight you. Ravangla itself offers a grand view of the whole Kanchendzonga massif. From the top of the ridge, which locals call the Maenam Top, the view is grander.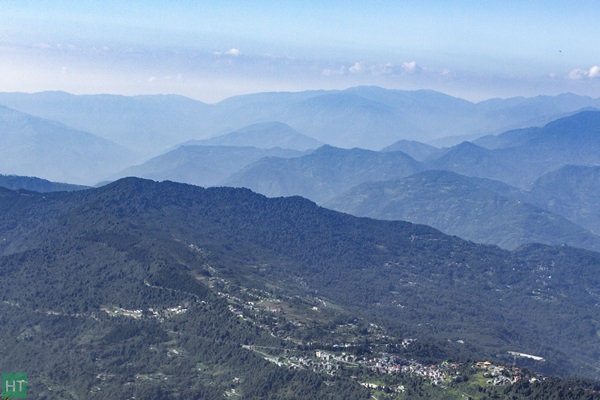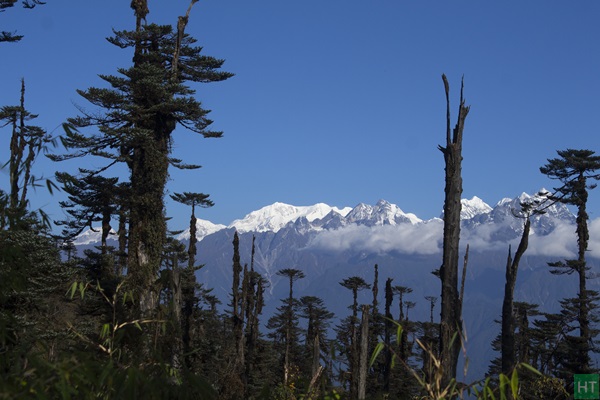 As per WIKI, Maenam means "treasure-house of medicines". The tribes of the nearby hills till date explore around this stretch of untouched jungle in search of medicinal plants. The undisturbed rich ecosystem caters to great diversity of fauna too. The narrow hiking trail right through the heart of the 35 sq km Maenam Wildlife Sanctuary is an excellent destination for birders as well.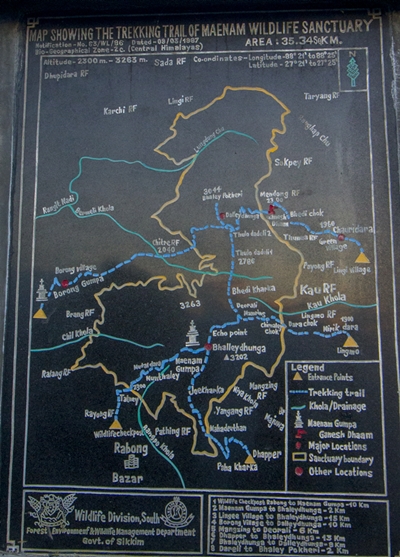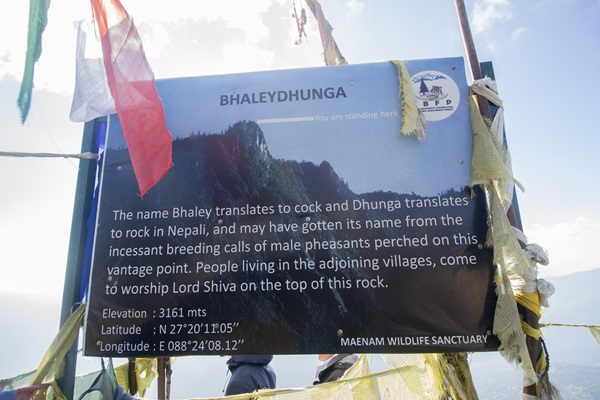 The 12 km long trail entersthe wildlife sanctuary from Ravangla and climbs continuously till Bhaleydunga. From Bhaleydunga it's another 15 minutes of climb to the Maenam view point and 5 minutes more to the summit. On top of a ridge there's remains of an oldmonastery, a meditation spot still used by the practising Lamas. You can check out our Sikkim Monastery circuit Trail, if you like to visit authentic and quaint monasteries in Sikkim.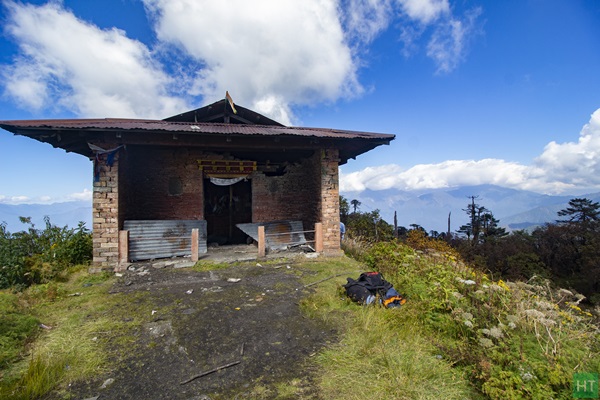 The view point and the Gompa (the monastery) both offer a magnificent bird eye view of Ravangla and rolling hills of south Sikkim and even Kalimpong & Darjeeling hills vanishing into the horizon crisscrossing the landscape. The ridge top standstall and rises to an altitude of 3140 m/10300 ft, between two major river systems of Sikkim. Rangeet at East and Teesta at west carve the landscape, creating a triangle down south and run into each other at Melli.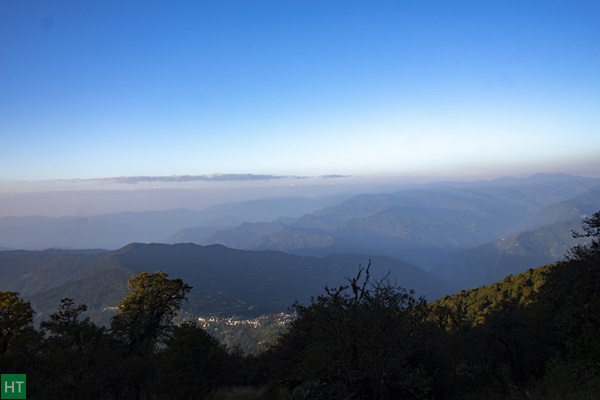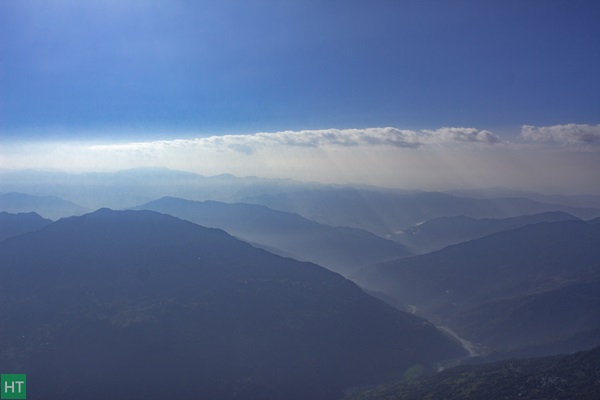 Due to this high vantagepoint, trekkers get a clear view of Mt Kanchendzongha's East face from here. Surroundingthe giant other visible peaks from here are Mt Rathong, The whole Kabru family,Mt Simvo, Mt Pandim, Mt Narsing etc.
Can we do it on our own?
Before attempting the hike, keep in mind that despite being a day hike it's a challenging one. If you plan to complete it in one day from Ravangla to Ravangla at a stretch, you cover 24 km straight which includes 12 km of ascent and 12 km of descent. By no means that's easy and unfit trekkers will definitely struggle to complete it one day. But completing it in one day it gives you three advantages:
1. You don' have to carry any extra weight of tent, sleeping bag, food & fuel. Going lighter means going faster.
2. You don't spend the night there at the top at an altitude of 10,300 ft. You start from 7000 ft. and return to the same altitude for the night. Hence, chances of altitude sickness are next to nil.
Completing the trek in one day gives you ample amount of time to wrap up the whole trip within a long-weekend. As you'll see in the itinerary below.
Brief itinerary for Maenam trek:
Day 1: Drive to Ravangla from NJP/Bagdogra – 120 km – 4/5 hours. In the afternoon talk to the guide and secure permits/entry to the Maenam Wildlife Sanctuary.
Day 2: Start as early as possible post breakfast. Hike to Maenam Gompa (3140 m/ 10,300 ft) via Bhaleydunga and retrace your footsteps back to Ravangla. – 24 km – 7/8 hours.
Day 3: Drive back to NJP/Bagdogra. – 120 km – 4/5 hours
Note:
Reach NJP/Bagdogra latest by 9 am on Day 1 and book your return tickets from NJP/Bagdogra after 3 pm on Day 3.
In between there are no water sources till Bhaleydunga.
There are other places to descend from the top rather than Ravangla such as Borng/Yangyang.
There are ATMs available at Ravangla.
All major mobile networks work at Ravangla. While hiking through the jungle, the network disappears. Upon reaching Maenam/Bhaleydunga you get a calling network.
However, if you plan to follow this itinerary you may miss the views so coveted, since in the afternoon clouds tend to cover the horizon. For birders several weekends might not be enough. For trekkers in a time crunch though this itinerary would suit absolutely fine.
If you plan to explore further into the wilderness, check our Sikkim & Darjeeling treks in Eastern Himalayas.
Access to Ravangla, the trek base:
Ravangla is a popular well connected tourist destination of south Sikkim and can be approached from other popular hill stations like Pelling (~50 km) at West or Gangtok (~65 km) at East. The nearest railway station is NJP/Siliguri and the nearest airport is Bagdogra at a distance of approx. 120 km. Direct shared cabs to Ravangla are available from Jorethang, Gangtok and Geyzing.
Best Time to Visit:
Anytime apart from the months of monsoon (June-Aug) is a good time to attempt this trek. From Mar to May you get an ample amount of Rhododendrons and From Oct-Feb chances of getting clear weather increases.