Not only in India, Goecha La trek is famous globally among the hiking enthusiasts and communities. Although it could have been much more popular due to its splendid trail and variety, that's not really the case. It is probably due to an understanding that it is a Difficult trek along with lack of right information and analysis. Today we will carefully examine what challenges the trail possesses and who among you and how you can prepare for this trek. We hope that after reading this article you will be well aware of the difficulties awaiting you on the trail and how you deal with these that it rightly becomes a wonderful journey to yourself.
Goecha la trail has many "high offerings" among which few are unique. It should be in every Himalayan hiker's bucket list. Fanfare is apt. It is a rare trek in India that takes you so close to an Eight thousander yet easy to access.
The forest patch you cross before going beyond the tree line is no less unique. 360 degree view from Dzongri top during sunrise or the close up from Goecha La view point , eerily quiet campsite of Kokchurong by Prek chu, the riot of Rhododendrons in Spring, or foliage during autumn, turquoise Samity lake are some of the main reasons why this trek holds that special place in a hiker's heart. Sounds Good enough to lure you to the Goecha La trek, right?.
Now let's get back to the point, should you plan Goecha La?
What are the difficulties in Goecha La trek?
First thing first. Do note that Goechala trek is a physically demanding one which needs sincere preparations and prior high altitude experience(s). Remember that unaware and under prepared people will most likely find it really hard and henceforth struggle on the trail. This is not only a risk to yourself but for all as a team high up on the mountains.
So let's analyse what awaits for us on the trail:
1) Longer trail length and significant vertical elevation gain – Excellent physical fitness is a must
Let us look at the below graph carefully and followed by an analysis.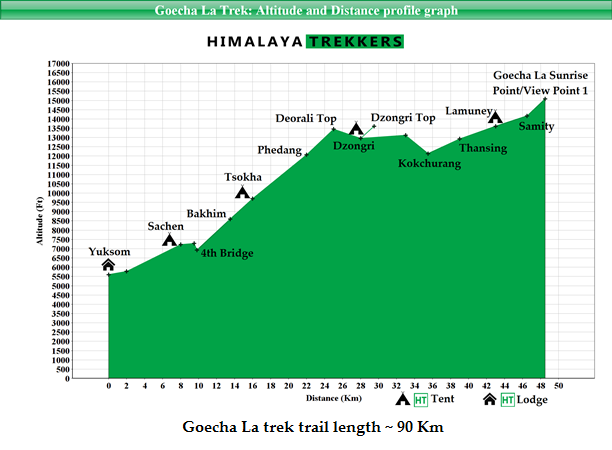 From Yuksom to Yuksom as per the usual itinerary most people cover it within 8 trekking days. That means you cover approx. 10 Km each day on an average at least, depending on the number of trekking days in your itinerary and that also includes one acclimatisation/rest day at Dzongri in those 8  days.
Beginners without any prior exposure to high altitude may struggle to cover that much distance for 8 days straight. To compare it with popular beginners' treks; you cover 25 km in 4 hiking days i.e.an average of ~6 km per day in Kedarkantha and 30 km in 4 hiking days i.e. an average of ~7.5 km per day in Brahmatal.
Not only do you spend more days here in Goecha La, you cover more distance each day in comparison to beginner's treks. The trail itself, at least till Samiti is nothing tricky. May be a little steep from time to time but you don't have to negotiate anything technical anywhere on the trail. It's the duration and length of the whole trek which takes a toll on the endurance of a hiker.
At the same time the trail has significant vertical altitude gain. Yuksom is relatively a low altitude base at ~ 1700 m/5500 ft. On the other hand your highest point Goechala Sunrise Point/View Point 1 is at ~ 4600 m/15100 ft. Additionally two descents (to Dzongri and Kokchurang) which eventually you need to cover.  This sums up to a climb of more than 3000 m/10000 ft, which is indeed strenuous.
2) Sustained stay on high altitude and acclimatisation process – Needs prior high altitude experiences
The recommended altitude gain in a day above 10000 ft/3000 m is  just 1000ft which you can read here. But practically that is not possible unless you have long holidays and a hefty travel budget. So here is a potential risk and be aware of that. Additionally we sleep multiple nights (4 nights in our itinerary) back to back at pretty high altitude, on or around ~ 13000 ft/4000 m.
Here it is pretty important that you have experienced a few days at around the same altitude before. A thumb rule is that every person needs to acclimatise everytime on high altitude. But people with prior acclimatisation issues are more prone to it. They must take a note on this (probably spending more time during altitude gain etc.) to avoid additional risks.
We highly recommend one acclimatisation day at Dzongri because of that reason and we do have this day in our usual itinerary. If your body stays acclimatised at Dzongri, most likely that you shouldn't be having any altitude related problem for the rest of the trek.
3)Reaching Dzongri from Tsokha – Crux day
It is quite evident from the altitude vs distance graph, that the trek from Tsokha to Dzongri is surely a hurdle. You can get a relative estimate of gradient as well the values. Note that from Tsokha to Dzongri a vertical gain of approx ~ 3400 ft within a span of 12 Km hike. Adding to that you first climb to Deorali top  which is another ~ 500 ft of additional climb on the day. Gradients are steep and sustained.
But rather than the steepness of the climb, our concern should be the 3400 ft of altitude gain in a day which we already addressed in the previous section. After the active acclimatisation and rest day at Dzongri if you are fit and fine, most likely you will complete Goechala comfortably, and you have overcome the crux part of it.
4) Other factors – Night trek on high altitude – Leeches in summer/early autumn – Damp coldness of Sikkim etc.
If the above challenges are addressed seriously, then remaining factors should not trouble you much. However, it's better to keep these points in mind.
When you're hiking at night at an altitude of above 14000 ft it is cold. At late night when we attempt the summit, it's the coldest. Additional warm layers are required even while climbing steep ascents. By midnight above 14000 ft it's almost always subzero and that creates a glasslike thin layer of slippery ice on the rocks, which is known as Verglass. You need to be very careful to break that thin layer of ice before stepping into it. At night it's also dark. Your visibility is only limited to the reach of your head torch. Surroundings seem otherworldly is the night's moonlit but when it's otherwise, you need to pay attention to where you are stepping.
Another irritation and often annoying thing are the leeches. This is a common challenge in most of the Eastern Himalayas, especially Sikkim. As long as you're inside the treeline beware of the leeches. Leches don't like cold much and are very fond of warmth and humidity. If you're hiking to Goecha La anytime between May to Sept, be prepared for leeches at least till Tsokha, the 2nd campsite. Carry salt with you in a small pocket container and sprinkle some on the leech/es if any of them stick to you. As a remedy some locals put chewing tobacco on their shoes and socks to keep the leeches away.
Is Goechala a Difficult grade trek?
There is no absolute scale of grading treks in general and are rather relative. Our grading scope is limited within the treks that we arrange(d).
As per our classification Goecha La is a Moderate grade trek with a Physicality scale rating of 7/10. You may also consider it as a strenuous trek of moderate grade difficulty.
So in spite of all the challenges Goechala is not a Difficult grade trek. It lacks really high altitude e.g. 5000 m or plus, terrain which needs negotiations or tricky manoeuvres, scrambling or potential exposures and so one. We will discuss this topic elaborately in another article.
Previously  we had an option to visit the actual Goechala Pass, a.k.a. Third View Point. The last 1 Km or so to the pass is on loose boulders, scree, snow/ice terrain above 16000 ft and is not an option anymore. The permitted trail till Goechala First View point has no such challenges.
Can Goechala be my first high altitude trek?
For most of you it is unlikely with a few exception(s). With a strong mindset and excellent physical fitness you may not face problem(s) finishing the trek. Here the high risk is that you are testing yourself on pretty high altitude without any real time experience.
We strongly assert at least one multi day high altitude (above 3000 m/10000 ft) hiking experience even if you have a "professional" level fitness. As mentioned before there's nothing technical about Goechala but it's arduous and you need a strong endurance to finish the trek comfortably.
We hope that by reading this article now you have a clearer understanding on whether Goechala will be your next trek or not. :-). If you need more clarifications or have more queries, feel free to reach us via email or phone.