Yuksom highlights:
 
Location:
West Sikkim district, Sikkim , India
Geo Coordinates:
27.368403 N, 88.222141 E
Altitude:
1750 m/5740 ft
Destination Type:
Motorable offbeat Himalayan vista , staying in pahadi village, village cultural tours, hiking around
Major Attractions::
Trekking base camp for popular treks, village with lovely mountain views and snow peaks, village homestay, serene monasteries, lakes, waterfalls, car sightseeing or day hiking destinations all around the valleys, paradise for birders.
Suggested Tour Duration:
Long weekend, 2 to 3 nights around Yuksom.
Best Time to visit:
Anytime apart from monsoon months (June-Aug)
Winters – December to February;
Spring/Summer –March to May;
Autumn – October & November.
Expected Temperature:
Minimum: 2° C to 5° C in December & January;
Maximum: 20° C to 25° C in April/May (during noon).
Where and how to reach:
Yuksom is approx 150 Km by road from NJP/Siliguri/Bagdogra.
Shared cabs are available via Jorethang.
Nearest Rail station:
New Jalpaiguri (NJP) – 147 Km
Siliguri Jn (SGUJ) – 141 Km
Nearest Airport:
Bagdogra (IXB) – 153 Km
Pakyong (PYG) – 123 Km (limited/seasonal)
About Yuksom:
Yuksom is a well known name to the trek enthusiasts. This place serves as the trek base for the famous Dzongri and Goecha La trek. Today we'll present the case on why Yuksom is worth exploring even if you're not planning to hike to any of the fore mentioned hiking destinations. Surely the green surroundings and quietness of the area will charm every traveller. Bordering Kanchendzongha National Park, Yuksom is a small, peaceful and pristine town. It was the first capital of Sikkim established in 1642 AD by Phuntsog Namgyal who was the first Chogyal (temporal and religious king) of Sikkim.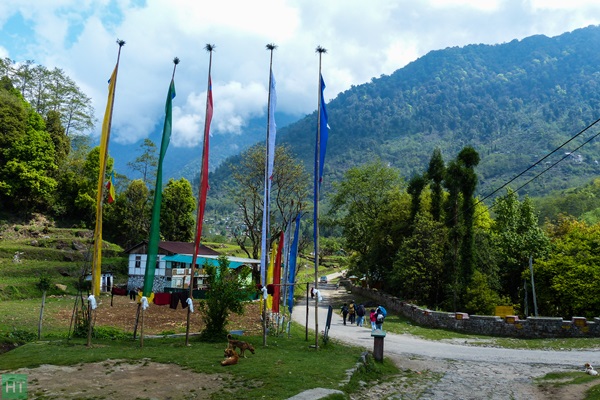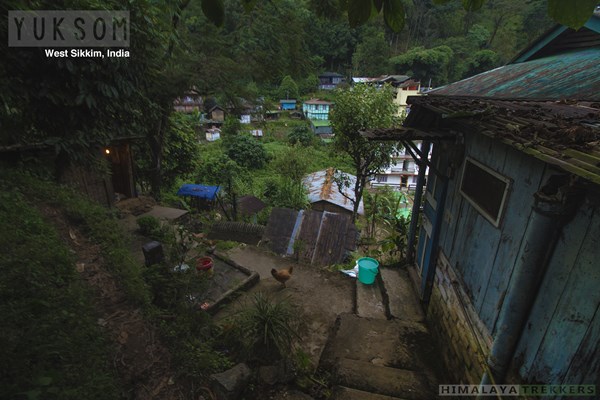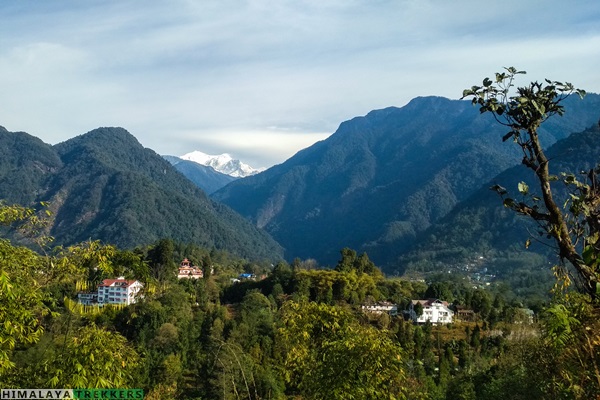 History:
Three Lamas belonging to Nyingmapa sect (Red Hat Sect) of Tibet entered Sikkim via different routes sometime around 1640-41 CE and met here at Yuksom. [P.K. Bhattacharya, Aspect of Cultural History ofSikkim (Calcutta: K.P. Bagchi & Co., 19.84)]. In Lepcha language 'Yukmun' means Lamas and 'Som' or 'Sam' means three. So Yuksom literally means 'the place where three lamas met'. The western readers must be wondering Lamas? From Tibet?? Well, in this part of the world Buddhist monks are commonly known as 'Lama's.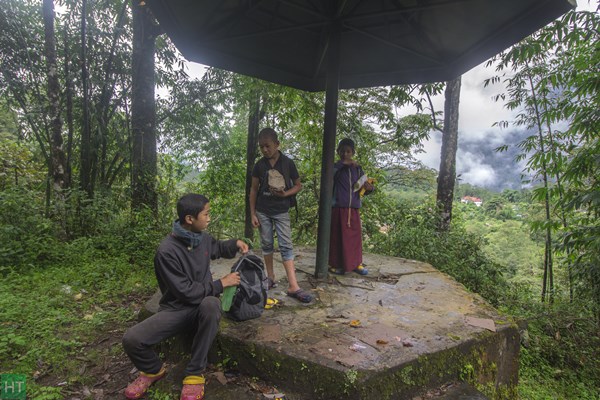 These three Lamas appointed Phun-tso-Namgyal (commonly referred as Phuntsog Namgyal) of Khe-Bhumsa's dynasty as the ruler of Sikkim in the year of 1642 CE. They gave him the title of Chos-r-Gyal / Chogyal (Dharma-raja or religious king). That means he had the total authority over the land and the beliefs of his subjects. He used to reign over a landmass many times the size of present day Sikkim. Yuksom would serve as the capital of this new found Kingdom of sikkim until 1670 CE when his son moved the capital to Rabdentse  near present day Pelling to defend against the invading Gurkhas. [I.S. Chenzong, History and Culture of Kirat People, Part I (Kathmandu : Pushpa Ratna Sagar, 1967)]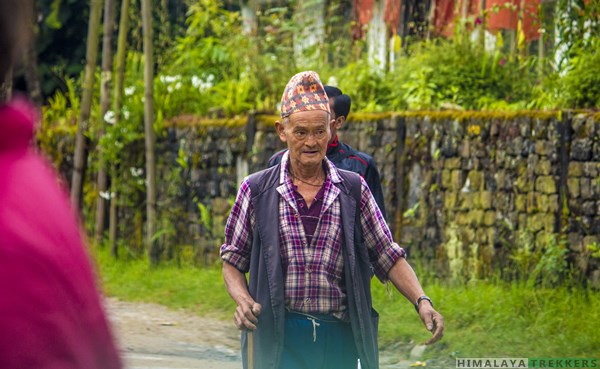 Little is known about the lifestyle and culture of the people who used to live here before 1640 CE. It's shrouded in obscurity. Most probably Lepchas, Magars and Limbu people used to live in small fiefdoms.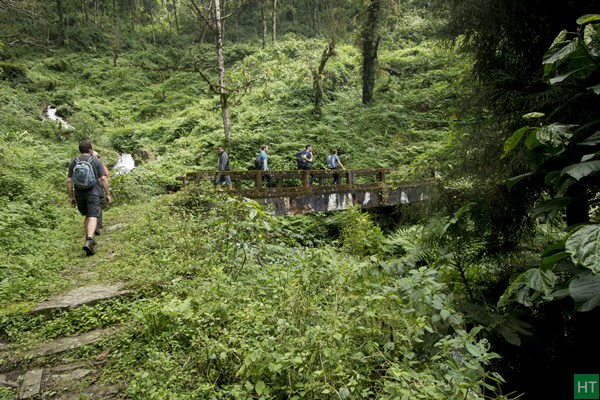 Places to visit around Yuksom:
Hysterical behaviour caused by continuous stress isn't that uncommon in this fast paced rat race that we call life for the last 200 years or so.  As one famous (or infamous) pervert pessimist philosopher of our era puts it, "Hysteria [in capitalism is] a rebellion of the subject against being reduced to usefulness." This rebellion is simply not required if you're spending a few days in the laid back atmosphere of Yuksom. The calmness in the air of this place will definitely prove to be quite effective if you're badly looking for a brief relief and want to blow off some steam.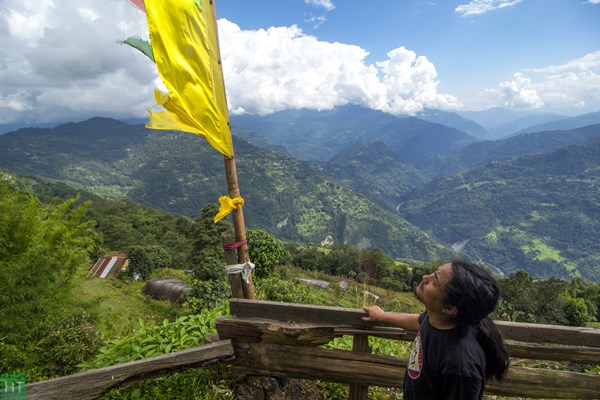 Within a few kilometres of this place there are many places to visit. Following is a list of some not-to-miss destinations.
Norbugang Chroten (Coronation Throne): Right at the heart of Yuksom stands a huge 400 year old Cryptomeria pine tree. Under this tree three lamas from Tibet appointed the first Chogyal (temporal king) of Sikkim, Phunktsog Namgyal, in the year of 1642 CE. This place is not only significant in the inception of Yuksom but is integrated in the essence of Sikkim itself.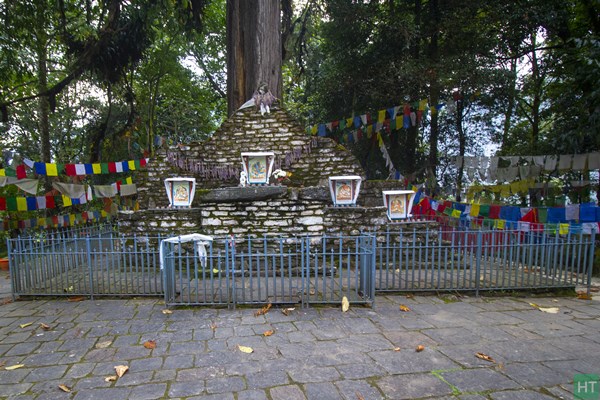 Kathok lake: This is a small to medium size lake in Yuksom and regarded as Bla-Sho or Soul lake. Lamas perform Tru-Sol or purification rite every year to retain its sanctity.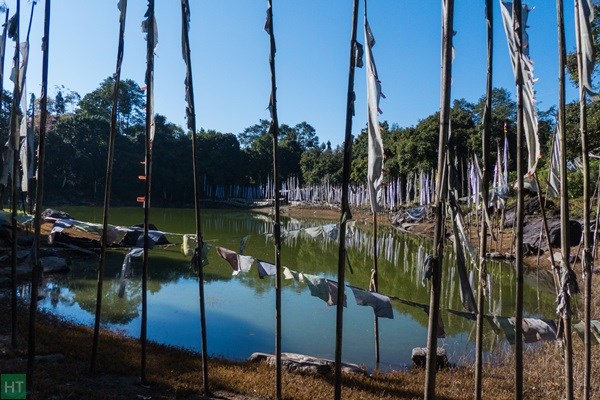 Dubdi Monastery: Built in the year of 1701 it is one of the oldest monasteries of Sikkim. Lieutenant Colonel Laurence Austine Waddell, the famous British explorer, defines the meaning of Dubdi as "The Hermit's Cell" in his book The Buddhism of Tibet (P. 285). Many sources also define the meaning of the name as "The Retreat." Though renovated a few times, the monastery still retains its old design and architecture. Approximately one hour of uphill walk from Yuksom through cardamom fields is quite rewarding.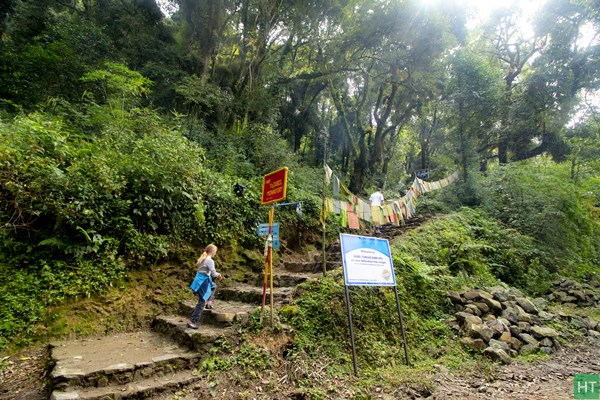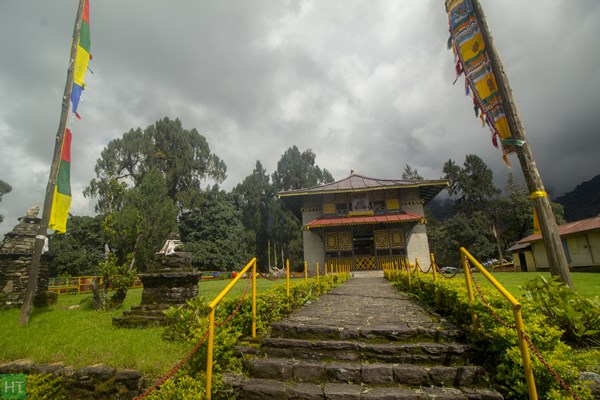 Tashiding Monastery : 20 km away from Yuksom this monastery was built on top of a hill surrounded by Rangeet and Rathong River. It was built in the year of 1717. According to wiki Tashiding means "The Devoted Central Glory." According to Lieutenant Colonel Laurence Austine Waddell however, Tashiding means "Elevated Glorious White Rock."(The Buddhism of Tibet, P. 258). This monastery is considered to be the holiest of all monasteries in Sikkim. So much so that it's believed that just touching the monastery will rid you of all sins committed in your life.  As per local legend Guru Padmasambhaba (or Guru Rinpoche) meditated on this spot while travelling to Tibet from Bengal on 8th century CE. The sacred Bhumchu (Bhum=pot; Chu=water) festival or "Holy Water Festival" is celebrated each year on the 14th and 15th day of first month in Tibetan calendar. Holy or not, this monastery located in majestic isolation is truly a sight for sore eyes.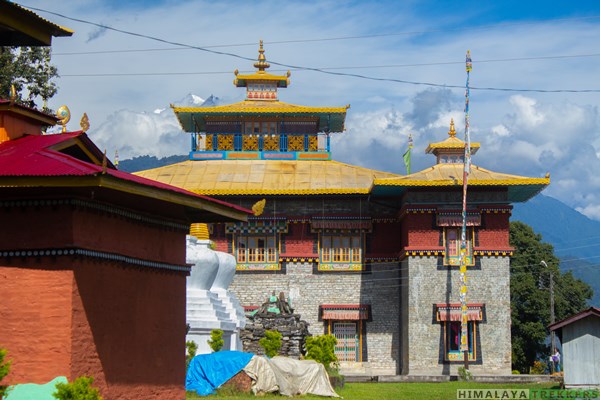 Rabedentse Ruins : In 1670 Chadok Namgyal, the second Chogyal of Sikkim, shifted his capital to Rabdentse to defend more effectively against the invading force of fearsome Gurkhas. It's approximately 40 km away from Yuksom. Situated on top of a ridge it provided an excellent wide angle view of the surrounding hills and proved to be a good look out point to spot any invading force. It would remain Sikkim's capital till 1814.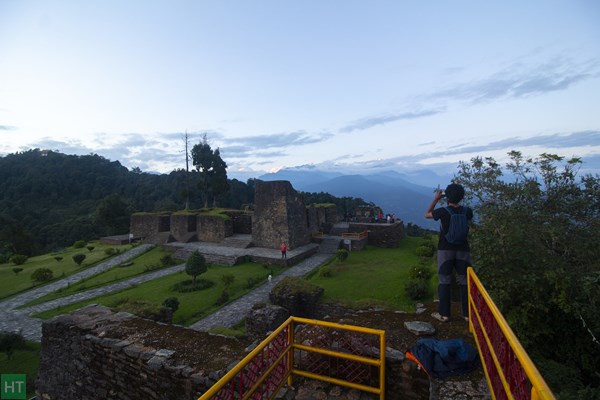 This place tells the story of Sikkim's past glory. The view of Mt Kanchendzongha  from here is quite captivating. The outlines of Pemyangtse Monastery is also visible from here.
Pemyangtse Monastery: About 30 minutes of brisk walk from Rabdentse will take you to this monastery. The monks Nyingmapa sect can marry and have children. So this monastery was built to house celibate "pure" monks (ta-tshang). Pemyangtse means "Perfect Sublime Lotus". The honour of anointing and crowning the Chogyal was reserved to the head Lama of this monastery.
The main attraction of this monastery however would be Sangtok-Palri. It's a wooden model of a celestial city full of sprits and living beings. It was envisioned by Lahtsun Chempo, the leader of the three monks who appointed the first Chogyal. He wrote about it in his autobiography. Later Lingpyo Rimpoche, the great artist who designed the dancing masks of Sikkim, spent three years visualising and building it. He didn't use a single nail in this large doll house structure. The details and intricacies of the structures are fascinating. Only one such model exists and it's preserved in Pemyangtse monastery.
Khecheopalri lake: This lake is 27 km away from Yuksom. You can visit this lake the same day you visit Pemyangtse, Rabdantse. This lake is uniquely shaped like a footprint. This shape is clearly visible from Bajre Top. Courtesy to our fertile imagination it's not a surprise that there are many legends about this lake. Some say it's the footprint of Goddess Tara, some say it's lord Shiva's footprint. As per Buddhist folklore it's Buddha's footprint. According to another Buddhist legend this lake is an abode of 'Tsho-sMan Pemachen' the protective Nymph of the Buddhism.
As per another legend, long long time ago this place was a grazing ground full of stinging nettles. Lepchas used this plant for multiple purposes. One day a Lepcha couple were collecting barks of this shrub. All of sudden they heard a strange sound coming from above. Looking up they discovered a pair of conch shells flying towards them. Those conch shells entered into the ground near them and the ground started vibrating. A spring of water started coming out of the ground and formed this lake. Yes this legend is published in the official website of the Ecclesiastical Department of Govt of Sikkim.
As you must have noticed by now places around Yuksom is full with centuries old Buddhist monasteries. Here we have mentioned the monasteries connected by motorable roads. There are also monasteries like Hongri Gompha, Sunon Gompha etc far interior not connected by motorable roads. We have a tailor made Sikkim monastery circuit homestay tour designed for the more adventure minded people covering those monasteries. If you have 3-4 days to spare, exploring these villages embedded deep into the forests would be a once in a life time experience.
Where to stay:
There are ample options available ranging from standard hotels to budget hotels here at Yuksom. Homestays are available little away from the main Bazaar area.
You can book few standard hotels online directly. For homestays you can mail/call us. We can book rooms at homestays as per your choice. During peak trekking seasons (Mar to May & Oct-Nov) it's better to book your accommodation beforehand. As mentioned before Dzongri and Goecha La is quite popular in the trekking community and these treks start from Yuksom.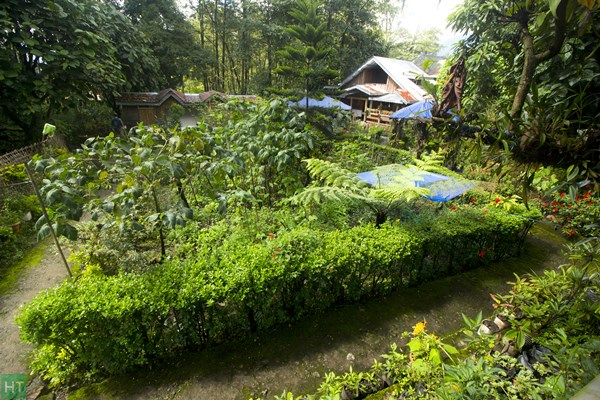 Where to eat in Yuksom :
The standard hotels have their own restaurants and they serve food. Apart from those there are a number of small eateries available around the main street Bazar (market) area of Yuksom. These serve both vegetarian and non veg items, ranging from Indian, Chinese and basic continental.  If you are spending nights at homestays, the homestay owner family can cook food for you on request.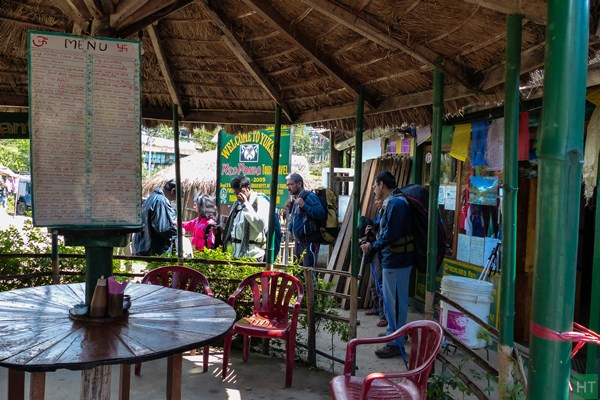 If you don't mind a local liquor then you must check out a local drink called "Tongba". It's a millet brewed mild alcoholic drink served with hot water in a bamboo container.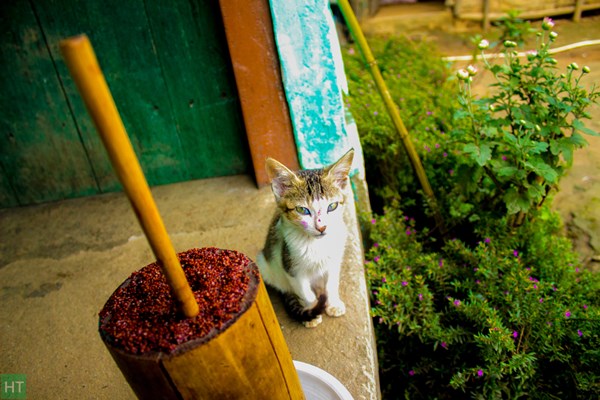 ATM & Mobile connectivity :
All major mobile networks work at Yuksom. Data reception is not that strong in the Bazar (market) area. If you go to any of the surrounding higher elevation areas like Yuksom Colony or Guffadara you get 4G data reception.
There's no ATM at Yuksom. The nearest ones are at Pelling and Legship. Both places are approx. 40 km away from Yuksom.
We would be more than happy to help you with any travel or tour related enquiries. We are available over email, phone and WhatsApp. Mon to Sat: 10 am to 8 pm.