Changabang North Face
Changabang (6864 mt) is one of the most magnificent mountains in the world, located in the Garhwal region of the Indians Himalayas. Its north face is one of the most impressive walls for elite climbers. The vertical steep labyrinth of rock and ice has attracted some of the most ambitious climbers and alpinists from around the globe.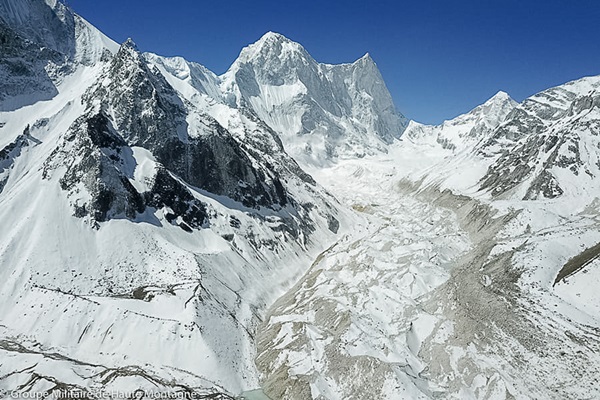 The first ascent of the peak was done from the west face by none other the famous British trio of Chris Bonnington, Dough Scott and Dugal Haston on 4 June 1974. In 1976 Peter Boardman and Joe Tusker climbed the impressive west wall. They climbed the technically difficult and steep rock wall using BIG WALL technique over 25 days. It was a revolutionary climb during that time.
In 1997 another British team left their mark on Changabang. This time Andy Cave, Mick Fowler, Brendon Murphy and Steve Sustad climbed the steep north face in alpine style . A highly difficult face which involves vertical ice mixed and rock climbing.   The team stuck with a tragedy on descent, Sustad fell and broke his rib, and Brendon was swept off by an avalanche.
The BIG Wall of the north face was climbed in 1998 when Carlos Bulhar with his Russian team mates put up "The lighting route 1500mt 5.9 A4 WI4.
In recent times a team of mountain guides from Chamonix comprising Leo Billion, Sebastein Moatti, and Sebastein Ratel made an impressive alpine style repeat of the north face in jist over 3 days on 11 to 13 May2018. Which showcase the advancement of the light and fast approach in the Higher ranges.
The North face of Changabang is one of the most breathtaking feature of the Indian Himalaya and remains indeed a prized objective for the world's most ambitious alpinists.
Photos are copyrighted to Le Groupe Militaire de Haute Montagne (http://www.gmhm.fr/)
We would be more than happy to help you in arranging logistics and basecamp support for climbing in Indian Himalayas. We are available over email, phone and WhatsApp.