About the trail:
The crossing of Umasi La at ~ 5300 m/17385 ft is an extravagant trans-himalayan trek that connects Kishtwar in Jammu and Kashmir to the Zanskar region in Ladakh. Due to its difficulty in arranging and approaching, it is rarely visited by trekkers. Although somewhat visited by climbers and mountaineers around the world for its abundance of world class high altitude climbing opportunities.
This trail is a true crossover trek in nature, where the pass itself is on the Great Himalayan Range. We start from Paddar Valley in Kishtwar and finish near Padum in Zanskar Valley, cutting through the Great Himalayan Range at Umasi La. Let us see the trail and area map below: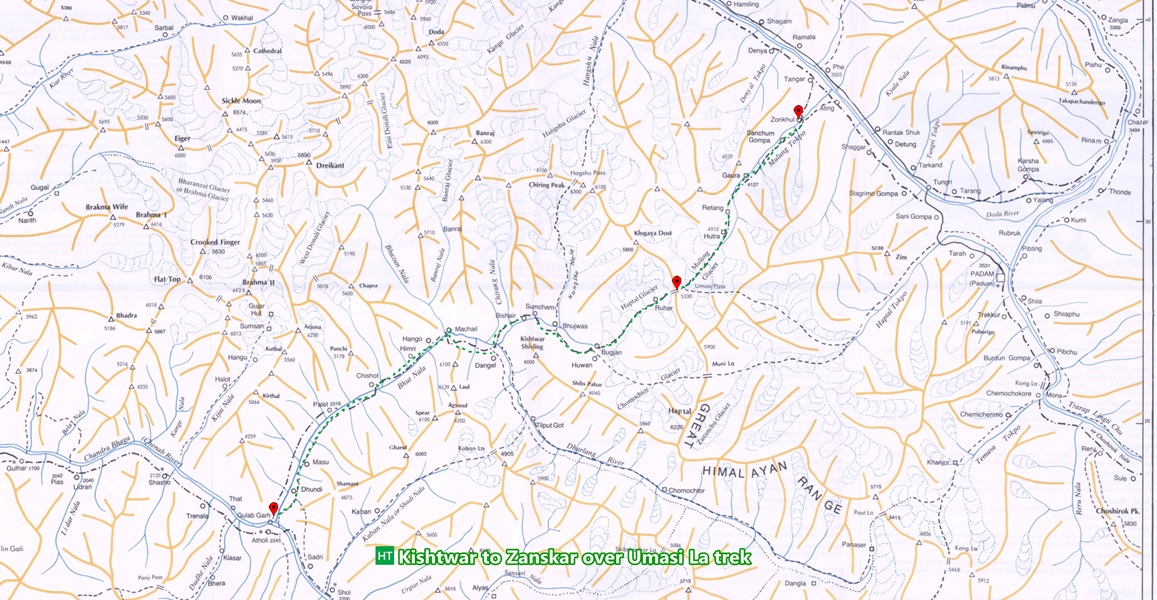 There are all the right reasons why experienced high altitude trekkers may consider the Umasi La trek on their life's adventure list. The trail is a perfect blend of mountain landscapes, with the opportunity to walk on different types of mountainous terrain that may test one's nerve and expertise. Starting from green Kishwar valleys, gushing streams, and waterfalls to a different landscape of Zanskar while crossing some serious glacier, moraine, and rock zones at times coupled with steep slopes around Umasi La.
Not only the natural beauty but also the cultural aspects are not to be missed on this particular trail. It's a lifetime's opportunity to observe Muslims and Hindus in the Kishwar region, while Buddhists are in Zanskar.
Because of the challenging logistics, this trail often remains off the list for many avid trekkers.
Check out the amazing trip report and photos of Jean Claude Latombe here in Parts I, II, and III.
Trek Highlights:
 Location: Kishtwar in Jammu and Kashmir to Zanskar in Ladakh.
Duration: 9 to 10 days of trekking. Delhi to Delhi in 14 days.
 Access: Reach New Delhi then take overnight Volvo bus service (from Kashmiri Gate ISBT) to Manali (~ 550 Km, 13 to 14 hours. From Chandigarh, Manali is approx 10 hour's drive (~ 300 Km).
Nearest Rail station: Chandigarh (CDG).
 Airport: Delhi
 Prerequisite: Prior multi day high altitude trekking experiences are mandatory, at least 5/6 such treks are highly advised. Good physical fitness is a must.
 Grade: Difficult
 Highest Point: Umasi La ~ 5300 m/17385 ft
Physicality: 8.5/10
 Trail Length: Approximately ~ 130 Km
 Seasons: July to September
Suggested itinerary for Umasi La trek:
One may start this trek either from Gulabgarh in the Kishtwar region or from Leh/Padum in the Ladakh/Zanskar region. The logistics of the trek can be arranged either from Manali or Leh.
Here we start from Manali in the Kullu Valley while crossing some of the most dramatic and adventurous sections of road in the Himalayas. The road goes through Lahaul, then enters the remote Pangi valley, and finally reaches Gulabgarh in Kishtwar.
Day 1: Arrive Manali from Delhi or Chandigarh etc. Hotel/Guest house. You may have to stay another day here in case you setup your logistics from Manali. Make sure you carry rope, anchoring device(s), and ice axe(s).
Day 2: Drive from Manali to Gulabgarh town (~ 1800 m/5900 ft) through Atal Tunnel, Tandi, and Killar. Approx. 10–11 hours, 235 Km. Lodge/rest house. Complete the permit and police registration processes.
Day 3: Now the motor road goes approx. 7 to 8 Km on the dirt road and then trek to Chishot (2400 m), taking 5 to 6 hours. Camp beside the village.
Day 4: Trek to Machail village (2750 m) following the Bhot Nala. Up to Machail, the trail is a famous Hindu pilgrimage to Machail Devi Temple and is called the Machail Yatra. Camp at a suitable spot.
Day 5: Trek to Dangel village (2900 m), 4–5 hours, camp.
Day 6: Acclimatisation along Darlang Nala, a beautiful multiple glacier-fed valley, and back to Dangail Read about an exploration of the Donali glacier on this side of the valley . The main trail goes to another difficult pass in this region named Poat La, connecting to Zanskar at Bardan monastery.
Day 7: Follow Bhujwas Nala, cross the Sunchum area, and walk further to Bhujas camp at ~ 3900 m. 7/8 hours.
Day 8: Trek to Khachey Phangsa/Bugjan area ~ 4500 m. 5-6 hours.
Day 9: Trek to Pass Base/Ruha area ~ 5000 m, 6–7 hours.
Day 10: Cross Umasi La ~ 5300 m and descend to Nebber ~ 4500 m, 8 to 10 hours.
Day 11: Trek to ~ 3900 m Dzongkul Gompa, camp overnight. 4-5 hours.
Day 12: Drive to Padum in Zanskar ~ 30 Km, 1 and a half hours, or to Leh ~ 450 Km. On the way from Kargil, one may go either to Srinagar or Leh.
Day 13: Buffer day.
Day 14: Fly back to Delhi from Leh.