About the trail:
This is an enterprising route that we propose for those who love to spend and explore longer durations on the mountains and explore the area from almost all possible angles.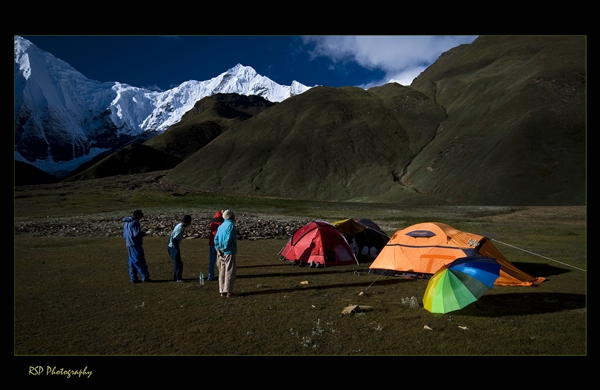 Our trail is above Munsiyari, following Gori Ganga valley and its tributary Ralam Gad, which are connected by Brij Ganga Dhura (pass), the same as Ralam Khal (as shown in the map below). It is different from Ralam Dhura or Ralam Pass (~ 5,500 m), which connects Ralam Valley to Darma Valley towards the east. This area is in the heart of the Kumaon Himalayas and just outside the northern wall of Nanda Devi Sanctuary. Let's check the map of the area below: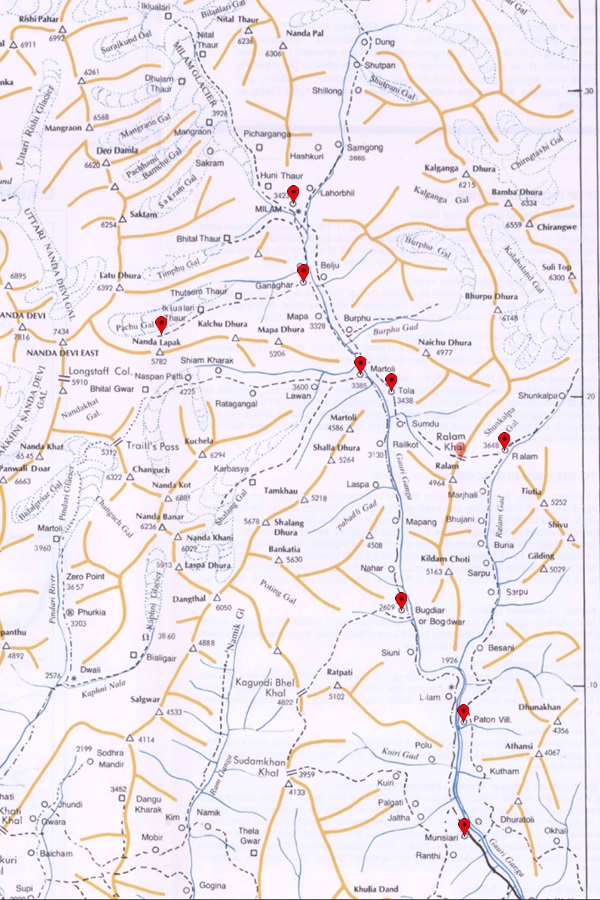 Our route will start from Munsiyari and initially follow the Gori Ganga valley and its tributary named Ralam Gad (river), which is north-east of Munsiary. After exploring the Kalabaland glacier area at the head of the Ralam valley, we finish the first phase of the trek.
During the second phase, we connect Ralam valley to Milam milam valley over Brij Ganga Dhura pass, at 4665 m/15310 ft, which is situated on the ridge above Ralam village. From the pass, we get one of the best views of the Himalayas one may ever get. Towards the north, at the head of Kalabaland glacier, visible peaks are Barphu Dhura, Kalaganga Dhura, Bamba Dhura, Chiring We, and Suitilla. Towards the north-east, at the junction of Sankalp and Yankchar glaciers, you can see Rajrambha, Chaudhara, and Shivu peaks. But the best view is on the west, where the entire northern wall of the Nanda Devi Sanctuary is clearly visible, with the twin peaks (Main and East) dominating the heights on the left. From the pass, we descend to Tola village, which is in the Milam valley. From here, we follow Gori Ganga upstream to Milam village, the last village on the route.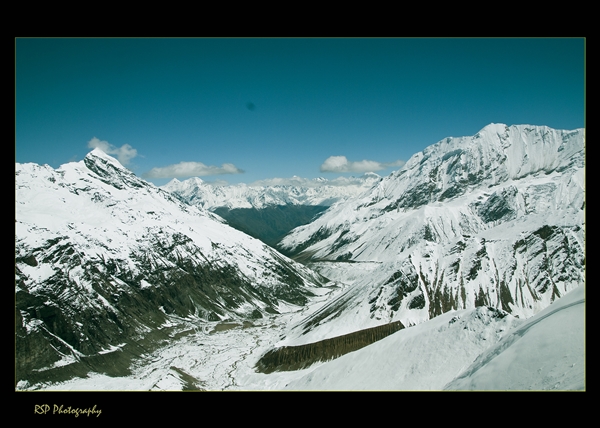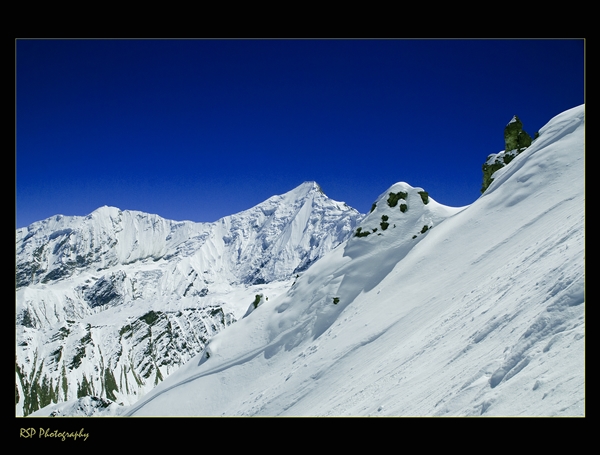 The third phase of the trek is a side valley detour towards Nanda Devi East base camp while returning from Milam. We get inside the valley between Ganghar and Pachu villages, which are situated on the true right of the Gori Ganga and opposite banks of the side streamr and Pachu villages, which are situated on the true right of the Gori Ganga and opposite banks of the side stream. We camp at the head of the valley to get breathtaking views of Mt. Nanda Devi. Finally, we trace back our path via Martoli to Rilkot and Munsiyari.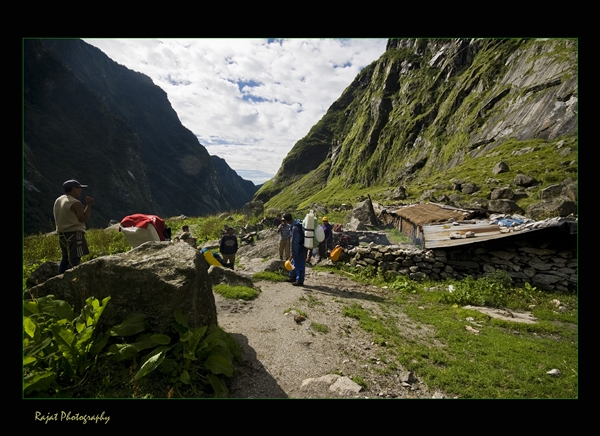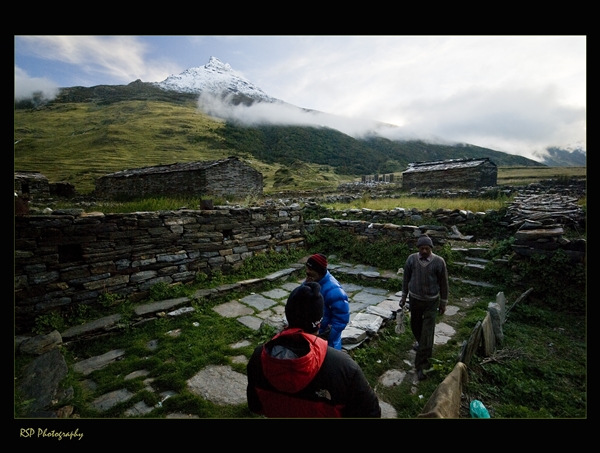 Trek Highlights:
 Location: Uttarakhand, Kumaon division, Pithoragarh district. Basecamp Munsiyari.
Duration: 12 to 14 days of trekking. Kathgodam to Munsiyari and return in additional 2 days.
 Access: Reach New Delhi then take overnight train or Volvo bus service (from Anand Vihar ISBT) to Kathgodam. Overnight and day time trains and buses are available between Kathgodam and Delhi (6 to 8 hours).
Nearest Rail station: Delhi or Kathgodam (KGM).
 Airport: Delhi
 Prerequisite: Prior multi day high altitude trekking experiences are required, at least 4/5 such treks are highly advised. Good physical fitness is a must.
 Grade: Difficult
 Highest Point: Brij Ganga Dhura Pass ~ 4665 m/15310 ft
Physicality: 8/10
 Trail Length: Approximately ~ 130 Km
 Seasons: May/June and Sep/Oct
Suggested Itinerary for  Ralam village & glacier base + Milam village & glacier base + Nanda Devi East Base camp trek:
This is only an indicative itinerary, and the assumption is that you are a seasoned high altitude trekker who also has reasonably good physical fitness. Note that actual trail length can vary to some extent, and the distances and times mentioned are gross approximations. This also depends on your pace and your idea alone. Keep adequate buffer days or split the itinerary as per your conditions.
Stay options: There are plenty of wonderful grounds along the valleys to camp on. Inside the Milam Valley stretch, you can get basic food to eat and shelter to sleep at tea houses inside the villages along your way. These shelters, or lodges, are seasonal when villagers stay here. These used to be the main trade routes between India and Tibet, which closed after the Sino-Indian War of 1962. Villages have decayed continuously, and hardly a few people live in the summer and monsoon while others shift elsewhere towards the plains. This area is also called Johar Valley, named after the Johar people who live here, a Tibeto – Burman ethnic group.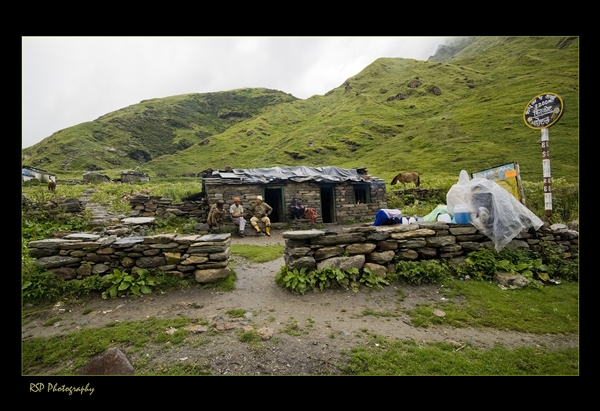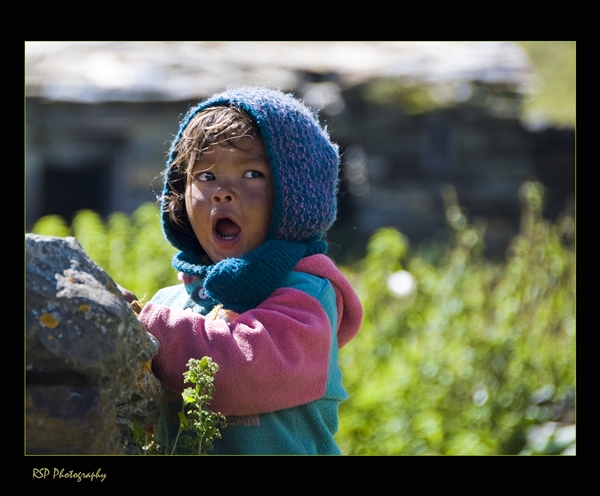 However, camping is a must to complete the full route. You have to carry logistics to camp for Ralam Valley, cross to Milam Valley, and stay at Nanda Devi East base camp.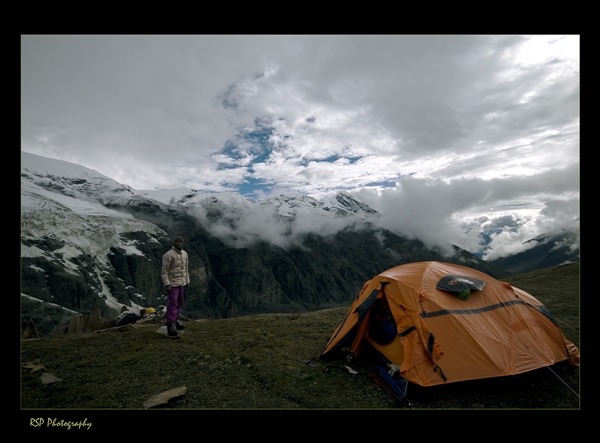 Day 1: Arrive Kathgodam or adjacent Haldwani city by 6 am and drive to  Munsiyari (~ 2200 m/7215 ft). The long journey via Almora and Berinag is approx 280 Km and can take 11 to 12 hours. Lodge/Hotel
Day 2: Arrange your trek logistics, provisions, guide/porters and permits etc. at Munsiyari. If this is already done, Munsiyari is a perfect place to stay for a day and hang around a bit. It is a cluster of villages nestled on the the slopes of the Gori Ganga valley with fantastic views of the peaks around. Lodge/Hotel
Day 3: Now the motorable road reached almost till the Lilam village. Drive an hour or so, 18 Km and then trek 3 Km to Lilam. From Lilam continue to Gori Ganga river bridge, cross and take true left of the river. From here ascent till  Paton village (2150 m/7050 ft). Total 8 Km, 3 hours. Camp/Tea House.
Day 4:  Paton to Sapo Udiar (3015 m/9890 ft) – 15 Km – 7/8 hours. Camp.
Day 5: Sapo Udiar to Ralam village (3650 m/11975 ft)- 16 Km – 7/8 hours. Camp/Tea House.
Day 6: Ralam to Kalabaland glacier snout or some high points exploration for wider or better views and return – 12 Km – 6/7 hours.
Day 7 Ralam village to Brij Ganga Dhura pass (4666 m/15310 ft) also called Ralam Khal –  descent to campsite (3700 m/12135 ft) over Tola village. 12 Km – 7/8 hours.
Day 8: Tola village – Martoli Village – Barphu – Bilju – Millam village – 14 Km – Camp/Tea House
Day 9: Milam village – Milam glacier – back to Milam village – 12 Km – Camp/tea house or basic lodge may be available.
Day 10: Trek to Nanda Devi East Base camp  from Milam village – 11 Km – 6 hours. Camp at a suitable spot. While returning from Milam cross the Gori Ganga river near Barphu and take the true right of river. Get inside the side valley towards east going  left to you from Ganghar village.
Day 11: Nanda Devi East Base camp  (explore Pachu glacier ) – Ganghar Village – Barphu village – Martoli village – Stay in camp or tea house.
Day 12: Martoli – Tola – Rilkot village – Bugdiar village. Stay in camp or tea house.
Day 13: Bugdiar – Lilam village – walk to road head – drive to Munsiari. Lodge/Hotel.
Day 14: Drive to Kathgodam, 11/12 hours, 28 Km.
All Photos are shared by Rajat Subhra Pal