Which are the best winter treks in India?
Winter treks on the Himalayas means snow treks to most of us. Yet snow is not the only reason that you should consider a winter trek. Usually weather on the Himalayas remain clear and cloud free in winters, unless it is snowing.
Before getting into which are the best winter trek in India, let us know few facts at first. Hopefully this will help you to get a basic understanding of snow conditions in winter treks. Also this be useful just not to follow any X, Y, Z list of best winter treks, blindly!
December to February is the time you look for a winter snow trek. Amount of snow depends primarily on the particular time that you choose. Also it varies to an extent from one trail to other, at any given time.
As the winter progresses, snowing intensifies. Later in winter, more is the snow. At times, probably too much to trek!
So,  snow depends from one trail to other?
Yes, it is due to the varying latitude within Himalayas. Higher latitude i.e. northerly areas would normally attract more snow. As a result, you can expect increasing amount of snow moving from Sikkim/Darjeeling to Uttarakhand, Himachal Pradesh and Kashmir. This is the reason that you normally don't find  winter treks in Himachal (very limited short day hikes within ~ 3000 m/10000 ft) or treks in Kashmir.
Check here for our latest offbeat and new winter trekking routes for 2021-21 winters, if you are typically looking far away from crowd.
Comparison of top 5 winter treks in India:
What are the most visually appealing winter trails in India? In my opinion, this is a perspective driven answer and you may not agree with me. Despite some similarities in the winter treks, each trail is indeed an unique experience. In fact all the trails mentioned below are the top qualifier for the best winter treks in India.
Let us compare the following winter treks with respect to certain attributes and elements that you can decide on your suitable winter trek. Remember that this list is not based on any order of preference. To keep it simple and short we will compare these beautiful and popular trails during winters:
Departure dates: Every weekend from mid December to mid March. 6 days and 5 nights, Kathgodam to Haridwar.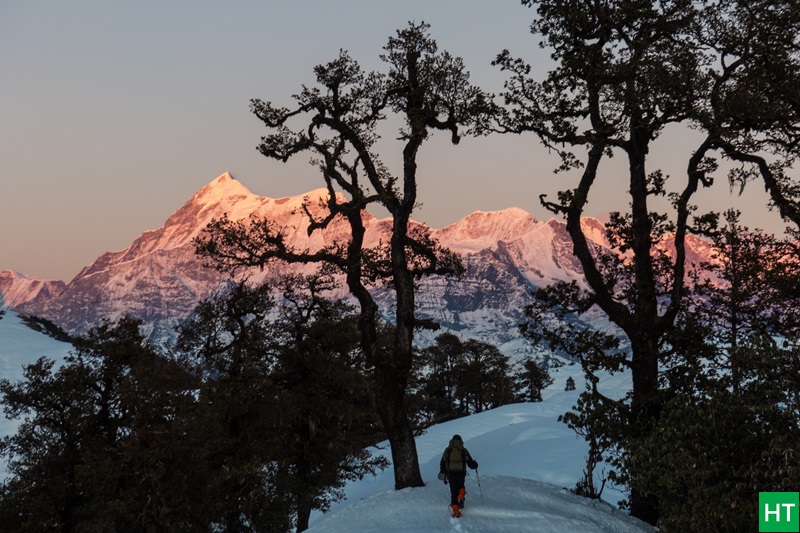 Rarely you will find a gifted trail with so many surprises, yet accessible in winter. Dense forests in the beginning, suddenly stepping into alpine meadows, stretched with the vista of Garhwal and Kumaon peaks. Two hidden lakes and towering duo – Trishul and Nandaghunti peak as you gain altitude. Although Khamila top above Brahmatal lake is challenging to climb in deep snow but unfurls another stretch of peaks. You can see Chaukhamba, Neelkanth, Hathi, Ghoda and several central Garhwal peaks around Badrinath area from the top.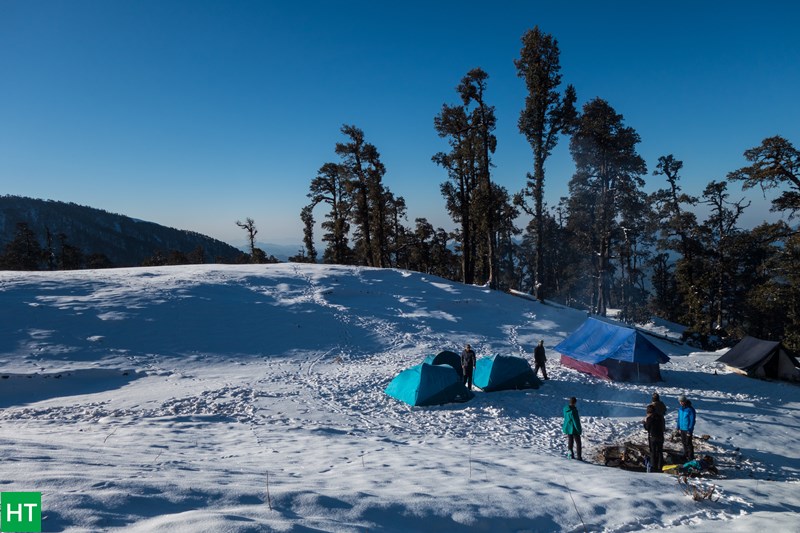 Being in eastern Garhwal and centrally located within Uttarakhand, this trail usually gets late snowfall than its western counterparts. Therefore you can expect snowing and deposited snow from late December. Also the amount of snow is general less than western Garhwal and making it a rather conducive trekking trail in January and February. However there are instances of heavy snowfall by mid December, though not normal.
Departure dates: Ever weekend in December and some more in January and February. 6 days and 5 nights, NJP to NJP or Bagdogra.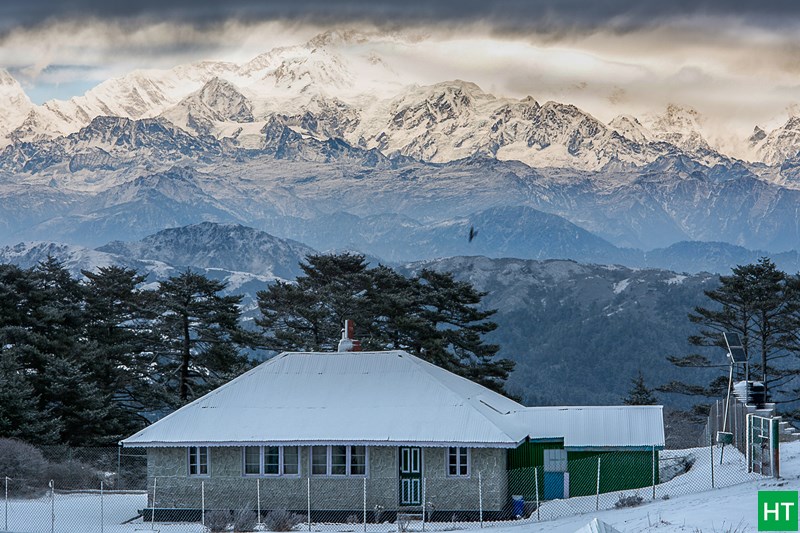 Sandakphu is probably the finest ridge trek in India, bordering Darjeeling in West Bengal, India and Nepal. Eastern Himalayas are known for its prolonged monsoon, and winter is a reliable season for great views of the high mountains. This trek is also unique for to its well recognised Tea House mode, thanks to neighbouring Nepal. Singalila ridge is famous for its absorbing views of surrounding high mountains of Sikkim and Nepal. Kanchenjunga massif, along with other peaks forming Sleeping Buddha is the central highlights of this trail.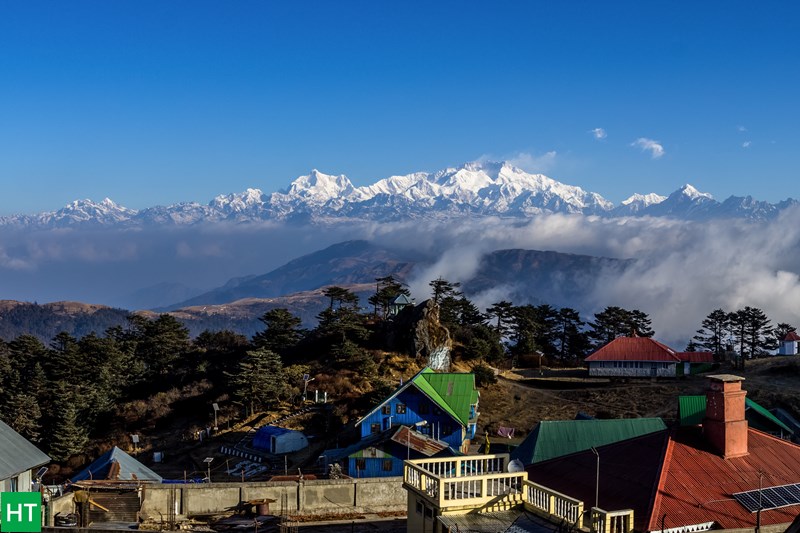 This entry in our list is not primarily due to snow. Rather because of fantastic views of Kanchenjunga and occasional fresh snow. As mentioned before, due to its eastern Himalayan location and hence the lower latitude results into less snow than Uttarakhand treks. The chance of snow is more in January or February.
Departure dates: Every weekend from beginning of December to end of January. 6 days and 5 nights, Dehradun to Dehradun.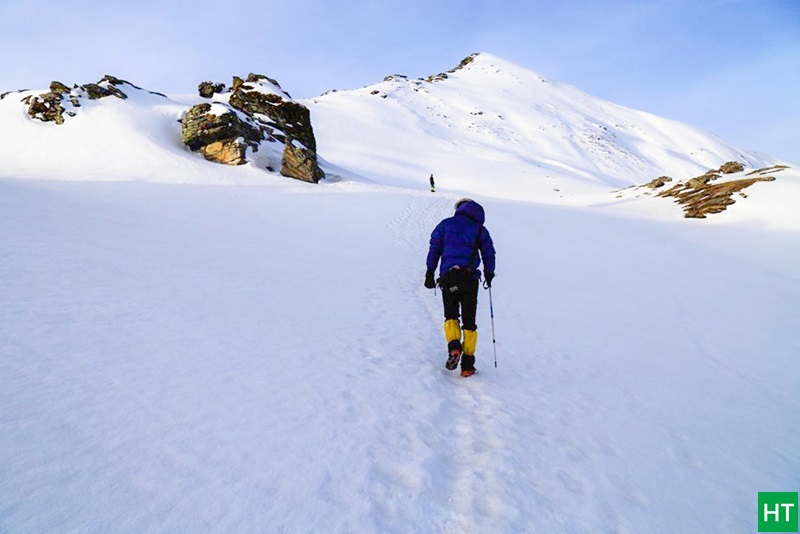 This relatively soft trail is a short hike to the peak called Kedarkantha only 10 odd Km from Sankri. A perfect winter trek for people who want more from an adventure vacation trip. The trail offers good amount of snow hiking, filled with fun. Sometime trudging and at time glissading on snow.The peak offers a magnificent sunrise with panorama of peaks, some standing pretty close like Swargarohini and Black peak.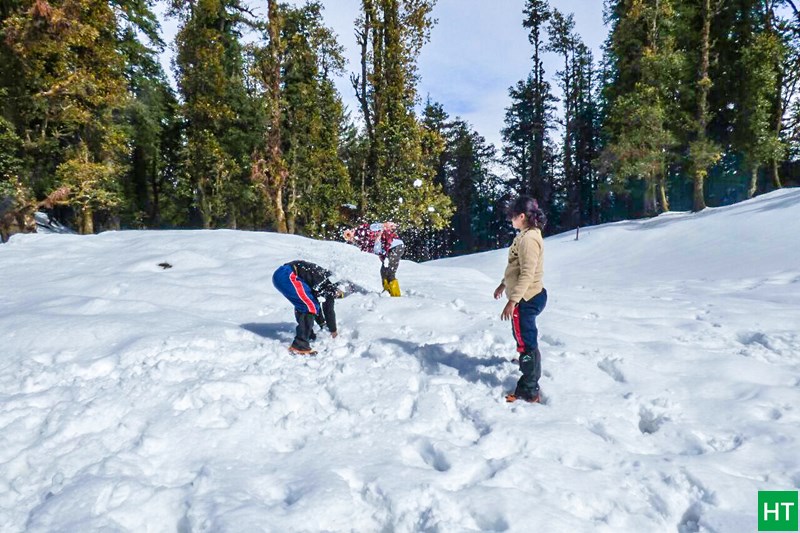 In the first place, this trail is in far western Garhwal, bordering Himachal Pradesh. Additionally, Kedarkantha peak is the highest point in the vicinity. Therefore it is safe to assume that this trail will receive earlier snowfall than other trails within Uttarakhand. Generally snowfall starts from the beginning of December and continues till February or even in March. Usually snow conditions are harsh during late winter, i.e. late January to February.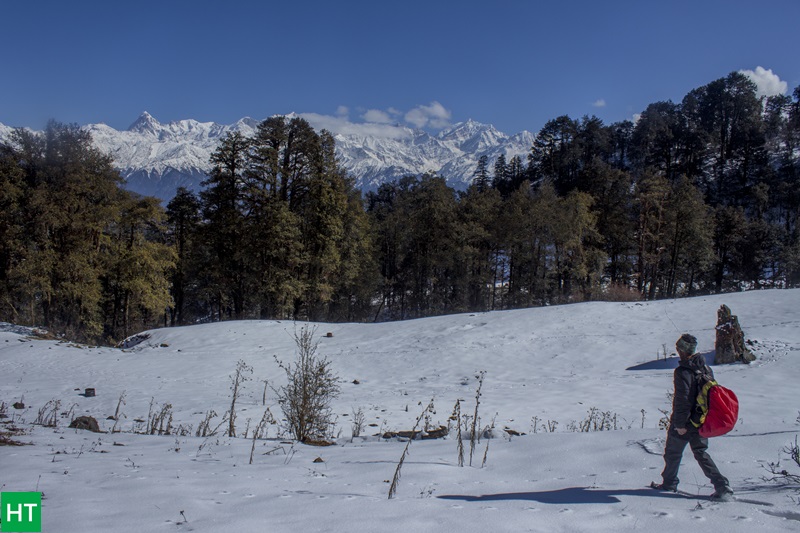 Dayara Bugyal, an alpine meadow surrounded by dense alpine forest and above Bhagirathi River valley. This trail going up to 12000 ft is near Uttarkashi , western Garhwal region,Uttarakhand. The highest point of the Bugyal offers a magnificent 360 degree panoramic view of mighty snow clad Himalayan peaks like Bandarpoonch, Jaonli, Rudragaira, Srikanth, Gangotri– I, II etc. which is adored by amateur and veteran trekkers alike.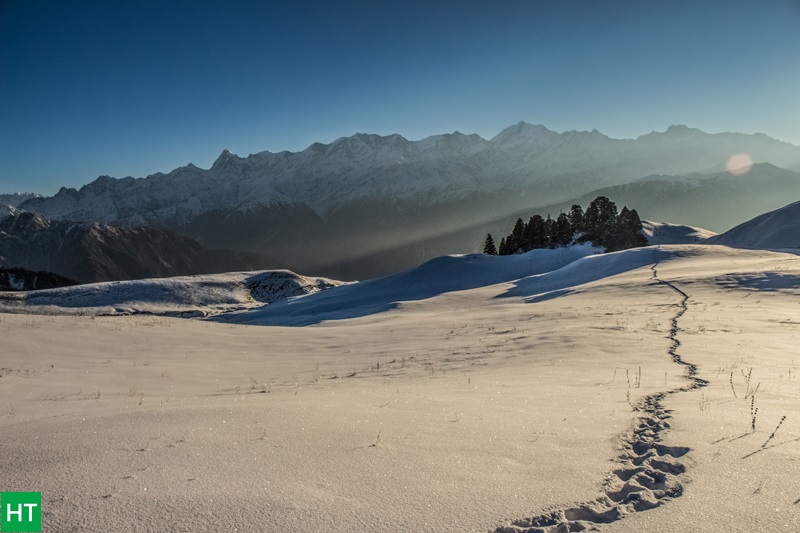 This trail normally gets some snow from mid of December. Entire January and February you should get moderate to heavy snow. Snow may remain as late as April, depending on a particular year.
Often Kuari Pass is referred to as the most panoramic pass in Garhwal. Peak views are overwhelming throughout the trail and ~ 180° from the pass. The trail is above Joshimath and is in central Garhwal.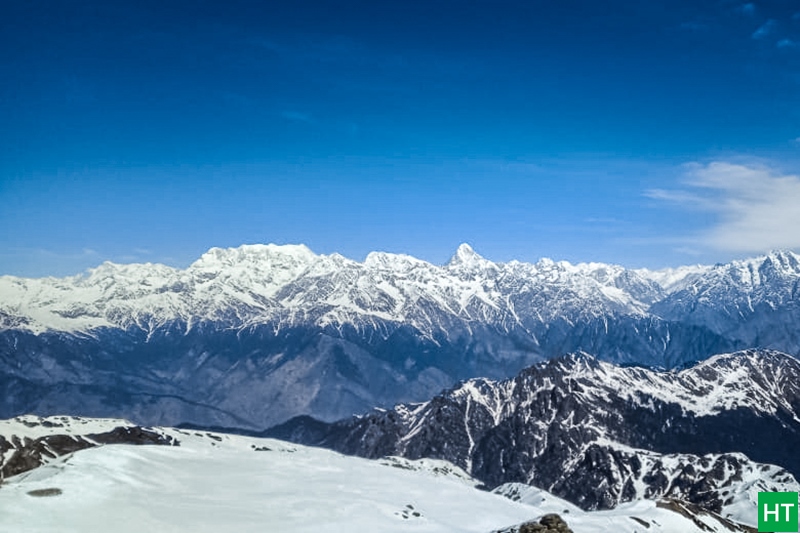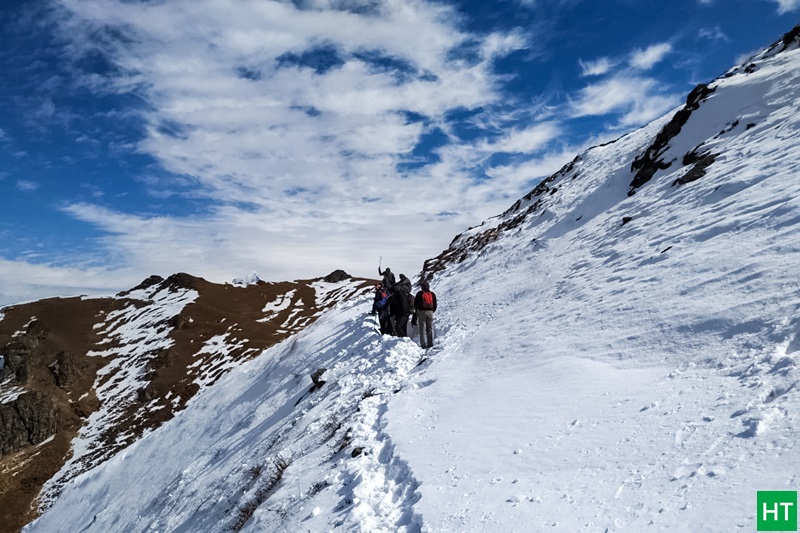 Side by side comparison of popular winter treks in India:
Below we will carefully look in to various attributes of these treks and compare side by side.
Comparison of winter treks in India

| | | | | | |
| --- | --- | --- | --- | --- | --- |
| Attribute | Brahmatal | Sandakphu | Kedarkantha | Dayara Bugyal | Winter Kuari Pass |
| State | Uttarakhand | West Bengal | Uttarakhand | Uttarakhand | Uttarakhand |
| Region | Eastern Garhwal | Darjeeling | Western Garhwal | Western Garhwal | Central Garhwal |
| Duration | 6 days | 6 days | 6 days | 5 days | 5 days |
| Grade | Easy | Easy | Easy | Easy | Easy |
| Physicality | 5.5/10 | 5.5/10 | 5.5/10 | 5/10 | 5.5/10 |
| Highest Altitude | 4000 m/13120 ft | 3636 m/11925 ft | 3820 m/12500 ft | 3660 m/12005 ft | 3850 m/12630 ft |
| Trail Length | 30 Km | 45 Km | 25 Km | 25 Km | 25 Km |
| Trek Mode | Camping | Tea House | Camping | Camping | Camping |
| Major attractions | 2 alpine lakes, walking on a stretch of alpine meadows, close view of high mountains and a summit. | Stunning panoramic view of high mountains, Sleeping Buddha, Buddhism and culture. | An alpine lake, a summit with abundant panoramic views, charming campsites and forest walk. | Alpine meadow, river valley and panoramic view of high mountains, pristine forest and campsites. | Spectacular panoramic views of central Garhwal peaks, stunning alpine meadow walk o Gurson Bugyal, views from Auli. |
| Prominent peaks | Trishul, Nanda Ghunti, Mrigthuni, Chaukhamba, Hati Ghoda, Neelkanth | Kanchenjunga, Kumbhakarna, Everest, Lhotse, Makalu, Pandim | Swargarohini, Black Peak, Bandarpunch | Srikanth, Jaonli,Bandarpunch, Black Peak. | Hati Ghoda, Neelkanth, Nanda Devi, Chaukhamba, Dunagiri, Kamet, Mukut |
| Normally Snowfall begins | Late December | January, rare | Early December | Mid December | Early December |
| Normally Snow remains | Late December to mid March. | Late in winters, January and February. | Early December to mid April. | late December to mid March. | December to Early April. |
| Disadvantage | You may not get adequate snow in December. | Snowfall is less during winters. | Late January and February may have too much of snow. | You may not get adequate snow in December. | January and February may have too much of snow. |
| Best time for conducive snow trek | January and February. | January | Early December to Late January and March April. | January and February. | December and February to late March. |
I am hopeful that  you have clearer idea about all popular winter trails in India by now. Now it is up to you to choose one which trek is probably the best for as your next trek. We will definitely help you out with finer details, in case you are still not sure. 😎 .
Additional Notes: 
I din't consider Chadar trek as essentially its a winter only trek (best from mid January to mid February). Moreover we are keen to protect the over commercialised trail and hence don't operate on this trail, starting from 2016.
From 2016-17 winters, no permit is issued for Har Ki Dun trek during mid December to February. Hence this is out of scope at present for winter treks.
Snow conditions are changing more frequently in recent years. In 2016, first snowfall occurred only in late December, be it Uttarakhand or even Himachal.
There are additional trails, which are stunning, yet offbeat  and possible to hike during winters. Notable ones are Dodital trek, Ali & Bedni Bugyal trek, Phoktey Dara trek, Chopta Chandrashila trek, Bajre Dara Trek, Barsey trek. We will  discuss and compare these trails separately.