The tour would be for two people, starting around mid November. Both of us are mountain guides and endurance athletes in the USA Rocky Mountains and feel very comfortable at altitude and doing long hikes. Our original plan has been to camp, bringing gear with us and trekking without a guide. With that in mind we are certainly interested in more challenging days if we pivot to a guided tour.
Typically, late autumn, i.e., November, is not conducive to high altitudes (camping at or above ~ 4000 m/13000 ft) in the Western Himalayas. It is mainly due to the chances of snowfall, cold conditions, or a scarcity of water. Additionally, permits for these treks are getting more difficult to get during this time.
However, your time to visit the Himalayas is perfect to get clear autumn weather; climate change is very clear in the Himalayas. As a result, things are more complicated at higher altitudes.
We had a friend recommend you all due to your flexibility in creating tours and tailored recommendations. We are interested in an itinerary that has both a homestay and a camping style. Also curious if it might be possible to do a combination?
Taking into account your experience and expectations, we may propose an interesting hiking option to you. That trail is on the far eastern side of Garhwal, bordering the Kumaon region. We can focus on the Ali Bedni Bugyal trek while extending it from the Bagji Bugyal side. Then possibly making a summit attempt to Roopkund (~ 4800 m) as well. Camping above Ali Bugyal is banned (that is, the trek is closed at present), but attempting Roopkund and returning in a day is not restricted. The entire trail offers magnificent high mountain views as well as splendid alpine meadows, locally called "Bugyal". You get panoramic views as well as fairly closeups of the high peaks. In between, you will get the opportunity to stay in really interior Himaayan villages and eat as the locals do. We will combine both camping and homestays to do the same.
Moreover, there will be hardly any other hikers on the below trail, apart from a few in the Ali Bedni stretch, if at all there are any! You can enjoy nature at its best while hiking with your local guide.
A probable circuit is: Ghes village – Bagji Bugyal – Himni village – Balan village – Ali – Bedni Bugyal – Roopkund attempt and back – to Ali Bugyal – Didna village – Wan village – Brahmatal – Lohajung.
With your experience and ability to move fast, it is possible to complete the above trail in 7 hiking days. Add a couple of days for the to-and-from basecamp journey. So it is 9 days from Rishikesh to Rishikesh.
Thank you so much for the information. This is great! A map would certainly be helpful as we try to wrap our brains around what these options may look like.

One question regarding summiting Roopkund – would that require alpine kits? For example, while we are planning to bring warm weather gear, we will not have micro-spikes or crampons. That sounds like an amazing opportunity, but I want to make sure it is feasible based on the limitations of our packing list.

I will look into this more and try to get a sense of what is possible. We are certainly interested in a large trek, however, are limited in the amount we can pack. We will be traveling for over a month in India with limited space as I am sure you can understand.
You will only be required to carry your warm clothing (3 layers of clothing, including a waterproof), a backpacking boot, and some trail mix, clif/protein bars in your backpack. That's it! We will provide you with a tent when required, along with other camping logistics as required. You may bring your sleeping bags for hygiene, or we may provide them from our stock as well (although ours don't pack small!).
You will not require any alpine kit, rope, etc.; we will provide microspikes and gaiters if need be. You are expected to move fast on rock, fresh snow, and some icy mixed terrain, and it is still a hiking trail. Snow should not be much of a deterrent around your time, unless there is some heavy snowfall just before your arrival!
So here we propose a solid 7-day hiking programme connecting all the routes in this area. The itinerary is so designed that we have a homestay, lodge, and camping experience, and it is optimised considering logistics overhead. Also, we have considered walking distances and times such that you don't have two rigorous days back to back.
Our trail connects Bagji Bugyal, Ali Bedni Bugyal, Roopkund, and finally via Brahmatal Top to Lohajung. Please see the attached trail map, which will give you a general understanding and direction of your trail. We may call it a circuit around Lohajung, which essentially connects all the trekking trails around.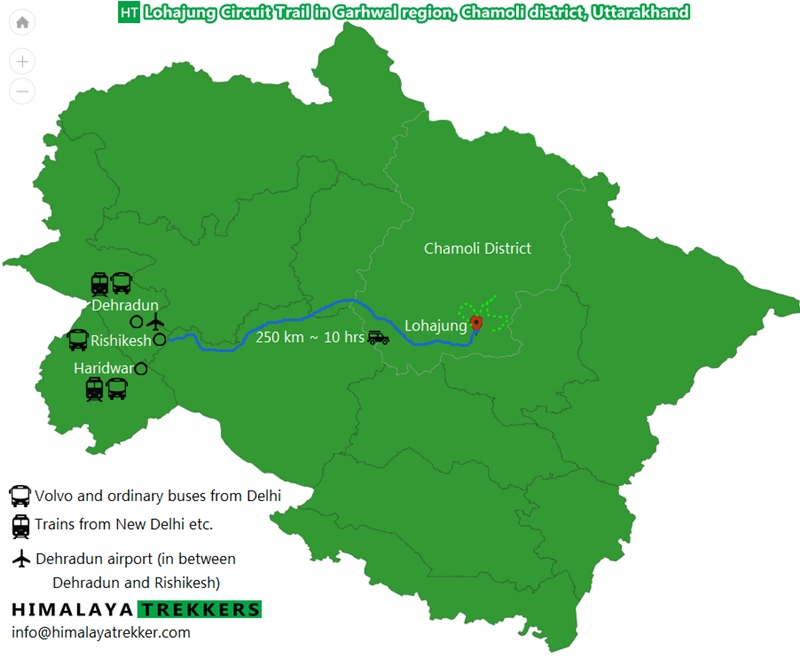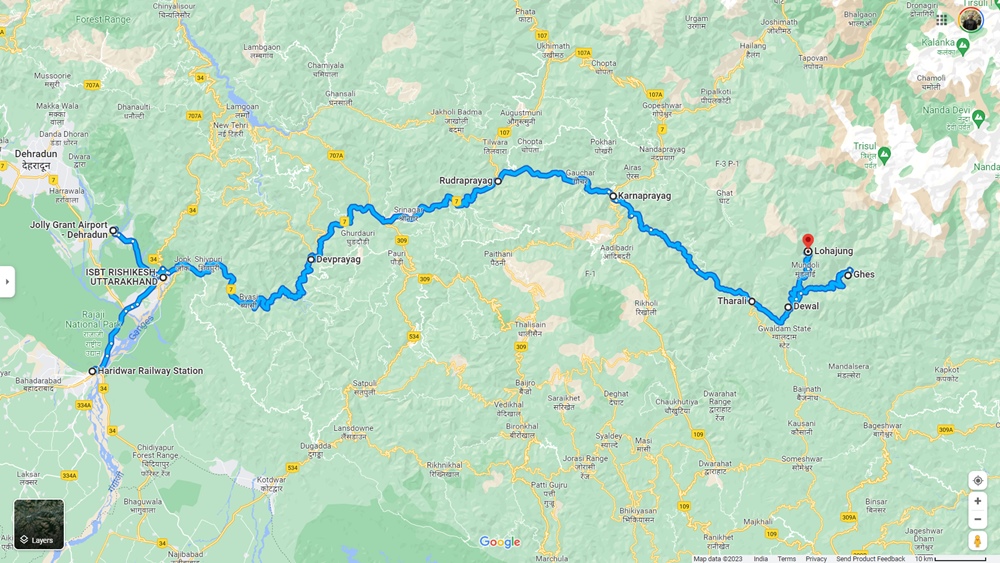 Itinerary for the Lohajung circuit trek:
Important notes:
The itinerary covers all the possible points in 7 trekking days, which is recommended for people who are fairly fit and experienced hikers at some altitude. There are particularly three difficult or strenuous days: Days 2, 6, and 8. At the same time, there are relatively easy and relaxed walks in between.
Camping above Abin Kharak (beside Ali Bugyal) is not allowed or a possibility at present. So you may attempt Roopkund and return the same day (as suggested on Day 5) if you have prior experience of fast ascent and descent at around 4000 m. Otherwise, you can always take it easy and explore Bedni Bugyal, its top, and the surrounding areas in a more relaxed manner.
Google map location links for the places we cover. Distances and time are approximate, assuming a moderately fast pace with a few breaks in between.
Day 1: Drive from Rishikesh (6 a.m.) to Dewal by shared jeep or private taxi, 225 km, approximately 8 to 9 hours. Meet your tour guide here. Take another shared car or private taxi to reach Ghes village (~2550 m), 25 km, 1 hour 15 mins or so. Homestay. Note that the road to Ghes and Lohajung (trek endpoint) splits a few kilometer ahead of Deval.
Day 2: We hike up to Bagji Bugyal meadows (~3300 m), and following the ridge, we descend tob Himni village (~2600 m). 16-17 Km or so, 8–9 hours. Homestay.
Day 3: Himni to Balan village (~2500 m). 2 to 3 hours, a short day. Homestay. Explore the village in the afternoon.
Day 4: Trek to Abin Kharak beside Ali Bugyal (~3350 m), 4 to 5 hours. We set up camp.
Day 5: Summit Day/Difficult Day as we climb to Roopkund via Bedni Bugyal meadow, Ghora Lotani, Pathar Nachuni, Kalu Vinayak to the frozen Roopkund lake (~4800 m), and back to the same Abin Kharak camp. 13 to 14 Km one way, total time 10 to 12 hours. Pack a light daypack so that you can move fast. Alternatively, those who want to take it easy may climb to the adjacent Bedni top, explore the meadows, Bedni Kund, and Nanda Devi temple, and return to Abin Kharak camp.
Day 6: Trek to Didna village (~2450 m), 9–10 km, 4 hours or so. Lodge accommodation. Explore the village in the afternoon.
Day 7: Trek to Tilburi or a suitable campsite, 5 to 6 hours via Wan village. Camp.
Day 8: Trek to Brahmatal viewpoints and summit the top above called Khamila Top (~4000 m) and descend to Lohajung (~2300 m), 8 to 9 hours or so. Lodge accommodation.
Day 9: A shared vehicle from Lohajung to Rishikesh (250 Km) or Dehradun (300 Km) starts around 6 a.m. Or else you may hire a private taxi from Lohajung which takes 9–10 hours.
Day 10: A buffer day is recommended, although not a must.
Photos of the Lohajung Circuit trekking trail:
Here are some photos from the different sections of the trail shared by our trekkers and staff from time to time. The photos are organised as per the direction given in the above itinerary, i.e., starting at Ghes and ending at Lohajung.
This will give you a visual understanding of the entire trail, from which you may choose the full trail or section(s) as that suits you.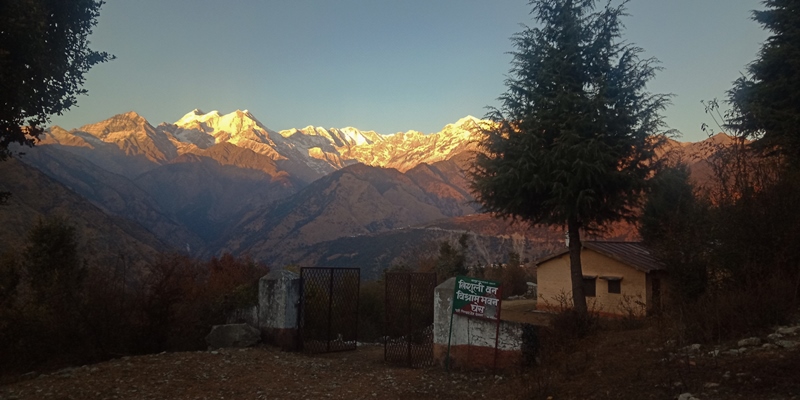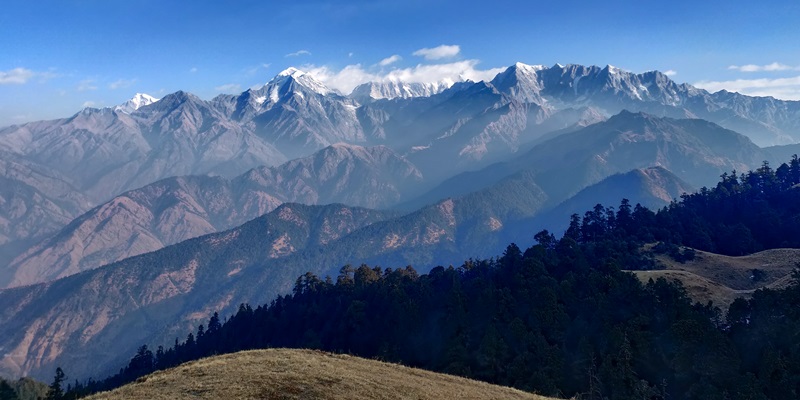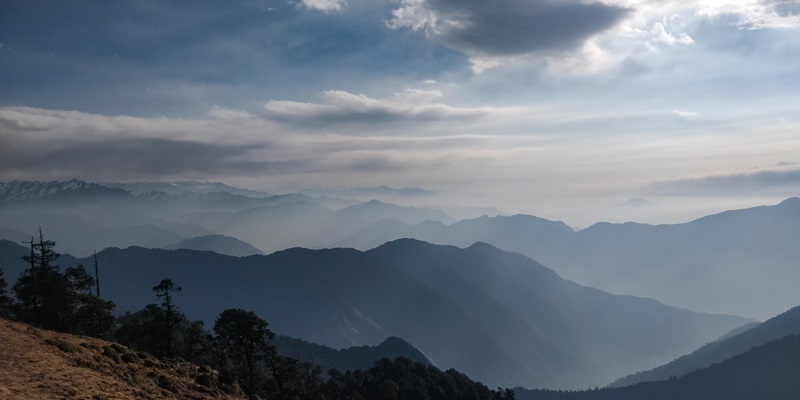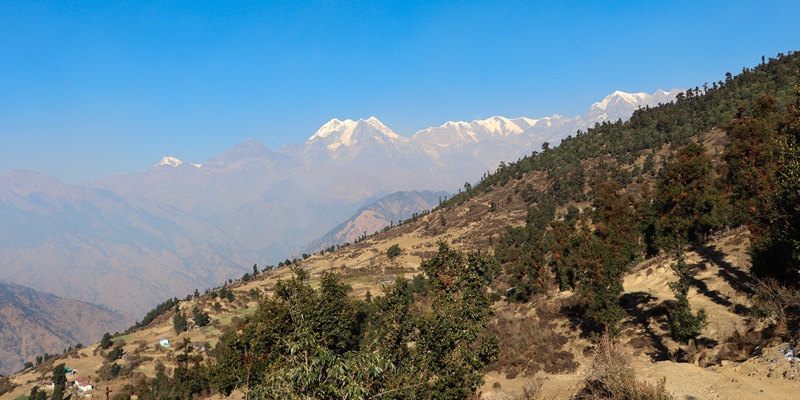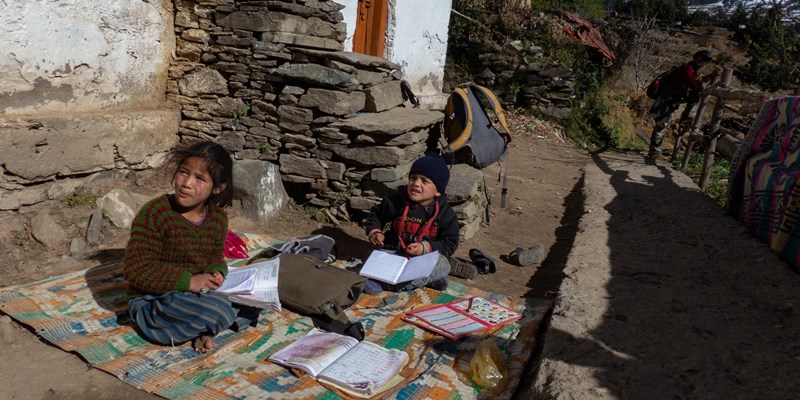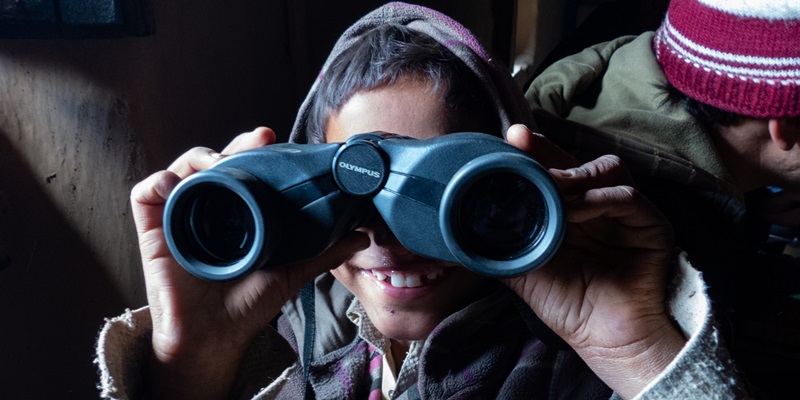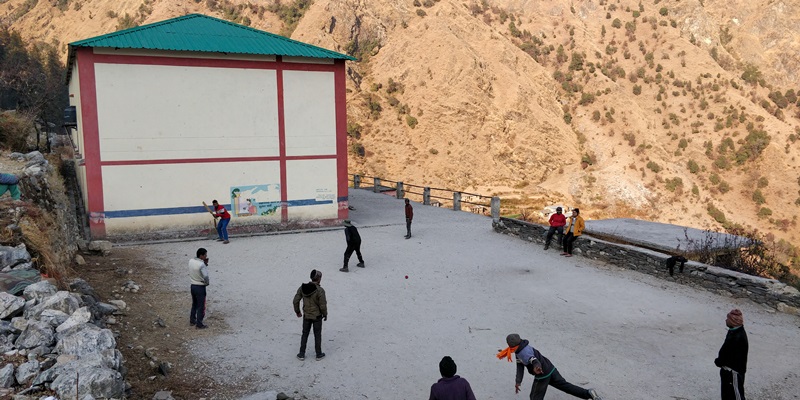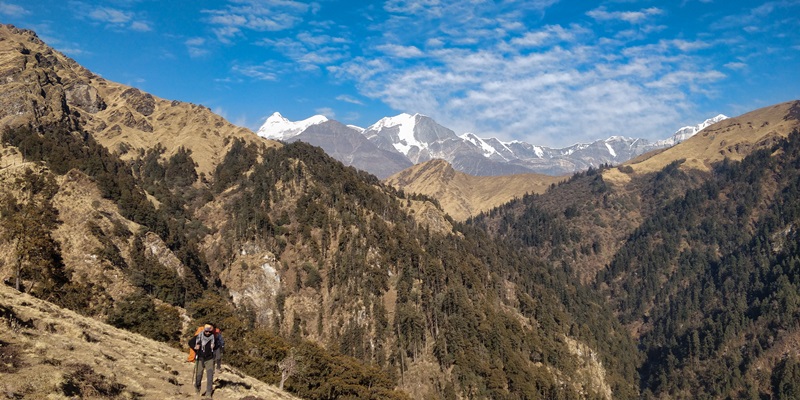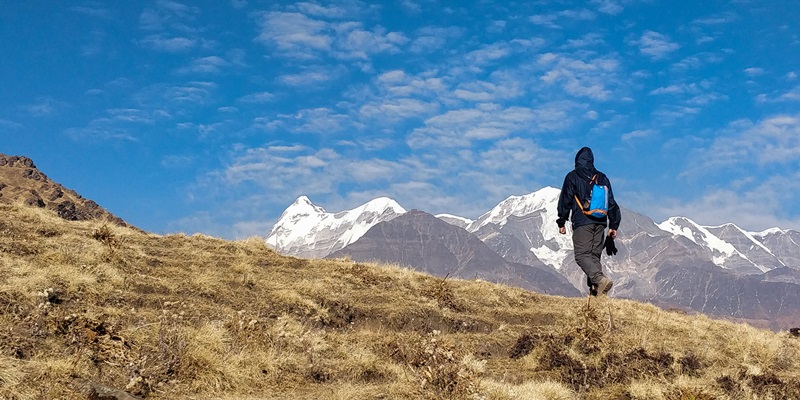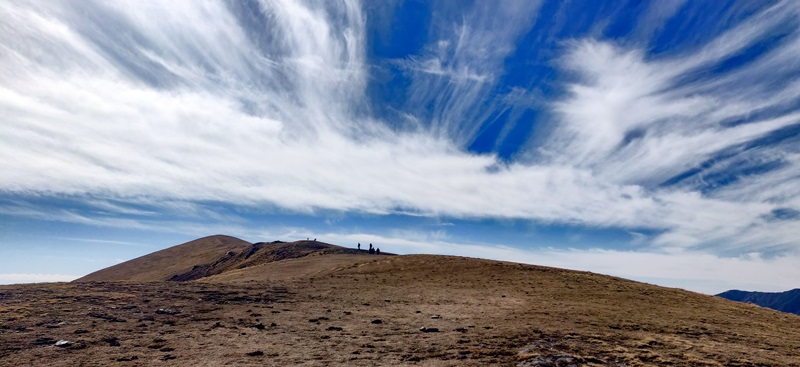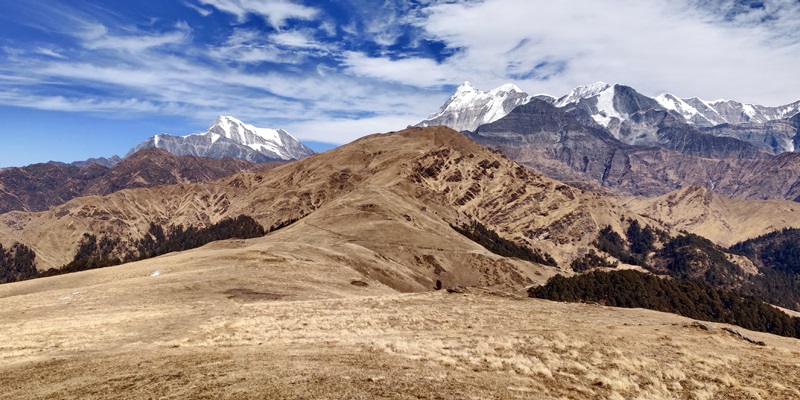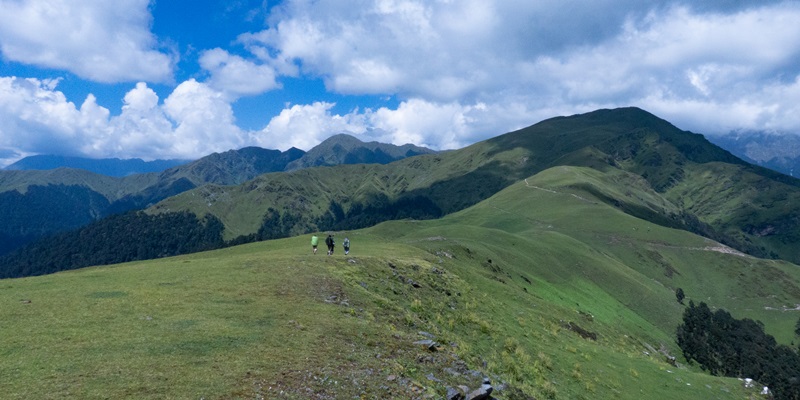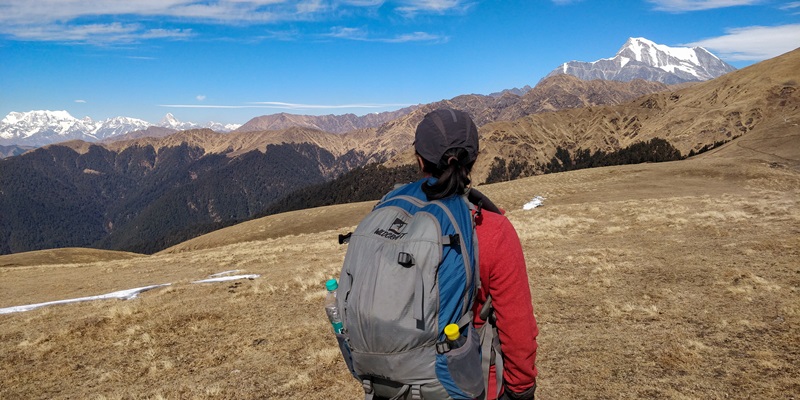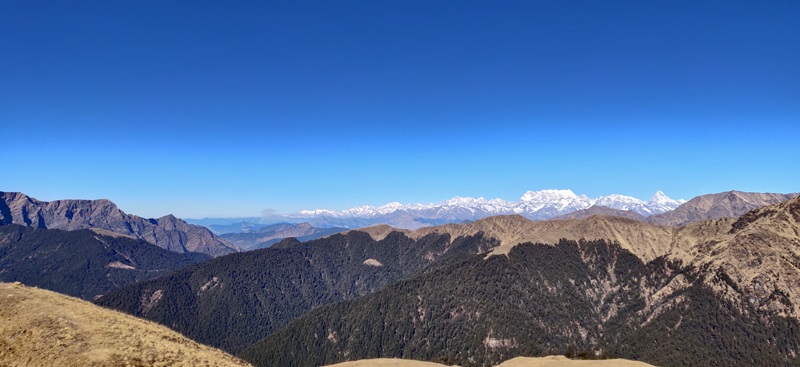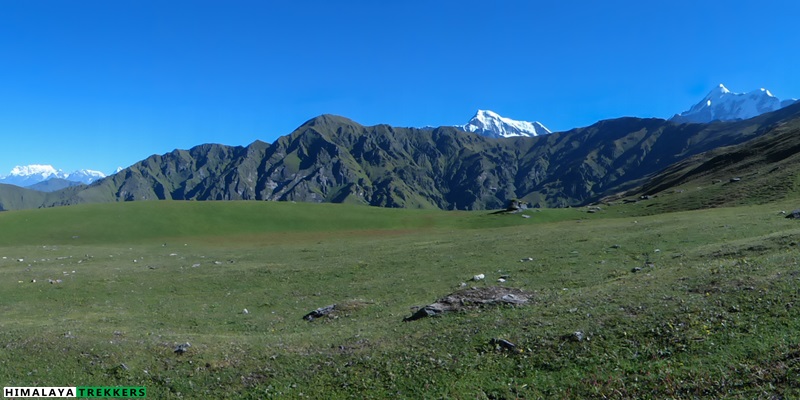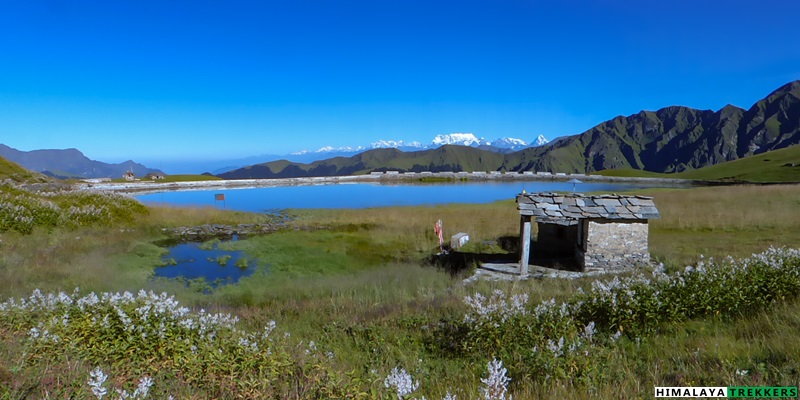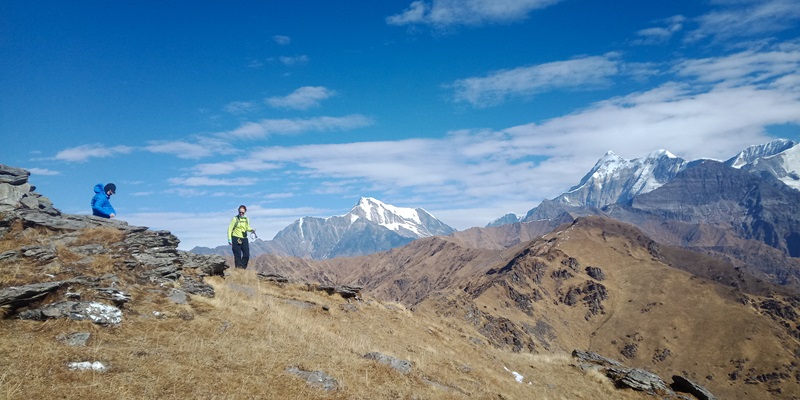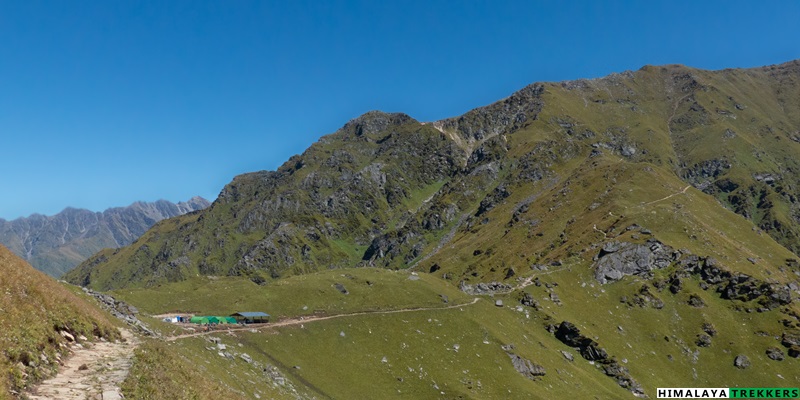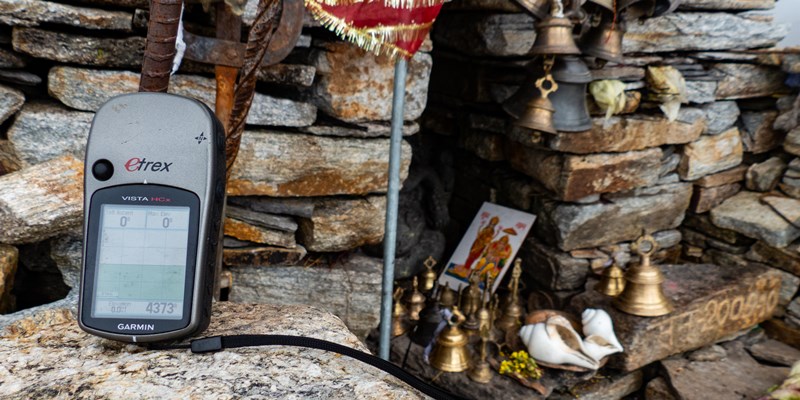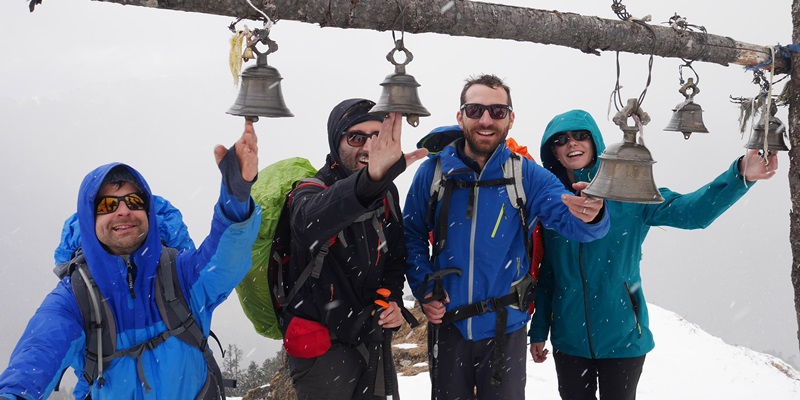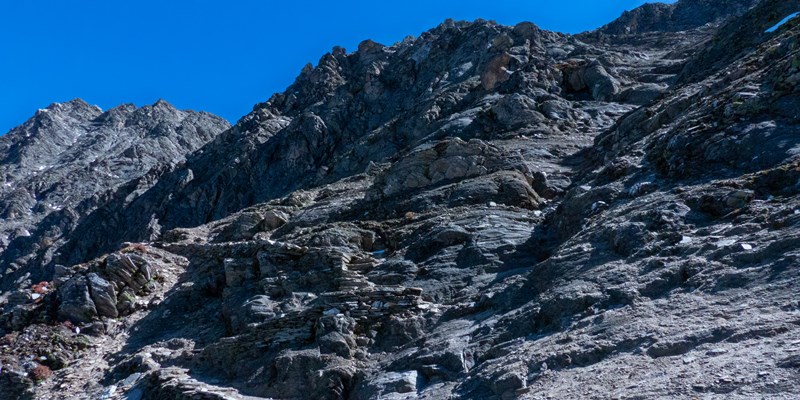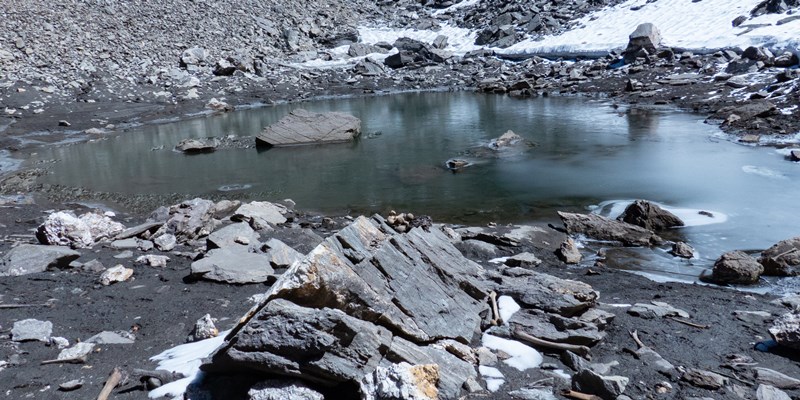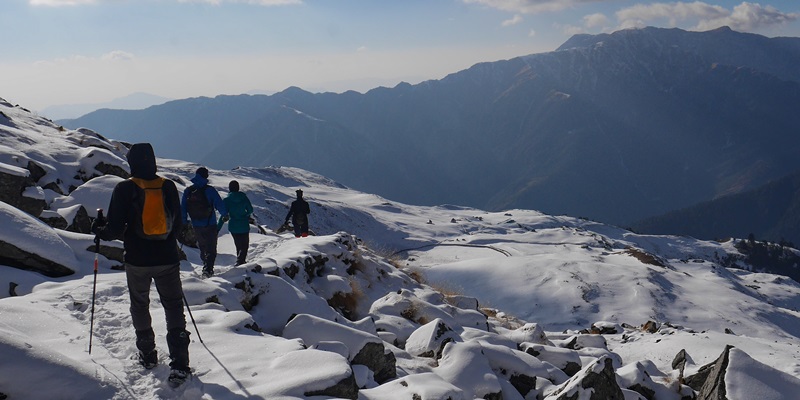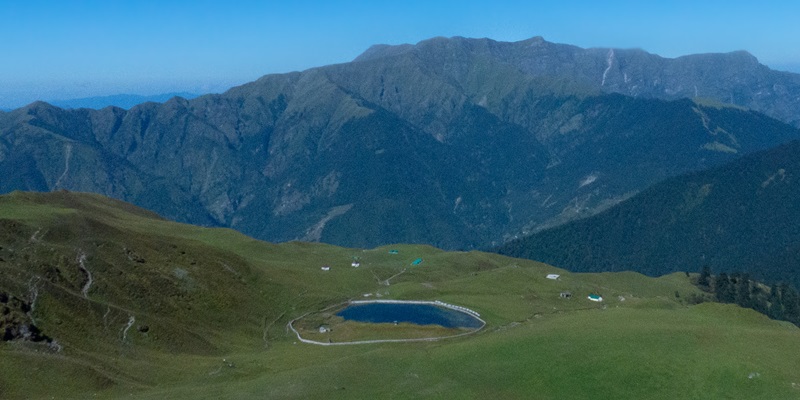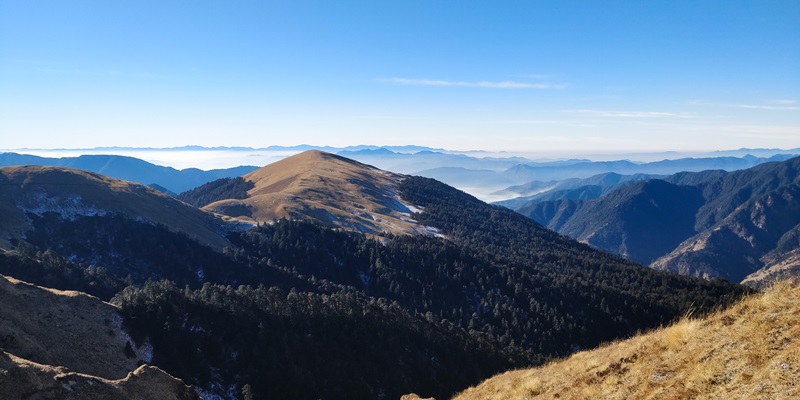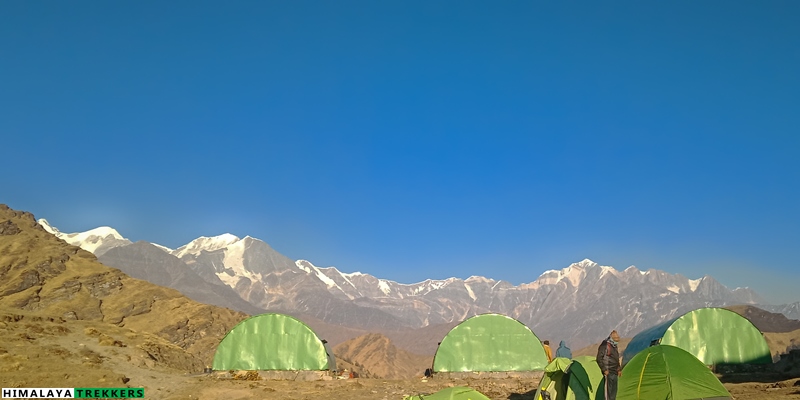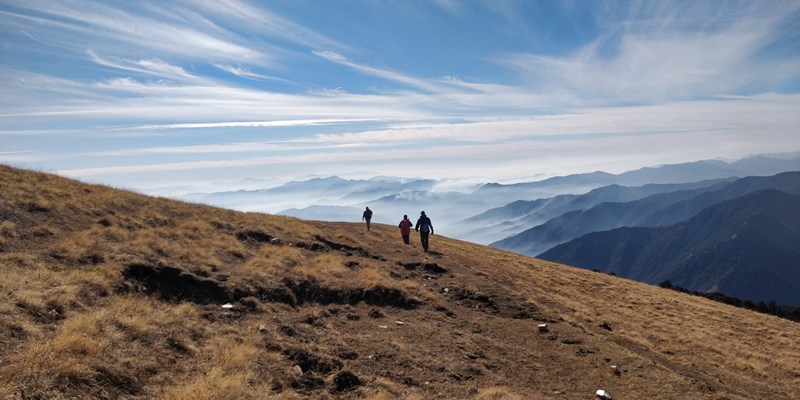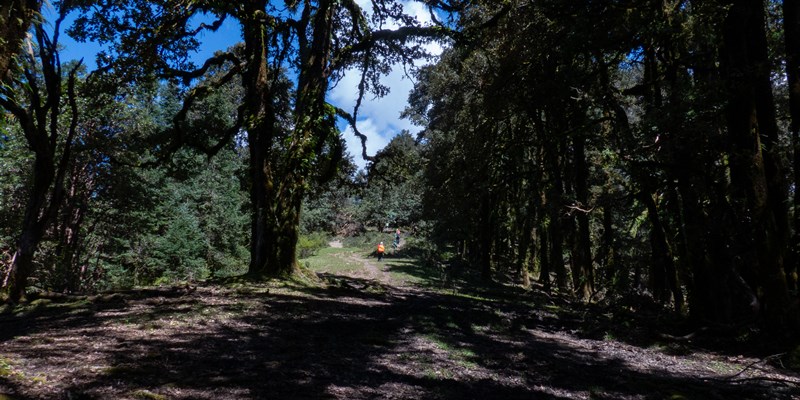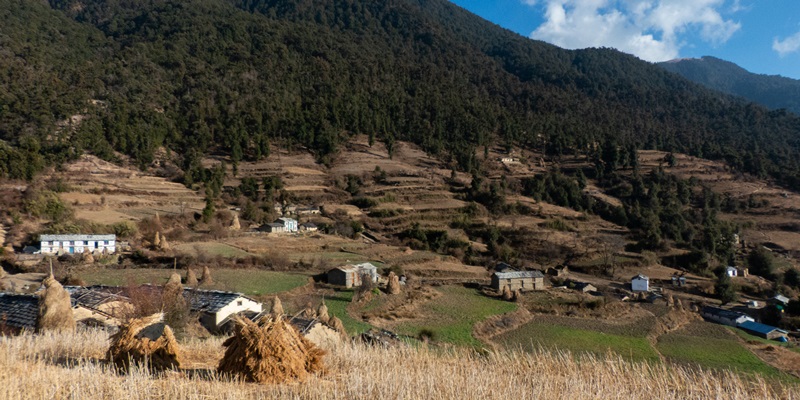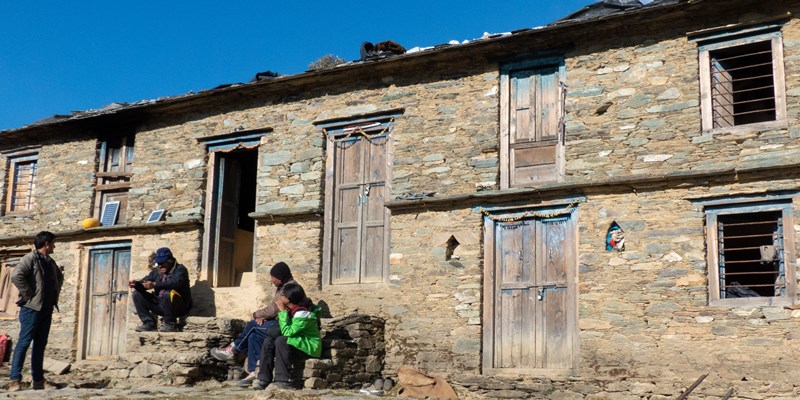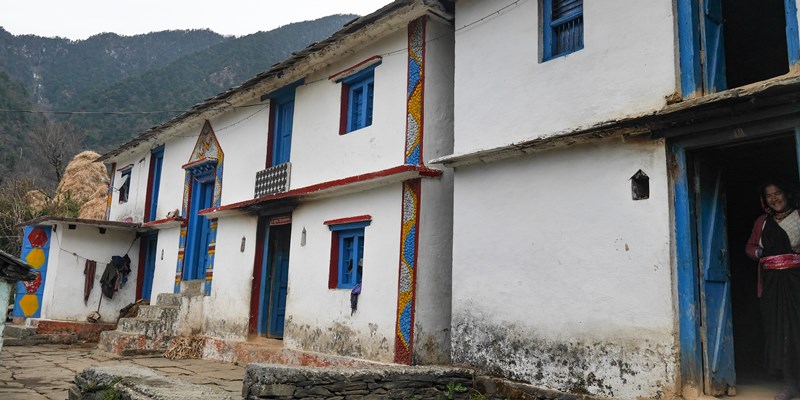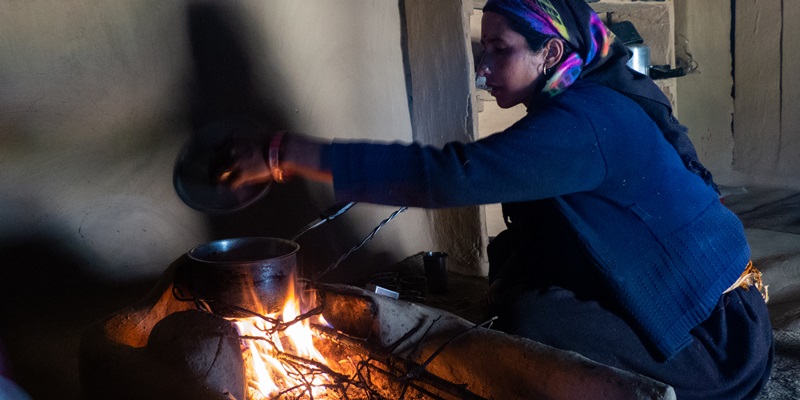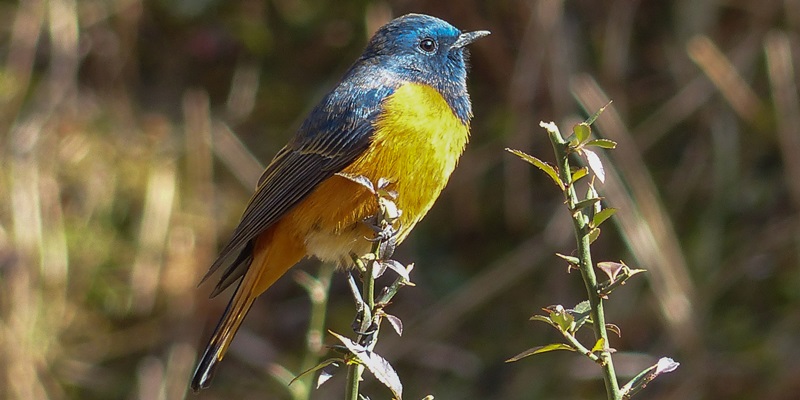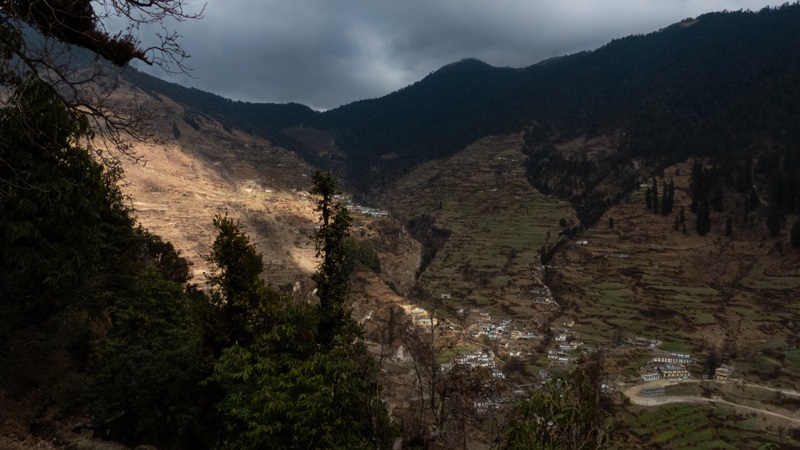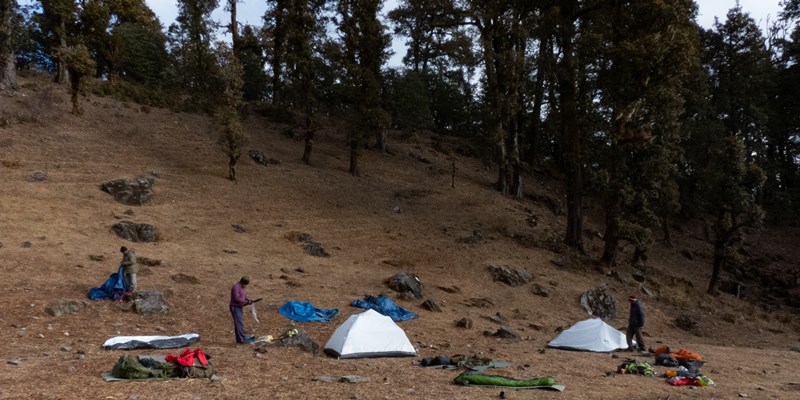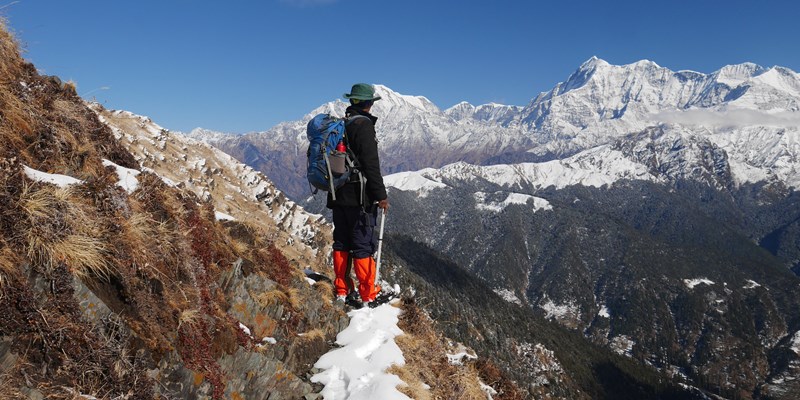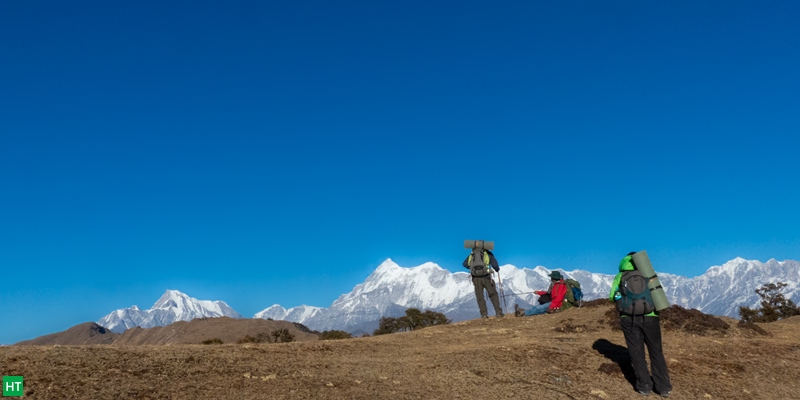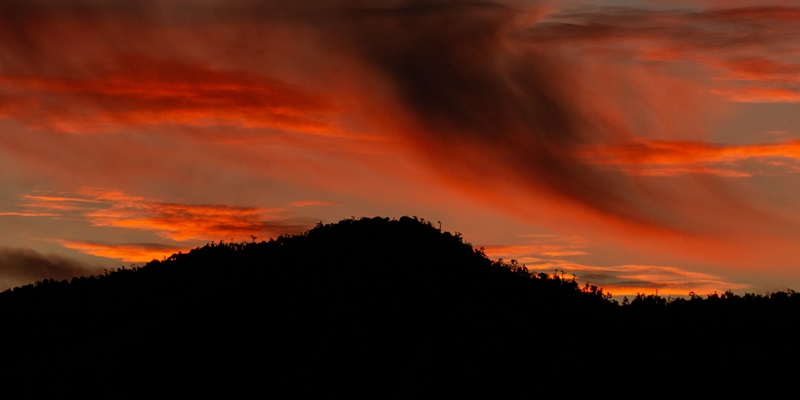 Key point and summary of Lohajung Circuit trail:
Destination: Garhwal Himalayas, Chamoli district, Uttarakhand, India
Suitable for: All adventure and mountain lovers. Easy to hard hiking sections within the same circuit for beginners to highly experienced avid hikers. 10 to 70 years of age.
Salient features: Alpine meadows and lakes; close-up and panoramic views of high Himalayan peaks; rhododendron and oak forests; Himalayan viiiage stays; camping experience in the mountains.
Suggested tour duration: 5 to 10 days, Rishikesh to Rishikesh/Dehradun/Haridwar/Delhi.
 Recommended trekking duration: 3 to 7 or 8 days (with a buffer)
Tour type:
Customised private tours;
Group tours (fixed departures) may be available for any one section (like Ali Bedni Bugyal or Brahmatal).
Accommodation type: Combination of village homestays, lodges, and camps during the trek. You can skip the camping part and make it a tea-house style trek, if you wish so (in such case you trek from Balan to Didna village via Ali Bugyal or your way).
Trekking Grade: Easy, Moderate, and Hard, depending upon your itinerary
Trail length: 25 km to 90 km, depending on how much you would like to cover.
Altitude: 2300 to 4800 m
Seasons and months to visit:
Spring/Summer: mid-March to late June;
Post-monsoon/Autumn: mid-September to November;
Winter: December to mid-March;
Season and months to avoid: Monsoon/rainy (July and August)
How to reach:
The nearest airport is Dehradun (DED) at Jolly Grant (between Rishikesh and Dehradun city) or Delhi.
Trains from Delhi to Haridwar or Rishikesh.
Volvo and ordinary buses from Delhi Kashmeri Gate ISBT to Rishikesh (UTC online and onboard tickets). 5 hours.
Then a drive to basecamp Lohajung/Ghes, approx. 250 km from Rishikesh, takes around 10 hours with a few breaks.
To summarise, this is a very flexible trail, which you may choose based on its length, duration, your prior trekking experiences, and type of accommodation. On top of that, you can visit this area almost anytime during the year (an all-season trek), apart from the monsoon months of July and August, when road journeys to and from basecamp may not be favourable.
We hope you are now in a position to get in touch with us in one of the following ways:
WhatsApp: + 91 9477877559, 9831112469, 9163183000