Singalila ridge and different trek options:
Singalila ridge is a north to south mountain ridge and runs along Nepal/India border. Towards south it is the De facto border between Nepal and West Bengal in India passing through Sandakphu and Phalut. Then it continues north bordering Nepal and Sikkim up to the foot of Kanchenjunga.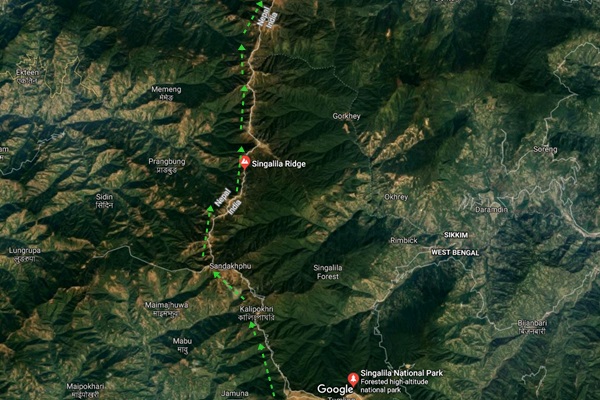 Quite naturally this long ridge has many trekking routes to offer. Most popular version of Singalila ridge trek is Sandakphu trek. If we continue from Sandakphu further to north, we will reach Phalut. From Phalut we we continue further north, eventually we will enter into Sikkim and reach Singalila Top. From here we can continue even to north following Dafeybhir trail or we may get down to Barsey.
Singalila ridge trek is probably the "Finest Ridge trek in India". Throughout its span you will witness Kanchenjunga along with very high mountains of Sikkim and Nepal. You can also see Everest, Lhotse and Makalu peaks from different places on this ridge.
Best time to visit:
1) Autumn/Winter: October to December, for clear weather and mountain views.
2) Spring/Summer: Mid March to mid May for Rhododendron bloom. Expect cloudy conditions with some rains from April onward.
Following  is an offbeat yet outstanding trail to trek, which includes both Singalila National Park and Barsey Rhododendron Sanctuary. Essentially its adding Sandakphu trek with our Phoktey Dara trek. Logistics is particularly demanding in this route due to its Tea House and camping dual mode. Sandakphu and till Phalut it is a Tea House/lodging trek, and then its a camping style. Entire logistics for last few days is to be brought up from somewhere else far away and send them back again to a different place. Though the end result is a spectacular ridge trek duration trek with prolific views of Kanchenjunga, and many more high mountains. Moreover it includes pristine forest around Barsey.
Suggested itinerary:
Trekking Grade: Moderate (prior trekking experience is recommended).
Day 1: Arrive Bagdogra/NJP by 10 am. Drive to Manebhanjan 85 Km and reach by 1:30 pm. From here our base camp is 3 Km uphill at a hamlet called Chitrey on Sandakphu road. The check post at Manebhanjan closes by 2 pm. After 2 pm cars will not be allowed to Chitrey. Night stay at homestay.
Day 2: After breakfast we will start our trek today. From Chitrey we trek to Tumling via Meghma (lunch)- 9 K, 5-6 hours.  Lodge accommodation at Tumling.
Day 3: Trek to Kalapokhri – 12 Km, 6-7 hours. After a Km or so the entry to Singalila National Park, with a check post. Lunch at Kaiyakata via Gairibas.  Lodge accommodation at Kalapokhri.
Day 4: Trek to Sandakphu- 6 Km, 3-4 hours. Last 3 Km or so hike from Bhikeybhanjan to Sandakphu is steep. Have your lunch at Sandakphu. In the afternoon walk on the Phalut Road to get magnificent views Sleeping Buddha. Lodge/hotel accommodation at Sandakphu.
Day 5: After sunrise views have your breakfast. Today is a long day of walking to Phalut.  Total around 21 Km, of which initial 14 Km up to Sabarkum/Sabargram is flat or very gradual down. From here last 7 Km to Phalut is gentle gradual up. Night stay at GTA Trekkers Hut .
Day 6: Early morning we climb to Phalut top for sunrise views. This time even closer view of mountains and Sleeping Buddha. After breakfast we will trek on rather flat train and eventually enter Sikkim. We will reach a place called Torifuley, around 8/9 Km to camp for the day. Our camping logistics team will meet you here. Camp.
Day 7: Today morning we hike 2 Km up to Singalila top, which is the highest point in this area. After spending some time on top/pass we will get down to Kalijhar and then to Achalley via Thulodhap. Around 12 Km, 6/7 hours. Camp at Achaley.
Day 8: Today we trek to Barsey via Joributey and Deolinga Dhap. Distance around 15 Km, 6/7 hours. Night accommodation at Barsey Trekkers Hut.
Day 9: After breakfast we trek 4.5 Km, 2 hours to road head Hilley. From here NJP/Bagdogra is around 150 Km and may take 7/8 hours. If you have an extra day, you may spend a night at Okhrey village, 10 Km below Hilley towards Bagdogra. You get nice homestay with geyser facilities.
If you are planning a trek in Sikkim or Darjeeling then do drop us an email to [email protected] or call @ +91 9831112469/9836133166/916328300 for any queries that you may have.