The prelude
A long standing wish to visit the holy grail of trekker's paradise, Sandakphu. Well, I have been thinking, planning, speculating, urging friends to make this trip happen which was taking place for the past 2-3 years, but was just not taking shape until this year. I finally decided to set on a solo journey to fulfil one of my bucket list wish to trek to the highest point in West Bengal, Sandakphu especially during spring time, as it was a perfect time to witness the lovely Rhododendron blooms in the whole Signalila Range.
As this was my first long duration solo trek, so I decided to enroll with a trek group just to be on a safer side. So, in the month of March, I checked out the available train tickets which were a bigger hitch while freezing my dates. But since I didn't want to delay until May, as the chances of rain would have been much higher then. So tried for 14th April, and I luckily I got confirmed tickets which was perfectly matching with a scheduled fixed departure on 15th April' 2017.
Now, next thing was to prepare myself to be able to sustain the trek. Although this was an easy to moderate level trek but it is always advisable to be reasonably fit for the same. So, knowing that I had a back problem in the past, I started my fitness regime. Ya, it may sound a bit too much but I had to, knowing my past health condition which were a result of sedentary lifestyle. And considering the fact that it was a requirement either to carry our own backpacks which would have been at least 10-12 Kg throughout the trek or else to pay a daily price to the porter which was meaningless and no fun…In order to carry weight while you are trekking upwards, it is very necessary to have a strong back muscles and also leg muscles, or else we might end up hurting ourselves.
I had exactly 20 days to gear up self and other things.. yohooo!! I was all set and excited as the days were approaching near and my excitement was rising upwards. I was all set with my new trek gears, shoes and my spirit.. As luck would have it, just three days before, I felt a strange ear pain which was unnerving. A shooting pain started to cripple me and dampening my enthu. Initially went to a local office doctor, who prescribed with a normal painkiller and antibiotic, since I was travelling in two days. But to my horror, next day I woke up with a shooting pain in both my ear, which almost crippled me numb. The pain was unbearable, and I had no other choice but to rush to ENT almost pleading for help. The doctor inspected my ear and came up with series of complications that I had developed in my ear and nose. I was feeling disheartened, that my trek plans will just not be possible to take shape now. Still, with a little courage, I dared to ask my doctor, if I still stand a chance to make it up there. Surprisingly, he said yes and prescribed with heavy dose of medicines to keep me going. So, after a lot of consideration and opposition from my well wishers, I thought of giving a chance as I didn't want to miss a chance again.
Journey begins
Day 1: Hence, on 14th April, I boarded the train to NJP (dep 11.55 pm) which had a scheduled arrival of 10 am next morning. But, as usual train got delayed by 2 hours and instead I reached NJP by 12 pm. From NJP, I got into a pre booked cab which was arranged by our trek group and was shared by four other people from my trek group. It was very encouraging to meet a 62 year old retired man, who was also joining us for the trek. It actually gave me a good boost to start my trek on a positive note.
From NJP, we started at 12.30 pm and picked up another fellow passenger and travelled straight to Chitrey, from where we were to commence our trek next day. Chitrey was at an elevation of 7000 ft (approx) a picturesque hamlet falling into Nepal side which is located just 3 Km uphill from Maneybhajan. We reached Chitrey at around 4 pm. My fellow trek mates, who were travelling from Bagdogra, had already reached an hour before us. The tower signal was almost negligible and if one tries a lot, can manage to get a Nepal network on their phone. Haha!! After reaching Chitrey which took us almost 4 hour from NJP, the temp suddenly dropped to almost 8-9 degrees, also because it was drizzling slightly. In fact, people who reached earlier witnessed heavy rain while coming there. That day, we stayed at the trekkers hut which was pre booked for us. Since, it was our first day at the camp, so all were charged up and excited, we decided to set up a mini bonfire under partial windy condition just to enjoy the starry lit sky and to utilise this opportunity to get acquainted with each other. It was a perfect day to end with conversation, introductions and greeting each other over a hearty dinner and not to forget a pitcher of Hot Tongba (local fermented hard drink made out of millet),which is a must try when trekking in this part of India bordering Nepal. Although, I was on medication, so restricted myself from binging but didn't fail to try the taste which was bit weird and funny.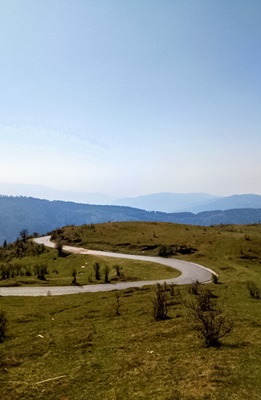 Day 2: Got up at 6.30 am, and almost the last one to wake up from the lot. What a shame!! It was a clear sunny weather outside, perfect day to begin our journey. As we had to trek for 9 Km to Tumling (the next halt). We started our trek at 8.30 am post a hearty breakfast and bid goodbye to Chitrey. It was like one of those moments of "all my bags are packed, I am ready to go….upwards"!! As I reached a little ahead, I almost jumped with joy to witness my first sight of the Sleeping Buddha and the mighty Kanchenjunga quite clearly. It was a mesmerizing sight of snow-capped peaks with clouds playing peek-a-boo. As I approached further, I was also rejoiced to find the glimpse of lovely Rhododendron flowers in pink, white and mostly red in colour. It was a beautiful sight with the lush green trees, and the pink & red blooms, as if they were complimenting each other in perfect harmony.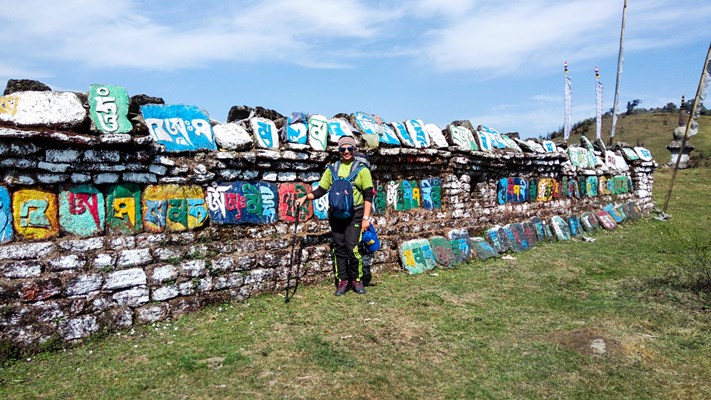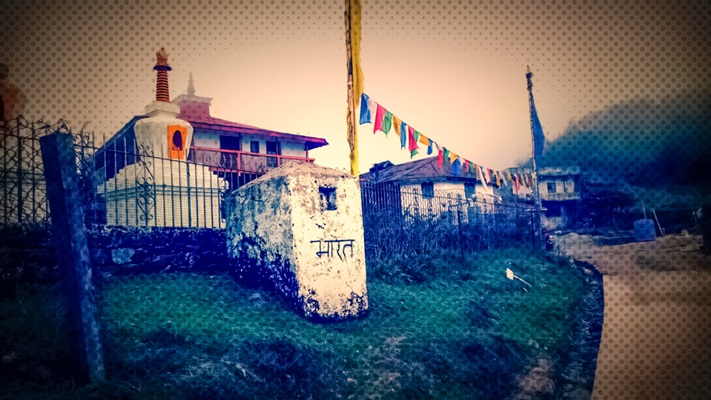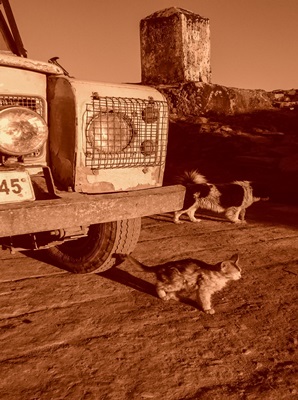 Day 3: Our guide Yogen (a young little enthusiastic Nepali chap, who is also known as Penba (his Buddhist name)) came to wake us up by 5 am for us to rush to the view point, where the sunrise at the Kanchenjunga was to be seen. We rushed with our camera to the view point which was a steep uphill walk for 5 mins from our lodge. I quickly rushed to climb the small cliff like structure where already a small pool of tourist were standing to catch a glimpse of first golden rays on the peak. As the clock struck 5.30 am, we could see the first rays of sun reflected on the mountain peaks. And within few minutes the entire sleeping Buddha was glowing with ray of golden light. It was a mesmerizing feeling ever!! Along with Kanchenjunga, we could see the other peaks clearly like the peaks of Bhutan. Few tourist also ran a bit further up as locals said that even the Tibet range of mountains like Mt. Makalu, Mt. Lhotshe and even Mt. Everest was also visible. However, I remained content with the existing view so much, that I decided to head back to the hotel after some time to get ready for my onward trek. After the breakfast, we started trekking at 8 am as today we had to cover a distance of 13 kms to Kalipokhri (another small hamlet enroute Sandakphu) which also means "dark or black lake". Weather was bright and sunny and the view was just spectacularly clear. Although the route was longer than the previous day, but I was charged up to hit our next destination. For about 5 kms we went downhill. This day we also entered the Signalila forest range, which was full of pine, oak, bamboo and Rhododendrons trees. The flowers were blooming everywhere in pink, red and white colour. It appeared as if the entire mountain range was covered in brown patches but instead they were all in full blooms. We reached Gairibas at about 11 am for a tea break, and utilised that little time interacting with few German trekkers who had come all the way to trek here. After Gairibas, we headed another 2kms uphill (this time) for our lunch; the place was called as Kaiyakatta. Here, our guide quickly bypassed us and took shortcuts to reach before us, so as to order the lunch for us. Well, after having not so nice but filling lunch, we had to cover the last 4 kKm to Kalipokhri. I took couple of shortcuts which were steep and rough alley of stairs and occasional mud path carved out by locals meandering through the mountains. I reached Kalipokhri at around 4.15 pm. Few others who were lucky to reach earlier braced themselves with hot tea and hot pakoras whereas unfortunate like me had to settle for cold tea and cold pakoras ..Just after we settled in our dorm while having evening tea, I decided to take a short stroll around the hut although my knees and the feet were aching terribly post the trek. I pass through a herd of mountain goats which locals were steering back to their home. I suddenly saw, the sun was setting amidst the cloud. And the best part was the clouds were settling below me. It felt almost as if I was standing above the clouds, and the sun was looking like a golden ball settling just behind a mountain. This was by far the best view I could witness, and I was awestruck with this beauty and started rejoicing silently.  My stay was in a bamboo hut dorm style as all nine of us had to fit into one roof and with only one make shift toilet which was totally outside the hut and secluded. So the idea of going to the toilet In the middle of the night was nothing less than a nightmare with the topic of discussion was spooky too. We had a quiet and simple early dinner at 8 pm. The night sky was crystal clear and the same was adorned with stars and infinite galaxy. I tried to star gaze for about 10 mins but it was impossible to stand and bear the chilly winds which was gushing through the clear night sky giving us shiver to the bone. So, I quickly went inside to call it a day.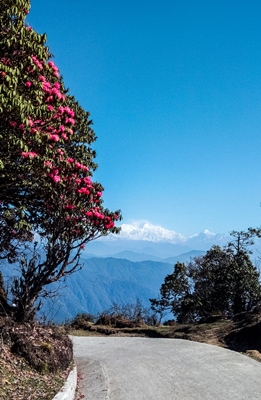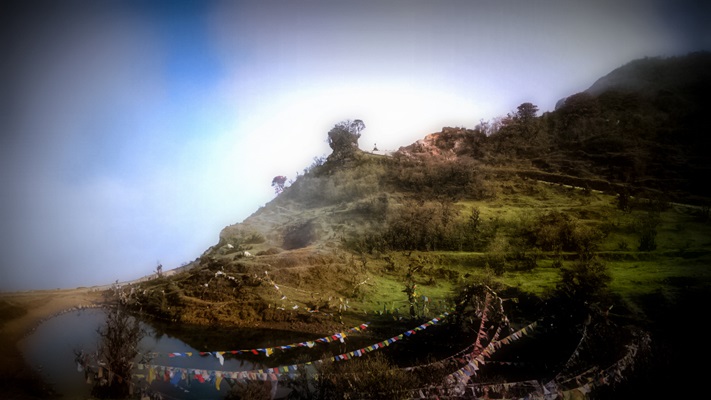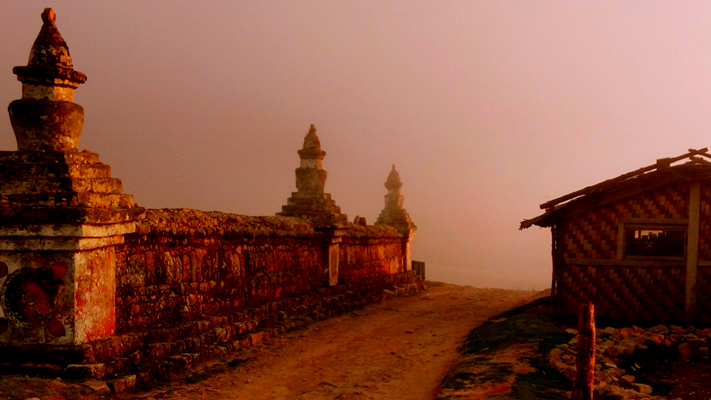 Day 4: We started for our final destination comfortably at 8.30 am, Sandakphu (3636 mt) highest point in West Bengal.  We had to cover only 6 Km uphill which was relatively easy. So, I took it easy and started at my own pace. But this day was very cloudy and foggy and the visibility was very poor on the way. The entire trail, we took was full foggy and misty. The last 3 Km was steep hike up to Sandakphu point. So I finally made it to the top at 12.30 pm feeling accomplished. And checked in to our hotel (Sunrise hotel).Although it was disappointing to find it still very misty and foggy up there, as I could not see any view that way I was bit disappointed. In the evening, I remained confined to my room and took rest hoping to get a clear view the next day.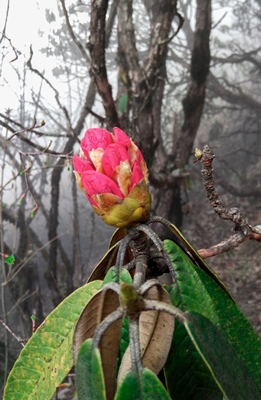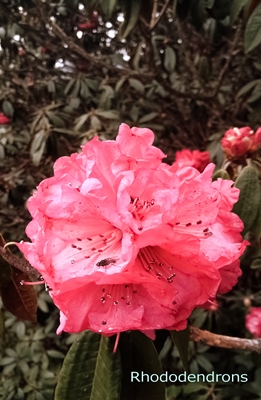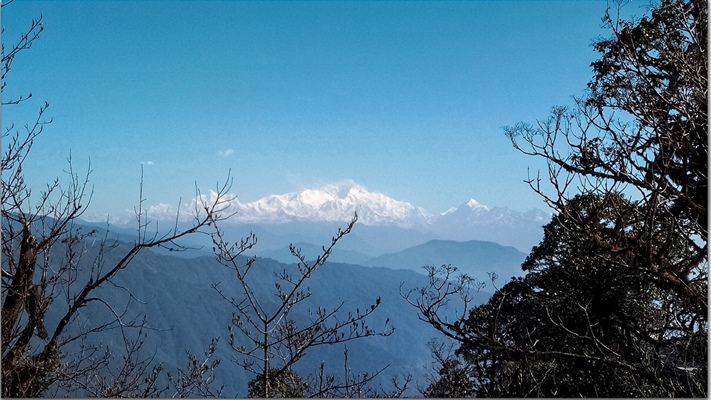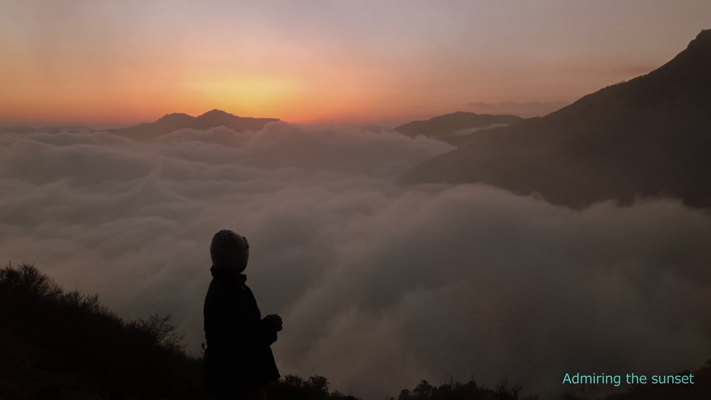 Day 5: I peeped out from my little window at 5 am in anticipation, if the weather was clear or not. Sigh!! there was heavy cloud all over the sky. Yet my roomie and I decided to wake up from our sombre and give it a last shot as after all we had come all the way to Sandakphu to witness the mighty Kanchenjunga. But in-spite of rushing to the highest peak, we could not see a clear sky and came back a bit disappointed.  I was still positive and happy in my heart that all throughout our trek; I could at least witness the peaks crystal clear right before Sandakphu. So those memories were far heavier than having to sulk or brood on the fact to miss the chance to catch a glimpse of the entire mountain range from Sandakphu. I was content by the fact that, it was the journey that mattered more than the destination. I was still rejoicing silently in my mind that I could make it finally to Sandakphu after so many deliberate attempts. So after a hearty breakfast, we bid goodbye to our lovely cottage which was otherwise at a fantastic location and started our descent towards Srikhola which was abt 15 kms downhill from here. Descending is always tougher activity than ascending as one has to keep the balance and focus at all times. And this descent was surely very steep and tough on already wobbling and tired knees as I had to scale down from 3636 mts to 1900 mts (almost 6000ft downhill) in 15 Km today. I started my descend very slowly. Our guide always cautioned us to be extra careful and slow while taking each steps down. Initial 5 Km, which involved steep terrains, muddy shortcuts through the pine forest was ok. But suddenly I felt a slight discomfort in my left knee. There was a shooting pain whenever, I was putting pressure while steering myself down. My pace which was otherwise almost leading in the group almost slowed down as I was unable to walk properly. I limped almost throughout the path. Well, I was already extra cautious to keep my knee caps and trekking poles handy while trekking as advised by our trek leader. And that actually was like a saviour for me. I passed through the Rhododendrons and bamboo forest. Most of the times, I trekked alone as all others went ahead than me as I was limping and walking very slowly to avoid any further pain. There was a steep descent just 2 Km before Gurdum which was to be our lunch stop. I almost felt like giving up, as I felt there was no way I would have able to go down with one leg. There was another guide who was following me watched me standing helpless decided to give me company just to help me out. As there was no other way to escape the route. He came along with me motivating and helping out assisting in the paths which was quite steep and harsh on my sorry knees. At times he supported and helped me almost jumping down along with my heavy bag which I was lugging. I made it to Gurdum at about 12.50 pm where all others along with some lip smacking Aloo parathas were waiting for me. It surely did not only comfort my gastronomical delight after such long, but also help me out to forget about the pain for some time. I decided to gobble some pain killers and applied heavy mask of pain relief gel on my knees before marching ahead another 5 kms downhill.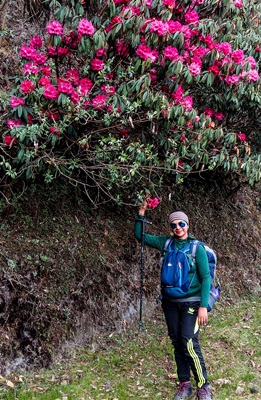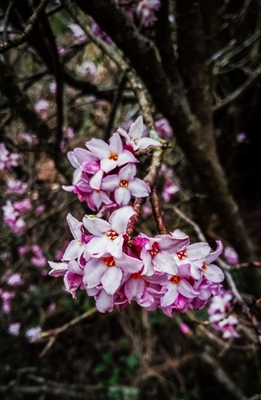 Descent to Srikhola was comparatively better than before. I crossed lovely pine forest and Srikhola rive was giving me a company flowing all the way along the trail now. I finally reached Srikhola trekkers hut almost limping at 4.30 pm. Well, all others in the group had already reached much before but had a sigh of relief when I finally checked in. Our trek was completed on a successful and rejoicing note.
May be I was very fortunate enough, that just after half an hour later than I reached Srikhola, hailstorm started and it started to pour incessantly. I was thanking my protective functions which just made me feel so lucky inside that I didn't get stuck in hail storm. It kept pouring all through the night giving it a perfect end to my trek trails!!!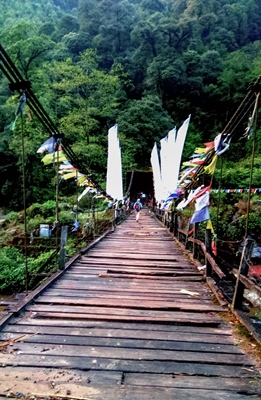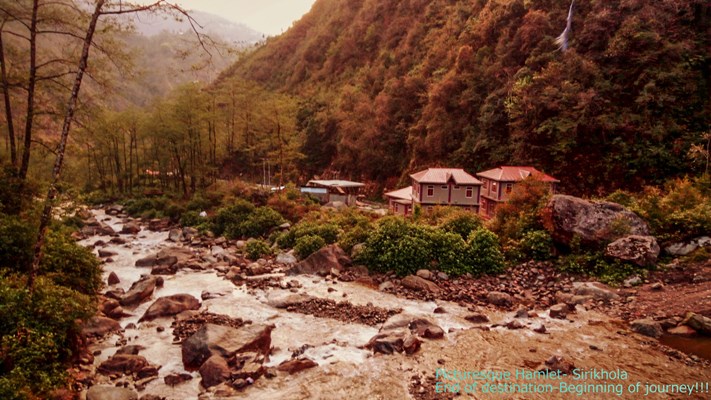 Day 6: I departed for Darjeeling bidding all other goodbye as they left for Bagdogra/ NJP/ Home onward.
It's been a journey which was all about learning, realization and testing my potential. I came out of my comfort zone and lived my days out of my backpack, made friends, talked to locals, to understand the hardship, to appreciate each smaller little things which may seems very little but has a wider meaning. I felt extremely content to have been able to tick off one more wish out of my bucket list.  I now look at it; I realized that journeys are actually way more important than the destination. What I said not because I could not witness any stunning view at the top. But it is because; I trekked for 5 days covering about 45 Km chasing something which I could not get the view of. Still I feel that I could achieve the inner joy of finding my new love for mountains. I think I m just hooked on to this and I will definitely gonna take up many more treks.
P.S: Photos are shared by the author. To read more of here journeys check:
https://confessionsofatravelholicweb.wordpress.com/