After my solo trek to "Sandakphu & Phalut" last winter, I got a great opportunity to trek in Sikkim during post monsoon. Trekking the word itself makes my inner self activated. Don't know how the happiness and enthusiasm I feel while planning. It's the 6th time that I feel happy and energetic to say that I am joining the HT team 🙂 .
This is my second blog attempt after my "My Solo Phalut diary". This time with a fixed departure group of 14 members from different states. It was a great moment to join the hands again with HT, time tested, my 6th trek with HT. Hats off to their understanding of the trail.
A good phrase comes to my mind – "Once a year  go someplace you've never been before." – Dalai Lama "
This time GOECHALA TREK – A Trek That Takes You Close To The World's Third Highest Mountain!! Goechala is a rare "high" altitude trail among the treks in Sikkim that takes you close to the world's 3rd highest mountain.  It is famous for its grand view of mount Kanchenjunga and other high Himalayan peaks.
Day 0, 27 Sep 2019: Chennai to Bagdogra
My journey for the trek starts from Chennai (my home town). Flight was scheduled on 28th Sep at 05:00 AM up to Bagdogra. I started my journey on 27th Sep night itself around 11:30 PM and reached the airport around 01:30 AM by bus via Tambaram. It was economic and I don't like last minute rush. Got the boarding pass and waited for the boarding flight to Bagdogra (nearest city is Siliguri – West Bengal). During the security check in, an unforgettable moment happened. Suddenly, suspicious they asked me to remove the shoe, after checking they smiled and replied "All the best ". Without any delay I got into my preferred window seat.
Day 1, 28 Sep 2019: Bagdogra to Yuksom
It was raining heavily when I landed at 07:45.  Bagdogra airport was pretty small and didn't look commercial. Out of the group of 14 trekkers, I was waiting for  3 more trekkers who will also reach Bagdogra in the morning and then we will pick  2 more from Siliguri to complete one car. 6 trekkers shared another cab to Yuksom from NJP, while remaining 2 reached on their own.
Met the 3 trekkers one by one, of whom I first met Punit around 08:30, followed by Harsh around 09:00 and Umang around 10:30 AM. In the meantime we all introduced ourselves. Once all united, we called the cab driver arranged by HT and started our journey in the chill climate. Cab started around 11 AM towards Siliguri to pick 2 more people. Due to heavy rain traffic was slow moving. Packed luggage on the top of the cab for the relaxed travel.Around 12:10 , started from Siliguri towards Yuksom which is a 7/8 hours journey and around 160 KM. The way was full of ghat. Six members were Harsh, Umang, Vinay, Vivek, Punit and Myself. All had a good interaction and all felt hungry so stopped our cab and had lunch around 13:30. Had roti and sabji and left towards Yuksom. On the way we saw the beautiful Jorethang town where we saw well organised, clean streets and roads. There was  the beautiful hanging bridge where we saw two rivers joining together.
While going , we saw one section of a huge landslide and bridge under construction. Due to mud, our cab went slowly and successfully crossed. We expected to reach Yuksom around 17:00, but due to traffic and road congestion, we have to take the short cut roads to reach Yuksom. Around 17:00 it  was pitch dark due to early sunset and it was a totally remote area.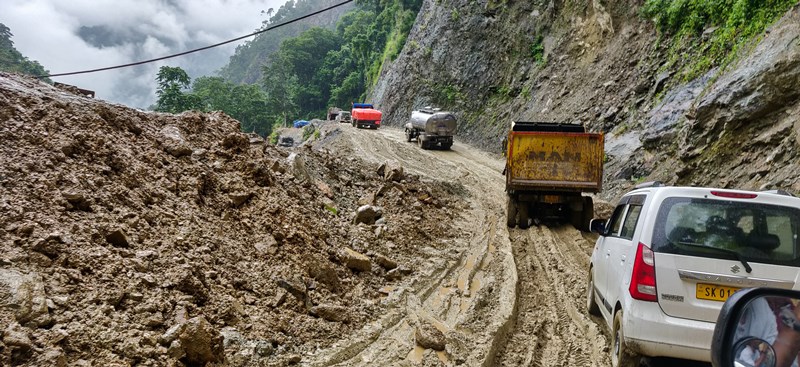 It was around 15 KM to reach Yuksom, when a tyre punctured, although fixed by the driver and we started soon after. Indeed a relaxing feel and he seemed well acquainted with the road conditions. We reached the base camp around 19:00. By the time, the first cab also reached. We settled our cab fare of 1000 INR each.
We all stayed in a small lodge, neat and clean with a hot shower. Swiftly got away with luggage and refreshed ourselves. Room has 4 beds and we (Umang, Punit, Harsh and I) stayed in it. All refreshed quickly and kept ready all declaration documents , address proof and photo copy that are to be handed over to HT. All were ready for dinner and went to the hotel. Surprised to see Rhik – HT coordinator, whom I met before in another trek. He has good experience of Goecha La trek. On the behalf of HT, he gave the introduction about the trek lead and other staff people of HT. All gathered for the dinner and introduced one by one.
We all discussed the trek plan and handed over all the documents to the HT team. Everyone was tired so got signed off for the day and went to the room around 10 PM. Next 10 days it's going to be fun and challenging for which all were eagerly waiting for.
Day 2, 29 Sep 2019: Yuksom to Sachen
The dream trek begins today. 🙂 The climate was chilly as it was rainy. Woke up around 05:00 and took a bath. Bathed well as the next bath will be after 10 days  (i.e after trek finishes). All got refreshed and had tea at the restaurant. Back to the hotel, packed all our rucksacks and gathered in the lobby. It was breakfast time. I ordered bread omelette, Kellogg's and black tea. All did according to their wish. By the time Rhik of HT came for the send-off and input some tips regarding the excursion.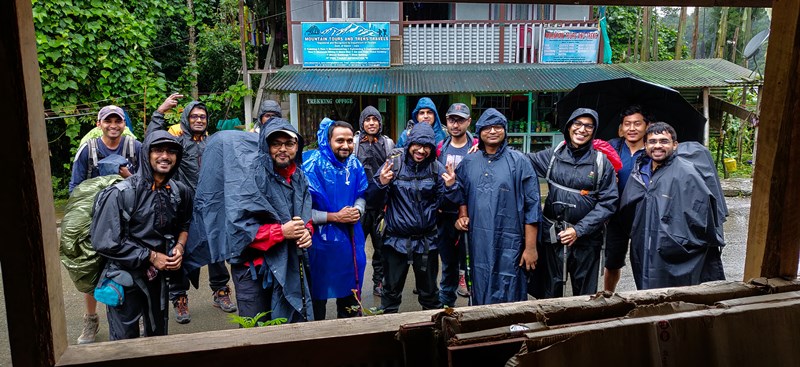 Started our journey towards our first camp site Sachen 08 KM altitude of 7200 feet while one trek leader monitoring the team at front and another at the end. On the way we crossed Kanchenjunga National Park entry check post. At the entrance, the interpretation centre was there where we got the details about the Kanchenjunga national park like birds, animals , mountain peaks, and many more. Nearby was the cage for capturing leopards.
With the heavy back bag around 13 to 15 KG , our journey started. It was thick forest with greenery surrounded by streams and narrow paths. Few paths were ascent and few descents. Trek was very well organised that at the both ends trek leads are following for the safety of the trekkers. Reported 1st suspension bridge and also big arch of Kanchenjunga national park which seems officially welcoming the trekkers. The trail was quite rocky and steep. Encountered the first yak on the way. yak and mules were used for the logistic purpose. Yak is huge and calm. I enquired about how much weight it can carry on their back. They said around 50 KG. (shocked!)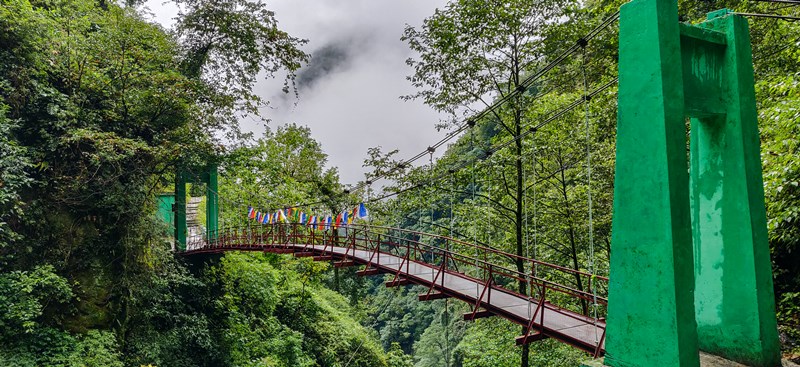 Walking around 2 1/2 hours saw another suspension bridge, and captured the empty bridge after all the trekkers passed by. Sweeper (the guide at end point) Agam waited for me till I finished taking snaps. It was the wooden bridge where a landslide happened. Saw good water fall and had water as well. After the walk of 4-5 hours saw the welcome board of Sachen(2189 meter). Reached Sachen around 14:00. We already packed our lunch from Yuksom itself in the lunch box. All were damn hungry so had stomachs full of lunch and waited for the logistics. We all waited in the small hut for an hour till they pitched the tent.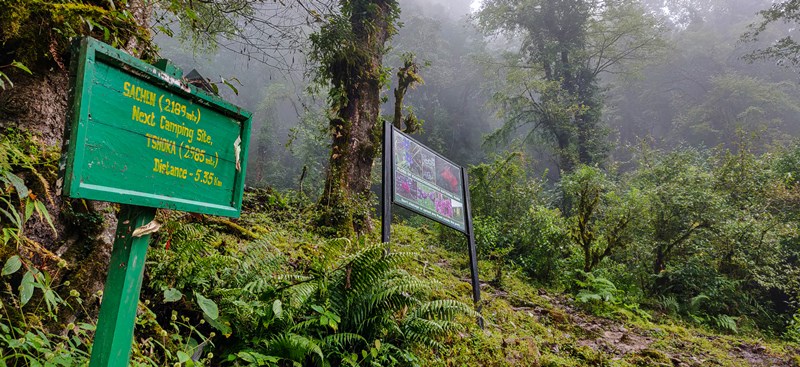 We settled ourselves in 5 tents, as 3 trekkers in 4 tents and remaining 2 in another. I was totally wet due to the rain , so I dried myself outside the tent. Umang , myself and PK (scientist) grouped and stayed in one tent. Took a nap for some time. Around 05:30 PM it was quite dark. The campsite was too muddy due to rain. So all switched on the light and was waiting for the dinner call. There was also another group of trekkers who pitched their tent next to us. All have to go to the same hut for dinner. All nicely had the dinner and myself filled my water bottle with hot water and kept in the sleeping bags to keep it warm (don't forget to close the lid properly) . Had some discussion about the next day's challenge (Tshoka). Around 08:30 PM , we all came back to the tent. It was quite spacious for 3 people. All wished "good night" and happily went inside the "sleeping bag" for keeping ourselves warm.
Day 3, 30 Sep 2019: Sachen to Tsokha
Today morning started with the bed tea-"BLACK TEA". Around 06:30 am  we woke up and got the call from the kitchen team that was to leave Sachen by 09:00 AM. Sikkim is known to be a clean  city wherever we go, we get rest room, no problem at high altitude too. Nicely had our breakfast -bread toast , jam and omelette and for lunch we are going to get a hot lunch at campsite.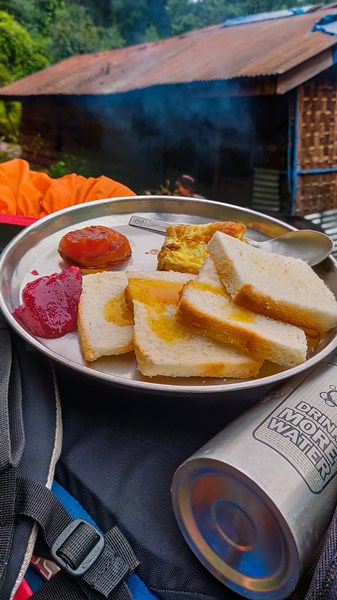 Tsokha was around 06 km from Sachen . The trail was up and down with patches started with a slow move one by one after the healthy breakfast. "Bakhim" is the place where all trekkers take rest. It is a pit stop /resting point. Valley view was awesome from Bakhim. The way towards Tsokha was dense forest and luckily no rain .On the way we saw 60 11th grade students from Bangalore for Goechala trek. On enquiring we came to  know that "it is the part of academic" , surprised and happy to see the school student for the adventurous activity. They are about to complete their trek. During their time , the weather was not clear to see the view point.One student happily said that " you people are lucky" as the climate was favourable. Signing off from the student , we started to walk ahead.
On the way , we encountered the suspension bridge connecting one hill to another hill and the river flowing under it (River Prek Chu) and the colourful prayer flag were tagged on the bridge which was too beautiful to see. I took the empty hanging bridge with the colourful  flags flying and started our walk towards Bakhim, huge fog was crossing due to which there was "0" visibility.
Later it was good. Reached Bakhim around 12:30-13:00 where a small hut was there. Some trekkers reached early and ordered black tea and some reached later. After a small break , we started our walk towards Tsokha. It was not that much of a big day. Trail was also decent.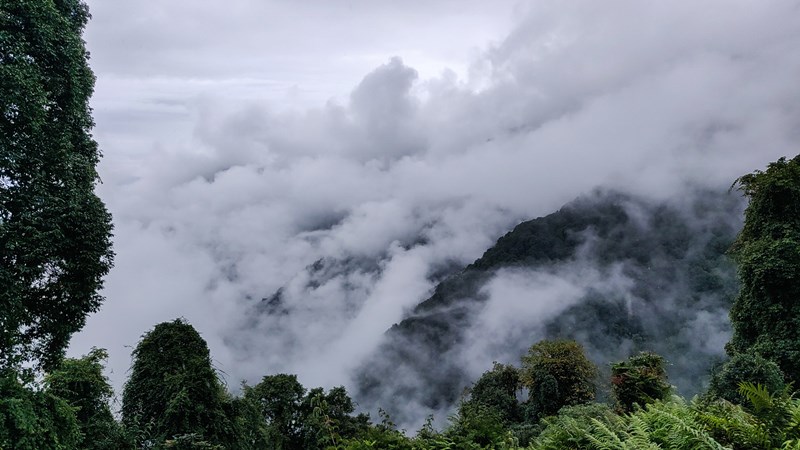 Finally reached Tsokha around 14:30. At all campsites we have  trekkers hut which costs around 100 INR per bed. Reached the hut and waited for logistics to pitch the tent. Had our lunch poori ,raita and subji with discussion about today's trail  among the trekkers.
Later the tent was pitched and all took rest for 01 hour. After that there was the small plan to visit a small monastery which was 600 meter away from the camp site. All started our walk towards the monastery which was a bit uphill. It was post monsoon period then also unfortunately rain came. Due to which the sky was not clear. Hopefully for another couple of days I will get a good clear view. From the monastery  top we can see the full view of Tsokha.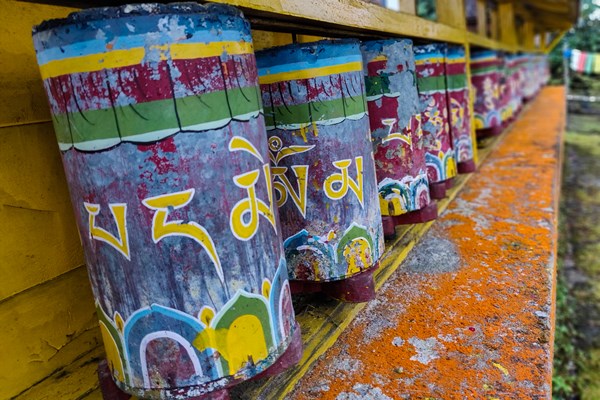 Due to some ongoing work, the monastery was closed. Around 17:30 it became pitch dark , birds were flying beautifully going back to nest. Enjoying nature , we started our walk towards the tent. Reached tent and had black tea nicely. Had some chit chat about the next day with trek lead and fellow trekkers. Around 19:15 , I got a call for dinner. Had dinner nicely. hoping for the good weather the next day all signed off for the day. I had cards with me, so I played cards in the tent for a while and then all slept.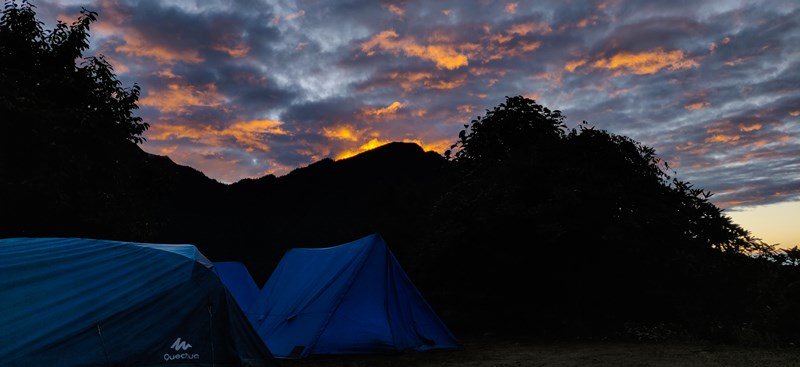 Day 4, 01 Oct 2019: Tsokha to Dzongri
It was quite a challenging trek from Tsokha to Dzongri as the altitude gain to Dzongri is double as compared to other places covered so far. The trail was primarily an ascent with one descent. Next day would be the acclimatisation day at Dzongri to get adopted to the climate and altitude. Early morning , clear sky , the sun rays falling on the mountain. We can see Mount Pandim but suddenly the clouds are covered so we can't see the full view. But on the way we can see the mountain range in very close view if the weather is clear.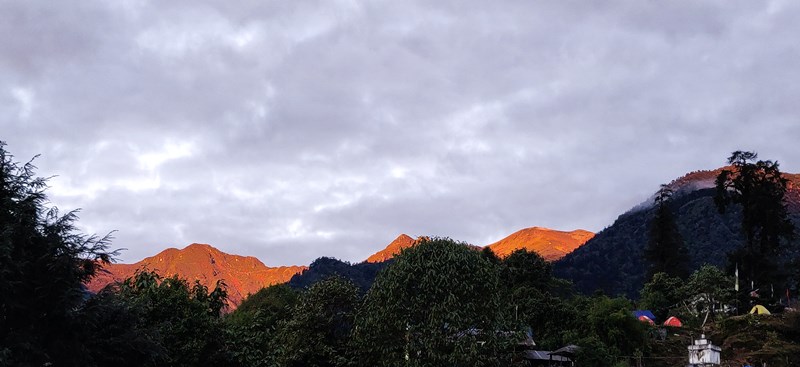 All the trekkers got refreshed around 07:30-08:00 with their rack sack for the adventurous day as the distance and the altitude both high when compared to previous days.Today packed lunch due to a long day. There was no rain, but it was cloudy. Started to walk around 09:00 and the trail towards  Dzongri was awesome. There is one pit top named  Phedang where all have the plan to have lunch. Starting our walk towards Phedang , the way was a rain forest with wooden steps surrounded by big trees so we had to be careful while walking. There were other trekkers groups too on the way to Dzongri and had some chit chat too.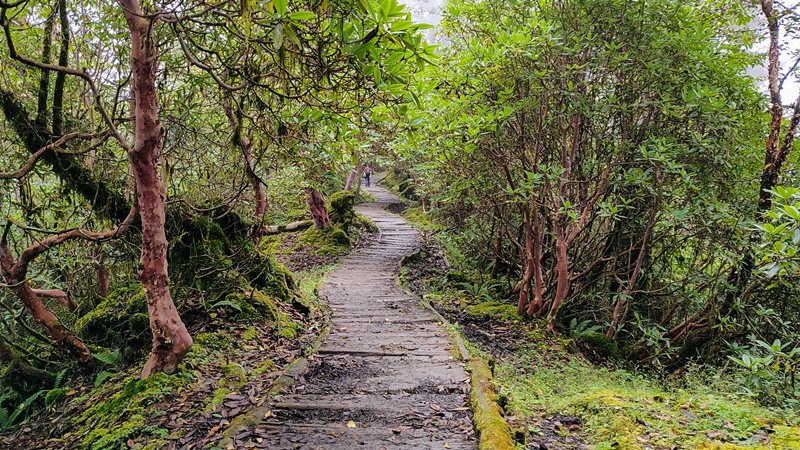 It was around 1:30 PM when we reached Phedang. Some reached early and some later. All had their lunch nicely at Phedang but i didn't. Had my dry fruits and thought to have my lunch at Dzongri.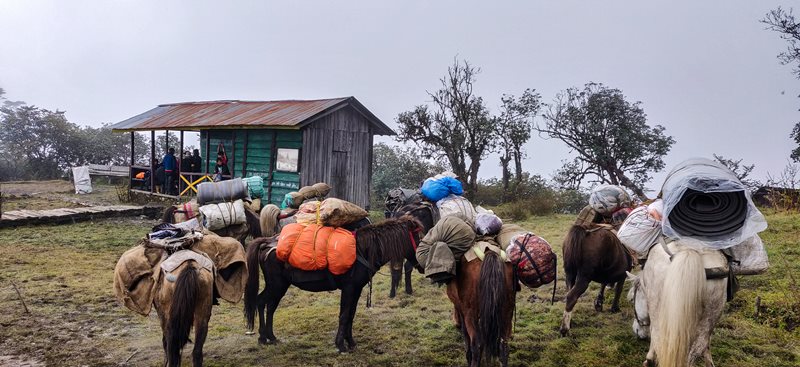 Rain started and it was a bit slippery too. Finally reached Dzongri around 15:30. Dzongri also has a hut facility. If we go solo we can stay over there. All became tired due to long day walks. My shoulder was also painful  due to a 12 KG rucksack. Tent was already pitched. so kept all the belongings and had my favourite black tea for refreshment. After some time I had my packed lunch of fried rice.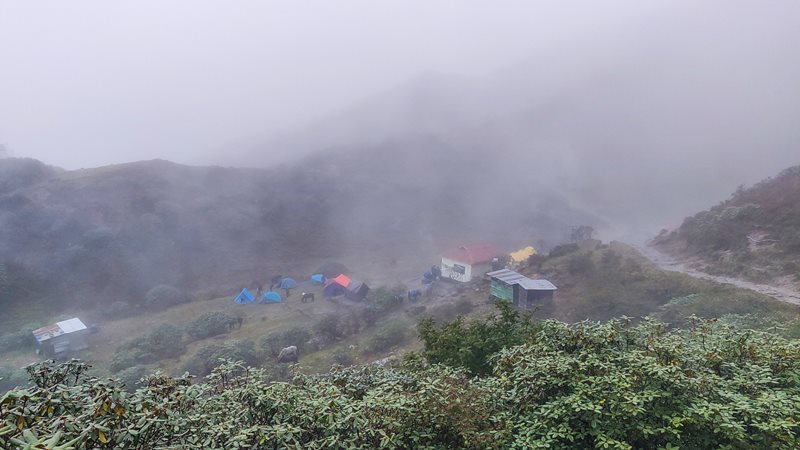 All were happy with the trail. After some refreshment there was a plan to visit the hut where the small shop was there. After reaching the hut , we had momos nicely and almost most of the trekkers were there and we had a chit chat with local people. The hut is quite warm and everyone one not willing to move out due to the cosiness.
Next day is the acclimatisation day in Dzongri. We have enough time to settle up so that no altitude sickness will impact us. Next day's plan will be going to Dzongri top and back and resting day. Around 19:30 , I got a call for dinner. Had dinner nicely. Hoping for the good weather tomorrow signed off for the day. Back to the tent and time to take a nap.
Day 5, 02 Oct 2019: At Dzongri, rest and acclimatisation
All were excited that today is the rest and acclimatisation day in Dzongri because of high altitude. I woke up around 03:30 to view the beauty of the sunrise. Have to walk 45 min up hills to reach Dzongri top.
From the Dzongri top we can see Kanchenjunga, Pandim & other mountain ranges. We all started climbing slowly as in the mountain the sunrise was a bit early. All reached the Dzongri top around 05:30. We are too lucky that the sky was very clear.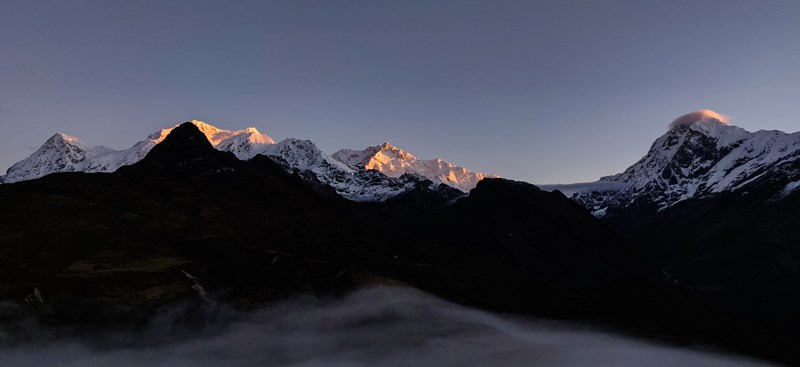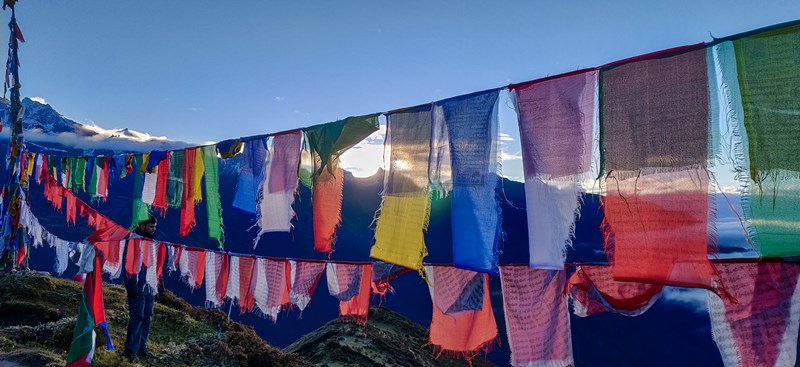 The golden first sun rays fall on the Mt. Kanchenjunga, Pandim & other mountain ranges. It was glittering like gold. Took the snap and also group snap at Dzongri top. Enjoying the blissful morning with the cup of black tea. Got the 360 view of the mountain. The clouds were floating on the opposite sides of the mountain. We are too lucky to see the sunrise as the weather was not good a few days back. All the trekkers roamed here and there and spent the good time while taking the snaps. Started walking towards the camp site. Reached around 09:00.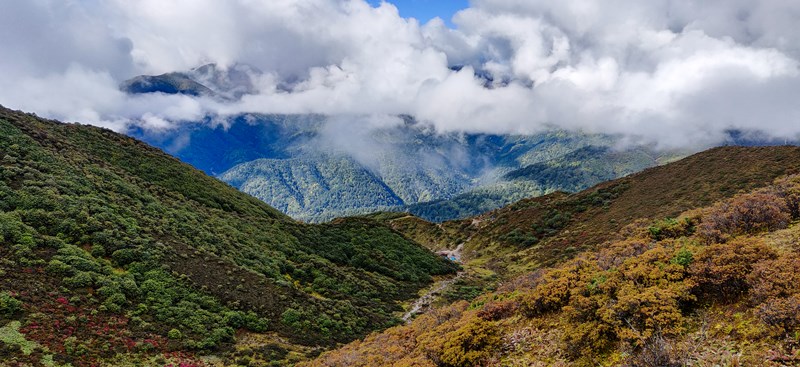 As today was the resting day , all came back to the tent and took a rest for some time. Afternoon it was pretty rainy and I had a hot lunch enjoying the rain. Had a short break post lunch and there was the plan to see the other places of Dzongri by having a walk around 04-05 KM.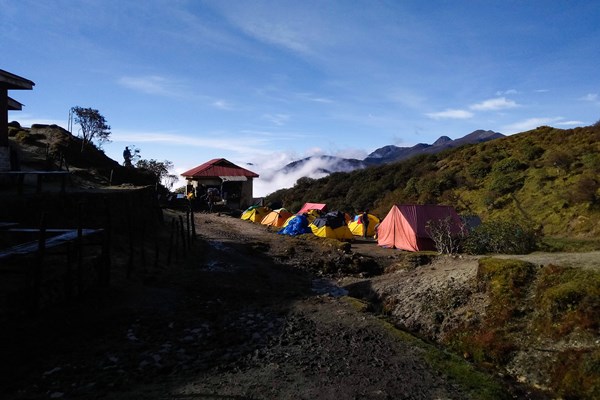 Started our walk and warmed up ,on the way we saw a cattle shed where yak and mule will stay and the food will be stored for them. Sherpa will take care of them and they will stay with them. Spend some time viewing the scenery. As the rain was drizzling, we started our journey back to base camp. On the way I had momos and black tea in the small shop and got warm up too. Back to the tent and got refreshed ourselves.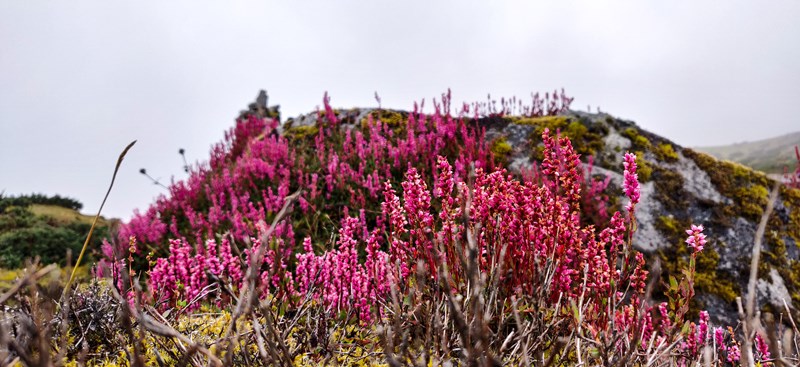 Around 19:15, we got the dinner call. All had dinner and some discussion among the trekkers and later signed off from the dining place and back to the tent. i was almost in half sleep around 22:30 , by mistake somehow i lost all my memories in the phone. No auto back-up so totally upset that i lost all my memories in the trek which i took till now. i don't want to restart the mobile before that i need to check with the service centre once back to base Chennai. Thank god i have another mobile so that i can continue for the upcoming days. Sleepless night due to that factory reset.
Day 6, 03 Oct 2019: Dzongri to Lamuney
Morning weather was pleasant and sunny. Today's trek is from Dzongri to Lamuney via Kochurang & Thansing. Today's plan is to reach base camp from where we are going to walk to Goecha La view-point 1.
All the trekkers got ready around 09:00 with good stamina due to the acclimatisation. We started our walk towards our destination. During the trail we are able to see the lost view of Mt Pandim and other mountain peaks. It was a bit uphill so took many breaks in between.  The view which we got to see at Dzongri top, we can see the same here too. Took the snaps of nature and started walking. On the top of the mountain we could see the trail to Kochurang & Lamuney. There was the hut in Kochurang where trekkers used to stay. If we go solo we can stay over there and proceed for the journey.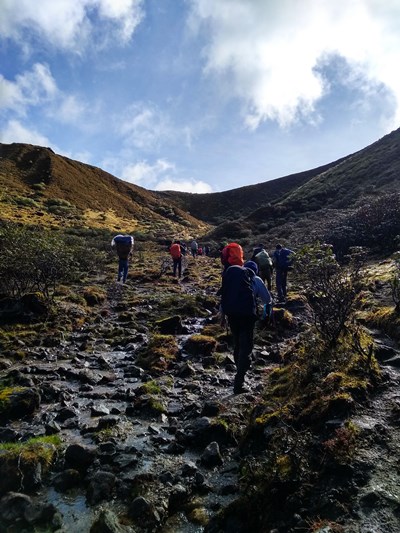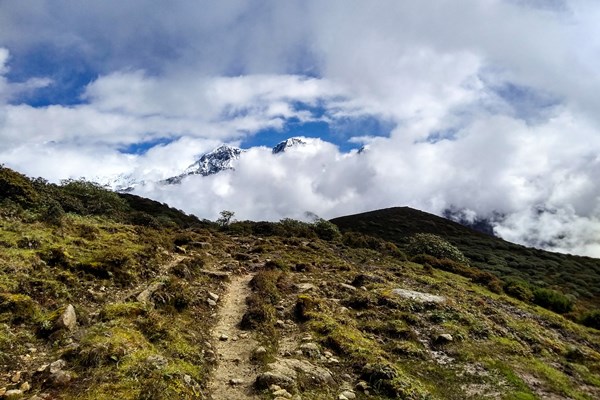 After sometime weather became usual cloudy and foggy. Bit drizzle too, but manageable. Till Kochurang it was downhill and very steep too. Have to be careful. Too muddy too for keeping the steps. We were able to see the campsite of Lamuney which is one of the viewpoints while on the way to Kochurang. Thansing is the point where all the trekkers are going to lunch. Reached Kochurang after the walk of around 2 1/2 hours. Some trekkers reached early and some were on the way. All had a short break and had my dry fruits and walked Nearby Kochurang hut where Prek Chu river passes through nearby. Again started to walk after rest.
Ahead there were two small wooden bridges over which thick fog was crossing and beautiful scenery to view. One of the wooden bridges was too weak as people used it more frequently. After crossing the bridge again it was a bit uphill, bit slippery, rocky and muddy too. All were keeping their steps very carefully and very awesome as the excursion was alongside Prek Chu.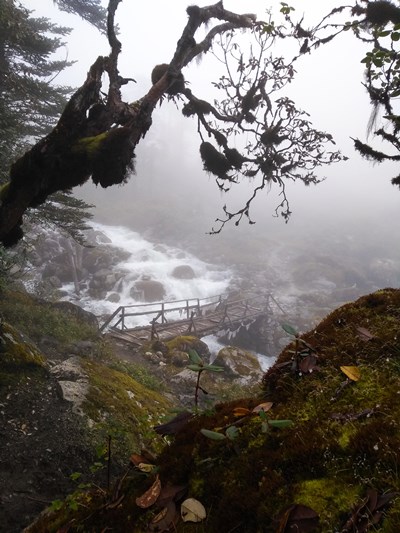 Reached Thansing and had our lunch. There was the trekkers hut too if we want we can stay and take rest. We had a hot lunch of noodles soup and favourite khichdi with papad combination which was too good and yummy. All had the refreshment drink black tea after lunch to make ourselves warm. Unfortunately one of our tent mates PK was not able to come with us. As his shoe got worn out at Dzongri itself. He bought the new one too but as it was a new shoe bite so not able to walk properly. So he decided to stay at Kochurang itself. On the way we met one solo trekker and we became a group of 14 trekkers again.
Lamuney trail was not challenging. There were big meadows but I wasn't able to see due to the clouds. It was the final camp site to reach our destination Goecha La viewpoint. Lamuney was very calm and there was no trekkers hut, only a kitchen hut was there. All the trekkers reached the camp site around 16:00 and all were damn tired as it was the long day almost 14 KM walk. Went inside the tent, got refreshed and waited for the dinner call. Next day morning have to start early so had dinner and everyone planned to nap early without any further discussion.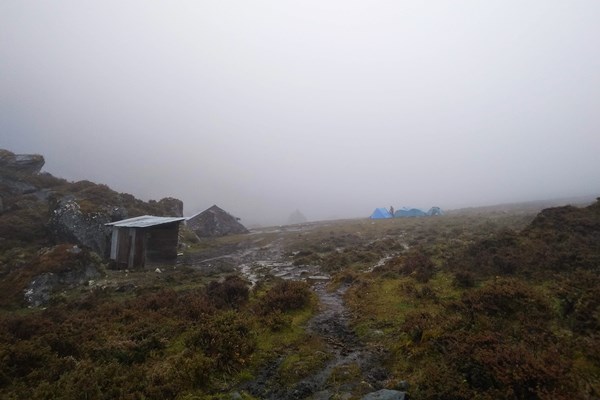 The main target was to view the view point 1 sunrise. All were discussing the Goechala viewpoint during dinner time. There are three viewpoints 1,2 & 3. Due to some restriction, view point 2&3 was closed. Snow leopard was roaming and risky too due to moraine trail and landslide also it was banned recently. Can get the approval of view point 2 at least but not due to restriction. So a bit disappointed. Till 2016 VP 3 was allowed by that time it was not that much commercial but nowadays it was too commercial and that's was the reason stopped. View point 2&3 were around only 04 KM by max from VP-1. Below VP-1, there was Samiti lake which was too beautiful , which we are going to see tomorrow.
Day 7, 04 Oct 2019: Lamuney to Goechala VP 1 and back to Kokchurang
It was the long day. The journey of the trek was to view the VP-1 then to Lamuney and then finally to Kochurang. The main target was to view the sunrise at Goecha La. The weather was also favourable to us. All were ready by 03:30 Started to climb around 04:00. Since it was pitch dark and very chill everybody switched on the head torch to got to the VP-1. It was bit uphill and we saw Samiti Lake on the way. Due to early morning we can't see the full lake. Slowly the sky was getting brighter and saw big mountain fully covered with fog.
Reached Goecha la view point-1 around 06:00 and it was cloudy. We are bit unsatisfied that we are not able to see the clear sunrise due to cloudy weather. We are waiting for the clear view. After sometime the weather became clear and the sun-ray fall on the mt Kanchenjunga. Blue sky and white snow which seems as the gold was glittering. Mt Pandim & Tenchenkhang can also be seen from that point. Got 360 view all surrounded by the mountain. All were too  happy that finally our trek satisfied for which we were waiting for. As there was the restriction for VP-2 & VP-3 spent time in VP-1 and took the beautiful snaps. After sometimes all started to descend towards  Lamuney.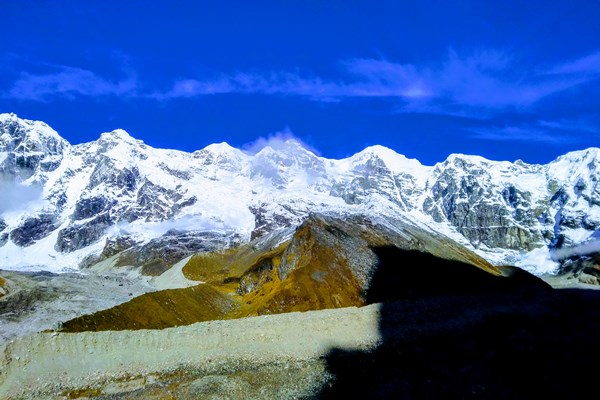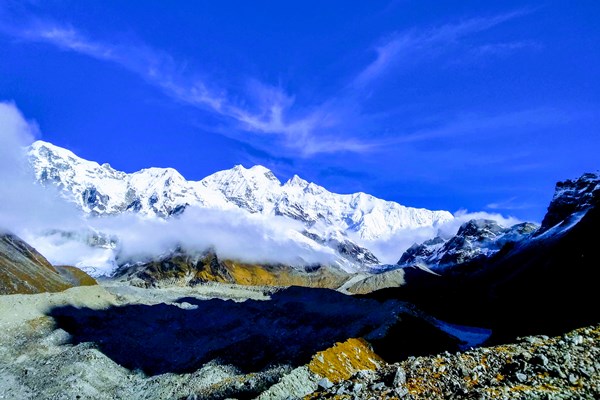 The view of the Samiti lake from top with blue and light green was amazing. While descending trek lead Kiran said blue sheep,blue sheep and we are lucky to come across. All the eyes toward them. Bunch of sheep were climbing towards mountain. Luckily took the snap by zooming it. Around 09:30 we all returned to the campsite of Lamuney.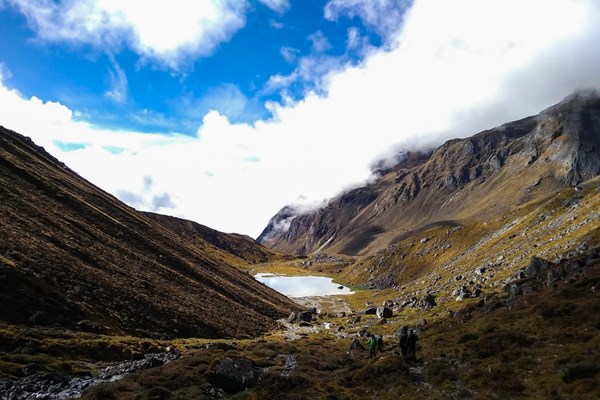 Took rest for sometime. Since its going to be long day, so finished our breakfast. All are busy with packing and removing the tent. After sometimes directly had our lunch and started descending. While coming we talked about the two bridge out of which one was weak. The Weak bridge got broken touching the water flowing under it. All were thinking and bit afraid that how to cross the river.
Trek lead checking out the option how to cross either we have to find new way or else crossing via broken bridge. The River Prek Chu in full speed crossing but we took the brave decision to cross the river. First Trek lead did the trail to make sure broken bridge stable or not and later asked us to cross one at a time. Myself crossed 1st by holding the hand of Kiran-trek lead and successfully crossed. Thank god(Thinking in mind). Similarly one by one crossed with the help of holding hands. There was another batch at Kochurang. Half of the logistics were crossed and half of there was at another side. Our batch HT crew somehow manually  crossed all the logistics safely. Our team mate PK was eagerly waiting for our return. We are very happy to see him back again. Shared the experience which we had beyond that point which he missed due to his shoe bite. Now he is all-rite.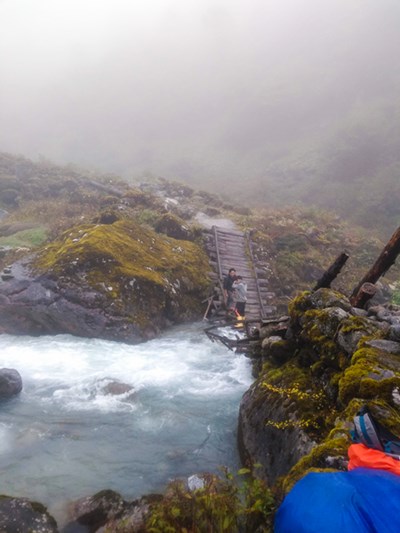 Our tent pitched near by River Prek Chu and again we three stayed in the tent. Got refreshed and waiting for the dinner. Had our dinner at the trekkers hut. All were fully satisfied that it was the worth day of the trek which all were looking for lucky to see everything clearly from VP-1. Happily returned to the tent. As it was long day ,all were bit tired. So went for the sleep by waving good night.
Day 8, 05 Oct 2019: Kokchurang to Tsokha
The target for which the trek was organised has been achieved.Everybody's dream fulfilled. Now walk toward downhill. It seemed that the trek was going to end in a couple of days.Tent was pitched exactly to the river-Prek Chu.
When we came out of the tent we were able to see the clear view of the mt. Pandim with the snow peaked mountain. Had our breakfast of Kellogg's , phulka roti and subji (Matar & chana). Enjoyed the full breakfast. Today also it was a packed lunch(pasta). Everybody packed the rucksack and ready to leave.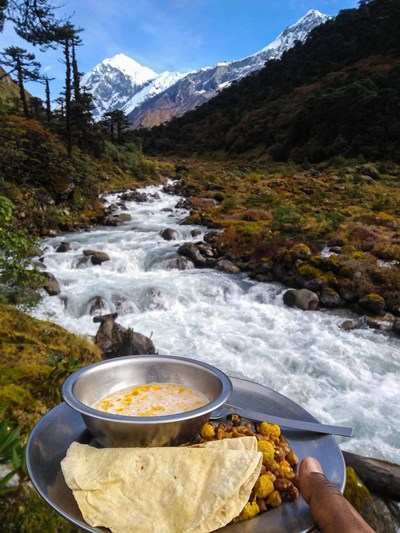 The uphill route and the downhill route were a bit different. While going uphill the trail followed was Tsokha to Dzongri (via Phedang) & Dzongri to Lamuney (via Kochurang). While the downhill trail followed by Lamuney to Kochurang (via Phedang) will be the same but to reach Tsokha from Kochurang (via Phedang) instead of via Dzongri we opt for the other route. The downhill was muddy and slippery too , but manageable so all enjoyed the climate and started to descend. The climate was moody but not that chillness as expected so wore only one layer of dress. Reached Phedang where everybody has the plan for lunch. We saw the small hut for trekkers resting point. All the trekkers  reached the hut one by one and had lunch nicely, after a litter break everybody started moving. The trail between Phedang and Tsokha was full of fog. It was calm all the way. We all reached Tsokha finally around 16:15. All were fully satisfied with the day. Remaining day was the rest day. Again the same tent mates myself , Umang and PK stayed together.Refreshed ourselves and were waiting for the dinner.
After the dinner there was the plan for the success party. As the next batch is going to come the HT crew members will stop at Sachen itself the next day. Celebrating the day end by cutting the cake for the HT crew members. Good dedication by guide and the supporting staff. Discussed about the pros and cons of the trek done so far. HT provided the complementary certificate for successfully attempting the Goecha la to all the trekkers. Talked about the upcoming plans too. All were too happy and satisfied with the excursion so far.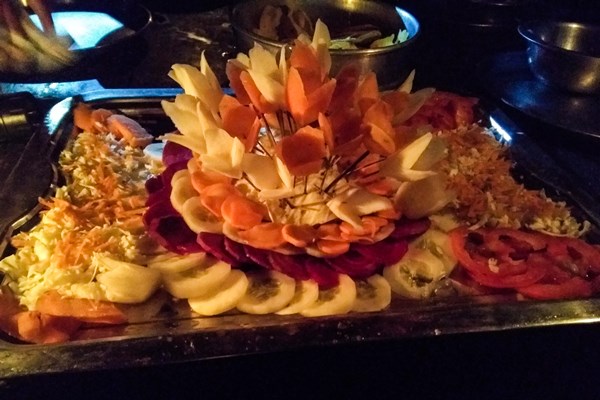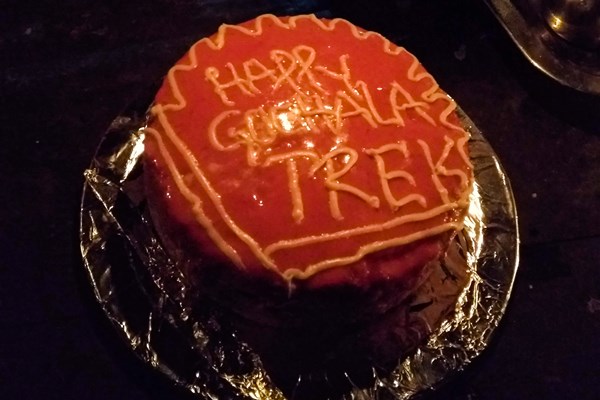 Back to the tent and signed off for the day. The next day would be the last day of the trek. From Tsokha to Yuksom via Sachen.
Day 9, 06 Oct 2019: Tsokha to Yuksom
The weather was pretty sunny and was very clear. All were relaxed as there was no rush to leave early on that day. All packed the rucksack and gathered for breakfast. It was Kellogg's and bread omelette. Had nicely and started to move around 08:30. All packed the lunch veg sandwich in the limited quantity.After breakfast all gathered at the same time and started moving towards Sachen. Plan to reach Yuksom in the evening. The trail was a bit up and down with a couple of bridges on the way. The hanging bridge which we crossed while coming , the same bridge going to cross. On the way we saw many batches coming for the trek. Many of them were solo. The trekkers who are coming as solo can cut short the trek days and finish it off within a short period of time. For the solo trekkers especially it is advisable to hire a guide as they know the weather condition and trail.It would be the moral support for the trekkers too.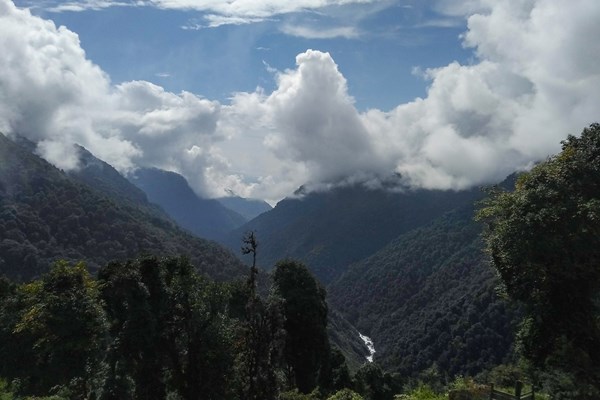 Finally reached Sachen. All had their packed lunch of sandwiches. It was good. Some of the trekkers who reached early were taking rest for a while. Everyone finished with lunch. All started toward base camp-Yuksom. Some of the HT crew stopped at Sachen itself. After a final handshake and goodbye started moving forward. On the way we crossed the hanging bridge where colourful flags were tied up. It was flying which looked beautiful. I like the view very much. AS we started to move , drizzling started. After some time the rain started heavily. After some walk we were able to see the welcome arch of Kanchenjunga  national park. Again the last hanging bridge on the trail and took a small break over there and had some dry fruits to boost myself. After refreshment started to move.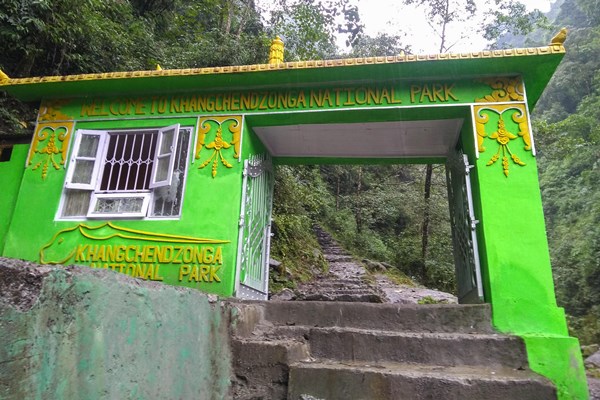 When we were close to Yuksom , I switched on my mobile as we came into the network area after 7 days. We reached Yuksom around 17:00. We were near the village and started distributing chocolates with the kids. All were happy for the successful attempt. We are going to stay in the same lodge where we stayed earlier. After 9 days we were going to refresh ourselves- Bath. 🙂
Everything went well. Only worry was about my phone which I have to service in Chennai. Informed my family and knew about the situation and everything seems good. After refreshment I had some fruits. Everybody was planning to go to Yuksom bazaar. Had boiled veg momos, my favourite. So had it  nicely finally the success part with all trek mates. 🙂
I have a little cramp on my leg so not able to walk properly.Applied medicine and bed time. Done with packing so that tomorrow morning will be free. Finally the trek ends with full satisfaction. During dinner we met Rhik too. All shared their own experience with him. Talked about the pros and cons of the trek.And also talked about the next plan. That's for the day. Said good night to everyone and went to sleep.
Day 10, 07 Oct 2019: Yuksom to Siliguri/Bagdogra
Good morning Yuksom .!!! It was our final hours in Yuksom. Travel day by cab (160 km). It was the shared cab which cost around 1000 INR per person, which would cover the three places (Siliguri, NJP, Bagdogra). We were all refreshed and ready by 09:00. Rucksack ready and ready to get in to cab.
It was a bright sunny day in the morning. I Planned to visit a monastery near Yuksom bazaar and spent some time over there and relaxed  for a while. We had our breakfast -bread sandwich & my favourite black-tea. Rhik came for the send off. During the time discussed about the next trip plan. Hope next would be definitely a big expedition trek. Kept as a suspense for now. Happily joined the hands and said "chalo phir milenge". Cab came on time and placed all the things on the cab.All said final bye bye to Yuksom and left to Bagdogra.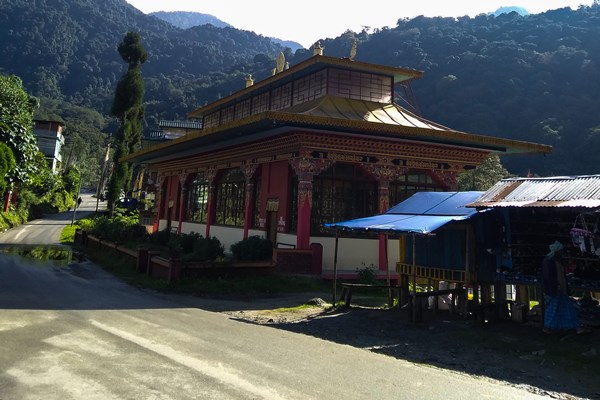 We started our journey around 09:30. The travel was around 07 hours. There was a plan to have lunch in the small town Jorethang. We reached the town around 12:00 noon and had Thukpa and spent some time over there. There was a huge crowd in the town due to the festival. It was the last day of Durga Pooja, which is the famous festival of West Bengal. We left the town around 14:50. We are very close to the Bagdogra city.On the way to the city , there is  a bridge-coronation bridge with a diversion which leads to Burma. While heading towards Bagdogra , there was heavy rainfall around 17:00-16:00. Due to which there was a huge traffic jam. The cab stopped at the private bus stand in Siliguri. We all get down and few trekkers who are going to travel from Siliguri,  few trekkers going to travel from NJP and myself and Umang going to travel from Bagdogra. So we are going to stay in a hotel close to Bagdogra airport. As it was rainy we are not able to move immediately. Everyone stands by for sometime till rain is under control and we finally say goodbye to everyone. Myself and Umang  hire the auto to reach the hotel around 18:30-19:00.
At the reception, we settled the advance amount and checked-in. As per plan we refreshed and left the hotel at 19:30 for a walk. A big Mela was going on due to Durga Puja and people were really enjoying it. Due to rain, there were water logging at all the places. After worshipping goddess Durga  we had dinner with nan, paneer gravy and lassi. Had a walk for a while and came back to the hotel.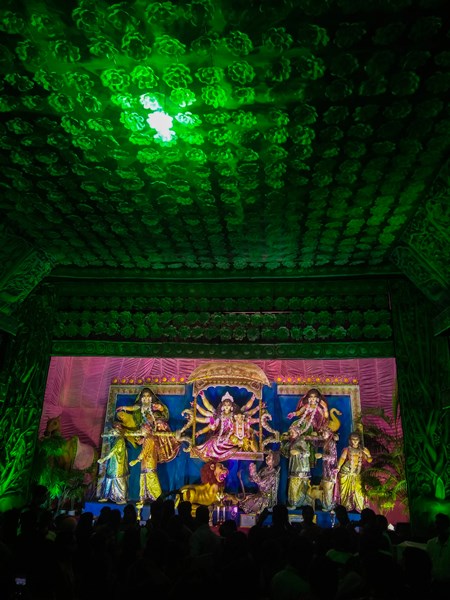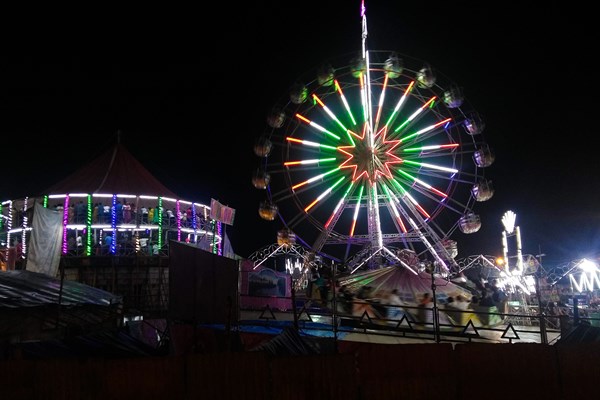 Myself going to Chennai and Umang to Mumbai. From the hotel, the Bagdogra  airport was around 04 KM. It will take 15 min from the hotel to the airport. I had planned to leave the hotel around 06:30. Umang had the plan to leave a bit late as he had a flight around 11:00 and mine was around 08:30. Its time to sleep.
Day 11, 08 Oct 2019: Back to Chennai
I woke up around 04:00 and refreshed. I got ready around 05:30 and a final goodbye to Umang. Around 06:30, I left the hotel. Took the auto and reached the airport around 06:50. Hardly 15 min of travel. He charged 100 INR. Checked-in and got the boarding pass.
Again saw the veg momos , you know my love for these now. Haha, without pondering I grabbed the very economic breakfast 😀 with 08 pieces for 80 INR and relished. The flight was on time and boarded the flight around 09:00  and landed around 11:30. From Chennai airport i took the cab to reach my home in Chennai. As i have to go to the office in the second half 🙂 and regular work begins till next travel… 🙂
I enjoyed the trail throughout and overall it was a very satisfying journey indeed.
All photos are shared by the author