The prelude
The word "trekking" I heard for the first time in the year 2011 and motivated from my elder brother. I got the initiation from him and also usually trekked with them during my Mumbai days.
My first trekking experience was to Sahyadri – the Western Ghats in Maharashtra. I never estimated that I will continue my trekking this far! Till now I had 6 trekking experience, out of 5 was arranged by HIMALAYA TREKKERS.  I have been to Hampta Pass, Valley Of Flowers, Kedarkantha, Dayara Bugyal, Roopkund, and Bali Pass with HT and had great experiences as always.
My 7th trek which I intended with the same group, but unfortunately my leave planning and HT schedule didn't work together.I was in the doubt that whether I should go for this trek or not. Later I interacted with the HT and discussed the possibilities. They gave me adequate understanding of the trail and encouraged to trek solo.
Meantime some personal issues developed and I thought to leave the plan for the time being. But everything  settled and set for my next Himalayan excursion finally. One major challenge was to reach the base camp since I was travelling solo.
Here is the chronicle of my journey and my first attempt to document it. Being an experienced and solo trekker I had the chance of a flexible itinerary. Also travelling independently gave me a great dealt of freedom for tweaking things here and there. I would strongly encourage to follow the standard HT itinerary of Sandakphu and Phalut trek, if you plan yourself.
Day 1, 19 Jan 2019: Chennai – Kolkata – Overnight train to NJP
My journey began with a 12 Kg backpack from home in Chennai. I walked out from my home at 4:45 AM in search of a bus. Unfortunately I didn't get one, and got nervous how to reach now. Luckily I got a van , which dropped me 10 km ahead towards airport. Then got the share auto up to Tambaram and finally got the train from the Tambaram to Tirusulam(Chennai airport). It was totally the economic travel till experienced. I reached  the airport at 6 AM itself. My flight time was 07:55 AM. After my security check-in I had my breakfast- Idli prepared by my wife. 🙂 ( a cool start of the journey).
I landed in Kolkata at 10:15 AM. A long gap for the train travel around 18:50 in the evening. So I spent a 1 hour time in the airport itself. After that I came out of the airport and got the Howrah bus up to the Howrah railway station. On that day a huge rally was conducted by ruling party, and a massive crowd was on the way to railways station. It took around 3 hours to reach me to the railway station. But thank god due to the evening train , it didn't affect my travel.
After reaching the Howrah bus stand, I was searching for the railway station. I have seen one vendor who was selling guava. I thought to ask him (Bhaiya Howrah railway station kidhar hai.?). He showed me the way as (Sahab subway me utar kar cross karo, aap pahonch jaoge). So happily I bought 1/2 kg guava for ₹ 40 and started walking.
I was amazed to see when I reached the point around 15:00. It was a huge railway station consisting of 23 platform and also a huge crowd where I was seen like an ant moving in the crowd of thousands of ants. It seemed I moved automatically with the crowd on the way.
Since there was a 3.5 hours gap, instead of roaming here and there in the railway station  I thought to stay in the waiting hall. I took the 1st class waiting hall , non A.C with balcony so that I can breath the fresh air and have the beautiful scene outside. From this balcony only , I saw the amazing view of the Howrah bridge , which I only saw in the films. It was one of my dream which was fulfilled on that day. The Time passed by staring at  the Howrah bridge and taking the pics.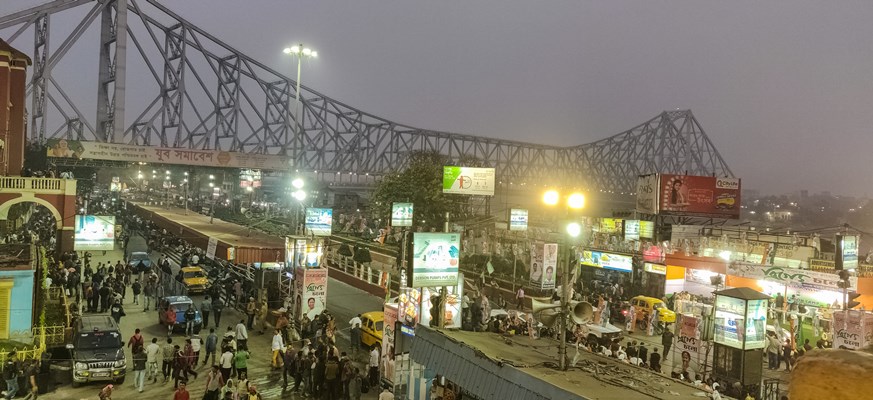 Around 18:00 , I started searching for the display whether at which platform my train will arrive, but due to the power shortage , the display board was not working properly. Later I went to the help desk and enquired about it. They said that announcement will be done. At last I got to know that my train got delayed for almost 45 mins. Then only I got the big relief. So I  thought of packing food for dinner. So I packed pulao and gravy + water bottle from food plaza inside railway station.
Finally around 20:00 I got in to the train and settled. Later I had my dinner and had a sound sleep. But I was bit tensed as I was unknown  after which stop New Jalpaiguri Junction (NJP) will come. So I was constantly visiting the live status and getting the updates from the attendant.
Day 2, 20th JAN 2019: NJP – Darjeeling – Maneybhanjung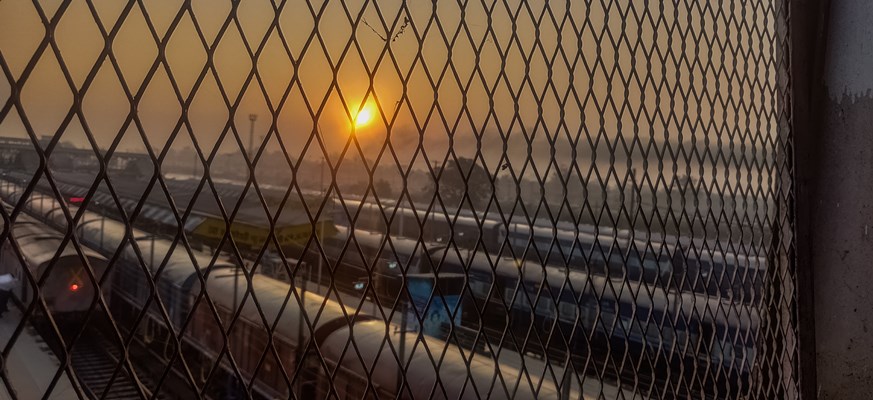 Delayed by an hour and half I finally reached NJP at 6:15 AM. It was the pretty start of the day as the climate was  chilly. I got bit shivering as I wore only one layer of clothing. After sometime I did warm up and continued to walk. Later I enquired about the taxi stand from where I can get it to reach the queen of the hills, Darjeeling.
Around 07:30 AM I got the shared taxi (₹ 250 per seat) from NJP to Darjeeling. I heard the voice "Nepal", then only I came to know that we can travel Nepal from NJP. Around 08:30 AM we all get down  for the morning breakfast (Bread omelette and a hot chai). Re energised and continued toward Darjeeling. Around 60-70% of the road was covered with the ghat. At last reached Darjeeling around 10:30 AM.
My next destination was Maneybhanjang. As there was enough time, I thought to spend my time to explore Darjeeling. I had a good walk of around 1.5 km from taxi stand to reach Darjeeling station which is the UNESCO world heritage area situated at the altitude of 6812 feet. Spent my time in the railway station watching the famous steam engine and read the history of the railway station. It was established in the year 1881 and was maintained very neatly.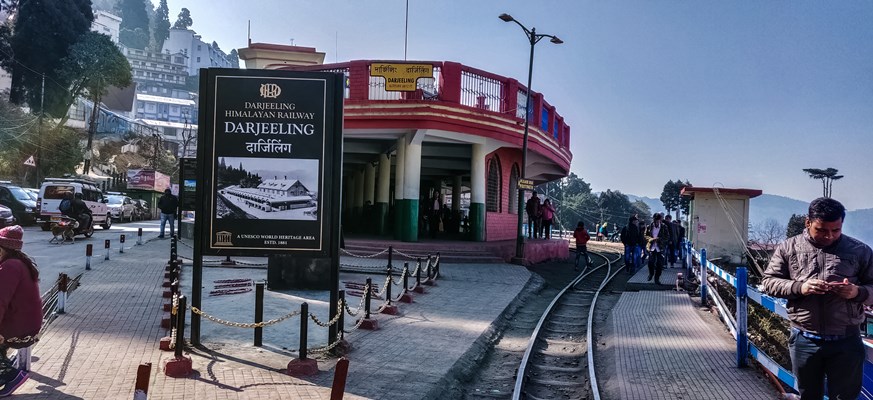 The climate was pretty normal and sunny. So managed with the single layer of clothing. Again started a walk towards the super market taxi stand from where I can get the taxi (₹ 60 for a seat) up to Maneybhanjang. I have to get down at the Dhendup homestay and Dhendup is my point of contact who will arrange a guide for the trek.
Maneybhanjang is the traditional base camp for Sandakphu trek. This is the hub from where trekkers can hire a guide, buy any last minute item for the trek. I reached Maneybhanjang and the cab dropped me just at the entrance of the Dhendup home stay. I knocked the door around 13:30, someone stepped out. I introduced myself as Vijay coming from Chennai. They welcomed me with a smile and provided a room in the first floor. I get into the room and bit relaxed for a while as I was packed fully for more than 24 hours with my backpack and shoes.
I was feeling hungry so I was provided with the noodles and chai. I enquired about Dhendup , she said that he will be back  by late evening as he went out for a work. The Climate was very chill so I have to wear the another layer of clothing. Relaxed for a while and went out for a short walk. Walked around 1 KM , I saw a board of "Welcome to Nepal". I was feeling very happy to touch Nepal,so with that curiousness I entered the Nepal and walked 1 KM and saw many small shops and kids playing around. Enjoyed the scene of different country and came back. On the way back to homestay I just have a small overlook for the next day trek. I saw one check post ,where I have to pay Rs 100, Singalila National park, as an entrance fees.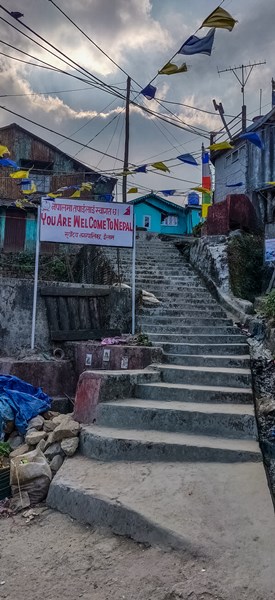 Back to homestay and had a nice dinner ( Rice + Chicken + Dal) with Dhendup. After the dinner had the discussion regarding the trek with him and his younger brother. Already I was aware of following plan A. They discussed about the plan B as well and if possible I will try to execute.
Plan-A
Maneybhanjang-Tumling, Tumling-Kalapokhri , Kalapokhari-Sandakphu, Sandakphu-Srikhola, Srikhola-Siliguri.
Plan-B
Maneybhanjang – Jaubari,Jaubari-Sandakphu, Sandakphu-Phalut, Phalut-Srikhola ,Srikhola-Siliguri.
The amount for the guide for both the plan was almost same. Around 25 to 30 KM extra as compared to plan A, but even though I decided to choose for the plan B with the more enthusiasm for the more coverage. The day ended with the great discussion and homely food.
Day 3, 21 JAN 2019: Maneybhanjung – Chitrey – Meghma – Tonglu – Tumling – Jaubari
The day actual trek started towards Sandakphu. I woke up around 05:30 AM in the morning. The climate was pretty chilly. After refreshing I wore three layers of clothing. Took breakfast and finished with plain omelette and chai. Dhendup introduced Pasang Sherpa who is going to guide me for the next 4 days. After a brief introduction, we started our journey. His ancestors belonged to Nepal and settled in India.
The walk starts following the motor road to Sandakphu amidst  dense pine trees. The next point was Chitrey which was 3 KM ahead. On the way to Chitrey, we had the visit of Chitrey Buddha monastery where I got the feeling of positive energy.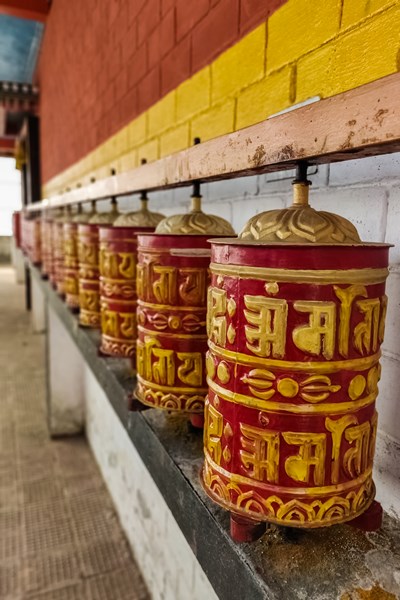 After walking around half KM we reached Chitrey. Had a short tea break. In the meantime I took the panoramic view of the beautiful landscape. Again started with a fresh walk. The next village was Meghma which was around 07 KM from Chitrey. The way was tick tak, after the walk of  04 KM, there was the Sherpa's stall where hot drinks , cold drinks and snacks was available. I had a glass of hot water and started walking.
We reached Meghma around 12:45 PM Refreshed ourselves and had lunch(Rice + dal + Subji +Papad+ omelette) cost around ₹ 150/-. We had lunch at the hut which was exactly opposite to the Meghma monastery. After making our stomach happy, our legs got  energy. Around a walk of 2 KM , Tonglu place was arrived which was full of mist and fog. Again zigzag road started and walked along to reach Tumling. It was around 14:00.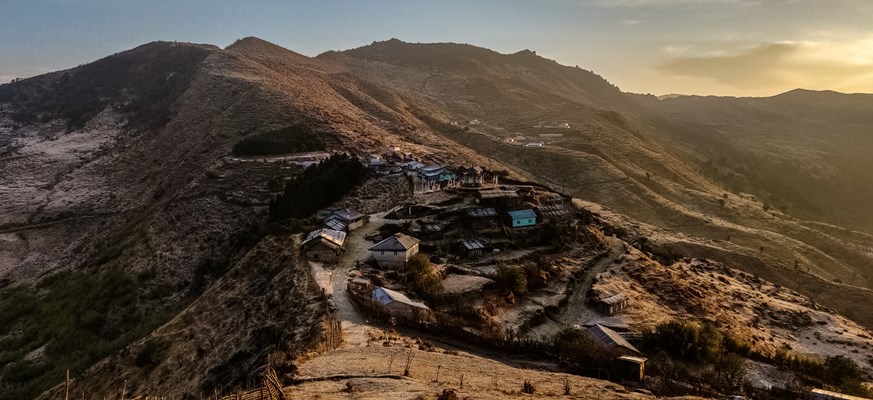 This was the place where most of the trekkers prefer to stay at the hut, but I chose to cover the plan-B which covers around 25-30 KM more than PLAN-A. So thought to cover the another point and stay over there. So with the boost to cover the more place, we started our walk toward Jaubari.
On the way, the big banner welcomes me which was Singalila National Park. We reached Jaubari around 15:45. We are in the search for the huts. Usually this place would be loaded with the trekkers at the season time, but as it was the winter season , it was not as much expected. After the long search , I got the double bedroom for which I have to pay the two cots. Each ₹ 300/-, and paid ₹ 600/- for the room. My trek guide stayed couple of houses beside. Got refreshed and had a talk about the next day plan.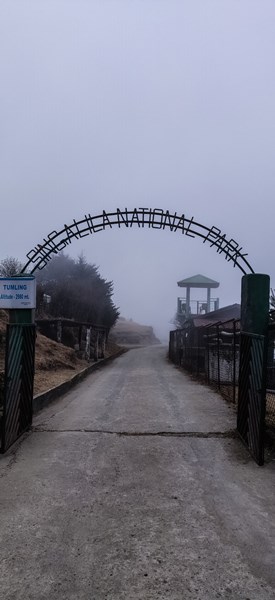 It was around 17:00, so my guide suggested me to have a walk and see the sunset which would be fantastic view from this point. So enjoyed the sunset took the pic and back to home stay. While returning back it was pitch dark, as there was no light surrounding by, everything runs by solar electricity only. So quickly I got charged my mobile and had dinner nicely ended up with 2 boiled eggs. Had the post dinner walk and entered in to the blanket.
Day 4,22 JAN 2019: Jaubari – Kaiyakata – Kalapokhari – Sandakphu
The day 4 starts with the chill breeze. I didn't have the sound sleep due to cold, got up from the bed by 05:30 AM and went to the sunrise spot. I was surprised to see my trek guide who was already present at the spot. The sun showed her smiling face getting out from the mountain around 06:40 AM. Able to see the Kanchenjunga mountain range which was shining like a gold. Took the glimpse and spent 2 hours of time around and returned back to the hut and got refreshed.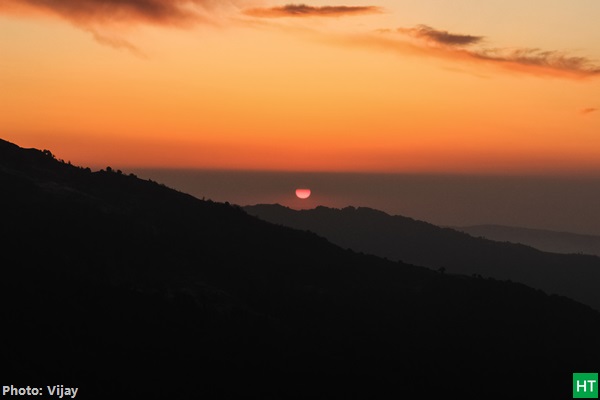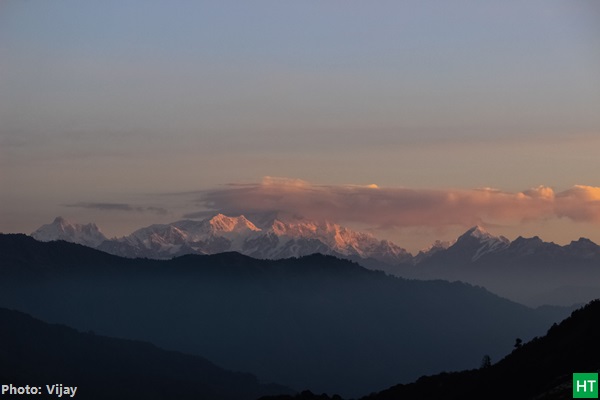 Signing off from the Indira lodge, which was 16 KM behind Sandakphu. Started our excursion around 08:30 AM, Skipped our breakfast. My next village was Gairibas. The way was bit frozen towards Kaiyakatta. Reached Kaiyakatta around 10:30 AM. Boosted my energy with a bowl of maggi and boiled egg. The next destination was Kalapokhari. This time the road was tow slippery as it was full of frozen, so managed by slow walking with the help of my guide. Finally reached Kalpokhari around 12:40 PM. The name itself gives the meaning which is black pond, able to view the same and enjoyed the nature for a while. In Kalpokhari, I paid RS 50/- as a tourist entrance fee for Sandakphu municipality corporation.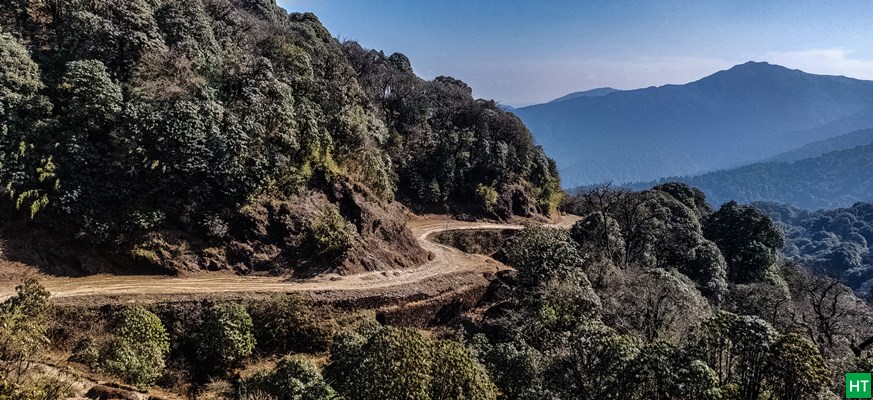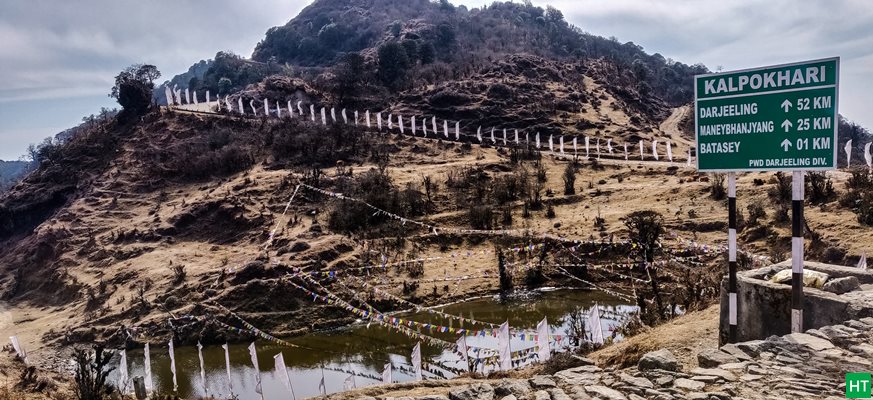 After Kalpokhari on the way to Sandakphu two Pomeranian dogs – Lucy and Poppy welcomed me. These dogs were too cute. We reached Bikhay Bhanjyang having an altitude of 3280 meter, had a bowl of rice + egg bhurji + papad. The next walk was very steep and it was foggy and misty with zero visibility. Around 16:15 , we reached Sandakphu  which took around 03 hours from Kalpokhari due to its steepness.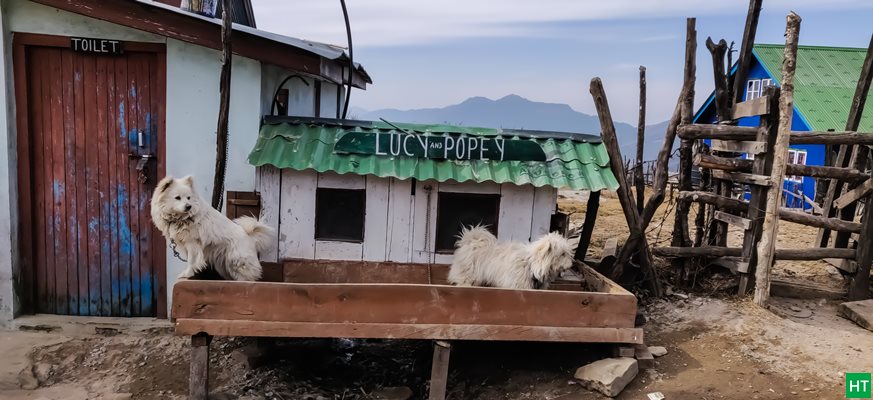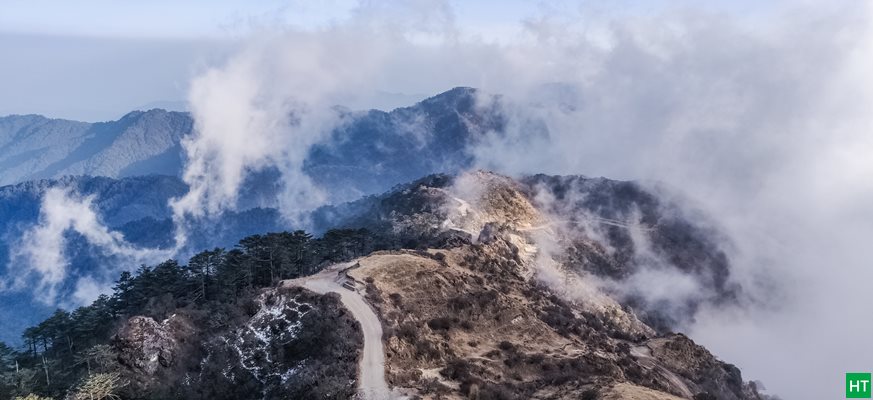 We started our search for an accommodation. There were private and government huts, but I was searching for the government hut. I got one room but consisting of 4 beds. As I was alone , they asked me to pay for the all the beds. I paid RS 200/- per bed. So totally 800 bugs . I know it's extra but they are not stepping down and they are very strict on that. I don't have any options and outside getting too chill and windy too and i need a place to get warm as soon as possible. I asked my trek guide also to stay with me but usually his stay is at different place. Finally got settled and came for the sunset view, but due to cloudy , it was not clear. I asked noodles + egg bhurji for the dinner  as was not interested to have rice on that day. It was too chill that i got freeze. My guide brought  the dinner for me, i was so surprised with the service. Signing off the day by saying good nite to my guide. Aaj Bahut thak gaye bhaiya, jyada chal liya na. Quickly we went under the blankets.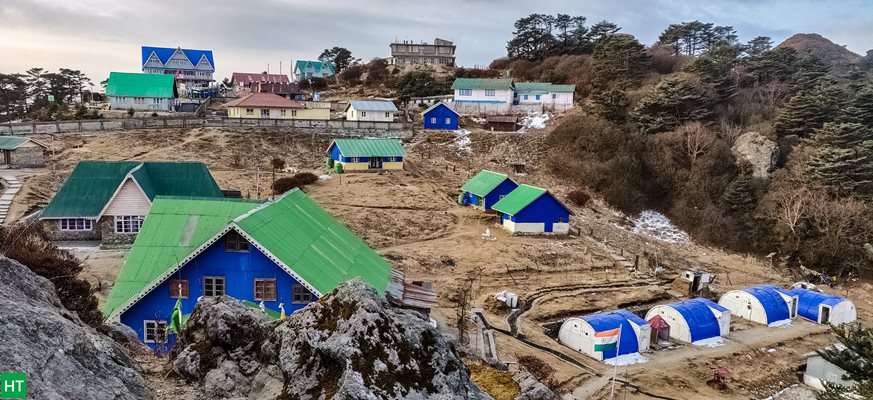 Day 5, 23 JAN 2019: Sandakphu – Sabargram – Phalut
My eyes opened at 05:00 AM. Had a sound sleep last night. We were more enthusiastic to see the sunrise this morning, but again the sun didn't shine bright behind the clouds. So back to the lodge, ate breakfast and packed my rucksack, and left around 07:50 AM. Today I have to cover 21 KM to reach Phalut. It was totally a different challenge. The climate was pleasant when we started our journey but it was totally opposite when we finished off.
After the walk around 02 KM a small hut came , where we had our breakfast. again started our journey ,on the way plenty of yaks roaming around, after passing the landscape , there was mild snowfall.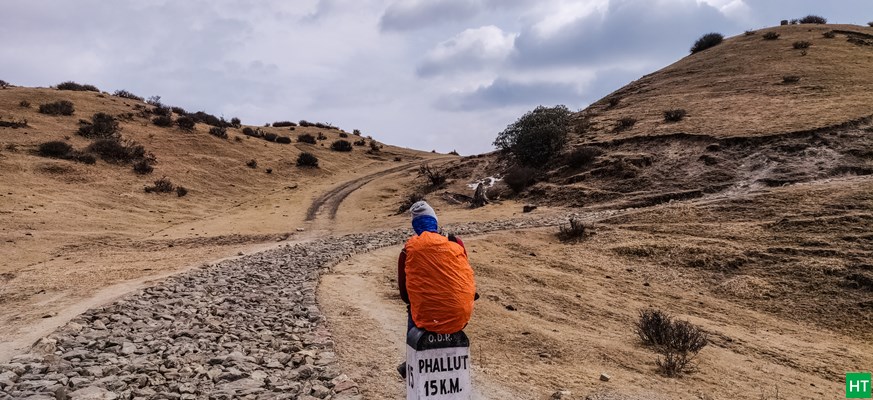 I was too glad to experience the fresh snowfall. I was enjoying the moment. It was around 10 KM behind Phalut where fresh snowfall started. I took out my jacket covered the backpack. Started our walk , I was feeling like walking on the white blanket. Everywhere the snow was covered. after walking around 03 KM, the weather became too harsh and windy too. As there was no village and no hut on the way to Phalut, it became difficult to walk. As small hut was seen after walking a bit where we stopped for a while and waiting for the snowfall to stop, but no change in the climate. It was around 03 KM to reach Phalut. Again with the enthusiasm to reach the Phalut base, started our journey in the snow. I was fully covered with snow when I reached Phalut base at 15:15 and was totally freezing.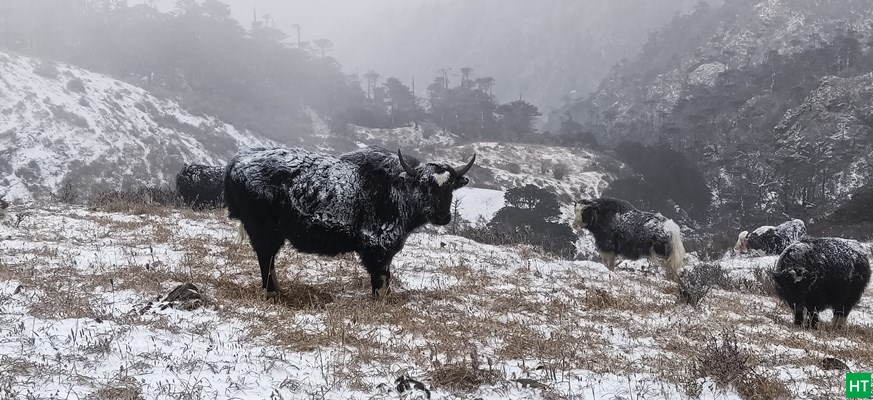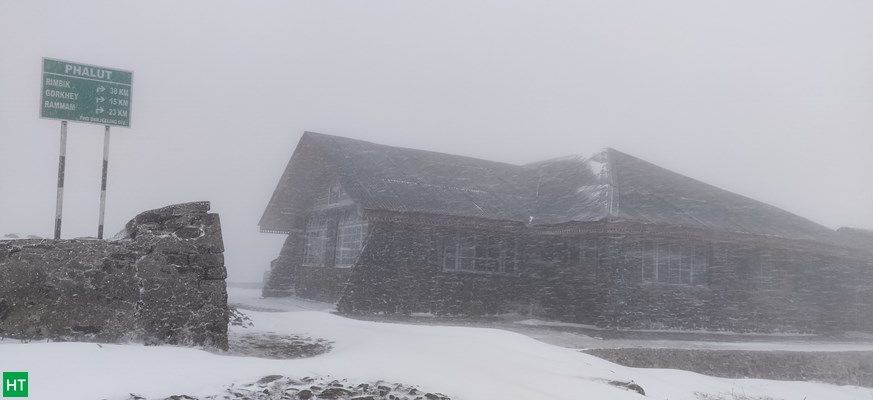 I entered into the hut with a surprise that no trekkers was there in the hut as it was off season. I got the bed for RS 220/- as per the government rate. I was shivering  due to the snowfall which i experienced. so far a warm up i entered into the kitchen and had a glass of hot water. After some time more trekkers came, but too tired that i was not able to interact with them. Around 19:30 my trek guide brought the dinner for me. Simple Khichdi/rice + dal + sabji (₹ 220/-) , omelette ₹ 40/-, Black tea (₹ 20/-). Had it comfortably and when i opened the window the wind was blowing too harshly. My trek guide also stayed with me so we had a short talk regarding the next day. We was very eager to see the mountains if the climate support us. So awaiting for the next day, we slept.
Day 6, 24 JAN 2019: Phalut – Samanden – Rammam – Srikhola – Sepi
The day started with the pretty clear blue sky with beautiful sunrise. so got up and refreshed myself and walked  around 500 feet up hill to get the glimpse of the high mountain peaks. I was too lucky that i have viewed the closest view of the mount Everest and Kanchenjunga which I only studied in the geography. Took the snaps with my guide and came back to the hut.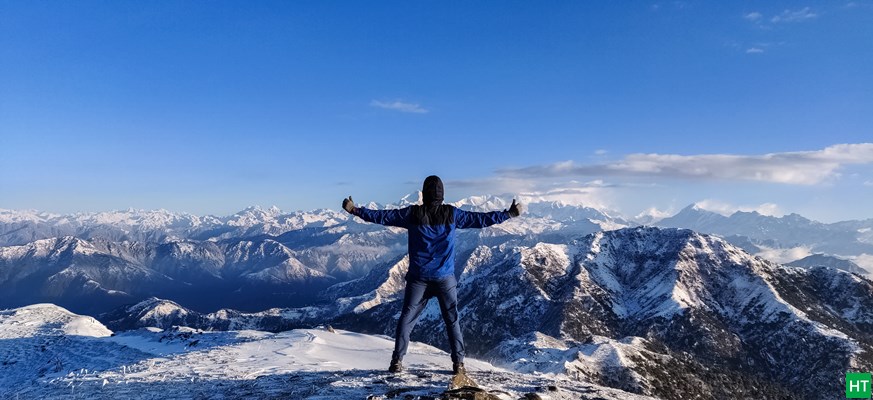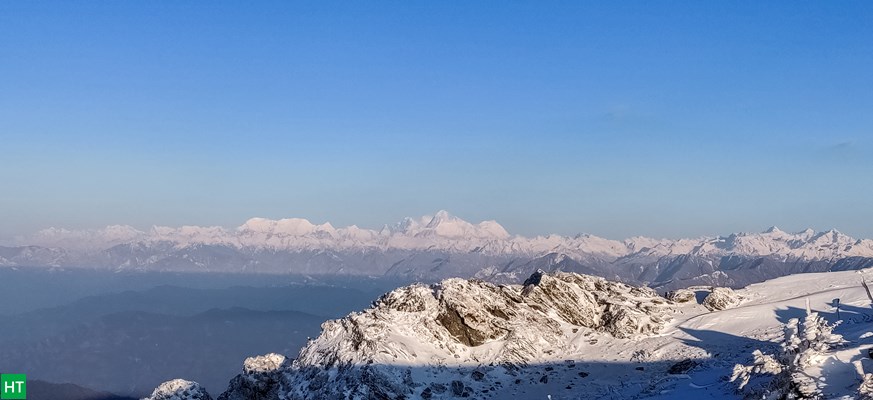 I skipped breakfast and just had black tea for morning refreshment. Started descent towards Gorkhey  around 09:00 AM from Phalut. It's was all downhill till Samanden and trail was amazing both side full of bamboo trees. This beautiful village is surrounded by dense pine forest in all direction. The trek from here  to Rammam is through a forest with gradual ascents. At Rammam had our lunch (Yai-yai noodles + boiled eggs) around 14:00 PM. The next point was Srikhola where I crossed the wooden suspension bridge.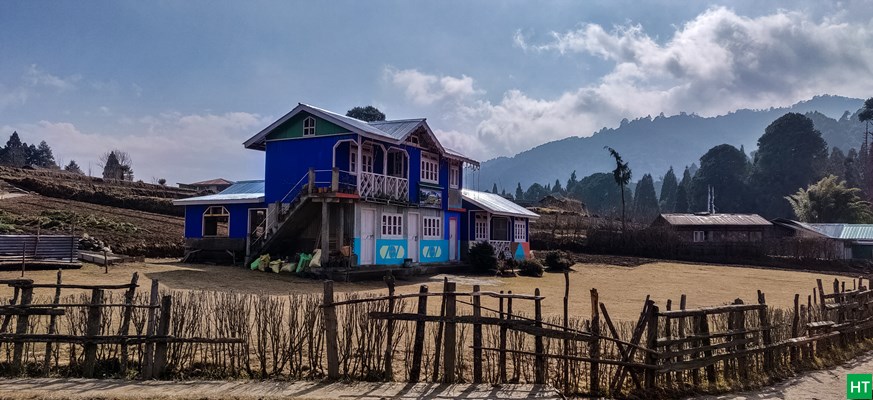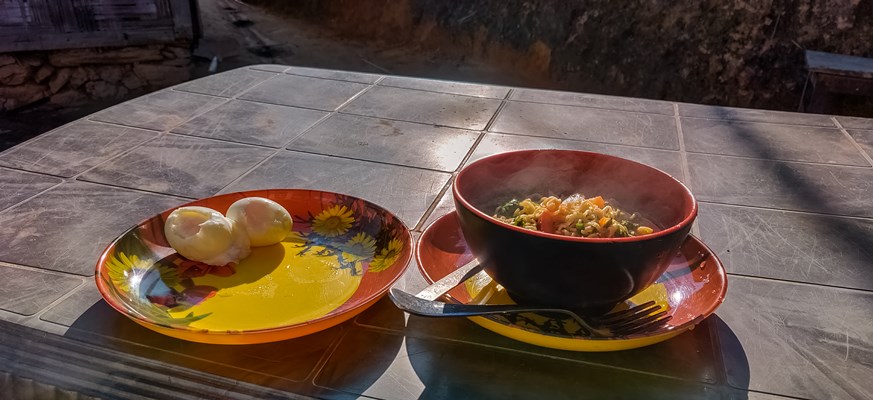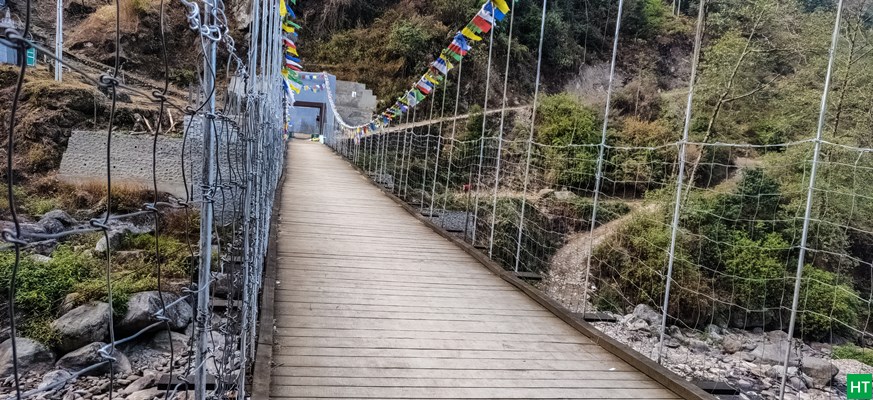 After a walk of 40 minutes the final destination Sepi arrived which was around 30 KM from Phalut. Around 17:00 we reached the Pritam home stay at Sepi. Here we found many trekkers and the celebration of the happy ending. After 4 days , I had a nice bath and refreshed myself. Around 19:30 had dinner with rice + chicken. I was fully satisfied with the trekking and also with the service of my trek guide. After 5 days , I got a signal in my mobile. With a great happiness I contacted my family. Had a talk about the pros and cons of the trek with my guide and finally crashed on the bed.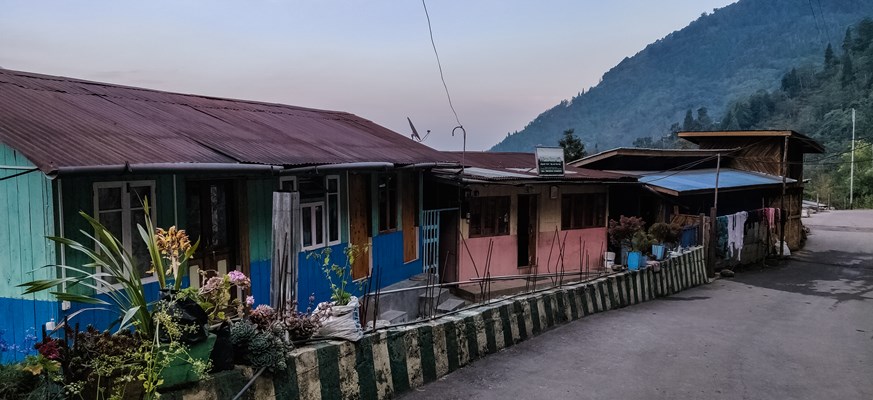 Day 7,25 JAN 2019: Sepi – Maneybhanjung – Siliguri – NJP
With the great excitement and satisfaction, we left from Sepi in the shared cab (₹ 350/- per seat) up to Darjeeling. Around 09:00 AM , I had veg-Momos at Dhotrey on the way as breakfast.
Our next village was Maneybhanjang where we started our trek. My trek guide got down at  Manebhanjang and said phir milenge(waved my hand). I reached Darjeeling around 12:00 PM, by the time little shower of rain was there due to which heavy traffic was there. Got another shared cab(₹ 350/-) towards Siliguri. Reached the destination  around 15:15 which was 5 KM behind NJP. I took the shared auto(₹ 20/-) to reach NJP railway station.
The scheduled departure of my train was 19:35, there was enough time for the train to arrive. Refreshed myself with the hot chai(Skipped lunch) and spent my time by viewing the decoration of the train by the tricolor as it was republic day(Next day).
I got in to the train which was up to Howrah. Feeling too tired and slept on my upper berth without dinner. Had a nice sleep and reached Howrah around 05:30 AM.
Day 8, 26 JAN 2019: Kolkata
It was the Republic day. My flight  from Kolkata to Chennai was next day around 13:30. So the day was for spending time at Kolkata. I searched a room on the way to the airport and got Diya guest house at Baguiati (₹ 600 per day), a budget one. I refreshed myself, had breakfast, and visited Victoria memorial. Heavy rush was there due to Republic day, though spent my time about 3-4 hours in the Victoria memorial and the gardens.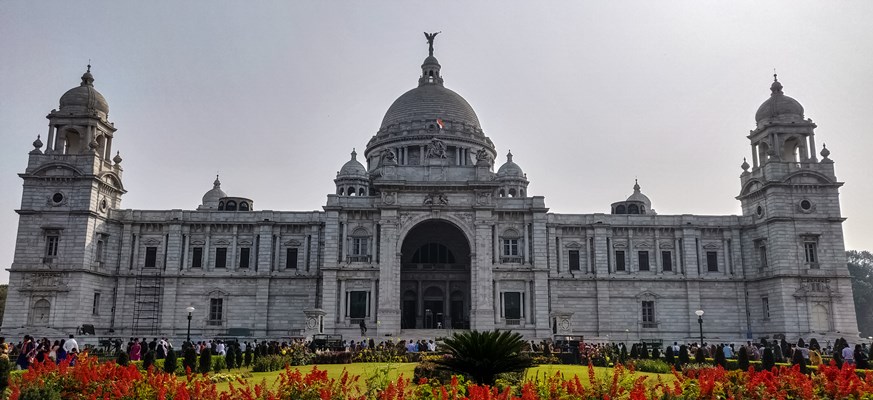 Thought to  meet Himalayan trekkers(Sapta) who is the resident of Kolkata. We met at city centre Esplanade and had our dinner. We took Mutton stew and Chicken Biryani Aliah hotel-Mughiai restaurant, where we had our dinner with mutton gravy and chicken biryani. It was really awesome. Had a brief talk about the trek experience and left from the place.(sapta bhai-Jaldi vapas milenge).Get into the bus up to the Baguiati , he get down in between and I travelled up to Baguiati, reached around 22:30 and slept.
The next day(27 JAN 2019) woke up around 07:00 AM. Refreshed myself and left from there around 08:30 AM by bus. Reached airport around 10:00 AM. Flight up to Chennai was around 13:00. The trip which was full of excitement and the refreshments ends.. It was a fully satisfying journey and to my surprise an economic travel too! 🙂
P.S. All photos are shared by author.