Easy to Intermediate
Grade
Rock Climbing in Manali
Our rock climbing in Manali programmes are varied and intended for all possible enthusiasts who are looking for a memorable rock climbing experience.
Rock climbing is an inherently dangerous activity, so choosing experienced and proper guiding service is paramount to learn the sport safely. Climbing with experienced guides who have international exposure of working with the best climbers of the world gives the participants a unique opportunity to learn the sport safely as well developing skills to push one's limit.
Our climbing programs are instructive, fun filled and practical to serve our clients needs. In these programs we focus on what our clients are looking for, and try to provide them that.
We base our summer rock climbing programmes around Manali. Manali is a well developed climbing destination with a rich amount of technical routes and boulder problems. This allows developments of technical climbing movement skills, along with understanding of different climbing styles, grading and other aspects of the sport, an excellent experience of climbing in a Himalayan atmosphere!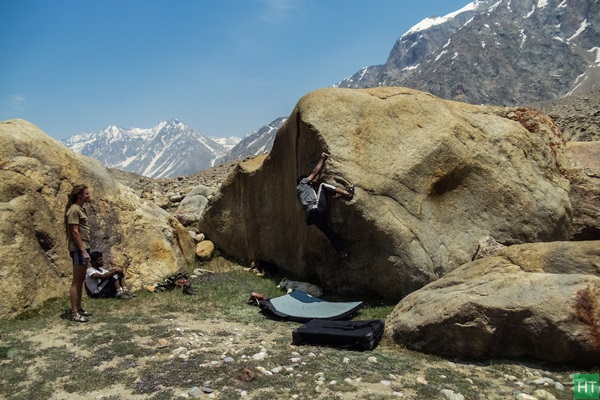 Our climbing programmes are based on two main crags in Manali, namely Chichoga and Aleo.
Chichoga:
Developed in September 2009 Chichoga is probably the best sector to climb in Manali. The climbing is on a very beautiful wall located in a cedar forest; the rock and the atmosphere of this place is pristine tranquil and offers a very memorable experience.  The developers have drilled and laid over 140 bolts to equip the 9 routes (35m on average) of the Chichoga sector. This wall offers a homogeneous potential ranging from 6a + to 7a.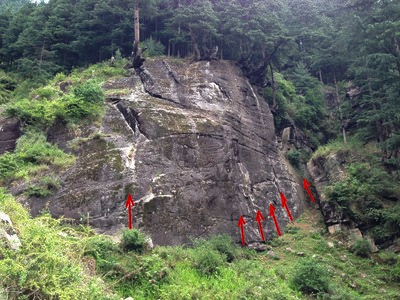 Aleo:
The area offers a lot of different and varied routes of many different difficulty levels. This place is also used as a training area for the state run mountaineering institute based in Manali. The area got its first equipped routes from visiting European climbers, latter some were re-equipped. There is a very good mixture of both sport and trad routes here.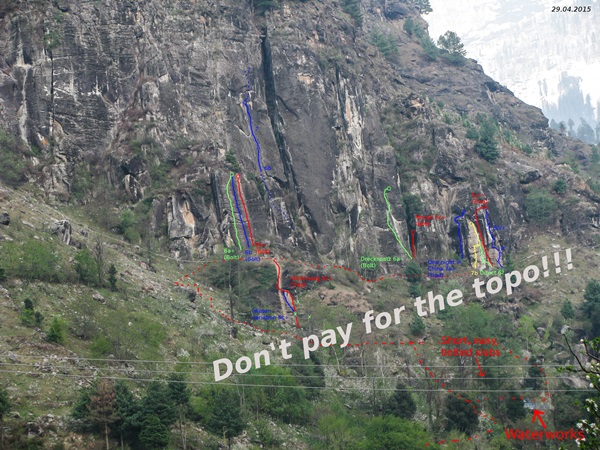 Our offerings cater to both the beginners and experienced climbers, likewise. These are (we can further tailor made as per your inclinations and experience)
Rock climbing fundamentals
Sport climbing clinic
Day climbing session
 1) Rock Climbing Fundamentals:
Location: Manali (Chichoga/Aleo)
Time:  Summer (May-June) &  Autumn/Fall (September to December, till snow arrives)
Duration: 2 days
Prerequisites: The program will be out on the rock for consecutive days to provide tutelage and training about climbing, which means it will tax the participants physically.
Though no previous climbing experience is required one should be physically active and fit. Participants are therefore advised to participate in running/ jogging and or spend time in gyms twice a week to work on their muscular strength and endurance.
Overview:
Manali is a great place to learn rock climbing. The area offers lots of quality rock & climbing opportunities. To the newer climber we offer this programme , where we teach fundamental skills and knowledge for initiating rock climbing, we cover climbing movement skills, anchors & belaying, knots and rope work for safely climbing in a top rope environment
This program is designed to facilitate the knowledge and skill on the following aspects:
Climbing equipment and its care
Basic Climbing movement skills; Foot work and using footholds , Hand holds and using different grip, Body positioning on different angles and terrains , resting
Knots ; harness tie in knot, knots for tying into anchors
Belaying ; rigging a belay device, belayer positioning and anchoring, belaying a top roped climber (sling shot top roping), lowering a climber, communications
Setting a slingshot top rope
Climbing and belaying sling shot top rope
Anchoring a top belay top rope
Rock types and features
Environmental protection and sustainable practice
Itinerary
Day 1:
We start our climbing after breakfast. We spend all the day going over all the basics like key climbing knots, movement, balance and footwork drills and belaying a climber safely. We will spend time bouldering and focus on developing correct climbing technique.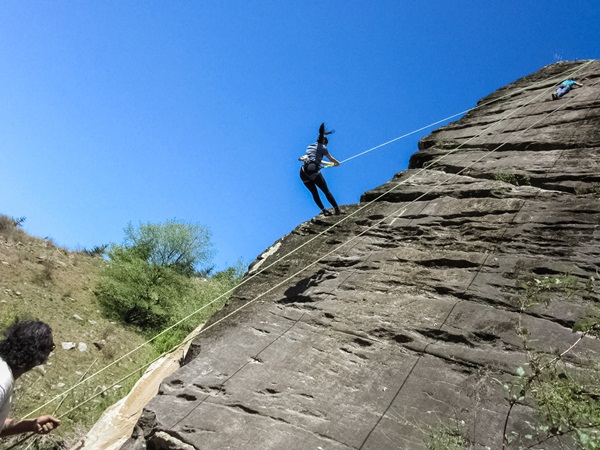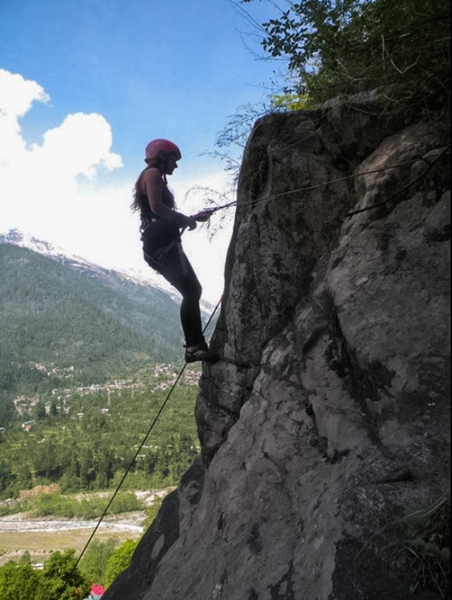 Day 2:
Today we will climb long routes with ropes, using top rope belaying methods. Our goal today will be to safely complete a long route in team of two by climbing and belaying your partner.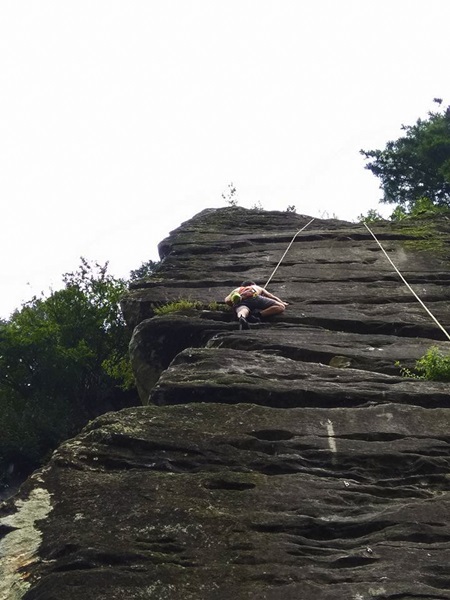 2) Sport Climbing Clinic:
Location: Manali (Chichoga/Aleo)
Time: Summer (May-June) &  Autumn/Fall (September to December, till snow arrives)
Duration: 3 days
Prerequisites: Participants should have previous climbing, experience with top rope climbing and/or bouldering. They should have basic knowledge of tying in knots and rigging belay devices and be able to comfortably belay a top rope climber.
Overview:
Sport climbing clinic is for people who have done top rope climbing and are looking for skills to become a climber with leading skills. Here we teach participants the skills and knowledge for leading single pitch sport climbing, lead belaying and lowering offs. The cliffs around Manali (Aleo, Chichoga, Vashisht, Glamlang) offer routes of various grades to enhance learning for our participants
 This program is designed to facilitate the knowledge and skill on the following aspects
Double check procedure
How to orient a quickdraw
How to clip the rope into carabiner
Clipping stances and technique
Avoiding rope drags and dynamic belay
Belaying a leader
Catching a fall
Lowering a climber
Threading the anchors and lowering
How to remove quick draws
Types of anchors
Impact forces and fall factors
Grades and guide books
Physiology and injury prevention
Introduction to training
Itinerary:
Day 1:
Today we review all the climbing basics and assess the skill level of the participants; we end by climbing several routes top rope.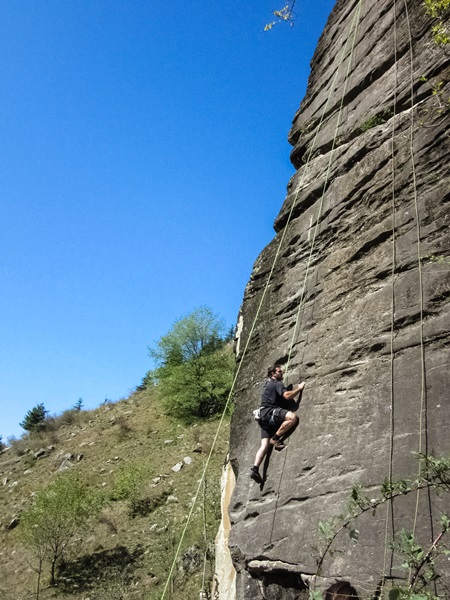 Day 2:
We start this day with lead climbing techniques. Participants are given tuition on all the aspects of leading bolted sport routes like clipping quick draws , how to lead belay and safely lowering off, they are given exposure through mock leading to develop their ability.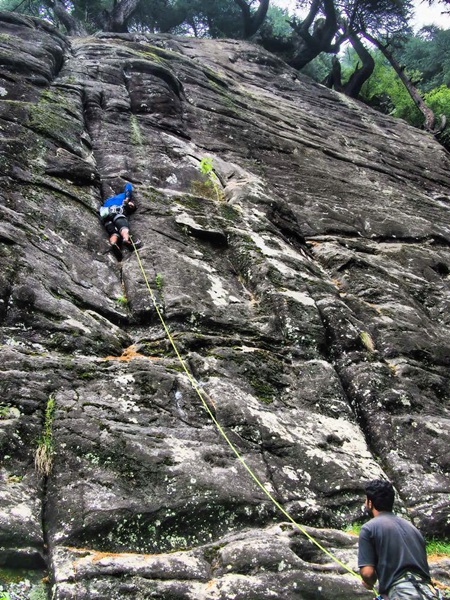 Day 3:
Today after yesterday's assessment climbers are put to lead their own route , if more practice is needed we go through all mock leading exercise over & over to make participants more comfortable.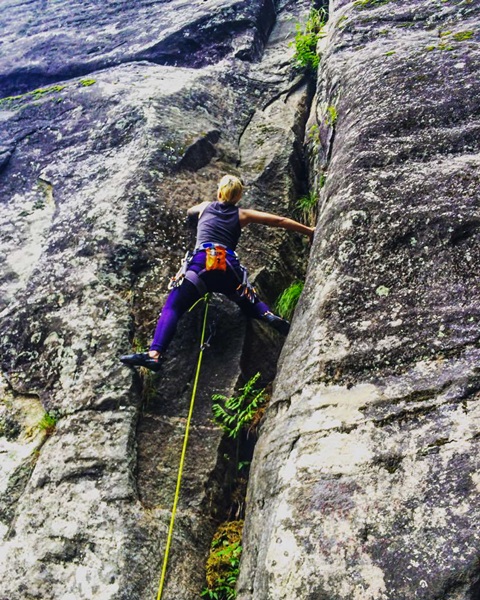 3) Day Climbing Session:
Location: Manali (Chichoga/Aleo)
Time: Summer (May-June) &  Autumn/Fall (September to December, till snow arrives)
Duration: 1 day
Prerequisite: No particular previous experience required, but if you notify us about your previous climbing experience(s) we can understand your need and will be able to you serve better.
The northwest Himalayan town of Manali is a popular tourist destination and hosts a very varied high quality climbing around the town. It offers both quality bouldering and sport climbing. The rock type is predominantly gneiss and granite with quartzite mix. This provides overhanging boulder problems with varied styles like compression moves on slopers, arête climbing as well as steep powerful climbing on crimps. The sport routes are mostly vertical technical face climbs, a few nice trad climbs are also there. The cliffs around Manali have a lot of quality and hold a lot of potential for developing more routes. The modern climbing development started in Manali with heli ski guides and later by Austrian and French climbers, the author took part with them in the early development of sport cliffs in Manali. Legendary climbers like Fred Nicole, Bernd Zangerl have visited and put up world class boulder problems around Manali. We offer our guiding services on day session basis including climbing equipment to these people to explore climbing and bouldering around Manali.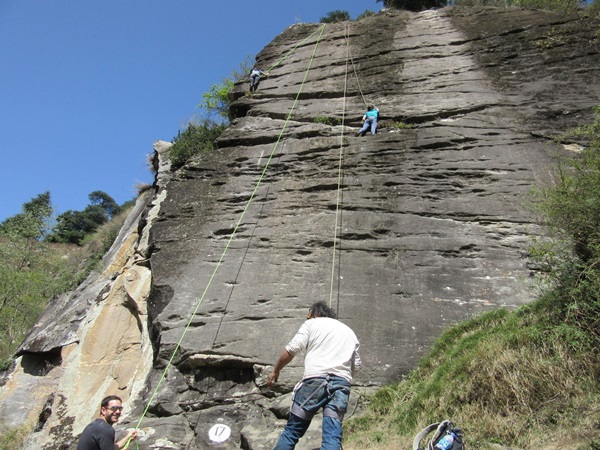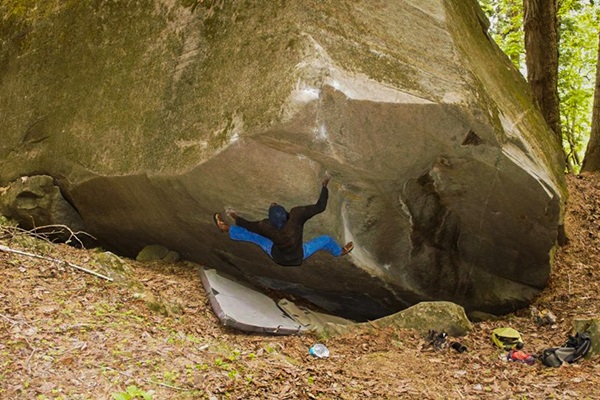 INCLUSIONS:
Climbing guide(s) and instruction.
Any climbing equipment required, including rock climbing shoes, ropes, carabiner, harnesses, helmet, Quickdraws, belay devices, chalk and chalkbag, crashpad for bouldering.
EXCLUSIONS:
Transportation cost to reach rock faces at Chichoga and Aleo. Its approximately ₹ 150 by an Auto Rickshaw one side, which can accommodate 3 persons.
Any food/packed lunch or beverages.
Anything which is not mentioned in the inclusions or personal in nature.
Note: 5% Govt Tax is applicable on the cost/Fee.
1) Rock climbing fundamentals (2 days)
₹ 5000 per person considering 1 person
₹ 3500 per person considering 2 persons
₹ 3000 per person considering 3 persons
₹ 2800 per person considering 4 persons
2) Sport Climbing Clinic (3 days)
₹ 7500 per person considering 1 person
₹ 5250 per person considering 2 persons
₹ 4500 per person considering 3 persons
₹ 4150 per person considering 4 persons
3) Day Climbing Session (1 day)
(a) Bouldering:
₹ 1000 per person considering 1 person
₹ 750 per person considering 2 persons
₹ 500 per person considering 3 to 4 persons
(b) Route Climbing:
₹ 2200 per person considering 1 person
₹ 1500 per person considering 2 persons
₹ 1200 per person considering 3 to 4 persons