3636 m/11925 ft
Highest Point
Sandakphu Trek
Fixed group departures for autumn and winter from October to December 2023 are published and marked in the calendar of the Booking Inquiry Form available on the page.
Below is your Complete Guide to Sandakphu trekking tour 2023 and the associated details. Click on a link to jump to a specific part of information.
Itinerary
Notes on Itinerary
Introduction
Altitude gain over distance breakup
Location and area map
Trek vs Jeep safari
Best time for Sandakphu trek
Peaks visible from Sandakphu
Why would you trek with us?
Snow during winters
Accommodations
Temperature and clothing
Packages: Fixed group departures vs Private tours
Insights on local culture
How to reach the trek base?
Mobile network availability and charging facilities
Seasonal restrictions on trekking
Permits for foreigners
Stay restriction on foreigners 2023
Frequently asked questions on Sandakphu
Brief Itinerary:
Day 1: NJP/Bagdogra to Chitrey by car – 90 Km – 4/5 hours. Homestay/Lodge.
Day 2: Trek to Tumling – 9 Km – 6 hours. Lodge.
Day 3: Trek to Kalapokhari – 12 Km – 6/7 hours. Homestay/Lodge.
Day 4: Trek to Sandakphu – 6 Km – 3/4 hours. Lodge/Hotel.
Day 5:  Trek from Sandakphu to Timburey via Gurdum village– 15 Km – 7/8 hours. Homestay.
Day 6: Walk 1 and half hour to the Srikhola road head and drive to NJP – 150 Km – 6/7 hours or (Queen of the Hills) Darjeeling city – 75 Km – 3/4 hours drive from Srikhola.
Important Notes on travel & itinerary:
This is a  Lodge/Homestay/Trekkers Hut based trek or what may be called a "Tea House trek". We

don't camp

anywhere on this trail.
Accommodations are

very simple and basic

, as one should expect at high altitude with limited options and facilities. Read about the accommodations or package options that we have before booking.
You need to reach the latest by 9 am on Day 1 at NJP/Bagdogra. You will return to NJP/Bagdogra in 6/7 hours drive from Srikhola on Day 6, around 5 pm. Arrange your tickets accordingly.
Often it is convenient to reach

Bagdogra (IXB) on Day 0

if you are planning to take a flight. Similarly you may depart anytime on Day 7. Siliguri city is 10 Km from the airport with various accommodation options. Darjeeling city is only ~25 Km/1 hour from Maneybhanjung (our basecamp Chitrey is further 3 Km up from here) and 75 Km (3 to 4 hours drive) from our trek end point Srikhola (via Maneybhanjung).
You may

leave your additional luggage

which you don't require on the trek at Maneybhanjung. Collect it while returning from Srikhola. Don't leave any electronic gadget, money or any important item. Your additional clothes etc should be fine in the left baggage (preferably with a lock).
Last ATM at Mirik. Withdraw cash well in advance from NJP/Siliguri/Bagdogra.
Listed TREK FEE on the website is For Fixed Departures and doesn't include the car transportation to basecamp and return.
Major mobile networks work here and there throughout the trek.
This is a pure Tea House trek. We

don't camp

anywhere on this trail.
It is possible to tailor the above itinerary while modifying, adding or even shortening the tour. However that is the case only for private/customised tours.
An introduction to Sandakphu trek
Sandakphu at 3636 m/11926 ft (Geo Coordinates: 27.105096°N, 88.001708°E), is the highest point of West Bengal, inside Darjeeling district, bordering Nepal. This trek follows the famous Singalila Ridge, a prominent spur of high ground that lies at the southern end of a long crest, which runs down from the Kanchendzongha massif. In fact Singalila ridge forms the border between Sikkim/Darjeeling of India and Nepal. Also because of this fact, Sandakphu trek is often referred to as "Singalila Ridge Trek".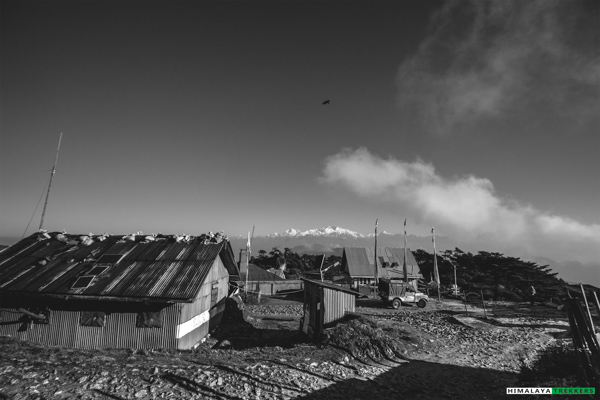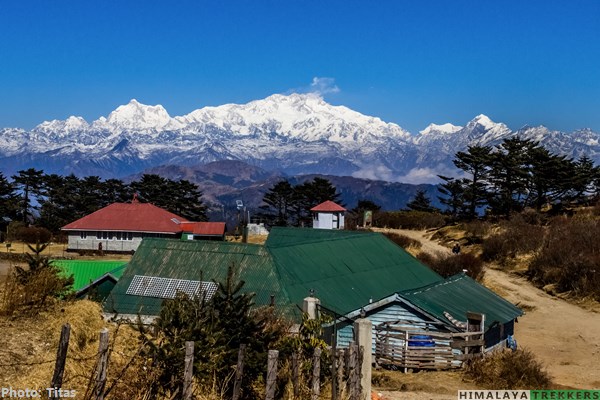 One of the unavoidable necessities of trekking in the Himalayas is that the best views are from high up. In contrast, the trail along this ridge, passing along small settlements, is perhaps one of the most scenically rewarding in the Himalayas. Additionally the charm of the Eastern Himalayas who didn't get a chance to visit here yet.
There are a very few Himalayan homestay/tea-house mode treks in India. Almost all are camping treks. Sandakphu trek  gives the opportunity to those who prefer comfortable accommodation during the trek.  Probably this is also helpful for beginners who wish to take it easy at the beginning.
At the same time, a must visit for the experienced trekkers too. You get to see the spectacular panoramic views of Nepal Himalayas including Kanchendzongha range, Makalu, Everest, Lhotse, Jannu (Kumbhakarna), Chamlang, Baruntse and a host of Sikkim peaks all seen in one stretch. The famous "Sleeping Buddha" formation of peaks is a delight for all.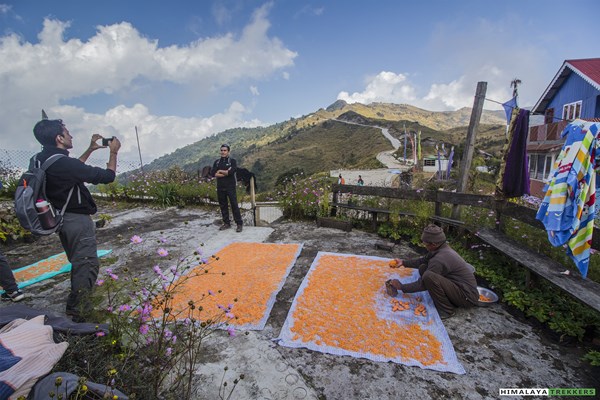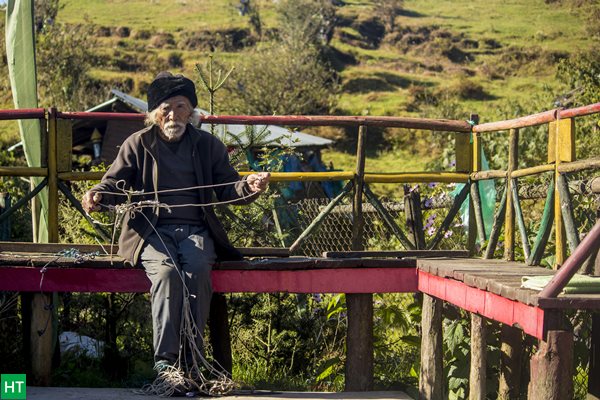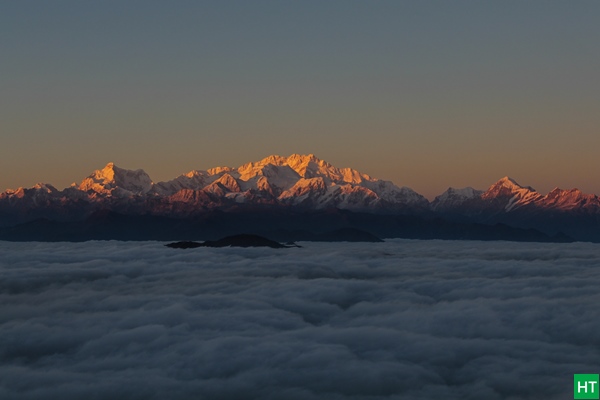 The trail goes along the motor-able road to Sandakphu (yes  only 4X4 WD, there has been one since the last 40 years! You won't mind it much), frequently taking detour and shortcuts. Sandakphu trek trail switches between India and Nepal all the way till Sandakphu. In fact the PWD motor road is the de facto border at stretches.  Most of the settlements and hamlets we pass by are geographically in Nepal. Also, as a matter of fact most of our homestay/lodge during Sandakphu trek are in Nepal.

This trail inside Singalila National park boasting numerous species of birds and wild flowers. This region is in Eastern Himalayan diversity hot spot and home to endangered Red Panda .  It is rare but not impossible that you get a glance of this shy animal, especially around Gairibas or while descending to Gurdum. Flowering of Rhododendrons and Magnolia turn the forest into red, pink and white shades during spring time. Misty scent and flowers have its own charm. During fall weather turns clearer and hue of the foliage is eye catching.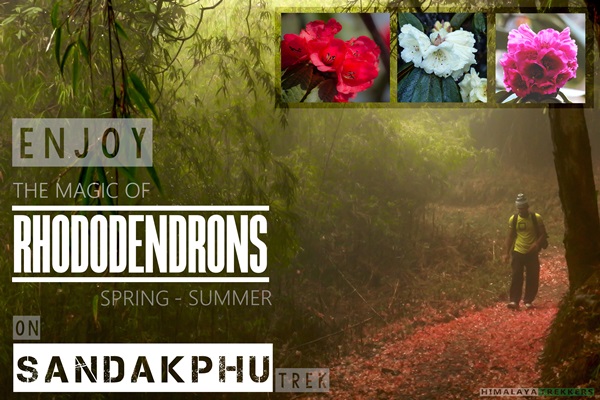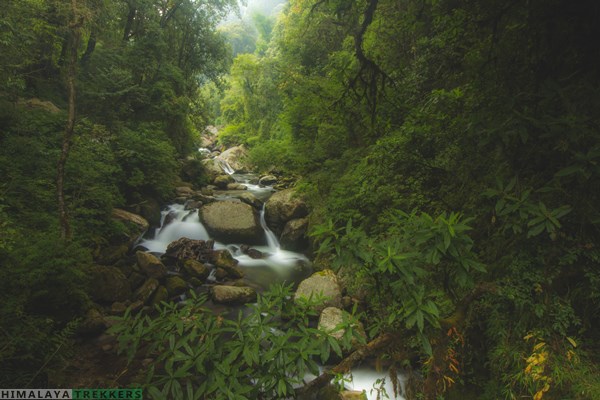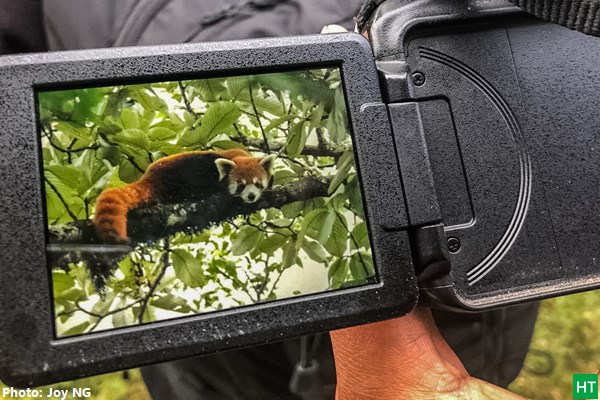 Sandakphu trek distance and altitude graph:
Below graph will give you an idea of places and corresponding altitude, day wise elevation, ascents and descents on the trail.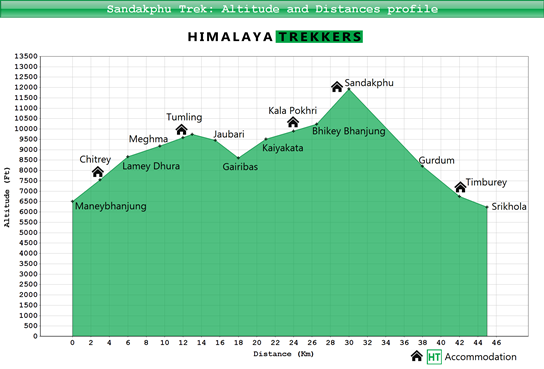 Sandakphu Location & Map:
Check below the exact location of Sandakphu on map and satellite images:
Is Sandakphu a trek or a Jeep safari? Which tour do I choose?
Some of you may already know that there is a motorable road to Sandakphu and Phalut as well. Though the highest altitude of the road is much lower than the high mountain/pass roads (as you get in Ladakh and some western Himalayan regions) but the gradient is much steeper accompanied with sharp hairpin bends. A whooping ~ 1660 m/5500 ft from Maneybhanjung to Sandakphu on 33 Km road track. The journey to Sandakphu in a "Land rover"  is a harrowing  one.  These are used for 50 years or more with very basic seating arrangement and no shock absorber whatsoever. The ride on stone cobbled bumpy road is an experience in itself, if you prefer so! So it is used by the ones it is intended to, the carriage of goods/supplies, short distance local passengers and occasional tourists.
There is another high concern due to acclimatisation reasons. Well, it may get you to Sandakphu in 7/8 hours but people feel the sudden height gain. Strong headache, breathing issues, feeling excessively cold are common symptoms.
We highly advise the trekking trail and don't recommend a Jeep safari to Sandakphu or Phalut.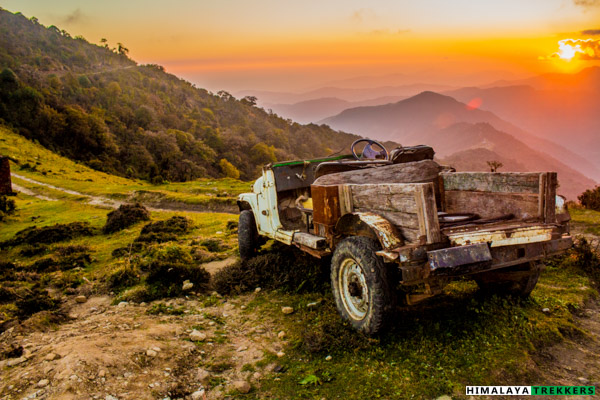 Seasons for Sandakphu trek:
Being in the Nepal/Sikkim border this area observes longer monsoon. Clouds start to hover from April and prolong till October beginning. There are two distinct seasons when this year trail is particularly beautiful.
1) Spring/Summer for Rhododendron season: From mid of March to Mid of May. Flowering starts from early March in the lower elevation, and gradually towards end of spring on higher altitude. Rhododendron and Giant Magnolia are two most famous along with several other wild flower species. Cloudy or misty atmosphere is common during Spring. Although clear mountains views are not uncommon, specially during morning.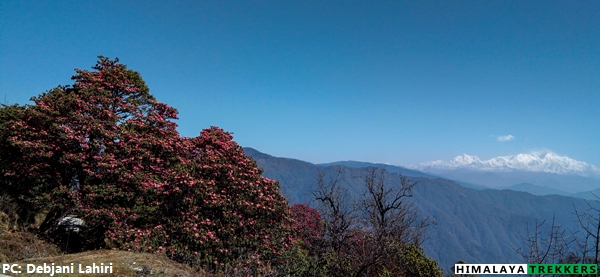 2) Autumn/Fall & Winter for clear weather: From mid October to January. In the beginning of October clouds start moving out from this region and weather becomes clearer. November is  particularly known for its crystal clear views of the mountains. Fall colours changing around Gairibas and higher on the trail is another reason to choose this trek in autumn.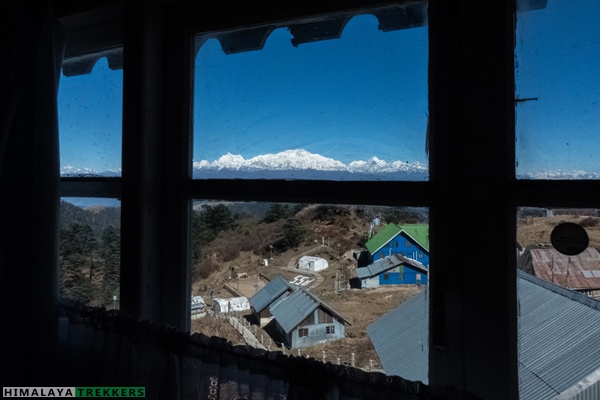 Peak views from Sandakphu:
Due to its location, the peak view from Sandakphu and several other points on Singalila ridge is unparalleled. Starting on East you can see the peaks in Sikkim, then the giant Kanchenjunga massif and farther to the west the Everest and other peaks bordering up to Tibet.  Here is how it may look like on a clear day 🙂
The peak panorama is wide enough to capture in two frames. One is the much acclaimed "Sleeping Buddha".  Looking on your right count the peaks in Bhutan and Sikkim, looking straight ahead north is Kanchenjunga massif completing the revered figure.

Now looking ahead turn left towards north-west, you will see Everest group of peaks far away, yet clearly recognisable. Remember that you are standing on India Nepal border and Everest is in Nepal/Tibet border! Its the sheer size of the mountains that still you can see clearly without any gadget.  Here is how "Everest Group" looks from Sandakphu when zoomed in.

Why Sandakphu trek with HT?
We believe that we understand this region fairly well for and curate the perfect itinerary for you  (and yes, there are fantastic premium category Darjeeling based agencies). Since 2011 we operate Sandakphu and the longer Phalut variant. All our guides are licensed local and comfortable operating with small to medium size groups (~ 6 to 12 trekkers) that they can take care of. Occasionally during peak season or holidays, group sizes reach its maximum i.e. 15. All our accommodations are selectively chosen that you get most out of your trek.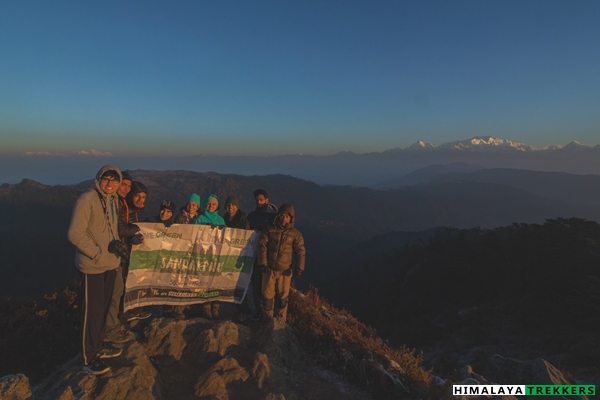 Sandakphu temperature range and weather data:
Remember that Sandakphu is at 3636 m/11930 ft of altitude and on windy Singalila ridge. Expect cool to cold conditions along with some dampness. You may get freezing temperature even in summer season.
Note:
Minimum temperature can likely occur late night to early in the morning between 2 am to 5 am. Similarly maximum may attain during mid day/noon.
The temperatures are measured outside. It will be approx ~ 10°C warmer inside the room than outside.
Wind chill can significantly impact the real feel and feels like temperature can be 5°C lower than the actual considering wind speed/gust 15-20 Km/hour. Similarly a bright sunny day will feel warmer.
As you will be trekking mostly between 8 am to 3 pm during the day, expect warm to cool conditions depending upon the month you are trekking.
Here is the monthly low, high,  and average temperature forecast of Sandakphu. All values are in Degree Centigrade (°C).
Sandakphu monthly temperature (high, low, avg)

| Month | Avg High | Avg Low | Extreme High | Extreme Low |
| --- | --- | --- | --- | --- |
| January | 4 to 7°C | – 10 to -12°C | 10°C | -25°C |
| February | 8 to 10°C | – 10 to -12°C | 12°C | -20°C |
| March | 10 to 12°C | -5 to -7°C | 18°C | -15 °C |
| April | 12 to 15°C | -2 to -5°C | 18°C | -10 °C |
| May | 15 to 18°C | 0 to 2°C | 20°C | -5°C |
| June | 18 to 20°C | 2 to 5°C | 22°C | -3°C |
| July | 20 to 22°C | 5 to 8°C | 22°C | 2°C |
| August | 18 to 20°C | 5 to 8°C | 22°C | 2°C |
| September | 15 to 18°C | 3 to 5°C | 20°C | 0°C |
| October | 10 to 12°C | -5 to 0°C | 15°C | -12°C |
| November | 8 to 10°C | -5 to -8°C | 12°C | -15°C |
| December | 5 to 8°C | -8 to -10°C | 10°C | -25°C |
Do you get snow in Sandakphu trek during winters?
Well, Sandakphu trek is NOT really a snow trek.  Darjeeling/Sikkim region has a higher snowline comparing to its western Himalayan counterpart. This is due to the lower latitude of Eastern Himalayas. Usually the trail gets 4 to 5 low to medium (2 inch to 6 inch) snowfall every year. Rarely it gets a heavy snowfall amounting in excess to 6 inches.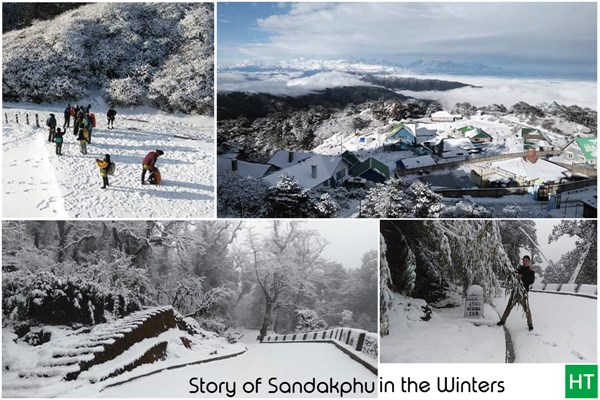 The area receives lesser amount of yearly snowfall than usual snow treks in Uttarakhand or Himachal Pradesh. Snowfall normally starts in January and can occur as late as end of March. In fact trekkers witnessed fresh snow in recent years during early spring, when clouds  start to get in to the atmosphere. You will get some snow on patches or inside jungle where sunlight doesn't fall directly. But if you are lucky, then this is how it may look like 🙂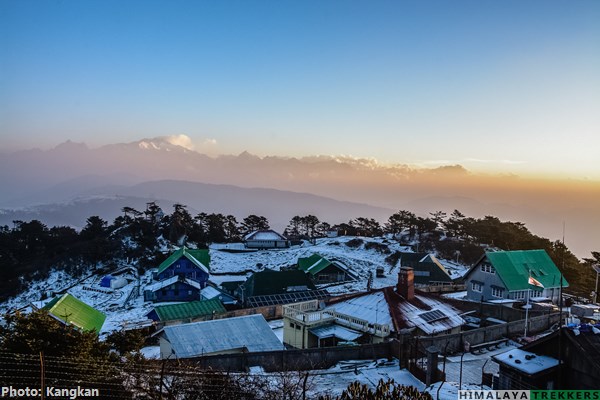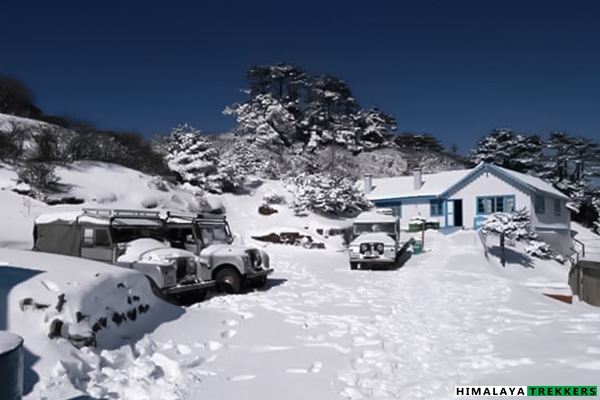 Check this photo story through lenses, on how Sandakphu looks like after a snowfall.
Types of accommodations during the Sandakphu trek for Indian citizens:
As this is a "Tea House" trek, we don't camp inside Singalila National Park (which is not allowed as well!). Instead, we stay in a homestay or lodge available on the trail. As you should expect on a mountain trail, these are basic accommodations—a simple place to eat and sleep! Families reside throughout the year and are ethnically Nepalese or Tibetan.
As the trail runs along the India-Nepal border, i.e., the Singalila Ridge, more of our overnight stays are in Nepal. As a matter of fact, at present, we stay for 3 nights in Nepal and 2 nights in India (West Bengal).
Note that foreigners, i.e., non-Indian citizens, are not allowed to stay in Nepal but have to sleep inside India, i.e., on the West Bengal side. Here you have to stay in the GTA (Gorkha Territorial Administration)-operated Trekkers Hut in the simplest dormitories. Get more understanding in the section below.
In the Fixed group departures, we provide triple or quad sharing rooms, which are usually dormitory style rooms. Male and female trekkers are given separate rooms. You will get a clean bed and blanket(s). Toilets may not be attached to the room, i.e., common in nature or Indian-style lavatories without running water facilities.
Additionally, there are a few rooms with attached western-style toilets and running tap water in some of the locations. The inclusions of these types of rooms are what we refer to as a "standard package," which you can read here. But again, the facilities will be very limited compared to what you get in a hill station or a mountain resort.
Despite all this, people have enjoyed the trail while adjusting to the available facilities. Simply put, this is how a travelling mode is in these places rather than a mere tourist mode.
If you still have any doubt or confusion in your mind, please feel free to get in touch with us over the phone or email.
Stay-Accommodation rules for foreigners during Sandakphu trek 2023:
​Starting from December 2021 Indian authorities are not allowing foreigners to stay in Nepal while walking on the Singalila ridge. Non India citizens are only allowed to stay inside India and not in any accommodation which is in Nepal. So for foreign nationals the accommodation options are GTA operated Govt huts within Singalila National Park, and private lodge/homestay outside the national park in West Bengal. This is enforced onspot by the Indian paramilitary personnel stationed at various check posts along the trail on the India – Nepal border.
Now most of our accommodations are in Nepal either following Sandakphu or the longer variant Sandakphu and Phalut.  So it is not possible to follow the same itinerary for the foreigners as mentioned on the website and has to be a customised/private tour altogether. In other words, foreigners won't be able to join a fixed group departure at present until the restriction is revoked. We will keep you posted on this or drop an email to [email protected] to know the latest updates.
Note that the govt. huts are available at limited spots with very basic setup. Rooms are of dormitory type and toilets are common.
At present foreigners can stay at Maneybhanjung, Tonglu, Gairibas (non functional/almost deserted), Sandakphu, Timburey, Phalut, Gorkhey, Srikhola/Sepi. They can't stay at Chitrey, Tumling or Kalapokhri as there is nothing in the West Bengal/India side.
Sandakphu Tour Type & packages: Fixed Departure vs a Private or Customised tours:
Our Fixed Group Departure dates are published in the Upcoming Trek Calendar from time to time. Same dates you can also check here on this page inside the calendar available in the Registration/Booking Enquiry Form. These dates are marked marked in green on the booking enquiry calendar.
Note that, these tours are of Economy/Budget inclusions type.  Room are shared by 3/4 persons or of dormitory type. Toilets may not be attached, rather common ones. Male and Female trekkers will get separate room(s). Meals are vegetarian along with occasional eggs. The maximum group size is 15 and reach on rare occasions during peak seasons/holidays. However there is no MINIMUM number of persons for a group. Meaning once we have taken your booking, your tour is guaranteed.
We also arrange private and customised trekking tours to Sandakphu for smaller groups of 2 persons and more. There are many advantages of this type of tours than our usual group departures, albeit with a price premium.
You can choose your preferred dates and desired level of services. This is usually a Standard category inclusions than that of group departure treks. Accommodations can be on twin sharing basis or a family room with kids (based on availability, check with us specifically). Usually these are upgraded spacious rooms with attached western style toilets. In these trips we can arrange non veg food as well and more variety than our group departures.  On a private/customised trip, there will be none other than your group members and trekking guide(s). We also support transportation by car from and to the airport or try to help with any other bookings around this area. Also it is possible to modify the itinerary by adding  day(s) or shorten the itinerary. The TREK FEE will depend on the number of persons and level of service inclusions.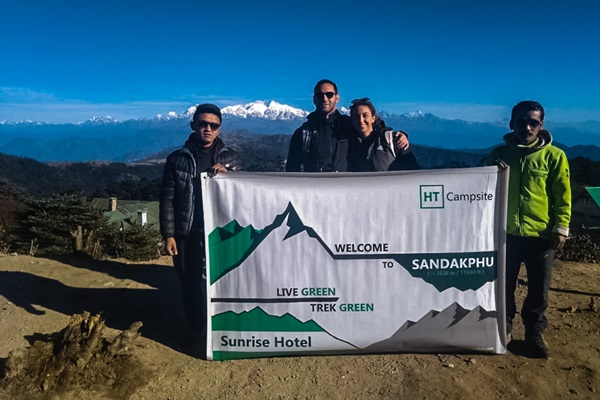 Local culture, people and food habit:
This region in Eastern Himalaya is different than Western Himalayan states of Uttarakhand and Himachal Pradesh. There are differences in religious practices which reflect in local culture and thus in the people behaviour. Majorly Buddhism is followed in Nepali and Tibetan ethnicity. People are friendly, helping and smiling. Though your major meals will consist standardised Indian meals (Rice, Roti, Dal, vegetables etc.) but expect mix of local noddles soup, momo, chow mein in lunch or snacks.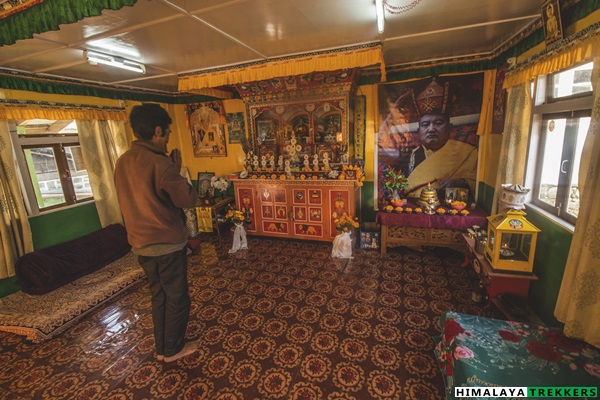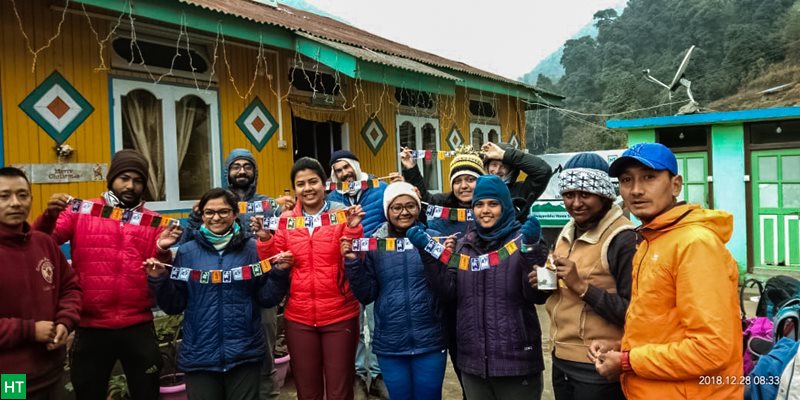 Access to trek base (Chitrey, 3 Km above Maneybhanjung):
We will arrange a pickup  from NJP/Bagdogra/Siliguri to Chitrey and drop from Srikhola to NJP/Bagdogra. You share the amount among availing fellow trekkers and pay directly to the driver. Mainly Tata Sumo/Mahindra Bolero type Jeep/SUV are available on this route. Typically a Tata Sumo/Mahindra Bolero is comfortable for 5/6 persons and can accommodate accommodate up to 8 persons. This cost is NOT included in the TREK FEE.
NJP/Bagdogra to trek base Chitrey: ₹ 4500 (Tata Sumo) + ₹ 400 per car Forest levy @ Maneybhanjung check-post.
Trek end point Srikhola to NJP/Bagdogra: ₹ 7000 (Tata Sumo)
Here is a road map with major points enroute from NJP/Bagdogra/Siliguri to trek base Chitrey.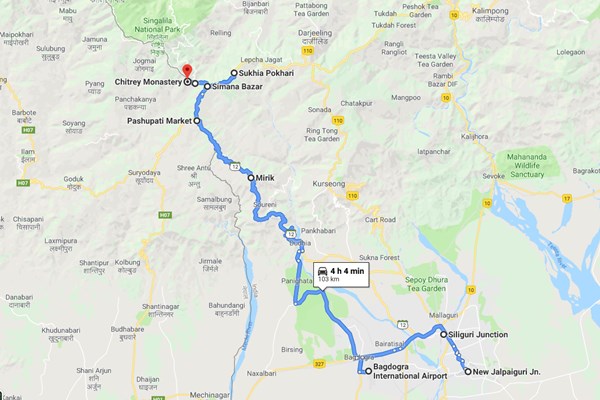 To reach the trek base Chitrey the access is from NJP/Siliguri/Bagdogra. For details on how to reach nearest railways station/airport and move to trek base independently/public transportation check the details in GETTING THERE TAB.
Mobile network and battery charging facility during your Sandakphu trek:
You will get network around your all the night accommodations. However the networks are not steady and working network depends upon place to place and network providers. If you switch on your international roaming then probably you will get through a call using more st Nepal networks.
At present you will get to charge your battery at all our night accommodations, starting from Chitrey to Timburey. Note that electricity may not be present due to various reasons in these interior and mountainous places. It is always good to carry a fully charged power bank or at least a spare battery for your camera.
National Park timing – Restrictions in Sandakphu trek:
The trail to Sandakphu mostly runs inside Singalila national Park.  During monsoon no permit is issued inside the Park (boundary starts just after Tumling) and annual closure of national park from  15th June to 15th September. So Sandakphu trek remains CLOSED from 15th June to 15th September every year.
If you are interested to witness the green monsoons of Eastern Himalayas then you may try the shorter hiking experience of Dhotrey – Tonglu – Tumling – Chitrey – Maneybhanjung circuit. This part of the trail is outside the boundary of the Singalila National Park and hence no such restriction in terms of permit. This is as good as in term of views (only you are few miles aerially farther from the Big guys than you are from Sandakphu or Phalut!) This is a wonderful experience to initiate hiking experience in kids and families.
Sandakphu trekking permit for Non Indian nationals/foreigners:
As this trail is inside the Indian state of West Bengal, so the permit procedures are easier and there is no restrictions as opposed to the neighbouring Indian state of Sikkim. Here are the steps:
1) The entry permit to Singalila National Park is processed from Maneybhanjung with the strength of your passport and valid Indian visa. You need to show your documents at Frontier Check Post, Maneybhanjung. Though the trekking trail frequently enters into Nepal but you don't need Nepal visa for this trek. Carry two photocopies of your passport and Indian visa along with the original. Few copies of your recent passport size photos can be handy to keep with. Once you meet our representative/guide at Maneybhanjung, he will facilitate the process.
2) There is NO minimum number required as non Indian national for trekking to Sandakphu. For routes inside Sikkim the "Trekking Permit/Restricted Area Permit (not to be confused with ILP) is given to  minimum 2 persons.
3) We charge ₹ 2000 per person additional + 5% Govt. Tax to Non Indian nationals/foreigners in our Fixed Departure treks. Due to the following reasons we collect this additional levy:
Higher per day ticket/entrance fee of Singalila National Park. Starting from Oct 2020, Per day Singalila National Park permit fee is increased from ₹ 2oo per day to ₹ 500 per day for foreign/Non Indian nationals.
Past update: Winter update and forecast for Spring/Summer Sandakphu trek 2022:
This year the Sandakphu trail and surrounding region got significantly more than the average that we have seen in the last 10 years or so. The area received first snow during Christmas and followed by multiple snowfall in January and February. The trail has multiple patches of snow left and may hold on a few sections as late as mid of March.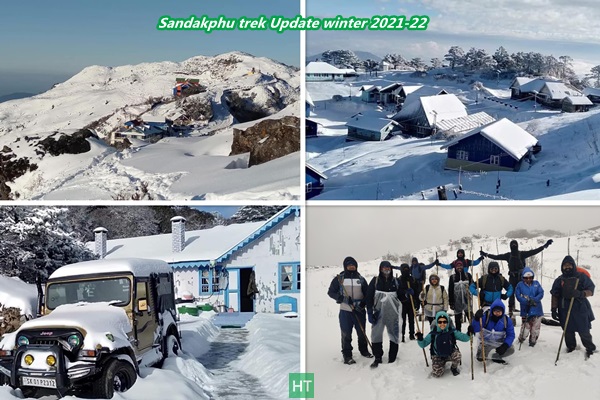 As a result spring may come a bit late this season. Rhododendrons at higher altitude above 3000 m/10000 ft may start to bloom late March/early April. Some flowers around Sandakphu may remain as late as mid of May.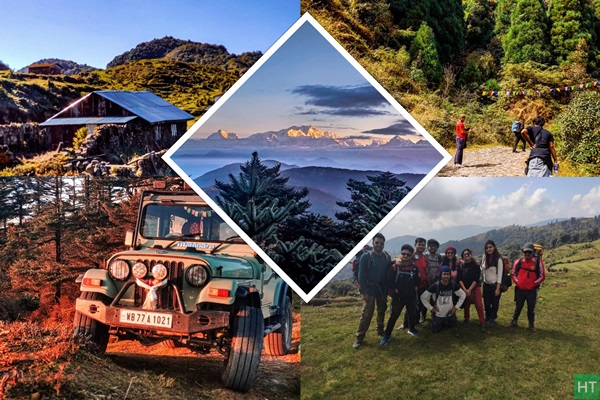 Here are some common questions and answers about Sandakphu, where, how, what and more:
What do I need to carry in Sandakphu trek?
As this is a trek route, you should be careful about choosing right warm clothing, shoes, rucksack and a waterproof. Here is the detailed list of things to carry in a trek. Call or drop us an email for any queries or advice.
Where is Sandakphu located?
Sandakphu (Geo Coordinates: 27.105781 N, 88.001410 E) is a peak upon Singalila ridge inside Darjeeling district, West Bengal, India. The ridge itself defines the border of India to east and Nepal on west. The trekking trail to Sandakphu often zigzag between India and Nepal.
What is the height of Sandakphu?
Altitude of Sandakphu peak is 3636 m/11930 ft.
Are there hotel accommodations at Sandakphu?
Yes you will get 2 privately owned hotel/lodge (Hotel Sunrise and Hotel Sherpa Chalet) on the Nepal side and Govt Trekkers Hut and PWD rest house on the West Bengal side. You will get decent food options (veg + non. veg) as one can expect at 12000 ft. Hotels havet 3/4/4 bed or dormitory rooms with common toilets and better/deluxe rooms with attached western style toilets.
Note: We are not a hotel booking agency, so we don't book rooms, neither Landrover/cars. Instead, we provide a complete trekking tour package.
How can I book Sandakphu Trekkers Hut?
You can book West Bengal state operated GTA (Gorkhaland Territorial Administration) Trekkers Hut at Sandakphu by visiting either of the below locations. There is no online or telephone booking facility , neither any availability check. You need to visit any one of these office, check the availability for your desired date and book.
Kolkata: Gorkha Bhavan, near City Centre, Salt Lake
Darjeeling: GTA Tourism Division, Silver Fir building.
How to reach Sandakphu from Kolkata/Bengaluru/Mumbai/Pune/Delhi?
Nearest railways station and airport are New Jalpaiguri (NJP) and Bagdogra (IXB) which are on two sides of Siliguri city, West Bengal. There are multiple overnight trains from Kolkata. From here you drive 90 Km to a small town called Maneybhanjung on India/Nepal border. Our Sandakphu trek base is 3 Km above Maneybhanjung called Chitrey, a small hamlet. From Chitrey the trail length to Sandakphu is 27 Km.
How far is Sandakphu from Darjeeling city?
Take a shared vehicle or private one to Maneybhanjung, which is just 25 Km from Darjeeling via Ghoom and Sukhiapokhri. The drive takes one hour or so. From here the trail to Sandakphu is around 30 Km.
You can reserve a car (approx ~ ₹ 2000) or you may get a shared car service from Darjeeling Chawk Bazaar Motor Stand . Distance is 25 Km. The fare is ₹ 100 per seat. Note that timings are important for shared jeep service and it takes time to get all the seats filled in a car which are 8 to 10 seat.
I am in Sikkim. How do I reach Sandakphu from Gangtok or Pelling side?
Your shortest route to reach Maneybhanjung from Gangtok  is via Rangpo – Melli – Takdah – Ghoom – Sukhia Pokhri – Maneybhanjung – around 120 Km, and will take 5 to 6 hours. You need to reserve a car on this route.
Otherwise if you are somewhere near Jorethang/Namchi in south Sikkim (or further to Pelling , Yuksom, Uttarey etc in west Sikkim) you can take a shared service Jeep to Darjeeling from Jorethang stand – 40 Km – 2 hours (road is very uneven, bumpy and steep) via Jamuney and Singmari. Note that ONLY Indians are allowed in this route. From Darjeeling take another shared ride to  Maneybhanjung, 25 Km, an hour or so.
What is "Sleeping Buddha" from Sandakphu actually?
This is an amazing formation of high sacred mountains as if a person is lying on the back with face up. These mountains are revered ones and the formation as a whole is called "Sleeping Buddha". The head is formed by Pandim peak, Kanchenjunga and others forming the main body and Kumbhakarna (Jannu) forming the feet. This is indeed an experience to watch out Sleeping Buddha from Sandakphu, specially during sunrise and sunset.
What is the best time for Sandakphu trek:
April And May during spring/summer for Rhododendron bloom and October to January (autumn and winter) for higher possibility of clear skies and views .
What is your Sandakphu trek package and cost?
₹ 12,500 + 5% GST per person, Chitrey to Srikhola. This is our scheduled departure trek cost and you can join any of our published dates, solo or with your group. The cost includes 5 nights accommodation at lodge/homestay on triple/quad or dormitory sharing with other trek members. Male and female members will be provided separate room(s), all meals (vegetarian and occasional egg), licensed local guide(s) and your permit and entry fee for Singalila National Park. Also your tour is covered with a 7 days travel and medical insurance. For details check COST INCLUSIONS tab.
Why treks with HT?
| | |
| --- | --- |
| Expertise: | 12 years of on ground experiences |
| Support staff: | Qualified local & office staff |
| Group size: | Small groups up to 15 |
| Insurance: | Travel insured trek and tour itinerary |
| Easy Bookings: | 25% Booking Deposit |
Duration: 4 days of trek; NJP/Bagdogra to NJP  return in 6 days.
Prerequisite: Ideal for beginners/first Himalayan trek. Descent is steep and sustained.
Grade: Easy
Physicality: 5.5/10
Trail Length: 45 Km
Highest Point: Sandakphu ~ 3636 m/11930 ft
Seasons: March to May and October to February.
Further Option: Continue on Singalila ridge to Phalut and descent to Srikhola via Gorkhey.  75 Km long Moderate grade trek.
Access: Trek starting point is Chitrey (Maneybhanjung) and end point is Srikhola.
Rail station: New Jalpaiguri (STN Code: NJP)
Airport: Bagdogra (Code: IXB)
 Map:
Upcoming scheduled dates for Sandakphu trek:

 
You can check the scheduled Fixed Departure dates in the calendar available inside Booking Form or inside REGISTER NOW form. Tour starting Dates are highlighted as per our itinerary (Day 1 of 6 days itinerary).
At present BOOK NOW functionality is disabled. You can get all the information in your email by submitting the REGISTER NOW form.
If you are a group of people and available dates are not matching then you may select Custom date mode (by clicking the Select your custom date) and fill in the displayed form.
You can also check all the available dates at a glance in our

TREK CALENDAR

.
Trekkers need to reach NJP on Day 1 morning or the previous night. Return to NJP on Day 6 afternoon or early evening. Arrange your tickets for inward journey and return accordingly.
| | |
| --- | --- |
| DEPARTURE LOCATION | New Jailpaiguri railway station |
| REPORTING TIME | 10:00 AM for a prompt departure to Chitrey (Day 1) |
| RETURN LOCATION | NJP/Siliguri |
| RETURN TIME | Approximately 5:00 PM (Day 6) |
How to reach Chitrey (The trek base):
Nearest Rail station: New Jailpaiguri (Station Code: NJP)
Nearest Airport: Bagdogra (Airport Code: IXB)
We will arrange a pickup  from NJP/Bagdogra/Siliguri to Chitrey and drop from Srikhola to NJP/Bagdogra. This will be shared by the team members on actual basis and paid directly to the driver. Typically a Tata Sumo/Mahindra Maxx charges ₹ 4500 for a drop to Chitrey and ₹ 6500 from Srikhola to NJP/Bagdogra. One such car can accommodate 6 to 8 people. This is NOT included in the TREK FEE and to be payable directly to the driver/owner.
If you wish to reach our Trek Base Chitrey on your own by public transportation:
Reaching Chitrey without a reserved vehicle will require some local road knowledge and changing of vehicles. Return from Srikhola is much easier as there are direct shared service to Siliguri and Darjeeling.
From NJP railway station take a shared jeep for Darjeeling and get down at Ghoom railway station. You can get one such shared jeep from Tenzing Norgay Bus terminus/Junction area in Siliguri also. From Ghoom take one shared service for Sukhiapokhri which is 12 Km. Change from here to Maneybhanjang, 7 Km away. Our trek base Chitrey is 3 Km up on the Sandakphu road. You are supposed to reach our Homestay at Chitrey on your own. You may get one vehicle to hire from Maneybhanjang to Chitrey (for ₹ 500) but that depends on time.
From NJP/Bagdogra reach Darjeeling Mor (crossing/chowk in Siliguri on the way to Darjeeling) on Hill Cart Road. From here you get shared services for Sukhiapokhri. From Sukhia you can reach Chitrey as mentioned earlier. Be sure that you have enough time as you may have to wait long for your turn. Sometime you may get a direct Maneybhanjung service (essentially the cars returning to Srikhola) in around noon/early afternoon.
While returning there are morning shared services from Srikhola to Siliguri and Darjeeling. For Srikhola there are two vehicles early in the morning at 6:30 am to Siliguri. It takes 6/7 hours to reach Darjeeling Mor in Siliguri (~ ₹ 600 per seat). From here take an auto rickshaw to NJP/Bagdogra. However you need to start very early in the morning from Timburey to get down 3 Km to Srikhola and available morning service jeeps.
From Srikhola you get shared services for Darjeeling city. Early morning vehicles start between 6 and 7 am. Then you get jeeps between 10 and 11 am. It takes around 4 hours to Darjeeling (~ ₹ 400) per seat).
How to reach NJP:
For the treks in Sikkim and Darjeeling , one has to reach the city of Siliguri (considered the corridor to the North-East) in West Bengal.
The nearest Railway Station is New Jalpaiguri (NJP), 5 Km from Siliguri and the airport Bagdogra is 10 Km.
You can fly or by train reach Siliguri from Kolkata ( good for the trekkers coming from South/central or Western India) or Delhi as per your convenience from any part within India.
Direct flights are available from New Delhi, Kolkata, Bengaluru and Mumbai. Most of the flights to Bagdogra reaches late in the morning or early afternoon. Reach latest by 9 am flight if you wish to travel to the trek base same day. One can stay the night in Siliguri and start the travel to the trek base next morning. It is better to reach Siliguri by flight/train to Kolkata and then take an overnight train to NJP unless you are coming from northern India.
From Kolkata to Siliguri:
1) By train:
There are several overnight trains running between Kolkata (Howrah or Sealdah) to NJP. Day trains are also available.
From airport (Dumdum, CCU) , Sealdah railway station is 15 Km and may take 1 to 2 hours depending upon the time you travel. Howrah is 17 Km and may take up to 2 hours during the heavy traffic in the rush hours. Howrah and Sealdah are only 5 Km apart, though it may take an hour to travel. Pre Paid taxi booths are available.
DARJEELING MAIL – Train No. – 12343 (Good option to reach NJP in the morning. Starts around 10 pm in the night and reaches NJP 8 am in the morning.)
PADATIK EXPRESS – Train No. – 12377 (Good option to reach NJP in the morning. Starts around 11 pm in the night and reaches NJP 9 am in the morning.)
KANCHANKANYA EXPRESS – Train No. – 13149 (Starts at 8:30 pm in the evening and reaches NJP 7:30 am in the morning)
SHATABDI EXPRESS – Train No. – 12041 (Day train, starts 2:15 pm in the afternoon and reaches NP at 10:20 pm in the night. There are hotels/lodges outside the railway station at a walking distance of 5 minutes. Otherwise book an auto rickshaw/taxi to Siliguri, which takes around 15 minutes. There are several hotels around Siliguri Junction/Tenzing Norgay Bus Terminus/S.N.T (Sikkim Nationalised Transport stand).
There are other trains also of which some run daily and some on particular days of week.
Avoid booking wait listed (WL) tickets in AC classes (1A/2A/3A) or Chair Car (CC). Book Sleeper class (SL)/Second Sitting class (2S) tickets which have normally more seats/berths and hence much better chance to get confirmed.
2) By flight:
From Kolkata(CCU)  take a flight to Bagdogra (IXB). From airport book a taxi to reach Siliguri which is 10 Km away.
From Delhi to Siliguri:
1) By Train:
Following trains are good to reach NJP and run daily.
DIBRUGARH RAJDHANI – Train No. 12424 (arrives NJP late in the morning @ 10:45 am)
NORTH EAST EXP – Train No. 12506 (arrives NJP @ 8:20 am in the morning)
BRAHMAPUTRA MAIL – Train No. 12424 (arrives NJP at 5 am in the morning. But this train runs late frequently.
Always avoid booking wait listed (WL) tickets in AC classes (1A/2A/3A) or Chair Car (CC). Book Sleeper class (SL)/Second Sitting class (2S) tickets which have normally more seats/berth and hence much better chance to get confirmed.
2) By flight:
From Delhi (DEL) take a flight to Bagdogra (IXB). From airport book a taxi to reach Siliguri which is 10 Km away.
For accommodation in NJP/Siliguri/Bagdogra:
** Trekkers reaching on the previous day before the journey to the actual trek base need to stay the night in Siliguri/NJP. There are several options in Siliguri for spending a night while staying in Standard or Budget accommodation. It is better to reach the area called Siliguri Junction (adjacent to Tenzing Norgay Bus Terminus and Sikkim nationalised Transport/S.N.T stand) on Hill Cart Road. You will get plenty of hotels and lodges from budget to standard category on both side of Hill cart road. It takes 30/40 minutes from Bagdogra or 20 minutes from NJP (shared/auto available from station stand). Next morning you may avail the transportation shared with other trekkers from Hill cart road.
** There are hotels 5 minutes walking from NJP station also, though with limited options. If you have a confirmed PNR, then you can book online IRCTC room/dormitories available at the station complex. Next morning you may avail shared transportation with other fellow trekkers outside the station complex.
** There are some hotels/lodges at Bagdogra or around on the main road.
Return from NJP/Bagdogra:
Normally you reach NJP/Bagdogra from any trek base  by 5/6 pm in the evening. You can take any train after 7 pm to Kolkata safely, which reach early in the morning. Accordingly arrange your homeward journey from Kolkata onward.
Drive from NJP/Siliguri/Bagdogra to Chitrey – 90 Km – 4/5 hours
Pick up from NJP railway station in the morning by 10 am and drive  to Maneybhanjang (~ 1980 m/6500 ft). Distance around 90 km and takes 5 hours with a lunch and another tea break. The road goes through the foothills of Eastern Himalaya (also called Dooars) and gradually gains altitude inside conifer forests. There are two roads to reach Maneybhanjung of which one goes through the hill town of Mirik and the other via Ghoom. Usually the car takes the Mirik – Sukhiapokhri road. Have your lunch in Mirik, a hill station beside a fairly large lake.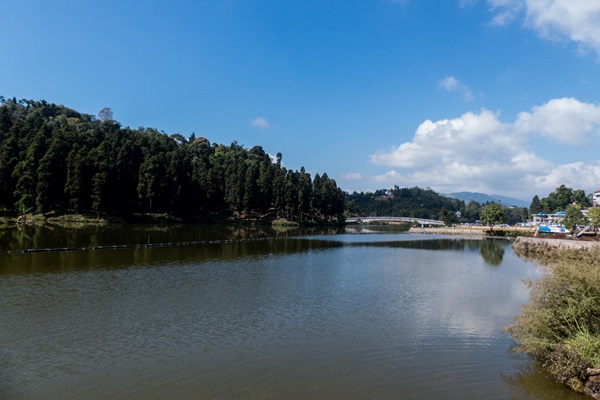 The last 3 Km from Maneybhanjung to Chitrey is a steep road with several hairpin bends and eventually reaches the hilltop clearing at Chitrey (~ 2200 m, 7200 ft), HT trek base for Sandakphu trek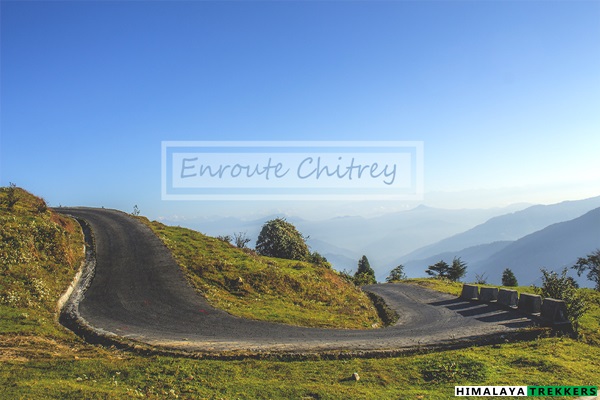 Chitrey is a small hamlet with of handful houses and a solitary lodge. In the afternoon/early evening visit Chitrey Monastery and the Buddhist Stupa beside our homestay. Walk up to the top of the hillock for sunset and a distant view of the hill queen Darjeeling city. All the major mobile networks work here. Night stay in lodge.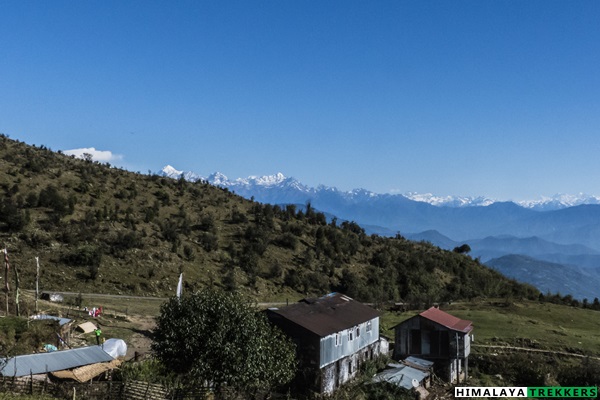 Trek to Tumling – 9 Km – 6 hours
Our trek starts today. There is a motor able road to Sandakphu from Maneybhanjung and the distance is 33 Km. The same bumpy road goes further even till Phalut. This is not advisable as the height gain is abrupt within a short time span. Only few 1950/60's made Land rovers ply between Maneybhanjang and Sandakphu. These wonder cars ferry local villagers with loads of provision. Our Sandakphu trekking trail often crisscrosses with this PWD road. We start walking while leaving the motor road and gradually climb up. After 15 minutes or so, the first view of Kanchenjunga appears with all its glory. Stop here for a break and enjoy the views.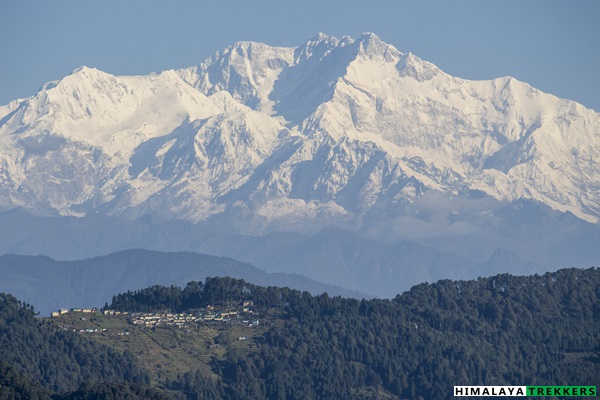 After continuing on the table top meadow reach the tea stall at Lameydhura in an hour. This area is particularly beautiful during spring with blooming Rhododendrons and Magnolias. Misty weather has its own charm.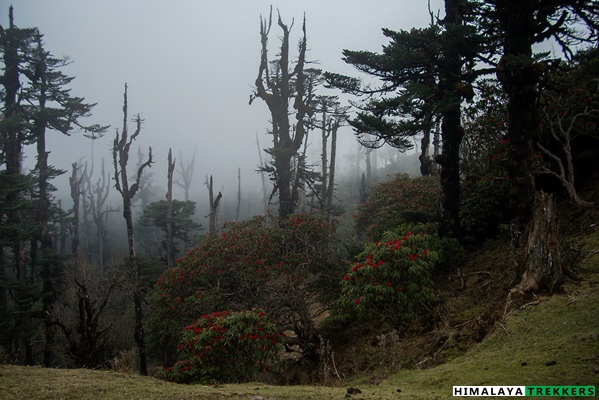 The trail ahead is clearly visible till Meghma while we walk on a almost flattened road. As the route often defines the border between India and Nepal so posting of the paramilitary camps (SSB, Sashastra Seema Bal) at all the major points are common. Show your photo ID here register your name. On the left side Meghma monastery is in Nepal.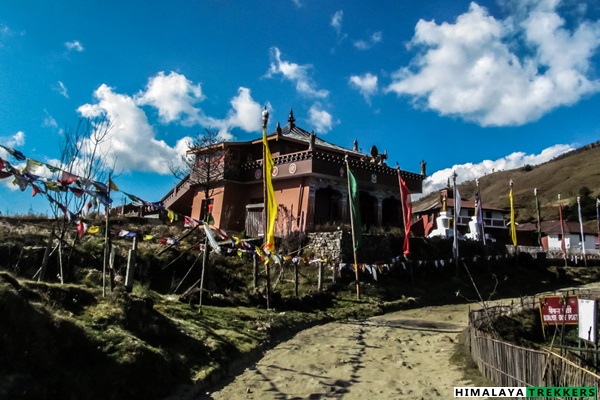 From Meghma the road splits and we take the left one inside Nepal. The one in the right leads to the top of Tonglu and then by descending eventually joins at Tumling. After traversing for an hour and half we reach the destination Tumling (~ 2900 m/9500 ft). Total distance is 9 Km and can take 5/6 hours. We stay for the night in tourist lodge. During sunset watch the glorious Sleeping Buddha straight ahead. This place can be particularly windy as on the Singalila ridge.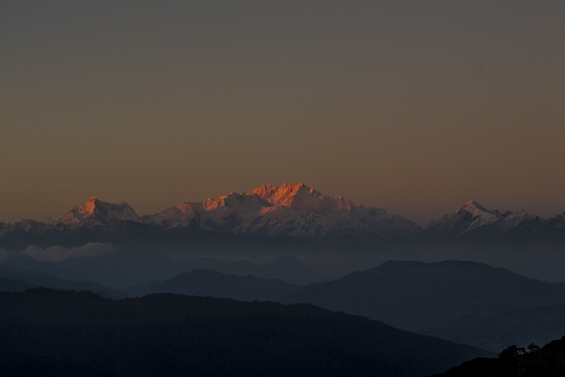 Trek to Kalapokhri – 12 Km – 6/7 hours
Wake up early in the morning to view the sunrise. Observe the different hue than the sunset on the same peaks. High Himalayan peaks look magnificent in the golden hue.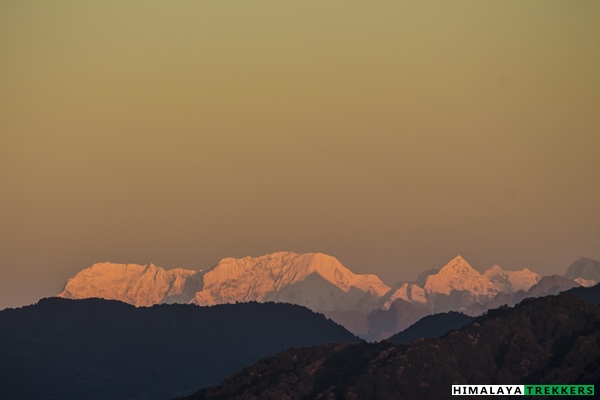 After breakfast we start our walk on a level ground and reach the check post of Singalila National Park in 45 minutes. From here we obtain the permit and get into the national park. Shortly after check post the road bifurcates. We leave the jeep road and take the left trail into Nepal. The terrain is wide spread and walking on the rolling trail we reach Jaubari village inside Nepal.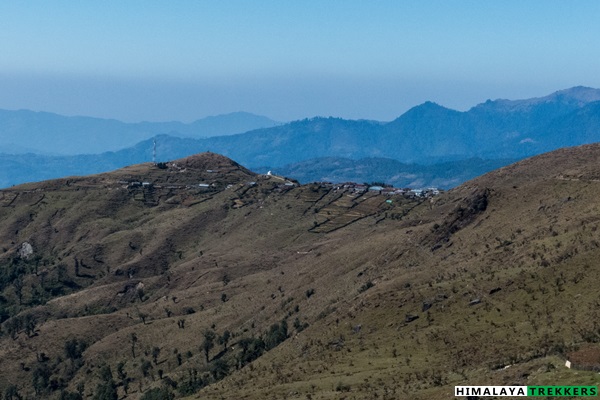 From here the main road leads to the eastern Nepal district town of Ilam while we take a right turn and descend on the stony trail. The trail far ahead is clearly visible from here and after an hour we descend to the Indian settlement called Gairibas. There is a GTA operated Trekkers Hut, SSB camp and few shop serving tea, noodles and momo. From this point our climb for the day starts. The road enters into the dense forest and we take shorts cuts often which meet the jeep road while gaining altitude in short distance.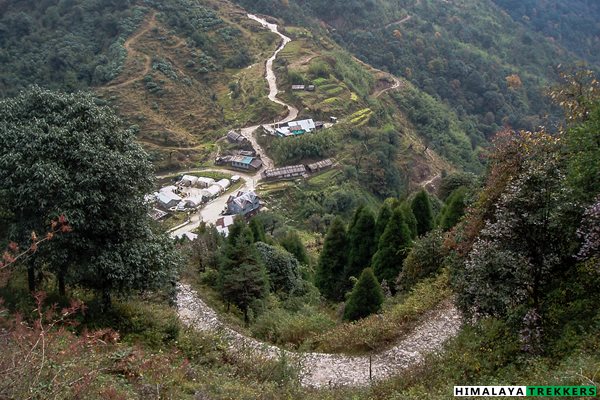 In spring this stretch is particularly vibrant with blooming Rhododendrons.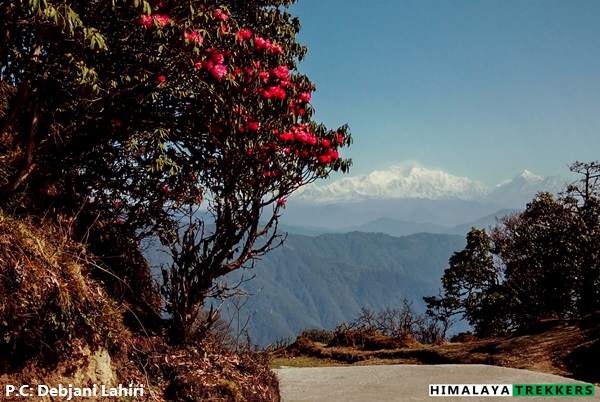 A moderate climb of one and half hour leads us to a valley and a small settlement called Kaiyakata. There is a tea stall at the left hand side of the road. Have your hot lunch here. The road ahead turns to a semicircular arc and splits. We take the right one which gradually enters into the thick forest of conifer, birch. and Rhododendron. After walking an hour spot a small lake on our left. This is called Kalapokhri (Kala is Black and Pokhri is a Pond in Nepali).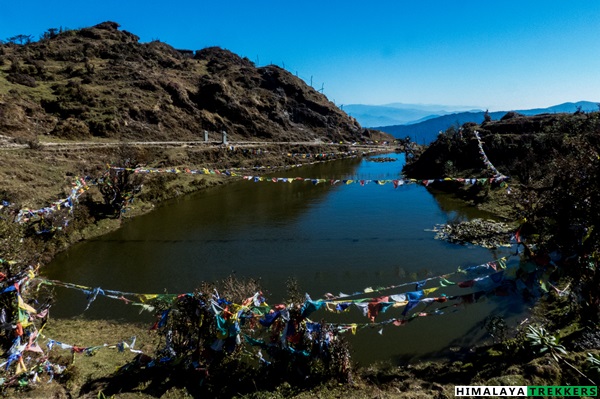 From here we take a right turn and reach our destination for the day Kalapokhri (~ 3100 m/10200 ft). There are ample lodges beside the main road strip inside Nepal and we stay in a lodge here. Total distance is 12 Km and may take 6/7 hour.
Kalapokhri to Sandakphu trek – 6 Km – 3/4 hours; In the afternoon a walk on Phalut road for the sunset
Today we need to cover a short distance but will be gaining altitude. The lodges on top of Sandakphu can be seen from Kalapokhri.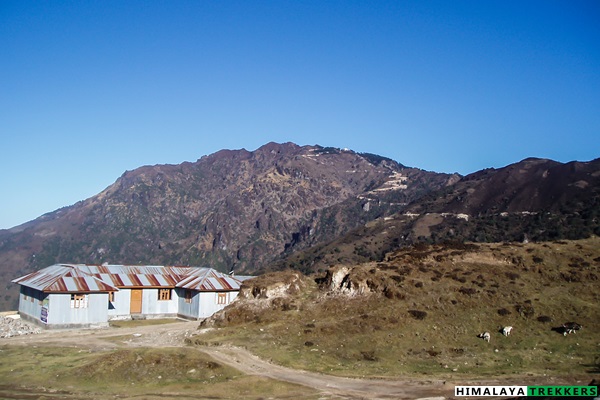 Initially its a gentle walk while traversing the mountain ridge and we reach Bhikeybhanjang in an hour. This portion of the trail is inside Nepal and Indian road joins here from the other side of the mountain. There is a tea stall on our left and a forest check post on the right. The road splits and the newly built road inside Nepal takes a longer path on our left to reach Sandakphu. We take the straight road ahead and start climbing. The switchback road  has several turns and we go off the road  and take shortcuts on few occasions. On the right hand we can see one ridge after another meeting the horizon. Silver fir, variety of conifers dominate the treeline. After ascending for an hour and half we turn left and reach the top of the ridge Sandakphu (~ 3636 m/11930 ft).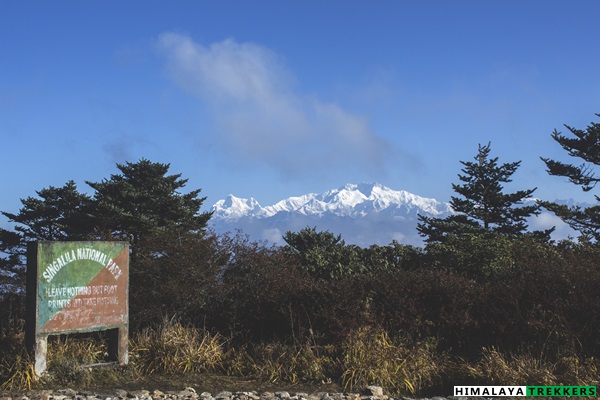 The left side of the ridge is in Nepal and the right side in India. On both sides of road there are lodges and tourist huts. The top of the ridge is somewhat flat and the north side is open. There is no ridge higher than this point, so the view of the mountains are uninterrupted. Total distance we cover is 6 Km and can take 3/4 hours. Infrequent mobile signal is available, here and there. In the late afternoon we walk on the Phalut road around an hour and witness the mellow sunset. Overnight in private lodge.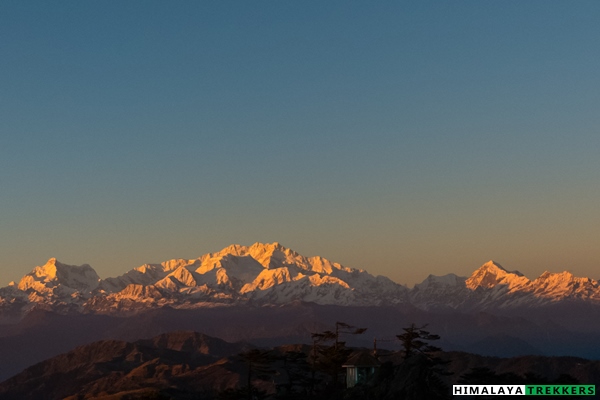 Sunrise at Sandakphu – Trek down to Timburey via Gurdum village – 15 Km – 7/8 hours
Wake up early to observe the fascinating sunrise. During fall and winters this top remains cold, specially early in the morning. Wind blows directly from Kanchendzongha side. Expect a temperature between 0°C to -10°C (with the wind chill) in fall and winters. Straight ahead is gigantic Kanchendzongha massif along with Kumbhakarna (also called Jannu) to its left and Pandim to its right, forming as rightly said the "Sleeping Buddha". Further left in the westward direction you can spot Three Sisters, Chomo Lonzo, Makalu, Everest, Lhotse, Nuptse, Baruntse, Chamlang and other peaks . You will never forget the changing hue on Kanchendzongha.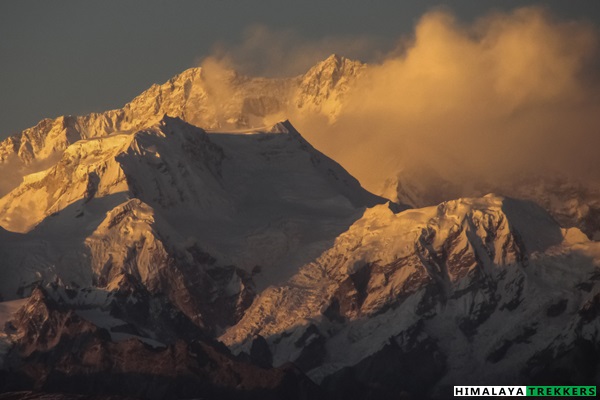 After breakfast we start our descent. Today the trail is more likely you get in the other regular treks without an accompanying motor route. Initially the trail goes inside the conifers and later into bamboo forest. The slope of the descent is moderate at stretches and mostly gentle. In 3 hours we reach on the edge of the ridge and vast valley opens up. The picturesque village of Gurdum is seen below, along with the farming fields. We take our lunch in a beautiful lodge here and continue our descent inside pine forest to our days night halt at Timburey.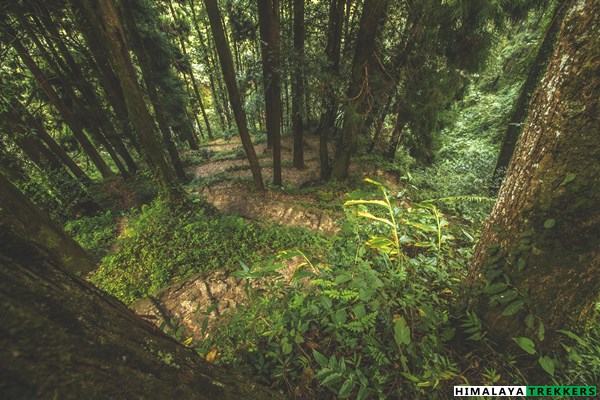 This is a small village beside Srikhola river (Khola means river in Nepali) with couple of home stay accommodation. Distance is around 15 Km and can take up to 8  hours.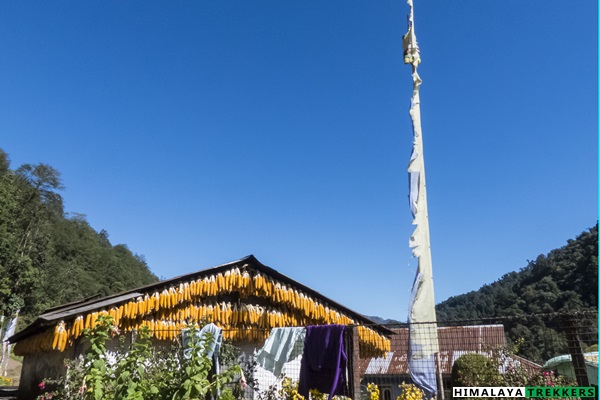 Walk to Srikhola - 1 and half hour and drive from Srikhola to NJP – 150 Km – 6/7 hours or (to Darjeeling - 4 hours drive)
Today morning after breakfast we continue our descent along the river and reach Srikhola in one hour or so. Our trek ends here . An old suspension bridge connects the motor road on the other side towards Rimbick. We take the car back to NJP/Siliguri.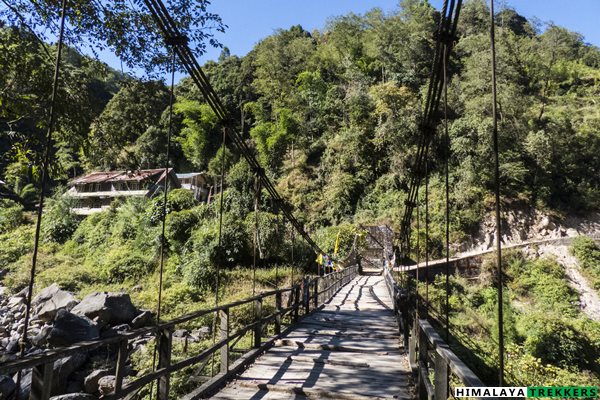 We will cross Rimbick, and the road goes either through Dhotrey or Bijanbari to finally Siliguri. If you have few days extra to carry on with vacation, then you can move out towards Darjeeling town which is 90 Km from Srikhola and takes around 4 hour. Though we are not a hotel booking or car sightseeing agency but maybe able to help you.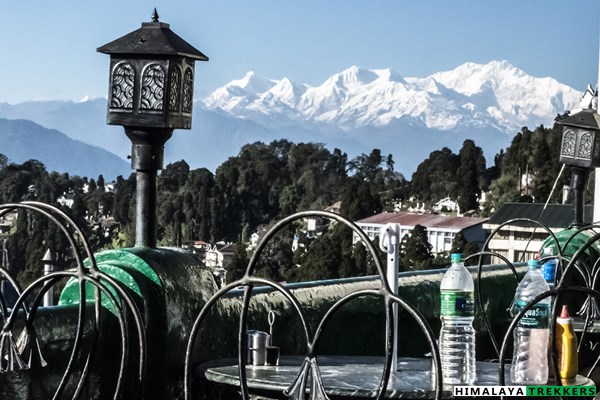 P.S.: Distances and altitudes are approximate and may not be exact.
  TREK FEE: ₹ 12,500 (Chitrey to Srikhola) + 5% GST  without transportation
Above is the cost of our group tours that are scheduled and if there is any availability (GREEN-coloured dates in the Inquiry Form calendar). For customised or private tours as per your dates, check the cost structure given below.
Foreign citizens' (non-Indian passport holders') can't join our group tours as their itinerary is different and remains entirely within West Bengal/India. In such a case, you must go on a customised tour.
Inclusions:
5 night's accommodation from Chitrey (Day 1) to Timburey (Day 5) in a home stay/tourist lodge on a sharing basis. These are simple and basic in nature (NOT hotels) with clean beds and linens. Rooms are dormitory types having triple/quad or more sharing. Beds may be single or 1+2+2 or any other combinations. Toilets may not be attached with the room, can be Indian style and common in nature. Male and female members will be housed in separate room (s).
All meals (Day 1 dinner to Day 6 breakfast) during the trek. Regular Indian style nutritious vegetarian food during the trek (including occasional serving of eggs), breakfast, hot lunch (en route), light evening snacks/refreshment and dinner along with morning and evening tea. Rice (bhat), dal (lentils) and vegetables (sabzi) are most common to this region and expect simple meals with these in lunch and dinner.
Excellent licensed Trekking Guide, who will be a local to this particular area and has profound knowledge of the trekking trails around.
Permit Fee for Singalila National Park.
 Basic First Aid and Medicine kit.
Travel and medical insurance for a duration of 7 days including high altitude trekking (For Indian citizens up to an age of 60 years).
Exclusions:
Transportation from NJP/Bagdogra to Chitrey and back (approx ~ ₹ 2000 per person includes pick up and drop). Either you can reach on your own or may arrange one on request. Note that a Tata Sumo charges ₹ 4500 for NJP to Chitrey ( + ₹ 500 forest permit/toll per car) and ₹ 7000 from trek end point Srikhola to NJP/Bagdogra. This can accommodate up to 8 persons and usually gets shared among fellow trekkers. Pay directly sharing equally with the other trek members.
We assume that you will carry your personal rucksack/backpack with all your personal belongings. If you want to offload your rucksack/backpack and carry it by a personal porter then you need to spend additional charges. Charges are fixed as per Maneybhanjung Guide and Porter Association as ₹ 1000/day (wage) & ₹ 200/day (subsidised food expenses) i.e.  ₹ 1200/day. A porter can carry up to a maximum of 17-18 Kg (2 medium rucksacks). Alternatively we can arrange a horse which is approximately ₹ 1200/day but can comfortably carry 4 rucksacks. You pay directly to the porter/horse owner.
Still/Video camera charges inside the Singalila National Park.
Any tip/gratuity to the HT supports staff.
Anything which is NOT mentioned in the "Inclusions" or personal in nature.
Customised or Private Sandakphu Trek Cost Structure:
The following TREK FEE is based on the above inclusions and exclusions, i.e., the same as our group tours. Here it is for your group only and as per your preferred dates (if we are able to arrange). An additional 5% GST is applicable.
Additional ₹ 4,000 per person for foreigners and OCIs. This will take care of the additional Singalila National Park entry fees (₹ 500 per day for foreigners compared to ₹ 200 per day for Indians) and the guiding charge differences as prescribed by the Guide and Porter Association at Maneybhanjung.
Person(s)
Per Person TREK FEE (₹)

Person(s)

1

Per Person TREK FEE (₹)

35,000

Person(s)

2

Per Person TREK FEE (₹)

22,500

Person(s)

3

Per Person TREK FEE (₹)

16,500

Person(s)

4

Per Person TREK FEE (₹)

14,500

Person(s)

5

Per Person TREK FEE (₹)

13,500

Person(s)

6

Per Person TREK FEE (₹)

13,000

Person(s)

7

Per Person TREK FEE (₹)

12,500

Person(s)

8

Per Person TREK FEE (₹)

12,000

Person(s)

9 to 12

Per Person TREK FEE (₹)

11,500

Person(s)

13 to 15

Per Person TREK FEE (₹)

11,000
Booking:
We assume that you have read and understood our "Terms & Conditions" before Booking a trek/tour.
To reserve your place in a scheduled Fixed Departure trek or a Customised/Private trek pay 25% of the Trek/Tour Fee as the initial "Booking Deposit". You can pay by Net banking/Draft/Cheque/Credit/Debit/AMEX cards. This will ensure your participation in the desired trek and we will reserve your place in the scheduled date. You need to pay the remaining amount at least 15 days before Trek Starting Date.
If you book a Trek/Tour before 14 days or less from Trek/Tour Starting Date, you need to pay the full Trek/Tour Fee.
 Cancellations:
"Booking Amount" i.e. 25% of the Trek/Tour Fee is Non-Refundable at any stage.
If in case you are not able to make it due to unavoidable reason(s), we provide you a very flexible choice of Shifting to another trek within next one year. One year is counted from the starting date of the trek/tour you booked initially with us.
In case you postpone your trip you need to inform minimum of 15 days before the trek/tour starting date. (Though we suggest to inform us earlier if known)
In case you postpone a trek/tour before 15 days of the scheduled Trek/Tour Starting date or prior, you may shift to another group of the same trek/tour scheduled in the same season or within next one year. You may shift to another suitable route also. For changing any, you need our approval first. Your request must be in written communication through your registered email with us.
If you cancel/postpone a trek/tour from 14 days to 8 days before tour starting date, your Booking Amount is Non-Refundable. We will not take any request of shifting dates. We will charge 50% of the amount as Cancellation Charges and process refund of remaining 50%. You may also shift to another group within next year but 25% Booking Amount will be deemed as Cancellation Charge and the rest amount will be transferred to the shifted group.
If you cancel a trek/tour 7 days (i.e. a week) before Trek/Tour Starting Date or later, there will be NO REFUND.
In case of any unforeseen incident including but not limited to natural calamities like flood, earthquake, landslide, forest fire or any political unrest, if we are compelled to cancel the trek/trip, you will be entitled to redeem the full amount for the same/similar kind of trek/trip within next one year.
If you need more clarifications write in to [email protected]